Daniel Pietersen
Hired at

How passion, care, and a great resume brought Daniel to his dream job
"It gave me a sense of relief and a feeling of confidence when passing it along to a potential employer."
That's how Daniel felt when he downloaded his Enhancv resume for the first time. He moved from using a Word resume, something many of us see as a standard (and maybe a bit boring), and created a document that shows who he is as both a professional and an individual. Something that is more visually appealing, because in tech, it's always about standing out.
Meet Daniel...
Daniel was born and raised in the small town of Port Elizabeth, in the Eastern Cape of South Africa. He's always had a passion for tech and remote work, which is why he started off working remotely for US web hosting companies. "Different time zones meant I could help out while they slept." As a result, he's never worked in an office. "But my friends have assured me that I'm not missing out on much," he chuckled.
Apart from working in tech, Daniel loves the audio/visual industry where he helps with anything from lightning to sound engineering. Working remotely has enabled him to turn some of his passions into side projects. That's how he managed to work with national artists in South Africa as well as local gigs around the city, or even develop a Chrome extension to help users manage bookmarks easier.
With all the work he was doing, at some point Daniel realized he wanted to climb higher on the career ladder. He did it in just four steps.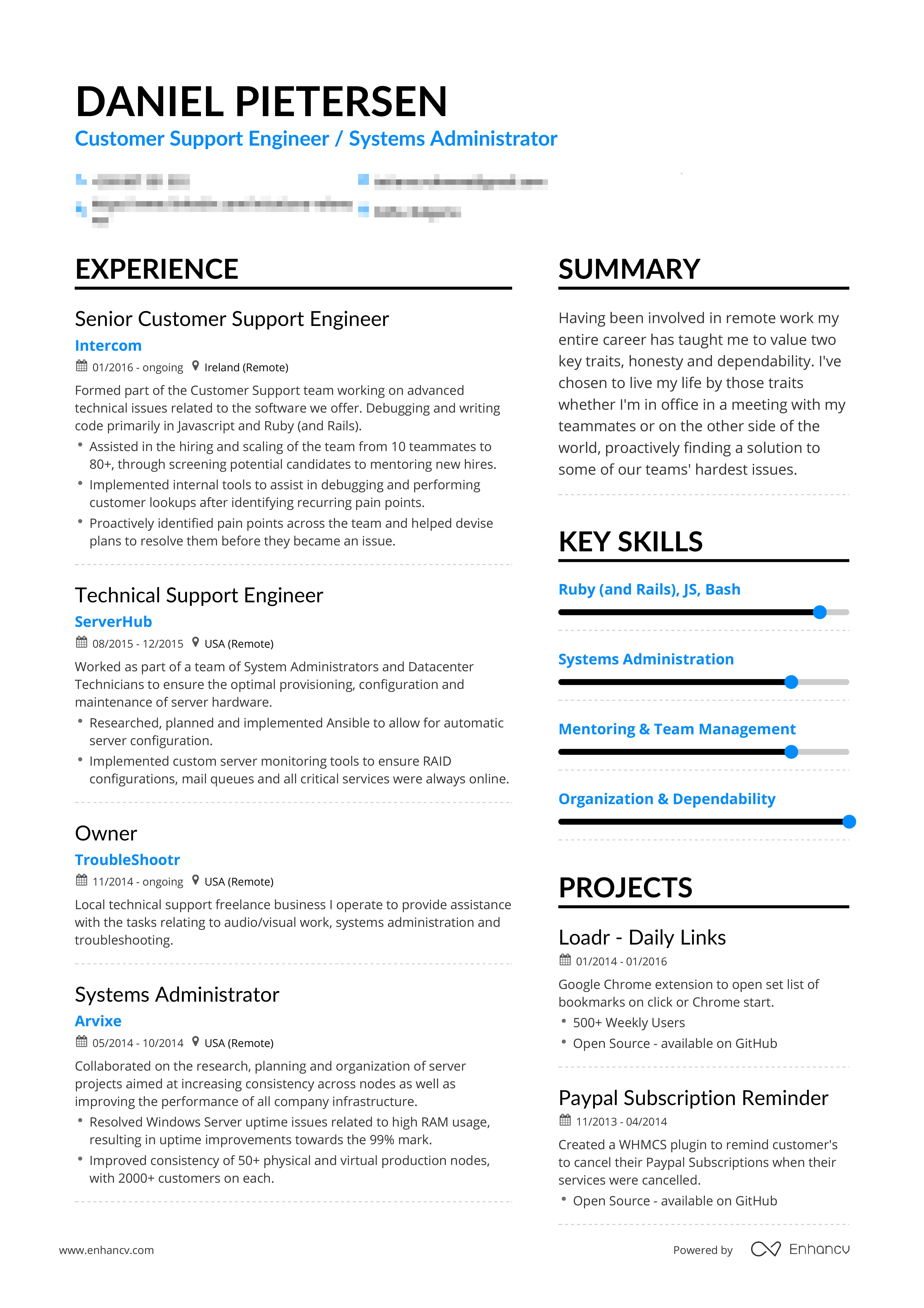 Want more inspired resumes?
Step 1: What are you passionate about?
It still seems hard to believe for some, but the very first step of a successful job hunting is thinking about what you love doing. Daniel understood this pretty well and started his job search from here. He especially thought about what he enjoyed the most in his previous roles. "I love being on the cutting edge of tech and so, being able to help shape how internet communication should be done is something I found extremely exciting." With that in mind, he had his direction.
Step 2: What would you like to learn in your new role?
Focusing on this step helped Daniel decide what his resume should focus on. In previous roles, he worked in customer support, and in the new role, he wanted to take it to the next level.
"Considering that my aim was to focus more on working with developers, people who I could better relate to and possibly learn something from, I went on the hunt for a position that would still suit customer support but would have me speaking to programmers and developers who have a deeper understanding of why something might be broken and just need a hand fixing it."
Step3: Which companies can teach you what you want?
Before looking for companies that would suit his requirements, Daniel thought in more detail about how his skills could match the new desired role. As he's worked remotely most of his career, he needed a company that would allow for that. Another requirement was a company that's known for exceptional customer support. That's how he came across Intercom.
"After researching Intercom, I immediately related to their mission statement of 'Making Internet Business Personal', specifically when it comes to customer support. Since remote working has been my life and so has customer support, I had a lot of experience with 'faceless' software solutions where you would speak to 'Agent X' or get a reply from 'support@businessname' which was never personal."
For Daniel, this wasn't just a dream company, but an opportunity to grow. He looked at his old resume and instantly knew he needs something different to be able to stand out. This led him to the last step.
Step 4: Create an outstanding resume
"When you finish a Word Doc, you're still quite stressed about formatting, about whether something's going to break at some point in time, or if you've completely missed a section. So it never really makes you feel great about sending that Doc along."
That's when Daniel decided to search for a resume builder. The decision was easy enough. "The modular design of each section on Enhancv meant that I could also make sure I didn't forget anything and didn't need to worry about irrelevant stuff like making sure my formatting didn't break the look of any section of my resume. Instead of wasting time on formatting and styling issues, I could focus on what matters most - having the perfect representation of who I am and what I can offer."
So Daniel created a resume tailored for the position at Intercom. That meant showcasing his extended experience in customer support, and because he wanted to work closely with developers, demonstrating his programming knowledge in side projects. His resume fit Intercom's recruiter Ewa's motto: "hiring big thinkers with small egos..." He got hired.
New job, new life
"It's now a year and a half later and the position I'm in at Intercom has taught me so much, opened so many doors and allowed me to grow a lot faster than I could've ever imagined. To give an example, one of my life-long goals was to be able to go to San Francisco and visit the various tech giants Facebook, Google, Apple, etc. It's such a touristy thing to do but it's just something I knew I had to tick off my bucket list. Right now it still feels surreal but I was able to tick that off my list a couple of months ago, thanks to Intercom who flew me to visit their San Francisco branch."
We couldn't have put it better.