Data science is still hot. And it pays. Well.
According to Glassdoor, in 2022 a "Data Scientist" earned an average base salary of $121,269.
Data scientist positions are in high demand too - since 2012 the number of data scientist jobs has grown 650%. That's explosive growth.
Of course, the high demand and high pay have led to a lot of competition - specifically, good professionals with strong qualifications and rich experience.
Even to get to an interview, you will need a great resume. And we're here to show you examples of the best data scientist resumes.
I was ready to answer questions about real-life work, how to deal with complicated situations, how to deal with new data, how to do a data science workflow, how to explain hard concepts to managers, and more.
This guide will teach you:
How to create a data science resume that attracts recruiters' attention.
What data scientist skills are most sought out?
How can an entry-level data scientist resume present you in a favorable light?
What clues to look for in a data scientist job description.
Data scientist resume examples
To start, here are 3 data scientist resume samples built with our platform. Read on to learn what makes them effective.
Senior data scientist resume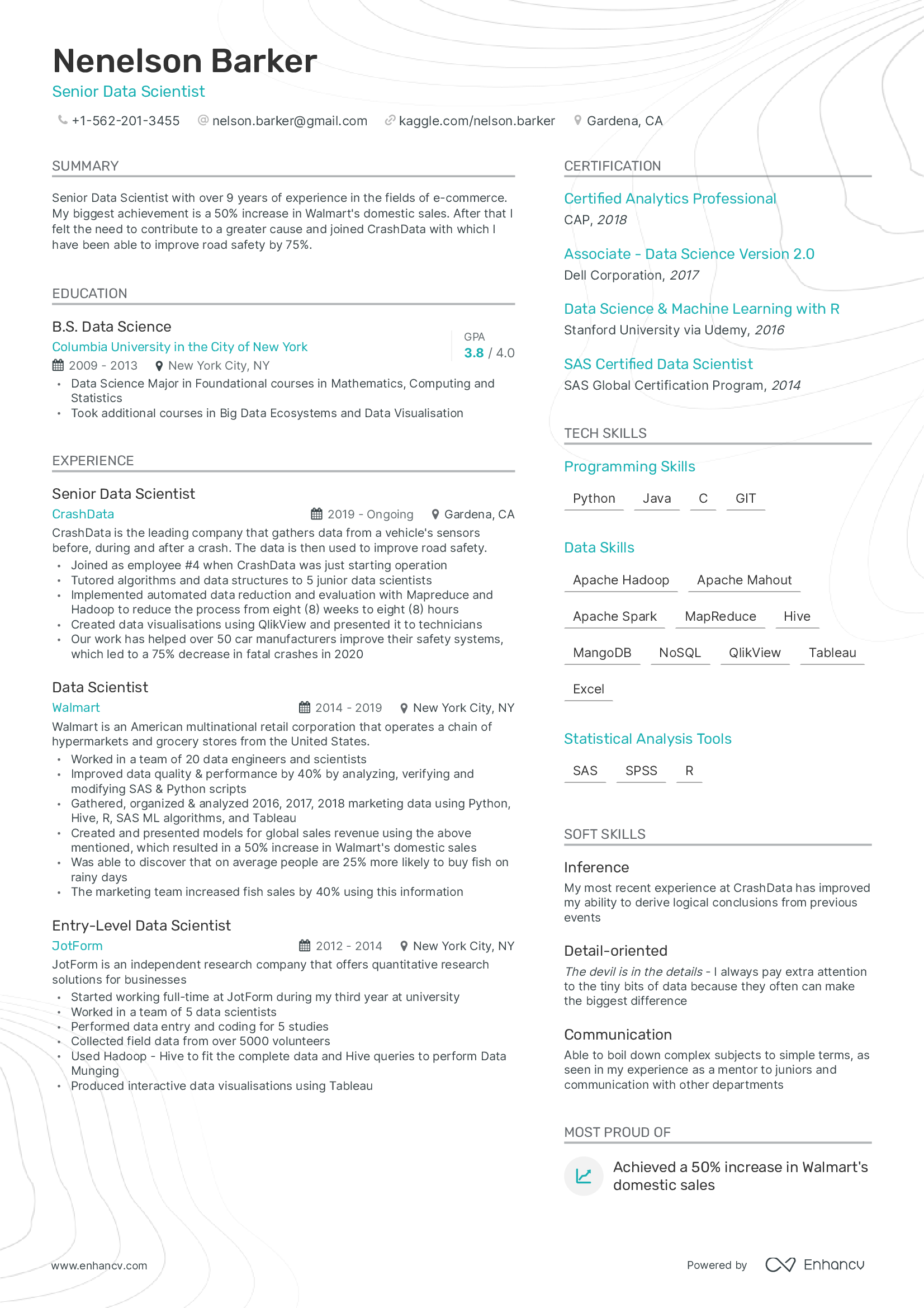 Things we like about this resume include:
There's a link to the applicant's Kaggle profile straight off the bat. This helps the recruiter see the applicant's activity in one of the biggest data science forums on the planet.
The summary: As an experienced candidate, outlining your most important skills and achievements hooks the recruiter.
The candidate grouped their hard skills by type so the recruiter or the CTO can quickly find exactly what they need.
Entry-level data scientist resume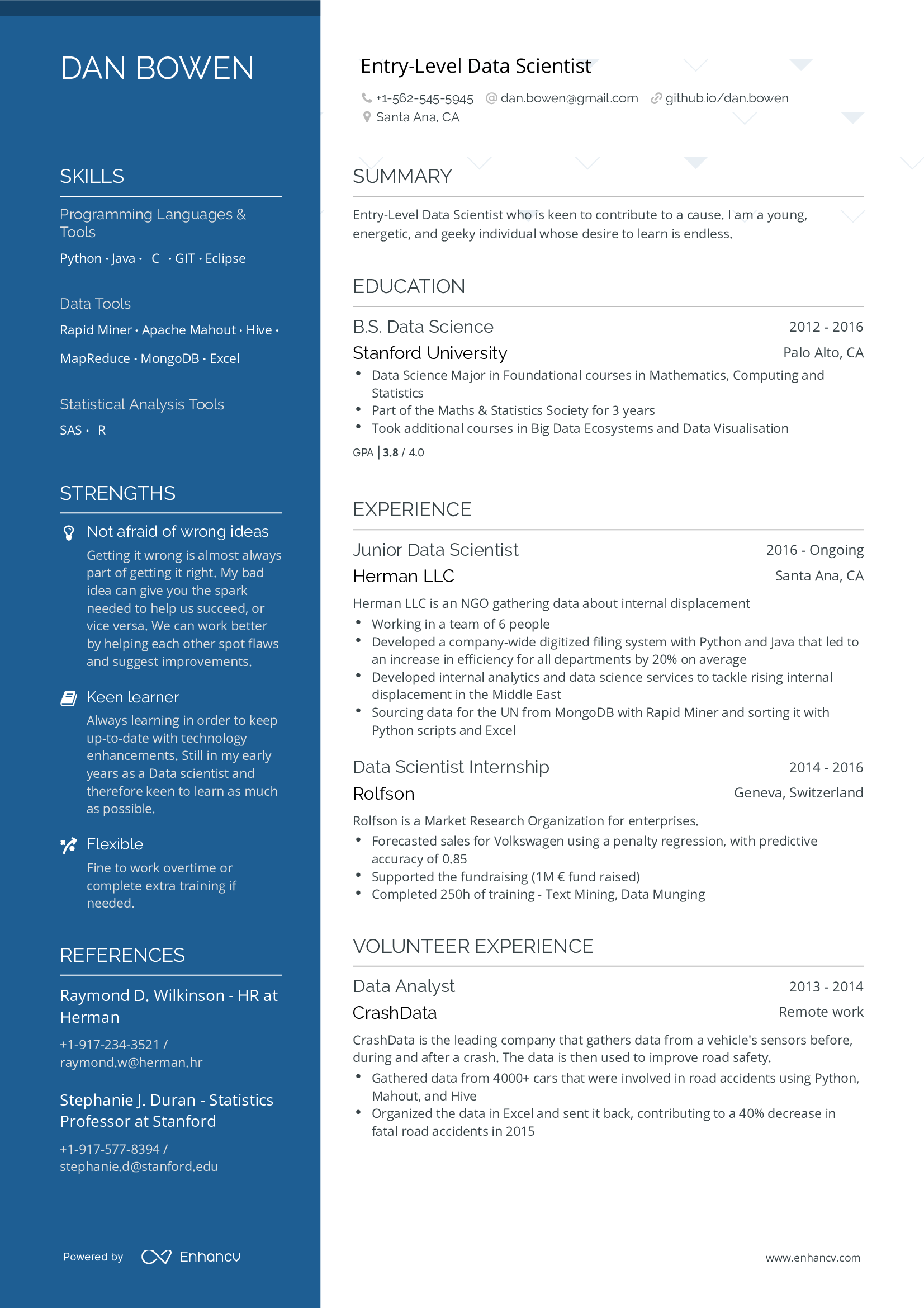 Two standout features of this resume include:
This entry-level candidate has put emphasis on their hard skills by featuring them near the top of their resume.
Highlighting both SAS and Python skills makes them an attractive candidate in a range of niches, including medical, banking, and tech companies.
Python data scientist resume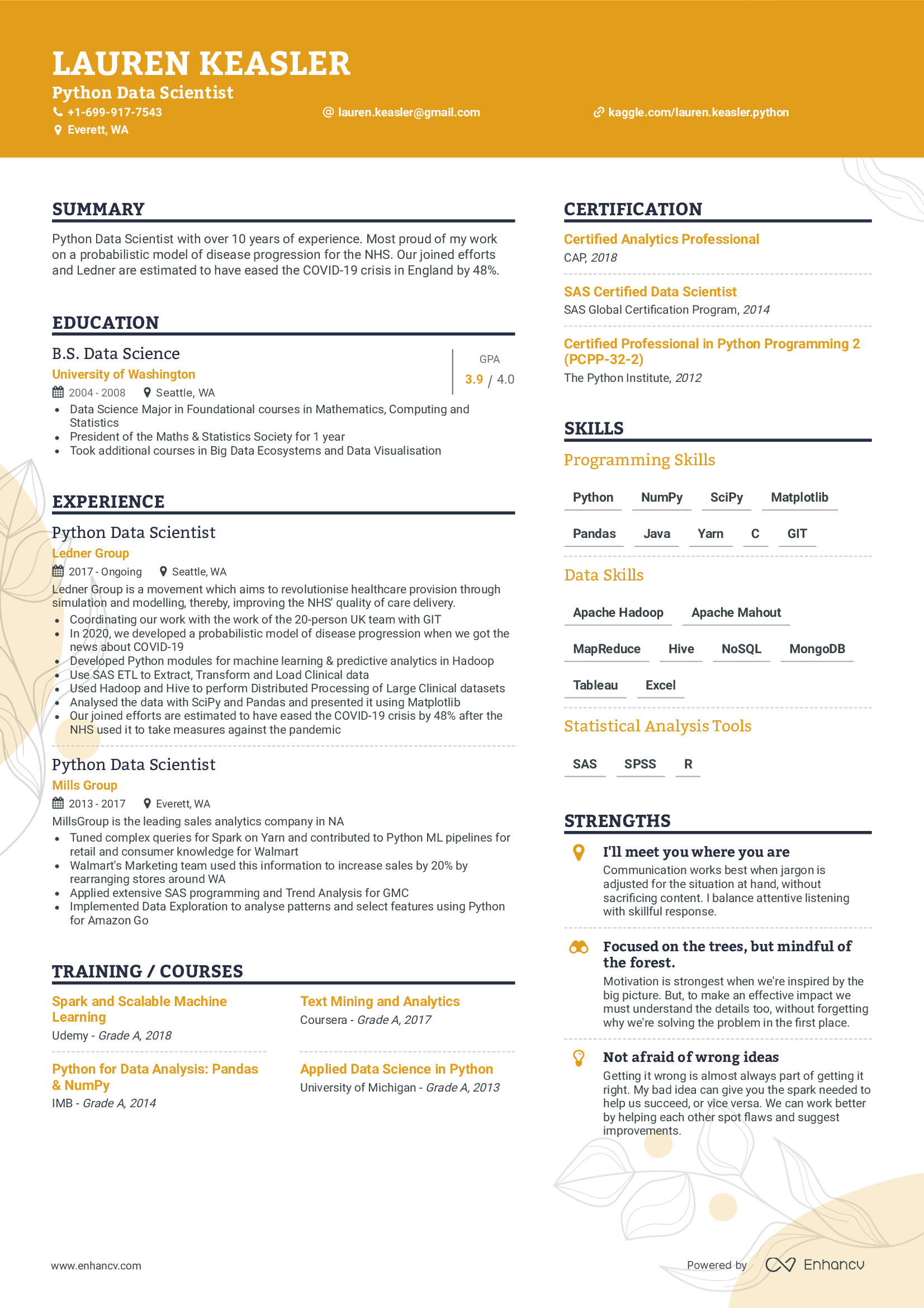 Subtle choices make this resume shine:
Look how they've used keywords to frame their resume.
They've made clever use of each resume section to target their resume toward Python data science.
The whole structure and content of their resume demonstrate they're an excellent communicator, which is an essential skill in this field.
Looking for more related resumes?
Create a great data scientist resume outline to set yourself up for success
A resume outline serves the same purpose your GPS does: it's a (necessary) guide. Here are the sections we recommend you include on every data scientist's resume:
Resume Summary or Objective;
Experience;
Education;
Certifications;
Skills;
Projects;
Publications.
These sections showcase your background and knowledge in relevant fields:
Each of the Experience and Projects sections let you highlight specific things you're really proud of working on in a reverse chronological order format the recruiter is used to seeing.
Both your Education and Certification sections let you further showcase the knowledge you've earned. This is especially helpful in Data Science, where people can come from a variety of technical or economic fields before finding the niche specialization in their role.
Pro move: Adding a Publications section lets you showcase articles you've written. Include, but don't limit yourself to scholarly publications. Data Scientists need to interact with a range of stakeholders, so show them literally that you can communicate across that range.
These rules aren't set in stone. Tailor the sections we suggest and the order they show up in your resumes based on the specific jobs you're applying to.
How to Choose an Effective Data Scientist Resume Template
You've got three main resume formats to choose from
The one you choose will depend on the number of years of experience you have in an industry, or whether you're coming from an adjacent industry, have some time off, or have no related experience.
Reverse-chronological resumes are best for folks with solid and steady experience in their field
Functional resumes are suited to less-experienced jobseekers or career changers. Note this isn't the format recruiters prefer; they're used to the reverse chronological flow
Hybrid resumes are amazing because they combine the best of both worlds: They work for both experienced and entry-level candidates, as well as people coming from adjacent industries!
We'd give you the one resume template to rule them all if it existed - but it doesn't. We can say for sure, though, these are 5 rules of thumb you should consider:
Look for something that speaks to the content you'll put on the resume. Some templates look empty without lots of experience, while others look too crowded.
Nothing over 2 pages will be read
Fit your resume on one page, or two at most. Be bold (and smart) and cut experience that's not that relevant to the position you're applying for.
No bullet points should be longer than 2 lines. Save your gift for prose for your cover letter. And don't try to scam, 1'' margins are the gold standard for resumes
We don't feel this should have to be said… but it does: Your resume is no place for playful fonts. Stick to something clean and professional, and definitely avoid Comic Sans, Papyrus, or anything like that.
Don't overdo it - adding a casual accent to headings will make your boring Data Scientist resume sexy.
The key is balance - adding a classy color combination will make you stand out, but adding anything more will look out of touch.
For more information on the best resume formats, read our guide: The Best Resume Formats You Need to Consider (5+ Examples Included).
What makes a great data scientist resume header?
The first rule of a data scientist resume header is "follow the rules". So don't include anything, like an unprofessional email or photo, when it's not allowed.
Beyond that, a resume header can add a lot. By quickly telling a recruiter who you are and giving them access to useful info about you on a personal site, you can make a strong first impression.
A strong data scientist resume header should have
Specific information about who you are. Not just that you're a data scientist, but that you're more junior, senior, a recent graduate, etc…;
Contact information to make it easy to reach you via phone or email;
No information that violates company or state laws (more about that below);
A link to a personal GitHub or another page to show off your data science portfolio.
Entry-level data scientist
RIGHT
The second example provides more relevant details like that Latisha is entry level and links to her GitHub account, a nice touch which shows that she's proud to show off her work.
For more ideas on stand-out resume headers, read through our guide Perfecting Your Resume Header So You Get Noticed.
Pro tip
Some companies, states, and countries have non-discrimination policies about what kind of information can be included on your resume.
This might include a photo (which is often included in a resume header and might be on personal web pages you link to).
Consider emailing the company's HR department to ask about their policies before you apply.
Why you need a data scientist resume summary and what to put as your objective
One of the inevitable questions people ask when writing a resume is whether to include a summary or an objective. Or maybe both?
On one hand, a resume objective is great for an entry-level data scientist who wants to show their passion for the subject and prove their motivation.
On the other, a resume summary is a great way to share a condensed version of your professional (and personal) story.
A summary is also great when you've transitioned into data science from another field. And the best resume summaries are catchy.
A favorite summary we've seen started with, "I'm an architect that got into studying data science as a kind of weird mid-life crisis." The recruiter will surely want to learn more!
The mistake we see most often in resumes reads something like this:
An entry-level data scientist who wants to expand into the big data field and build deeper engineering capabilities.
WRONG
To paraphrase President Kennedy: say not what the employer can do for you, but what you can do for the employer.
A clear objective clearly states what value you'll provide the business with:
An entry-level data scientist who takes pride in building models that translate data points into business insights. Used my skills to win the Student City Datathon challenge, now eager to apply the same knowledge to real-world business problems.
RIGHT
See the difference? This second applicant clearly states their value proposition.
A data scientist's resume objective or summary should:
Show your motivation: why do you want to be a data scientist? Your passion can be just as important as your experience.
Demonstrate your skills. At least in some basic ways, since you'll have more details in the rest of your resume.
Tell a story and capture the recruiter's attention, including information about your long-term career goals if relevant.
Check out our detailed summary guide with 30+ professional summary examples to learn more! If you're looking to craft a compelling resume objective instead, read our writing tips at 10 Resume Objective Examples You Need to Steal (How-to-Guide).
How to create an impactful data scientist experience resume section?
The experience section is the core of your resume. It's where you'll let a;; your hard work shine.
To make it most impactful, follow these key rules:
Include only major and relevant positions - the 2-month stint behind the counter at your grandfather's banana stand interests no one. But that job as a data engineer working on sales data for a national fruit reseller is something the recruiter needs to see!
Make it reverse-chronological - it's the resume standard, and it saves mental energy for the recruiter. List your most recent positions first.
Focus on impact rather than responsibilities - data mining, statistical analysis, and data visualization will be on almost every data scientist's resume. Instead, explain the impact you had rather than just listing responsibilities.
The third point is so important that we want to illustrate it. Consider this experience section.
Designed and implemented models for loan success factors, achieving a 20% improvement of approval decision time.
Spearheaded complete database restructuring of the Financial Aid Database used across 16 different countries.
Coordinated a team of 20 data scientists working on 6 different projects for insurance, finance, marketing, and security departments.
RIGHT
It packs a punch! It shows the person who held this position knows what's what when it comes to data science.
Now consider the alternative, just their responsibilities:
Created and presented models for loan success factors.
Did database manipulation of the Financial Aid Database.
Coordinated a team of data scientists.
WRONG
It's underwhelming and bland - and it's the same person! So be sure to explain what the results of your work were.
For more ideas on how to create an actionable resume experience section, check out our guide How to Describe Your Resume Work Experience.
Writing an entry-level data science resume
Just because you're a recent grad looking for your first job in data science, don't start thinking "I'm done, I don't have any experience yet!".
You're mistaken if you think you don't have any experience. Consider including
Course projects that involved data science work - Surely you've practiced your skills on a few practical exercises you can list here. Just make sure you feature the new and exciting projects - no one wants to see the same tired Titanic Survivor project!
Internships - no matter if it's your uncle's company or a university help gig, you probably learned a lot, including keeping up with deadlines, working well with others, and communicating data results to different audiences. Practical skills matter, even if they're soft skills.
Volunteer work or side projects - if you don't have practical experience, create some. There are tons of local SaaS startups that would benefit from logistic regression analysis to uncover their user activation points - help them out and use that as a practical example in your resume.
As you can see, there is a lot going on beyond traditional 9-to-5 steady job experience. And all of these will look great on your data scientist resume!
Looking to build your own entry-level job resume? Follow the steps in our guide on How To Write Your First Job Resume.
Creating a data scientist education section that shines on your resume
You've come a long way to becoming a data scientist. You've put in a ton of hours reading O'Reilly textbooks, debugging Python scripts, and creating visualizations in Tableau.
Make all your hard work show on your resume. For a stellar education section, add info on
Your GPA and final marks
Key courses relevant to the position you're applying for
Any awards you received or societies you were part of
Entry-level data scientists should be really thorough in this section, while senior specialists can shorten it up a bit. Still, consider these two examples - one has everything a recruiter would be looking for, and the other has a lot of left out.
Data Science Major Foundational courses in Mathematics and Computing
WRONG
Took additional courses in Big Data Ecosystems and Data Visualisation 201
Won 3rd place in the Student City Datathon with a project on parking data modelling
President of the STEM Diversity Society for 2 consecutive semesters
RIGHT
Your education section is a key feature - done right, it can be the best asset of your data scientist resume. So browse more essential tips on how to feature education on your resume.
What skills do data scientists need to have?
A data scientist needs a unique set of skills that lets you explore, transform, visualize and model datasets, and also communicate constantly with diverse stakeholder groups. You'll have to show you have the combination of hard skills and soft skills needed to accomplish this to make a good impression.
In "Top 10 Big Data Skills to Get Big Data Jobs" Amit Verma presents a comprehensive list of languages and systems data scientists should be able to work with, including
Top data scientist technical skills for a resume:
Programming languages including Python, Java, C, and Scala;
Quantitative and statistical analysis tools like SAS, SPSS, and R;
Apache Hadoop and its components like Hive, Pig, HDFS, HBase, and MapReduce;
NoSQL databases including Couchbase and MongoDB;
Data visualization tools like QlikView and Tableau;
Data mining tools like Rapid Miner, Apache Mahout, and KNIME.
Make sure you include only things that you know well enough to start working with tomorrow. There's no point in inflating expectations and then missing the mark.
What about soft skills?
Just knowing the technology won't cut it, you need soft skills. We list some great ones below, or you can check out KDnuggets list of important soft skills too.
Data scientist soft skill examples for a resume:
Ability to work well with others and on your own
Critical thinking and problem-solving skills
Adaptability and capacity to learn new coding languages and programs
Understanding of general business processes, and related fields, like marketing, HR, cybersecurity, transportation, or customer service.
Communication skills and ability to explain complex subjects in simple terms
The world of data is complex, and you should demonstrate you can navigate through it, but also help others orient themselves in it. Make sure you cover this, especially for more senior positions where presenting to managers is everyday work.
How to add skills from the data scientist job description?
Knowing what you're good at is only part of the equation. The other part is making sure you can give the employer what they're looking for.
Don't fill your resume skills section without a plan. Make sure you tailor it to the job description.
Here's the TLDR on how to do that:
List your hard and soft skills
Check out the job offer and highlight all skills mentioned there
Compare the two lists and include all the skills you have that were in the job description
Add a couple more - the ones you think differentiate you
Let's apply those steps to a section from a real data scientist job posting:
"At Lockheed Martin Rotary and Mission Systems, Cyber Solutions, we are driven by innovation and integrity. We believe that by applying the highest standards of business ethics and visionary thinking, everything is within our reach – and yours as a Lockheed Martin employee. Lockheed Martin values your skills, training, and education. Come and experience your future!"
The rest of the job description is fairly clear when it comes to listing the precise skills required. But from this introduction, you can pick up some other key elements to emphasize in your data scientist resume.
Let's break down what they mean:
Innovation: The company sees this as a core value, so emphasize any times you applied your data science skills in unique ways to solve new problems
Integrity: Ask yourself how you can show you have integrity, whether it's that you were a Boy Scout (cliché, but it works), that you volunteer, or something else
Business ethics: Maybe you randomly took a business ethics course in university? If you spot this, it's worth mentioning in your education section
Visionary thinking: Even if you've never done anything visionary, you can emphasize looking toward the future of AI and data science in areas like your resume summary or objective.
Adding resume elements that emphasize what's mentioned in the job description is a subtle but powerful way to make your resume stand out.
If you're still not sure what skills will win recruiters over, check out our guide on How to Create A Resume Skills Section To Impress Recruiters (+10 Examples You Need to See).
Listing data science projects on your resume
The more relevant information you can include on your resume, the better. Adding a section that highlights data science projects you've worked on can help recruiters get additional experience data points about you.
So if you have worked on specific projects, whether for your education or as side projects, list them in a dedicated Projects section. You could also include key projects you've worked on in your past work positions in this section.
Whatever you do, make sure to not only explain what the project was about but also show what the impact of your work has been.
Adding publications on your resume
A good data scientist isn't just a numbers person, they need to be a clear communicator, too. A Publications section will highlight - your ability to clearly communicate complex ideas.
When a 'science-y' person thinks about publications, they might immediately default to research papers published in reputed peer-reviewed journals. Don't assume that.
Your Publications section should also include links to your blog or guest posts you've written online if you have them, to show you can speak in more than just an academic tone.
Add data science certifications to your resume
Since data science is a relatively new field, it's common for professionals to come into it from different fields. If this is the case for you, you can shorten your education section and include additional courses and certifications you've earned.
Top 20 data scientist certifications you can take.
Make sure you follow a few rules when presenting certifications on your resume:
Make them stand out - don't bury your certifications in another resume section, give them their own
Add any capstone projects you worked on - certifications usually make you show what you learned in practice, show them you can do what you say
Show them your drive - if you completed the certification course quickly, mention it on your resume. It shows dedication and motivation to learn.
Should you add more personality to your resume?"?
You're a serious person, you're applying for a position of great responsibility. We get it.
But, people hire people they want to work with, not just skills. So showing what lies beyond your skills, knowledge, and experience matters.
Showing some of your winning personality in your resume is a great strategy. Think of including
Your passions and interests outside of work
Your favorite books
What your typical day looks like
These are powerful differentiators that will make your resume more than just a carbon copy data scientist profile. They'll help recruiters decide whether you're a good culture fit for the company, and will get them excited to meet you.
These elements also make great discussion points during an interview. They'll help recruiters approach you, make the conversation easier, and in turn that will make the interview process more natural and put you at ease.
Other sections to include on your resume
Depending on the company, job seniority level, and location, you may want to include more sections to your Data Science resume. Here are a few to consider:
Cover letter for a data scientist
If the job description says you need to provide a cover letter, be sure to include one. Otherwise, you can leave it out, but they're almost never a bad idea.
Nowadays, job application forms include questions like "why do you want to work here", or "explain why you're the best fit for us", which makes you wonder are cover letters really necessary?
Cover letters are a benefit because they let you tell your story your way. If you're including one, pay close attention to the following cover letter tips:
If you need more inspiration for a data science cover letter, check out this Data Scientist Cover Letter Example.
Key takeaways
To sum it all up, a great data scientist resume should tick these boxes:
Show you know your stuff by presenting relevant education and certificates
Demonstrate practical knowledge with experience and projects you've worked on
Show how your skills align with the requirements in the job description
Add a pinch of personality with additional sections
If you manage to do all that and still keep your resume to two pages max, congrats - you've got a solid foundation for earning your next dream job as a data scientist!