What are soft skills?

What are soft skills indeed? They are skills that do not require the use of machinery, or at least this was the official definition introduced by the US army. They were the ones who pioneered the study and cataloging of these skills in the 1960s. Since then the definition was refined, but in general one can say soft skills are more transferable than hard skills. They do not require any industry-specific or technical knowledge and are easily applied to almost any job. These are skills we start to learn from the day we are born. Although they could be learned, some people have a better natural command of them.

The term "soft skills" is interchangeable with "core skills", "common skills", "productive personality traits".

In recent years, the interest in these skills has increased, and many employers created programs that are aimed at helping employees develop their soft skills. They are considered a gateway for employability and future success in anything.

Unfortunately, there is no globally accepted terminology or classification. Sometimes the borders between soft and hard skills are blurred depending on the context.

For the sake of simplicity, let's informally divide them into three groups: Personal soft skills, Social soft skills, and Organizational soft skills.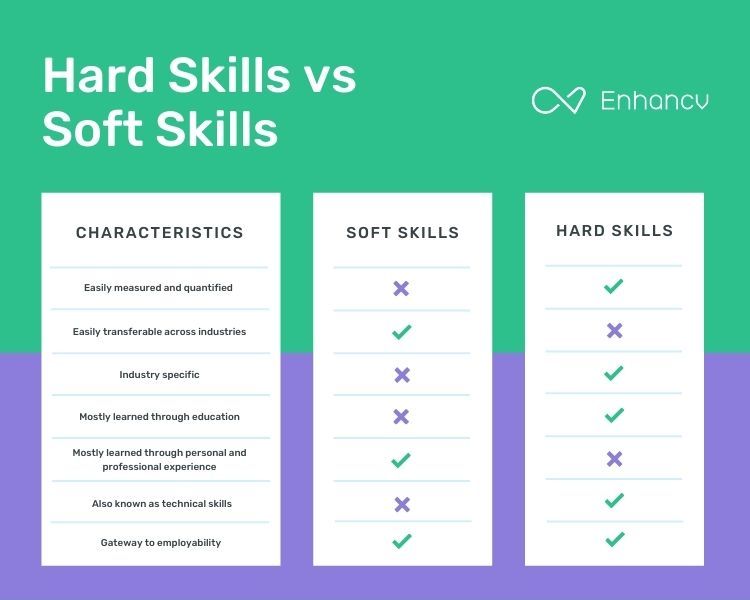 An informal classification of soft skills
There is no clear definition and classification of soft skills, and the following section should be considered informal. Have in mind that many of the skills in each of these subsections can be placed in more than one of them. The division is based on the role of the employee in the organization.
Personal soft skills (Individual Employee Level)
They are mostly applicable at an individual level. Guaranteed the hardest skills to demonstrate on your resume. By standard, they will be manifested by your results as your career advances. Some examples are:

Self-Discipline skills;
Responsibility;
Self-motivation skills;
Learning skills;
Patience;
Stress resilience skills;
Self-confidence skills;
Active listening skills;
Innovation skills.
Social soft skills (Team Member Level)

These skills determine how we interact with each other in life and on the job. Some examples are:

Customer service (Customer care) skills;
Communication skills;
Collaboration skills;
Emotional intelligence skills;
Teamwork;
Mentoring skills;
Interpersonal skills.

These skills are easy to demonstrate when you are invited for an interview. Social soft skills also apply at the individual employee level when working with customers and partners of the organization.
Organizational soft skills (Leadership Level)

These skills are required if you represent an institution at a leadership level in its interaction with employees, partners, or customers. These soft skills are mostly mastered by leaders or managers, but they are not exclusive to them. Some examples include:

Leadership skills;
Time management skills;
Team management skills;
Analytical thinking skills;
Critical thinking skills;
Mentoring skills;
Problem-solving skills;
Proactive skills.
How to show soft skills on a resume
Soft skills are harder to measure and quantify, making them highly subjective to prejudice and difficult to demonstrate on a resume. As a candidate, you can not simply write on your resume that you are a motivated person or a good leader. Soft skills must always be supported by examples of results and achievements.

Cover letter and Resume formatting - submitting perfectly formatted documents suggests that you are a diligent, serious, and responsible person. Innovative resume design says to the recruiter that you are self-confident and creative.
Phrases and keywords - using the same phrases and keywords as in the job posting not only grants you a better chance of not being filtered out by automation HR systems, but also shows proactive behavior and analytical thinking. Your ability to translate your transferable skills into the language of the job posting will not be unnoticed.
Achievements - list your achievements and accomplished projects backed by numbers because this is the best way to give proof for your soft skills.
Courses - list out courses you have completed that improved your soft skills
Crises and critical situations - describe problems you solved, difficult situations you overcame, solutions you found.
Soft skills Resume Examples and keyword suggestions

Interpersonal skills: "supported", "resolved", "improved", "mentored", "solved", "counseled", "guided", "encouraged", "helped"
Proactive skills: "started", "initiated", "drove", "led"
Mentoring skills: "mentored", "counseled", "supported", "guided", "encouraged", "helped"

Team management skills: "organized", "developed", "supported", "created", "analyzed", "improved", "optimized", "solved"
Analytical thinking skills: "helped identify", "liaised", "analyzed", "optimized", "increased", "managed", "collected data", "processed data", "solved"
Self-motivation skills: "anticipated", "volunteered", "passionate", "independently"
Team-working skills: "collaborated", "contributed", "embraced", "joined", "participated", "teamed", "united"
Innovation skills: "analyzed", "improved", "envisioned", "introduced", "identified", "implemented"
Problem-solving skills: "analyzed", "identified", "evaluated", "implemented", "improved", "overcame", "solved"
Leadership skills: "mentored", "guided", "trained", "supported", "encouraged"
How to adapt soft skills on your resume to a particular job posting

As we already pointed out, it is very important to "speak" the language of the employer. This is especially tricky when it comes to soft skills because they are usually overlapping and there are synonyms for most of them. Make sure to read all available information provided by the company in the job description and the job specification of the position.

PRO TIP: Read through the informatiоn available at the employer's website in the "About us", "Company mission", "Company vision" sections etc.

Example:
Sr. Business Development Manager, Fintech
XYZ Company - NY, NY
Job Description
Do you want to work on challenging issues in the Fintech industry? Are you a curious, motivated and collaborative person? Do you have an entrepreneurial and passionate spirit?
Responsible for new account development within the region


Solves problems and critical issues with existing customers

Identify new targets and key contact people

Achieve quota and proactively manage prospects at different sales cycle stages

Train new recruits

Job Specification
The candidate you will have established knowledge of the fintech industry


Must have 2+ years experience selling to financial managers

Has proven record of selling business technology ($50M+ annual sales)

Excellent communication,presentation and writing skills


Flawless customer care skills and emotional intelligence

Mentoring skills


If you are applying for this position, you will need to mention the following keywords on your resume:

Responsibility;
Problem-solving skills;
Proactive skills;
Communication skills;
Customer care skills;
Mentoring skills;

Use the same terminology. For example, if you have Customer service or Customer support experience, use Customer care instead. List out these skills in the Skills' section of your resume, but always support them with examples in the Resume summary, Experience, or Achievements section.

Benefits of soft skills at work

In today's world, we work in an environment that changes rapidly. More people work remotely and in decentralized organizations. Globalization, fast technology advancement, and artificial intelligence demand different sets of skills. To navigate the newly created networks we use for work, one needs a highly sophisticated and extensive set of soft skills.

Condicio sine qua non: In Latin this means "a condition without which it could not be''. In our time, contrary to the past when only hard skills were required, employers look also for soft skills in a candidate. Having certain soft skills is a gateway to employability.
Flexibility and Security: Although not synonymous with transferable skills, soft skills could be applied almost everywhere, so investment in them is a sure bet and gives you more security in case you need to change your job or even industry. The mastering of soft skills in itself gives you the ability to be more flexible in any organizational environment.
Career Advancement: Mastering soft skills will give you an advantage over someone else. If you can demonstrate soft skills valued by the employer, you will advance further in your career, possibly towards a higher managerial position with bigger pay and more benefits.
Job Satisfaction: Soft skills will make you a desired team member. They will also make you aware of what to do in certain situations to get a favorable outcome. If you have soft skills, they will help you to better fit your team. As a result, you will be a very productive employee and your job satisfaction will rise.

Soft Skills in a Nutshell

Soft skills are hard to define and classify, and even harder to demonstrate on a resume. They became an essential part of our daily lives. Investment in them will always pay you back, and they can make you not only a wealthier but also happier and healthier person.

The job market has changed a lot in the past 100 years and in many ways, soft skills have become even more important for some jobs than hard skills.

Remember that the best way to convince the HR officer you have a certain soft skill is to demonstrate it through flawless resume presentation and formatting, and to list out your achievements and accomplishments backed by numbers.
Make your move!
Your resume is an extension of yourself.
Make one that's truly you.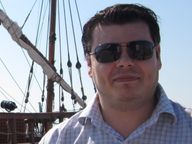 Svilen Nikolov
Svilen Nikolov is an entrepreneur and a business author who found a passion for Human Resources Management while attending classes at the UPEI Faculty of Business in PEI, Canada.