Having a one-page resume is possible, even if you have decades of experience behind your back.
In this article, we'll analyze concrete examples of one-page resumes built by Enhancv users – from William, a Japanese entrepreneur with over 25 years of experience to Pavel whose professional background took him to three countries, and Gal that has spent a decade in the product management and business development world.
All three of them share one common thing – a single-page resume.
So, how do you fit that many years of experience into an effective resume without omitting important details?
Keep reading and you'll learn:
If your resume should be one page long.
How to focus on relevant skills and experience to cut down your resume to a single page.
Which resume sections are a must in single-page resumes.
Alex Lafreniere, a happy user, shared this:
"Hands down the best and most intuitive resume builder I've used. Go for the pro plan - it's the best bang for your buck. You get a lot more sections, which helps with the different variations of your cv, especially if you want to tailor it to different industries."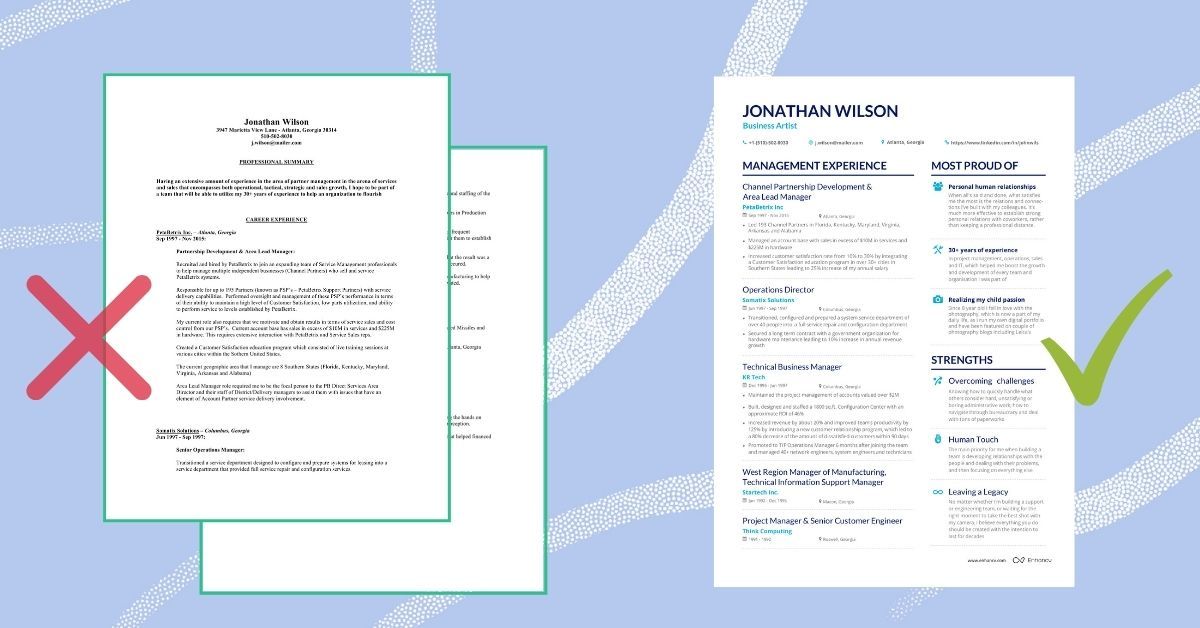 Should your resume be one page?
Yes, your resume can be one page, regardless of experience. Single-page resumes focus on the most relevant parts of your work history. Put important and relevant information first, as this makes for an efficient format for any professional field.
If you can't fit all relevant experience on a single page, only then go for a two-page resume.
How to make a one-page resume if you have a ton of experience?
The secret to making a one-page resume when you have 10, 15, or even more than 20 years of work experience is to include information that's highly relevant to the job you're applying for.
Study the job description – hiring managers usually include what experience and skillset they're looking for. Show that. Remember, that may mean you'll have to make a tailored resume for each job position you apply for.
Thankfully, with Enhancv you can easily copy, edit and download your resumes as many times as you need. It also saves time that you don't have to worry about design or layout – check our resume builder.
So, does a resume have to be one page?"?
A resounding no. Professionals with a lot of relevant experience in a field can benefit from two or even three-page resumes. If you've spent the past 15 years working as a business transformation manager and you have a lot of examples to communicate on your resume, then definitely go with a longer one.
Does it mean the one-page resume format is dead?
No. A resume should focus on your relevant experience and give insight into the impact you've had at previous companies you've worked for and give a glimpse into who you are.
Fit all three on a single page and you've got yourself a pretty impactful resume. In the examples we're going to review below, we've made sure to analyze how each has made their resume.
How to fit 25 years of experience in a single page – William's one-page resume.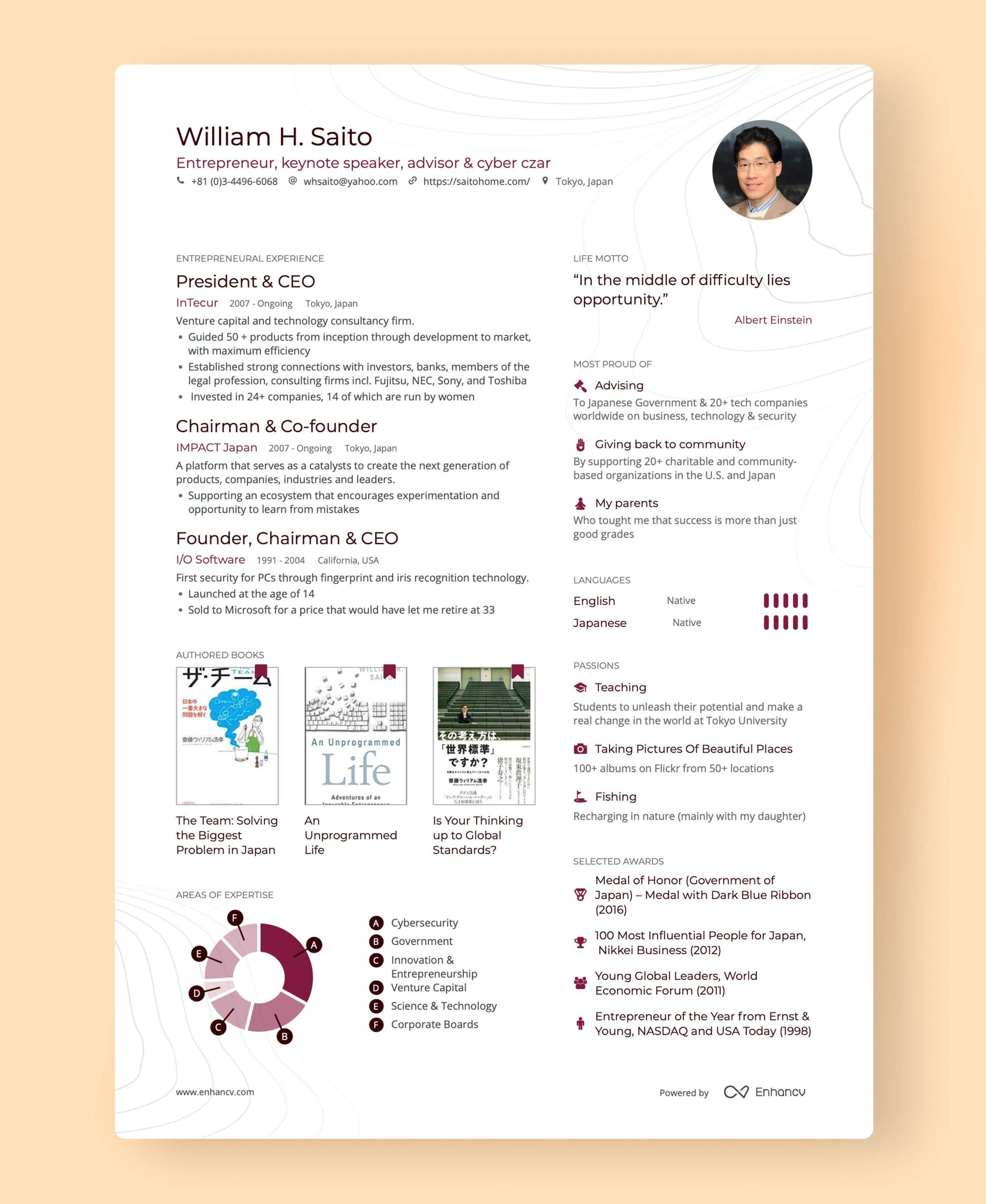 William's single-page resume takes advantage of our compact resume format. The best way to fit more information on a single page is by browsing the Enhancv resume templates and choosing a two or three-column layout.
With a single click, you can fit around 50% more content on a single page, compared to what a Microsoft Word template allows you to do.
Still, William took things up a notch. Here's what he did especially well when writing his resume.

Right under his name, William wrote what defines him as a professional: "Entrepreneur, keynote speaker, advisor & cyber czar''. This quickly gives you an idea of the kind of jobs he's held previously, and what is most significant about his career – all in seven words and contained to the resume header.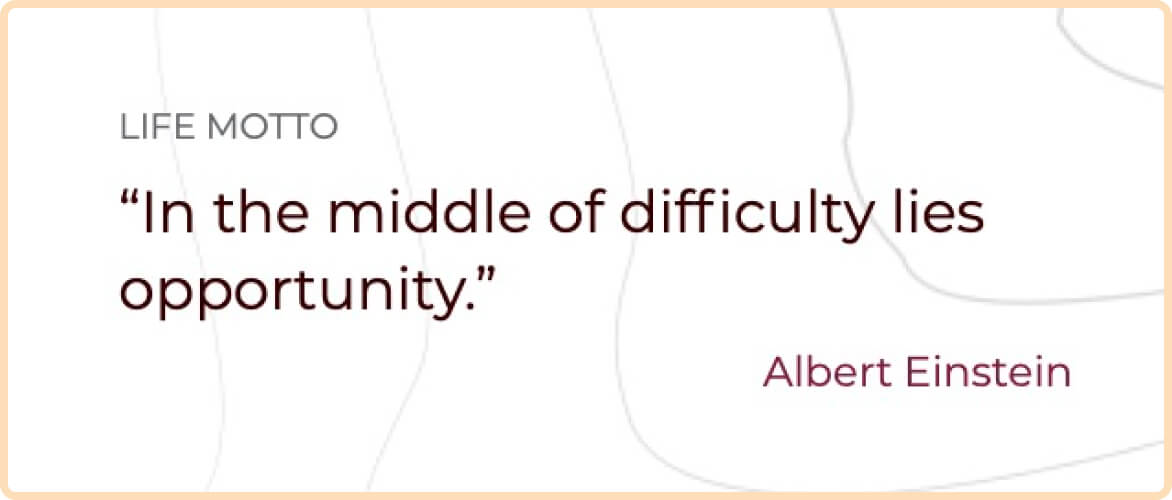 Next, William shared his life motto in a single sentence: "In the middle of difficulty lies opportunity". A simple quote can speak volumes about you as a person and your attitude to work and life itself.
Beyond showing how you see the world, it signals to companies whether you might fit into their culture. This shows us that William is not the kind of person that gives up. He perceives problems as opportunities.
Taken together, these sections give a brief and quick insight into who William is and the energy he would bring to his role and the team. As opposed to a lengthy personal summary, William said all he needed to in two short sentences. Now, let's continue with William's experience section…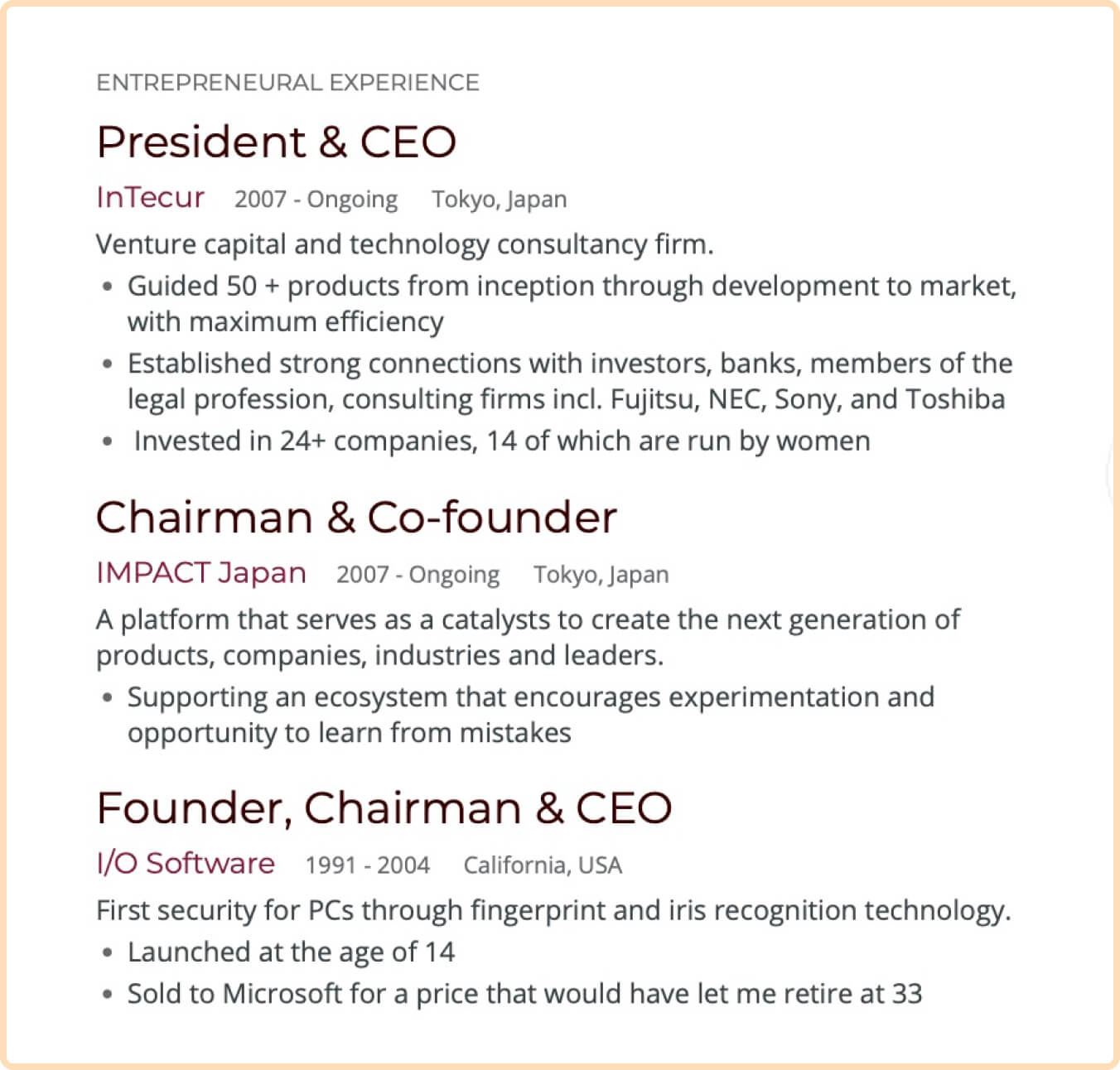 William includes 3 jobs within his experience section. These are the most recent and significant jobs that relate to the field he hopes to work in. They're also quite diverse.
Rather than writing pages on every job he has ever had, he has tailored his experience to three impactful descriptions of the jobs that relate most to the job vacancy.
He also decided to name the section Entrepreneurial Experience. This suggests that it covers only a portion of his work experience. This is a case where careful decision-making really pays off.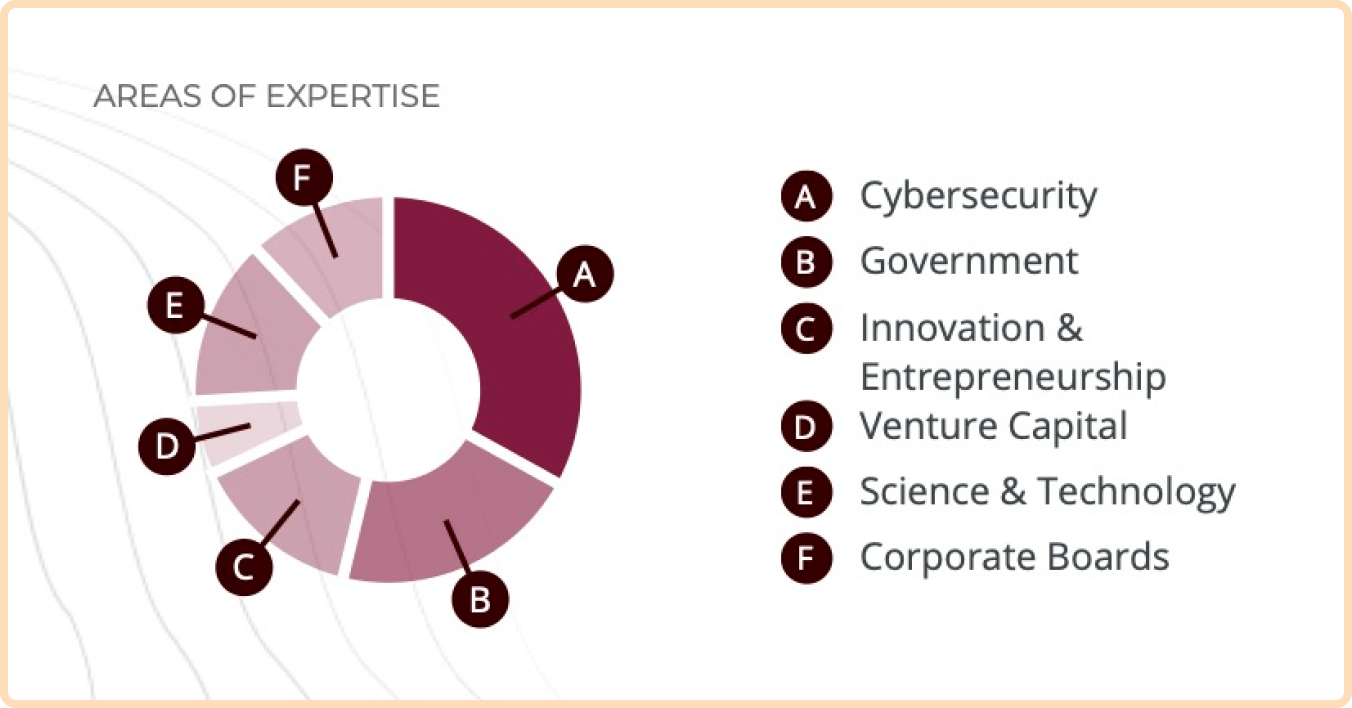 William goes on to make use of an Enhancv exclusive – the "My Time" section. This allows users to show their time spent during the week or a typical day-in-the-life.
For example, the section makes it obvious that Cybersecurity is something he does best. Again, using this quick visual saves a ton of space.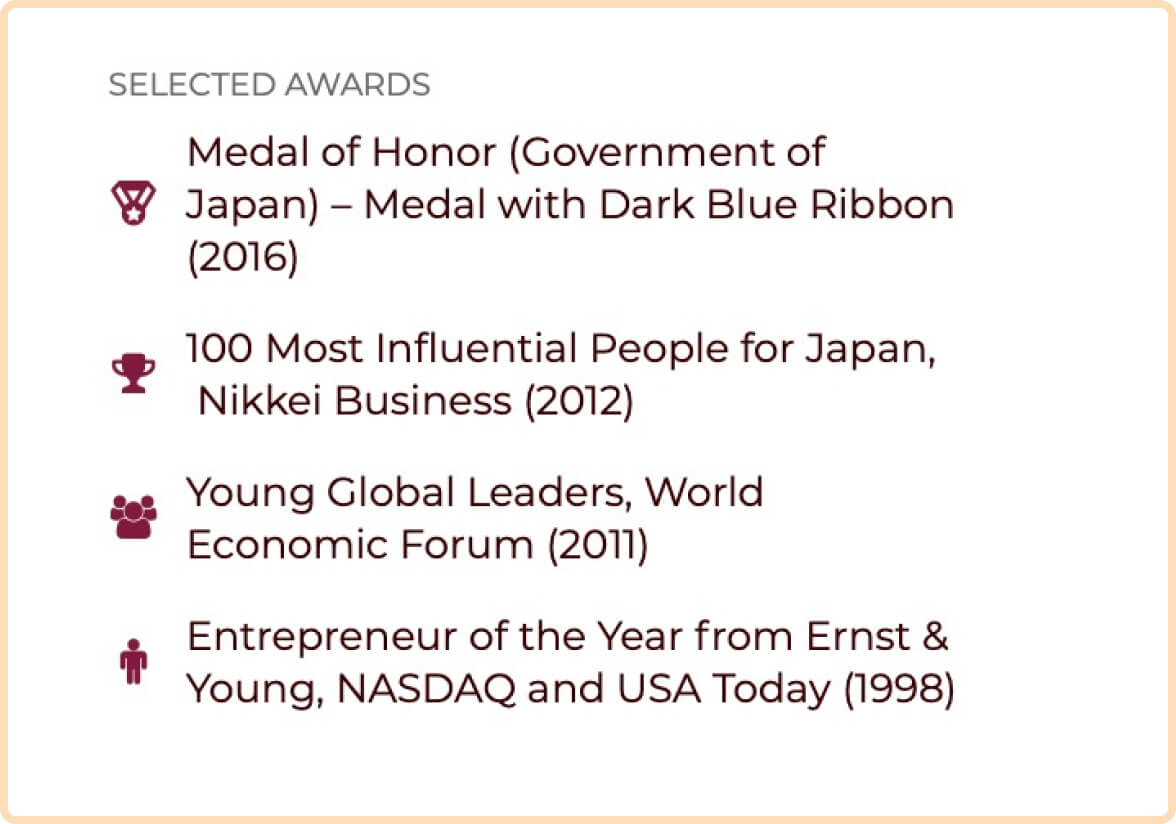 Furthermore, William utilizes an awards section to mention advising the Japanese Government as well as over twenty tech companies regarding business, technology, and security.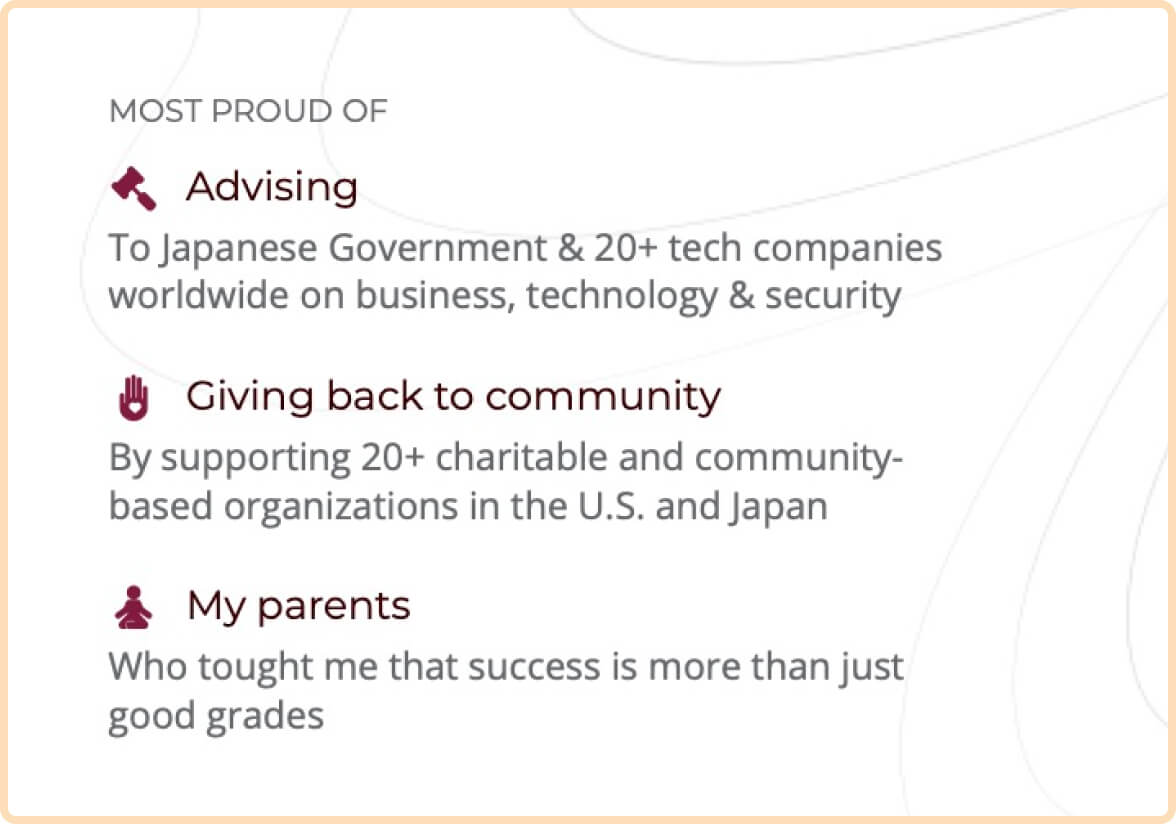 His other point is ''Giving back to the community'', where he mentions that he's been supporting charitable and community-based organizations. This saved William another page where he listed all his advisory positions and achievements. All in a few sentences, with bits of his character.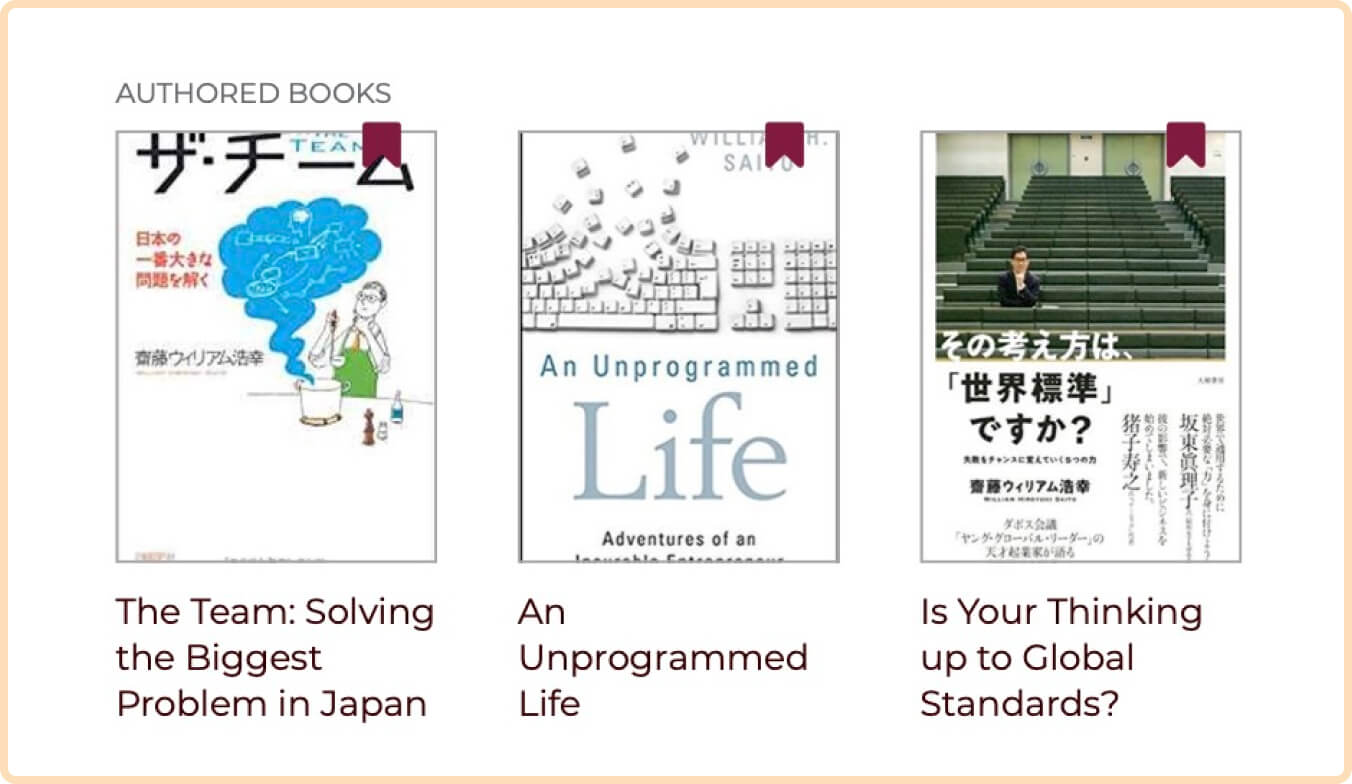 William backs up his previous experience with a notable metric that shows his impact on the bottom line. In a few short words, we see the results of his work. His Authored Books section (another section offered by Enhancv) contributes to this, too. Here, we get a quick visual of the books he's published, rather than a long description that would take up many paragraphs.
A CEO and co-founder's one-page resume – how Pavel fit his professional life on a single page.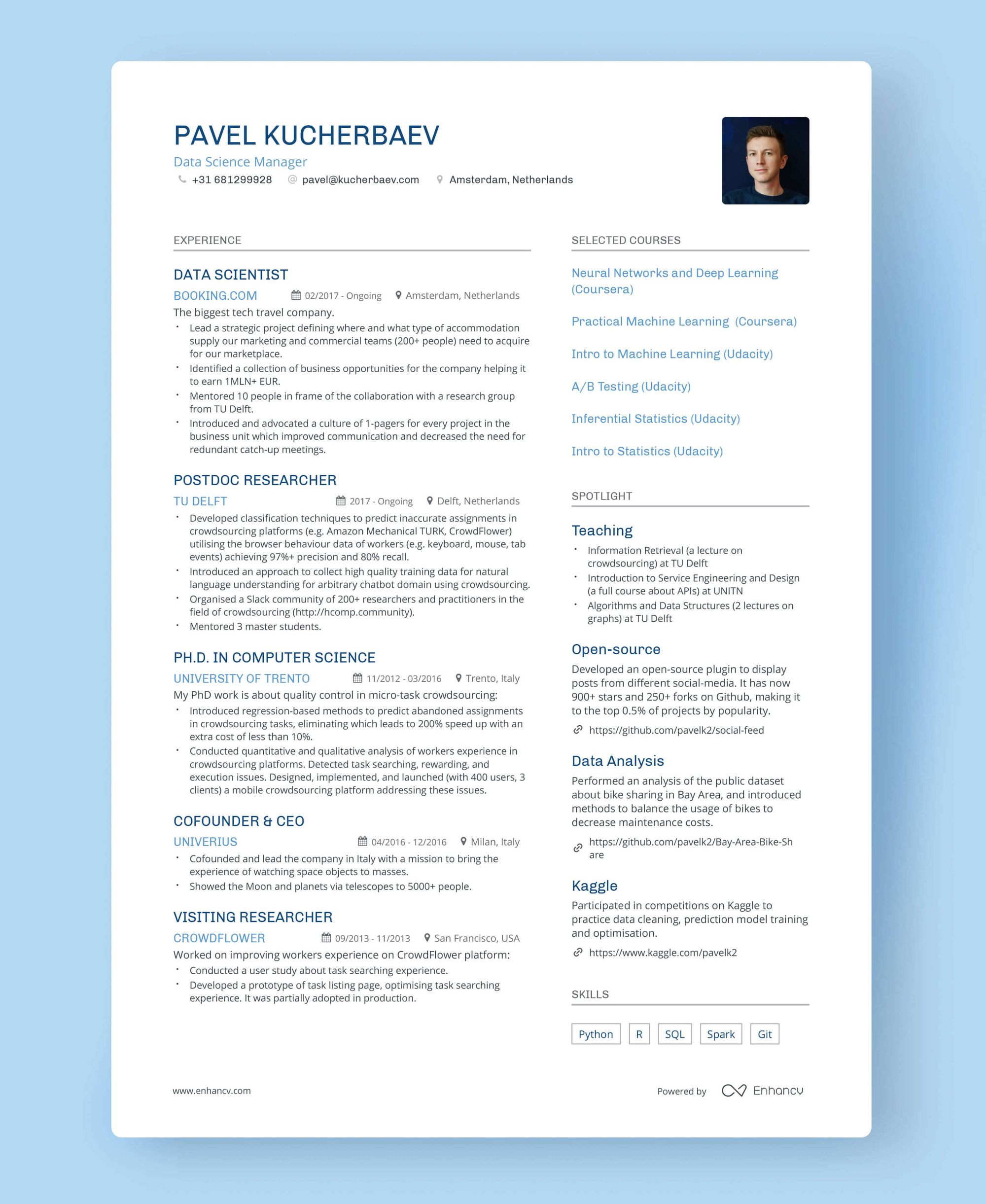 Pavel's resume is a great example of someone who has taken our modern resume template and made the most of it.

Pavel has utilized the Technology section of our resume builder to give a snapshot of the programs he is familiar with. Here, we see five highlighted technologies. It's simple but effective. This cuts down on writing full sentences to show what systems you're comfortable with.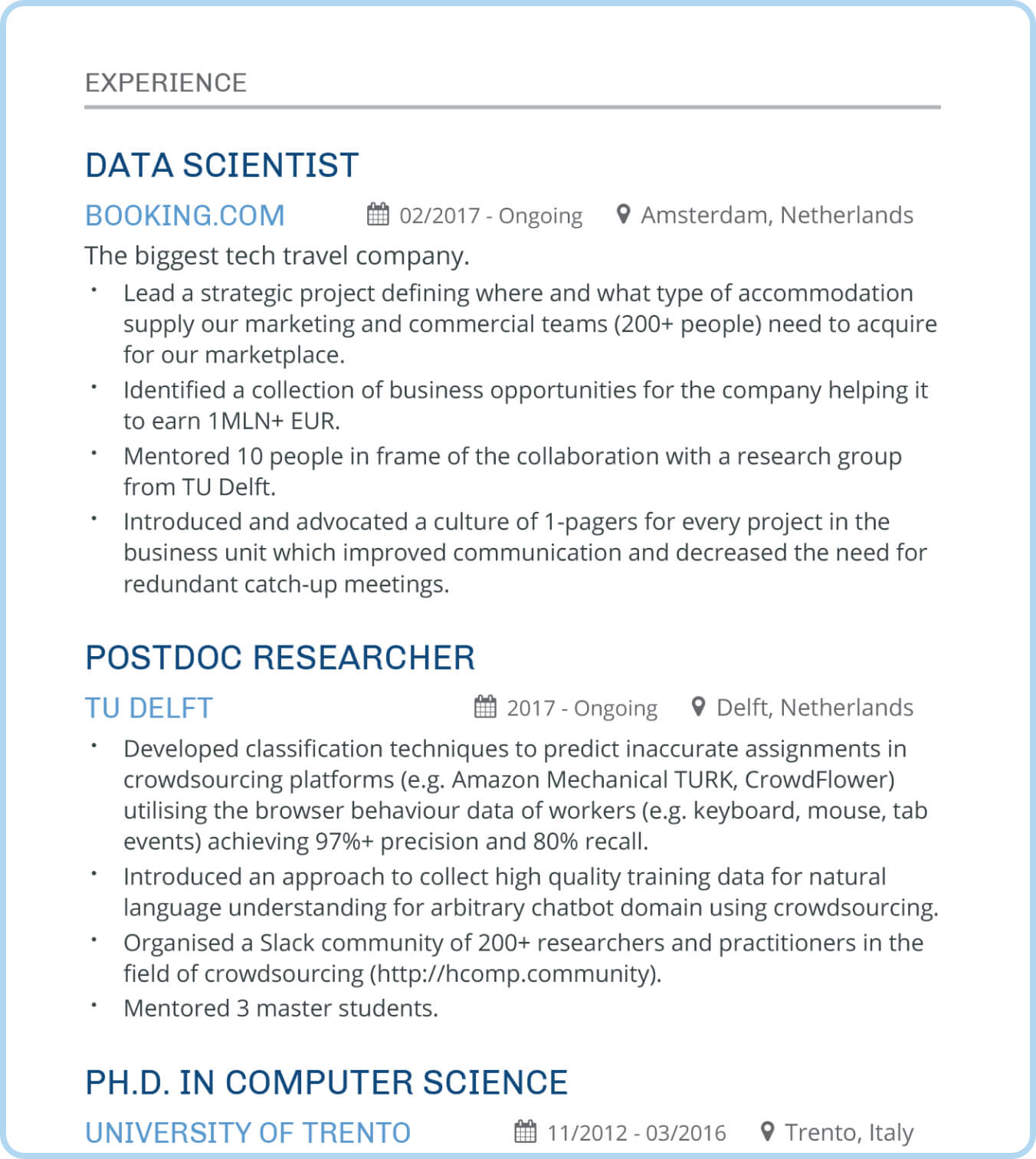 Taking a look at Pavel's experience section, we can see how job-rich it is. We're looking at 6 job titles – from a researcher to a co-founder and CEO. Data science is a relatively new and expansive area of tech.
For this reason, it's beneficial to include as many previous experiences as you can that relate to possible duties. Each job is accompanied by a quick bullet point that explains all of Pavel's responsibilities, and everything is written concisely.
Much like William, Pavel intertwines his impact with his previous experience by providing a significant metric to measure his achievements.
For example, he showed the moon and stars to 5000+ people.
This short description focuses the recruiter on tangible evidence that does not take up a lot of space. If a recruiter wants to know more, they will ask in an interview or over email.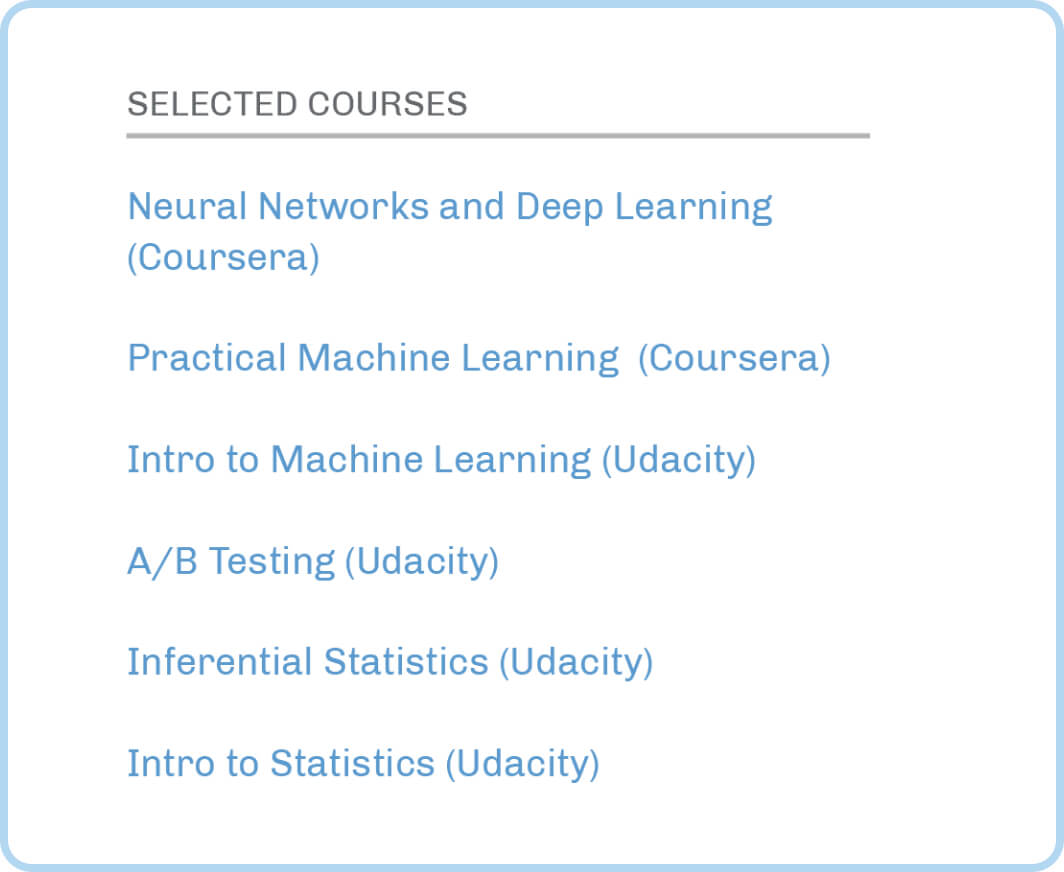 Pavel's experience is further explained in a simple list of his Selected Courses. Here, space is saved by collecting all relevant and important courses he's taken in a single section. The titles are enough for the recruiter to understand his skill.
Founder, Director, and VP of Product – Gal's double-column single-page resume.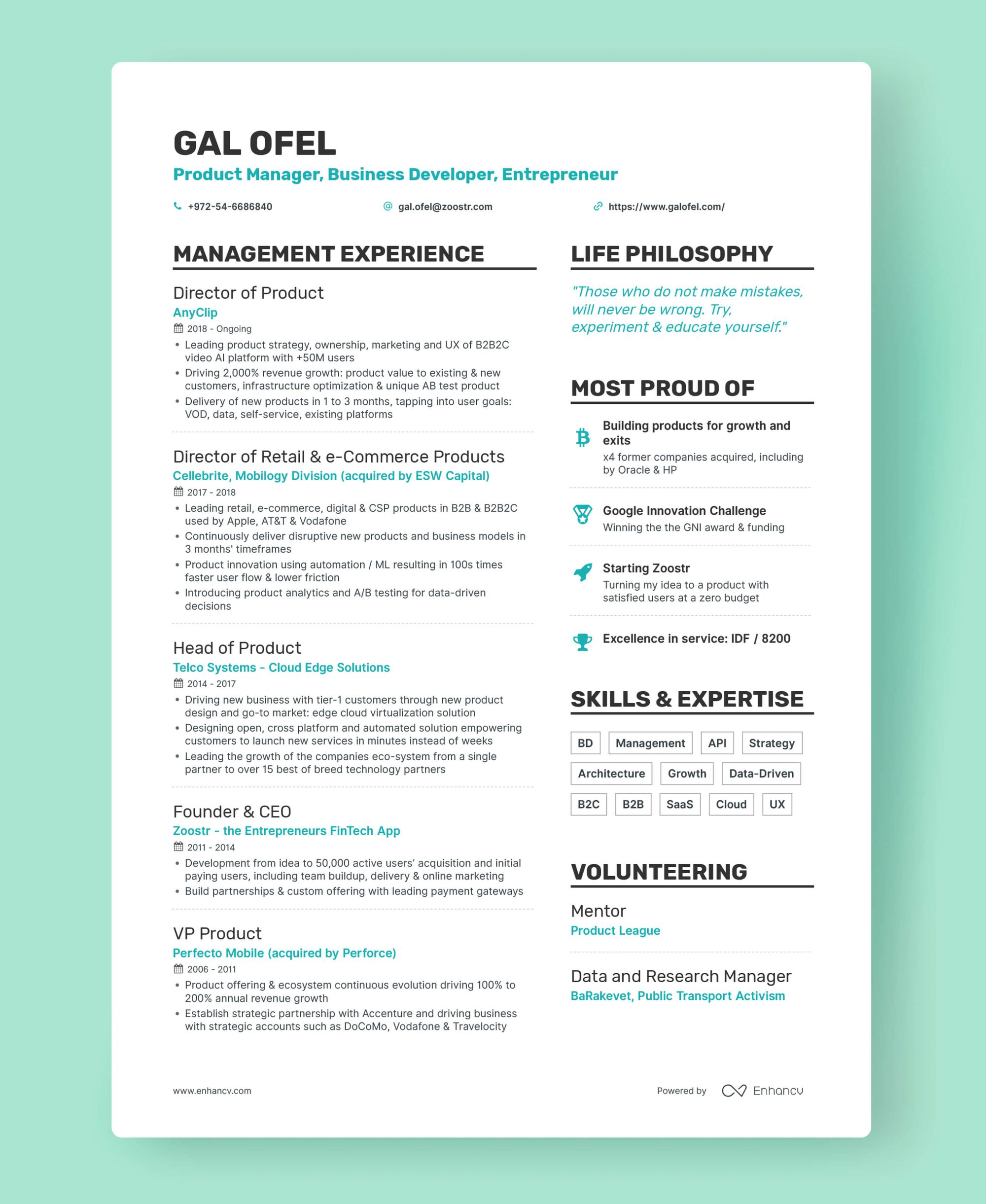 Gal shows us that any resume template can be used when building a one-pager. Using Enhancv's staple – the double-column resume – Gal makes an impact without drawing things out.

Accomplishing this in two-three sentences will do wonders to signal to companies that you fit within their culture – ultimately getting you an interview sooner.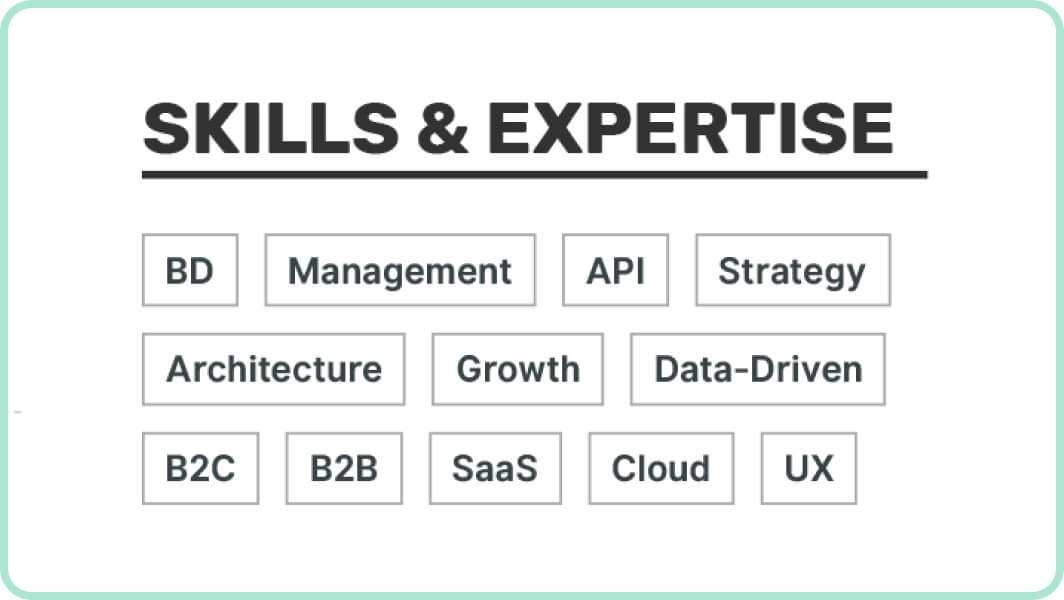 Gal makes use of Enhancv's technologies section but renames it as an "Expertise" section. With this, the recruiter can easily see that Gal is gifted when it comes to B2B, B2C, SaaS, and more. This is an excellent example of cutting paragraphs down to singular words with the same impact.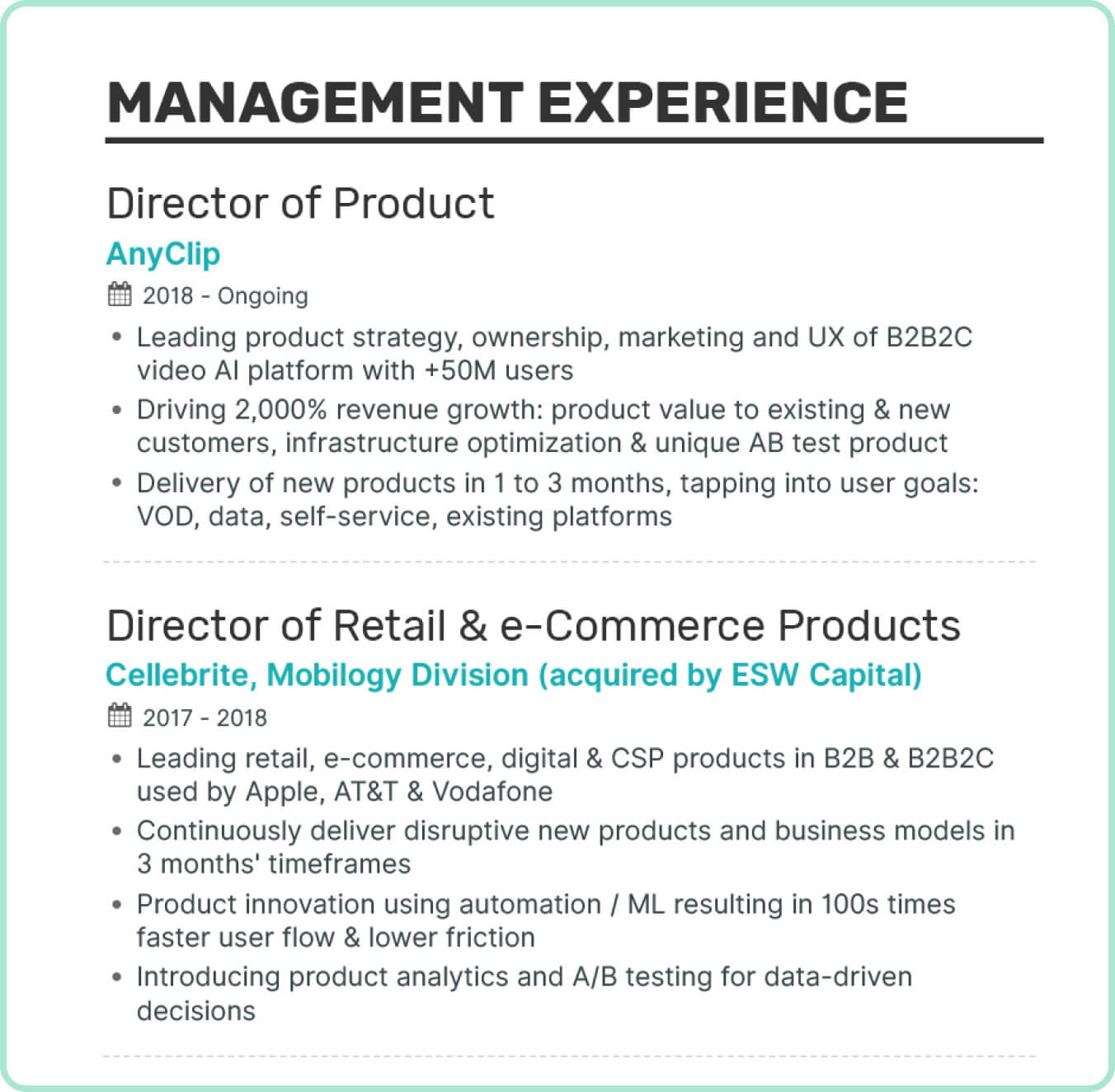 Again, Gal introduces his impact by providing a significant metric to measure his achievements. For example, "driving 50% to 100% annual revenue growth". This captures his ability in one bullet point, as opposed to several sentences on ways he brought a change in a previous company.
How to write your resume to fit on one page – a handful of actionable resume tips.
Whether you've got 25 years, a decade, or a month of experience, making a strong impression is essential. A single-page resume helps you do that.
We gathered the career counseling team at Enhancv and put all their know-how around writing impactful one-page resumes.
Use a double-column or compact resume template.".
A one-pager resume with plenty of experience will not fit on a single-column template. At Enhancv, our double-column template is specifically designed to meet applicant tracking systems requirements and with one-page resumes in mind. You can fit up 50% more information compared to what general resume templates allow for.
Write short, action-oriented bullet points.
Cut the fluff and focus on the make-it-or-break-it moments in your career. Stick to active words and use buzzwords properly.
Draw inspiration from the examples above, or recollect the moments that made you the professional you are today. If you need more inspiration, we have over 500 job-specific resume examples for you to explore and inspire from.
Use smaller fonts.
Choose a smaller font size but make sure the text remains legible. Size 10 or 11 looks fine and passes readability checks, anything smaller would make your resume hard to read.
Fonts like Oswald, Bitter, and Volkhov are more compact and allow you to fit more text on a single page.
Remove unnecessary sections.
When you have a lot of relevant experience, you can skip the Education section. Unless you have Cum Laude from an Ivy League university, you're generally okay with not including your education. Leave off references as well, unless they're highly relevant for the job position.
Make sure that your summary is short but packed full of information. It's the best way to communicate who you are and your skill set in a single sentence.
Decrease the margins' size.
When you decrease the margins of your resumes you get to add more information, however, you have to keep in mind the readability of your resume. No hiring manager wants to read a wall of text.
Enhancv's resume builder has in-built resume margins you can switch between that still keep your resume readable and easy on the eye.
Use creative sections to spotlight career milestones.
One-page creative resumes are the hardest to make. We've compiled over 20 creative resumes for you to check out. You can make your very own by signing up for Enhancv –– or you can hire our career counselors to help you make your resume.
Key takeaways
Single-page resumes seem difficult to create until you get the hang of it –– focus only on experience and skills that show how you can make an impact in the company you're applying at.
Cut the extra fluff. Choose only the relevant, result-driven information.
Use different sections to reframe and communicate your experience in short and engaging ways.
Choose an Enhancv resume template and focus only on the information and not the design.
Focus on font size and margins to fit as much information as possible.
Make your move!
Your resume is an extension of yourself.
Make one that's truly you.