One Page Resume: Examples & Guide for 2022

As a well-known Japanese entrepreneur and a leading authority on cybersecurity, William has worked in over 20 positions and has over 25 years of experience.
This has left him spoiled for choice when it comes to highlighting his abilities.
On the same note, Pavel has worked in over three countries, has founded his own business, has shown the wonders of space to thousands, and has years of research under his belt.
Similarly, Gal has over a decade worth of experience in product management and business development, including starting his own company.
Yet, all of them have a one-page resume.
So, how do you fit so many years of experience into an effective resume without omitting important details?

Here's what this article will show you:
Does your resume have to be one page?
How to fit your resume on a single page
Which resume sections are most important in a single page resume
One page resume examples & templates you can use right now

If you want to save time, go straight to our resume templates:

Alex Lafreniere, a happy user, shared this:
"Hands down the best and most intuitive resume builder I've used. Go for the pro plan - it's the best bang for your buck. You get a lot more sections, which helps with the different variations of your cv, especially if you want to tailor it to different industries."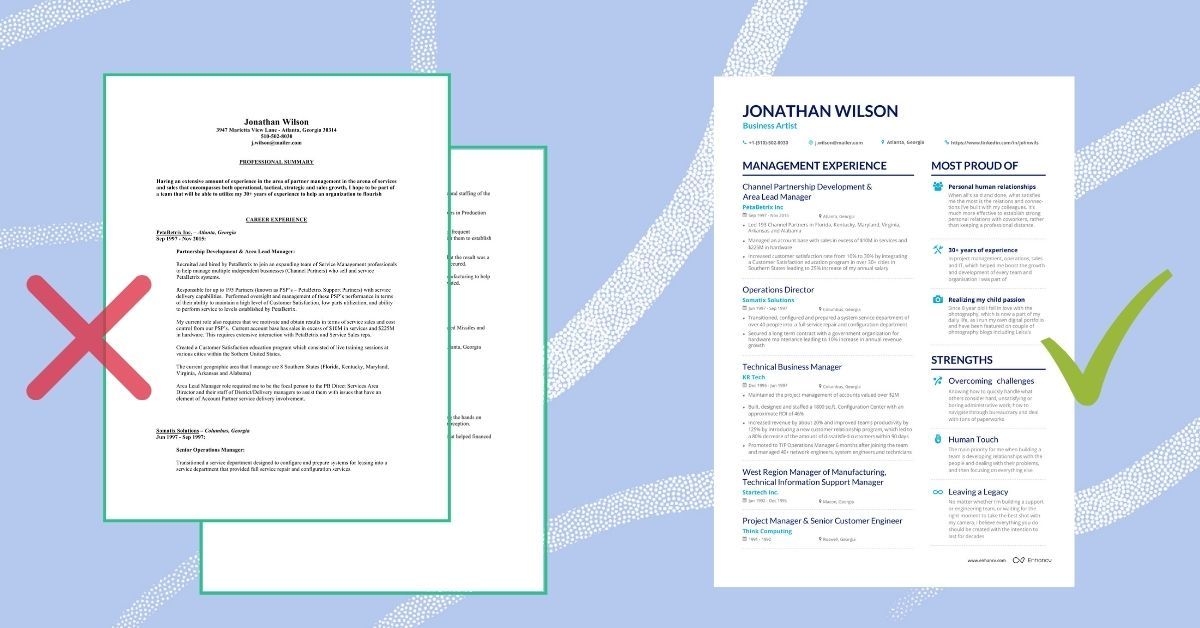 Should Your Resume Be One Page?

Your resume can always be one page, regardless of experience. One-page resume shows the best parts of your work history akin to a movie teaser. The important and relevant information comes first, which makes it an efficient format for any professional field.
So, does a resume have to be one page?

A resounding no. We may have re-invented the one-page resume format, but we're not fanatics. Battle-scarred project managers and veteran CEOs, for example, can benefit from two, even three-page resumes.
That is to say, if you have longer experience, and it's relevant to the job application, by all means, you can extend your resume length.
Can my resume be two pages even if I don't have a lot of experience?

Candidates with 5-10 years of work experience can also have two-page resumes. Here's the deal - with a two-page resume, you can show a bit more of your personality and warm up the hiring manager. Jobs are not just about crunching numbers - you're, after all, going to work with other people. A culture-fit is as important for most employers, as work achievements.
This is why the second page of your resume can also be reserved to highlight your strengths, motivations, hobbies and interests. For more strategies, check our guide: How, When, and Why You Can Use a Two-Page Resume?
Does it mean the one-page resume format is dead?

That's a no again. A resume should show who you are, detail your experience, and give insight into your potential impact.
If you check all three with a one-pager, why not use it?
Keeping those things in mind, here's how William, Pavel, and Gal crafted the perfect one-page resumes despite their lengthy experience.
How to fit 25 years of experience into one page resume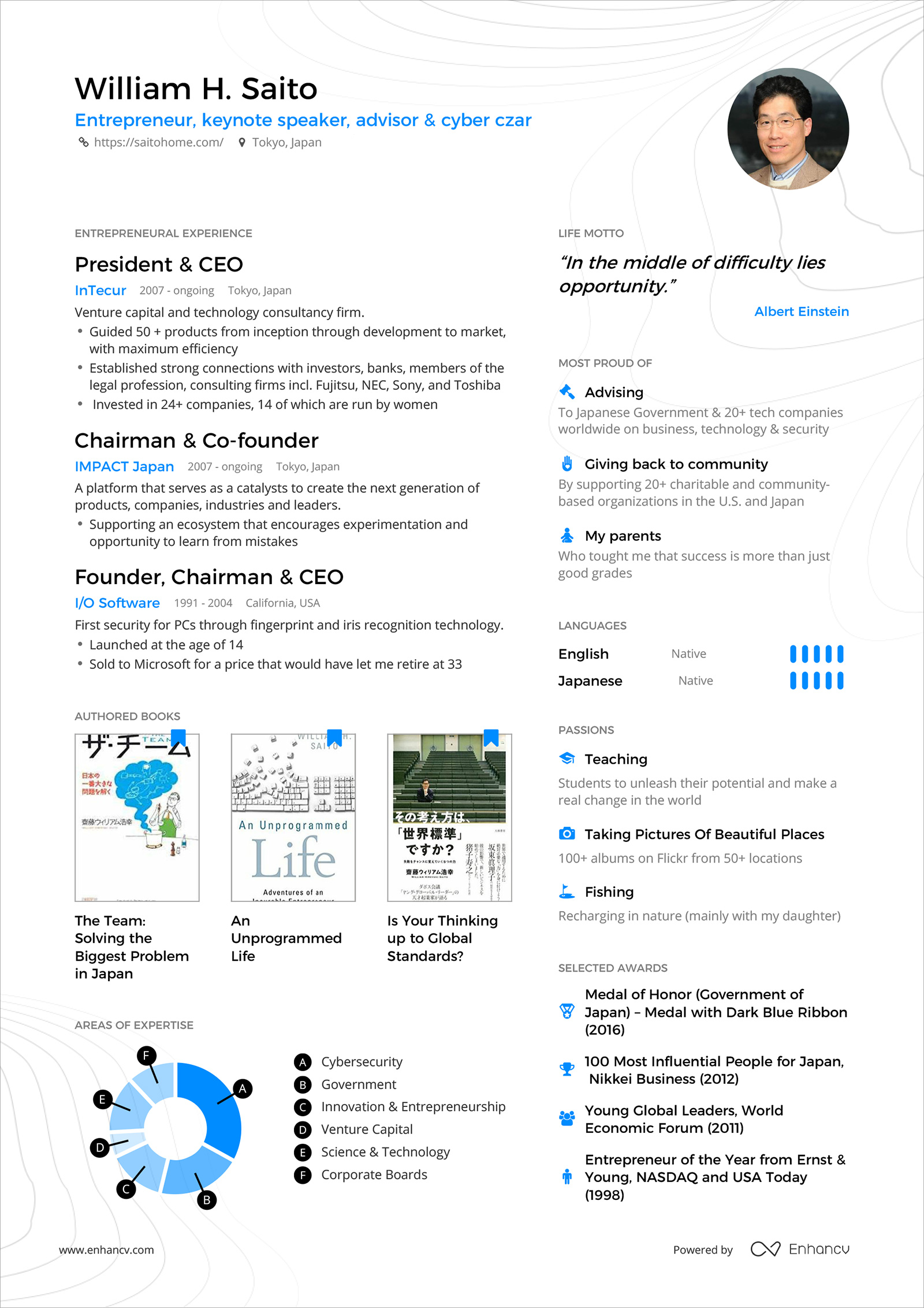 The best way to fit the most content on one page is opening Enhancv's platform and choosing one of our two or three column resume templates.
With a single click, you can fit around 50% more content on one page.
Here's how William did it.

Right under his name, William wrote what defines him as a professional: ''Entrepreneur, keynote speaker, advisor & cyber czar''. This quickly gives you an idea of what kind of jobs he's done, and what is most significant about his career – all in just 7 words.
Next, William shared his life motto in one sentence: "In the middle of difficulty lies opportunity".
A simple quote can speak volumes about you as a person and your attitude to work and life itself.
Beyond showing how you see the world, it signals to companies whether you might fit into their culture. This shows us that William is not the kind of person that gives up. He perceives problems as opportunities.
Taken together, these sections give a brief and quick insight into who William is and the energy he would bring to his role. As opposed to a lengthy personal summary, William said all he needed to in two short sentences.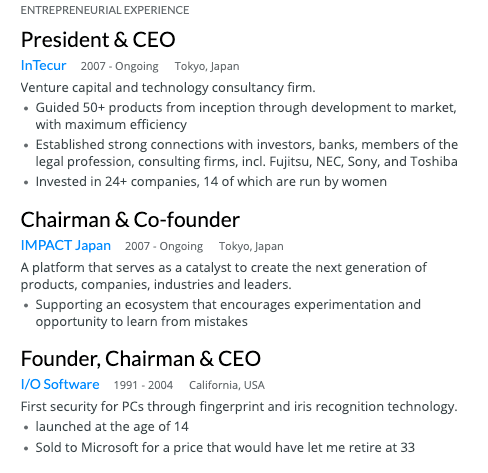 William includes 3 jobs within his experience section. These are the most recent and significant jobs that relate to the field he hopes to work in. They're also quite diverse.
Rather than writing pages on every job he has ever had, he has tailored his experience to three impactful descriptions of the jobs that relate most to the job vacancy.
He also decided to name the section Entrepreneurial Experience.
This suggests that it covers only a portion of his work experience.
This is a case where careful decision-making really pays off with greater impact.
William goes on to make use of an Enhancv exclusive – the "My Time" section. This allows users to show their time spent during the week or a typical day-in-the-life.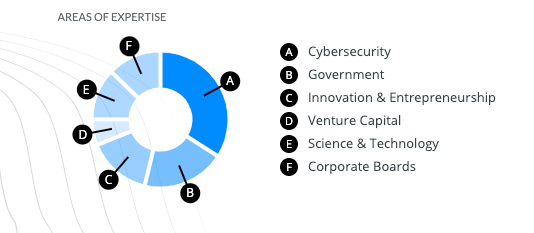 William repurposed this section to show his industry expertise. Each piece of the pie chart indicates his greatest strengths.
For example, it's obvious that Cybersecurity is something he does best. Again, using this quick visual saves a ton of space.
William utilizes an awards' section to mention advising the Japanese Government as well as over twenty tech companies regarding business, technology, and security.
His other point is ''Giving back to community'', where he mentions that he's been supporting charitable and community-based organizations.
Right there, William saved another page where he'd list all his advisory positions and achievements.
All in a few sentences, with bits of his character.
Short but powerful.
He also backs up his previous experience with a notable metric that shows his impact on the bottom-line. In a few short words, we see the results of his work.
His Authored Books section (another section offered by Enhancv) contributes to this, too. Here, we get a quick visual of the books he has published, rather than a long description that would take up many paragraphs.
Co-Founder & CEO on a single-page resume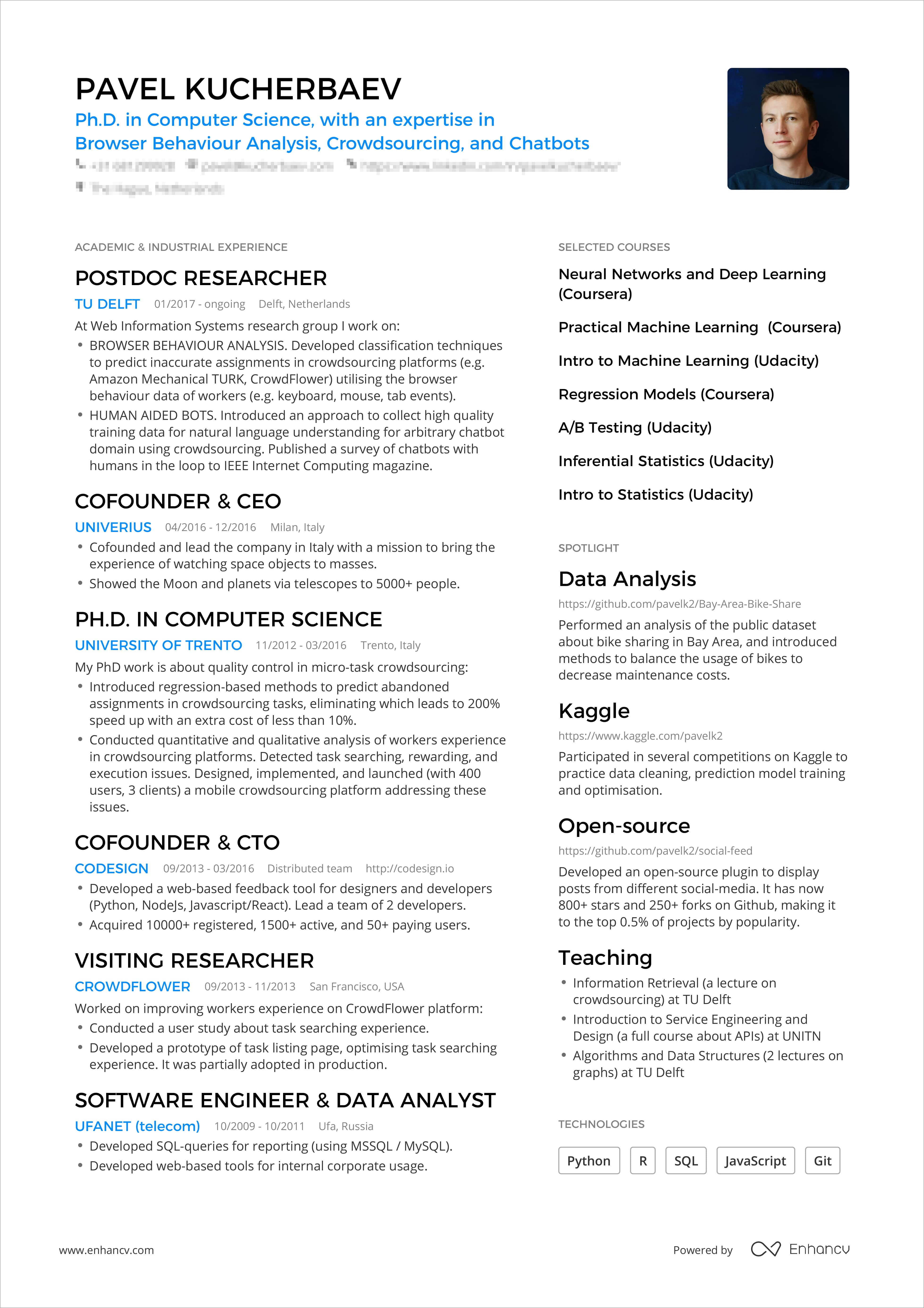 Pavel's resume is a great example of someone who has taken our modern resume template and made the most of it.
First off, Pavel gives a snapshot of the programs he is familiar with using the Enhancv Technologies section. Here, we see five highlighted technologies. It's simple but effective. This cuts down on writing full-sentences to show what systems you're comfortable with.
Data science is a relatively new and expansive area of tech. For this reason, it's beneficial to include as many previous experiences as you can that relate to possible duties.
However,
Each prior job here has a quick bullet point that explains all of Pavel's responsibilities, and nothing goes over one-two sentences.
His experience is further explained in a simple list of his Selected Courses. Here, space is saved by cutting down on giving a dedicated section to each course. The titles are enough for the recruiter to understand his skill.
Much like William, Pavel intertwines his impact with his previous experience by providing a significant metric to measure his achievements.
For example, he showed the moon and stars to 5000+ people.
This short description focuses the recruiter on tangible evidence that does not take up a lot of space. If a recruiter wants to know more, they will ask in an interview or over email.
For a full data scientist resume guide and example, click here.
Founder, Director & VP of Product on one-page resume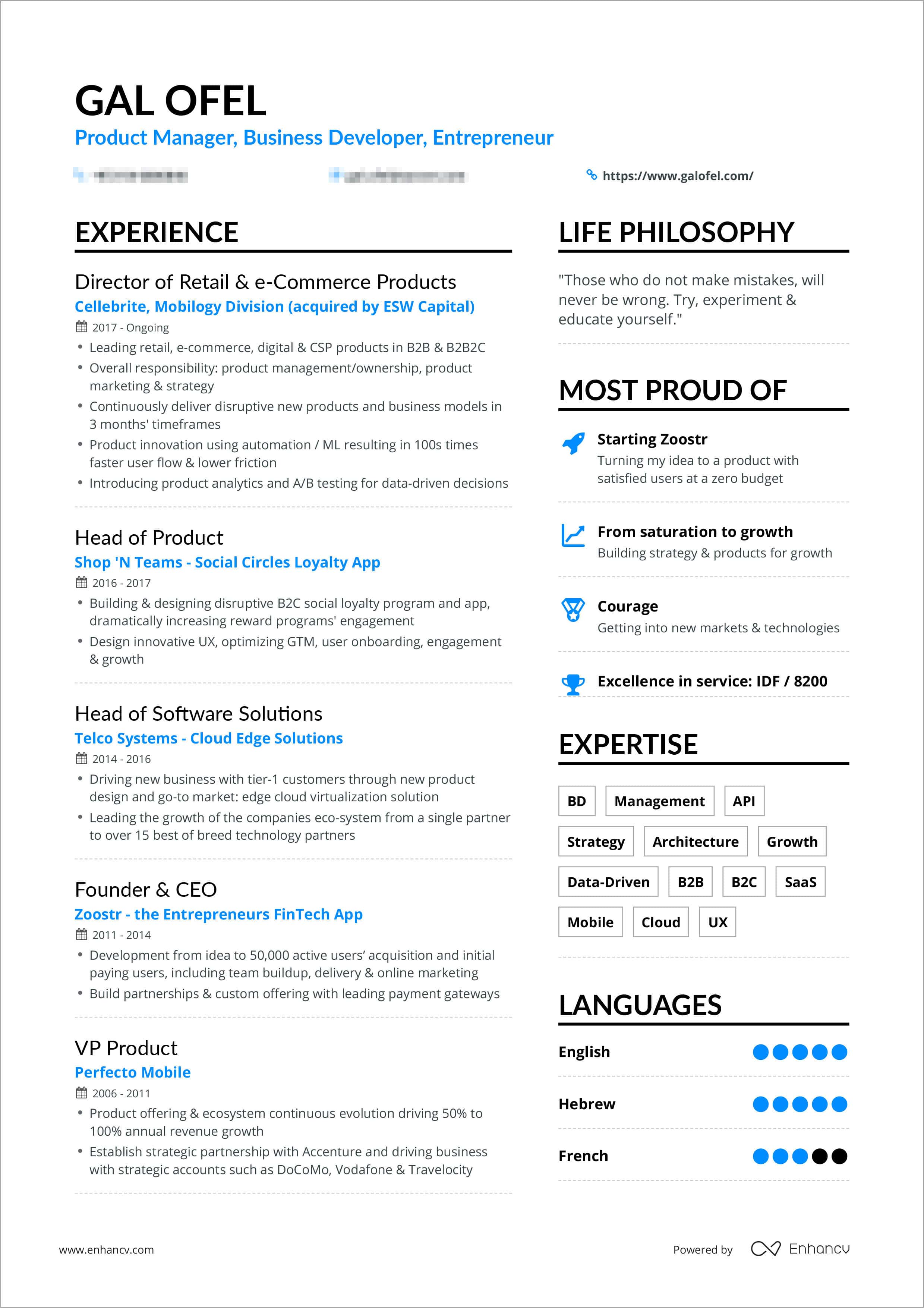 Gal shows us that any resume template can be used when building a one-pager. Using Enhancv's staple – the double column resume – Gal makes an impact without drawing things out.
His short bio and life philosophy show the recruiter who Gal is as a person and emphasize his attitude to work and life itself.
Accomplishing this in two-three sentences will do wonders to signal to companies that you fit within their culture – ultimately getting you an interview sooner.
More details of his personality are revealed in his Most Proud of Section, which gives a short few words on the most defining aspects of his personality and career. For example, starting Zoostr.
Gal makes use of Enhancv's technologies section, but renames it as an "Expertise" section. With this, the recruiter can easily see that Gal is gifted when it comes to B2B, B2C, SaaS and more.
This is an excellent example of cutting paragraphs down to singular words with the same impact.
Again, Gal introduces his impact by providing a significant metric to measure his achievements. For example, "driving 50% to 100% annual revenue growth". This captures his ability in one bullet point, as opposed to several sentences on ways he brought change in a previous company.

One page resume templates by Enhancv (Quick use)
Enhancv's Double Column Template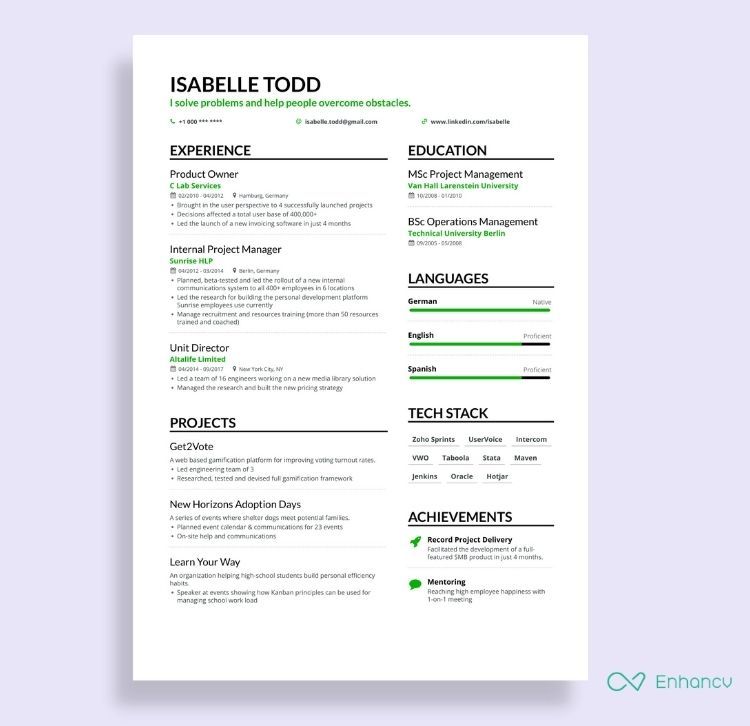 This is our most popular and used template. It uses two columns to save time, and has big, bold title sections that emphasize each part of your resume like a chapter. It's easy to spot among a pile of resumes, give it a try here.
Enhancv's Compact Template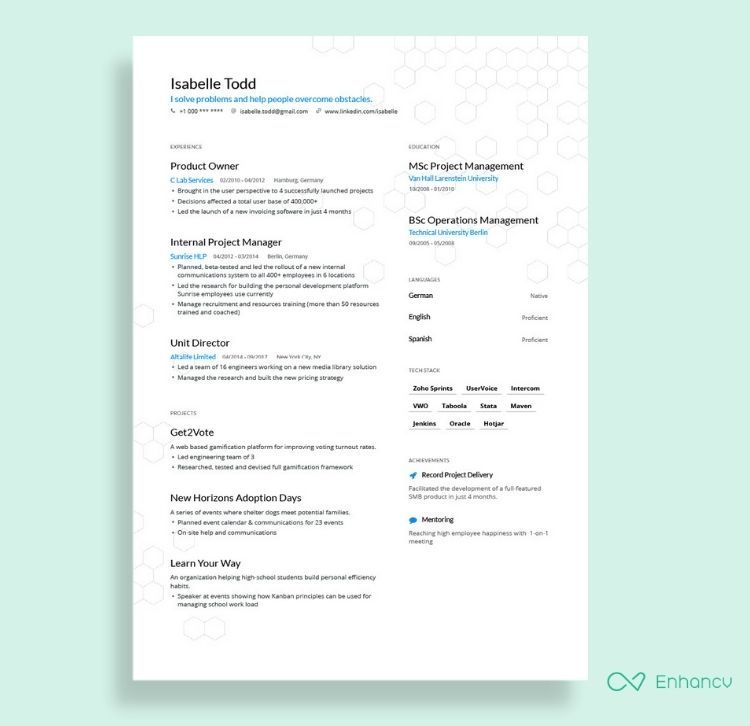 Our compact template is built with one-page resumes in mind. The font has been decreased maximally to ensure readability and enough white space. We've also pushed the margins to the absolute limit, and decreased enormously the section names. Here, the focus is on what you've done, and where - job titles take a more central place, as well as your actual achievements.
Enhancv's Minimalist Template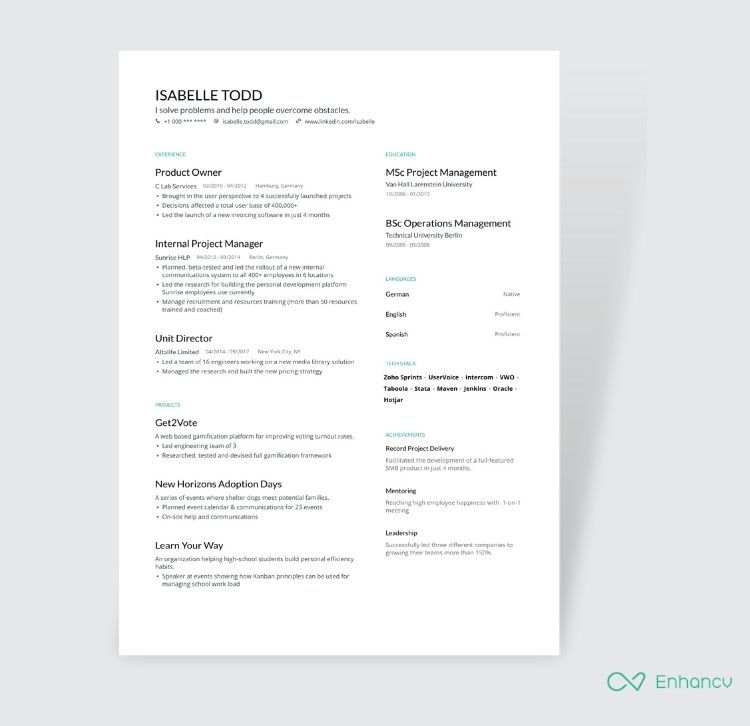 Our take on minimalist templates uses plenty of white space and small, yet readable font. The resume template is iconless, which gives it another layer to its minimalism. We've thrown a dash of accent colour that helps highlight each section visually.
Enhancv's Modern Template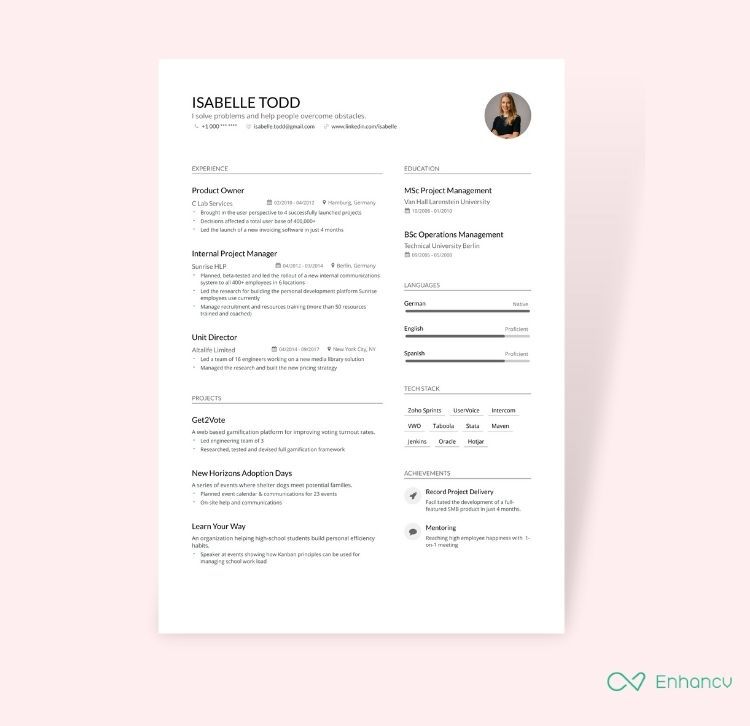 Our first template that comes with default photo (which you can turn off, if you want). It utilizes two columns, icons and charts to illustrate experience better. There's tonnes of white space to make it easy on the eyes.
Enhancv's Multicolumn Template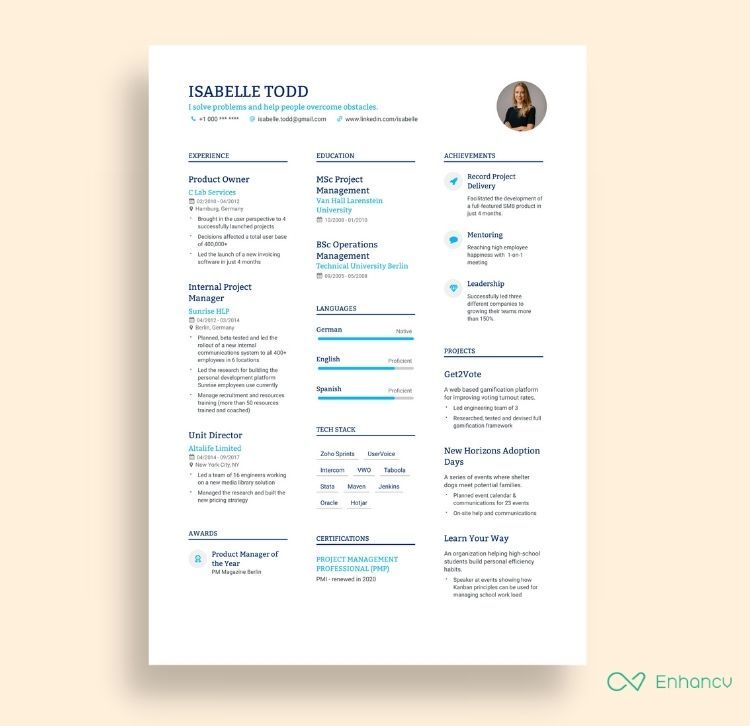 For those of you who still want to keep your resume one page, but have heaps of experience, we've built a three-column resume template. There are some tradeoffs here (length of bullet points vs amount of entries), but the balance is achieved through the block design and white space between the items.
How to write any resume to fit on one page
Whether you've got 25 years of experience, a decade, or none, making a strong impression is essential, and a single page resume helps you do that.
Here are some strategies which sections to include and which to omit when creating your own resume. The next lines will act as a summary from the learnings above.
Use a double-column or compact resume template
A one-pager resume with plenty of experience will not fit on a single-column template. Enhancv's double and triple column, modern and compact template variations are designed with one-page requirement in mind.
Write short, action-oriented bullet points
Cut the fluff by focusing on your make-it-or-break-it moments in your career. Use inspiration from the examples above, or recollect the moments that made you the professional you are today.
Use smaller fonts in your resume
Make sure the text remains legible. 10 or 11 p size would look fine, anything smaller would make your resume unreadable.
Spare on extra details
Leave off references and lengthy education details. You can also cut down on your summary, you only need a couple of sentences for it to make impact.
Decrease the size of your margins

The key here is not to lose too much white space - because a wall of text is the last thing you want to present to the employer. Enhancv's resume builder has in-built resume margins you can switch between that still keep your resume readable and easy on the eye.
Tell a story with creative sections
We have to be honest – one-page creative resumes take time to master. The examples above can serve as a starting point, but you'd like to see more examples of compelling one-page resumes, check out our resume examples page.
Key Takeaways
One page resumes are not that difficult to create once you get the hang of them. Consider the following gotchas and tips, when building yours:
Cut the extra fluff. Select your dragon-slaying stories and omit the rest.
Use creative sections where you can reframe your experience in a short and engaging way.
Finally, take advantage of the examples and the ready-made templates. You can use them off as a base to build your own one-page resume.