Which resume format is the best to use?
Of all resumes, the quick and easy answer is the combination resume.
It's versatile and pretty much works for all types of jobs you'll apply for even if it's in a drastically different field.
But that's only just one side of the answer…
In fact, here's the better answer which probably isn't as satisfying:
It depends.
With the different resume formats available today, there are multiple aspects to take into consideration before setting out to build your resume.
For example, where are you currently at with your career? Do you have the relevant skills, qualifications and work experience? Are you applying for a new job in a completely new industry that differs from your background?
[lwptoc]
Was that an overkill?
Don't worry, you can skip ahead by building your resume with Enhancv's formats that are flexible and easily rearrangeable!
"Enhancv is the ONLY tool I'll use for CVs – mine, family's clients. It's the best!" – Shelly Davies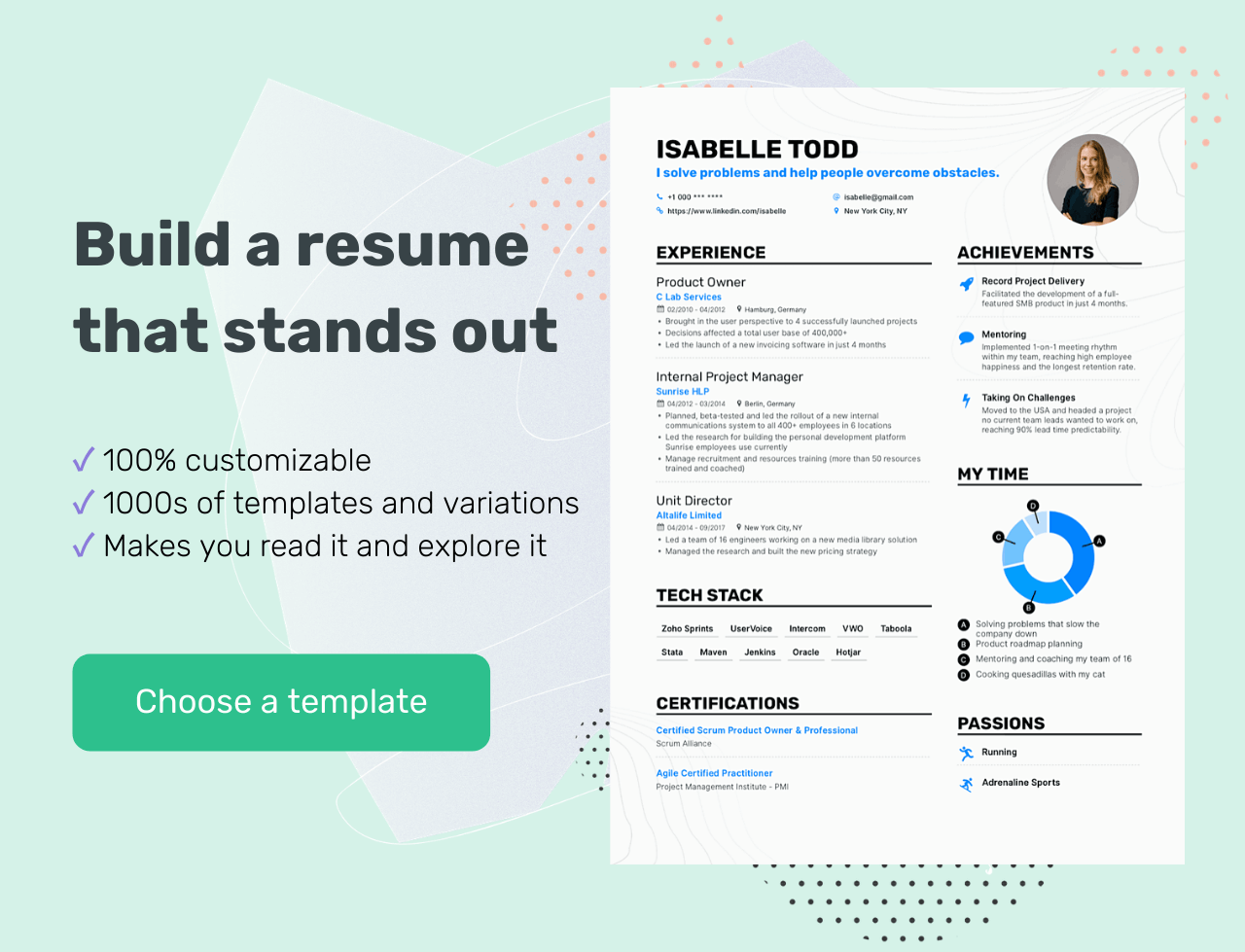 The basics of resume formatting
When it comes to resume formats, there are several areas to cover. In this section, we'll go through all the basics you need to know on how to format your resume.
Resume Font
Resume font plays a part in both the technical and visual aspects of your resume. It needs to do the following:
Be scannable for the ATS
Look professional
Appropriate size
Either pick a serif or sans serif font. The standard font types to stick to are Arial, Calibri or Verdana.
The best font size is between 10.5 and 12. It should be nowhere lower or higher, otherwise, it causes problems for when the ATS scans your resume and when recruiters try reading it since it's either too big or too small.
As for font colour, candidates usually stick to black since it's most professional and the standard norm.
However, colours are good indicators to use on your resume as long as it's done properly.
If you make the wrong colour choices that are unusual, it'll come off as an eyesore for recruiters. When we get to the examples from Enhancv later, you'll see how our applicants took advantage of this and secured the job.
We have a full guide for the top resume fonts you should use. If you haven't already, you can check it out by clicking here!
Images
Traditional resumes you see don't optimize their resumes for image-use. Usually, it's just a plain resume with nothing but text of different sizes/headings for the candidate's resume sections.
But did you know images are acceptable too?
Not only does it help you stand out, but it has an impact on the hiring manager's impression when they're reading through your resume within the first few seconds.
There's a higher chance you would hire someone you know or are familiar with rather than a complete stranger. And this is where having a professional profile picture of yourself helps because it makes you identifiable.
Here's how Isabelle did it on her resume header: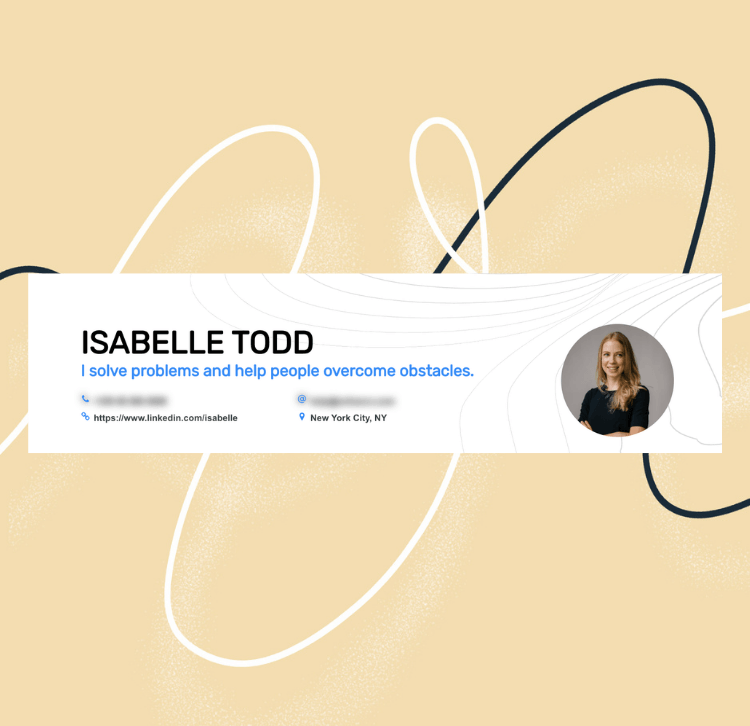 As a result, recruiters can immediately see who you are and what you look like. This helps with setting you apart from the start since you're now someone familiar.
Besides the link to her LinkedIn profile and location, you can see small icons. These visual elements also play a part in how well your resume comes out in terms of presentation.
It leads nicely to the next point…
Resume icons
Going back to what we've just talked about, visual representations overall are a big recommendation from Enhancv. This way, you can rest assured your resume is different to 90% of the other candidates applying for your desired job position. It's also going to improve the overall experience of reading your resume.
Why?
Because it's easier to read.
Minimalist resume designs, in general, improve the readability of your resume since you're drawing the reader's eye to specific key points. It's effective for highlighting important pieces of information on your resume so it's easily noticeable.
Enhancv has made it so that these won't cause any technical difficulties with recruitment software. Best of all with Enhancv, you don't have to make or find resume icons yourself since we have them prepared for you to use. If you haven't tried a resume builder like Enhancv, try starting here: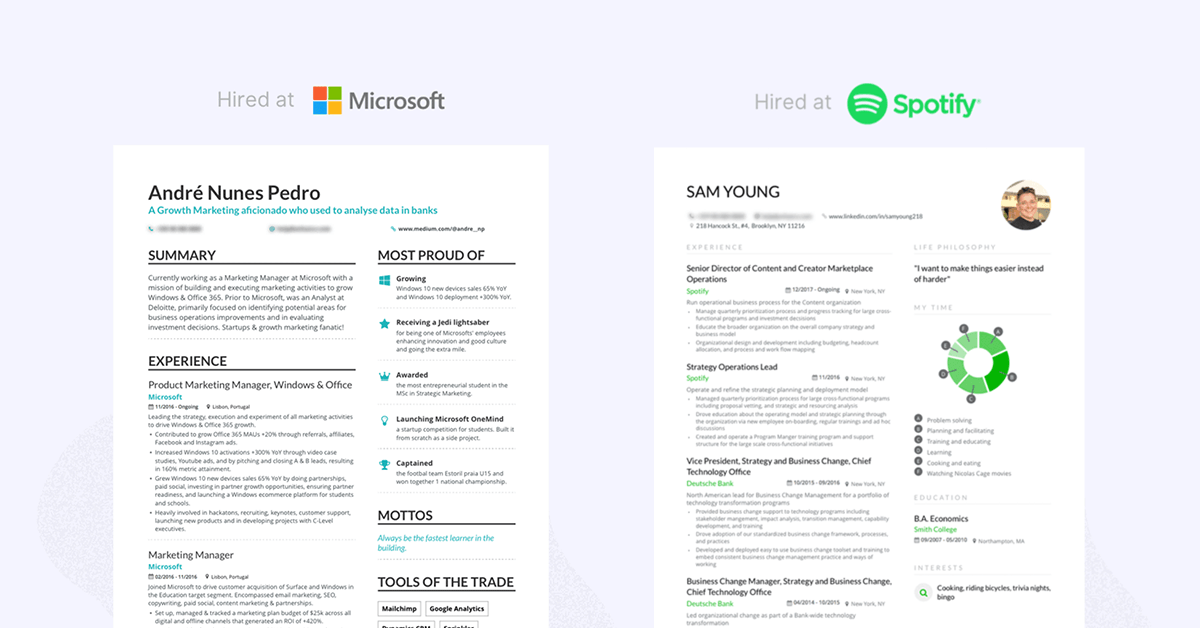 Data/Charts
When it comes to visual pie charts, bar charts or any statistics, it shows a lot more about you than it would if you were to make a blank statement.
For example, rather than fully describing how productive you are or how you spend your time, you could use Enhancv's feature of the 'day in the life' chart to show this: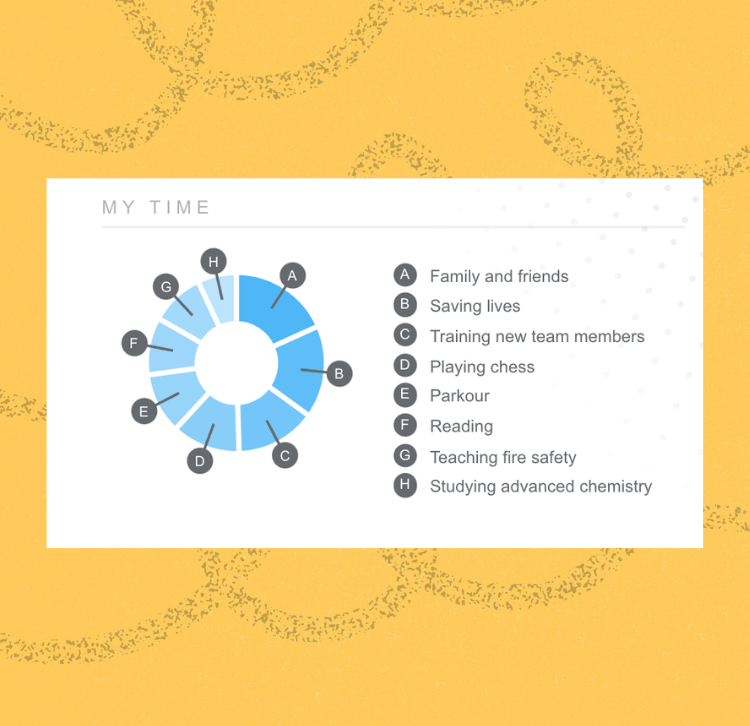 This enables you to show more about yourself without compromising white space on your resume. It's one way to enhance the hobbies and interests resume section and if you're trying to keep it well put together on one page.
File types and names
When it comes to sending your resume electronically, the best type of file to save it as is the PDF. It's the safest compared to all the other file types and it's versatile wherever you're sending it from.
As for the file name, include your first and second name followed by resume. E.g. KaloyanDimitrovResume.PDF
Nothing more, nothing less.
(Side note: unless the application rules require a certain type of resume format e.g. the plain text resume format, then it should be sent as a file text format (.txt). In the case of plain text resumes, colours, underlined or bold text, and colours won't be applicable.)
Margins
The margins within the document where you're editing your resume should be at least one inch for all sides.
An acceptable line spacing to keep in mind is between 1.0 and 1.15.
When it's formatted like this, it'll run through the ATS smoothly and it will help you take advantage of the space you have on your resume so you have more to put on. But do remember that having white spaces on your resume can be a good thing when done strategically, e.g. for the one-page resume format.
Resume sections
You might be wondering which resume sections are essential. For starters, here are the resume sections you would see on a traditional resume format:
Contact information
Career summary or objectives
Work experience
Education
Skills
References
In my previous guide about resume sections, I listed out the main and optional resume sections for your resume. Here's a quick reminder of the essentials:
Resume header
Skills and Expertise
And as for the optional resume sections:
Volunteering experiences
Awards and certifications
Hobbies and interests
Publications
Client Testimonials
Professional associations
Resume references
It's vital your resume contains the main sections listed above. But don't ignore the optional sections – just because they're optional doesn't mean they're useless.
Sometimes, the recruiter may ask for specific sections since they need something new. E.g. they'll ask for a hobbies and interests section as they're looking for more innovative ideas and creativity in their work culture.
The one thing that doesn't change in your resume is the resume header. This is universal, and it's always placed at the top of your resume. It's the first thing people should see when they're reading your application.
What Are The Most Used Resume Formats?
Just before I get to explaining how you can make your resume format appropriate and professional, let's first look at the most popular formats:
Chronological resume
Reverse chronological resume
Functional skills-based resume
Combination resume
As part of Enhancv, we advise applicants to stay away from the traditional resume format because it's outdated in a digital economy like today.
Nowadays, the industry relies more on skills and experience over qualifications (although they're still important and shouldn't be disregarded).
Since many applicants usually have university degrees to support their applications, recruiters need to differentiate within those groups of candidates to see who would be the best fit.
Because of how similar candidates can be, even if you meet all the job requirements, you're not going to be guaranteed a spot.
This is where you need to stand out.
And if your resume is formatted exactly the same and looks the same as everyone else, then the first impression won't be memorable.
Chronological Resume
The chronological resume is the most standard resume format there is.
When you're listing out your work experience and achievements, you do it in the order of how relevant they are in the job position you're applying for.
Who exactly is the chronological resume for?
It's mostly for candidates who:
There are little to no gaps in your career timeline
You plan on working in the same industry with similar roles
You have over 4 years of work experience
Because this resume format's priority is to highlight your years of experience and achievements, it's easier for employers to identify whether you're an expert in the field. It's great for catching their attention since it shows you have a lot of work history to reinforce any skills or statements you've mentioned.
Overall, it's more convenient for people to use if they have tonnes of work experience.
However, for those of you who don't have as much work experience to showcase it can be difficult to use this resume format. For this reason, it's what makes the reverse chronological resume format more ideal.
As it sounds, it's the opposite of a chronological resume.
Instead of describing your career timeline in the format where you list your most relevant experiences or achievements, you list them out from your most recent positions instead. From there, you work your way backwards.
If you have less than 4-5 years of work experience, the reverse chronological resume makes up for it by shaping the recruiter's focus towards your strengths instead. With the way they're formatted, they're designed to draw attention away from your employment history gaps while still providing a clear narrative of your career.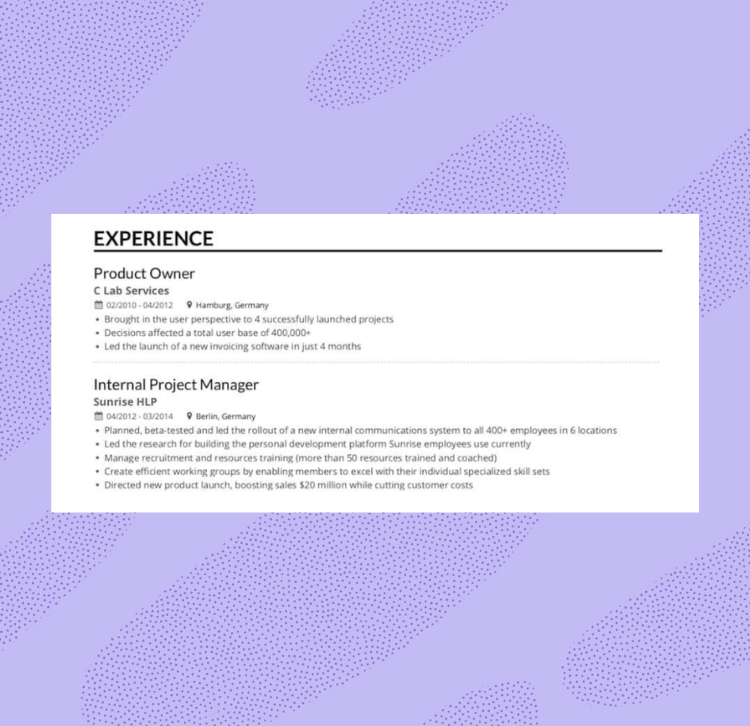 From this example, you can see how the order is listed oppositely from the chronological resume format.
This shows employers that you're experienced in the workforce. You're no complete amateur – you're someone who's familiar with the role and understands what needs to be done.
Unlike the chronological resume, this resume format is most ideal if:
You have gaps in your career timeline
You plan on working in a new industry or role that's different to what your background says
You have limited work experience to show for
Until now, the chronological and reverse chronological resume formats are focused on emphasizing your work experience.
One caveat – what if you're literally limited on work experience? As in, you don't really have any?
No problem, this is where the functional skills-based resume comes in.
Instead of job titles and work history being the priority, this resume format is based around your skills and expertise.
It's most ideal for applicants who are:
Recent college or university graduates
Lacking in professional work experience
Considering an entirely new field in the workforce of your career journey
You have transferable skills or experience that are relevant to the job vacancy
You have gaps in your career timeline or have been unemployed for a long time
With the functional skills-based resume format, it allows recruiters to recognize what you're capable of. By using this, you're giving insight into the knowledge, practical skills and value you can bring over to their company.
Not sure how to build a resume with the functional skills-based format? You can check out the full guide here.
Combination resumes or hybrid resumes, are a jack of all trades. As the name suggests, it combines different elements from the other resume formats above to highlight both your skills and work experience.
It's a great balance if you have work experience to show for but still have gaps in your career.
The big advantage of the combination resume is that it gives you more options and flexibility.
You're not limited to just one area of your resume. Instead, you can incorporate and merge different parts of the chronological and functional skills-based resume format to showcase the results you can potentially deliver for them.
Also, because it's a hybrid, the disadvantages you normally see from a functional resume and chronological resume are more minimal. So, less noticeable.
If you have some work experience in your career to talk about (at least 1-3 years), use this resume format instead of the functional skills-based resume. It makes gaps less noticeable and signifies to recruiters you have a stable employment timeline.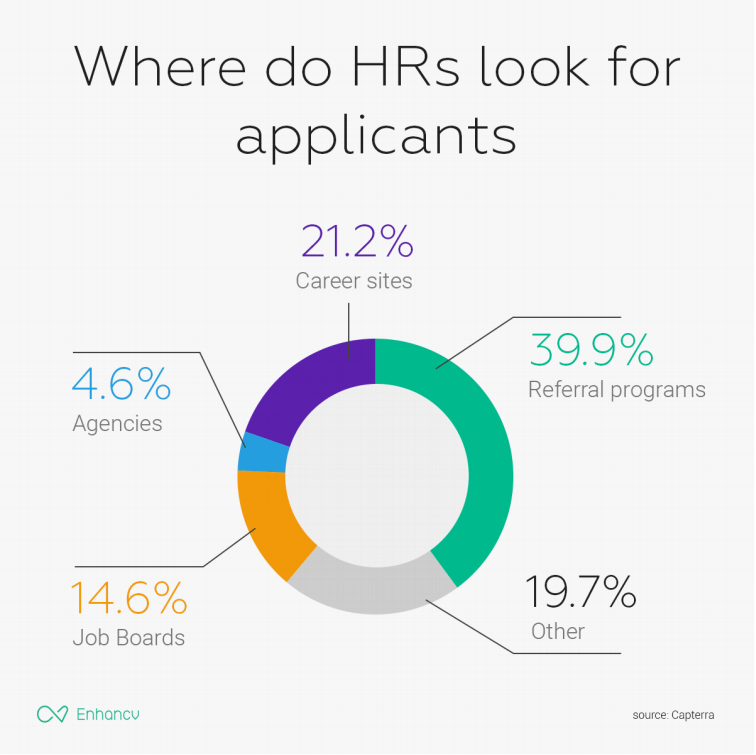 Why these resume formats are the most popular
Each of those resume formats have their own goals. What's more important to know is that they're effective enough to get the job done (no pun intended).
I've mentioned this a few times but I'll make it extra clear:
Recruiters are most likely going to use an AI or recruitment software to check your resume.
It's more time-efficient for the application process and quickly takes out the unqualified candidates.
Of all the resume formats, the chronological resume is the most used resume format. It's mainly because recruiters are most familiar with it and they can instantly see whether you're experienced or not.
On the other hand, you can combat this by showcasing your personality, as well as making the details and readability level of your resume relatively better and easy to digest.
However, to do this you need to take a straightforward yet creative approach.
In this frame of mind, you're more inclined to present your resume in a simple, minimal way. You'll also prevent yourself from building a resume that's too complicated to understand.
5 unique resume format examples from Enhancv proven to get you hired
You might have noticed by now that Enhancv employs a unique resume format that combines features from each of the above mentioned.
Let's call it the Enhancv resume format, shall we?
Poetically speaking, we created these formats as an attempt to combat the gray sea of black-on-white, bland resume templates you can download from any nook and cranny of the web.
Up until now, we've helped more than 1 mln people update their resumes with a fresh and modern look.
In the next lines, we're going to analyze in detail 5 successful resume formats from Enhancv pro users and see what makes them tick.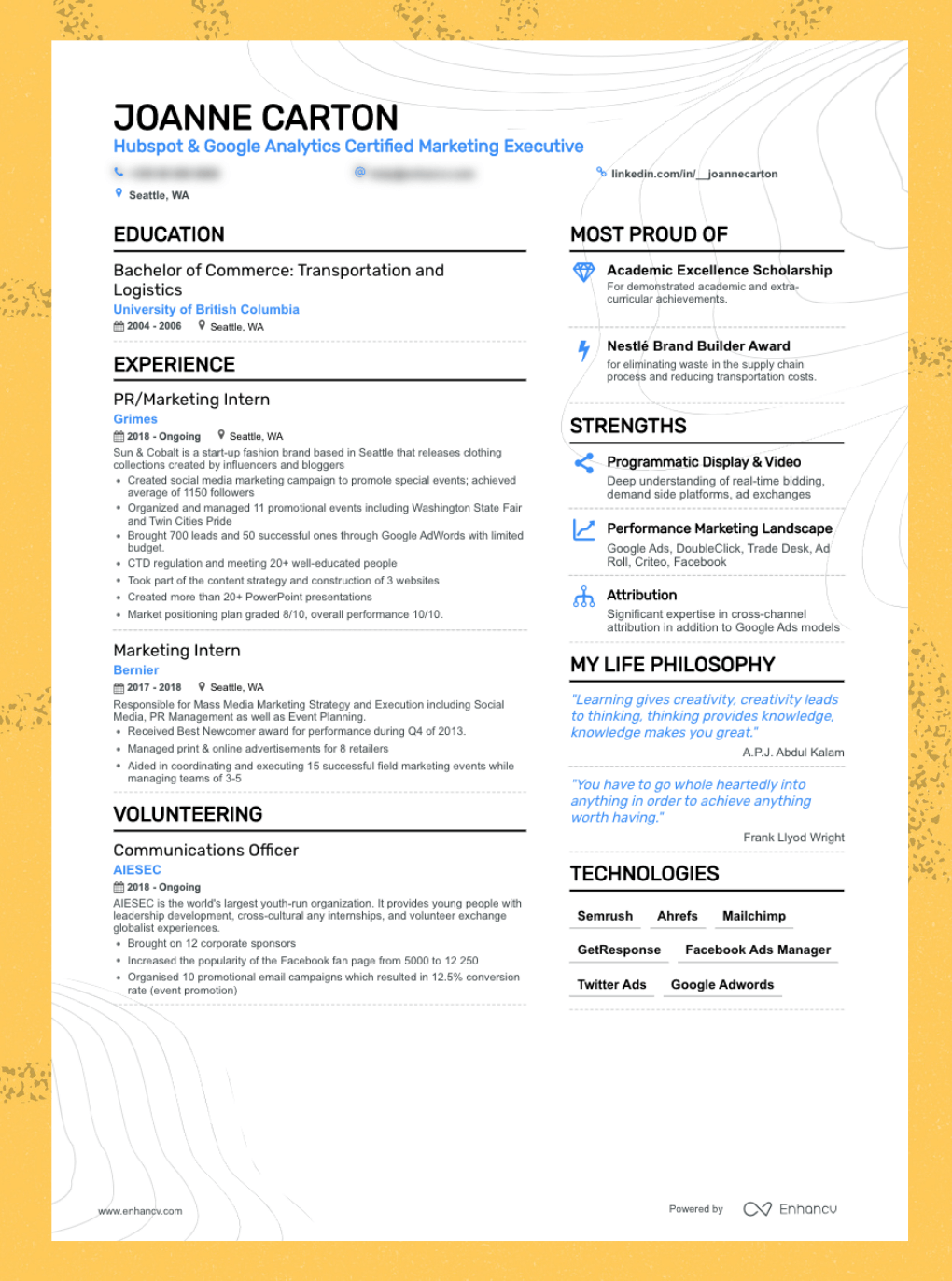 In Joanne's marketing intern resume, notice the use of colour and the focus points on her resume.
On the left-hand side, she incorporates her background in the workforce to show employers that she's experienced in the field. Her experiences are listed in reverse chronological order throughout her work experience section, and she reinforces her experiences by including a volunteering section too.
Whereas, on the right-hand we can notice the functional skills-based resume format elements being used because the focus is more towards Joanne's skills and personality. Because this is highlighted, it allows recruiters to understand her more as a person and what she's capable of.
As readers, we know her statements aren't empty words. This is because she's combined both her skills and experiences together on this one-page resume to convey herself as a valuable asset.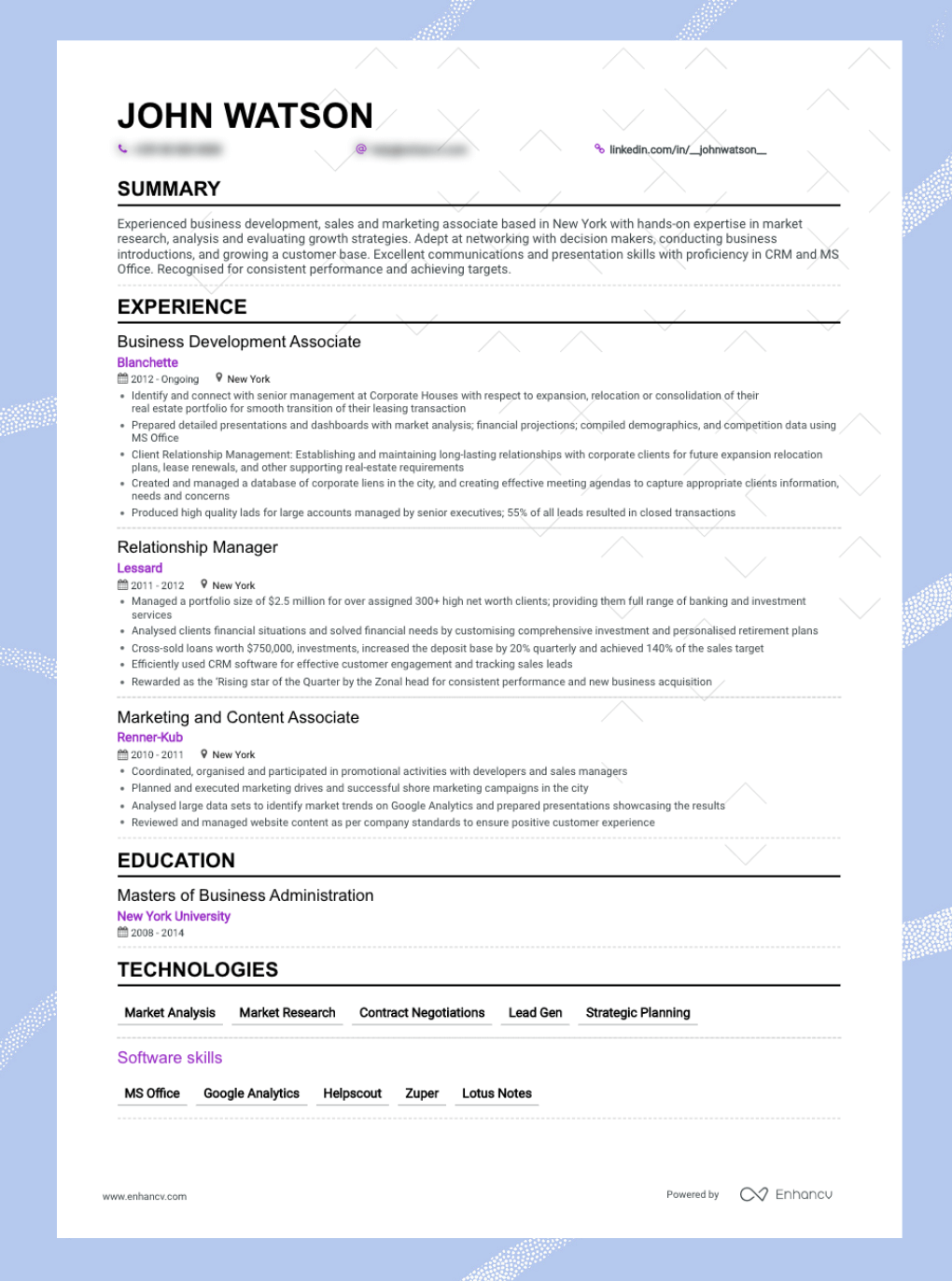 With John's industry, we know it's more lenient towards the innovative and professional side of things. So for that reason, John sticks to the standard resume format by using reverse chronological order and keeping to the traditional resume sections.
But he did it with a twist…
And in an industry that's looking for continuous innovation, it's why this business resume format worked so well.
With Enhancv, we incorporate small designs on the background to make your resume more visually appealing. On top of that, the colour usage here is smart since it makes it easier for recruiters to skim through your resume and identify the key details they're specifically trying to find.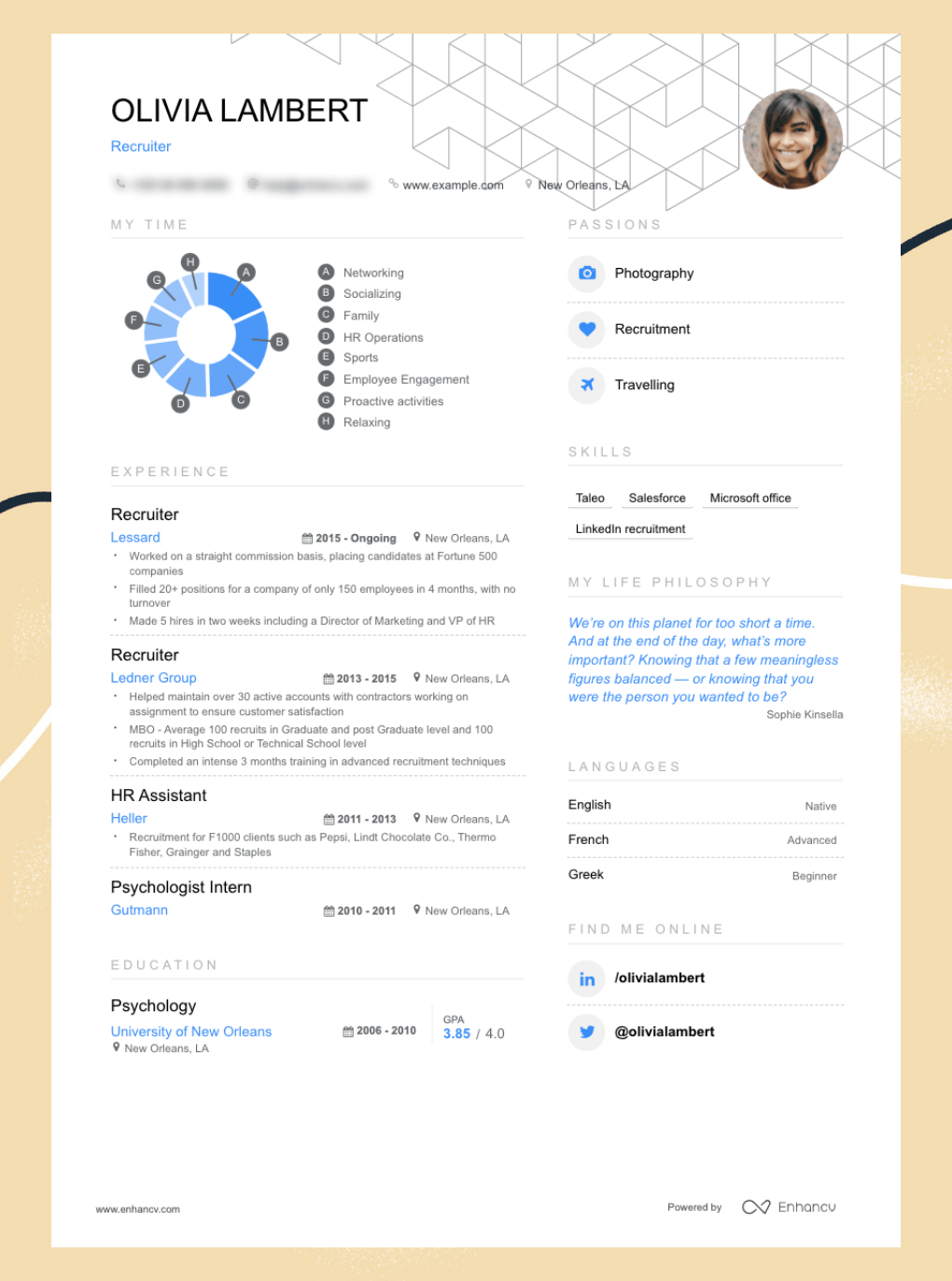 This time, Olivia makes use of the combination resume format by incorporating elements of her values, skills and professional background.
Rather than explaining in a large boulder of text how she spends her time, she does this with minimal space by using a "my time" pie chart. Not only does this allow her to include more things on her resume, but she's making the hiring manager's job straightforward since it's easier to understand.
Visual representations enhance your resume format – so try including icons, graphs, charts or colour professionally. The goal of this is to make certain sections stand out and to have a higher readability level.
Intern resume format for freshers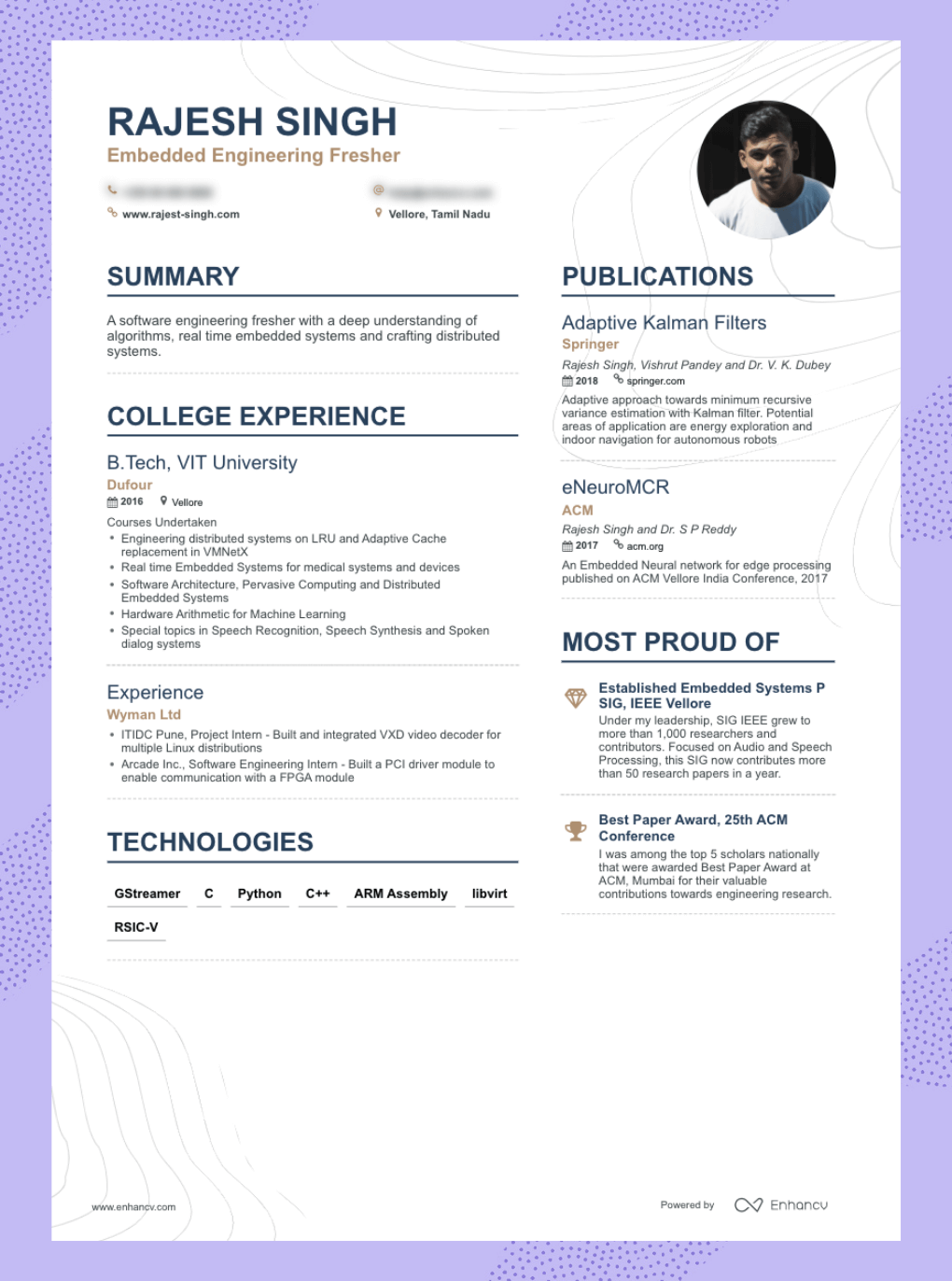 Are you a fresh university graduate who doesn't have much experience in employment?
Take a look at how Rajesh conveyed his skills and expertise on his resume as a fresh graduate. Despite not having the desired experiences in the workforce, it doesn't stop him from getting hired.
We can see he's a credible software engineer through the resume sections he's used. As well as his publications, his achievements catch our eye and make us think of how he could be valuable in the long-run.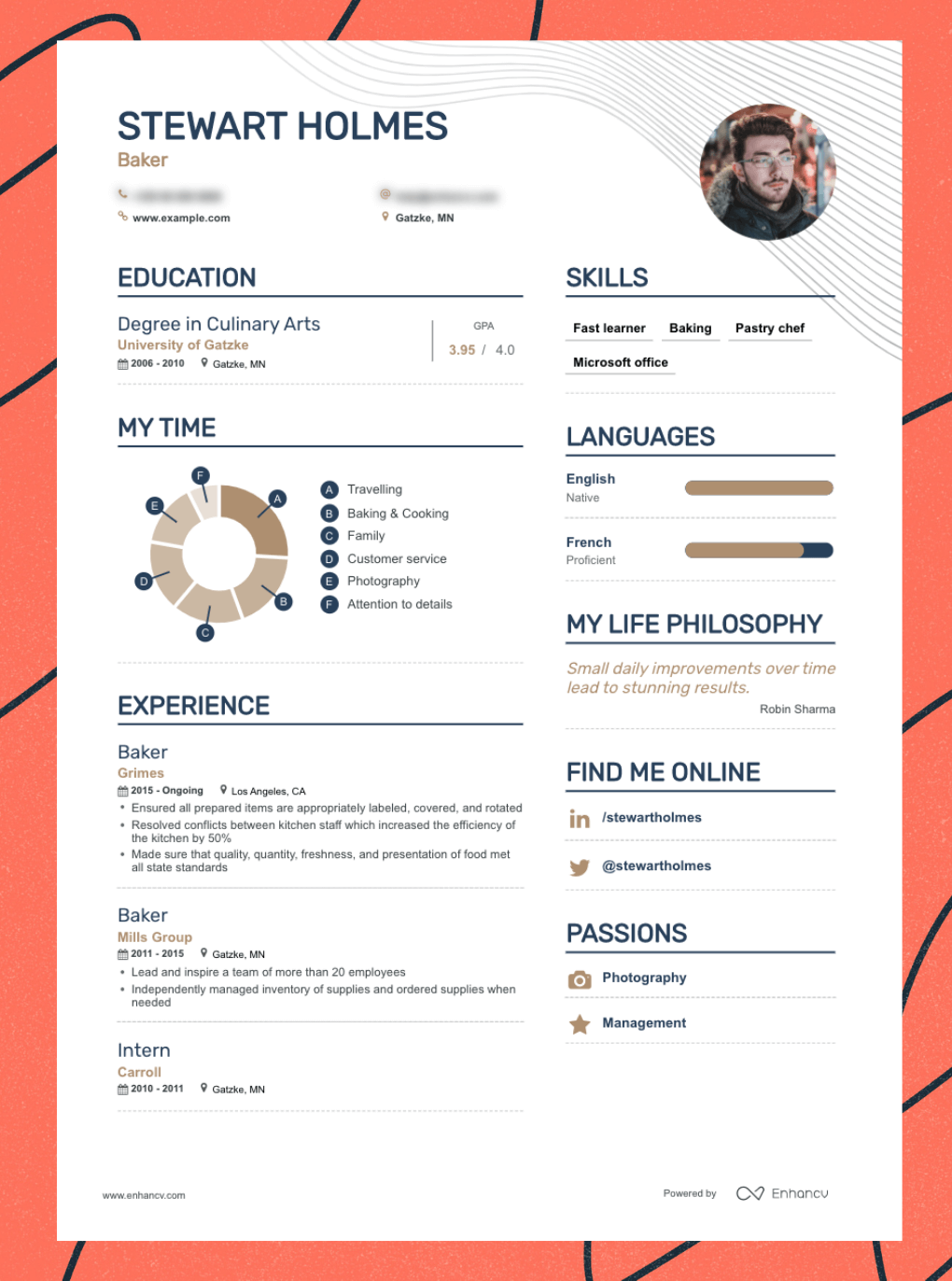 In our final example, Stewart uses the combination resume format for his baker job application. Although there are hybrid elements between his experiences and skills, his skills are one of the first things we would notice.
It's safe to say that he's also taken into consideration the functional skills-based resume format approach.
Didn't find your job title listed above? Fear not, You can find your profession in our megalist of 530+ resume examples by clicking here!
What's the best resume length – how long should it be?
How long should your resume be?
Are one-page resumes too short and ineffective? Should I make my resume two pages long instead?
The reality is, there's no fixed answer.
There's no one-way answer because you can use as many pages as you need to. At the same time, some lengths have more benefits than the other in certain areas. For example, with a two-page resume, you can add more information whereas with a one-page resume you can't include as much.
But we recommend you to try to keep your resume well put together in one page only.
Granted, you won't have as much room for filling up your resume with a handful of information. But if you're able to show everything you need to through a one-page resume, it's going to have a stronger impact.
As long as you have strong clarity by being concise, your resume is going to create a stronger impression for employers. Like the examples shown earlier, having fewer words doesn't mean there's less meaning or value in your resume.
Remember this:
The impact isn't fully derived by the way you explain things, but how you can show them.
Simply put, show not tell.
Passing the ATS resume scanner test
If you follow the steps discussed on this guide, your resume won't have a problem with beating the ATS test. The only exception is if the company has asked you to edit or change something.
The main things to watch out for are the following:
Use keywords and buzzwords that match the job description
Including the required resume sections
Using the right font size
Appropriate margins
Sensible file names
PDF file
Recruitment A. I and software are used to qualify you during the job hunting process. Therefore, it's important your resume format is optimized to be ATS-friendly. It isn't going to change anytime soon, and software like this is becoming more popular in the workforce.
(Quick reminder: the ATS works to immediately find qualified candidates and remove unqualified candidates. Using this type of technology makes it easier for recruiters to get what they need without wasting time!)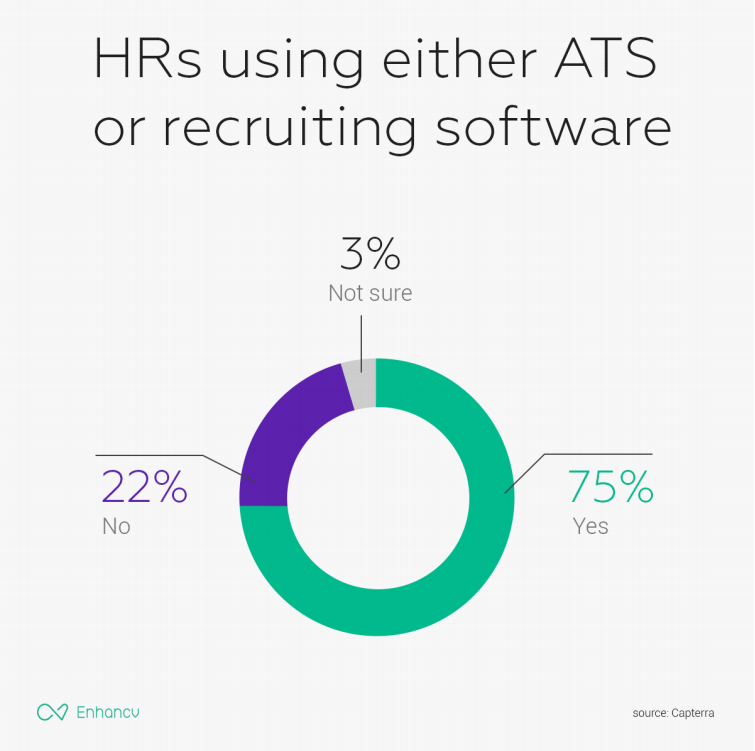 Extra Tips & Tricks (Including Resources)
Before considering this tip, do make sure that it's compatible with your job application. If it's strict, then stick to your black, whites and grey to prevent any problems.
Using the right complementary colours enhances the visual appeal of your resume. In turn, it's going to be easier to stand out and understand. Not only that, but it enables you to better highlight key information so recruiters can find them in a matter of seconds.
In its entirety, minimalism applies in pretty much every aspect of your resume. From the visual aspects to how you describe your skills or experiences…
It's good to have creativity as a skill up your sleeve.
Apart from one condition…
It shouldn't be too excessive. Especially if it makes your resume seem like a whole new entity.
When you're building your resume, aim to make it well put together, sleek and tidy. What this does is demonstrate a flair of creativity while taking a sensible and professional approach.
Resume icons, data and charts, in general, are well effective for your resume. Taking a note from the second tip, this is one technique you can use to make your resume minimal.
When you're including things like this to describe yourself, your resume will stand out. Unlike the other applicants, it's not the same as all the standard and conventional resumes that are floating about in the ocean.
Consider Leaving White Space On Your Resume Strategically
Throughout this guide, I've told you that it's not a bad thing to have white spaces in your resume.
This works well as long as it's done strategically.
Why?
Because it leaves a more profound impact for the reader compared to reading a resume that's bulked with text. Rather than trying to force and use every space you can, try leaving white space deliberately to create a stronger first impression.
It's a more relaxed structure since it's simplified, which makes the user experience better. Consider this the next time you're editing the format of your resume.
Enhancv has optimised resume formats that make the whole resume building process enjoyable since it's so easy to create your own resume.
On top of that, you can rearrange different building blocks to the way you prefer, and most of the technical details are already taken care of.
The only thing you really need to do is alter the contents of the resume appropriately, personalizing and tailoring it to your job position/company you're applying for.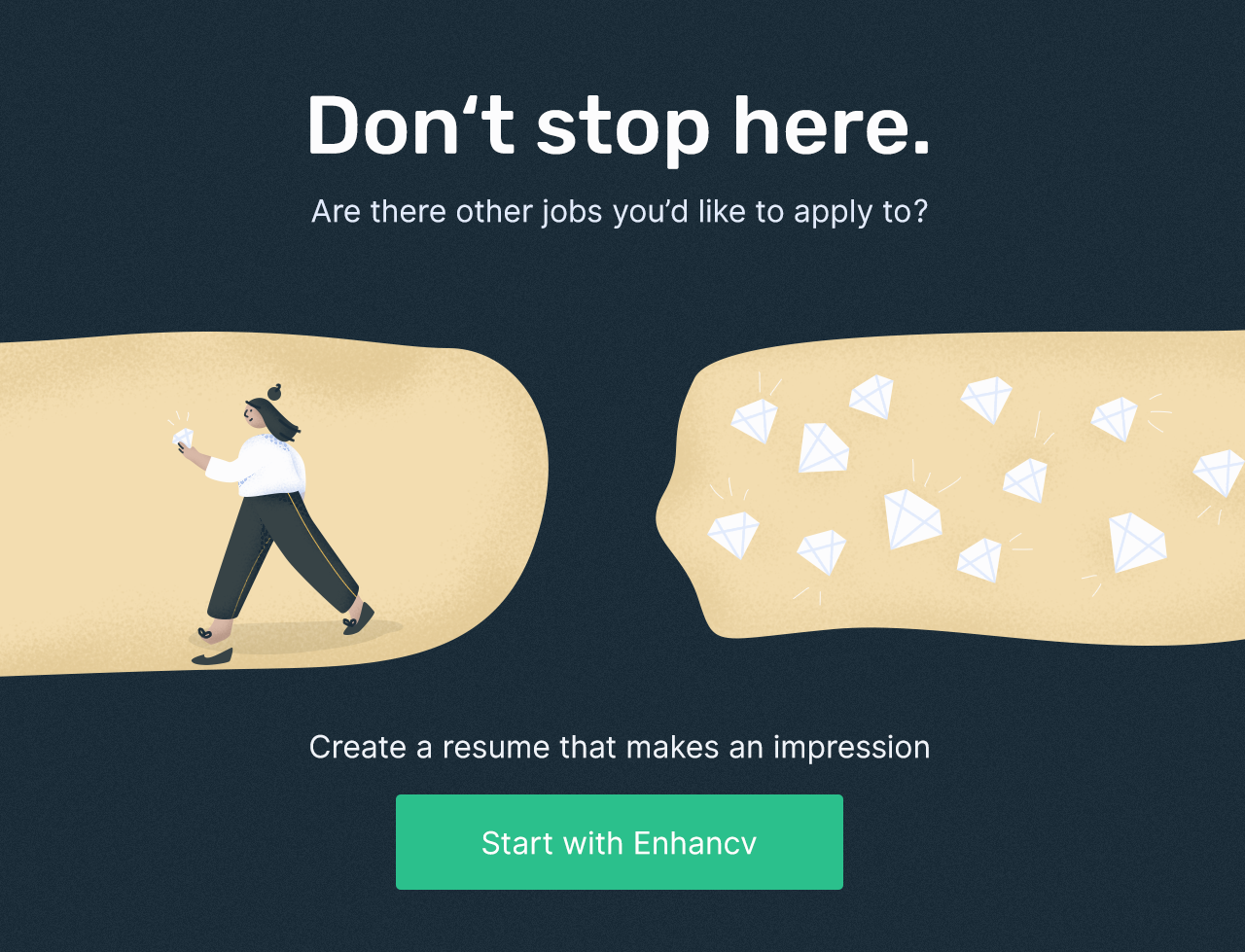 Conclusion
Here's a rundown of everything we've been through and the resume format principles to stick to:
Use professional font between the size 10.5 and 12
Use the right margin spacing
Don't forget your main resume sections
Match the job board by using keywords
Include visual elements
Pick one of the resume modes: chronological, reverse chronological, functional skills-based, or the combination resume format
With that, hopefully, we've answered all your questions about resume formats in this ultimate guide.
Is there anything else you want to add or ask? Feel free to let me know in the comments below and I'll respond!
Make your move!
Your resume is an extension of yourself.
Make one that's truly you.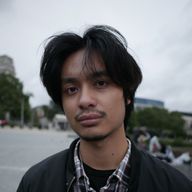 Astley Cervania
Astley is a UK-based copywriter & content strategist. Often curious and observant, he specializes in helping B2B and SaaS companies scale their content marketing through his writing and SEO skills.