At last, you found the job of your dreams!
The hours of scrolling through websites before bed has finally paid off.
It's right there on the screen of your phone, just one cover letter away.
You immediately start thinking about all the things you can list in your letter.
Past job experiences, internships, soft and hard skills…
At one point, you notice the short cover letter has turned into a 3-page novel.
Is it too much?
How long is a cover letter?
And how long is too long when you're writing about yourself and your achievements?
Can a cover letter be too short, resulting in everyone collectively laughing at your lack of imagination and experience?
Stop. Take a moment to breathe.
If you're researching how long should a cover letter be, you're already on the right path.
We will answer all your questions and more so that you can create a memorable cover letter that will impress the recruiters and land you the job of your dreams.
And if you need some inspiration, take a look at some cover letter examples.
Be a first-hand witness to how people just like you have found the balance between length and structure to build a cover letter that becomes the center of attention.
How long should a cover letter be?
Upload & Check Your Resume
Drop your resume here or choose a file. PDF & DOCX only. Max 2MB file size.
The average length of a cover letter is half a page. The content should contain no more than 4 paragraphs. The first one being an introduction about yourself and how you found the position; the second (or second and third) – more about your experience, why you're a suitable candidate; and the last one an ending with a summary of the info and a call to action.
Example of one-page cover letter
Here is an example of a successful one-page cover letter with 4 paragraphs.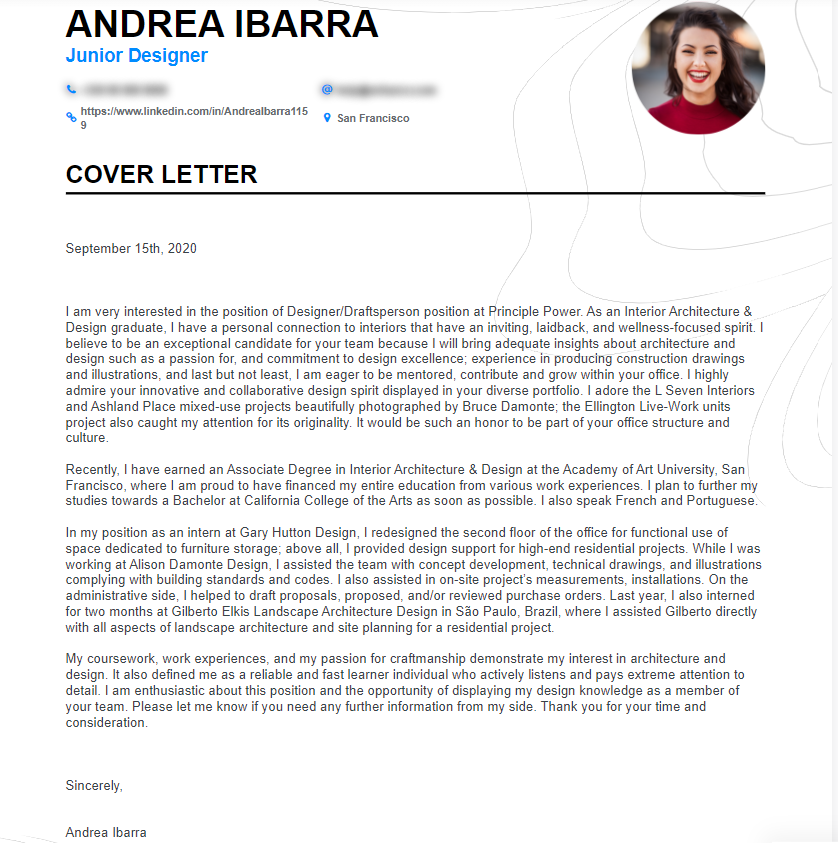 How to achieve the ideal cover letter length
Now that you know what your end goal should be regarding the length of your cover letter let's dive into the logistics of reaching that goal.
This includes the structure, the recommended information that should be in it, and some writing and editing tips.
By the end of this article, you will know how to construct a successful cover letter that will increase your chances of getting to your dream position.
And if you're still wondering why you need one, check out our article on the purpose of a cover letter in an application.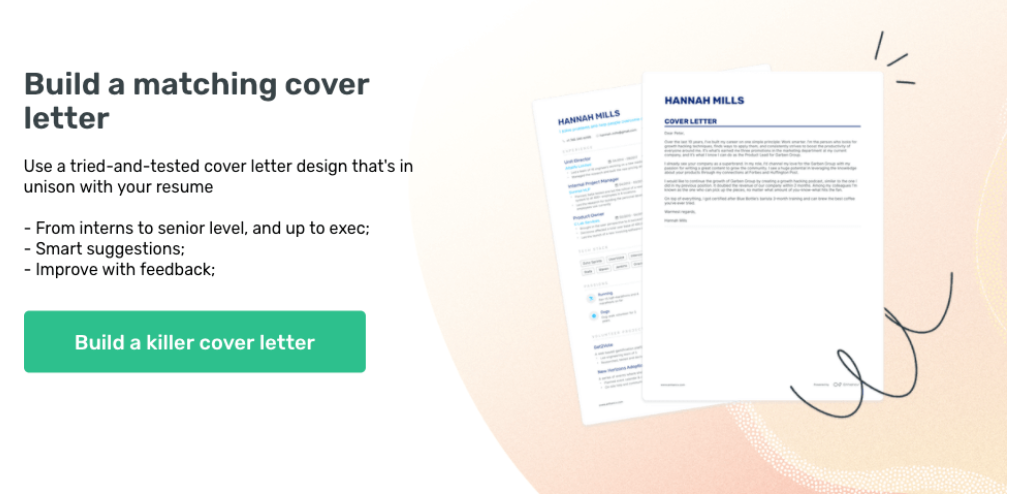 Focus on your relevant skills and achievements
We know you are probably a very skilled individual with a long list of accomplishments.
However, most companies only care about the ones relevant to the job.
Job recruiters go through so many applications a day that the moment they see pieces of information that are not related to what they are searching for, your resume and cover letter are headed to the bin.
If you're applying for a chef in a restaurant, there is no need to explain how you won a science fair in high school with a DIY solar system.
Listing unnecessary information shows that you did not care enough to do the proper research about the type of employee this business needs.
Include four or fewer paragraphs in your cover letter body
We already mentioned briefly what those paragraphs should contain, so let's go a bit more detailed.
Paragraph 1 – Introduction
Undoubtedly the most important part – the one you will use to win the recruiters over and invite them to learn more about you.
Start by introducing yourself and how you found out about the position, followed by what motivated you to apply for it. Use this part to showcase your knowledge about the company.
You know exactly what they are looking for and, big surprise, you're the one that can give it all. If there are any specific things you really like about this business, now is the time to list them.
Paragraph 2 and 3 – Body
Now, this is your time to truly shine. Use this part to list all your achievements, skills, and qualifications that are directly related to the job position.
Use specific examples. "I have many years of experience working with wild cats." is good, but it can be even more precise. "I have worked as a wild cats rehabilitator in the Oregon Zoo in Portland for 6 years."
If you're applying for an HR specialist, pay special attention to your organizational abilities and soft skills. If it's a more technical and precise position, give examples.
"By transforming business goals into measurable indicators with conversion rate optimization in mind, I can help clients gather and analyze user interactions in a visually appealing way that they can access anytime, anywhere."
Show the recruiters everything they will gain by hiring you. Cover letters are usually all about how the business will benefit from you, not the other way around.
In case you don't have enough experience in the field you're aiming for, highlight your motivations, extra courses you've taken, and how you want to develop in the future.
Paragraph 4 – Ending
And now it's time for the big finale. Thank the hiring managers for their time and undivided attention, provide them with extra contact information and finish up with a call to action.
Let them know when you're available for a callback, what is the best way to reach you, and that if they have any further questions, you will be at their disposal every day.
You can include one last sentence about how excited you are applying for this position, without sounding too needy, of course.
Write short and direct sentences
The way you express yourself is important. Prolonged and heavy sentences will put anyone off from what they're reading.
Of course, that doesn't mean you should write the whole cover letter in simple sentences, as they can sound quite robotic.
But there needs to be a pleasant flow to your writing. The reader should not struggle with understanding your cover letter.
So here are a few tips that will help you write short, concise sentences that are straight to the point and don't sound like they've been written by a bot.
No "fluff words" – These include words such as "really", "actually", "totally", etc. The main rule is – If you can remove it and the sentence doesn't lose its meaning, then remove it.
Use active voice – The usage of passive voice prolongs the sentence with unnecessary clunky words that bear no meaning.
Get rid of redundant words – "In order to" can be just "to", "in close proximity" can be "close". No need to overcomplicate your sentences just to appear smarter.
Here is an example of transforming a long sentence into a short one.
"I truly believe that all of my skills will be of great use to your company should you decide to hire me."
"If I am hired, my skills will prove to be useful for your company."
Leave some information to be revealed later at the interview
Outline the most important info but don't go into too much detail. You want to intrigue the recruiters enough that they invite you for an interview.
You don't want to leave the impression that they've learned everything about you in the span of two short paragraphs, right?
Use a professional cover letter format
The content of your cover letter is the second thing HR managers will see. The first ones are the layout and design.
Our years of experience have shown that candidates that use a professional format for their cover letters have a better success rate when applying for interviews.
Use a readable and plain font, for example, Times New Roman, Arial, Verdana, or Calibri. The size should be no more than 13 point and no less than 11 point. Make it too small, and it's illegible, make it too big and it looks like you're trying to fill up space.
Except for the three paragraphs we already talked about, every cover letter should contain the following elements – a heading, a greeting, and a signature at the end.
Leave space between the paragraphs to make the text easy to read and scan, and align the text to the left.
Make sure it doesn't look cluttered and messy.
How to make the most of your cover letter word length and arrangement
Before you start writing, check if there are any specific requirements posted by the recruiters regarding your cover letter. Some companies will tell you exactly what they want for length and content.
Don't tell too many stories. Giving examples is great but don't go overboard.
Can my cover letter be 2 pages?
If you're wondering about a 2-page resume, ask yourself, why do you need it to be so long? Most of the information should be on your resume, the cover letter is just an add-on.
You're not telling your life story, you're simply listing all the relevant experience and skills you have so you can get invited to an interview. You will have more chances to market yourself once you get there.
Unless it's for a pretty high-end position, such as a heart surgeon, professor ina university, or a science researcher, you should be able to fit everything in half a page.
How many words should a cover letter be?
Since we already established that the average length for a cover letter is two-thirds of a page, maximum, how many words is that?
Well, if you don't have any specific instructions from the employer, keep it between 250 and 400, ideally 300. If you're using a 12 point font and you've written your 3 paragraphs, that's the usual word count at the end.
In any case, the average word count should be a guideline, not your main focus.
What about academic cover letter length?
The cover letter for an academic position is one of those rare cases where you can exceed the one-page maximum. In
It usually needs to include all sorts of important information such as teaching, research, departmental service, published papers, relevant accolades, and anything else that might be required for the position.
How long should my intern cover letter be?
A cover letter for an internship should follow the same guidelines as the typical cover letter. Between 200 and 400 words is ideal.
It could be shorter, as well. If you're applying for an internship, chances are you don't have a lot of experience resulting in fewer things you can include in your cover letter.
Conclusion
Focus less on how long does a cover letter need to be and more on what is required from the company you're applying to;
Always research for specific instructions from the hiring managers regarding cover letter length and other requirements;
Unless you're applying for an academic position or another one that demands a longer letter, don't go over one page;
The format of the cover letter should be professional and clean. The goal is to make your text easy to scan and understand. You can use Enhancv's Content Analyzer to check everything.
Write simply and use short sentences;
Tailor your letter to the position you're applying for. Make it personal and show that you care.
***
What are your experiences with writing cover letters? Have you ever written a cover letter longer than one page?
Tell us in the comments below and if you found this article useful, make sure to share it with anyone who might need it.
Make your move!
Your resume is an extension of yourself.
Make one that's truly you.