Bringing computer smarts in resume writing with real-time content analysis
You can always make your resume better, no matter how much time you spend on it, or how many friends you ask for feedback. Even with the greatest care and effort, there are some things you'll miss, simply because you're not creating resumes every day, all day. But our smart Content Analyzer does – in fact, it has "seen" more than 300,000 resumes Enhancv users have created to date. And it can now help you craft a better one with real-time suggestions how to improve your wording.
Technology to the rescue
Upload & Check Your Resume
Drop your resume here or choose a file. PDF & DOCX only. Max 2MB file size.
Machines are getting smarter every day, and according to many researchers, the singularity is fast approaching. So it probably comes as no surprise that we wanted to employ the Enhancv platform in helping you correct mistakes, focus your resume content and stand out from other applicants.
For a long time, we have been working on a content improvement feature that is scalable and can help all users. In fact, it has been part of our Enhancv vision from day one. Now, we have gathered enough data and double checked with recruiters to identify some of the most common mistakes people make when creating their resumes. Those have laid down the base of our very own automated content analysis feature.
What the content analyzer can help you with
The Content Analyzer helps you get more value out of every word that is written down. The feature works with a state-of-the-art extensive library that ensures it delivers suggestions on par with a human reader. In developing it, we looked into different kinds of common mistakes, like:
experience that is not performance-oriented,
readability issues,
repetition of phrases,
inconsistencies in writing style,
cliches,
filler, weak or vague wording,
visual improvements like repeating icons and more.
The list is getting longer by the day, as we learn more on how users are interacting with the feature and what common writing issues they face. We will not only point out the mistakes, but give you solution ideas.
How it works?"?
Using the Content Analyzer is easy as 1-2-3.
Open your resume. (You'll have to be a paying user).
Turn on the Show Mistakes toggle in the left-hand-side panel.
And done! The Content Analyzer has gone through your resume content and marked in red all parts that need improvement. You will see not only the mistakes, but also some helpful tips on how to solve them.
Try it now!"!
The Content Analyzer can help improve sentence quality, remove clutter and overall provide better and more focused content on a resume. Our aim is to bring the experience as close as possible to interacting with an experienced human reader, while having the scalability needed to bring this brand new feature to all Enhancv users.
Looking for more inspiration? Check out our resume examples section that got people hired at their dream jobs.
When you're ready, build your resume now.
Make your move!
Your resume is an extension of yourself.
Make one that's truly you.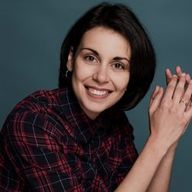 Vassilena Valchanova
A marketing specialist with a passion for digital. Loves finding efficient ways for brands and communities to grow together. Also, a cat-lover, cappuccino addict, early riser and theatre enthusiast.