Quick Answer:
A cover letter is an extension of your resume. It provides a more personalized introduction to show the company why you're the best candidate for the job, and gives you the opportunity to explain any employment gaps. A cover letter should include your personal information, relevant qualifications, values and goals, and a call to action. Make it personal, engaging, and professional.
Everyone says you don't get a second chance to make a good first impression. And all of those unnamed people are completely right. First impressions are essential, especially when you're looking for a job.
So you made a great resume, with a unique template, one that covers all the important past experiences and how you're the best employee that would grace us with its presence on this planet.
But how can you make this even better?
This is when cover letters step in.
Even if you're not required to write one when you apply for a certain position, it can only help.
In this article, we will show you all the benefits of sending a cover letter, the basic outline that you can follow, some common mistakes, and many other cover letter tips.
Let's dive in.
What's the purpose of a cover letter?
Upload & Check Your Resume
Drop your resume here or choose a file. PDF & DOCX only. Max 2MB file size.
Cover letters are an extension to your CV or resume that will dive even deeper into your professional and personal qualifications, showing the company why you are the best candidate for the job.
It's something that a lot of candidates skip when they apply for a certain position, so if you have a cover letter, you are already a couple of steps ahead of the competition!
These letters are a great way to properly introduce yourself in a more personalized way by addressing the points they care about the most.
Take it as something that would add a personal touch to all the facts and data you've already included in your resume, enticing them to read further and really get to know you.
It will show that you have put the time into researching the job you're applying for. You know what they need and you will give it to them.
Before you start writing, take a look at some effective cover letters so that you can see how the candidates tailored the content to fit the company and how they expressed themselves.
How cover letters can help explain employment gaps
Employment gaps can easily turn off an employer and give a bad impression of your consistency and work ethics. And the bad thing is, there is no space on the resume where you can explain them.
This happens most often when you use the chronological type of resume. If you're still wondering which type of resume will suit your needs best, take a look at our resume guide.
So, if you've decided to use the reverse chronological resume, all your gaps will shine bright like the sun, and there is no space left where you can clarify the circumstances that surround them.
Cover letters give you the freedom to do just that. Use it to tackle any controversial topics head-on and don't leave anything to the imagination of your potential employer.
Don't try to hide those gaps or other pieces of information such as only working in a company for 2 months. The best tactic is to be upfront about everything so you can win their trust even before the interview.
Of course, you can always find employers that would be hesitant to hire someone with long employment gaps, regardless of the explanation. However, those are companies you don't want to have anything in common with.
And remember, the goal of a cover letter is to get you an interview. Don't over-explain yourself, 1 or 2 sentences per gap would be enough. If the recruiters need more information, they can just ask you during the interview.
Then you will have the chance to go in-depth and make the best impression since you can look at their reactions, analyze their behavior, and see how they react to certain pieces of information.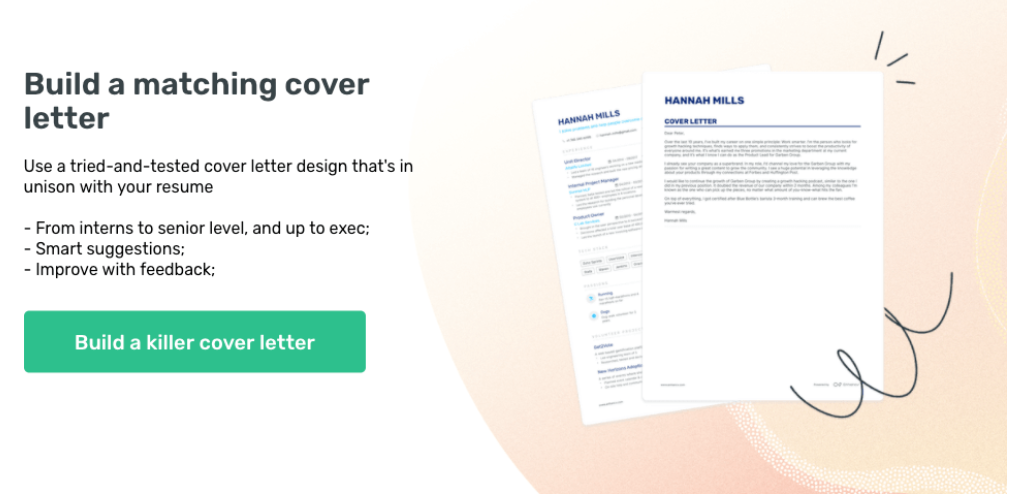 What are the basic parts of a cover letter?
Introduction
It's best you start with an opening section that includes your personal information such as full name, address, email, phone number, etc. You can also insert a link to your professional profile, for example, LinkedIn.
Pay special attention to the email. It needs to look professional. No matter how long you've used your high-school email, "metal_lover_666@yahoo.com" will not impress your future employers, unless you're applying for a band.
Next is the greeting. Usually, the job offer includes the name of the hiring manager and if it doesn't, take your time to research them. It will make a great impression if they see you made the effort to learn the contact names.
Still, it needs to be respectful. Say the name of the hiring manager is Josh. Don't start with "Hey Josh" or "What's up Josh?". A simple "Dear Josh" would be great. Or, if you have a full name, use it – "Dear Mr.Smith".
Representation of your qualifications
Now that you've finished with the presentations, it's time to start advertising yourself.
Start with how you found out about the position and the things that motivated you to apply for it. Briefly explain how your qualifications and skills are related to the job, making sure you're using the ones they specified in the ad.
If they are looking for someone who can manage multiple projects at a time, include it. See what they need the most in their candidates and if it's something you're confident in, don't forget to put it in.
This part needs to be very engaging, it will determine whether they will continue reading or stop in the middle, throwing your resume and letter away for good.
Be specific about your achievements and responsibilities. "I was proofreading documents" is not as nearly as effective as "I was the main proofreader for all the legal documentation for the Accounting department".
Be confident when you talk about what you've done but be careful not to appear cocky and arrogant. Simply highlight your accomplishments and let them speak for you, instead of saying how great and unique you are.
Values and Goals
The next section should include arguments about why you're such a unique fit for the company, how they can benefit from someone with your personality, and how enthusiastic you are about applying for this position.
Take some time to explain about your hobbies, about you as a person. Show that you're not a mindless robot, but a unique human being with their own passions and desires.
Share with them your dreams and what you expect to accomplish both as an employee of their company and in life in general.
If you've spent time volunteering, this is the perfect place to mention it and what it gave to you as a person and a professional.
End your cover letter with call to action
Now that you've listed all your amazing achievements, experience in the field, and personal qualifications, it's time to finish off and entice the recruiting manager to contact you for an interview.
Remind them about the resume you've attached along with the cover letter and let them know the best way to contact you.
Thank them for the time they spent on your application and how you'll be waiting in anticipation for the reply.
The recruiters shouldn't doubt how much you want this job so make sure to remind them again. A simple "Eagerly waiting for your positive reply", should do you just right.
Still not sure what to include? Take a look at some cover letter examples that have secured impressive job positions in no time!
What to leave off your cover letter
Just as there are important things that would attract your future employers, there are some phrases that are a definite turn-off and should be avoided.
Let's go through the main ones.
"Thank you for reading my resume."
You can't assume they've already read your resume. Chances are they haven't and the cover letter is the first thing they go through.
"I will be an excellent fit for your position."
Let your achievements and qualifications speak for you. And by saying "I will be", you already assume they hired you, which is quite arrogant.
Instead, rephrase it to – "I believe I can be a great asset to your team/department/company."
"Dear sir, or madman"
Since cover letters include more written content than resumes, any punctuation and grammar errors will be easily noticed.
An inconsistent and incorrect writing style will make a really bad impression and everything else you've put as accomplishments and experience will be of no importance.
Proofread a few times. We recommend that you use an online tool like Grammarly or Enhancv's Content Analyzer.
Be careful when you choose the font, make sure it's professional. A cover letter entirely written in Comic Sans will throw off any sane, intellectual human being on this planet.
Conclusion
Cover letters are an extremely useful addition to your resume. They bring character and soul to the factual CV or work resume.
Most companies look for people that would add value to their business and a cover letter should be used to show them just that.
How you can give them exactly what they need and much more.
Still, cover letters can be quite difficult to pull off. Do your research, both for the company itself and for all the things a cover letter should include, as well as the recommended writing style, and much more.
Don't use the same cover letter template for each company. Make it personal, show them you care.
For your convenience, we have gathered our years of expertise in a number of useful articles that will help you with your cover letter.
Make your move!
Your resume is an extension of yourself.
Make one that's truly you.