Ending a cover letter can be compared to the final eye contact in a handshake. It's a crucial touchpoint that can make or break your chances of getting an interview.
With that in mind, you are probably asking yourself – How to end a cover letter and enhance the odds of ending up getting hired?
That's what we are about to cover now!
What you will learn:
How to create a Closing Paragraph that will make the hiring manager smile?
Real examples with promise, that will highlight your strengths
What phrases to use instead of "Sincerely" and "I'm looking forward to hearing from you"
Check more than 50 Incredible cover letter examples for job applications and Internships here!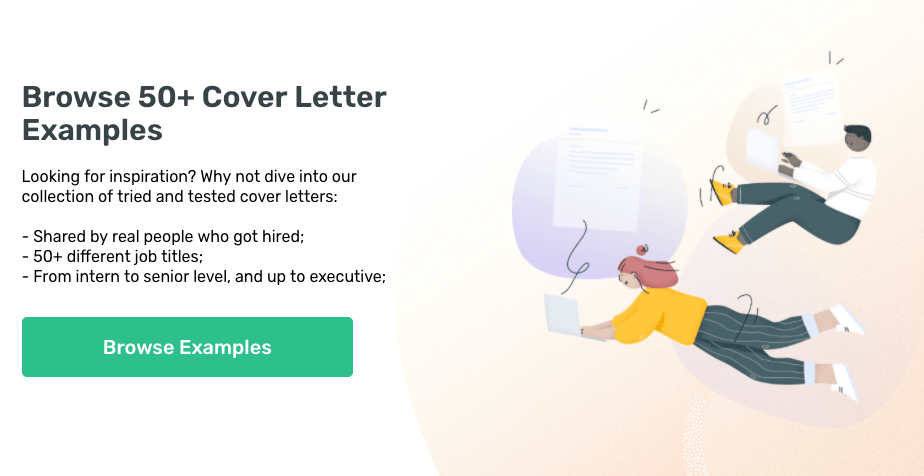 What should the closing paragraph of a cover letter include?
Before we speak about the closing paragraph, let's clarify why the cover letter is so important.
Most recruiters require you to submit a cover letter with your resume and application. A cover letter's main advantage is that you have the opportunity to speak directly to the employer, showing them why you're the right person for the job.
Let's move to the closing paragraph.
It must consist of complimentary close and promises.
While the complimentary close part is usually standardized, the promise section is where you can really make your cover letter stand out.
By giving a promise, you show what actual value you can bring to the company as well as your willingness to achieve goals, based on your knowledge and skills.
Find more about the other parts of the cover letter in our detailed guide here!
Examples of how to end a cover letter with a promise

Ending with a promise is as we said a great way to give value to your cover letter.
Although there are different types of promises, one thing is always the same – you must be ready to stand behind your words and give everything to achieve what you have promised.

How to end a cover letter promising to enhance company metrics
"If I have the opportunity to become part of the team, I'll exemplify the commitment and passion that helped me grow the Alphabet Corps business by 50% in just three years."
Sounds good, right?
You are promising a dedication of your energy and knowledge to achieve better results, emphasizing real experience from a previous employer.
Let's see another example:
"I believe that if I get the job, I can help the organization to achieve 35% more website conversions, by implementing marketing techniques like link-building, white hat SEO, email marketing, and Social Media strategies"
In this case, you highlight your knowledge in marketing methods and by that, you show proof of how you are going to achieve the "35% more conversion" goal.
It stands to reason that you should be honest in your prediction of how you will enhance company metrics.
So, be authentic!
How to end a cover letter promising to grow as an employee
Another awesome way to end a cover letter is by giving a promise of employee growth:
I believe my skills and drive will develop in this job because of the renowned support Trusted Trucking Inc. gives to its team members.
It shows you believe that the company is the right place to continue your career development. Your dedication and commitment will be appreciated and you are ready to become a valuable part of the crew!
Skip these template cover letter endings
Although the complementary section of your cover letter seems pretty formal, you might want to avoid using some of the common phrases like "Sincerely and "I'm looking forward to hearing from you".
What to say instead of Sincerely:
Thank You – This is easily one of the best cover letter closings to a cover letter. You don't need to put any more thought into it, and no one will look at it as lacking in any way.
Thank You for Your Consideration – Appreciating the time of HR or hiring managers is another good way to end up a cover letter.
Respectfully – Similarly to the one above, using the word respectfully can show recruiters of your admiration for the work they do.
Respectfully Yours – If you have developed a relationship with the hiring manager or a human resources staffer at a company, finishing up your cover letter with "respectfully yours" will let them know how much you appreciate their help.
Best Regards – It can elicit a sense of understanding or bolster a good relationship with the recruiter.
Kind Regards – This way of ending a cover letter is very similar to a simple thank you. It's also very understated, lacks nothing, and will not be questioned for insincerity or impertinence.
"I look forward to hearing from you" is another popular cover letter ending and even if it conveys familiarity and warm sentiment, it sometimes can present a wrong message.
What to say instead of I'm looking forward to hearing from you:
I appreciate your quick response – It communicates you're serious about a response without being forceful or vaguely threatening.
Let me know if anything changes – It's another way to give the initiative to the hiring manager without being too pushy.
Takeaways from writing a memorizing cover letter ending
Let's summarize:
Cover letter ending is crucial and can make or break your chances of landing a new job.
The cover letter ending paragraph consists of complimentary close and promises.
Giving a promise at the end shows what actual value you can bring to the company as well as your willingness to achieve goals
There are two great promises that you can give – a promise of improved company metrics and a promise of employee growth
There are plenty of alternative phrases to use instead of "Sincerely" and "Looking forward to hearing from you"
***
What did you think of this article? Are you feeling more comfortable in writing cover letter endings now? Share your thoughts in the comments!
Make your move!
Your resume is an extension of yourself.
Make one that's truly you.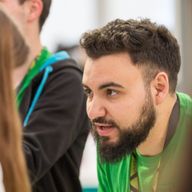 Kal Dimitrov
Kal is a resume expert @ Enhancv. He frequently publishes blog posts around resume writing, cover letters & job applications. Kal also runs a Career Accelerator Bootcamp for young graduates.