We all love the feeling of sending in the perfect cover letter, complete with an impressive list of qualifications and skills.
However, many of us focus our attention on the content without considering the format and correct cover letter spacing.
As silly as this may seem, employers look for applications that display meticulous organization. They want to know that their employees can follow instructions and write professionally.
Too much or too little white space in a cover letter can disorient the reader. Luckily, there is an easy way to ensure your cover letter is perfect.
Are you ready to take your cover letter to the next level? In this article, you'll learn:
How to space your cover letter
Where to add extra spaces
How to change spacing settings on Google Docs and Microsoft Word
Why use a cover letter template
Where to get a cover letter template
What's the proper cover letter spacing?
Upload & Check Your Resume
Drop your resume here or choose a file. PDF & DOCX only. Max 2MB file size.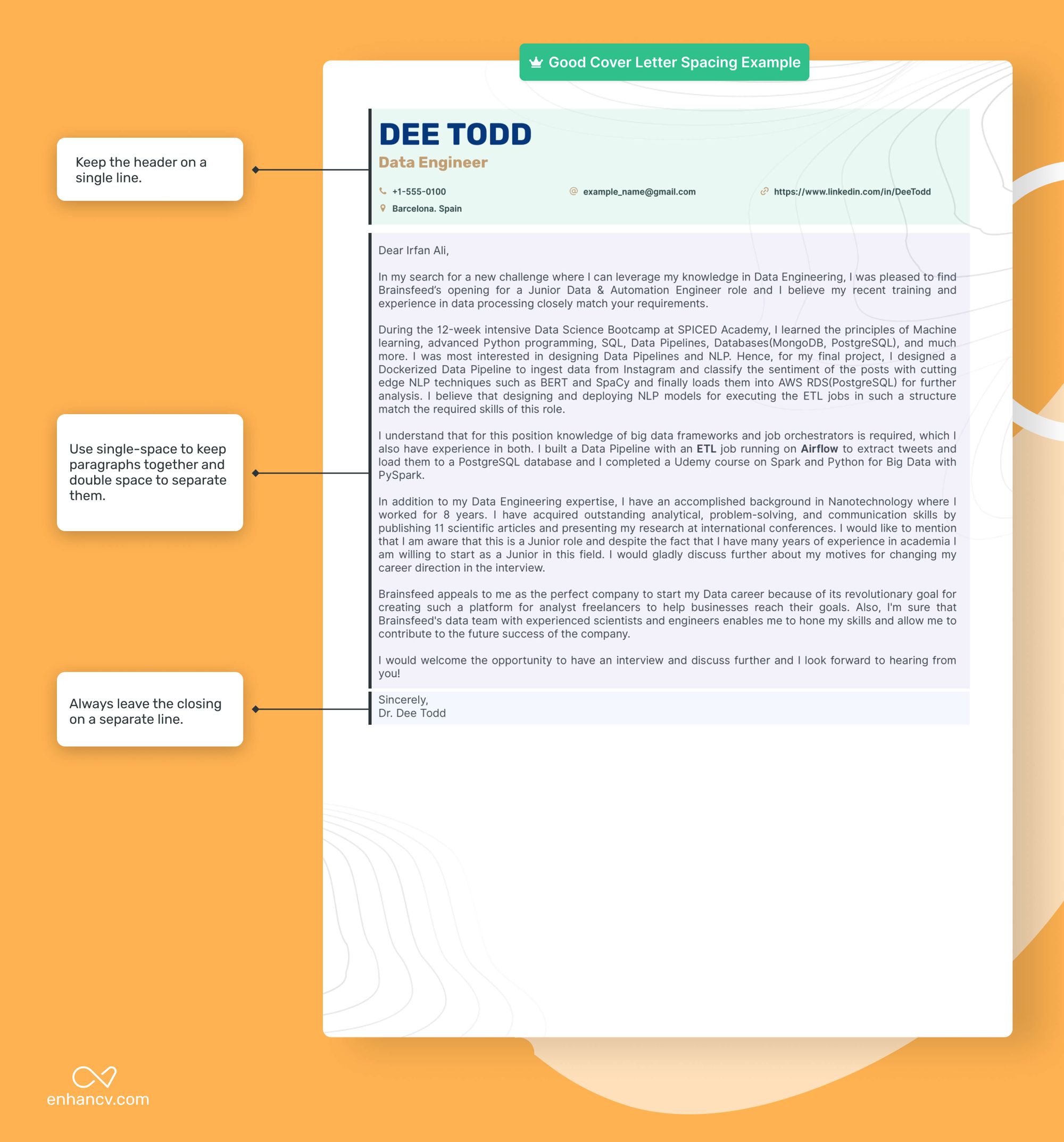 You should format cover letters in single spacing. However, you must leave one extra space between each paragraph.
It includes spacing between the greeting and opening paragraph, the final paragraph and closing, and the closing paragraph and your name.
View these cover letter examples for a clear picture of spacing.
Those using Google Docs can set the default spacing on your document before beginning.
Click on the "Format" drop-down menu at the top of the document
Select "Line & Paragraph Spacing"
Select "Single"
Those using Microsoft Word can follow these steps before beginning:
Click "Design" on the top menu of the document
Select "Paragraph Spacing"
Select "No Paragraph Space"
If you forgot to set single spacing before typing, you could adjust spacing later. Select all of the text and follow the steps above to match your document type.
If you need more tips, here are our guidelines for how to format a cover letter.
Use a cover letter template
Most of us are applying to multiple jobs at once. Finding and applying to jobs can be exhausting, and you must tailor every cover letter to the company and position to which you are applying.
Luckily, there is a shortcut. You can build each one from a cover letter template.
Several other benefits of cover letter templates include:
Prioritization: It can be challenging to know which information matters most to employers. Templates will show you where each section belongs.
Professionalism: Templates are well-organized and pleasing to the eye. Hiring managers who view countless applications daily will appreciate your attention to detail.
Saves time and effort: Cover letter templates are easy to use. They allow you to breeze through formatting and move on to the more important content.
Key takeaways on cover letter spacing
When you write your next cover letter, remember these tips:
Ensure that you single space your document.
Set single spacing as the default on your document, or adjust spacing at the end.
Add extra spaces in between each paragraph.
Consider cover letter templates.
Prioritize your information.
Your professional cover letter will make a great first impression on your future employer.
Make your move!
Your resume is an extension of yourself.
Make one that's truly you.