Of all the things to worry about when applying for a new job, the header of your cover letter might not seem high on the list of your priorities. But creating a clear and organized cover letter header allows you to differentiate yourself from piles of job applicants.
An organized cover letter header shares your personal details professionally. It forces a recruiter to read on to learn more about what makes you unique.
A well-crafted header created with a custom cover letter builder can attract the attention of a hiring manager through an aesthetically pleasing font, color and design elements.
Think of it as the first impression you make with a hiring manager. You wouldn't show up for an interview without shoes on, and you wouldn't send a cover letter without having a header.
Ready to put your best foot forward with a well-crafted header for your cover letter?
In this article, you'll learn:
What a cover letter header is
What you'll need to include and exclude in your cover letter header
Resume and Cover Letter Headers: Similarities and Differences
How to properly organize your cover letter header with a template
If you want to create a cover letter that leaves a distinct impression, Enhancv has over 500 examples of professional cover letters to draw inspiration from.

What is a cover letter header?
Upload & Check Your Resume
Drop your resume here or choose a file. PDF & DOCX only. Max 2MB file size.
Your cover letter tells a story about you: your triumphs and successes in your career, what makes you the best candidate for the role, and how you can add more than just technical skills to a company.
It should be short and sweet, getting straight to the point about who you are and why you will contribute substantially to the company.
In the same way, a header for your cover letter gets to the point by sharing important details about yourself. Your header is the place where you share your contact information with your hiring manager, while also informing them of the date that you wrote the cover letter.
Your header can also show that you've gone above and beyond expectations by addressing the letter to a specific person from the company you are applying to. If you're able to find the name of the hiring manager and their position within the company, this will create a more personalized header.
A header for a cover letter typically sits in the top upper left corner of your cover letter. However, you can also include the whole header portion of the top of your page with a customized cover letter header.

Cover letter header format
There are three distinct sections for the cover letter header format: your personal information, the date of writing, and contact information of the hiring manager.
Let's dive into what you should include in your header:
1. Include your personal Information
Your first and last name
Phone number
Email address
2. Date of Writing
Next, skip a line and include the date that you're writing the letter. Include the full name of the month, followed by the day and year of the day that you're writing your cover letter.
It's going to look something like this:
April 18, 2022

You may also want to include the city that you're writing the letter in at the beginning of the date:
Chicago, April 18, 2022
3. Hiring manager's name
Skip another line and include the hiring manager's information. Finding the hiring manager's information can be difficult, but don't worry, you can usually find it on a job application. If you're applying to a company without a job application, just search through a company's "about us" page, or look through the company's LinkedIn page.
There are three things that you should include:
The hiring manager's name
Their position
The name of the company
If you can't find one, don't sweat it too much. Just skip this information, and address it to "hiring manager".

Optional things to include
There are other optional things that you can add to your header which help to personalize it. Here is some other personal information that you can include in your header:
Your professional social media profiles: This includes sites like LinkedIn, GitHub, or Medium, but would exclude personal social media sites.
Your personal website
A professional portfolio
Your address or the city where you live: This used to be common when you were mailing your cover letter and resume to a hiring manager, but is no longer necessary when sending a cover letter in an email.
The title of the position you have at your current workplace
The title for the job posting or the reference number: You can find the title for the job posting on any job description, and you can place it right after the date to help clarify the position you'll be applying to.
Things to exclude from your cover letter heading
Your resume and cover letter are the best places to share about your skills and abilities, but try to keep them professional. Exclude really personal information, and try to avoid giving more than one phone number, as this can frustrate the hiring manager.

Resume and Cover Letter Headers: Similarities and Differences
A cover letter header and a resume header are similar in format. They both share personal information, like your name, phone number, and email address. You may also want to format them similarly, with the same font, color and design elements being used for both.
According to a recent study, the average recruiter takes 7.4 seconds to scan each resume and cover letter that crosses their desk. One of the first things that a recruiter looks for is whether the header of the cover letter matches the resume's header. A simple mistake, like having mismatched headers, can cause your resume to be tossed out.
The major difference between the two is that you write a cover letter with a specific person in mind: the hiring manager.
Like any formal letter, both the sender's name (the job applicant) and the receiver's name (the hiring manager) should be found on the cover letter.
A resume header simply includes your own personal information, but it can also be a great place to put springboard links, hyperlinks that lead to a personal website or portfolio. In our digital age, most recruiters view applicants' resumes online, and having some handy hyperlinks available can point them in the right direction.
If you'd like to learn more about how to upgrade your resume's header, check out Perfecting Your Resume Header so You Get Noticed.

Cover letter header template
Crafting your own cover letter header template doesn't have to be difficult. Here's an easy-to-use example of a cover letter header for your use:
Dwayne J. Nicole
312-456-5555
Dwayne.nicole@gmail.com
Linkedin.com/in/dwayne-nicole
Chicago, April 18, 2022
Bryanna Bartlett
Human Resource Director
Northern Electric, Inc.
450 Pullman Road
Chicago, Illinois
60651

Final Thoughts
Cover letter headers help to share your personal details with a hiring manager, and what you choose to include in them can share a lot about you. Consider these key points we discussed in this article when you're writing your header:
Include personal information (name, phone number, and email address).
Insert the date that you wrote the letter.
Address the cover letter header to the hiring manager, and include their position in the company.
Resume and cover letter headers are similar, but have some distinct differences.
Diligently check to make sure all information is correct on the cover letter header, and that it matches your resume header.
When you're applying for a new job, you want to do everything in your power to create a perfect first impression.
You can do this easily with a perfectly crafted cover letter, and you don't have to do this alone.
At Enhancv, you'll be able to find a lot of resources to help you craft the perfect cover letter. We have over 500 sample cover letters for you to draw information from to make your own.
Also, you can find a lot of information on the Cover Letter Help blog, which can give you all sorts of top-quality articles, like the Cover Letter Checklist, which is everything that you need to write a cover letter that sets you apart from other applicants.If you'd like to streamline the resume and cover letter building process, use the Cover Letter and Resume builder.
Make your move!
Your resume is an extension of yourself.
Make one that's truly you.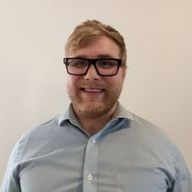 Dave Van Kooten
Is a human resource expert that helps passionate jobseekers to put their best foot forward to prepare for an interview. He believes that success can be achieved through going out of your comfort zone.