As it turns out, a simple mistake can get your resume tossed within seconds. A recent study found that more than 80% of recruiters search for an applicant's name as the first item when reviewing their resume. It further found that if your name (along with other items such as your education) is not easily found, recruiters are more likely to discard your resume.
While recruiters will generally take the time to read your resume themselves, many organizations rely on automated tracking systems (ATS). Such technologies use your resume header to figure out the structure you're using.
What's the takeaway?
Your resume header needs to be optimized for both the human recruiter and ATS systems. If it doesn't work for either, it's unlikely that you'll land an interview.
So that makes you wonder…
How do I make a resume header that appeals to both recruiters and ATS systems?
That's what we'll teach you in this guide.
What do you need in a resume header?
The key to creating an impactful header is starting with the right mindset.
Think about what you must achieve with this section:
Provide a name
Give your contact details
Link to valuable resources
Set the tone of your resume
By keeping these criteria in mind, The rest of the process becomes a lot easier than you think.
1- Name
This one is self-explanatory — yet, you'd be amazed by how a simple mix-up here can hurt the applicant's chances.
Without attaching your name to your resume, the recruiter has no link between what's in front of them and who you are as a potential employee.
Remember to include the name as it is in your professional history and records.
For example:
If you have recently gotten married and taken a second name, consider using your maiden name as this is the name that has been published.
The name on your resume should also be searchable. Meaning, the recruiter should be able to use the name in your resume to find work published online, your Linkedin profile, and more.
This is not the time for aliases because any difference in your name can confuse the ATS systems. If you're concerned about what recruiters may find when searching your name, see if you can pass our recruiter search quiz.
Also:
You'll get an advantage if you make your name the largest piece of text when formatting your header. After all, you've got six short seconds to make sure the recruiter can find it.
2- Job Title
One thing many applicants forget to include when creating their resume is the job title.
That doesn't mean attaching the title of your current position (in fact, this is a mistake you should avoid.) Instead, you must describe your line of work to match the job title to the position you're applying to.
Case Study: Eric's Name & Job Title
When creating his marketing resume, Eric ensured to make his name the centerpiece. The bold font with clear margins against a white background catches your attention instantly.
His job title of "violinist turned marketer, still a great performer" gives insight into his career trajectory and pulls you in with some intrigue.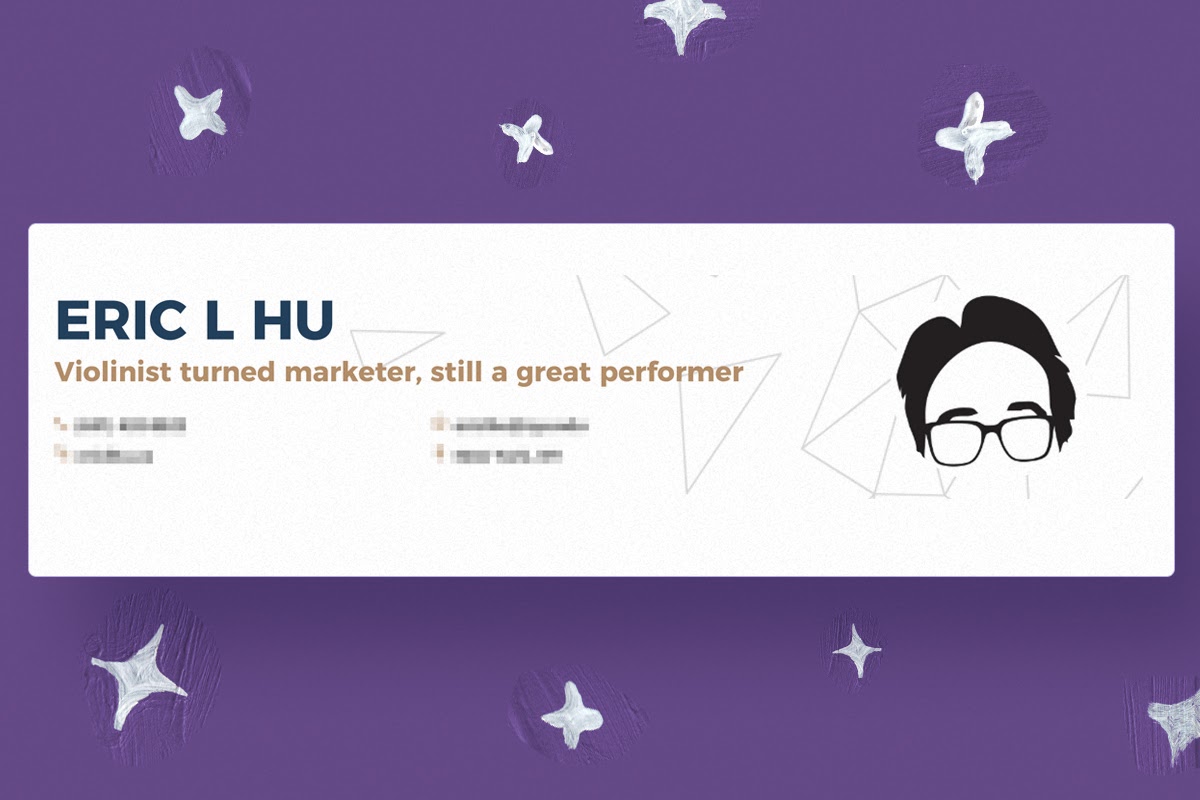 3- Phone number
Recruiters might need a way to reach out to you directly for some of the following reasons:
Setting up an in-person interview
Asking for references
Conducting an over-the-phone interview
So…
Make sure to include a mobile number that you can answer at most times. And do not use a work number under any circumstances.
You may also consider putting in your country code at the beginning of your number if you're applying for jobs outside of where you live. Hiring managers will appreciate that because it saves them time.
Also:
Be sure to update your voicemail for the times you're not available or when you can't answer your phone. Clearly state your name, and avoid telling jokes because headhunters may like that and regard it as unprofessional.
4- Email
For many reasons, the email address you use in your resume can affect the hiring decision. Therefore, it's essential to include an email address that leaves a positive impression or at least won't hurt your chances of being hired.
Recruiters have some hidden rules that they all agree on but can't explain consciously.
They've dealt with thousands of resumes throughout the years, and that allowed them to develop a clear sense of what's' acceptable.
One of those rules is choosing the proper email address on your resume.
You must include an email that's suitable for the hiring process and your industry.
For example:
Leave your fanaccount1293@hotmail.com at home as that promotes you as an unprofessional applicant.
Also:
Never use a current work email address because it shows that you're still committed to your job. Not all employers are open to taking a chance on recent graduates or inexperienced candidates.
So, if you're no longer a student, consider leaving your university email off of your resume.
Now:
If you need a new email address, you can create one to use in your job hunt within minutes.
You should stick to the most popular email providers when creating your address. That includes services like Gmail, Outlook, iCloud, and Yahoo.
Your perfect email address might already be taken even if you try out a few service providers.
If that's the case for you, don't worry! It shouldn't be a problem.
Here's our hand-picked list of professional email formats to help you create a new email:
first.last@domain.com
flast@domain.com
firstl@domain.com
last.first@domain.com
f.last@domain.com
first.l@domain.com
5- Location
With recruiters moving towards contacting applicants online, there's less of a need to include your full address in your header.
Merely noting your general location (e.g., London, England) should be sufficient for initial screenings.
With companies moving towards remote-working, including that you live in a different country isn't the automatic no it used to be. So, noting your location is still important when applying to international positions.
6- Springboard links
Unfortunately…
This one is often overlooked by applicants when making their resumes. But it's one of the most important details you can include in your header.
Springboard links are hyperlinks to further resources on your previous experience, work history, approach-to-work, and personality.
They're used to propel the recruiter in another direction to learn more about you. These are helpful if you have a personal website or an online portfolio to share with recruiters. And if you're in a creative field, in particular, Springboard links are essential for your resume header.
When including your LinkedIn profile link, make sure to personalize the URL. Check that everything you're linking to is related to your career/culture fit too.
More importantly:
Keep your resume details consistent with your portfolio or LinkedIn profile.
Many applicants forget to update their LinkedIn profiles to match their resumes. That results in many inconsistencies, such as different names, locations, job titles, etc.
Also:
Applicants in creative fields such as video editing may neglect their portfolios for years. Yet, they'll still feature them in their resumes.
When recruiters visit your portfolio, they want to see proof of what you claim in your resume. If you don't update it, you'll leave them confused about your latest projects and work.
Case Study: Springboard Links
Gal had over a decade of experience in business development when drafting his resume.
He wanted to make sure all of that came across but favored a one-page resume. To compromise, he included his personal website in her resume header where the recruiter could learn more about him.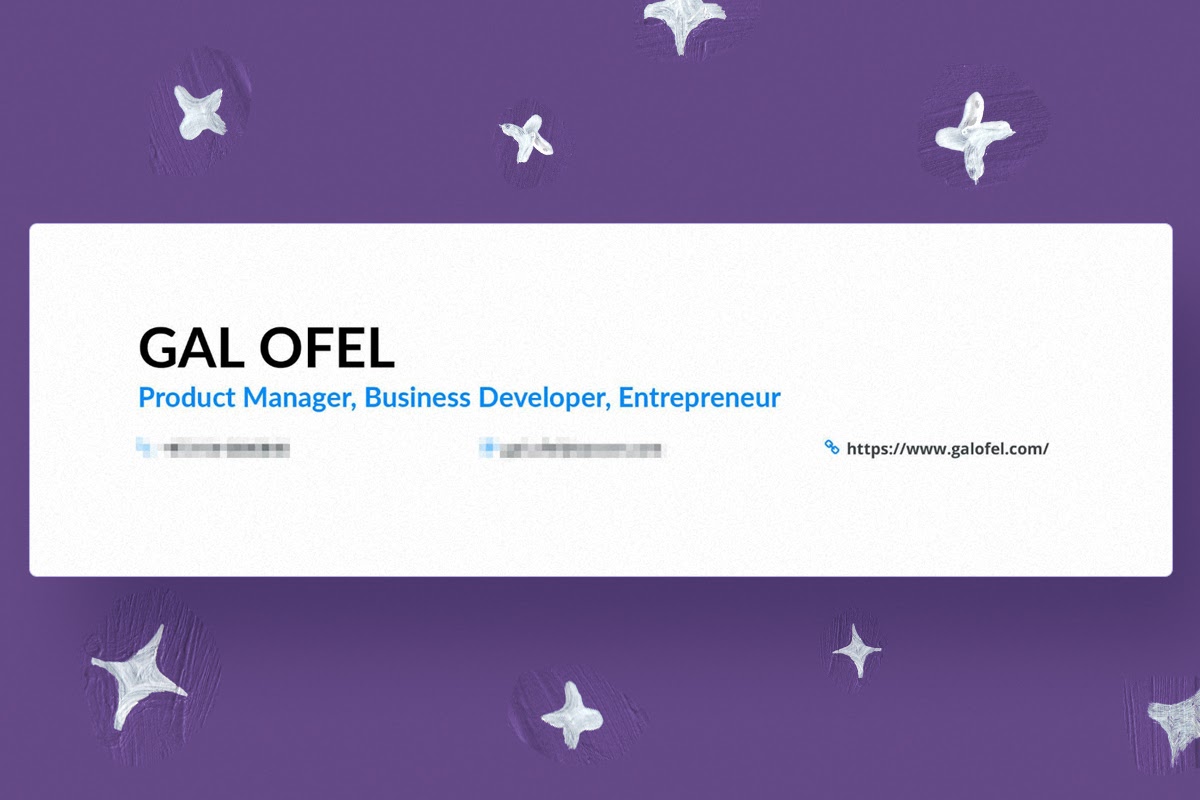 7- Photo
The debate on including a photo on your resume is ongoing.
In general, it's best practice to check company and government policy (it's illegal in some countries) to see if photos are welcome on your resume. You can always ask the HR or hiring department for guidance.
Including a photo in your header can add a face (and personality!) to the content alongside it.
Sam included a personal photo in her header when applying for her job at Spotify.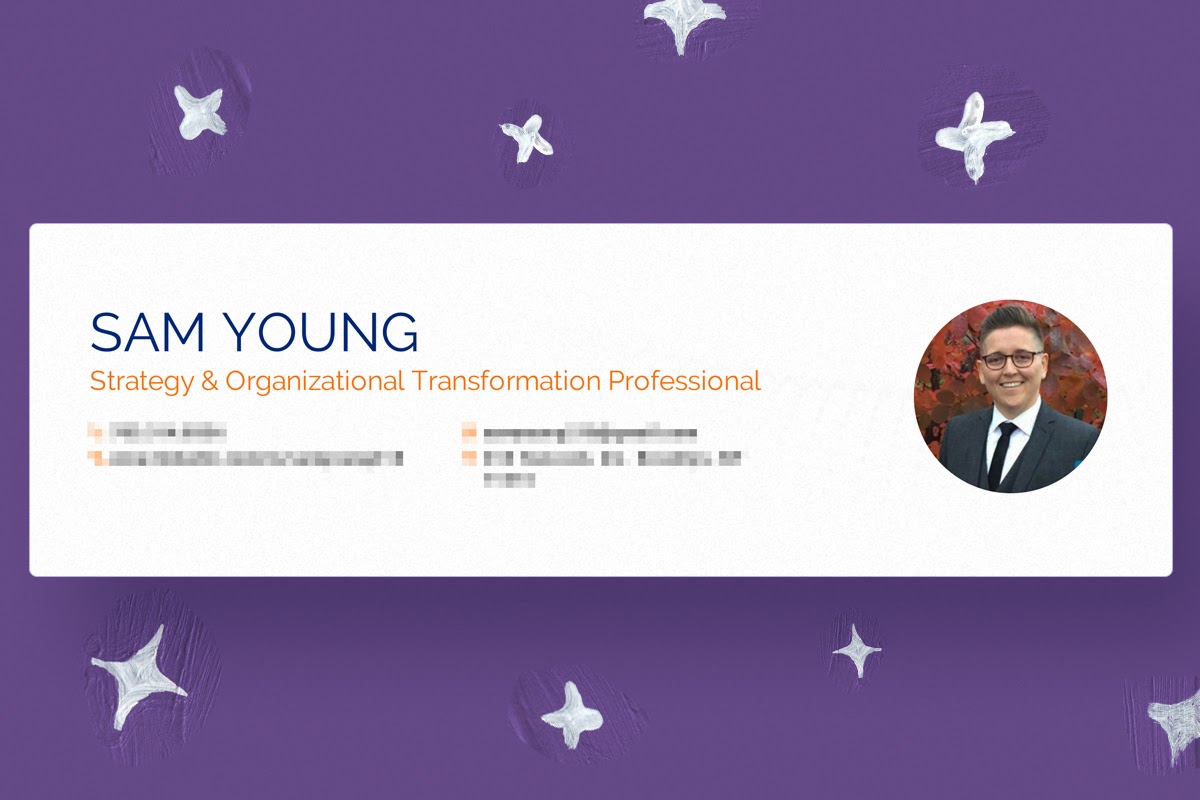 How to format your resume header
At Enhancv, we believe in fluidity in design and the importance of creativity in making an impact.
For that reason, we have designed many resume templates with unique headers for our users. Our templates have helped professionals in all industries land the jobs they've always dreamed of.
In this part, we're going to help you do the same!
We'll share with you our secret sauce for formatting a job-winning resume header on your own. And with that, you'll lead the headhunter's eye in the first 7 seconds to read everything they must know about you.
First things first:
Make your name the largest piece of text on your resume to help it stand out. That's a basic rule that anyone making a resume must know.
Next:
Place your job title right beneath it in a smaller font size to establish a clear hierarchy. You can even use a different color to create an interesting visual combination.
Finally:
Align the rest of your personal details below your job title as the bottom of your hierarchy. You may include small icons next to each information to increase readability and improve visual interest.
In three simple steps, you've created an outstanding header for your resume!
Marcellus' Journey to Verizon Digital Media Services
When crafting his network engineer resume for Verizon DMS, Marcellus utilized Enhancv's double-column resume template which carefully positioned his name on top of his resume along with key points to describe his location, email, phone number, and useful links.
Using Enhancv's builder, you can easily edit the look of your resume header in a way you know will catch the recruiter's attention.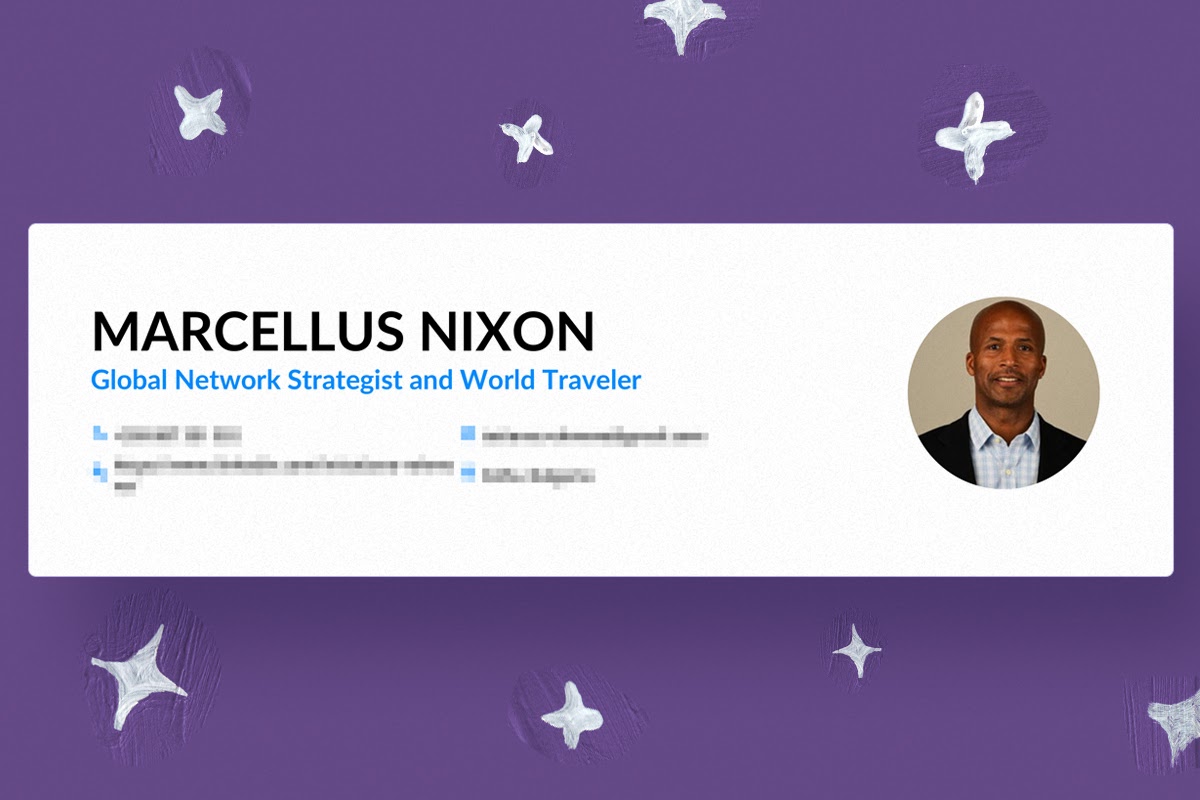 3 Mistakes to avoid in your resume header
1- Labeling your resume as "Resume"
One of the most important rules to follow when creating your resume format is to never put "resume" on the top of your header.
The recruiter knows what your resume is — you don't need to remind them. Doing that makes you like you found your cv template online and didn't take enough time to refine it.
Leave the top of your resume for more crucial information such as your full name, job title, and photo.
2- Not placing your header at the top
This one is seemingly obvious. But, we've seen many applicants lose excellent job opportunities by falling for it.
The header is called so because it comes at the top of your page. It contains essential details that headhunters must know first before reading the rest of your resume.
That's why it must always be placed at the top.
Creativity is good as it can show your boldness and help you stand out. Yet, there are some things in your job hunt you shouldn't be creative in. One of them is your header placement.
Do you still want to be creative?
You can play with vertical alignment and place your header on the left or the right of your page.
What matters here is that it's the first thing your recruiter reads. Meaning, it shouldn't be placed below other sections such as experience or skills.
3- Including irrelevant personal details
Not only will irrelevant information not matter recruiters, but it might also work against you in keeping their interest. Additional details can confuse headhunters and drive their attention away.
Some of the irrelevant details you should avoid are:
Date of birth
Religion
Nationality
Ethnicity
The rule of thumb for headers is straightforward:
Stick to the usual.
Apart from that, all other general rules to resume writing apply to your resume header. That includes avoiding common typographical errors, conducting a resume review, choosing an appropriate resume length, etc.
What if I have a two-page resume?
You may have wondered at some point:
What should my resume header look like when I have two pages?
The answer is easy.
Writing a two-page resume where you have concerns the pages may be separated?
Simply repeat the same header on the top of both pages. In most cases, one resume header placed at the top of the first page should suffice.
Daniel used one header for his two-page resume when developing his customer support resume that got him hired at Intercom.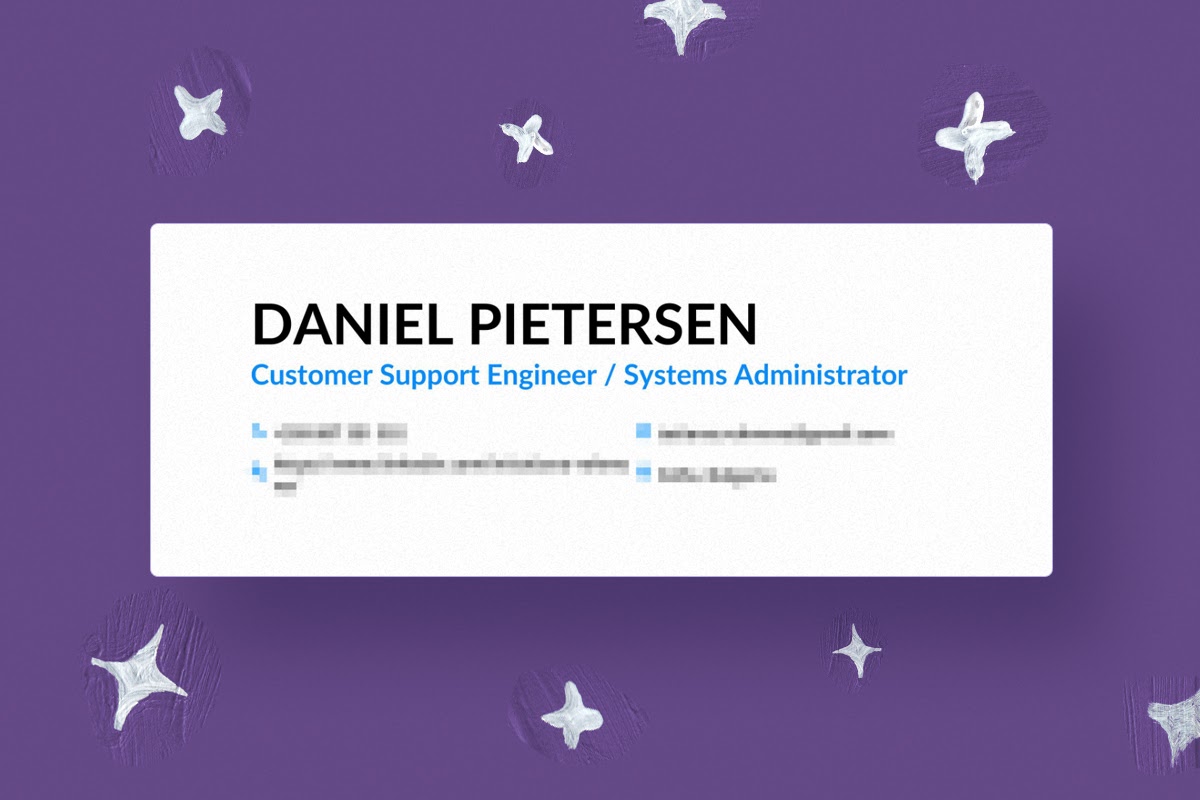 Perfecting your resume header
Recruiters look to your resume header in their initial screening. Ensuring this greets them with the most impact will be influential in getting you an interview for your dream job.
The content expected in your header can vary in aesthetic, presentation, and format. But, there are some tricks to the trade you'll benefit from knowing.
If there's nothing else you've taken from this post, remember, don't label your resume with the word resume.
Make your move!
Your resume is an extension of yourself.
Make one that's truly you.