Aren't you tired of applying with your business development resume and hear nothing in return?
What's worse is that you know how you can help the company you want to work with and why you are their best bet.
Often it's not about your skills - it's about how well you translate them into your resume.
In this guide, you'll learn:
How to write a business development resume that gets shortlisted;
What hiring managers focus on in your business development resume;
How to guide recruiter's attention to your strongest qualities and achievements;
A resume format that lands business development interviews more often.
Business Development resume examples
Below you'll find Business Development resume examples based on years of experience and area of expertise. You can use them as a base for your resume easily by clicking the button.
Senior Business Development Manager resume example and tips
Showcase strong domain knowledge. Senior business development managers are nurtured within a company as it's the sole way to ensure that the candidate knows their environment to the letter. When there's a need to hire a senior from the outside, companies will favor candidates with deep relevant domain knowledge, e.g. e-commerce, retail, digital, etc. Frame your experience section to put relevant experience forward.
Target your resume to the job. Companies don't need a senior manager who knows how to lead people and organize processes. They need someone who also knows their preferred growth channels to the bone, proved themselves within a similar environment, and adheres to their business code (e.g. data-driven or consumer-driven or...).
A job description contains all the info you need. Tailor your resume to the job and increase your chances of landing an interview.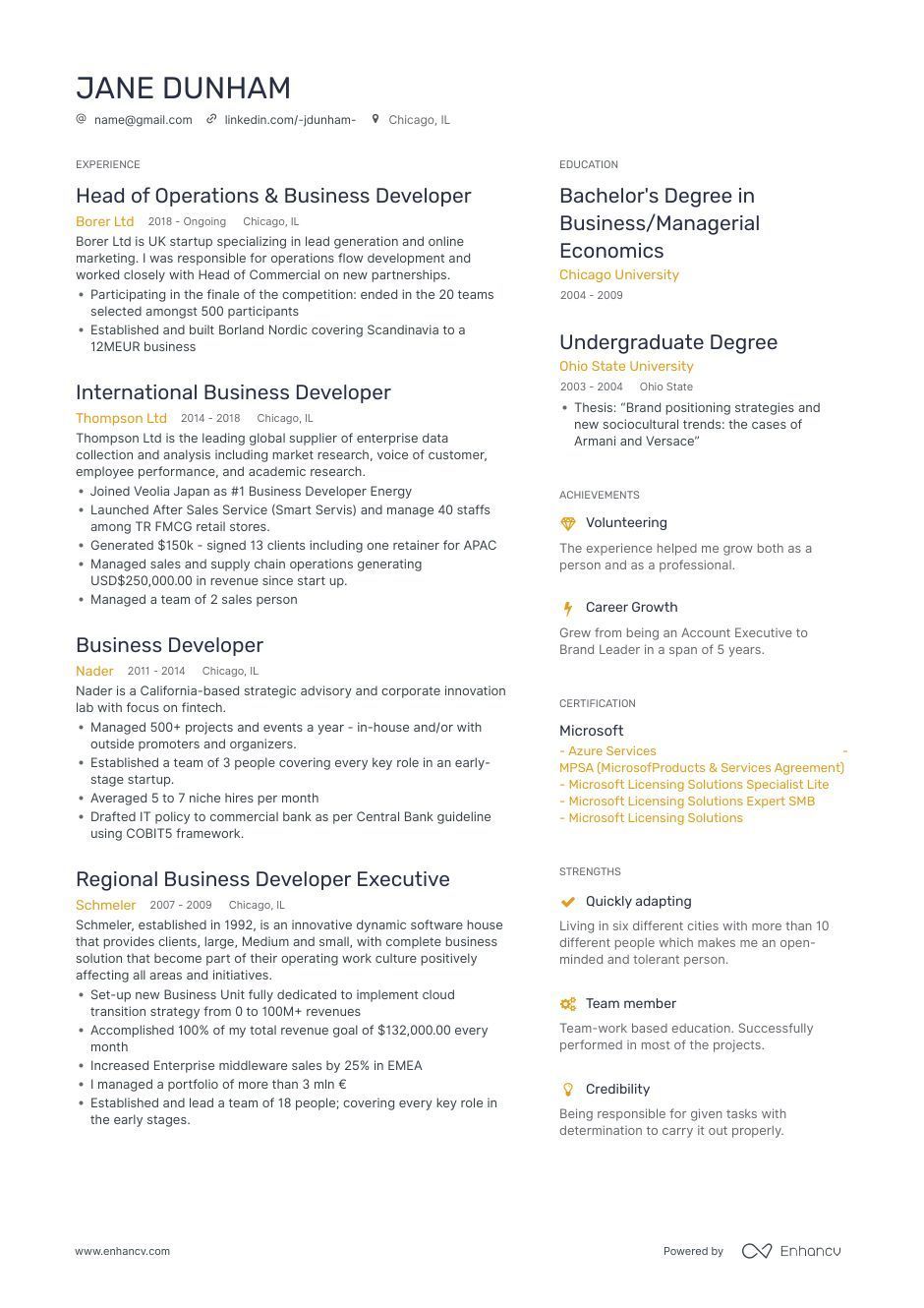 Business Development Manager resume example and tips
Showcase strategic development skills. The key difference between a business manager and entry-level business development roles is that entry-level jobs are all about execution, where business development managers combine both execution and a strategic effort. Showcase that you can operate and achieve results on a scale to gain an advantage over other candidates.
Experience working for regional and global companies. Modern business is global and connected. Any business that wants to grow needs to explore strategic global partnerships. Your business development manager resume should highlight either experience or skills relevant to these tasks.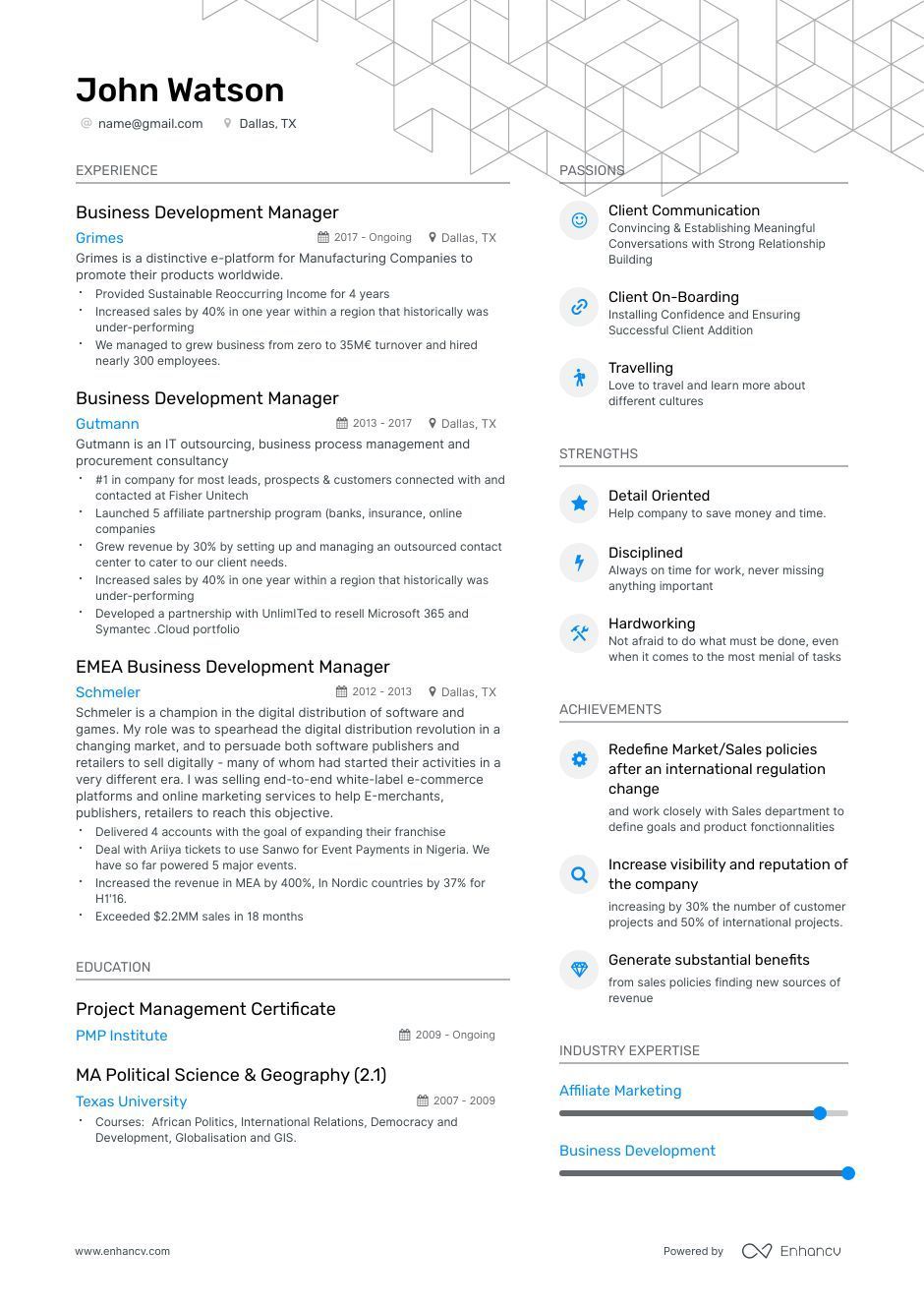 Business Development Representative resume sample and tips
Showcase smooth execution of business tasks. Even sales-related achievements are valuable when it comes to business development representatives, as your tasks will revolve around attaining specific growth metrics. Highlight your results and ability to achieve and surpass business KPIs (sales, quotas, market share) in your business development representative resume to attract the recruiter's attention.
Get an internship at well-known companies in your target domain. Even a couple of months' internship at an industry leader or niche leading company will dramatically increase your chances of getting hired by every company within the target domain.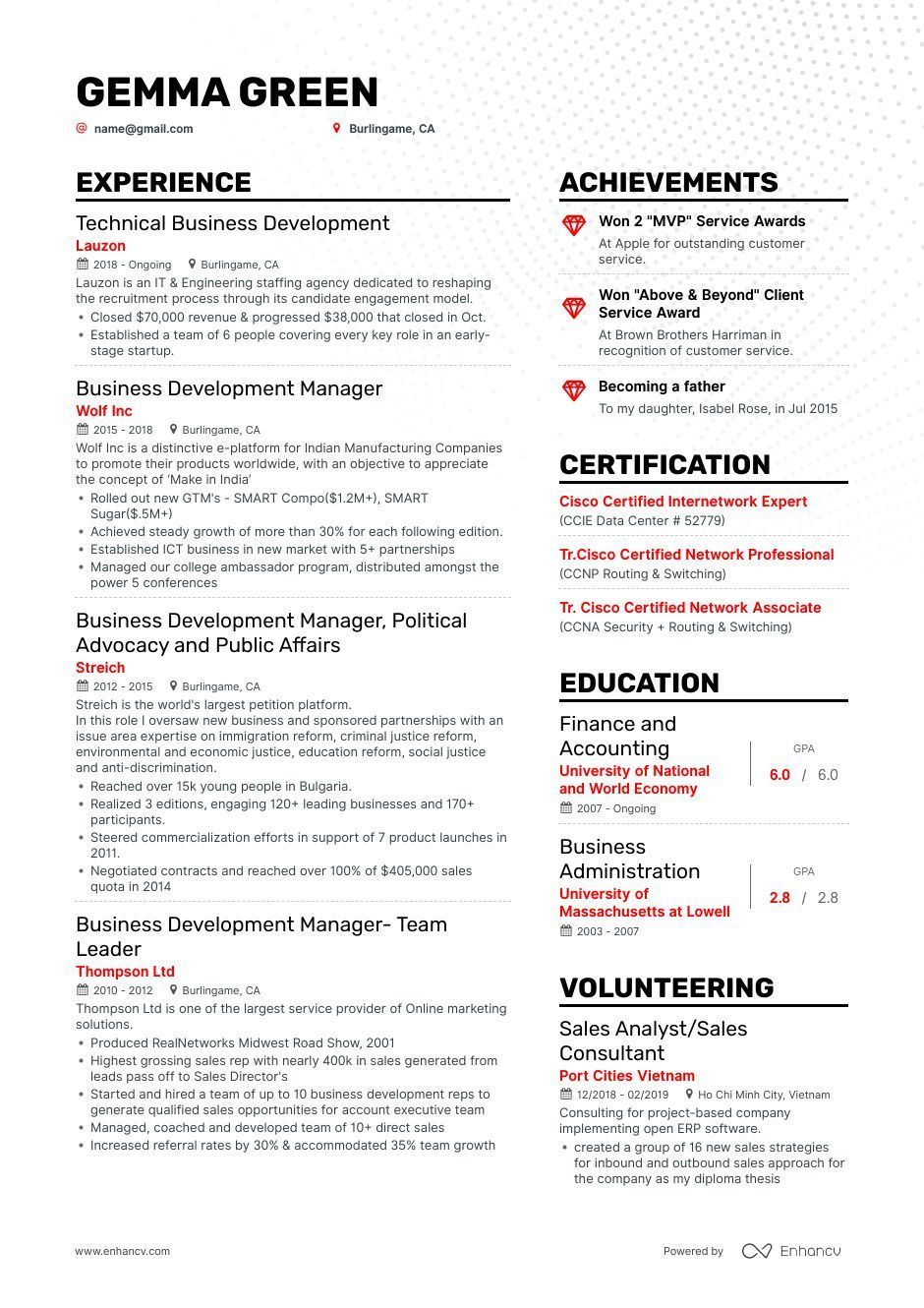 We hope those resume samples inspired you!
How to write a Business Development resume?
The following tips will help you get started with your resume development process.
Target your resume to the business environment
Every business relies on different growth methods. Some are more important than others. If your target company relies heavily on direct sales growth, your resume should at least mention a similar experience.
Bad example: digital marketing expert for a traditional cold-calling company
Good example: digital marketing expert for a traditional cold-calling company who made cold-calling more effective through automated CRM scripts and multi-channel marketing.
Focus on the right numbers in your BD resume.
Mentioning numbers in your resume is great, but some numbers make much more impact than others. Others can make recruiters roll their eyes. Focus on business growth results, avoid routine.
Bad example: created 10 real-time business dashboards with relevant metrics
Good example: increased quarterly sales by 23% after implementing real-time user segmentation dashboards in every marketing department
Use a resume format that engages recruiters and guides their attention.
Highlight the most compelling results by using bold text. Improve the scannability of your resume by using custom sections, bullet points, and headers. Create a custom resume layout that keeps your resume compact and guides recruiters' attention where you want.
Recruiters will be able to view your resume even during their lunch break if your resume can be exported as a PDF and printed.
Choose the proper Business Development resume format
There are three resume formats you can choose from:
Reverse-chronological layout;
Hybrid layout;
Functional Layout.
A reverse-chronological resume layout is best suited for your Business Development resume if you have 1-6years of experience.
A hybrid and functional layout would be right for senior profiles of the level of Business Development Director or Manager.
That's because they have a ton of experience, and they need to put their career highlights on top via functional resume layout or the hybrid layout.
Let's start building the top section of your business development resume- the header.
You must write a legible and informative resume header to create that positive first impression.
Business Development resume header: what to include?
There is a bad and a good sample to help you understand what should be avoided and what adds weight to your application.
Business Development resume header examples
Business Development Representative with 4yrs of exp.
WRONG
Business Development Rep. ((4+ years)
RIGHT
Note that you want to share minimal information that is helpful for the hiring manager.
While keeping your resume header clean, you need to give out something that calls for their attention - your certifications.
There aren't plenty of certifications for salespeople, but there are some that are somewhat attached to your field. We'll talk about helpful certifications later in this article.
Business Development resume summary: how to capture recruiter's attention
In your career, whether you're about to start off or have been there a while, your sales numbers do all the talking for you.
Pretty simple!
The best business development candidate closes the most and biggest deals.
Expect the hiring manager to look for numbers of closed deals and big figures in your resume.
Sample Business Development resume summaries
Business Development Coordinator with 5yrs of experience and proven track record in Information technology industry. Skilled in sales, business development and social media tactics. Expert in networking on social media.
WRONG
6 years of experience as Business Development coordinator- collaborating with Sales, Marketing, Business and Tech teams to create custom RFDs for clients. Adept in formulating tech requirements for IT and Manufacturing industries, reducing dependency on tech teams and speeding-up the process by 25%.
RIGHT
Sample Business Development Representative resume summaries
Business development rep with 3 yrs of solid sales experience. Taking client calls and answering queries to maintain customer relationship. Carry out sales lifecycle with a team of 5 members and attend client meetings.
WRONG
Business development rep, carrying out sales cycle from cold calls to deal closure and representing taboola in trade shows and outside sales initiates. Generated 250 qualified leads in 2yrs bagging revenue of $890,000, of which 40% revenue comes from scalable long-term clients.
RIGHT
Do you see the difference?
Good summary examples present a clear picture of how you spend your day at work. And what results you achieve while doing so.
That makes the above summary 100% complete.
And it says you're their best candidate.
There, you've created a positive first impression. Kudos!
Let's now move towards your resume experience.
Business Development resume experience: turning your work history into a magnet for recruiters
You should tailor your experience to the job description.
Note that the hiring manager will look for certain key factors in your resume:
Sales figures and no. of closed deals;
Whether you represent your company to the clients on your own;
Make cold calls and write emails and reach out to clients on daily-basis;
You have client servicing experience;
You make sales collaterals and do presentations;
You have industry relevant experience or education.
In your resume experience section, you want to write crisp sentences - short and meaningful.
How you write your resume experience will make a big difference.
It's like when you pitch your prospective client a solution, you don't want to list all the features.
You know it doesn't work.
It works when your message is short and paints a picture of how useful your solution could be to your client's business.
Similarly, you will show the hiring manager which of your hard skills can prove to be fruitful for their team and business if they hire you.
Take a look at these 4 Business Development resume experience samples.
The bad example may not sound bad, unless you read the good ones.
That's the impact your business development resume should create on hiring managers.
Business Development Manager resume experience samples
Business Development Manager
Run end-to-end sales cycle
Cold-calling, emailing, in-person meeting, pitching services and negotiating deals
Consulting clients and resolving product and service queries
Client servicing for existing client
Generating new leads and researching prospects
Presenting products and new features to prospects and existing clients
WRONG
Business Development Manager
Devised and implemented sales initiative A-Deal-A-Day which is now a part of sales culture at Home@bay Inc. It raised deal closure by 30%.
Identified and developed new business opportunities- expanded from selling locally to internationally, bringing in 10 new clients on an average every month.
Qualify leads as sales opportunities and pursue for closure.
Developed sales collaterals, case studies and selling guide to migrate from SME to Enterprise selling.
Expertise in expanding sales area-wise- unlocked 15 new zones in Canada, USA and Europe
Present company to potential clients. Run sales cycle from researching prospects to cold calling, in-person meeting, pitching, consulting, negotiating and closing deals
RIGHT
2 Business Development Director resume experience samples
Business Development Director
Made huge sales all-year-around
Created plans and strategies for the sales team to achieve their yearly targets
Prepare sales collaterals and share with the team
Strengthen relationships with existing clients and pitching new products
Attend trade shows and all company functions
Plan and execute marketing campaign with Marketing Head
WRONG
Business Development Director
Cracked a $1million single sale within 3 months of first approach
Devised case studies for sales team with pitch plans and approach strategies
Explored and unleashed 3 new sales channels which has together generated $750k sales every month
Plan and execute campaigns to achieve yearly sales target. Consistently achieved targets in excess of $500,000 during past 4 years
Prospecting potential new clients- added 62 new clients in 48 months while training SDR on the job
Prospecting potential new clients- added 62 new clients in 48 months while training SDR on the job
RIGHT
See for yourself how nicely the good examples show a picture of what the candidate is worth.
It helps your hiring manager set clear expectations of you on the job.
While the bad examples describe similar job roles, they fail to create an impact.
The hiring manager has no way to understand if the applicant achieves results while carrying out his job.
This good example experience above is totally sellable.
Imagine the hiring manager's confidence when they see you have a track record of making million-dollar sales.
That's what they are looking for.
The sales figures that you've mentioned will be your advocate.
And your hiring manager will find it easy to remember and share this exciting information with the business team.
You've created your impact!
Apart from experience, what more could you do to highlight your skills and qualifications?
Think!
Is it a good idea to write a cover letter for your business development resume?
-Yes, always a good idea!
Where your linguistic articulation matters a lot, your cover letter is a tool to highlight those skills.
After all the work you've done so far to get through the competition, you'll still have some competitors to beat to get that job.
Let's eliminate those based on how relevant your skills are for this business development job.
Check out our How to Cover Work Experience On Your Resume guide for more tips on building a job-winning experience section.
Business Development resume skills and keywords: what to mention
Add these job-relevant skills if you have them. Your aim should be to map your most powerful skills to those given in the job description.
22 Business Development resume skills and keywords:
Communication and Interpersonal Skills
Goal-Oriented
Business Forecasts
Business Intelligence- Industrial expertise
Research and Strategic Skills
Business Writing Skills
Business Acumen
Customer Handling
Client Servicing
Trade-show presentations
New/ Global Market Penetration
To create a power packed resume, we suggest adding certifications.
Yes, there aren't plenty of certifications for salespeople, but you may use what's most probable to add value to your skills.
Remember, if you're a great salesperson, you may not need certifications. But, adding certifications to your resume shows that you invest time in honing your creative sales skills.
Here are some you that you could add:
Challenger Sales Certification;
Spin Selling Certification;
Sandler Training Certifications.
Alongside, let's talk about how useful it will be to add your education to your resume.
Business Development education section: where to put it?
Since you're adding education for an experienced profile, the education section highlights your base relevance to your consulting job.
That says, this is the one thing you always wanted to do.
You're 100% into your work!
If your education is not relevant to your consultant job, you should skip this section.
Business Development Resume - education
School of Accounting, Texas Tech University
WRONG
School of Accounting, Texas Tech University
RIGHT
Don't show your GPA if it isn't above 3.
Your business development resume is complete here.
Save it as a PDF file before you send it across for making an impression!
Final takeaways
Ensure you pick the right resume layout based on your experience and profile;
Write a clean resume header and add a sales certificate or training here;
Balance the summary to include what you do at your job and what you've achieved in it;
Include the revenue targets and highest sales figures you closed in your resume experience section;
Add job-relevant keywords and your industry expert keywords in the skills section;
Write education section if relevant to this job.