"The first thing every marketer has to learn is to sell themselves."
Bust.
Your ability to sell yourself has nothing to do with all the amazing things you can do as a marketing manager.
And a job-winning marketing manager resume isn't about selling yourself either. But:
Your marketing manager resume needs to pass ATS scanners of any kind
Your resume needs to get statistically more traction with recruiters
Your resume needs to convince C-suite you can do amazing things for their business too
All that via a single piece of paper. How?
Below is the approach we perfected with our clients-marketers for the last seven years.
This marketing manager resume guide will teach you:
How to tailor your resume to the position to boost your chance of success
What makes a marketing manager resume header a secret weapon
How to write a compelling summary that will leave a lasting impression
How to frame your marketing experience to make it compelling and credible
Which skills make the most impact on a hiring manager
Looking for related resumes?
How to write the best Marketing Manager resume
Numbers are cool, but some numbers will get you the job.
All marketers will use quantifiable results in their resumes. That's common HR advice — you won't get a job without producing measurable results. But hear us: some numbers will have a much stronger impact than others. Their impact depends on your niche and your company preference. Study company's social media and blogs — what numbers do they put forward? Traffic, conversions, budgets?For example, in content marketing, traffic growth % beats the number of posts that you published. In advertising — the ROI of your campaign and budgets, not the number of ad campaigns launched.
Bad example: Launched 10 marketing campaigns over 3 monthsGood example: Increased ROI of all advertising campaigns by 260% after conducting a series of user behavior studies in collaboration with the data science department
Find more examples in the Experience and Summary sections of this guide.
Put your skills in a real-world context.
Anyone can learn Google Ads and put it on their resume. Worse yet, anyone can open Google Ads, then claim they know Google Ads and put it on their resume. The sad reality is that both resumes will look exactly the same to a hiring manager.By putting your skills in a real-world context you achieve two things: beat imposters and make yourself memorable. People love stories, and hiring managers are, after all, people.
Bad example: Used Google Ads to launch advertising campaigns in GoogleGood example: Designed a custom Google Ads campaign that attracted 200 organic links within 6 months, increasing blog traffic by 130%We'll share resume examples in the Experience and Skill sections of this guide.
Use resume format to guide the recruiter's attention where you want it to be.
If you don't have decades of experience to justify two pages of a resume, then go for a one-page resume as your default.
Avoid death by bullets. Don't use more than three bullet points in a row when describing your experience.
Emphasize results with bold text and use headers to make your marketing manager resume easier to scan.
Feel free to play around with this template in our resume builder.
Before reading a word, the hiring manager will notice your resume format. Because you're expected to be an experienced marketer, a reverse chronological format that emphasizes your past work experience is perfect.
Your marketing manager resume will feature the following sections.
Marketing manager resume sections to consider
An objective or summary
Marketing work experience
Relevant skills with examples to back them up if possible
Certifications
Education
Something to show personality like "most proud of"
Marketing Manager Resume Header: Forming Good First Impressions
Think about how little time you've spent on your resume headers. Name, email, title, done, right?
Now imagine if you spent little time on the header of a Google or Facebook ad?
You wouldn't dream of it.
If it seems a bit crazy to take that much time to write ad copy and neglect the header of the resume that could get you your next marketing manager position, that's because it is.
The right header speaks volumes, projects confidence, and makes a strong first impression.
2 Marketing Manager Samples - Header
GA, Adwords, & Hubspot Certified Marketing Manager
RIGHT
The difference is subtle but important. Certifications and relevant links show someone who's lives and breathe marketing as opposed to someone just doing the bare minimum.
Marketing Manager Resume Summary: An Elevator Pitch, Perfected
A great marketing manager should ideally be a great writer as well. Most of the time you'll be responsible for managing some type of copy, so it makes sense to show off your writing skills in a great resume summary
Think of this as your 30-second elevator pitch, a quick summary that's going to grab the recruiter's attention by telling a compelling story backed up by metrics.
Let's see a good example and a less than a good example:
Marketing Manager Resume Summary Examples
A skilled marketing manager with 5 years experience leading largely content-focused teams. Led a 3 person team that boosted revenue by 64% for an e-commerce company via a 6-month content marketing campaign. Subsequently took over a 10 person B2B focused team, reformed their CMS to boost content production by 45% while reducing employee turnover from 25% to 0% in the first year.
RIGHT
This summary fits a lot into a small space. Let's break down all the messages it sends:
It explains that this marketing manager has largely worked in content marketing. This is important because a marketing manager can specialize in any number of areas. Emphasize your experience in the area the job offer is looking for.
It presents strong and specific success metrics. This makes it clear that this candidate gets things done. It's also specific about the type of company this worked for.
It then shows that this candidate cares about process as well as strategy, fixing what was clearly a broken team dynamic and CMS. This portion highlights the people management element of being a marketing manager.
Now let's compare that to another version of a marketing manager resume summary written for the same candidate.
I am a highly skilled marketing manager with experience leading teams in a variety of marketing areas. With my diversity of experience, I am looking for all types of opportunities to lead marketing projects and teams.
WRONG
Okay, there's a lot to unpack here. Let's look at all the things that went wrong here:
They referred to themselves as "I", generally you want to avoid this in resume summaries.
It's vague to the point of being meaningless. What do they mean "a variety of marketing areas" or "diversity of experience"? The hiring manager reading your resume doesn't have time to investigate what you're trying to say, so just say it.
It's not targeted. The second sentence makes it clear that this is a generic resume summary written to apply to every single marketing manager job offer. This tells the hiring manager that this applicant didn't care enough to personalize it.
Now that you've got a top-notch marketing manager resume summary written, let's get to the most important part of your resume: the work experience.
Marketing Manager Experience Section: The Most Crucial Bits
You can have an absolutely perfect resume header, summary, skills section etc. but if your marketing manager experience section isn't excellent, don't expect a callback.
You're not the kind of person to slack off here, so let's dive into what you need to craft the perfect experience section.
2 Marketing Manager Resume Samples - Experience
Implemented an organic SEO strategy for a 6 person team, boosting visits by 165% in 8 months while CRO increased sales by 52%.
Created a new onboarding program for my team which increased new employee satisfaction and output by 34% in the first three months
Introduced a retargeting campaign which increased conversions within one week from 4% to 7%.
RIGHT
In three bullets, it's clear that this person has had great success in both managing a happy marketing team and getting fantastic results with it. Both core elements of being a marketing manager are addressed: team leadership and raw results.
Now let's see another version of that same experience section:
Led a small marketing team on improving site traffic and conversion rates.
Improved marketing team member onboarding.
Responsible for a new retargeting strategy.
WRONG
Notice the difference?
Take away all of the specifics and focus on results and that impressive experience turns into what can only be described as mediocre.
For more examples on crafting a job-winning experience section, check out our in-depth guide on How to Cover Work Experience On Your Resume
Marketing Manager Resume Education: Do You Need It?
Yes, but don't focus too much on it. Surely having a relevant bachelor's degree or a master's degree is a plus, but by the time you're experienced enough for a marketing manager position, you should be way past graduation.
Your work experience should do the talking, so include what your degree was, the institution, and your graduation year, but that's about it.
Experience by far trumps education.
Marketing Manager Resume Skills: Which One Land Interviews?
Let's say you've just finished a stellar marketing manager resume. You spent days polishing it. You send it to a top choice and… crickets.
Turns out your top choice clearly stated that you need technical SEO skills. You've got some experience there but it wasn't only alluded to in a single bullet point.
The point is, you need to be targeted and strategic about your skills.
As a marketing manager, you're going to need to show you have at least some basic skill level in 8 major categories:
Analytics
Advertising
Design
PR
Social media
SEO (technical, on-page, off-page, organic)
Content (newsletters, lead generation, newsletters, marketing production)
Product Launches
However, do not pretend you're an expert in all 8. This just tells the director of marketing that you're full of it.
You can go for the classic T-Shaped Marketer framework, showing deep knowledge in one area and some knowledge in the other 7.
In general, just be sure you're showing what the hiring manager and director of marketing want to see. Below, we've broken down the soft and hard skills you should focus on:
The top 8 Marketing Manager skills for your resume
Collaboration: you can't do everything needed to run marketing for an organization so you need to work well with other team members. Show you work well both within and managing teams.
Adaptability: Give examples of when you handled a crisis so when your site gets hit by an algorithm update, you're acting instead of panicking.
Creative problem solving: this is what "growth hacking" really is
Content creation: show that you can both create and manage high-performance content and work with content developers regardless of medium, whether it's direct mail, organic, or brochures, and whatnot.
Delivery/Execution: most marketers can talk a big game, but you need to show that you've actually executed strategies and gotten concrete results.
Analysis: these days marketers face oceans of data, show that you can see the signal in the noise, and create real insights on current trends, campaign performance, and best customer acquisition practices
Brand management that includes strategic planning, new product launches, and brand-impacting marketing efforts
Supporting skills: experience in graphic design, sales presentations, or customer service might give you an edge over candidates with a less diverse skillset
10 Hard skills for your Marketing Manager resume
Coding languages: HTML/CSS/JS
CRM Tools: Hubspot, Salesforce, Pipedrive, Monday
Marketing automation: Hubspot, Autopilot, Marketo
SEO Tools: Semrush, Buzzsumo, Moz, Hootsuite
Analysis tools: Hotjar, Google analytics
Ad platforms: Facebook ads, Google ads, LinkedIn ads
Email marketing tools: Mailchimp
Social media marketing management tools: Buffer, eClincher
Zapier integrations
Photoshop design
Marketing Manager Certifications: Do You Need Them?
In general, your experience should do the talking. However, let's say the marketing manager position you're applying for wants more email marketing experience than you have?
What are you supposed to do?
Your best bet is to try getting a certification. It's the best way to quickly boost your skillset in a specific area without the need to spend months or years working on it in a job.
The top 10 marketing manager certifications to include on your resume
Google Analytics
Google Ads
Facebook Advertising
Moz's Free Beginners Guide to Content Marketing
Hootsuite Social Media Certification
Google's Digital Garage: Fundamentals of Digital Marketing Certification
Hubspot Content Marketing Certification
Hubspot Inbound Marketing Certification
Bing Ads Accredited Professional Certification
YouTube Certification
Entry-level Marketing manager Resume Examples And Template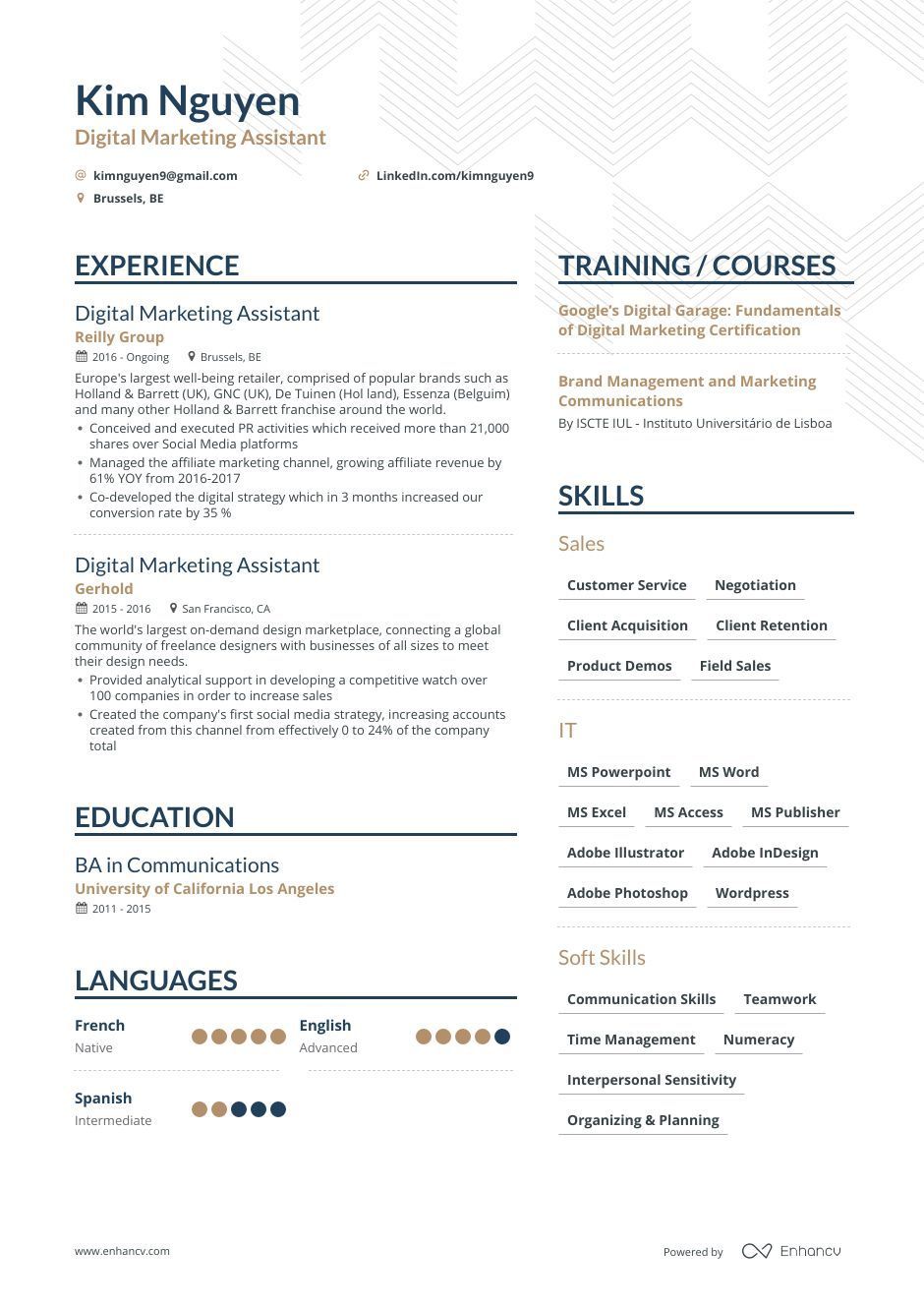 Any marketing experience puts you ahead of the majority of candidates. This one is a bit obvious, but what's not obvious is that there's a 99% chance you have such an experience. The difference is that some people can present such an experience as a completed project with the relevant context or a cohesive story with noteworthy results. Did you help your friend set up a personal blog? Take extra effort and set up Google Analytics. Now you helped develop a personal brand and mapped out the entire visitor's journey. Apply for Fiverr gigs, help local businesses to set up their social media channels, and pretty soon you'll have a well-balanced portfolio of noteworthy personal projects.
Don't skip non-marketing work experience. If marketing isn't your first job, then don't burn all the bridges starting with a clean-slate resume. Almost any real-world experience aids your cause as many marketing candidates will have none. And with some proper framing, your past experience becomes your job-winning assets. Worked in a bakery? Tell hiring managers how you increased the number of Monday visitors by keeping the front door open in the morning. Ex-IT guy? Share how you configured an email filtering system for an entire marketing department. Get a grip and get creative!
Skip generic objectives. Just don't. Most entry-level objectives will end up being bland and all-about-you. It's tough to pull off something funny, creative, and effective, especially with recruiters who see too much weird stuff too many days too often. Use short summary instead and share how your experience or certain skills can actually help your target company, or share exact things you want to do for them, e.g. "I want to take your Twitter numbers to Mars before Elon Musk gets there." Just make sure they use Twitter.
For more resume examples and out-of-box job-winning resume tricks, check out our Entry-level Sales Resume guide for 2021
Creative Marketing Manager Resume Examples And Template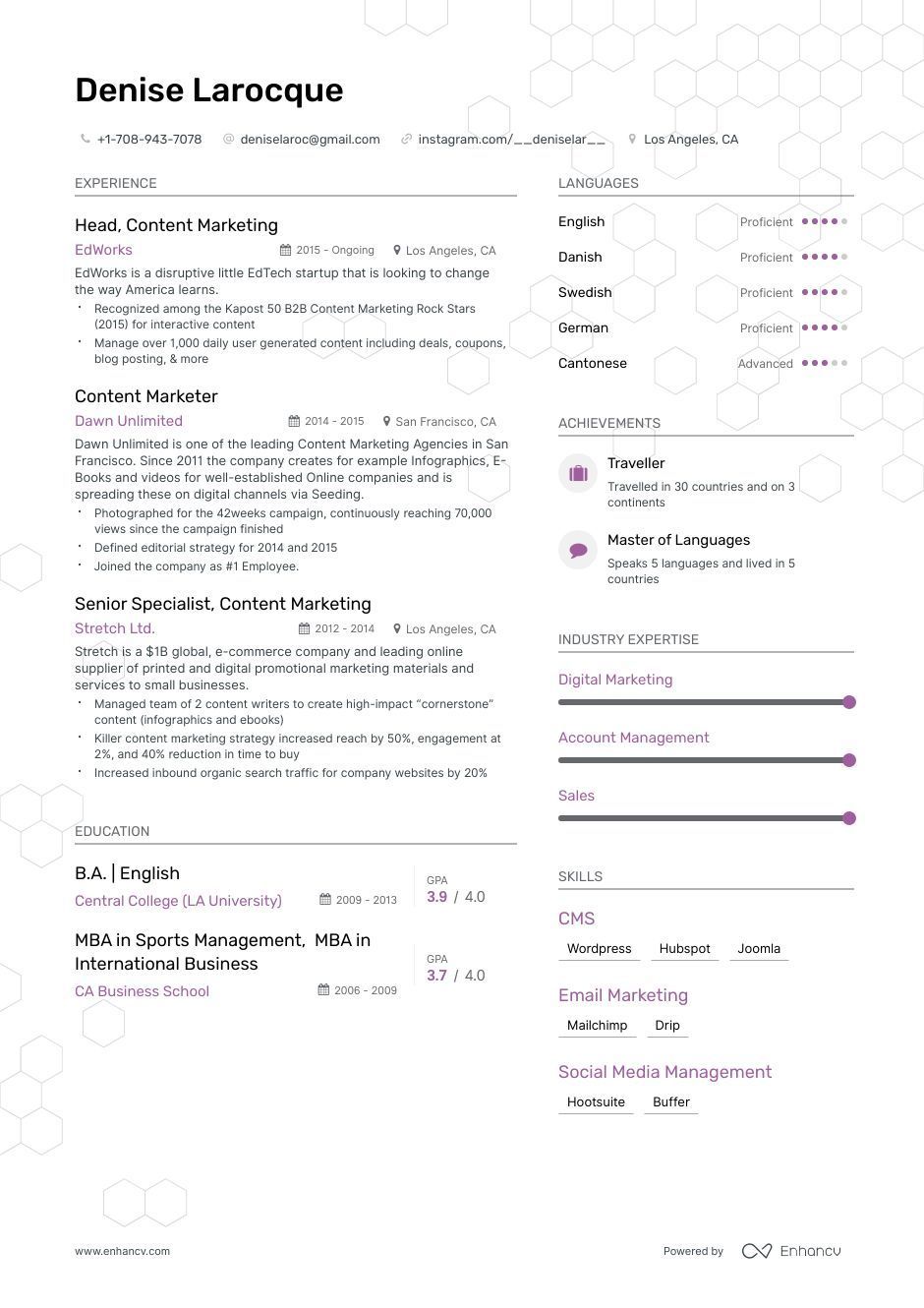 Creativity is not about the colors or fancy fonts. If recruiters notice a funny image or cool fonts on your resume, they might be, in fact, repelled. Think of it this way: how hiring managers are going to explain to their seniors that they hired someone based on cool fonts in a resume?
Showcase cool projects you took and creative people you worked with. The fact that you're a creative marketer is great, but the only way to prove it is with something tangible.
Get creative in showcasing your results. Share a link to your portfolio or personal blog — you just touched a baseline. Now, share a link to your video showreel with kinetic typography that describes results, indie music to show off some unique taste, and project snippets to feature business applications of your creativity — and you're on another level. You know better than anyone how much visuals matter in delivering the message, but so are the results. Find ways to showcase both at once!Need some inspiration? Check out our top chart of 23 Creative Resume Examples for 2021
Senior Marketing Manager Resume Examples And Template
Show you are a team player. One of the hardest things in marketing is getting several marketers working together and surviving that experience. Every marketer brings strong unique ideas to the table, but marketing is such a fluid and diverse field where finding a common ground is always a challenge.
That's where a senior marketing manager comes in. Your resume is not just about you and your ability to carry out projects alone. It should be about taking a bunch of creative people and making something magical and business-worthy in the end. Consulting experience is a plus.
Every marketer's weapon is their experience, as marketing is not something a book or an online course will teach you. Senior marketers who spent years working in just a handful of companies may come off as too fixed in their way — their experience might be useful only in a specific niche or for a certain type of company.Consulting, or any experience working with several clients, shows that you have a wider perspective on what works in marketing and can adapt your skills to the particular company or challenge.
Show your ability to forge partnerships of all forms. Marketing is all about partnerships, but can you build a system that facilitates partnerships on all company levels? Showcasing such a rare experience will definitely put you on a C-suite level radar.
Looking for more actionable advice and resume templates for senior marketing managers? Check out our comprehensive Marketing Director Resume Guide for 2021
Key Takeaways for writing the best Marketing Manager resume
In summary, our best advice boils down to this:
Tailor your resume to the exact job you're applying for.
Quantify your marketing achievements as much as possible.
Use a reverse chronological resume layout.
Include certifications and links in your resume header.
Write a focused professional summary focused on showing you have the right experience and skills for the position.
Focus on the skills mentioned in the job description and back them up with examples.
Use certifications to boost your experience.