Resume Keywords: 200+ Resume Keywords Sorted By Industry

A famous quote says:
"Words have energy and power with the ability to help, to heal, to hinder, to hurt, to harm, to humiliate, and to humble."
We can add: "to help you get your dream job".
How?
By adding relevant valuable resume keywords.
In this article you will learn:
What are resume keywords and why are they important
Which keywords you should never skip
How and where to find valuable job-related keywords
Best sections to put your resume keywords
What to avoid
List: 200+ Keywords for Your Resume
What Are Resume Keywords?
Resume keywords' purpose is to enrich your chances of getting the desired job. They are words or short phrases related to particular job requirements. Resume keywords can be skills, abilities, credentials, and all sorts of qualities that recruiters are looking for in a candidate.
Hiring managers don't read resumes line by line. Furthermore, applicant tracking systems (ATS) are scanning each resume and sometimes drop it if they didn't find any keywords that correspond with the vacant position.
That's why implementing the right keywords to your summary can help pass the ATS scan, as well as give employers an insight if you are a good fit for the job or not.
Resume Keywords You Should Never Skip
While tailoring your resume for the application, there are some resume keywords that can be considered mandatory.
Adding a company name as well as the position you are applying for is important. Moreover, words and phrases related to the job are also beneficial.
For example, if you are applying for a position at a digital marketing agency, you might include:
Facebook Ads
Google Analytics
Google Ads
Digital Marketing
SEO
Content Marketing
All these terms will show to the recruiters and ATS software that you are a candidate with experience in the field of digital marketing.
Last but not least, you can add action statements that clearly show the value you'll bring to the team:
Achieved
Created
Developed
Established
Ideas
Improved
Increased/decreased
Influenced
Launched
Don't forget to build a keyword-rich resume objective section. In it, you can include a proposition on how you're going to provide actual value to the company.
The resume objective shows your experience, highlights your biggest strengths, and summarizes what you're looking to achieve in your career.
It is a great place to add job-related resume keywords and grab the attention of the hiring managers!
PERFECT THE RESUME OBJECTIVE SECTION
The objective section is not the only one where you can implement keywords.
We will show you the exact process of adding them with Enhancv.
It's simple and easy!
But first, let's see how and where to find relevant resume keywords.
Where to Find Resume Keywords
One of the best ways to find highly relevant resume keywords is by scanning a job ad. Pay attention to the kinds of words and phrases listed in each section.
This will give you an insight into what employers are looking for and how you can fit into the tone.
Let's make a quick test with an actual job ad: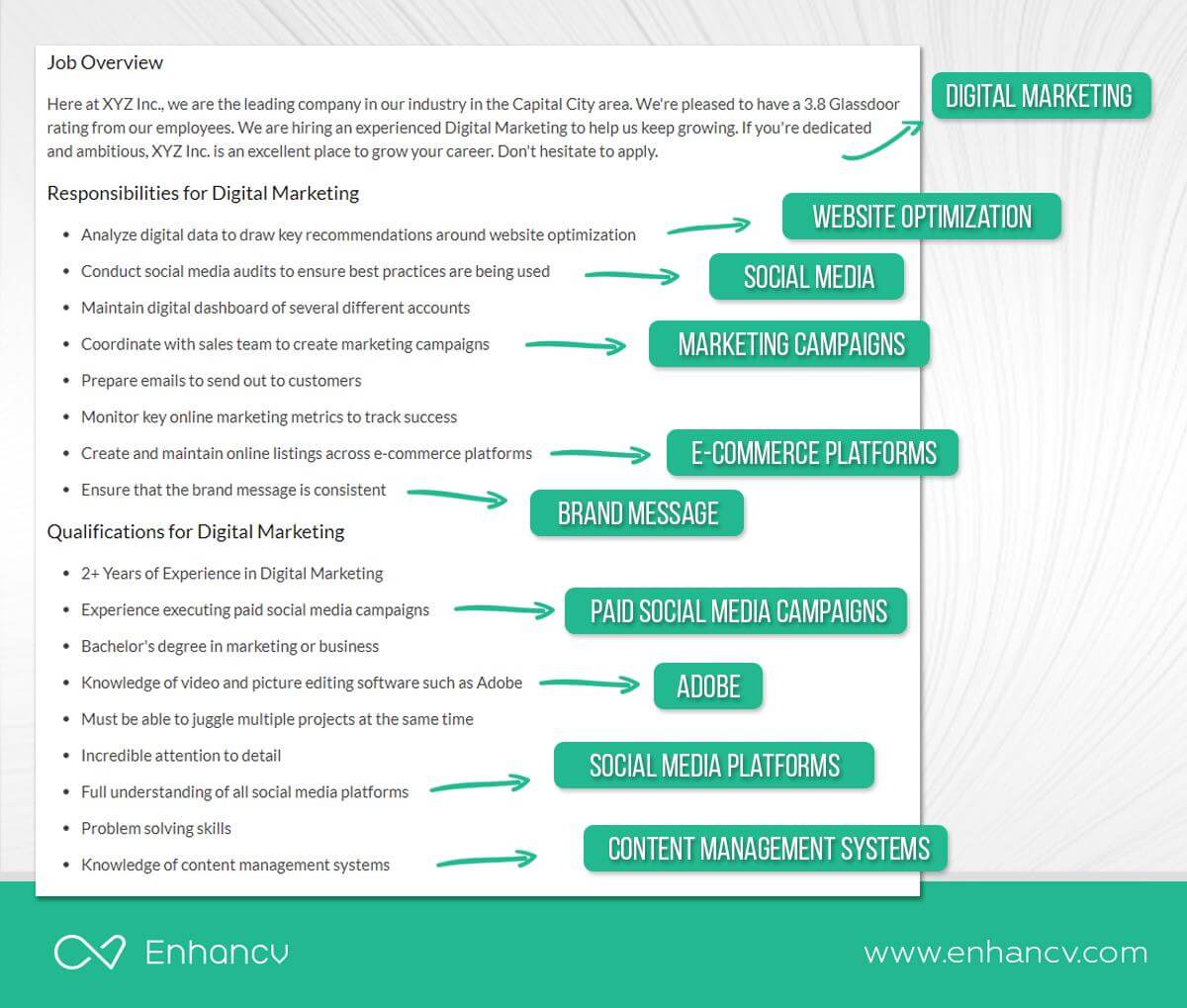 As you can see, the Job Overview, Responsibilities, and Qualifications sections are full of pertinent keywords that you can add to your resume.
It is like treasure hunting.
And we bet you can find even more keywords related to digital marketing.
If you do your research of the company and the job requirements well, you won't have any problems in enriching your resume with high-quality keywords!
Where To Put Keywords On Your Resume
As we mentioned, there are multiple resume sections where you can weave in your keywords.
In the Resume Heading Statement (Summary or Objective)
Objective or summary helps recruiters immediately identify why you're applying, what drives you, and what's your professional expertise. You must incorporate your professional goals and make them parallel with what the employer needs.
How to do it at Enhancv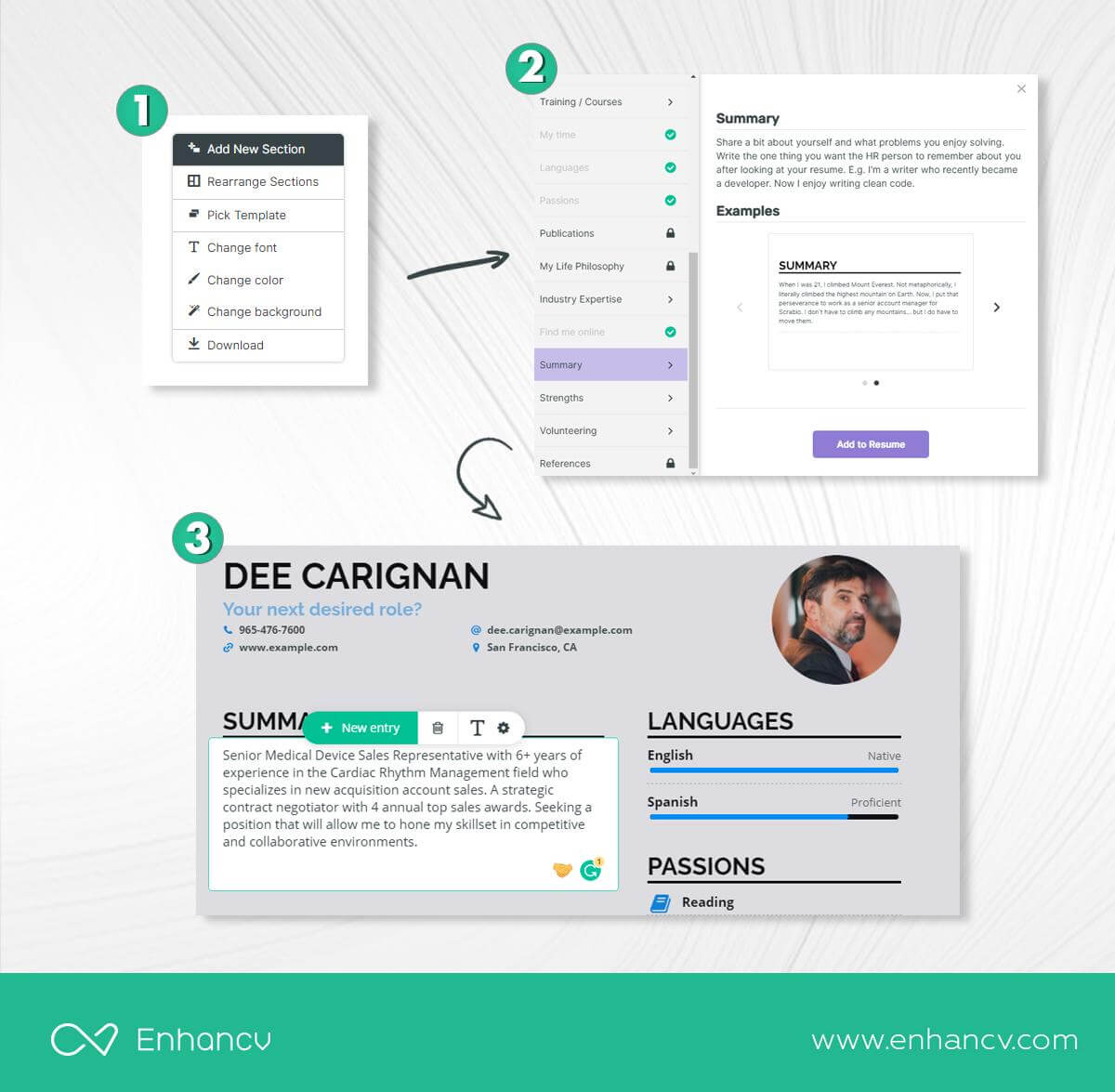 After you open Enhancv Resume builder you need only 3 simple steps to add keywords to your objective or summary:
Click the right button and select "Add New Section".
Scroll down and find the "Summary" section.
Add to your resume and fulfill the empty place.
Voila!
In the Resume Experience Section
The work experience section for your resume is a requirement for all job applications. It helps reassure employers in your professional skills and abilities.
How to do it at Enhancv – Example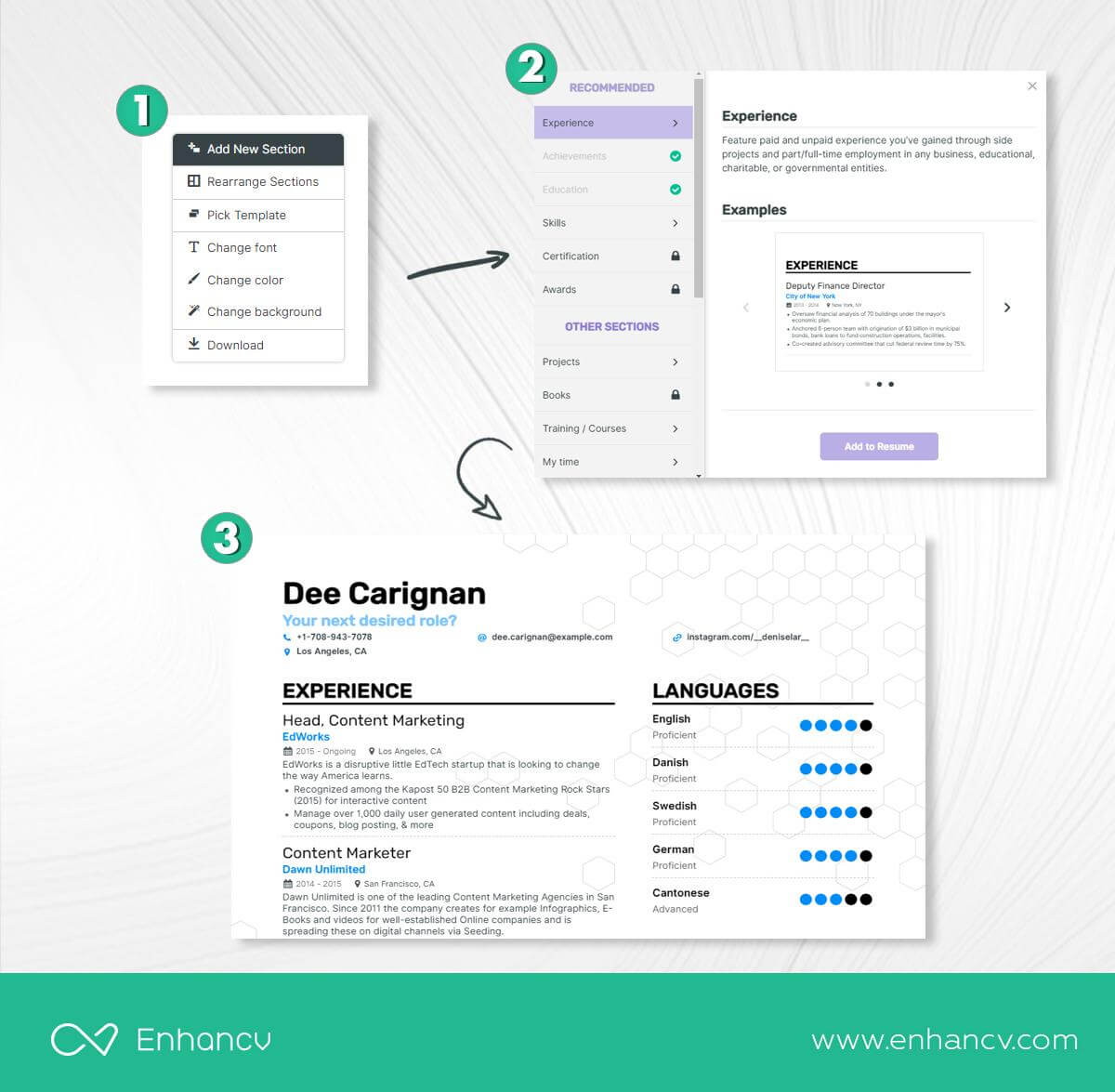 The process of adding resume keywords is similar:
Click the right button and select "Add New Section".
Find the "Experience" section.
Add it to your resume and write down your employment history
In the Resume Education Section
Featuring your education is essential, especially if you are creating a resume without work experience.
It increases job relevance, serves as proof of competence, and can drastically enhance your chances of landing a job interview.
How to do it at Enhancv – Example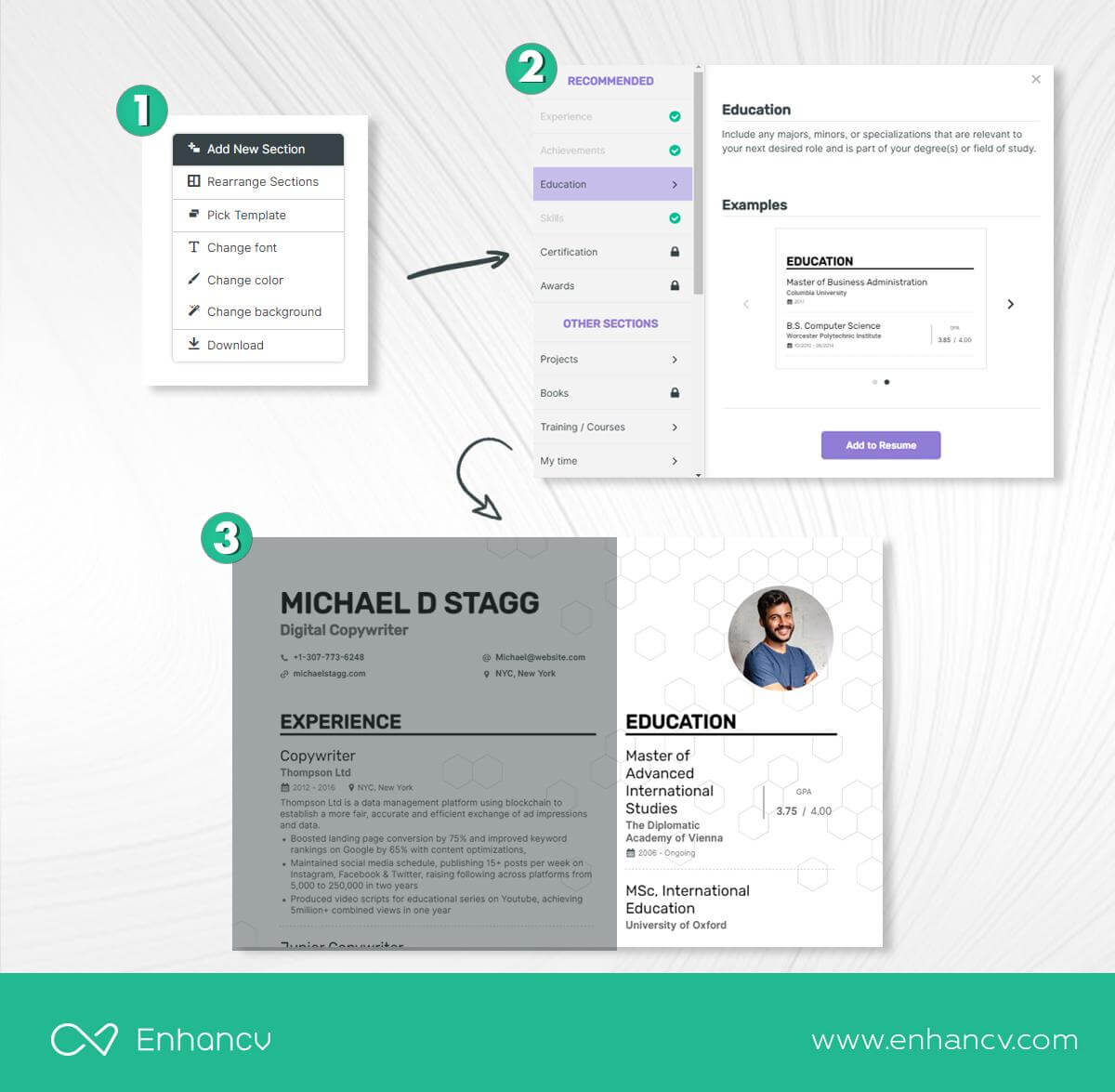 Click the right button and select "Add New Section".
Find the "Education" section.
Add it to your resume and write down your education history
In the Resume Skills Section
Every job position requires certain skills to ensure you meet the minimum standards and expectations. So, if you're creating a mechanical engineer resume, recruiters expect you to have mechanical engineering skills.
How to do it at Enhancv – Example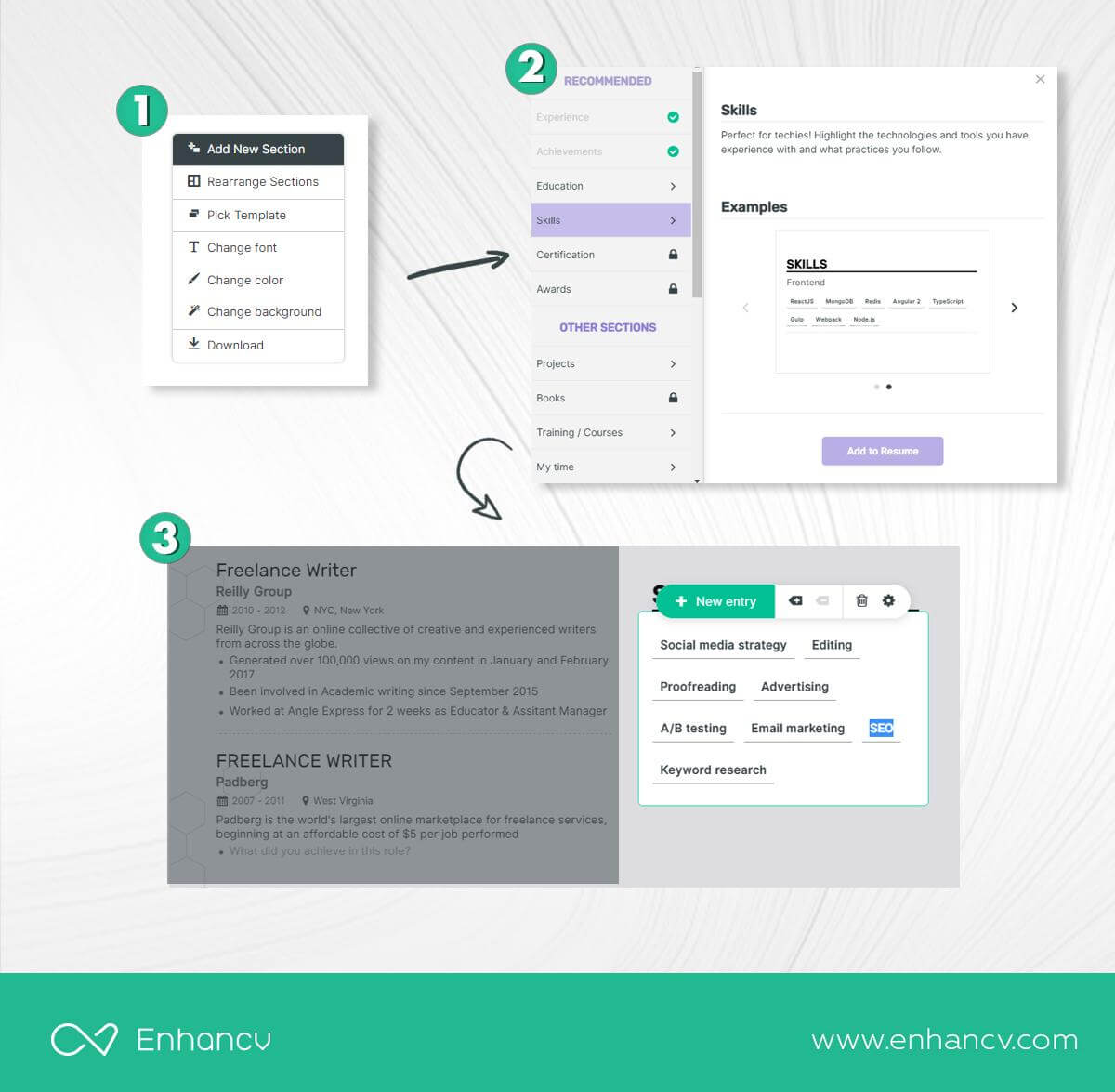 Click the right button and select "Add New Section".
Find the "Skills" section.
Choose which skills to highlight.
Each skill can be considered as a keyword so the "Skills" section is a great place to enrich your resume.
Resume Keywords & the ATS
ATS stands for applicant tracking system and it is a software that manages the recruiting and hiring process, including job postings and job applications.
Here's how the ATS works:
Applicant tracking systems collect and store resumes in a database for hiring professionals to access. Recruiters can search and sort through the resumes in several ways, depending on the system they're using.
Resume robots reject up to 75% of CVs and resumes before they reach a human recruiter so preparing your resume for that software is crucial.
To succeed, read the job description thoroughly, target your titles, expand on relevant skills and experiences, and cut the fluff.
How to Format Keywords in Your Resume for ATS
To make your resume easily scannable, don't use fancy fonts or images. Instead, choose
standard fonts and plain text.
Think for hard skills that come up more than once in a posting and are mentioned near the top of the requirement and job duties.
We showed you how to do it early in this article.
Hard skills might be methodologies, types of software, spoken languages, and other abilities that are easier to quantify.
Dangerous Instances of Keywords You Need To Avoid
While there are words and phrases that you must add, there are some you must avoid:
Buzzwords – They make your resume sound impressive, but not an appropriate way to describe yourself.
Bragging – Past research shows that braggarts can be perceived as narcissistic and less moral. Avoid doing it to be on the safe side.
Jargon – it's not easily understood by the ATS or the hiring managers.
Sometimes, adding too impressive past positions can also have a negative effect. If you are on a path of a career change, probably your previous position is higher in the hierarchy than the one you are not applying for.
We recommend avoiding this because recruiters might decide you are overqualified for the job.
Instead, tailor your resume by adding information only relevant to your new career.
Check 6+ Sections to Demonstrate Impact Even if You Lack Work Experience
In the end, just be yourself, use natural language that can engage, and take advantage of our guides on how to create a masterclass resume that can help you get your desired job!
Resume Keywords List: 200+ Keywords for Your Resume
Finding resume keywords from job ads is good, but we can offer something better!
We analyzed more than 1 000 000 resumes to help you improve the skill section of your resume. You'll find a list of 200+ skills with examples to put on your resume.
3D Printing
Design
UX
Fundraising
Spark
Scheduling
Data Analytics
Payroll
Data Analysis
Active Directory
Market Research
Cyber Security
Recruitment
Cloud
Adobe
React
English
Video Production
Event Management
Devops
Database
Coaching
Attention To Detail
Patience
Compliance
Innovation
Telecommunications
Illustrator
Analytical Thinking
Cloud Computing
IBM
Statistical Analysis
Hardware
Content Management
Maintenance
Audit
Resume Keywords: Takeaways
Resume keywords are words or short phrases related to particular job requirements. They can be skills, abilities, credentials, and all sorts of qualities that recruiters are looking for in a candidate.
You can find keywords by scanning a job ad or take advantage of our skills list.
You can put resume keywords in a variety of resume sections.
You can pass the ATS scan by using plain fonts and the right words.
Avoid buzzwords, bragging, and jargon.
***
What did you think of this article? Did you find relevant resume keywords? Share your thoughts in the comments!