Of all the sections on a resume, your work experience is one of the most critical and most important.
Why?
Your resume work experience says a lot about you. If the hiring manager sees your potential and what you're capable of based on the results you're responsible for in your previous company, that itself can determine the hiring decision.
However, it doesn't just mean you're a qualified candidate…
It's a form of proof that shows your skills and expertise are credible.
That insight into your previous job roles and responsibilities will speak for itself. I'm sure you've heard the phrase, "actions speak louder than words".
It's true.
Highlighting what your achievements or years of experience will leave an impact on your employer. This section alone can be the deciding factor for recruiters to think whether you're worth hiring or not.
By the time you're done reading this guide, you'll know exactly how to describe work experience on a resume.
Now, you might have less than 1 year of work experience or none at all.
Don't worry, because you're not the only one. That's why we've also included work experience resume examples for those of you with little to no employment history.
So, be sure you stay until the end!
OR, you can skip this entire guide by using Enhancv's proven resume templates for your job position. You won't have to worry about writer's block because you can take inspiration from what's already included and rephrase them however you want!
It's easy and only takes a few minutes!
"Enhancv has made modern professional resume writing a breeze! Beautiful templates, that has helped visualize years of work experience into a single page." – Victoria O'Donnell
How do I add experience to my resume?
Your resume work experience section refers to your professional background in employment.
For all professional experience sections, you need to include your previous:
Job titles
Role and responsibilities
Skills and accomplishments
Company names
Dates you've worked
Depending on where you're at in your career, most professionals will list between 3-5 previous job positions on their resume. For other job seekers who have less than 3 years of experience should be mentioning this in reverse-chronological order.
What employers want to see is if you're familiar with the working environment that you'll be operating in.
What results have you managed to achieve that you were responsible for?
What impact did your skills have on those companies you've worked for?
Do you also have the skills that it takes?
The best way to prove your expertise is by showing the results you've been a core part of. Show how your duties and responsibilities played a significant part in your previous company's success.
How many years of work experience should be on a resume?
Your resume work experience can go back as far as 10 years. It's more than enough to show you've been in the workforce for a long time or as a senior.
If you have more years of experience, you can push back even further to 15 years.
However, we don't advise it because the workflow of 15 years ago is completely different to today. It's more important to show your capability of delivering the results employers are looking for.
Just because you've been in the workforce longer, it doesn't always mean you're the best or most skilled person for the job.
How to describe work experience on a resume
Identify which resume format you're going to use
You need to pick one of the following resume formats:
Chronological resume format
Reverse chronological resume format
Functional skills-based resume
Are you unsure of what might be best for you?
For most candidates, the reverse chronological resume format is most ideal because it lists your most recent work experience or job titles first. From there, you work your way backward.
Each format has a different approach. So, it's important you know which is most ideal for you to use.
If you have less than 5 years of work experience, stick to the reverse-chronological format.
However, for seniors and for those whose work history goes a long time, the chronological resume format will work better. It's easier for the hiring manager to notice you have years of experience under your belt when the order starts years ago.
They'll see you're a veteran who's highly experienced in your field of profession.
You'll also be respected by the fact you've been in the workforce more than the average candidate.
List out the relevant job titles
Do you know what work experience you have that is most relevant to the job position you're applying for?
If you don't, you need to do the background research.
It's important to meet the expectations of not only the employers but the applicant tracking system. Without including the relevant experience resume scanners are watching out for, you won't stand a chance.
For those of you without much work experience trying to make the most out of what you've got, it's a different story.
This brings up two very common questions:
Should I include irrelevant work experience on my resume?
Should I put seminars or training on my resume?
Let's answer this in more detail.
Should I include irrelevant work experience on a resume?
Generally, you should avoid including experiences that are irrelevant. However, if you don't have anything else to put in, then it's better to include them than nothing.
Since some of you may have no work experience, you should use whatever you can to your advantage. The hiring managers are less likely to notice the gaps if you do this properly.
As long as you make it seem valuable by showing you're familiar with the work environment and responsibilities, that's what matters.
Alternatively, you should try to talk about how you developed skills such as:
Hard skills
Soft skills
Transferable skills
Communication skills
Computer skills
Language skills
Should I put seminars on my resume?
It works to put seminars, training, or conferences on your resume. You can use this to show the hiring manager you're a qualified candidate who's developed skills that are going to help you do your job better.
However, there are ways to go about including your seminars or training.
With Enhancv, we encourage you to use a custom resume section to make this stand out. Although many job seekers might find training or seminars too tacky to include, it can vary depending on how you approach it.
For example, let's take a look at an engineer in training: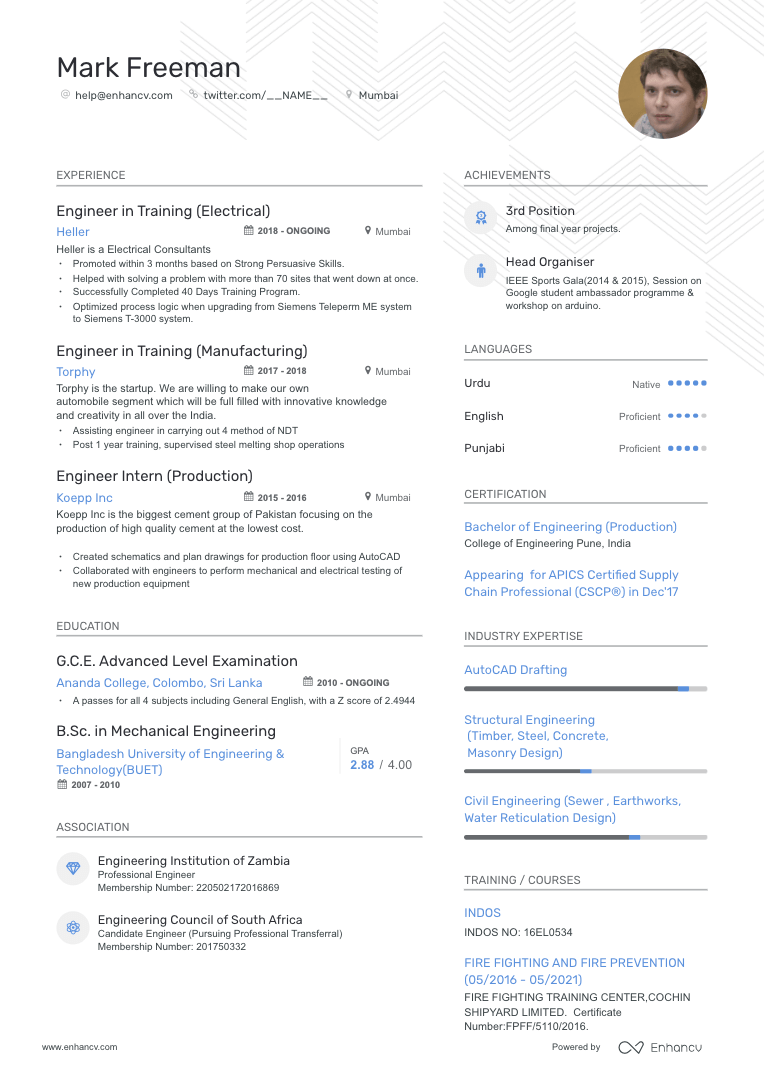 Notice how Mark used the two key resume sections:
Association
Training/courses
Thanks to Enhancv's creative resume designs, he uses resume icons and color to highlight his extra qualifications. While they may not seem like a big deal, it still certainly leaves an impression on the hiring manager.
Go into detail about your duty and responsibilities
First, you need to list out your job position, company name, and the date you've been employed.
After listing those essential pieces of information, you need to describe the details of your employment. It's important you go in-depth to show the employers what you're really about.
This is where you write a brief, concise description of your work experience.
What you describe must trace back to the company's job description and needs. Don't just talk about your day to day routine, you need to answer the following:
What major success of the company did you play a part in?
How were you responsible for that impact, what did you do?
What skills did you have or develop in the process that played a key part?
Remember, show not tell.
Show the hiring managers how you achieved those positive results for your previous company. Make it indirectly clear you're the perfect candidate for the job by having the skills and achievements that are similar to what your new company is looking for.
Without seeing a correlation or any compelling points, you won't satisfy the hiring manager or leave a lasting impression.
Use resume keywords and buzzwords
Your resume keywords are extremely important.
Throughout the description of your work experience section, you can't forget to include these.
While keywords are one essential thing to capture the interest of recruiters, buzzwords are another powerful tool. Using these words will amplify the meaning of your resume and make it twice more impressive.
These factors really add up when it comes to making the hiring decision.
Not only does it show you've taken the time to craft a strong resume work experience section. But, it makes your achievements look more impressive than it already is.
Edit and proofread
Ask yourself three things:
Can the formatting be improved?
Could you rephrase or use different words that are less common and more impactful?
Have you highlighted the main points employers need to see?
If this is eating up too much of your time and you're struggling with this process, chances are you need to improve your editing and proofreading process.
Don't give your employers a hard time.
Instead, put the pieces together for them. Everything the recruiter is looking for, they should be able to find it within the first few seconds of scanning your resume.
On top of that, the contents of your work experience description need to be parallel with the job responsibilities.
And, the way you present that will influence the hiring decision. Remember that minimal and simple is better than being complicated, so don't try to be too fancy with the visual aspects.
Besides that, a simple typography error is all it takes for the hiring manager to send your resume to the rejection pile.
So, don't forget to double-check your resume before sending it off!
What should I put on my resume for little work experience?
You know how to describe your work experience. At this point, you might be thinking, "what if I have little work experience or no experience at all?"
First and foremost, you're going to have to make the most of what you've got.
Before deciding what to include in your work experience, ask yourself if you're using the right resume format.
For candidates with little work experience, you should be sticking to the functional resume. Rather than making the gaps behind your work experience revealing, you need to shift the hiring manager's focus on your skills instead.
The key element to succeed here is playing to your strengths.
When looking at how to write a resume with no work experience, you have to be making the most out of everything you've got. Even if you don't have the ideal work experience they're expecting, you can still show you're capable of getting the job done.
Here are a few ideas of what you could include:
Internships
Extracurricular activities
Then, follow our steps earlier by describing your work experience to make the most out of them.
Up to this point and you still have nothing to include?
If we're dealing with a resume with literally no work experience, you need to change your approach.
Focus on emphasizing the following instead:
Your education section
Your skills section
Achievements & certifications
Qualifications
Training
Are you a graduate with an impressive GPA and have got relevant coursework?
Do you have any volunteer work or additional experience to show for?
Do you have any types of skills you can highlight that sets you apart from the rest?
When you don't have much work experience, you need to highlight your other strengths. Whether that's your qualifications or skills, you need to overshadow your weaknesses by focusing on your qualifications or the other things you're good at.
Consider what resume sections are going to be best for you to do that.
If you're building a resume with no work experience, you better make sure everything else on your resume is spot on. I'm talking about the different sections on a resume such as:
When the recruiter can see you're a motivated individual with the potential to grow, they'll still consider you for the job posting.
Since personality and a cultural match are becoming more important in an interpersonal work environment like today, you need to show you're a good fit for the specific company you're applying for.
A resume without work experience will put you at a disadvantage. But if everything else is perfect, it won't matter even if there are others who have a better professional background than you.
So, make sure your resume is tailored for that one company.
Show you're a self-motivated and valuable candidate with room to grow for the future. If recruiters can see you're a good match for the company with potential, they'll take you onboard.
To get a better idea, let's have a look at a high school resume template. We'll break down how and why it works!
High school resume template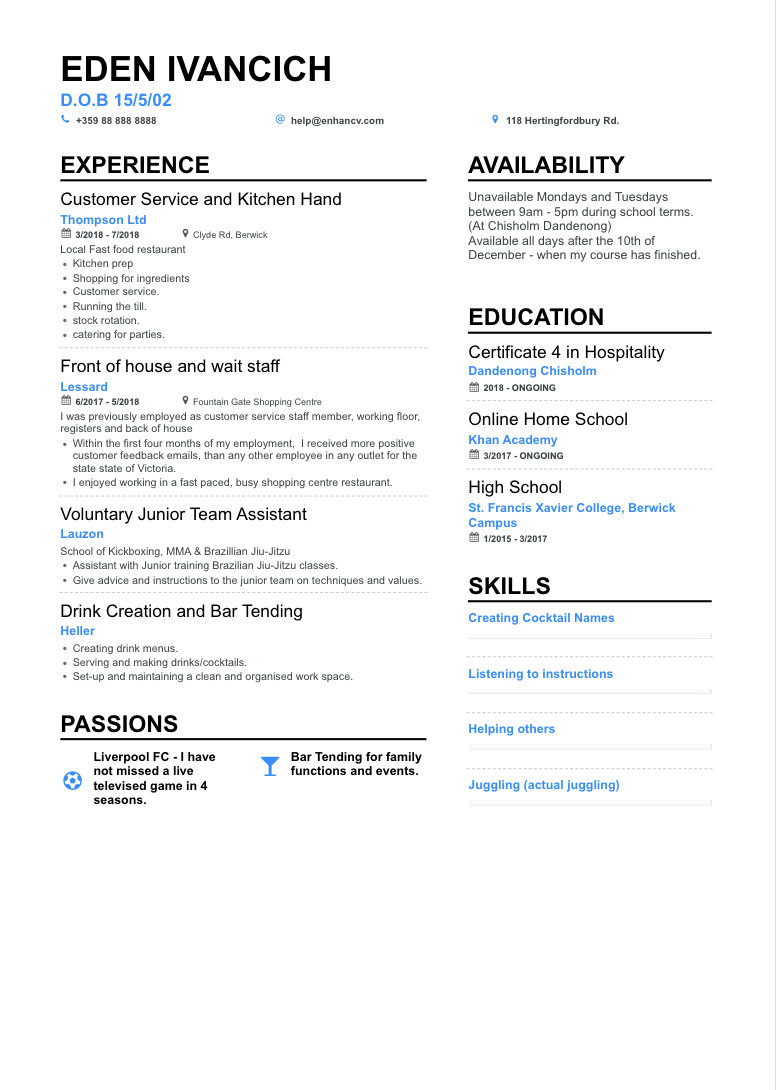 Notice how this student has made the most of their resume by using white space strategically.
The general expectancy of resume length is two pages.
But, not enough professionals talk about the power of a one-page resume too.
If you look at the first part of his resume work experience, you'll see how simple his description is. He simply lists out his duties and responsibilities, nothing more.
Sometimes, you end up overthinking things and try to force the slightest description. However, it's not always necessary. As long as the employer can see you're familiar with the working environment, that's most important.
Any positive results you can describe that you're responsible for is a bonus.
5 more resume work experience examples to learn from
We'll now look at 5 proven resume work experience samples and how candidates demonstrated their expertise.
Remember, don't just say you're results-driven or a hard-worker. Show it.
And, that's what we're going to look at in this section. You'll also be surprised by how simple some of them are. So, make sure you're paying attention!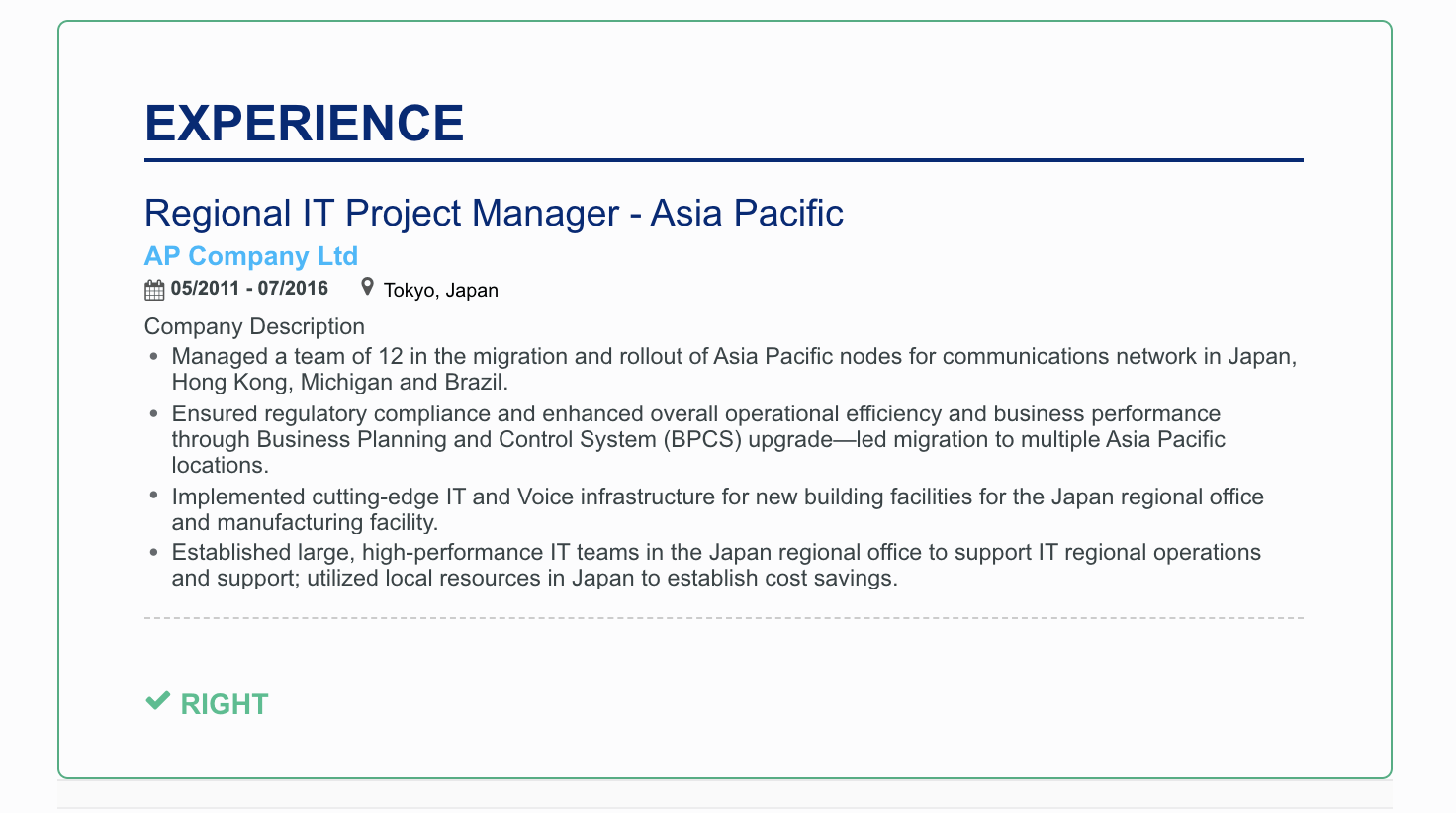 In this IT project manager resume, the reason it works so well is that it focuses on both the experiences gained and the outcome that benefited the company.
As a project manager, it's important to show you have the right skills and experience for the management role.
However, notice how the applicant has used action verbs to show he's actively contributed to the company's success. The candidate has also shown their skills and expertise through their responsibilities.
Ultimately, words don't speak for themselves the same way your results do. It's far more powerful if you're able to show exactly what you've achieved and how.
Notice how simple this description is. While they've worked as a manufacturing engineer for 3 years, the candidate only uses one sentence.
Sometimes, you don't need to overthink things.
If one sentence is all you need, then that's more than enough. As long as you've shown your duties and responsibilities, you don't need to force anything irrelevant to fill up the space.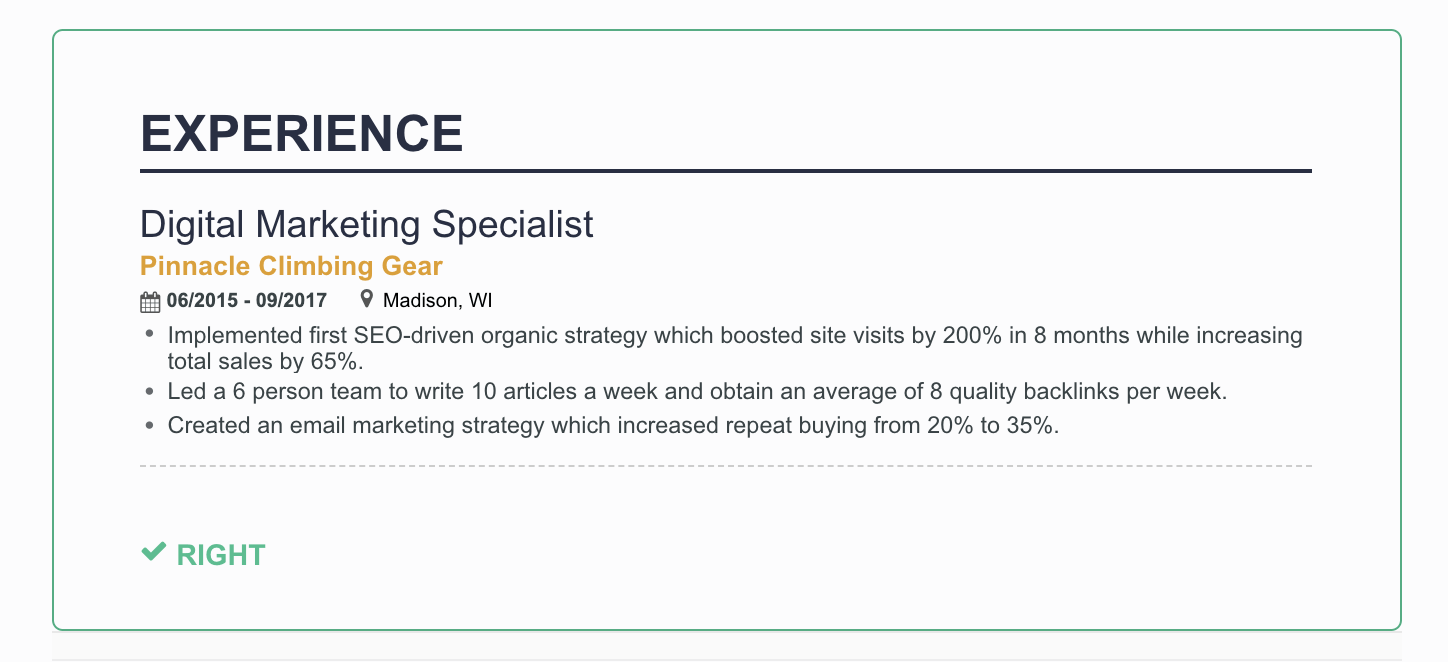 This is a great example of showing you're a results-driven professional.
We've said it loads of times already. Don't just talk about your previous job titles and responsibilities, but describe the results you helped to deliver.
You need to be specific so the hiring manager can see how skilled you are at what you do. If you just make a shopping list for the job recruiter, it doesn't exactly show much value or meaning.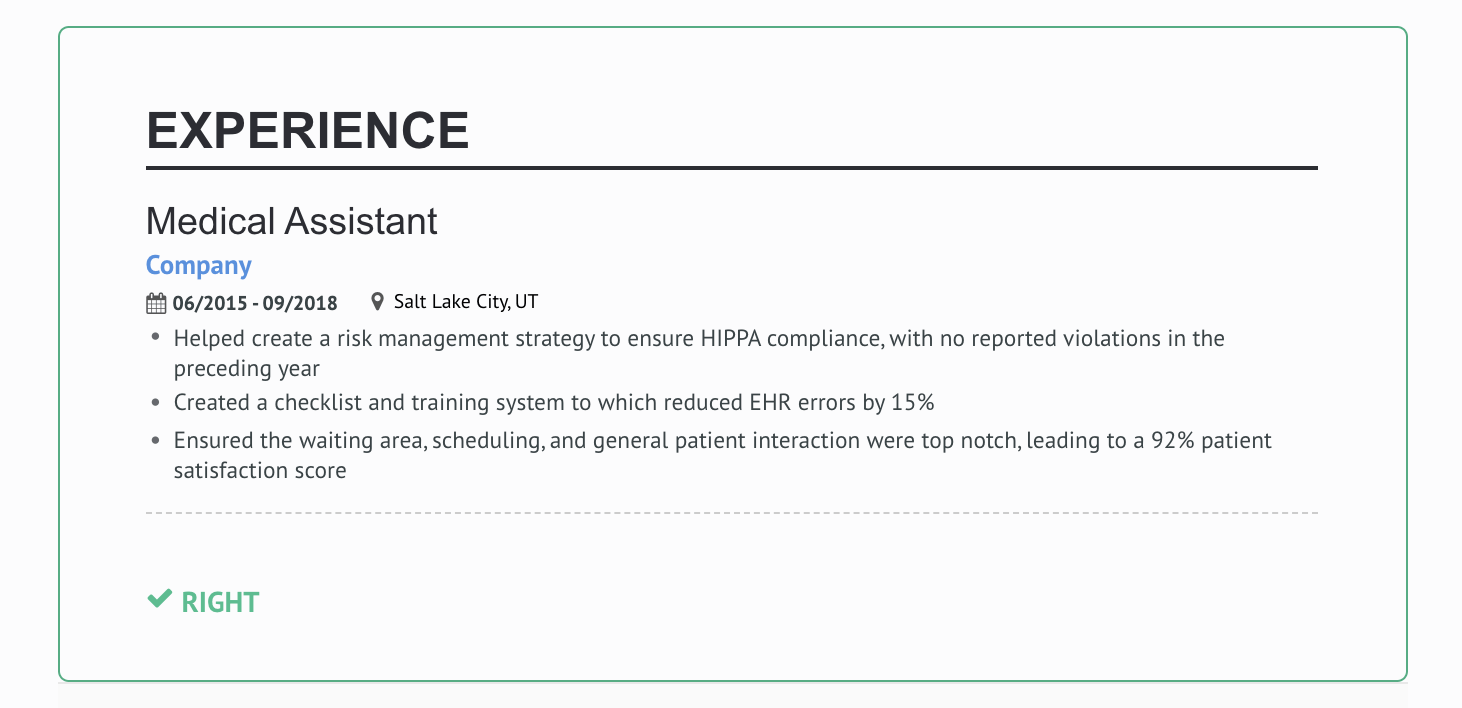 For resumes in the healthcare field, if you're not using a resume summary or objectives section then the work experience part should come first.
Like this candidate, your work experience should be going into detail about your duties and responsibilities. This lets the hiring manager see that you're familiar with your role, which is what your work experience should be showing.
Property manager resume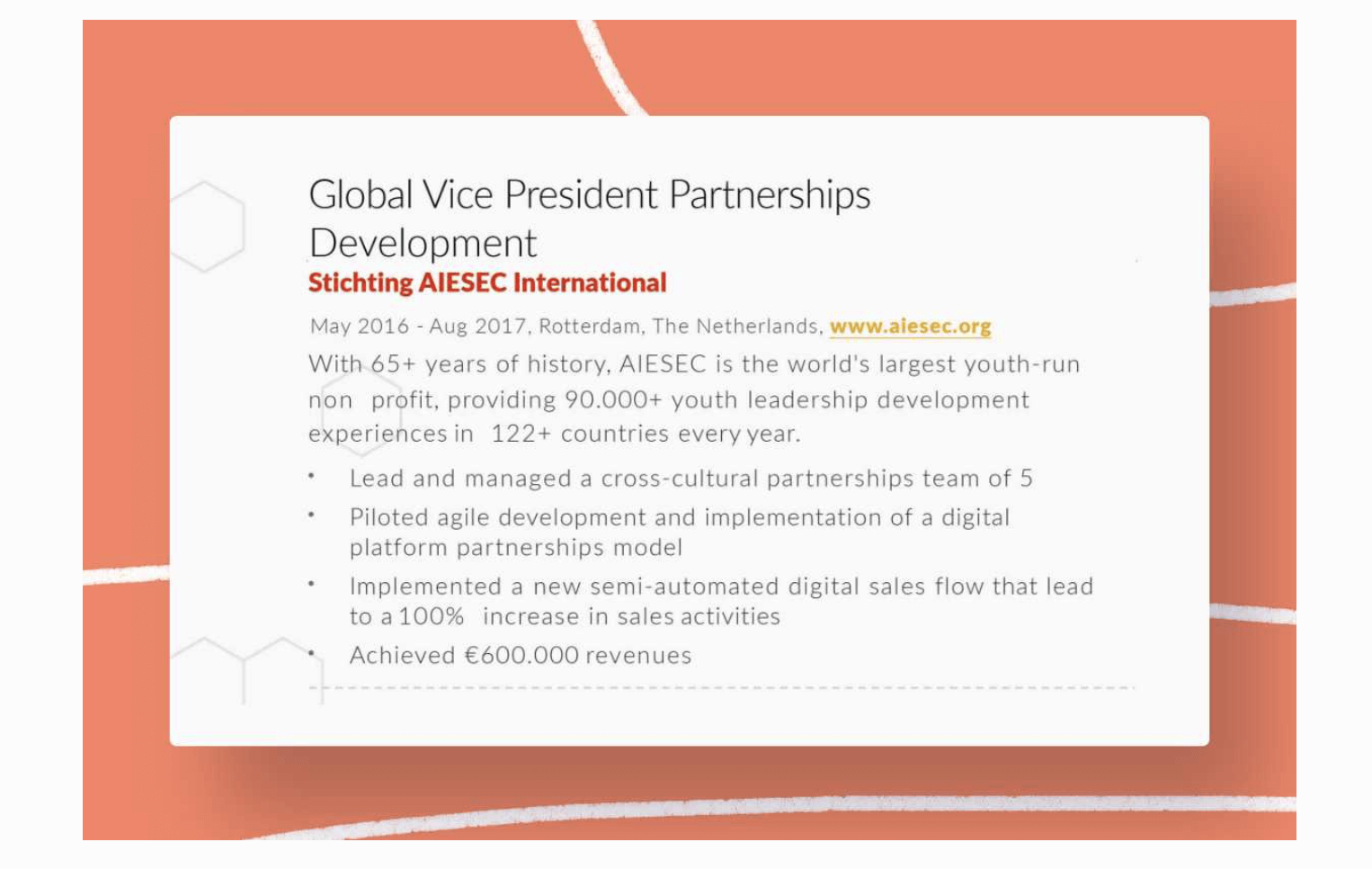 Do you have any evidence to back up your skills to show you're a qualified candidate?
What employers are more focused on in the real estate industry are your results.
And, this property manager work experience section is a perfect example. The applicant mentions: "Sales flow that lead to a 100% increase in sales activity" and "achieved €600 revenues".
If you can include numbers, percentages, or data, it positions you as an expert. On top of that, employers will quickly have the impression you're skilled at what you do.
If your field of profession wasn't here, you can find it by clicking on the button below. Our resume builder gives you access to successful resumes candidates have used to get hired at big companies such as Tesla and Spotify!
How long should a resume be for a job?
One-page resumes work the best.
In a modern work environment, the best thing you can do is show all your value in one page. When you condense your application like this and can show your value in a single page, it leaves an impression on your hiring manager.
Whether you're an entry-level applicant or an executive, it works better than a two-page resume when it comes to leaving an impact.
For seniors, however, with more than 10 years of work experience, it's worth considering a two-page resume.
More importantly, tailor your resume for the company and align it with the job description. If you can do all of that on a one-page resume, then two pages won't be necessary.
How to list work experience on resume with Enhancv
By now, you should have a good grasp of how to include your resume work experience.
If you're someone with not a lot of work experience and haven't taken action, we'll help you get started. Just follow these steps!
First, let's use this resume template for our own resume: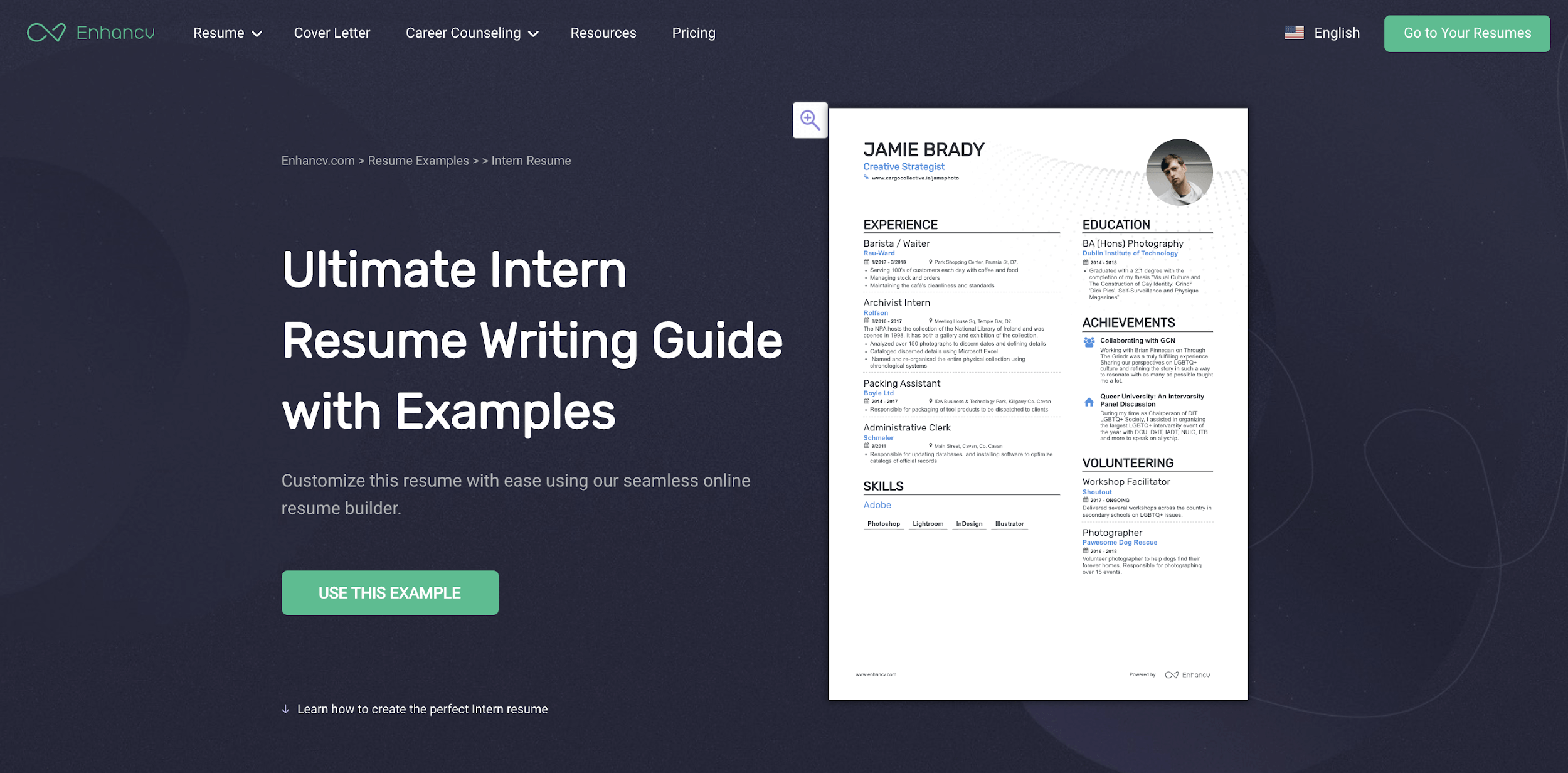 If you're unsure about what you should and shouldn't do, this page also contains a guide for that. So, scroll down and give it a read!
For now, I want you to click on the "use this example" button: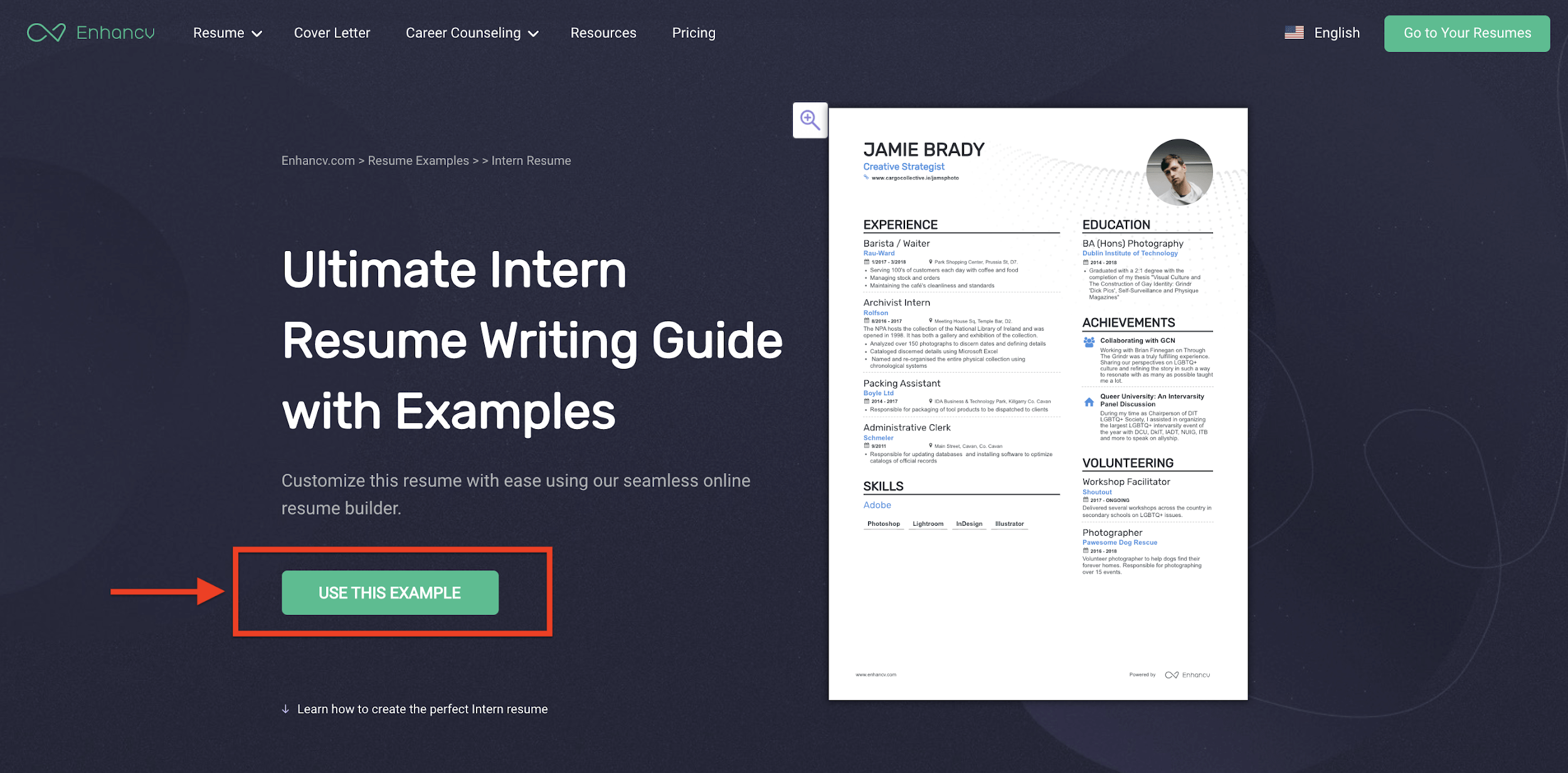 You'll then be taken into the Enhancv editor which looks like this: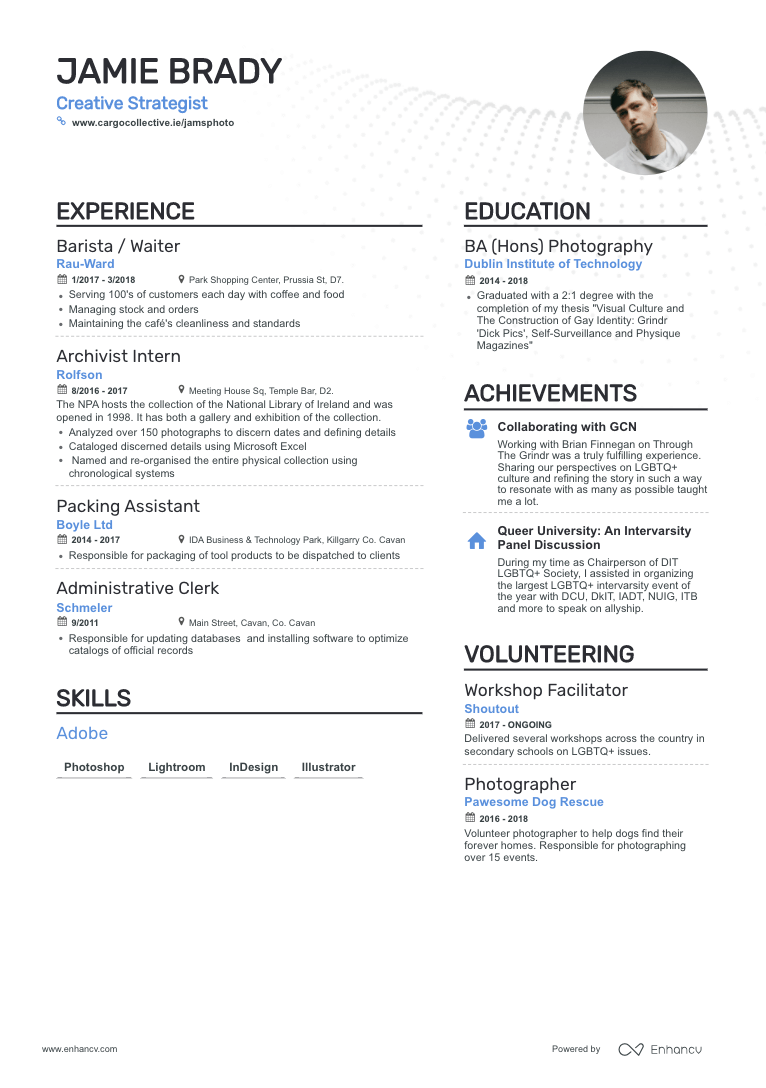 From here, you can replace the existing content with your own work experience and resume sections. Our editor makes it an easy and simple process for you to edit the resume as much as you want!
All you have to do is include your own work experience and take inspiration from what's already there.
It's much easier to create a resume this way than if you were to start from scratch.
If you haven't used the resume templates mentioned earlier or you haven't been following the steps, you can get started now for free by clicking below!
Our resumes get people hired at top companies!
Takeaways: work experience on resume
The work experience section refers back to your employment history in the past. It also needs to show your duties and responsibilities in those previous companies you've worked for.
When you have little to nothing to include for your professional experience section, you have to make the most of what you've got.
And, that could be going in-depth into your volunteer experience or resume objective.
Or perhaps, highlighting and making a certain section of a resume stand out.
***
Did you find this guide useful? If so, please give it a share to help out our fellow job seekers. If you have any questions, let me hear from you in the comments below!
Make your move!
Your resume is an extension of yourself.
Make one that's truly you.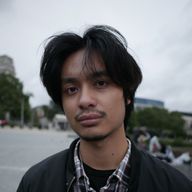 Astley Cervania
Astley is a UK-based copywriter & content strategist. Often curious and observant, he specializes in helping B2B and SaaS companies scale their content marketing through his writing and SEO skills.