Getting your resume done is one of the most unnerving parts of the job application process.
Do I have enough experience? Which positions should I list? Can I mention my volunteer work history? Should I or should I not include a photo on my resume?
These are just some of the questions that ran through my mind when I was preparing my resume.
I spent days researching the best resume practices out there, trying to craft the perfect document that was sure to land me the job.
I wanted my resume to stand out. To make an impact on the hiring managers. I wanted it to work.
And you know what? I made it work.
Surprisingly, all I did was tweak one part that hadn't crossed my mind before – the job description.
So, stick around and let me tell you the story of how one section can make or break your application.
In this guide, you'll learn:
What a resume job description is and why it's important;
How to make sure you write a job description that blows all the other candidates out of the water;
How to tailor your job description to the specific position you're applying for.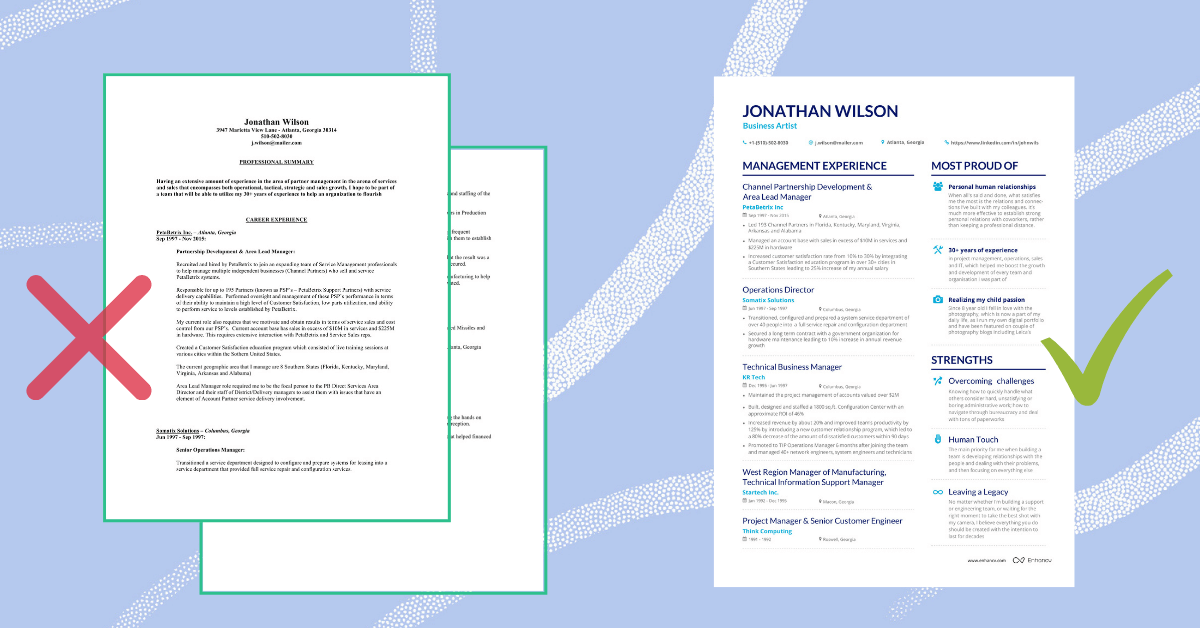 Now, let's start with the question on everyone's minds.
What is a resume job description?
To put it short, a job description section on your resume shows the prospective employers your past work experience (paid, internship, and volunteer), as well as your key skills and accomplishments demonstrated at a specific job.
It's one of the most important resume sections.
It shows a hiring manager what you've achieved, what you've learned, and how that can be applied to the position they're offering.
What a well-written resume job description does is highlight the fact that your skills and accomplishments are not only relevant to the job at hand – they're exactly what the company needs.
When writing about your work history, don't just list your duties at a past job – that's boring and, to be honest, recruiters don't really care.
What's important to them is that you have the necessary experience, skills, and drive to manage and excel at the task you'll need to handle.
Responsibilities vs Accomplishments: How to Enhance Your Resume Job Description
Hopefully, you now know what a job description section is.
So, to make sure you write one that gets your resume noticed, I'm going to give you some hot tips, coming straight from the experts.
Let's get right to it!
Focus on your skills and achievements
As I said, recruiters don't really care about all the daily duties and responsibilities you've had before, even if your past job is relevant to the one you're applying for.
I guarantee, every other applicant that's held a similar position will have had similar duties. Your job title itself lets the recruiter know what they are.
It doesn't matter what you did, but how you succeeded at it.
So, what you need to do is highlight your accomplishments and skills while you outline your duties. This shows the hiring manager that you can bring value to the company.
You don't need to go into too much detail – a simple statement, such as "Created a custom client dashboard that reduced support tickets by 50%" is enough to show what you've brought to the table.
However, you can't just throw any old achievement in there. You need to curate your content. So…
Vet your experience and select the most relevant information
You don't have to list your entire work history when you write your resume job description, just as you don't have to list every single responsibility.
What helps is to pinpoint which part of your experience will be the most important to the recruiter and focus on that.
Prioritize the information you include in your job descriptions. You may have achieved tons of things at your past job – but which one is the most relevant? Find out and put it first.
Try and put yourself in the employer's shoes.
Will a recruiter looking for a web developer be impressed by how you increased Walmart's Pepper Jack sales by 30% in a week?
Probably not, unless it's his favorite cheese.
So, research the company, the position, and what is most important to them, and then match it to your skills and accomplishments.
Let the numbers speak for you
Take any achievement of yours. Can the information be represented by symbols and numbers? If yes, then do just that.
People find reading concrete symbols and signs easier than reading words.
Let's go back to our cheese example from before. Which of the following statements is more impressive:
"Increased cheese sales" or "Increased Pepper Jack sales by 30% in 1 week by leading a successful marketing campaign"?
Even something as ordinary as cheese can sound fancy when you throw in raw data like that.
Be very specific when talking about your achievements and quantify as much as possible.
Make attention-grabbing section headers
Your work experience section is perhaps the most important part of that document. So, make it stand out.
You don't have to name the section anything specific – Work Experience, Work History, Experience, Employment History – all of these are fine.
Just make sure it's clearly visible. Go for all-caps, or bold, or add an accent, contrasting color.
The Enhancv resume builder lets you give all your sections custom names, so you can let your personality shine through and better reflect your expertise.
Put your work experience in a visible spot
I'll say it again – your work experience is one of the most important sections of your resume.
Most recruiters will say that the resume job description is their main source of information on whether the potential employee will do well at a certain job.
So, it makes sense to put it somewhere where it can't be missed.
Add this section right after your resume summary and before any others, such as Education, Languages, and Skills.
List your resume job descriptions in a reverse-chronological order
This is a very popular and quite useful tactic, and it's perfect for most resumes, with minimal exceptions.
Start with your current or last job. Move on to the position before that, then the one before that, you get it.
By doing this, you guarantee that the hiring manager sees the best of you and your abilities.
Use between 3 to 5 bullet points for each job
The easiest way for a recruiter to scan through your work experience section is if you use bullet points to list your achievements, skills, and duties.
For each position, use from 3 to 5 bullets. The more recent the job is, the more bullet points you can use. The farther back you go, the fewer you need, and you can only list the most relevant information.
You don't need a bullet for every single achievement and skill, either. You may have succeeded in a lot of different areas, but not all of them will be important in all cases.
Customize your resume and tailor the information to the job description.
Start each bullet point with an action verb
Eliminate any unnecessary words wherever possible. Hiring managers don't need all the fluff, and no one wants to read through a 3-page essay about your previous work experience.
Keep it short and sweet.
Start each bullet with an action verb to make it clearer and more powerful.
Another helpful tip is to begin with the successful result of your actions, followed by the action itself.
"Increased Pepper Jack sales by 30% in 1 week by leading a successful marketing campaign", remember?
Recruiters are more likely to remember the result than the process.
Include the benefit your actions and results had on the company goals
As I mentioned before, you need to decide on what will be most important to the company.
Not only do they want to know that you can succeed at the job, but they also want to know what you can bring to the table, what value you can add.
Give the hiring manager context, too. Show them how your skills can be used in practice.
How to write your resume job description with achievements if you're a newly grad
I understand that it's easier to write a resume when you have experience. It can be difficult for those straight out of college to figure out what kind of experience they can include.
I've been in that position, too.
Just because you don't have any actual paid work experience doesn't mean you'll have to leave that section blank, though.
If you've only just graduated and you don't have that much relevant experience, you can place the education section first, focus on your academic achievements, and put the resume job description after.
In the actual work experience section, you can highlight any other relevant experiences, for example – unpaid internships, volunteer work, student organizations, etc, up to 4 or 5 positions.
How do I tailor a resume to a job description effectively?
For your resume to really succeed, it's important that you tailor it to the specific job you're applying for.
You shouldn't send the same resume with every application, just as you wouldn't send the same cover letter.
But how do you tailor a resume to a job description?
Don't worry, it's not as scary as it sounds!
One of the first things you should do is read the job description that came with the job offer. Read it once, then read it twice, then read it three times.
What you're trying to do here is identify what's most important to the company and what they're looking for in an employee for this particular position. They want to know what you can bring to the table.
Match the content of your resume to the job description. If you're applying for an engineering job, don't talk about your time as a cheese salesman, unless parts of what you learned and achieved are really relevant.
A helpful trick is to pay attention to the keywords. Go over the job description and the position requirements and highlight any key ones.
Think of stuff like "detail-oriented", "resourceful", and "communication skills".
Then make a list of all your skills and achievements.
Match those skills to the keywords. The more matches you make, the better your chances of writing a resume that lands you that coveted interview.
Sprinkle those words around your resume, and especially in your work experience section. This will help you pass the automatic sorting system, as well as catch the eye of the recruiter that scans resumes for keywords.
So, follow all the tips from above and you'll be well on your way to crafting a stellar resume that gets you hired!
Looking for a resume job description example?
I know this can all seem daunting.
So, to help you out, I'll give you some of our best examples of a great resume job description. And if you want more full resume examples to guide you, I've got you covered.
Take a look at this accounting analyst resume.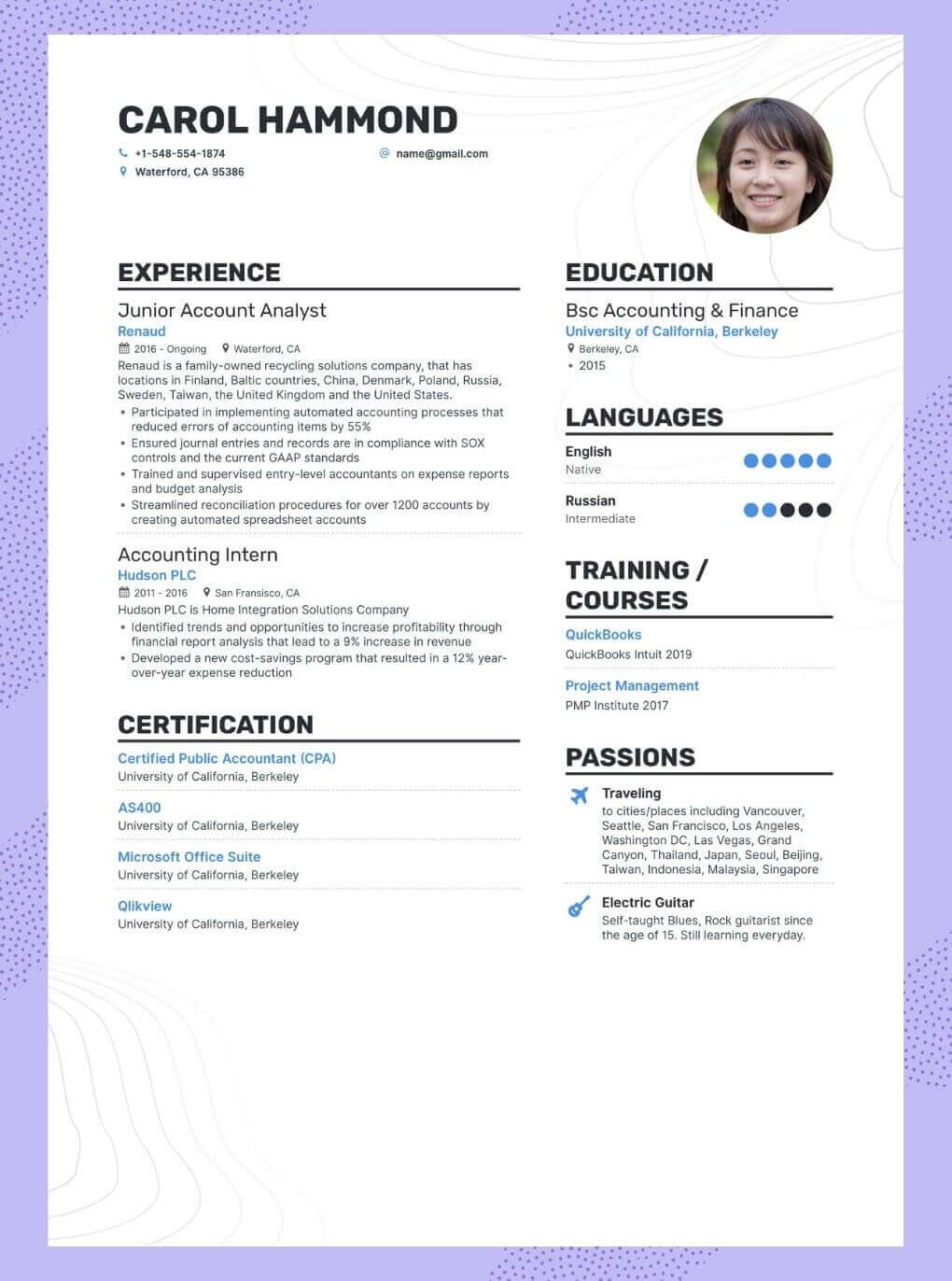 Now take a look at the following bullet:
"Participated in implementing automated accounting processes that reduced errors of accounting items by 55%".
It has everything – it starts with an action verb, it quantifies the achievement – overall, I'd say it's not half bad, wouldn't you?
Now, let's switch it up and examine this baker's resume: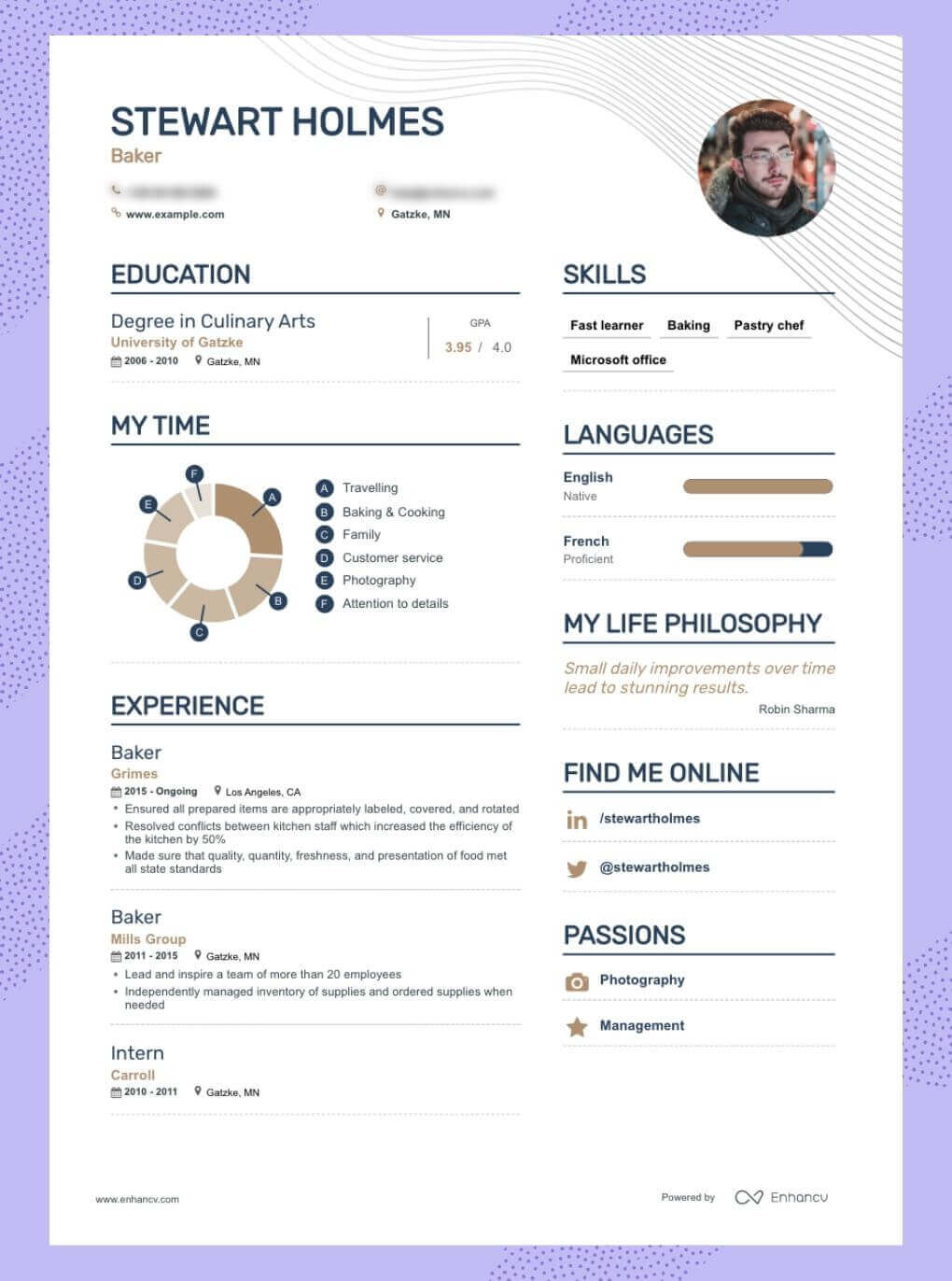 Let's start with the placement – this resume doesn't put that much emphasis on the work experience section.
Personally, I'd give some more thought to whether my experience or my education is more important in this case. However, work experience definitely beats the way I spend my time, so surely it should come before it.
Let's look at the resume job description. Which one of the following do you think is more impressive:
"Ensured all prepared items are appropriately labeled, covered, and rotated" or "Resolved conflicts between kitchen staff which increased the efficiency of the kitchen by 50%"?
Probably the second one, right? So, they probably should have put it first on the list.
Overall, there's room for improvement here.
And last, but not least, let's shift the focus to this teacher's resume: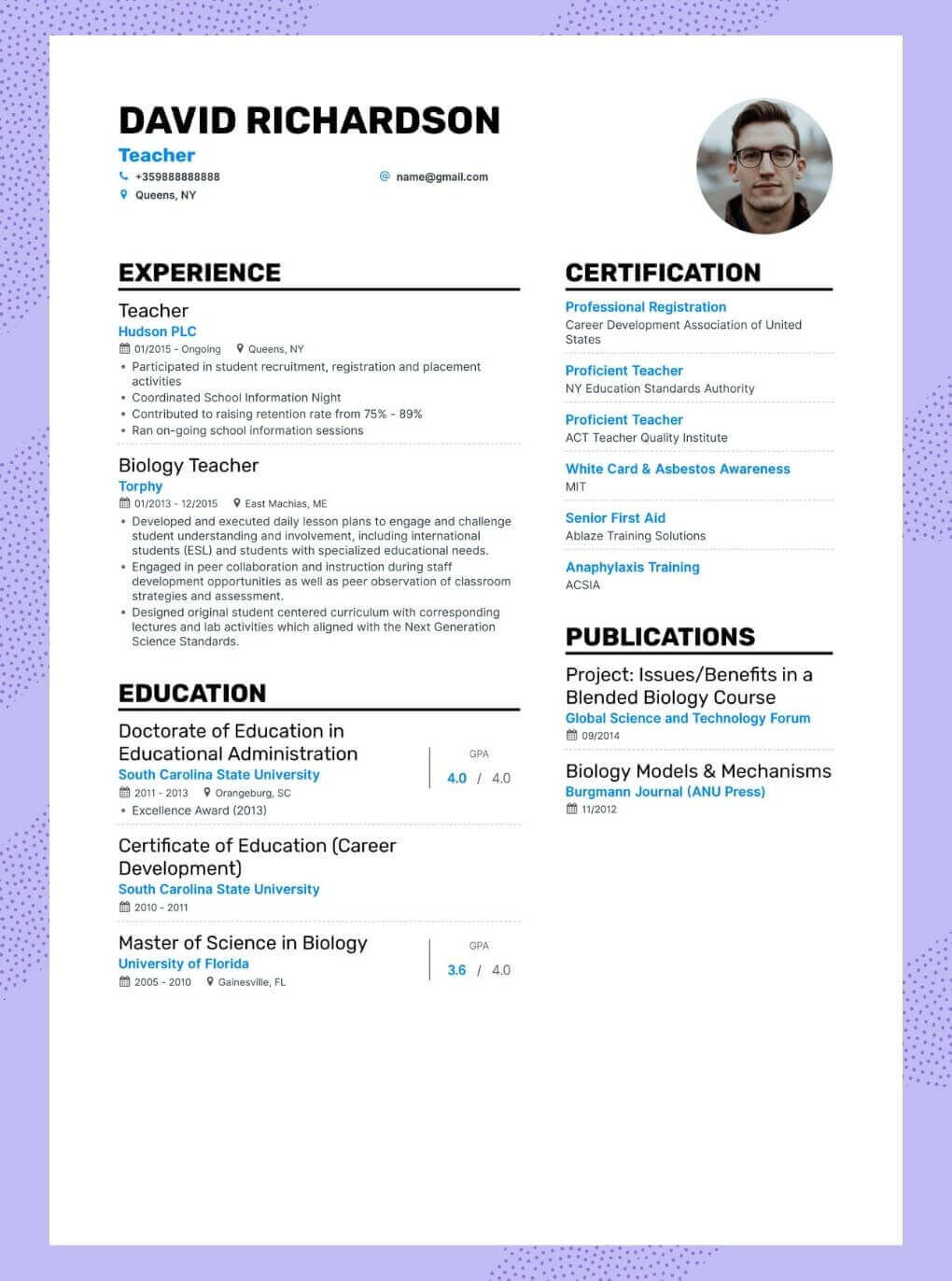 Here, they've got the placement right – experience is important for a teacher, after all.
The bullets following their most recent position highlight their skills and achievements, and they've kept in mind what would be important for this job.
I probably would have started with "Contributed to raising retention rate from 75% – 89%", but other than that – a fine example.
Takeaways
So, there you have it – you now know what a resume job description is, why you need one, and how to write one that skyrockets your chances of success.
To summarise, here are the most important things to keep in mind:
A job description section on your resume shows the prospective employers your past work experience, as well as your skills and accomplishments.
When writing a work experience section, focus on your skills and achievements, rather than your duties and responsibilities.
Keep the information relevant to the position at hand.
Quantify your achievements – employers like numbers.
Make your job description section visible, make sure it stands out.
Use bullet points and start each with an action verb.
Tailor your resume to the company's needs and requirements, but keep it truthful.
***
I hope this post was useful to you. Do you have any other questions? Do you have any experience you want to share? You can do so in the comments!
Make your move!
Your resume is an extension of yourself.
Make one that's truly you.