How compelling is your resume skills section to let employers know you're more than capable of the job vacancy?
Most applicants forget to include the key skills on their resume the job recruiters are demanding. But after reading this article, you'll understand how to implement and structure those skills effectively to impress recruiters so that you can get called in for an interview.
However, it's important to even know what skills to include in the first place.
We have a full guide for the 200+ resume skills that are in demand, and how you need to list and identify them accurately for the job you're applying for. I highly advise you to check that out before getting into this one.
What skills should you include on your resume?
Sometimes we think that having more is better, so we end up trying to include as much as possible. In the end, we force unnecessary information that's irrelevant which is a common resume mistake.
You need the right mix and balance between soft and hard skills. Recruiters want to know that you're more than capable of handling the tasks and responsibilities at a high standard.
Look at what skills the company needs by taking note of the job description. Then, after you've identified your strengths, meet and tailor the skills that are essential for the job.
For example, if you're applying to become a dentist, then recruiters might expect to see some of the following skills:
Dentistry
Orthodontics
Oral surgery
In Shawna's dentistry resume, she does just that. See below how she explicitly implemented those skills to demonstrate why she's going to be a perfect fit: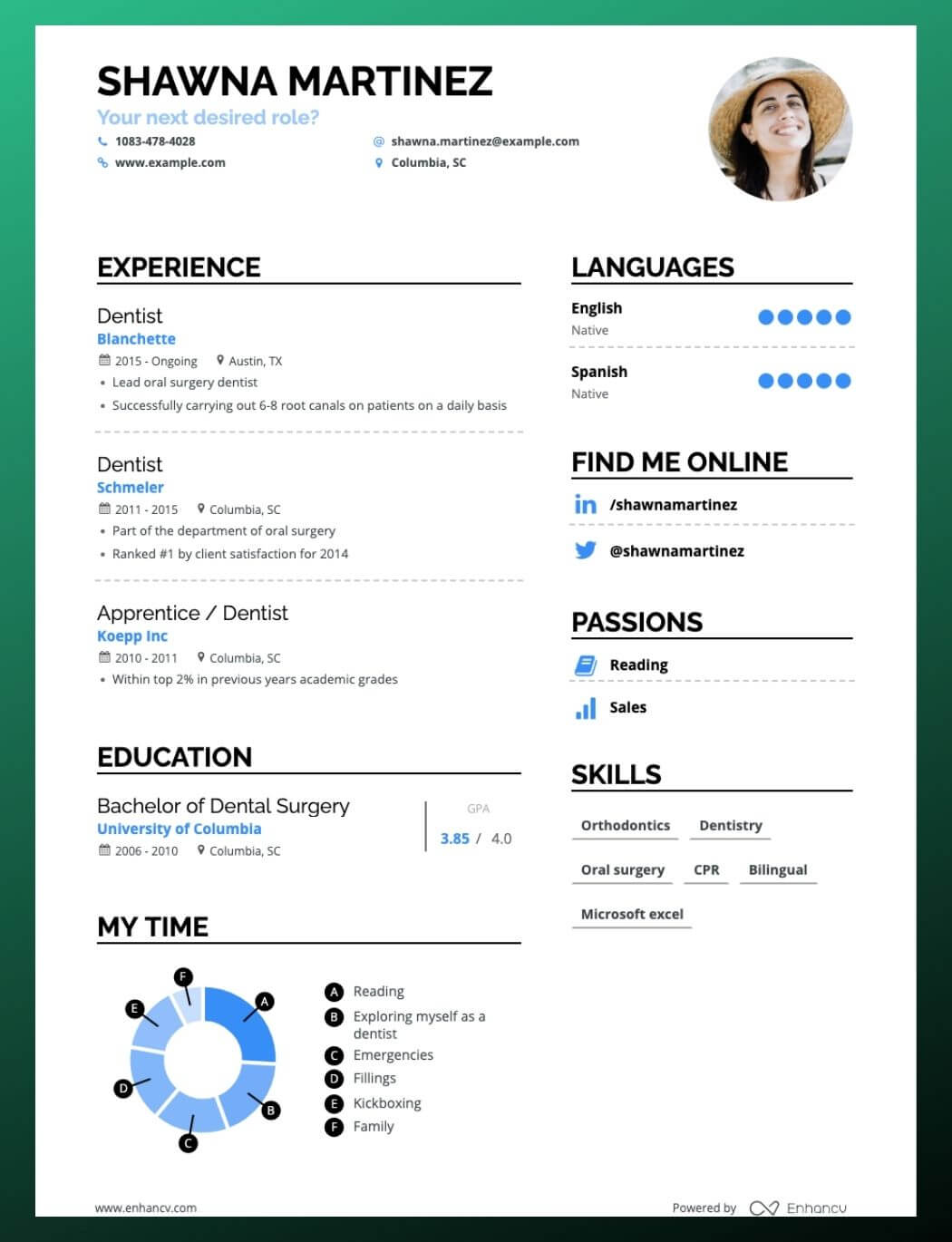 One fact about all resume skills sections is that the skills applicants use must correspond with the job description. Otherwise, you'll have lower chances of getting that interview because they can tell whether you understand what they need or if you've sent the same resume to 1000 other companies.
Recommended read: Resume Sections: Everything You Need to Know
Essential job skills and transferable skills
Every job position requires certain skills to ensure you meet the minimum standards and expectations. E.g. If you're creating a mechanical engineer resume, recruiters expect you to have mechanical engineering skills.
The essential job skills are the pinnacle requirements candidates need. This way, it lets employers know they're capable of taking on some of the duties and responsibilities.
On the other hand, transferable skills are skills you have that can benefit across several different job positions and industries. In the case of a project manager's resume, it's necessary to have good project management skills. However, it would also be beneficial if you included skills such as:
Communication
Teamwork skills
Work ethic
Any advantages you have to show that you can do your job better, bring them up on your resume! If you're going to be working as a group in a collaborative environment, it would be worth mentioning you're a team-player with good leadership skills.
Doing this not only impresses the hiring manager but increases your chance of getting invited for an interview.
Most transferable skills are usually soft skills, but there are still hard skills that are transferable. A good example of this includes:
Data analysis
Technical and software proficiency
Research and analytical skills
It's another way to create an eye-catching resume because you're demonstrating how and why you're going to be a better fit than the other candidates applying for the same role.
If there are any relevant transferable skills you have, don't forget to include it on your resume. It shows you'll quickly get up to speed and won't have as much difficulty doing your job.
Tip: one common resume mistake is stuffing as many skills as possible. Just ensure they're all directly relevant!
What if you have several skills to showcase?
"I feel limited. There are more skills I want to talk about, what should I do?"
In that case, to include multiple skills, you should include a subsection for it. Take a look at how Alex did it on his software engineer resume with Enhancv below: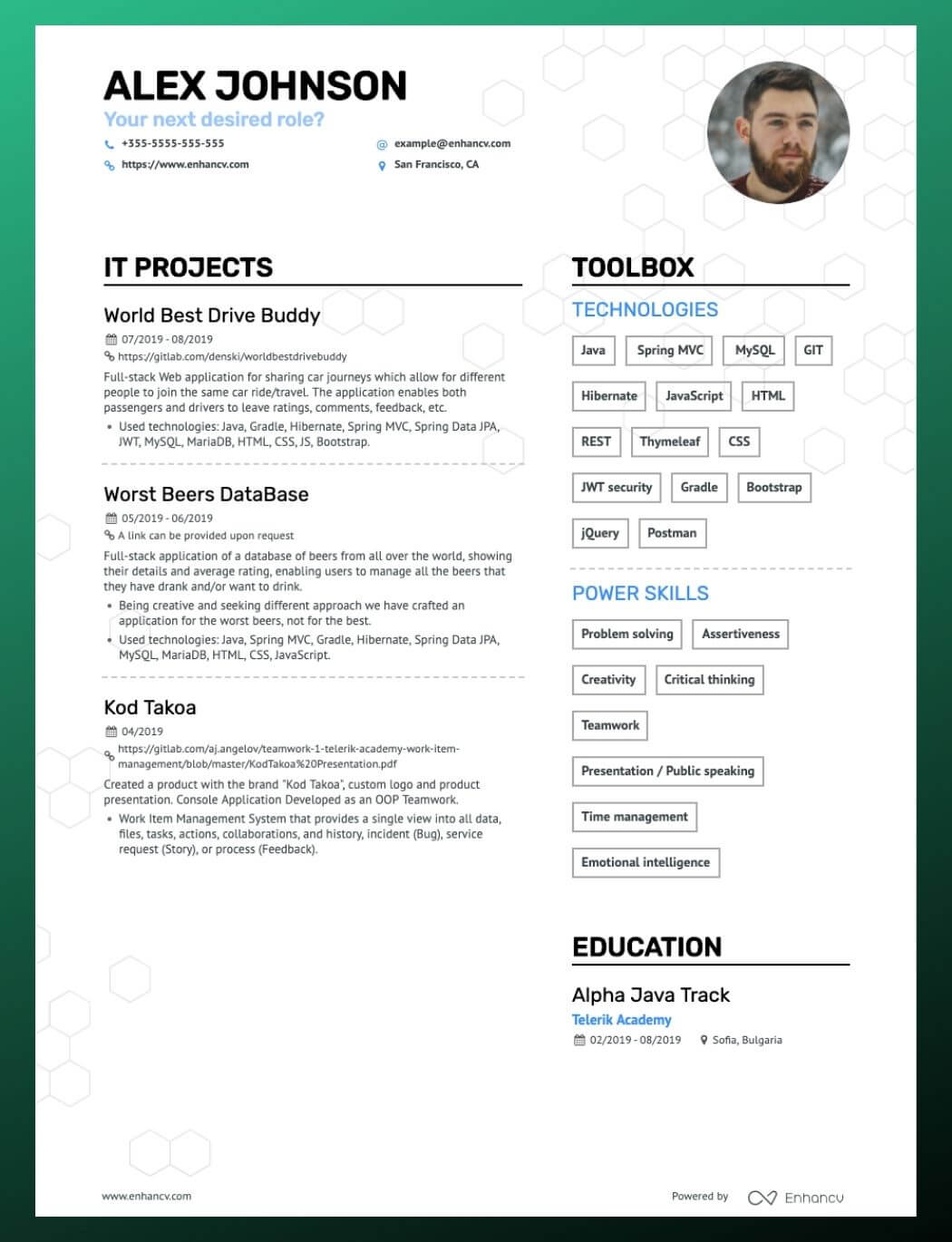 It's very simple, yet highly effective. We can see his technical skills and software proficiency on the "toolbox" section of his resume. And, we can see his transferable skills in the "power skills" section. As a reader, it's very easy and quick for us to identify his core skills to determine how well he'll be able to do his job as a software engineer.
The reason we emphasize having minimal details is that it's easier to highlight the key details. Therefore, you can get straight to the point without beating around the bush.
If you have loads of skills that exceed the limit, you may want to consider creating a skill-based resume. When you're creating your resume skills section, you need to decide not only what skills to include, but how you're going to structure and format it.
By now, you probably have a good idea of what skills to showcase in your resume. Next, we'll take a look through 10 well-structured resume skills section examples to learn from.
10 effective resume skills section examples
Auditor Resume Example: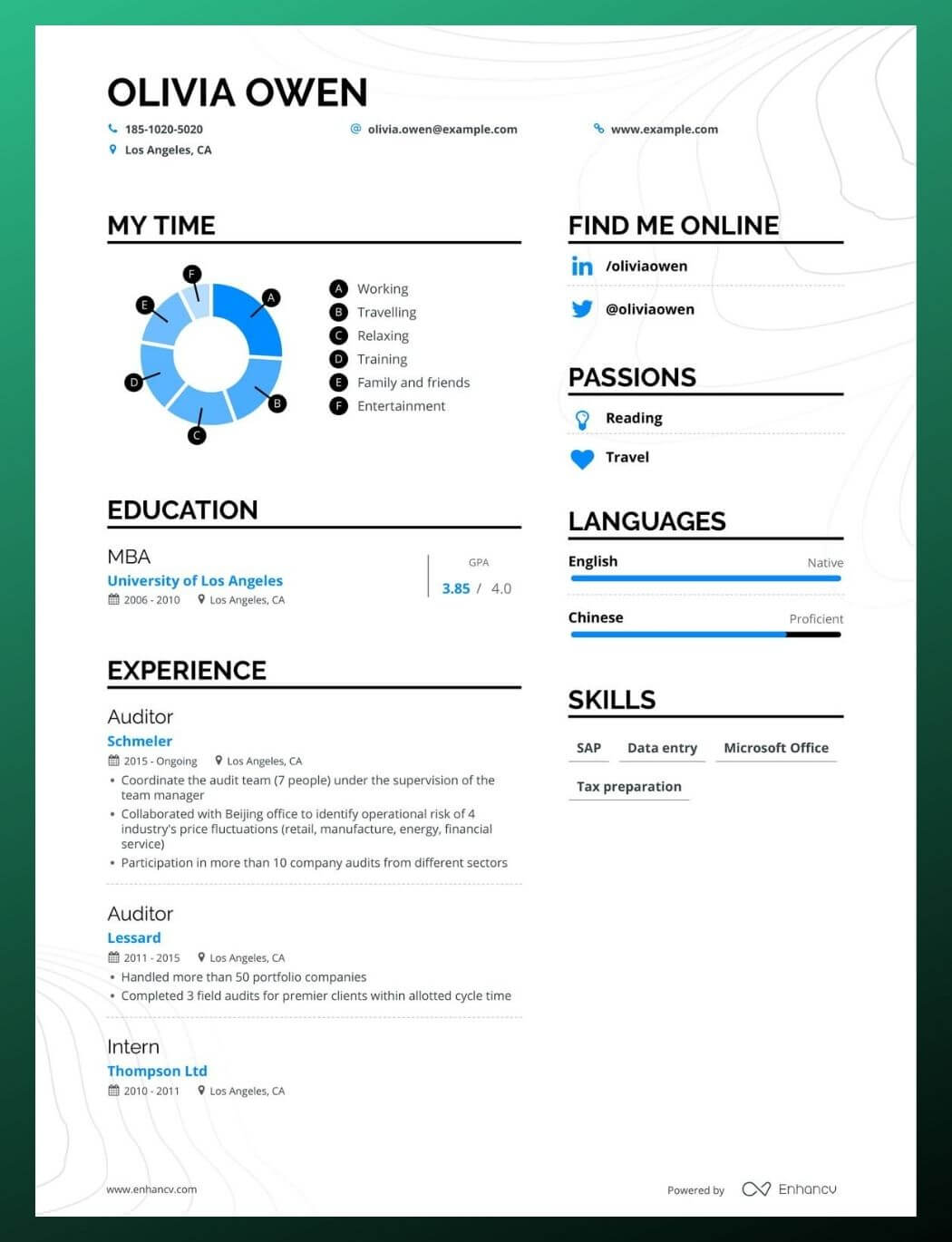 Notice in the resume example above the skills section. It's short, but it gets the job done. It's not fancy, and it's not overly complex. At first sight, you can recognize immediately that this candidate has the core skills for taking on the role of an auditor.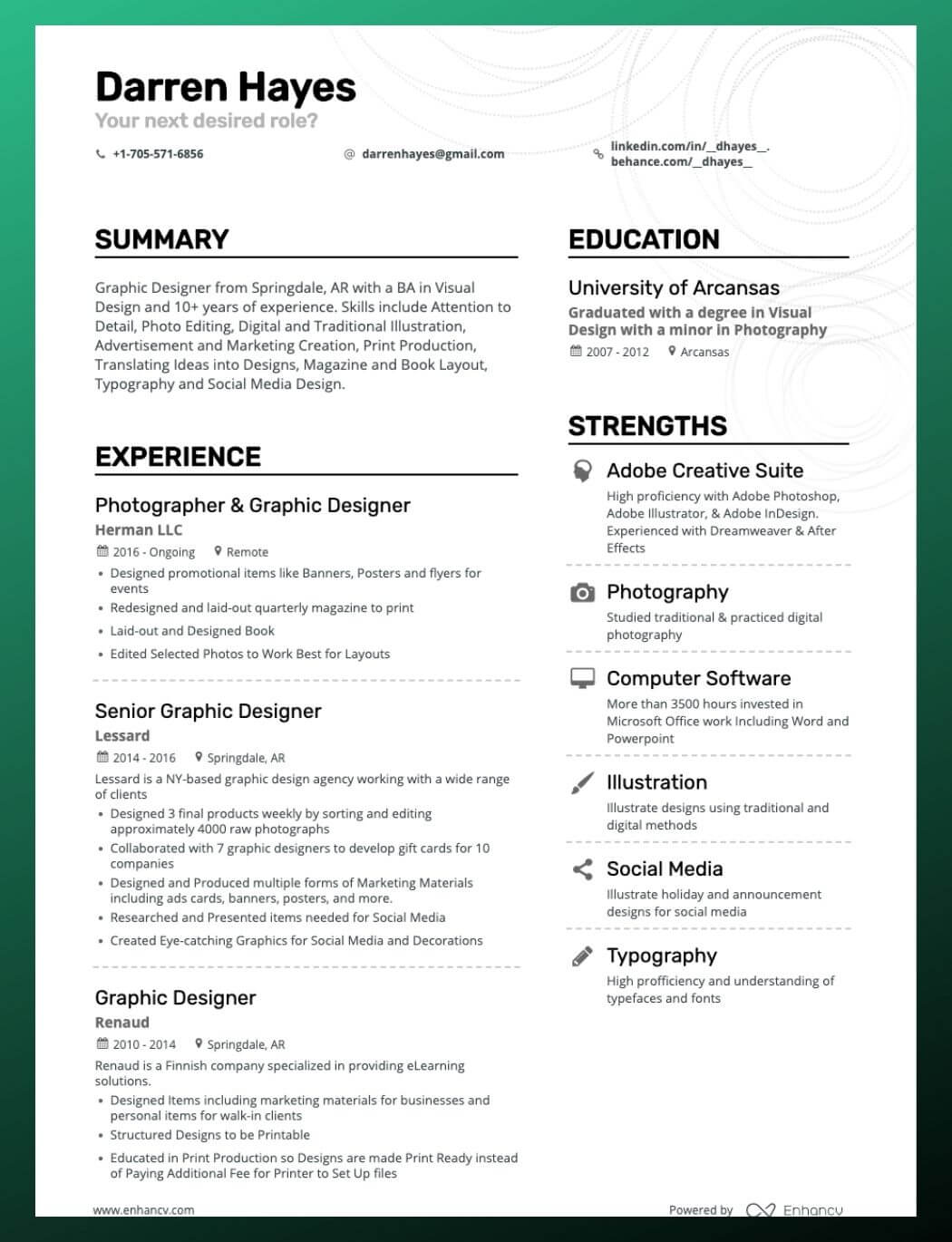 In Darren's graphic designer resume, he highlights his key skills under the strengths section of his resume. The way it's laid out with enhancv, he follows up to describe those skills with a short description underneath.
Having subheaders, as well as icons improves the readability and helps with catching the recruiter's eye to continue reading.

Heather's video editor resume clearly demonstrates her knowledge and expertise with editing software. We can instantly tell that she has strong technical proficiency and knows how to operate with different programs relevant to video editing.
Teaching assistant resume example: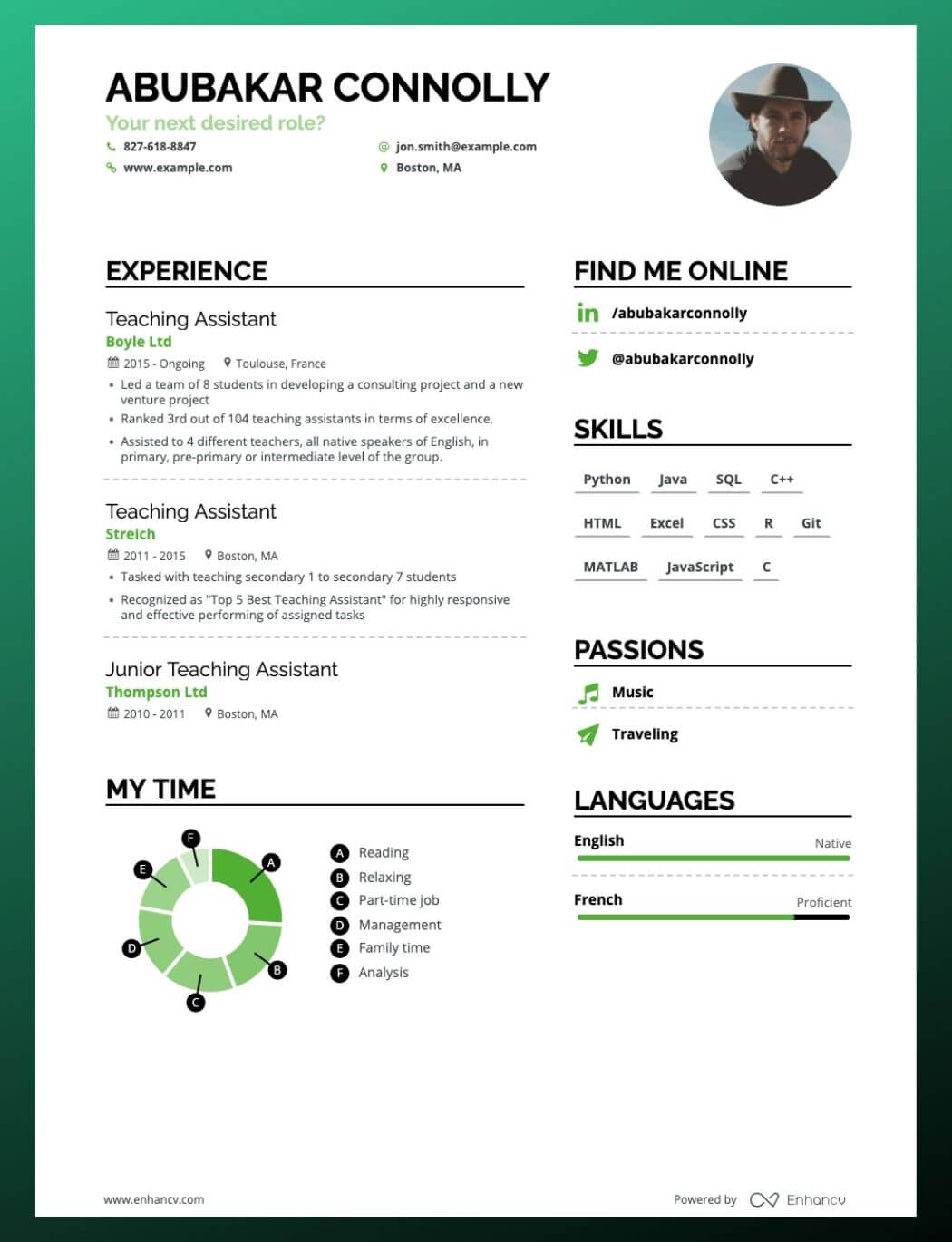 This time, Abubakar's teaching assistant resume labels the technical skills that will help him do his job. Notice how he has a section dedicated to his language skills. It's effective in drawing the employer's eyes to impress them with his proficiency in French. And, it's transferable and beneficial to have in a learning environment such as school.
Also, the chart demonstrates how he spends his time. It lets us know that he has good time management and capable of using his time productively.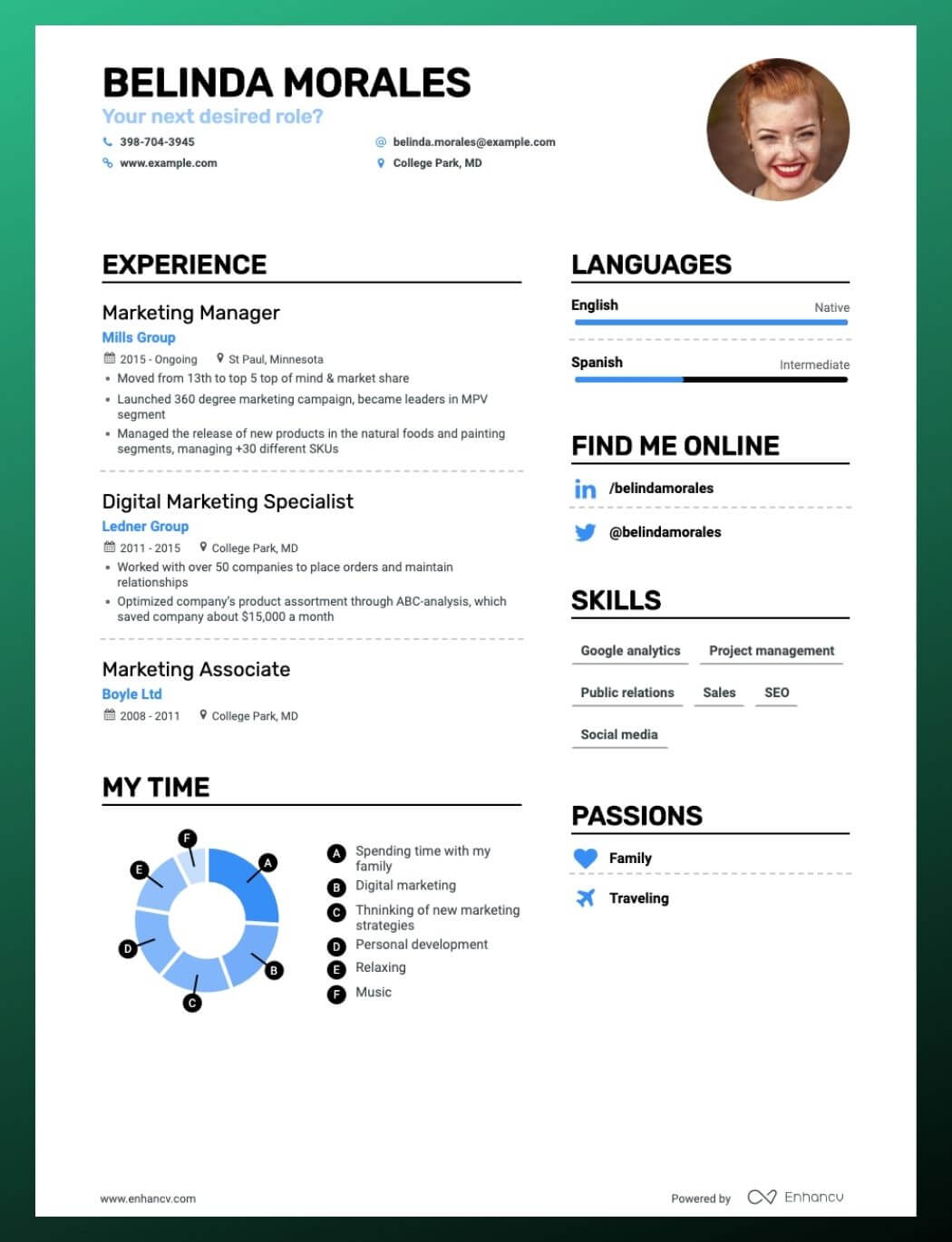 Like the previous example, Belina uses a bar chart underneath the language section to display her language skills. Below that, we can see her core skills that are needed for the job. Just by seeing that, we know that she's qualified enough to work as a marketing manager.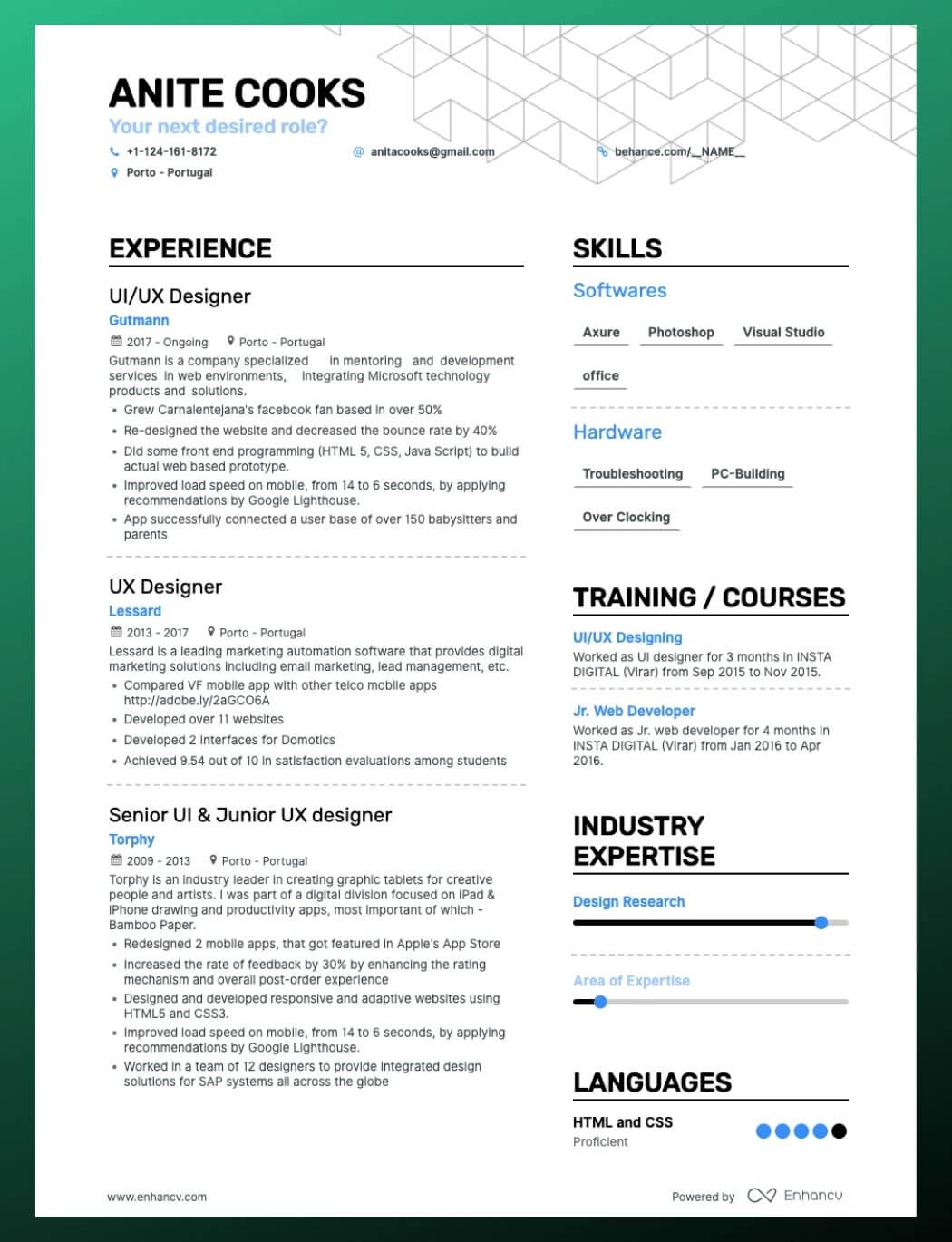 In Anite's UX/UI designer resume, she has two sections to display her software and hardware skills. It's neatly laid out and helps the reader quickly identify if she has the essential ability to work for them.
We can even see her industry expertise in design research through the bar chart below. And even below that, we notice that she's labeled herself as proficient in HTML and CSS. It lets us know straight away that she's a good fit for the job vacancy.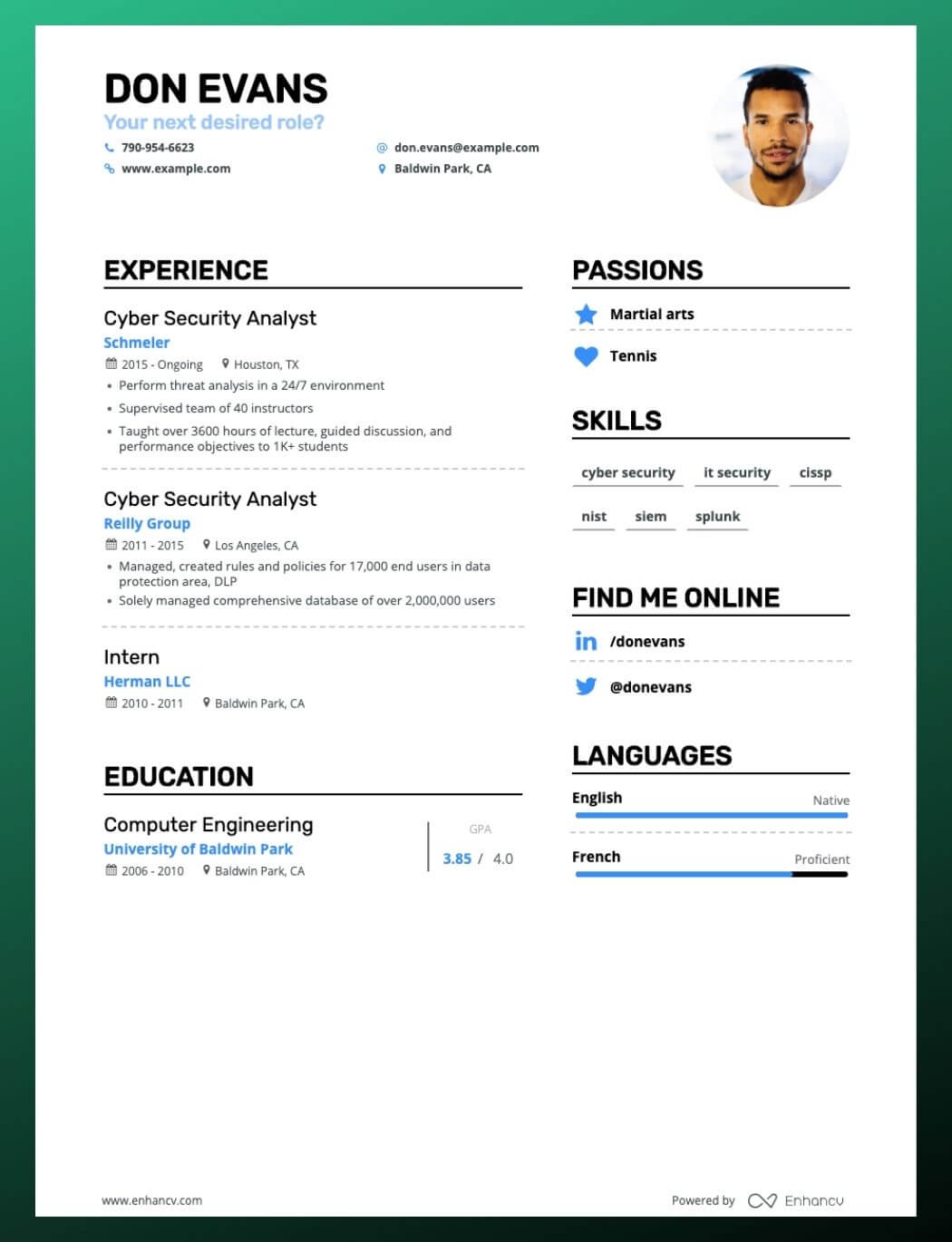 Don's resume application outlines the necessary skills required to work in the field as a cybersecurity analyst. What you should know by now is that the skills section isn't complicated to dissect. With Enhancv, it's designed to stand out and give the employers exactly what they're looking to see from your resume.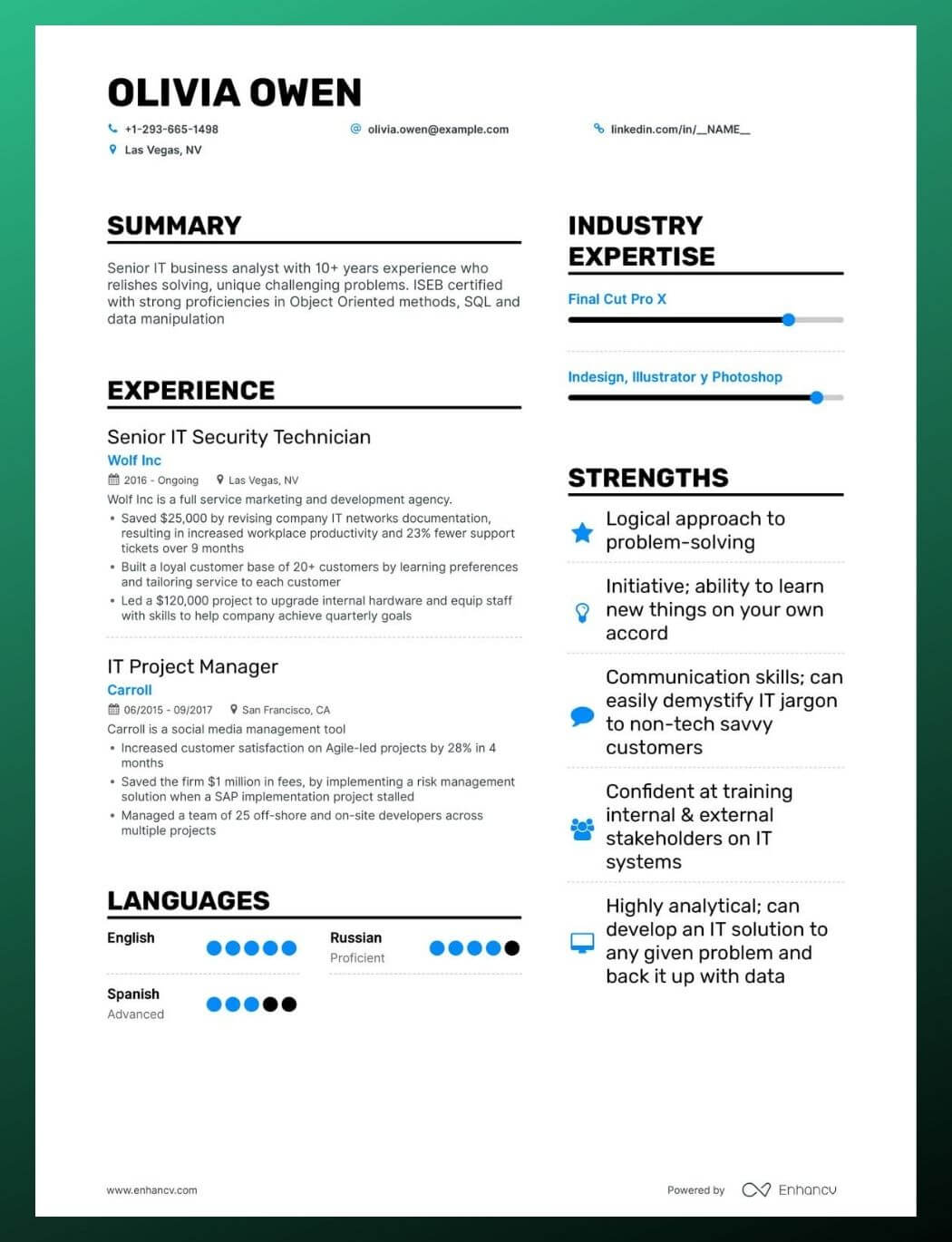 Unlike the previous skills sections, this one looks slightly different. Nancy's IT resume highlights her strengths for what makes her a great person to work within the technical space.
She follows up with a short brief description after labeling her strengths to consolidate her skills and what she's capable of. And, there's also a section for her industry expertise that showcases her knowledge through the use of bar charts.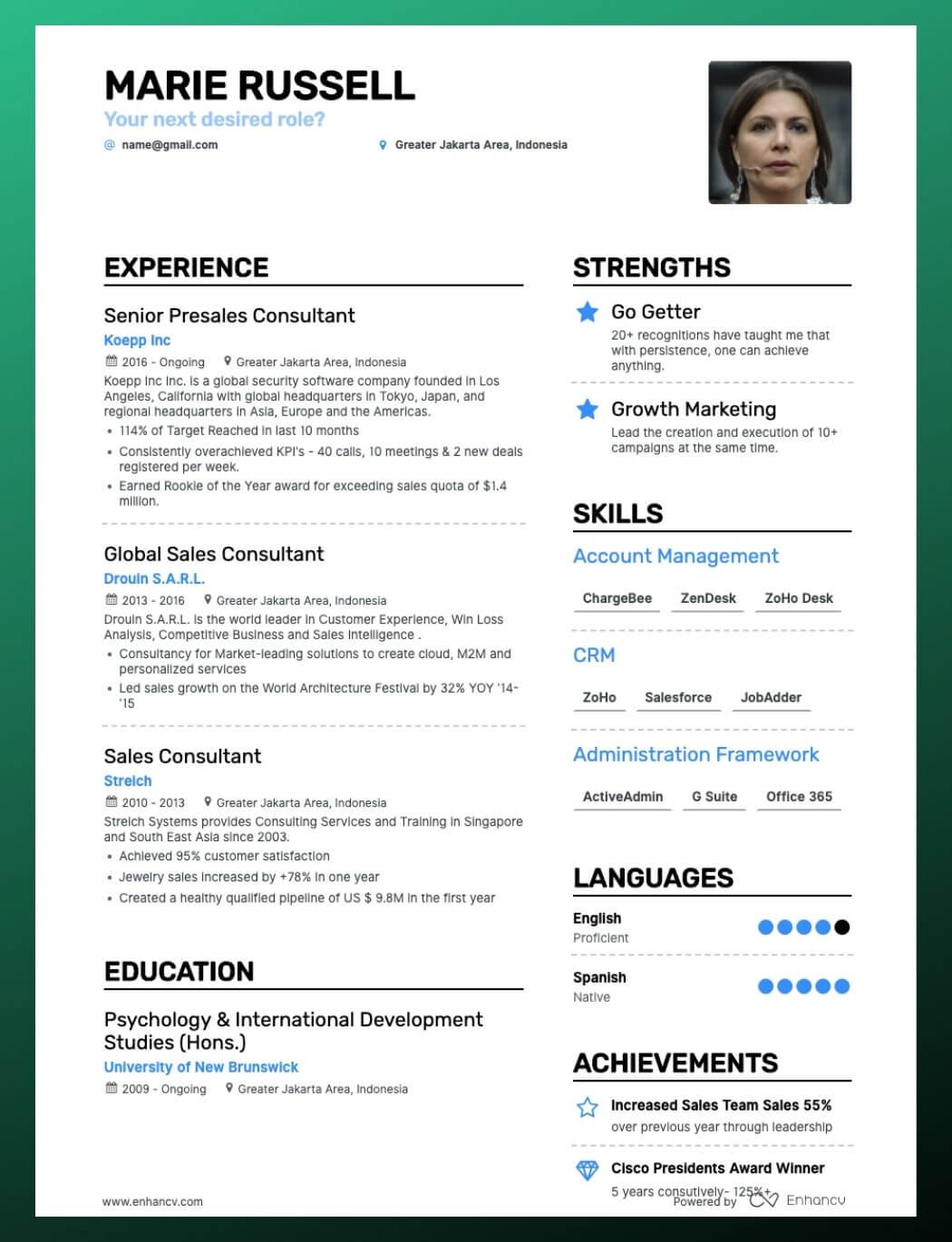 In Marie's application, we can see all of her skills on the right-hand side of her resume. She starts off with her strengths and uses a subheader alongside an inner section to give a brief description. The icons beside it and the way it's formatted gives the reader a positive experience because it's easy to consume.
Below that, she tags other helpful skills that enable her to do her job better. And, she includes a language section to display her proficiency in English as well as her fluency in Spanish.
Legal assistant resume example.":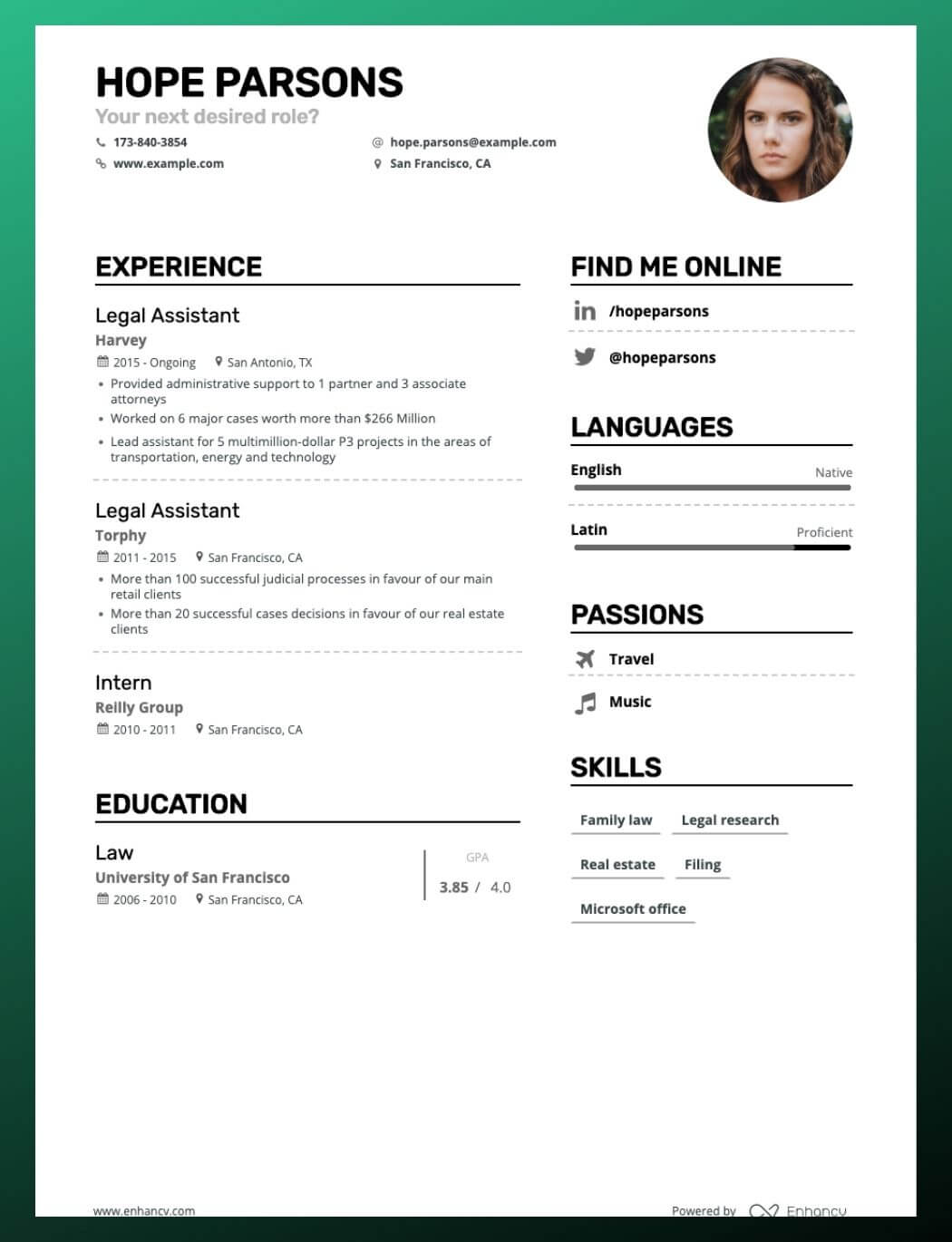 The last example from Hope clarifies her skills on the bottom right. We can see that she meets the requirements to work as a legal assistant. On top of the essential skills that have been labeled, the overall clean design that improves readability is sure to impress the recruiter.
Are any of these chosen examples in your working profession? If not, you can find a strong resume example for your job title by checking out the 530+ examples here.
Additional advice
You should never feel limited by filling in your resume skills section. If you need more, either include an extra sub-section with specific headers for those types of skills. Or, have a skill-based resume devoted to displaying your capabilities
Only pinpoint critical skills that are going to be useful. If they're not helpful in any way to help you do your job better, there's no point mentioning them
Aim to have a one-page resume that's extremely specific for the ATS and to create a strong impression to the hiring managers
Ensure there's a balance between your soft and hard skills, and that you properly list the skills out on your resume
With the Enhancv resume builder, you can craft a resume that blows all other applicants out of the water. From design options to bullet and section suggestions and content writing tips, we're here to help you land your dream job!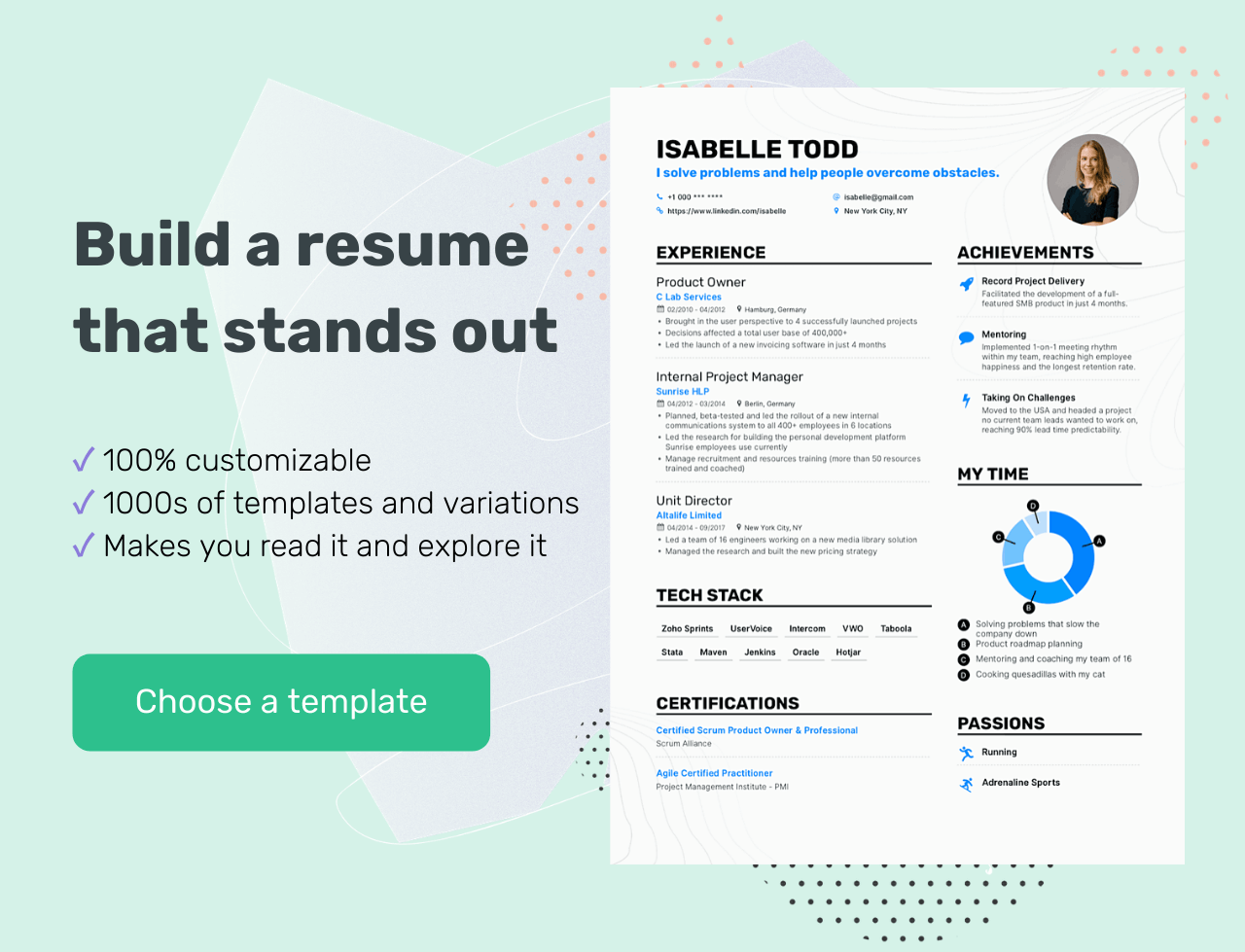 Conclusion
Don't force all of your skills into your resume. Only include the skills that are helpful, and beneficial in your next career path. The resume skills section is one of the deciding factors that determine whether you're a good fit and if you can nurture into a high-performing asset in the future.
Tired of trying to figure out and perfect your resume from scratch?
At least try to get started using Enhancv's templates. They're free, easy to use and have everything laid out for you. It even caught the attention of a billionaire who admired the way they're built!
Is there anything else we've missed or a certain topic you want us to cover? Let me hear from you in the comments below!
Make your move!
Your resume is an extension of yourself.
Make one that's truly you.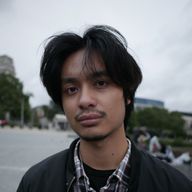 Astley Cervania
Astley is a UK-based copywriter & content strategist. Often curious and observant, he specializes in helping B2B and SaaS companies scale their content marketing through his writing and SEO skills.