Maybe you've been searching for a new job for a while with little success, or you've been daydreaming about a new job at a company that you'd love.
You may have the experience and skills to get your dream job, but the first thing that you need to do is to step outside your comfort zone and reach out to a hiring manager.
If you're ready to take the first steps to look for a new job, a job inquiry email may be exactly what you need to open up to new possibilities. Jobseekers use these letters to learn a little more about job openings and to introduce themselves to hiring managers.
In this article, we will discuss:
What is a job inquiry email?
Reasons to write one
How to write a successful job inquiry letter
Example inquiry emails
Regardless of where you are in the hiring process, it would benefit you greatly to speak to a career counsellor at Enhancv. Our career counselors can offer you tips and advice as you reach out to potential hiring managers.
What is a job inquiry email?"?
Upload & Check Your Resume
Drop your resume here or choose a file. PDF & DOCX only. Max 2MB file size.
A job inquiry email is a formal correspondence between job applicants and hiring managers. They are one of the best ways to introduce yourself, showing that you have a genuine interest in the advertised job openings.
Effectively, it allows you to put your foot in the door by reaching out directly to companies looking to hire new staff.
Job inquiry emails follow a similar template to other formal correspondences like cover letters, but are primarily focused on a specific job opening. The best job inquiry emails introduce a job applicant, briefly explain the applicant's experience, provide an attached resume, and‌ end by asking for a job interview.
Reasons to write one
Differentiate yourself from other applicants
Human resources departments receive lots of different resumes for an open position. It can be hard to differentiate between the different people who are applying for the position just by looking at the resumes.
However, by writing a job inquiry email, you're able to differentiate yourself from other applicants who are applying for the position and make yourself look unique. Effectively, it shows that you are interested in the position, and would like to add a personal touch to the email.
No longer are you just a name on a piece of paper, but ‌you're somebody who's communicating and reaching out to a hiring manager, showing initiative and stepping out of your comfort zone. This go-getter mentality can actually create a great first impression with a hiring manager.
Deliver your resume directly to a hiring manager
It also allows you to get your resume in front of the person who needs to read it. Companies sometimes use specialized software to sift through resumes, but if you reach out to a specific contact person, then you're handing your resume directly to the person who needs to read it.
Find job openings that haven't been advertised yet
Sometimes, companies will hire for a position but have yet to advertise for the role. You may have learned about the role through word-of-mouth from somebody you know within the organization, and this may give you the opportunity to be the first person to apply for the position.
How to write a successful job inquiry email
1. Start by doing some research
When you're looking to create a specific inquiry email, research a little about the company to gain an understanding of the company's values, vision, and culture. You don't want to create a generic email, but ‌create a pointed, specific email with information gleaned from these sources:
Their website
The Job description
A company's social media accounts
2. Write and edit in drafts
If you want your job inquiry email to turn out well, then it's best to write multiple drafts of the email to get it exactly how you want it. It's best to write the first draft, then sleep on it and edit it the next day.
By creating distance between you and the email, you'll be able to assess it objectively and create a more clear and concise letter. Also, be sure to check for spelling and grammar mistakes in order to create a professional email.
3. Create an engaging subject line
A subject line hooks the attention of the contact person, and a great subject line can help you get one step closer to receiving an interview. Alternatively, a bad subject line may cause your email to not be opened. Here are three tips to create a clear and concise subject line:
Mention a shared acquaintance: When writing the subject line, mention someone that you and the contact person both know.

Example: Referred to the sales executive position by Dan Driedger, Sales Manager

Mention the value that you add to the company: Your subject line can also mention your skills and experience, as long as you do this in a condensed way

Example: Sales Manager with 7 years of experience

Harness keywords: You can also mention specific keywords related to the role that you are applying for:

Example: Dianne Werkesma — B2B Content Specialist
4. Follow a format
Just like any other formal correspondence, job inquiry emails follow a specific format to maximize the impact of the letter. Below, you can find the specific format to follow when drafting a job inquiry email:
Subject line
Salutation: Salutations are a typical part of any formal letter. Try your best to track down the actual name of the hiring manager, rather than using a generic greeting like "Dear Sir or Madam".
Introduction paragraph: In your first body paragraph, introduce yourself. Be concise, and explain your previous work experience, where you heard about the job openings, as well as mentioning anyone from your professional network who referred you to the position. You can also mention your interest in the company's progress and your passion to work for the company.
A brief explanation of skills and experience: Your second paragraph can be an opportunity for you to share about the skills and abilities that you bring to the table when applying for a position.
Closing statement: this is an opportunity for you to write a call to action for your hiring manager. Provide them with more detail of ways to reach you, and mention your availability to interview for this position or other job openings.
Complimentary close and professional email signature: The last section of any letter is a complimentary close and signature. This would include endings such as, "Thanks," "All the best," and "Sincerely, " followed by your name and any further contact information. You may choose to include your phone number, another business email, your LinkedIn profile, and a personal website.
Examples
Job inquiry email with a mutual connection
Sometimes, you have an 'in' with the company that you are applying for, someone who is a mutual connection between you and a hiring manager. Below, you'll find a job inquiry email which highlights a situation where you from referred to a position by someone else:
Subject: Referred to the Marketing Director Position by Sarah Keddy
Dear Kevin McAllister,
My previous boss, Sarah Keddy, mentioned the job opportunity at Vandoken Media corporation in the marketing department. Over the last four years, I've watched your company rise to become one of the leading media corporations within Michigan, and I particularly admire your passion for seeking to get to the bottom of all news stories.
I'm currently a marketing manager at Michigan Direct News, a monthly newspaper with a circulation of 20,000 people. I've grown a lot in this position, specifically learning how to build rapport with clients, effectively cold email potential customers, and persuasively share the real benefit of having news at your fingertips. But I'm interested in finding a new position that would allow me to develop new skills and grow in my career.
Attached to this email, you can find a resume and cover letter for the marketing manager's position. I would love to discuss how I can be an asset to your company, and I look forward to setting up an interview for this position.
Sincerely,
Dwayne Simpson
P:384-555-5675
What works well in this letter:
One thing that works really well in this email is that right up front, the writer of the email shares a mutual contact between the hiring manager and themselves right there in the subject line of the email. This can create immediate engagement for the recipient of the email, which can help you to get a quick response.
Also, the job applicant mentions their professional credentials, proving to the letter's recipient that they provide real value to their company.
Cold email job inquiry letter
Sending a job inquiry email can be difficult enough when you share a mutual connection with the hiring manager. However, it may seem downright scary to send a cold email, one where you're reaching out without someone referring you to the position. Let's look at an example of a cold email job inquiry letter:
Subject line: Dianne Werkesma — B2B Content Specialist
Hello Shannon Tuttle,
My name is Dianne Werkesma, and I am applying for the Lead Content Specialist position at Advance Content Marketing. I've been following your blog posts both on your company's website and your social media platforms, and I've learned a lot about how to harness search engine optimization principles to write high-ranking content for business-to-business websites.
I particularly specialize in writing engaging copy for Software as a Service (SaaS) companies. Over the past four years, I've honed my abilities in content marketing, and I pride myself on my ability to condense hard-to-understand computer jargon into blog posts and articles which average customers can understand. Besides content marketing, I have over a decade's experience as an IT technician and developer. You find a link to my portfolio here [website link].
I'd love to meet with you to discuss this position in more detail, so reach out to me through email. Thank you so much for taking the time out of your day to read my email inquiring about this position.
All the best,
Dianne Wekesma
What does this email do well?
One of the best things that this email does is provide a broad overview of the skills and abilities of the job applicant. She is a competent content writer, as well as an IT specialist. Both details show the hiring manager that this person is an ideal candidate.
Major Takeaways
There are a lot of good reasons to send a job inquiry email, like making your resume stick out among other job applications.
Job inquiry emails follow a specific format, including providing an appropriate salutation and ending with an email signature.
The best job inquiry letters provide a brief description of your skills and experience.
Inquiry emails can only get you so far when searching for job opportunities, and that's why you should reach out to a career counselor from Enhancv. From how to prepare for an informational interview to discerning how to narrow down your job search, a counselor can allow you to see all career opportunities available to you.
Make your move!
Your resume is an extension of yourself.
Make one that's truly you.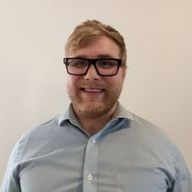 Dave Van Kooten
Is a human resource expert that helps passionate jobseekers to put their best foot forward to prepare for an interview. He believes that success can be achieved through going out of your comfort zone.