Quick Answer:
"To write an outstanding cover letter salutation, keep it formal yet polite. Start with ""Dear (name)"" if you know the name of the HR or hiring manager. Use ""Dear HR Team"" or ""Dear Hiring Manager"" if the recipient is unknown. Always personalize the salutation to establish a connection and avoid vague openings like ""To whom it may concern"" or ""Dear Sir/Madam."" Remember, personalization and a formal tone are key."
Have you ever been slightly annoyed when someone forgot your name at a party 2 minutes after you introduced yourself, even though you also sometimes forget the names of people whom you just met?
Guess what – recruiters feel the same when their name is under the job ad, yet they get another Cover letter starting with "To whom it may concern" or "Dear Sir/Madam".
In this article, you will learn how to craft impressive Cover letters, which land on "soft" ears, as you know how to address your reader the right way.
Here's what you will learn from our expert Career advisors:
What is a great Cover letter greeting
How to create a connection via personalization
Ways to find the HR name
How to avoid common pitfalls in your Cover letter salutation
What opening lines you should stay away from
After nailing that attention-grabbing greeting, you can always get more free Enhancv tips with these Cover letter examples.
You are just a few minutes away from the insider secrets on how to "enter" and shine on the application "stage" with the perfect Cover letter salutation! Ready to dive in?
How to write the best cover letter salutation for maximum impact
Upload & Check Your Resume
Drop your resume here or choose a file. PDF & DOCX only. Max 2MB file size.
You only get 7 seconds to make an outstanding first impression. As the Cover letter is in fact a sales document, the first impression is as crucial as in a meeting. The only difference is that in a Cover letter you can't rely on the power of your polished, presentable persona, charisma, voice, or non-verbal body language. The only tool you have at your disposal to achieve massive effect is the written words. So you better use it right.
"How can I do that?" - you'd ask. Not to worry, we've got your back, and it is actually easier than it looks. Driving lasting impressions and stirring up interest is going to be entirely in your hands with our blog, which is fully packed with valuable Career advice.
In reality, commanding others 'attention "from the first read" and sentence boils down to two factors:
Your Cover letter design
Your Cover letter salutation
These two elements determine for a millisecond the first and sometimes overall impression from your Cover letter.
Attractive design will play totally in your favor, as it is common knowledge that before delving in or reading diagonally any document, we scan it holistically from a bird's eye. Only afterward, our view "falls" on certain "gestalts' – visual details. The main rule here is to make your document pleasant to look at with the right mix of fonts, colors, and overall formatting.
Same with the design, with the introduction, there are several important guidelines one needs to have in mind.
Keep it formal
While you definitely want to come across as a friendly and likable person, when it comes to choosing the opening line, it wouldn't hurt to be aware that you are not chatting your friends with an offer to go to the movies.
Sticking to the formal, respectful tone that acknowledges the distance between you and your reader (HR and/or Hiring Manager) is your best bet here. Shortening the distance by interjecting informal salutations may actually do you a disservice and create the opposite effect to what you aim for.
Hence, steer clear away from any openings like:
Be polite in your cover letter greeting
Have you heard the expression "Cordiality goes a long way"? Some researchers state that although the salutation "Dear" is not too personal and is, in fact, just a formal expression; it typically makes recipients more open to the communication sender.
Whenever you are in doubt about the greeting of your Cover letter, always use "Dear (name)" – this is the golden standard of official business communication. You cannot get that wrong!
Speak like a human to another human
Now let's delve deeper into what can trip you off! Like anyone, HRs are human beings too with their personality and unique individuality. So, they highly value being communicated to like a human, not like being just another part of a depersonalized organization.
This is an important point for you to consider when you turn your Cover letter into a flawless masterpiece. Let's face it, no one really likes generic mails. So when you write your next great Cover letter, write it, with the crystal clear thought that it will be read by humans, not by machines.
Otherwise, you risk "sounding" disinterested, cold, withdrawn, or uninspired for the role in question. Plus, your candidature may be experienced by the receiver like lukewarm water, rather than like the hot stuff that it actually is.
On the contrary, when you address your Cover letter in a way that acknowledges the HRs on a more personal level, you win them at "Hello"! And the good news is that you can do that, no matter if you know the HRs name or not (and you cannot find it).
Let's cover those two scenarios, so you are prepared in all possible cases!
Cover letter salutation if you know the hiring manager's name
Know the name of the responsible recruiter for that job ad you've got your eye on?! Sweet! Lucky you! Then you have an ace, and you definitely have to use it!
Start your Cover letter with a formal, polite, yet personal greeting including the name of the HR or Hiring Manager.
A few things to keep in mind, though!
Make sure to do a preliminary check of the first and last name of the contact person!"!
If you proceed with a semi-formal greeting after your company research and you have identified that the organizational culture allows it (for example in a start-up), you can just address the person by their first name:
Dear Sali,
Dear Antoana,
Dear Ivan,
Those will do just fine!
Pay attention that the comma always comes after the name and not before it!)
However, if you go for the very formal communication style (for example for a Corporate or Governmental organization with a strict hierarchical structure), youd best use this format of salutation with the persons surname:
Dear Mr. Salomez,
Dear Mrs. Perruci,
When you use Mr., Mrs., and Ms. and the person has a first name from which you cannot identify their gender, do your proper Google research.
If that doesn't retrieve any clear results either, it may be a good idea to check if you can identify the person on the company's website or on their social network channels (like LinkedIn). In case that also proves fruitless, it might be worth considering using the semi-formal format:
NB! It is not a common practice, but some hiring managers and applicants may use Mx. as a gender-neutral title. So note such versions:
If the contact person is a woman and you are not sure of her marital status, you can use a marital-neutral title Ms.
Dear Ms. Petrova,
Go calmly with the title Mrs. only when you know for sure that the woman you are addressing is married:
Dear Mrs. Todorova,
Cover letter salutation for an unknown recipient
Your first resort should be to at least try to find out the name of the HR.
So what if you've searched in the ad on the job board, on the company website, and on their socials, but in vain?! Take heart! In that case, it is totally acceptable if you get in touch with the company – either by phone or email, express interest in the job role and kindly ask whom from the HR team you should address your application. And voilà! Then you just apply the above rules!
If that also doesn't work for whatever reason, there's a smart way out, but how you approach it – can make or break your Cover letter!
The best way is to address it to the whole HR department while avoiding generalizations like the plague.
Example of a good greeting:
Dear HR Team,
Dear Hiring Manager,
Dear HR Professional,
Addressing the team still sounds professional and on point, without putting you in the treacherous waters of writing blurry, uncertain, generic Cover letter greetings like:
Moreover, career experts believe that by using Dear HR Team, your Cover letter is much more likely to be forwarded faster to the right contact in the organization.
Why you should personalize your cover letter salutation
Why exactly does personalization in the job application matter so much?
In the times of rapidly developing personal and professional branding industries, generic is no longer a virtue. The more differentiated image a company or a job applicant has, the more he or she will be perceived as a rare find.
If aside from a strong personal and professional persona, the candidate demonstrates a profound ability to connect, well – that makes him or her already an over-the-top Acer.
Here exactly comes the meaning of using wise personalization in your Cover letter to establish a connection with the HRs in two aspects:
Personalization by revealing, without oversharing, some details and relevant hobbies you have, that represent you in a more social and friendly manner;
Personalization by respecting your recipient's identity and individuality via addressing them by their name.
On a side note, let us make a disclaimer here – the fact that you personalize your Cover letter and know the individual contact of the HR does not mean you should start spamming them with questions for the position on LinkedIn or via email.
Or else – you risk dimming the good impression you have already created by your eye-catcher Cover letter.
The absolute no-nos of cover letter salutations
Now that you have aced the game of writing a great connector Cover letter, let's take a look at a shortlist of a NO-NO Salutation of Cover letters that are dead-end for your application:
To whom it may concern
Dear Sir or Madam
Dears
Cover letter salutation - takeaways
In this article, you learned that you need to:
Harness both the power of Design and professional Salutation to attract the HR to read further;
Keep a formal, polite, yet friendly tone that lets your personality shine, without over sharing;
Write genuinely for humans;
Always address the HR by their name, if it is mentioned in the job ad;
Try to find the right contact person, if you tonight know it;
Use "Dear (first name)" or "Dear (Mr., Mrs., Ms., Mx. surname)" - when in doubt about what tone you should keep;
Use marital-neutral title Ms., if the HR is a woman and you are not sure if she is married or not; otherwise, you can go with Mrs.;
Consider the gender-neutral title (Dear) Mx., in case you are not sure of the recipient's gender;
Avoid at all costs the vague and impersonal "To whom it may concern" or "Dear Sir or Madam".
Did we get you turned on for crafting your very own stunning Cover letter?! Then check how you can do that with ease and class in our Cover letter help section!
Also keep an eye on our blog, as we regularly upload new articles to empower you to manage your career like a PRO.

Make your move!
Your resume is an extension of yourself.
Make one that's truly you.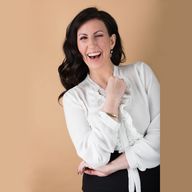 Liliya Foteva
Work Psychologist and Grant writer with 10 yrs experience in the Corporate & Social domain. Communication is my middle name! I love to travel, read (usually a la playa :) ) and chill with friends!