How effective is your resume headline and title?
They're both key components that make up your resume header. And more than half of recruiters look for your name and title when screening your resume. It's important you choose the most appropriate title to introduce yourself, describe your value proposition, and ensure recruiters can see you take on the role with ease.
Now here's the question that's probably on your mind: how do you write a resume headline to stand out and get noticed?
In this guide, we are going to explore the most important questions, including:
What is a resume headline?
How to write your resume headline.
How to use your resume headline to your advantage.
Stay tuned because there are also 5 examples you can steal that is going to get you one step closer to getting an interview.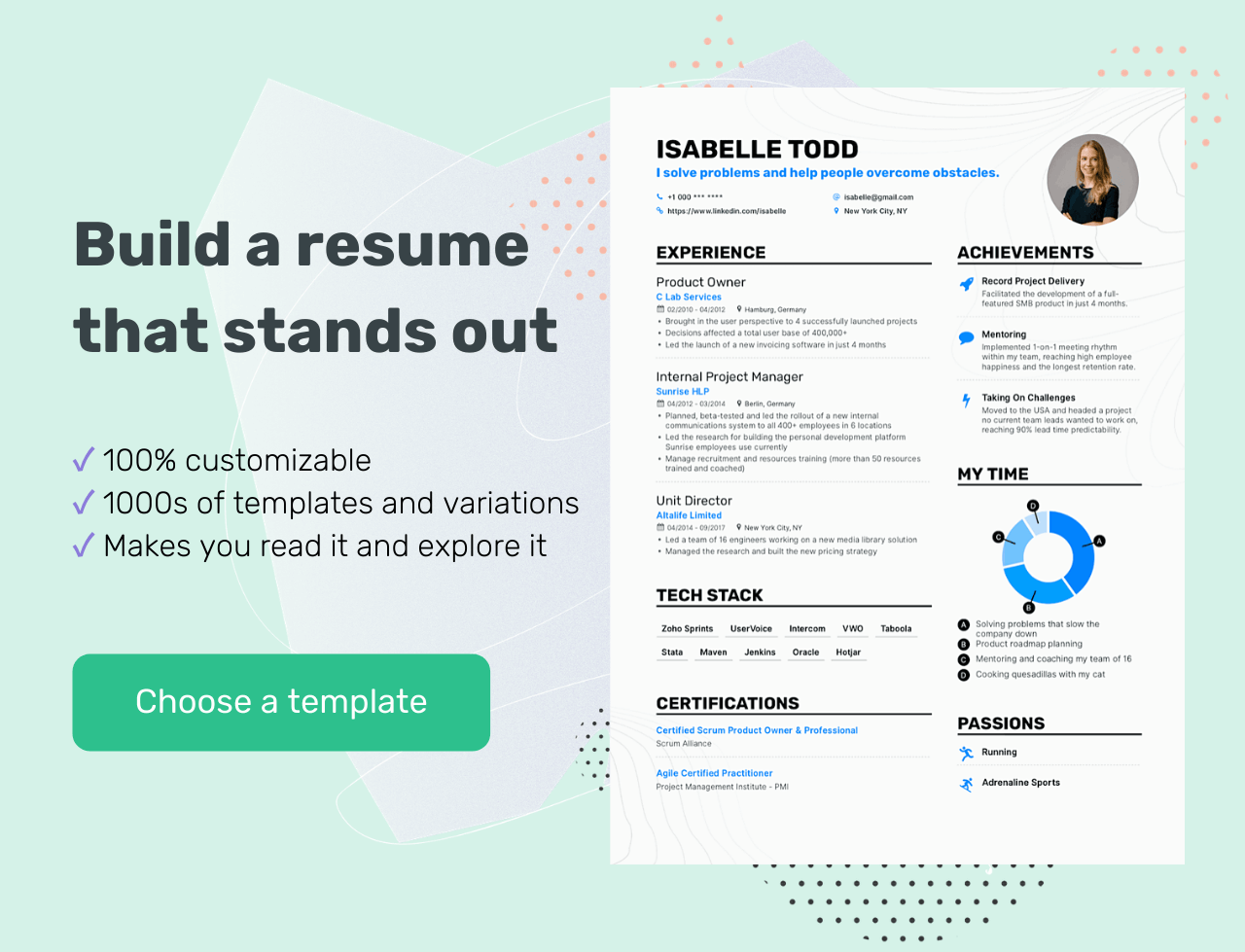 What Is A Resume Headline?
A resume headline is a short description of who you are as a candidate, and it has the goal to catch the hiring manager's attention. Typically, it's positioned on top of your resume, just below your name, and above your resume summary.
For those of you who are experienced applicants, your resume headline gives you the opportunity to summarize your achievements and experience in a quick one-liner. But for less experienced candidates, it allows you to give insight into who you are and the impact you intend to deliver.
All it takes is a dedicated 6 seconds to review your resume and determine whether you should be hired or not.
The effectiveness of your resume headline could be the difference between being looked over, or just falling short for the interview phase.
What's the difference between a resume title and a resume headline?
Simply put, a resume title shows the professional title that you're applying for.
On the other hand, your resume headline expands on the title by eloquently giving the hiring manager a glimpse into your professional experience. You can use keywords to ensure you go through the ATS system as well.
Example of a resume title:
Jack Reacher
Data Analyst
Tel: 202-555-0170 LinkedIn: linkedin.com/in/jack Email:jack.reacher@email.com
Example of a resume headline:
Jack Reacher
An experienced data analyst who increased sales by 53% in 3 years.
Tel: 202-555-0170 LinkedIn: linkedin.com/in/jack Email:jack.reacher@email.com
What's the difference between a resume headline and a resume summary?
You already know what a resume headline is – a concise description of who you are as a candidate.
You might think that this is the same as the resume summary, but there are some key differences.
Your resume headline expands on the job title you have decided to put on your resume and uses keywords to show your best features in it, while your resume summary focuses on your overall experience and skill set.
How do I write a resume headline?
In essence, it means you should always consider what you're hoping to accomplish with your resume headline.
The purpose of it isn't to tell the recruiter everything you've done in your career. And it's not even to go in-depth about your experiences, that's what your resume sections are used for. Not the header.
You also shouldn't be giving instructions for how the recruiter can contact or find you. The resume header and address already does that – so what's left?
Catching and focusing the recruiter's attention. See below.
Make it short and attention-grabbing
Your resume headline should read exactly like a news headline – short and snappy.
It must be good enough to grab the reader's interest. And it needs to give enough information to make you want to continue reading to the end. Here's an example, a resume headline that reads:
"Software engineer who has been working in the field for 10 years. Experienced working with large companies including Microsoft and Google. Goal-orientated and looking for full-time work".
The example above simply doesn't make the cut. It doesn't have a striking impression to engage the recruiter. It's better if it used fewer sentences that are more impactful, like so:
"Decade-long software engineer with experience in disruptive technology".
Sometimes, less is more.
What matters is having clarity (even if it's short) that packs a punch. Don't be afraid to inject personality and be creative with it! It's better than having something that's boring, long, and descriptive which takes double the effort to read.
In Louis' marketing resume, he did just that. Now, he's working with Hotjar – Louis advises that it was important to describe his approach to marketing. It's simple and short, but it tells you specifically what you should expect.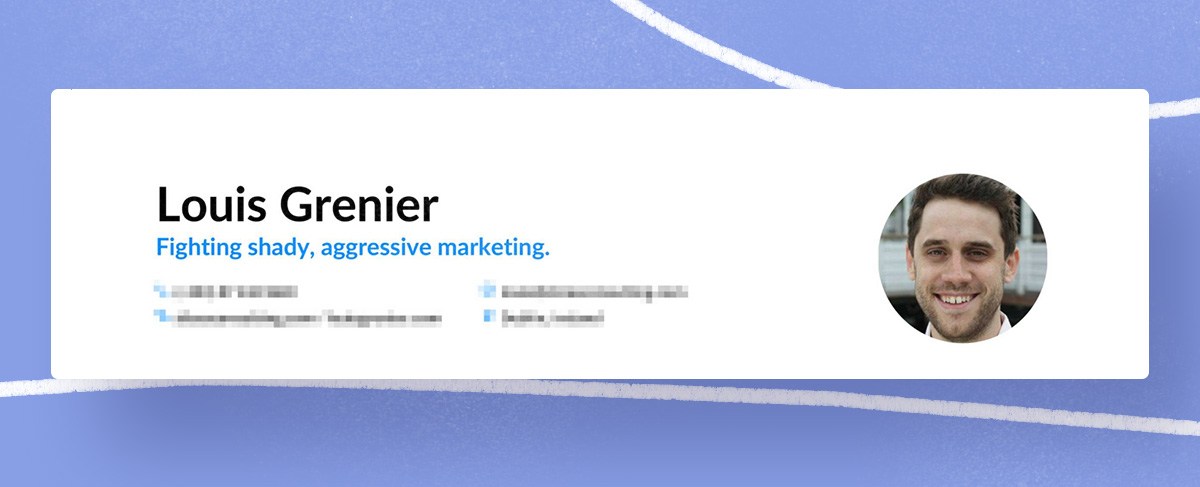 Louis Grenier
Fighting shady, aggressive marketing.
Tailor it to the job position you are applying for
Background research is absolutely essential. It always makes the difference between being a prime, or a beta candidate who has quickly thrown their resume together at the last second.
Take the time to analyze the job listing. Understand precisely what the company is looking for.
In the data scientist resume right here, Pavel noted Booking.com wanted applicants with extensive knowledge of data analysis. Look how he implemented this in his resume headline when he made his application and take notes.
Use appropriate keywords and phrases
As you might be aware, large organizations that receive a large influx of job applications use an ATS (Applicant Tracking System) to scan your resume. What it looks for in particular are keywords and phrases that meet the expectations that the job recruiters are looking for.
This is another reason why it's so important to fully understand the job board description.
Just to reiterate, do make sure you commit to spending 5 minutes doing the basic research. So you can accurately tailor and correspond your resume to the job vacancy.
Prove your abilities using metrics
Do you have any tangible proof of your ability?
You can bet that it's something the recruiters are going to be looking for. One way to do this is to provide a statistic or form of measurement alongside your achievements.
For example:
"Increased sales by 20% in Q1".
"Customer support representative with a 90% retention rate".
While this is typically seen in your previous experiences section, it doesn't necessarily mean you can't include metrics in your resume headline. In fact, this actually aids your resume headline in being short, tidy, and tailored to the job position.
(Tip: When creating your resume with Enhancv, try using our content analyzer to check for areas where you might have forgotten to include a metric with your achievements!)
Stay away from clichés
You're goal-orientated, you strive for success, and you're dedicated. But seriously, aren't we all?
Common phrases like this will do nothing but distance the recruiter's attention from your resume as if it had caught the flu…
When you're putting your resume together, think about all the others who've probably used the exact same phrase you have. If you think it's something that's overused and rinsed out, try something new.
Be like André. In his growth marketing resume, he described himself as a growth marketing aficionado who used to analyze data in banks.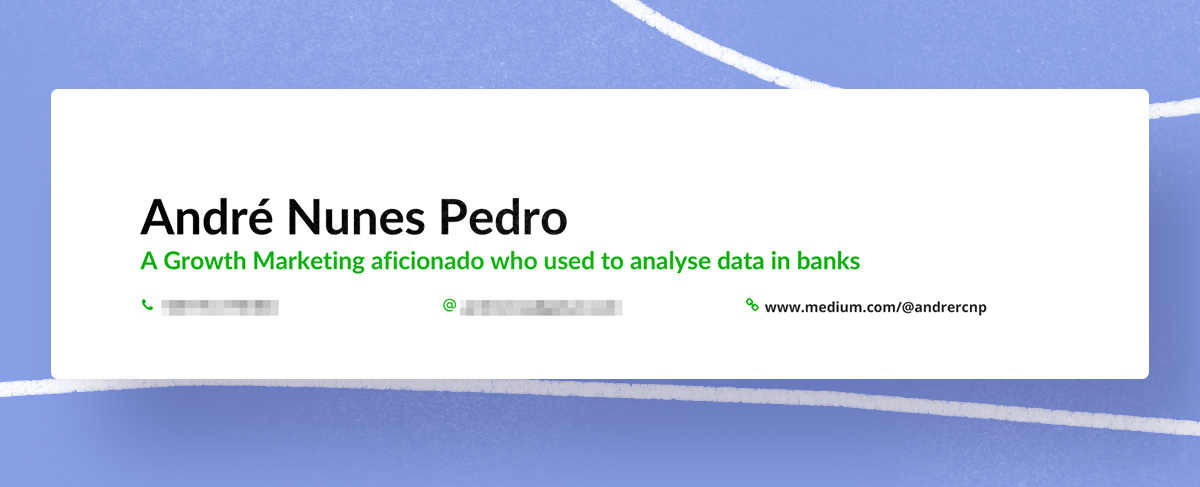 André Nunes Pedro
A growth marketing aficionado who used to analyze data in banks.
Not only does it set him apart from all the others, making him unique, but it intrigues us with his unusual career path. It even tells you exactly who he is, and you would assume at first glance he was successful. Especially because he later went on to get hired at Microsoft.
Tailor your resume for every position you apply for
Creating your resume can feel like a long, lengthy process. This often lends itself to using the same resume for as many positions as possible once we've created one. But as we've learned from Robert Coombs' story, quantity does not always equal results.
Make sure you're taking the time to write a resume headline specific to each job you apply for. It goes a long way with showing the recruiter you're serious, and that you mean business.
(Tip: Using Enhancv's resume builder, you can easily create copies of your resume and save versions that are specific to certain areas and jobs.)
Keep it mistake-free
If your resume headline is any longer than a sentence, you're doing it wrong.
And if you have any mistakes in it, the recruiter will notice straight away. It's a given for what comes next…
Seeing that it's the first part of your resume that the recruiter reads, a resume headline with typos instantly ruins your credibility. Not to mention, you're going to make your way into the reject pile and lose your chance of getting called for an interview.
So, do make sure you conduct a resume review. It's worth it to even have a colleague read over your resume just before you press send and submit your application.
Or if you're unable to get someone to read over your resume, check out our guide for resume spelling and proofreading strategies to avoid grammar mistakes at all costs.
(Tip: You can easily have a colleague review your resume with Enhancv's built-in referral link. This allows you to send a link to friends who can later add comments on sections that need improvement.)
Examples of Resume Headlines from People Who Got Hired
IT Sales Resume Hedline That Got Adam Hired at Software AG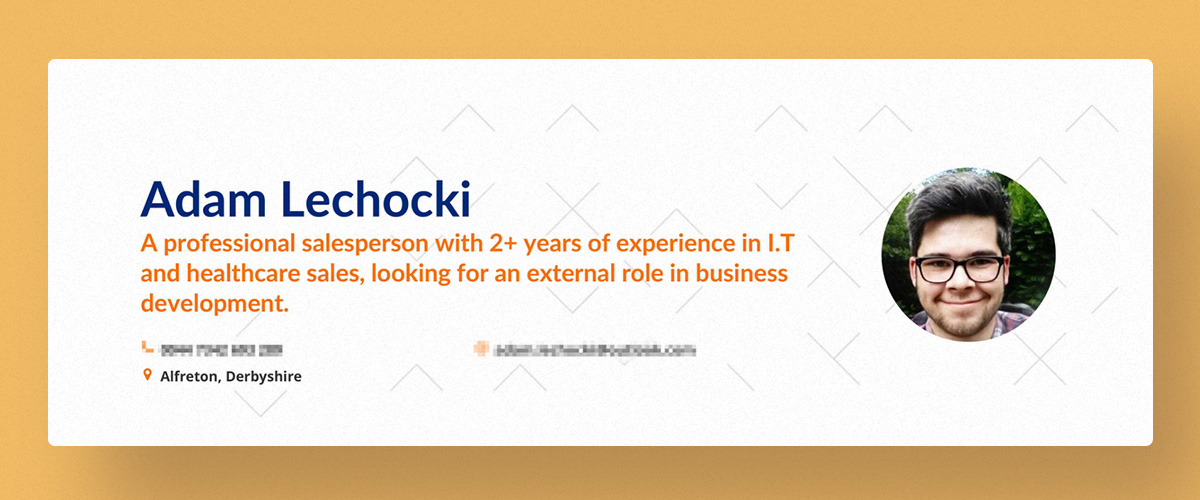 Adam Lechocki
A professional salesperson with 2+ years of experience in IT and healthcare sales, looking for an external role in business development.
Check out how Adam started off his resume with this header. It's very simple and gets the job done. The job recruiter, or for anyone in general who's reading this would know from the get-go that he's an expert in I.T and healthcare (seeing that he has 2+ years of experience) and it's easy to identify what he's looking for.
Product Manager Resume Headline That Got Ramsey Hired at American Express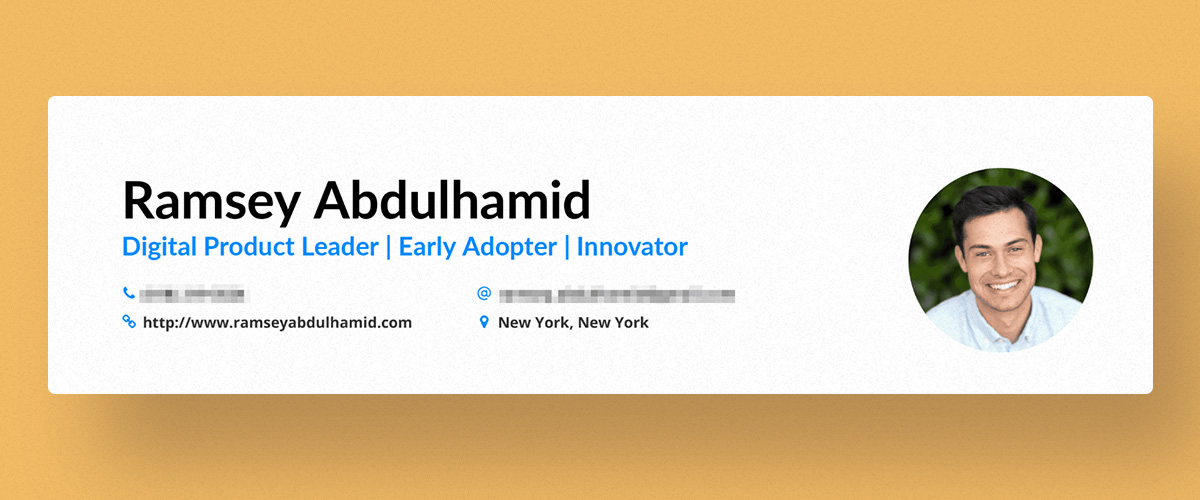 Ramsi Abdulhamid
Digital Product Leader | Early Adopter | Innovator
Here's another exceptional example to learn from. For job recruiters and for when the ATS scan the different resumes, it's easy to see that Ramsey fits the criteria for product manager because of the precise use of keywords they're exactly looking for. Although he might not have 2+ years of experience to showcase, it doesn't have much description but it says a lot of positive things about him. It's fair to assume he's an expert in the field since the titles are precise keywords the job position is demanding.
Network Engineer Resume Header That Got Marcellus Hired at Verizon DMS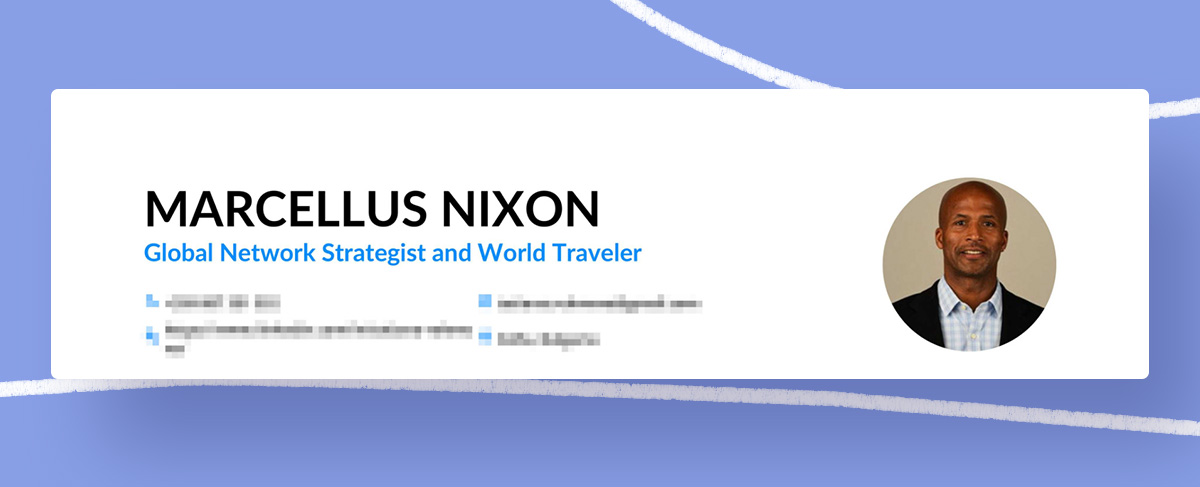 Marcellus Nixon
Global Network Strategist and World Traveler
Marcellus takes a very straightforward approach in this example. It's easy for the job recruiter at Verizon to know what he's capable of, and it draws our eyes in to want to continue reading since it draws curiosity about what he's accomplished and capable of.
Marketing Resume Headline That Got Eric Hired at Sidewagon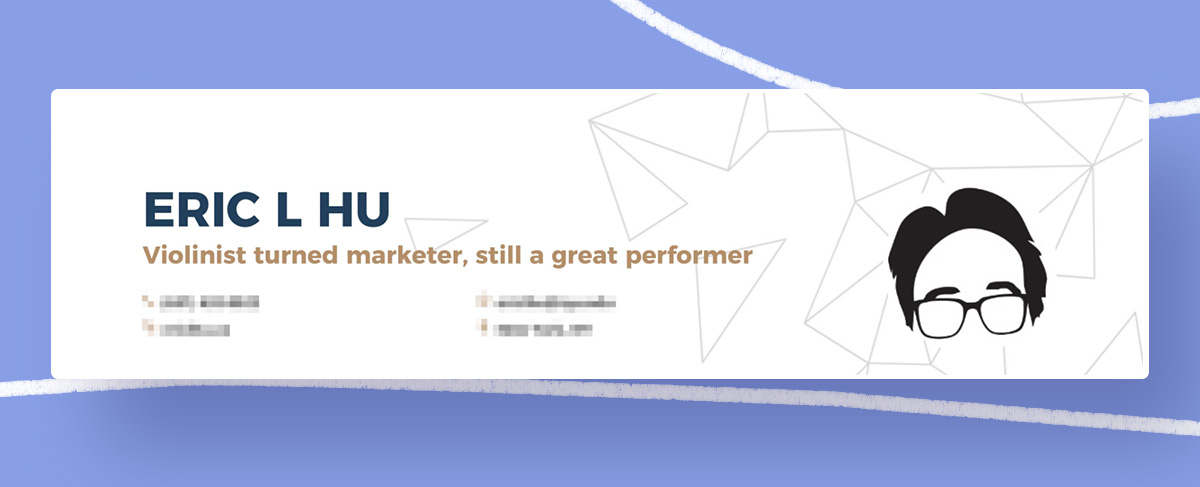 Eric L Hu
Violinist turned marketer, still a great performer
Eric makes a great impression on the job recruiters at Sidewagon. He doesn't only just stand out in front of all the other marketers who are applying for the same job position, but he makes us interested to learn more about his background. The pun and word-play especially make this makes his resume headline unique compared to all the others. So, don't be afraid to show off anything you've done in the past you're proud of. Just don't throw in any of the clichés we've discussed.
Program Manager Resume Header That Got Tobias Hired at Deepmind

Tobias Horstmann
Entrepreneurial minded, passionate for tech, driven by intellectual curiosity
The fifth example from Tobias is an extraordinary example of letting job recruiters know a bit about your character and intentions. We can see he's business-minded and has a passion for technology. Not only is he showing that he's an ideal fit to take on the role of the program manager, but we can sense that he's a strongly motivated person. This is one great way to make up for any lack of experience by conveying how you're willing to learn, adapt, and to go above and beyond.
Using Your Resume Headline To Your Advantage
Your resume headline should be concise. Capitalize on metrics where possible, be specific to the job description, and it should hook the recruiter in on your resume in the short time they take to read it.
Not only does your resume headline help with cutting down content to hone in on the most important skills for the job position you're applying for, but it's going to get you one step closer to the interview.
From what we can see above, it's one part of the puzzle and answer to landing your dream job.
Takeaways
We are all done.
Now you know how to write your resume headline in the best possible way.
Once again, what you need to do to make it right is:
Keep it short and to the point, that's the way to grab the hiring manager's attention
Tailor it to the job position you are applying for, so that you can show the hiring manager you really care about the position
Use appropriate keywords, you can always scan the job listing for those
Use metrics to show off your abilities and provide proof for them, as the hiring manager would be looking for that
Stay away from clichés, you need to make your resume headline more impactful than that
Tailor your resume for each job position you apply for, otherwise, the hiring manager might be in doubt if you are really interested
Last, but not least, make sure your resume is mistake-free before you click the send button
If you're using a resume template that has everything outlined for you, it's easy to transform it into something extraordinary.
It might be overwhelming, but we can help you. Try signing up for free with Enhancv. It's trusted by professionals and gotten people hired at large organizations such as Spotify, Tesla, and Verizon.
Is there anything else we've missed you want us to cover? Let us know in the comments below!
Make your move!
Your resume is an extension of yourself.
Make one that's truly you.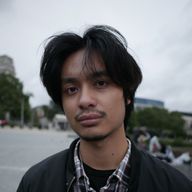 Astley Cervania
Astley is a UK-based copywriter & content strategist. Often curious and observant, he specializes in helping B2B and SaaS companies scale their content marketing through his writing and SEO skills.