How to Start a Resume (5+ Examples of Resume Introductions)


If you've ever had to write a resume, you've probably had that moment where you're sitting there, staring at a blank page, wondering where to start.
I've been there.
There are so many sections that go on a resume; how are you supposed to know which one to start with?
Well, to make things even more complicated, which section you choose depends on a few factors.
Don't worry, though! I'm here to help you figure out how to start a resume so you land that dream job!
In this post, you'll learn:
Everything you need to know about starting a resume;
Which is the right resume format for you;
Which section you should put first.
And, if you're still unsure and want to know how other professionals have dealt with this issue, take a look at the many resume examples Enhancv offers!
Now then, let's move on to step one.
Start by analyzing the original job description
Before you even think about starting your resume, go over the job description again. Better yet, keep it open while you're working on it. Trust me – it will help.
Take a look at this post on targeted resumes to find out more about how to tailor yours to a specific position.
The job posting is a great guide to what the company is looking for. That, combined with your experience, will determine how you should start your resume and whether you need an objective or a summary section.
Note down all the important keywords. These will help you pass the ATS (Applicant Tracking System), as well as catch the eye of the recruiter that's just going to scan through quickly.
The job description will give you a good idea of what you should include in other sections, as well. For example, if there's any relevant coursework you need when talking about your education.
No matter what section you choose to start with, it should express why you want to work in that specific company and how they can benefit from bringing you on board.
Prepare your resume outline
Having a resume outline is extremely useful when preparing your document.
By outlining your resume, you can make sure you don't forget any crucial sections and list what you're going to include before you start crafting your resume.
It makes the process itself easier, as you have a visual guide to follow when writing. You can also visualize the way you're going to structure your resume.
Preparing an outline is easy as pie when using a resume builder, so check out what Enhancv can offer you!
When creating your outline, focus on what's relevant. Different sections vary in importance for different positions, so determine what's important for yours.
Check out this dedicated blog post to find out all you need to know about resume outlines.
Choose your resume format
Like with resume sections and introductions, which format you choose will depend on your experience and the job requirements. So, let's take a look at your options.
Reverse-chronological resume
This is by far the most common resume format. With reverse-chronological resumes, you put your experience section in the spotlight. Then, you can move on to your skills, followed by any other relevant sections.
When listing your previous positions, you start with your current or most recent job and move backward for the others.
If you're an experienced professional with a rich employment history, this is the best format to put the focus on it.
Functional resume
Functional resumes – where you put your skills and qualifications before your experience – are less common and not as widely accepted. However, they do have their purpose.
This resume format is a good choice if:
You've recently graduated and don't have a lot of professional experience;
You're considering a major change in your career path;
You've been unemployed for a long time;
You have transferable skills from your previous positions that can be applied to your desired job;
You're applying for a position that requires specific skills.
With functional resumes, you're drawing attention to your skills and qualifications and not your work history.
If you choose this format, it's vital that you use keywords from the job posting to show that your skills are relevant and match the company's needs.
Hybrid resume
This format, also called a combination resume, takes the best of both worlds. It combines crucial elements from chronological and functional formats and highlights both your work history and your skillset. Usually, this format begins with a resume summary.
Hybrid resumes are perfect for you if:
You're a high-level professional;
You're a recent graduate, but you have some relevant work experience;
You're considering a career switch;
There are gaps in your work history.
If you want to focus on your skills and qualifications and prove the value of what you have to offer, then a combination resume can work in your favor.
This format won't put as much emphasis on any career gaps, letting you wow the recruiters with your skills, instead.
Choose a section to start your resume with (with examples)
Now that you've chosen the right resume format, it's time to move on to the next part – picking the right section.
Here, I'll talk about the different resume sections you can choose when starting a resume, when you should opt for each one, and how to write them.
Header / Contact Data
It probably goes without saying, but you need to have a header before you put anything on your resume. This is a must-have section that introduces you and gives the recruiters your contact information.
When creating a resume header, there are a few things you need to remember to add:
Your name;
Your contact details (phone number, email, etc.);
Any relevant and valuable links.
It will help if you make your name the largest text in your header. After all, the recruiter needs to be able to find it quickly – don't make their job difficult.
To make your header even more impactful, you can add a headline or job title. Not many people do, which is a shame if you ask me. You've only got 6 seconds to make an impression; why not use them to the max?
Your headline should describe your work while still matching the position you're applying for. Perfecting a resume headline is a fine art, but it pays off.
When it comes to your phone number, use one that you can answer whenever. They need to be able to reach you, after all. You can include your country code if you're applying to positions in different areas to make things easier for the recruiters.
And, for goodness' sake, don't use your work number!
Make sure you use a proper email that's simple, not offensive or obnoxious, and definitely not your work email.
While, for the most part, you don't need to include your full address anymore, adding your general location is a plus.
And as for links, if relevant, you can add your website, a link to your portfolio, or your LinkedIn profile.
Resume Headline
We already mentioned the resume headline – let's go into a bit more detail.
This is one sentence within the header, usually following your name. It helps make your resume more impactful and shows personality (when done right).
A headline shows your value, experience, and achievements, and gives the recruiters a glimpse into who you are.
Want to know how to perfect your resume headline? Find out more about it in our dedicated post!
But enough about the header section. Let's move on to the content – namely, what kinds of resume introduction you can choose from.
Resume Summary
This section is widespread in resumes, but it has its downsides when people don't use it smartly enough – instead of showing you in your best light, it can seem bland and repetitive.
But what is a resume summary exactly?
Basically, it's a section that introduces your experience and work background to the recruiters. Its goal is to highlight your employment history and expertise, as well as show what the company can gain from bringing you on.
Your summary should be about 3-5 sentences long, so naturally, you should focus on the most relevant and important experience, skills, etc.
Take a look at this content marketing summary example:
"A content marketing expert with more than 5 years working experience in developing compelling content that easily sells across multiple media platforms, as seen in Huffington Post, Forbes, NY Times, and etc. Accustomed to creating different types of content such as infographics, webinars, videos, and articles."
It has the specifics, the personality, and the social proof. What more could you need?
A resume summary is a good choice if you're applying for a field you're experienced in, as you're showcasing your related positions and qualifications.
Resume Objective
If you're switching careers, are a fresh graduate with limited experience, or are applying for entry-level jobs, then a resume objective might be the better choice.
This type of introduction focuses on what you plan to accomplish rather than what you've already done. You can talk about your skills, goals, and objectives instead of your work history.
This shows the hiring managers how you're going to benefit the company should they choose to hire you. It shows your value.
An objective will instantly show the recruiters why you've chosen to apply for their job opening, too, which is a bonus.
When writing a resume objective, you need to state your professional goals in a way that lines up with the needs of the company.
Take a look at this sales manager resume objective:
"Advertising professional who sold $150K in SaaS products using an innovative launch campaign and strong leadership skills. Seeking a sales manager position where I can further apply my skills in motivating and training a team, while increasing the company's bottom line."
This person chose to move from an advertising position and go into sales management, so they clearly stated their transferable skills and goal.
If you choose to start with this section, aim for 3 sentences.
Experience
While resume summaries and objectives can be quite helpful when done right, they're not always mandatory.
So, starting a resume with another relevant section after the header is perfectly fine. One such option is your work experience.
If you decide to put your experience section first, you should work in the reverse-chronological format I mentioned earlier. That means listing your positions, starting with your most recent one, and moving backwards.
When writing your work experience section, you'll need to do the following things:
List your relevant positions. Keep in mind what the recruiters are looking for – try to avoid any past jobs that are entirely unrelated to the one you're applying for, unless there are any transferable skills.
Include essential details – namely, the company's name, the location, and your dates of employment.
Write a short description of your duties and achievements. This is best done in a bullet list format, so it's easily readable. Again, list only the most relevant pieces of information (focusing on achievements instead of just duties), matching the company's needs.
Use keywords that match the job description. This will help you pass the ATS and catch the eye of the recruiter that's just scanning over your resume.
Check out how this professional added their work experience on their digital marketing resume: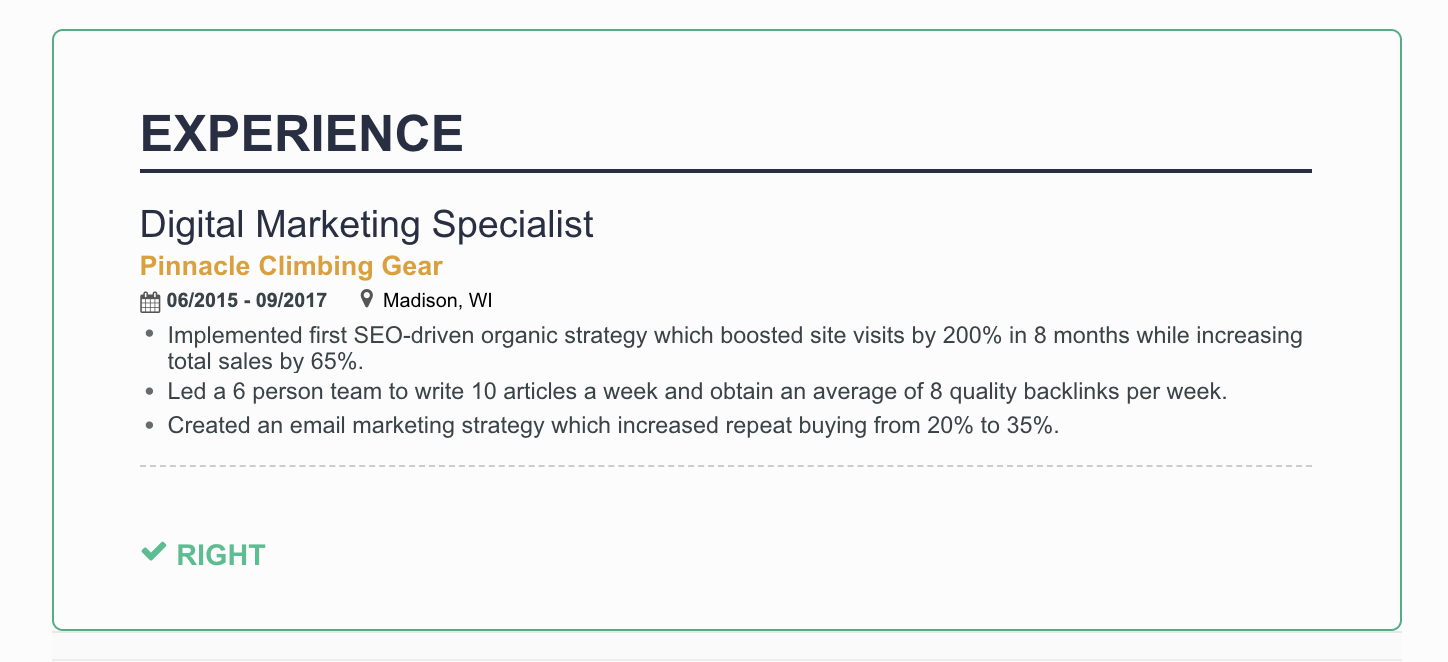 They have included their most relevant achievements, showing a hiring manager what they can expect from this candidate should they take them on board.
Not only that, but they've included the data to back up the achievements, making them that much more impressive.
To get a more in-depth guide on how to cover work experience on your resume, check out this helpful blog post next.
Education
If you're applying for an internship or an entry-level position and are wondering how to start a resume, putting your education first can be a good choice.
Just as with the work experience section, you don't need to list your whole education history unless your middle school experiences are super relevant to the job. Also, list your education in reverse-chronological order.
To make the most of a resume education section, include bullets detailing any relevant experience, courses, projects, etc., and what you achieved during your studies.
Like this Embedded Engineering Fresher: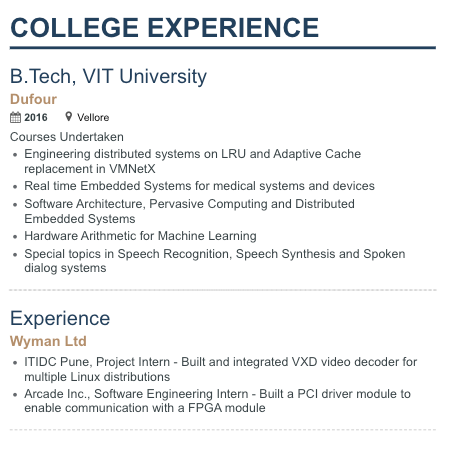 After their summary, they chose to start with their academic experience, including details about what they've worked on and what their studies focused on.
Remember that your grades can be easily checked, so if you wish yours were a bit higher, lying about them is a terrible idea. Just be truthful, and if your GPA is on the lower side, not including it might be best.
Even if you haven't completed your degree yet, you can still include it – just add the expected graduation date.
Conclusion
And there you have it! Hopefully, you now have all the information you need to choose how to start your resume.
Let's go over what we've learned:
Always start by analyzing the job description.
Preparing a resume outline will help you stay focused and make sure you don't forget any important sections.
You can generally choose between a reverse-chronological, functional, or hybrid resume format, each suitable for different occasions.
Your resume should always start with a header, including your name, contact information, and a catchy headline.
You can choose between a resume summary or objective for your introduction, though they're not always mandatory.
Starting a resume with a work experience or education section is just fine, depending on your circumstances.
***
Now that you're well on your way to crafting the perfect resume, do you have any other questions? Or perhaps you have some nifty tips of your own? Share them in the comments below!