You're ready and excited to enter a new field, and you've just found a listing for an internship.
After making an amazing internship resume and applying, you got a spot to interview for the internship, and now you need to prepare for the interview.
Don't worry one bit! We'll help you as you start your own research by providing helpful tips, so you can succeed in your interview.
In this article, we'll discuss:
What is an internship?
7 of the most common internship interview questions.
Practical answers to each interview question.
If you're just entering a new career field, it helps to talk to a career expert to help you discover the right answers to ace your next interview. Enhancv has a wonderful career counseling service that pairs you with a career counselor, who will help you define your career goals, discuss your skills, and wow any hiring manager.
What is an internship?
Upload & Check Your Resume
Drop your resume here or choose a file. PDF & DOCX only. Max 2MB file size.
Internships offer hands-on experience to students or trainees just entering the work environment.
Some employers pay interns, while others offer compensation in school credit. Most internships offer flexible hours and provide an intern with an ability to network with professionals in their field, like managers, clients, and coworkers.
An internship also gives you a leg up in your career path. According to a 2015 survey conducted by the National Association of Colleges and Employers (NACE), 53% of interns received job offers either through the company that they worked for or from their clients. In addition, 90% of those in the survey were currently working in the same field as their internship.
An internship provides a real-world setting for you to gain experience and establish a network, and that's why we want to set you up for success as you begin the interview process.
7 Common internship interview questions
1. What are your career goals and how can this internship help you reach them?
Here's an opportunity for you to share your career trajectory, and where you'd hope to see your career go. Answer honestly, even if you don't have a clear picture of where you see your career going.
If you're getting stumped or can't seem to see yourself in this field long-term, focus on how the internship experience can help you if you continued on in this career.
Remember, an interview is a two-way street, and not only is your hiring manager assessing whether you'll be a good fit for the company, but you can decide whether you see yourself working at the company long term.
Example answer: In the next five years, my goal is to receive a master's degree, like an MBA, but right now I need practical experience in business development and sales. I am a "hands-on" kind of learner, and my goal is to do my best in this role, hoping to earn a full-time job. I've always admired the brand vision of your company, specifically how clear it is—you want to make the world a better place by creating computers with greater computing power. I can see myself fitting into your company culture because I strive for excellence in everything that I do.
If you're interested in learning more about how to format a cover letter for an internship, check out the article on the topic of writing a cover letter for an internship.
2. Do you work better alone or with a team?
Every person is wired differently, and some of us are more outgoing, preferring to work in a collaborative environment. Still, others work well on independent projects. You may also be the type of person who doesn't have a preference, and you can work both individually and with other people in teams.
Example answer: Teamwork makes me feel like I'm connected to people, and I feel that the best projects that I have completed have been a product of collaboration. I've found that I can be more creative when I'm given the opportunity to brainstorm on a group project.
3. Tell me about a time you had to learn something new quickly
During your internship, you may be required to learn new things on the fly, so hiring managers want to know if you can quickly pick up new concepts and systems.
This is a behavioral question, one that seeks to identify how you'll react in a certain situation. Like other behavioral questions, using the STAR method can help you answer these types of questions. The STAR method stands for Situation, Task, Action, Result, and it's a helpful way to point to specific experiences where you faced a problem, found solutions, and saw it through to completion.
Example Answer: While in university, I was given the task of fixing problematic code in the library's online information retrieval system (Situation). I had never touched a networkwide digital information system before, and after some research, I was able to pinpoint the specific broken code (Task), and went about patching up the issues (Action). Overall, it was a great experience to learn more about digital information systems, and I was able to fix all of the issues (Result).
4. Tell me about your greatest accomplishment.
Here, you can showcase your greatest achievement, which can be something that differentiates you from other applicants.
Don't stress too much that your greatest achievement doesn't reach your hiring manager's expectations for potential interns because there are many experiences from your life that you can give as an example of your biggest accomplishment.
If you don't have a ton of work experience, you can point to other achievements in your life. Whether your greatest accomplishment comes from experiences in entry-level jobs, academic achievement, or through extra-curricular activities like sports, every person has something that they can point to as their greatest accomplishment.
Try to talk more naturally about topics that you find interesting. Believe me, interviewers can spot when someone is passionate about what they've achieved.
Example Answer: I actually won a coding competition in university, which made me really serious about the IT field. I found I had a natural talent for coding, and I entered a club at my university which taught computer programming.
I eventually represented my school in a tri-state championship, which I came in first place. That is my greatest achievement, and it really set me on the career path that led me to interviewing for this computer programmer internship.
5. What are your strengths and weaknesses?
Although this may feel like your interviewer is trying to trip you up, it's actually a great question for them to assess your communication skills and ability to cope in stressful situations.
The question itself isn't too difficult to answer when you assess the skills that you have and how those skills make you a great fit for the position that you're applying to. Your skills set you apart from other job applicants, and that's why it's important to prepare an answer ahead of time.
One of the best ways to share your strengths is to look at your soft skills, skills that you've developed to work with people, and hard skills, any technical skills that you've picked up either through experience, education, or training. Soft skills are important to have, as they're usually developed through working within a team environment.
Alternatively, when asked to share your weaknesses, point to things that you are working on to get better at. If communication skills are an issue for you, and you don't enjoy speaking in a public setting, you can share that it is a weakness of yours, but be sure to mention that you will step out of your comfort zone and grow in this capacity.
Example answer: My greatest strength is my people skills, as I thrive in situations where I can share or be in a group. While in university, I thoroughly enjoyed group projects and leading groups. I feel fulfilled when I am leading and presenting pertinent information, but I also enjoy meeting one-on-one with other team members. This translates well to this internship position because I have exceptional interpersonal skills, which allows me to easily build rapport with customers.
My greatest weakness would be my organizational skills. In high school, I always had a hard time keeping track of all of my projects. But I have made great strides to turn this weakness into a strength. In university, I prided myself on handing in projects on time. Now, I even use apps on my phone and computer to help organize my life, paying attention to the most important projects.
6. What attracted you to this company?
Here's an opportunity for you to share specifically why you're excited to intern at this company.
Before answering this question, do a bit of research into the company, looking at the job description for the internship program. Also, look at these other sources for information to gain more of an understanding of what makes this company unique:
The company's website
The company's social media platforms
The chief executive's social media platforms
Friends or family members who worked at the company
By doing a little research, you can show your interviewer that you have taken the time to learn more about the company's vision and values.
Example answer: Your reputation for excellence as one of the best architects in California is unrivaled and there have never been projects that impressed me like your sky green buildings — and they opened my eyes to all kinds of cost-efficient, energy-efficient solutions. Your focus on renewable and alternative materials also matches the goal for my future of focusing on eco-friendly designs.
7. Tell us about a time when you had to lead.
Your experiences in a leadership role may provide you with a way to differentiate yourself from other applicants.
If you're struggling to find examples from your previous professional experience, include any time you've been in a leadership position. Include times when you've led school projects, or that time you were the captain of an extra-curricular program, or even when you've arranged trips for friends and family members.
Example answer: In university, I was the captain of my debate team, and this meant that I played a significant role in organizing debate competitions with other clubs. I also learned how to coach other team members, and this gave me a passion for professional development.
Food for thought:
You've looked at some of the most common internship interview questions, but try to come ready with one or two of your own questions. Here's what we discussed in this article:
Use the STAR technique to answer situational questions.
Draw on your hard skills and soft skills when you are asked what your greatest strength is. If you need some extra inspiration for your skills, check out our resume skills page.
Diligently research the company before your interview to gain an understanding of the company's vision, mission, and culture.
If you're looking for more advice, Enhancv's career counseling team is always ready to help you feel confident in an internship interviewer. Career counselors provide mock interviews for you, allowing you to answer questions and get comfortable even before you're sitting across from an interviewer.
Meta description: Discover the most common internship interview questions and gain an understanding of how to answer these questions, pointing to your skills and experiences.
Make your move!
Your resume is an extension of yourself.
Make one that's truly you.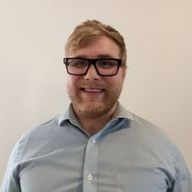 Dave Van Kooten
Is a human resource expert that helps passionate jobseekers to put their best foot forward to prepare for an interview. He believes that success can be achieved through going out of your comfort zone.