Are you a self-motivated student who struggles to find an internship?
Believe it or not, we live in a world where 2000 candidates fight for just one position?
Sounds nuts, right?
It's hard to keep up with this fierce competition.
What's left for a job!
Therefore, you should stand out from the crowd.
Leave behind the general activities and emphasize specific metrics.
Focus on skills you already developed, your knowledge and the value you can give.
Good preparation and a strong will can land your first job.
Follow this ultimate 2022 guide with internship resume examples and get on the right track!
The very first thing I tell every intern on the first day is that their internship exists solely on their resume…
College resume examples
College student internship resume example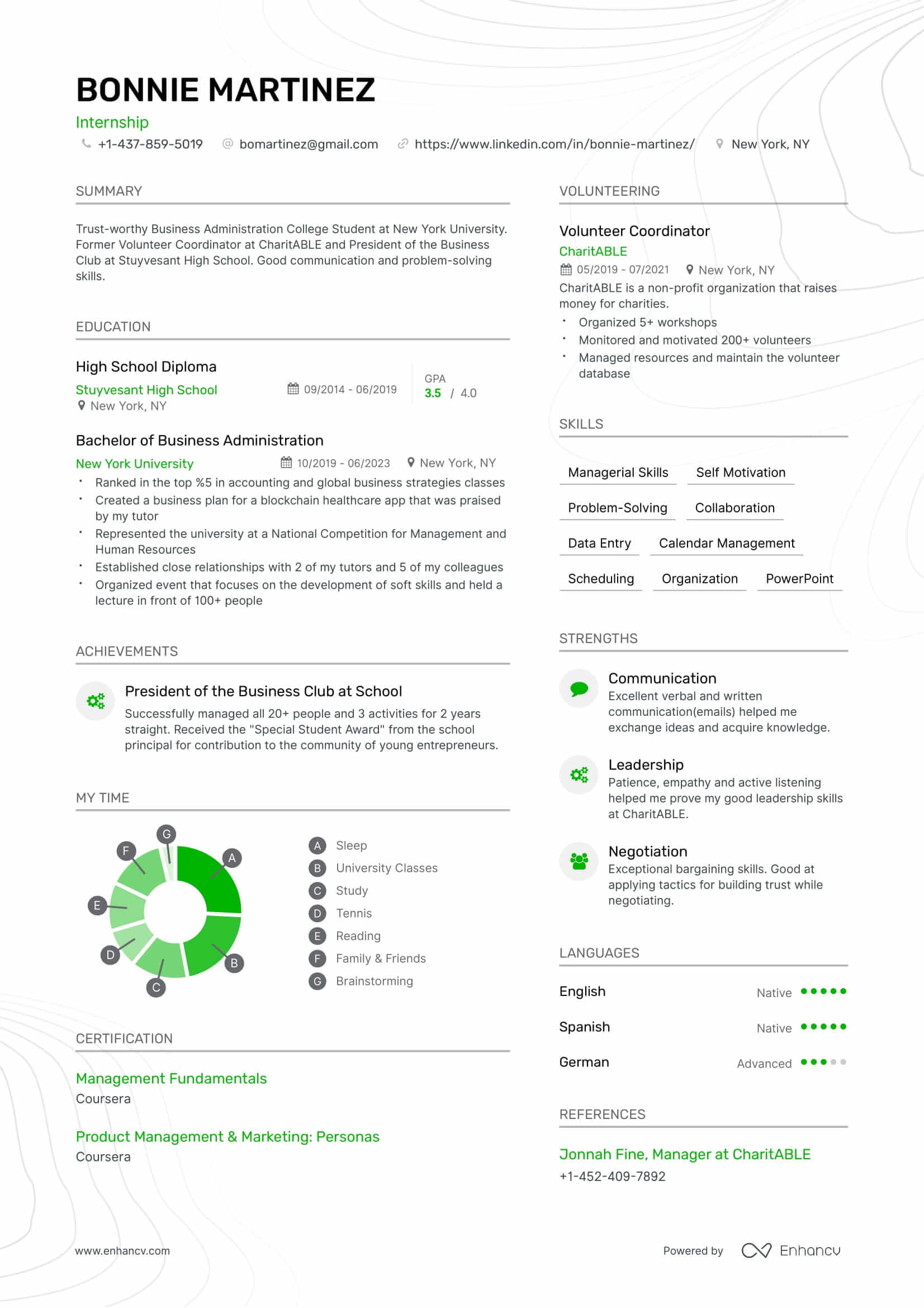 Why this resume works
The following candidate offers a well-built resume that underlines extraordinary qualities:
Cohesive introduction that presents the youngster as a self-motivated and ambitious person
Volunteering backed up with complex tasks and quantitative data
A balance between soft and hard skills; admirable time management
References and certifications prove that the candidate can bring value
High school student internship resume example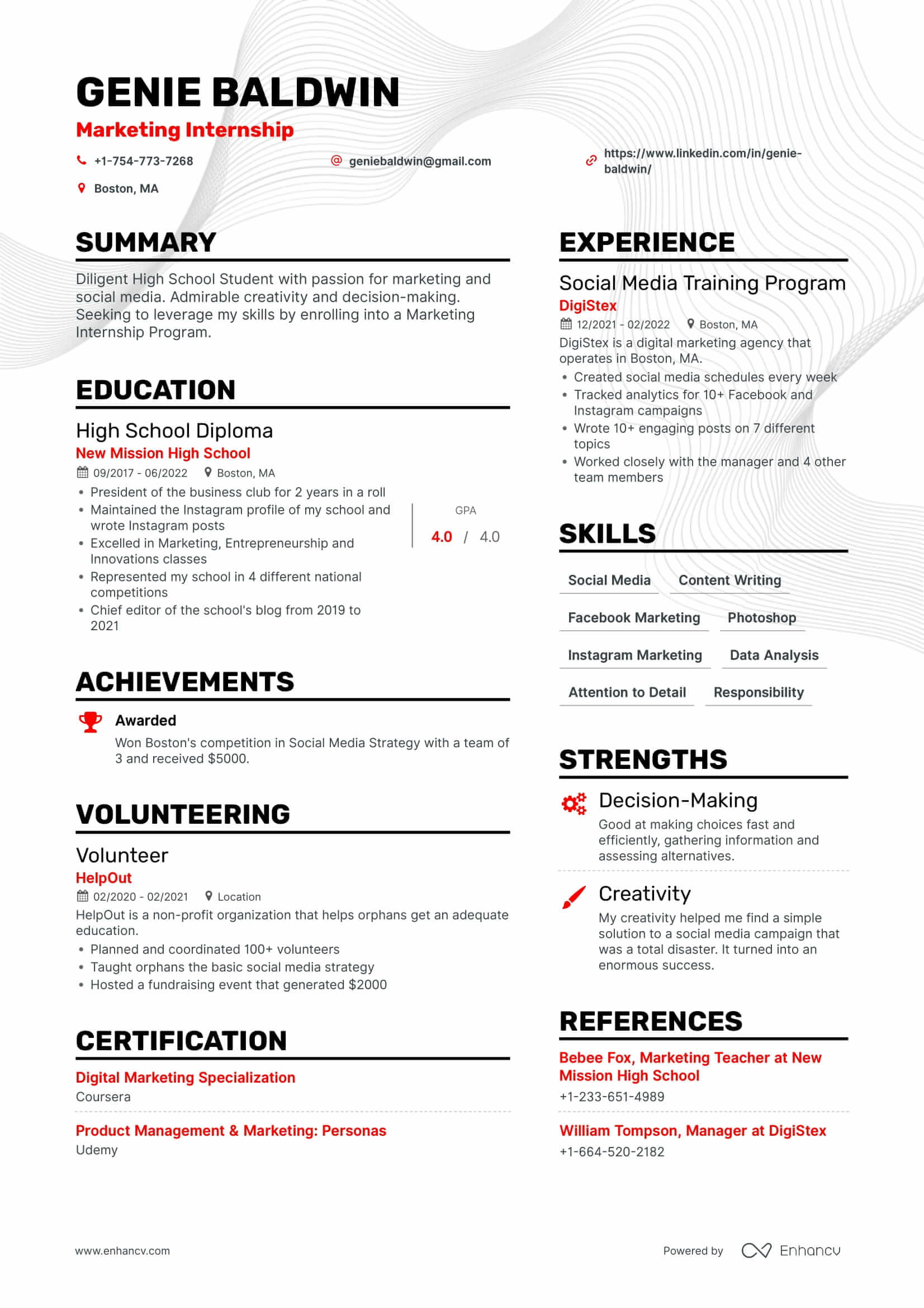 Why this resume works
This high school student shows a decent example of how you can make an admirable resume with almost no experience:
A compelling summary that presents the candidate's passions, goals and soft skills
Coherent Education section that lists essential achievements
The applicant mentions a 2-month training program as a valuable experience
Certifications and References presents the youngster as a reputable individual
Strengths and skills indicate consistency and ambition to bring value
Summer internship resume example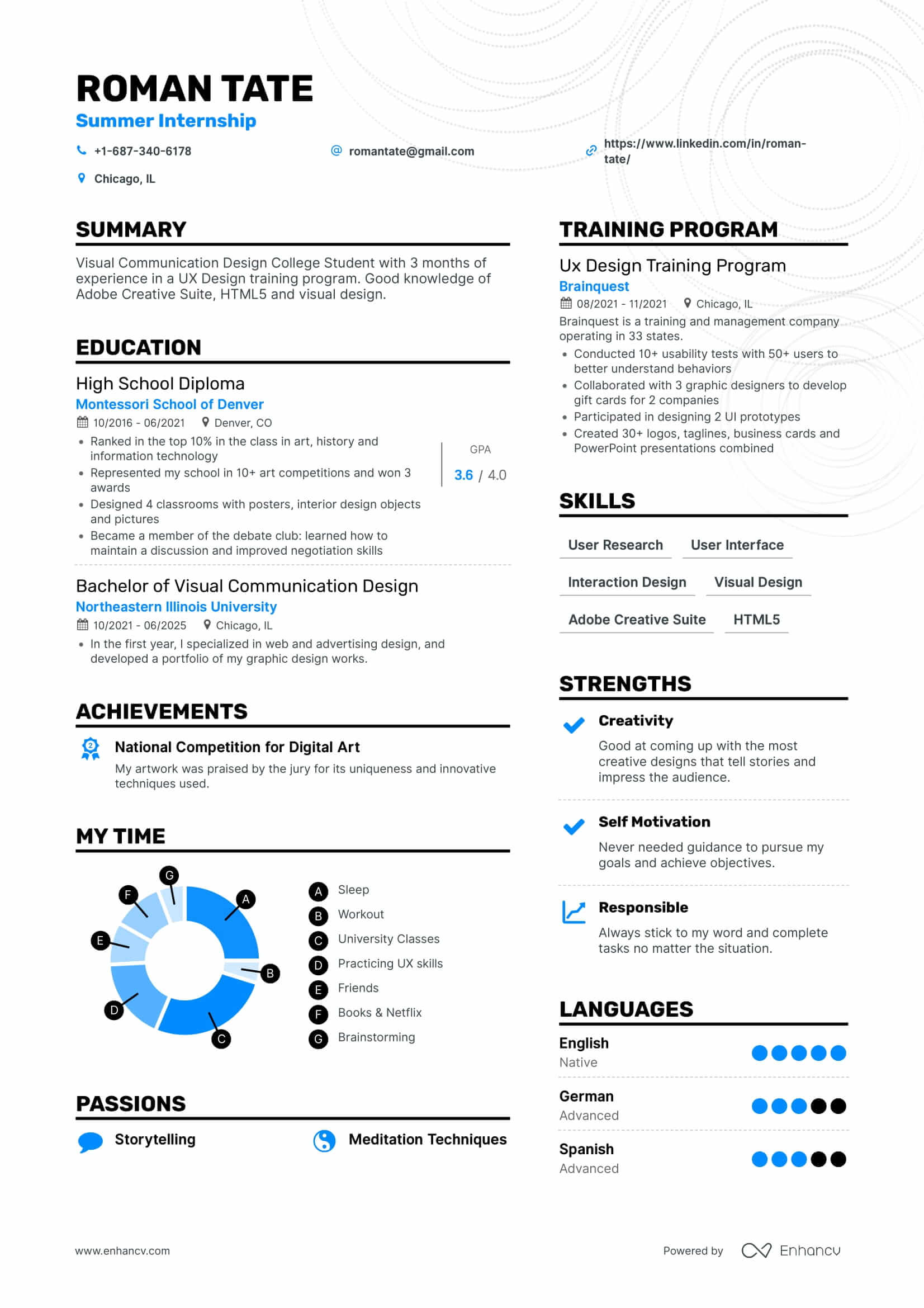 Why this resume works
A consistent Summary section that introduces a candidate with small experience and powerful skills
Well-built Education section that describes interests and achievements in the school years
Impressive results from a training program that is only 3 months long
Strengths indicate the youngster is a responsible and self-motivated individual
My Time section illustrates strong time management skills
The internship job market
Every year more and more companies look for applicants with experience from internships. Employers want candidates to have practical skills in the company's area of work:
There are 300,000 active internships in the US every year
70% of workers get a position in the same company they intern
39.2% of all internships in the US are unpaid and 60.8% are paid
These facts prove that you have countless opportunities to land an internship with good preparation.
How to write an internship resume
Recruiters go through 100+ candidate applications daily.
They use ATS to scan your internship resume for keywords.
Therefore, tailoring your resume to the job description is crucial.
To be noticed, you should concentrate all your mental power and write the most relevant, attention-catching and intriguing information about yourself.
Employers search for self-motivated individuals ready to give 100% in delivering every task.
Those candidates know what they want and how to do it.
What more?
Use the Summary section to introduce yourself with proven facts, achievements and skills, backed up by quantitative data and action verbs.
As an example of experience, you can include volunteering, training programs, or any activity you do at school/college.
Additionally, underline how your skills/strengths helped you achieve high-performance metrics.
References and certifications might give you bonus points if relevant.
Continue reading the guide and learn how to build each section of your internship resume!
Internship resume formats
You can take one of these three resume formats:
When speaking of years of experience and industry, the resume formats are:
Reverse-chronological resumes are suitable for professionals with some years of experience in a specific niche.
Functional resumes are most beneficial for job seekers and career changers. Nevertheless, they are less popular among recruiters.
Hybrid resumes could be used by both entry-level employees and seniors. They combine all the pros and cons of the previous two formats.
Pay attention to the style and layout! Here are some resume tips:
If you want to make an impression on recruiters, include References and Volunteer work!
Top resume sections
A cohesive Education section defines the outcome of your application
If you have some experience, mention it for sure
The Achievements section will make you stand out
References from your tutors or employers are your secret weapon
Volunteering shows that you are empathetic and self-motivated
What recruiters want to see
Are you eager to gain experience and bring value?
What practical skills did you acquire from high school/college?
Are your tutors/mentors satisfied with your performance?
Do you manage your time effectively?
Do you have any extraordinary achievements/hidden talents?
Building an exceptional summary
Your internship resume summary is like an ID card-you cannot party at the club without showing it.
Therefore, you should build a cohesive introduction to convince the recruiters that you are a worthy candidate.
Provide valuable information that shows you are a self-motivated individual who wants to get experience and learn new skills.
Remember, employers will find you a good match for the internship only if you can bring value to their business.
Here are some tips on building your internship resume summary:
Mention relevant and specific information about your skills, knowledge and previous experience
Support your statements with quantitative data and action verbs
Add extraordinary achievements or volunteering
Emphasize what you want to gain from the internship
Focus on specific practical skills acquired from your education
Restrict yourself from writing:
General and vague information that makes you indistinguishable
Obscure sentences that make you look nonprofessional
Repetitions and figurative language can make the employers lose focus
Here are a few examples of how you should build a summary:
Resourceful Computer Science sophomore with 1 year of experience working as a freelance Java Software Developer. Strong critical thinking and organizational skills. Looking for an internship that will help me become a desired professional.
RIGHT
Linguistics student at Middlebury College with 3 months of experience as a translator. Proficient in English and Spanish. Looking for an internship that will help me leverage my communication in German.
RIGHT
Dependable Finance student with 1 year of experience as a freelance accountant. Ranked in the top 2% in financial management and reporting at my university. Looking for an accounting internship that will help me excel in the field.
RIGHT
Outgoing Education student with 6 months working as a Teacher Assistant. Keen on innovative learning methodologies and learning techniques. Seeking an internship that will elevate me to a new level of professionalism.
RIGHT
Curious Medical Student with passions in surgery and oncology. Ranked in the top 5% of my class. Participated as a science communicator and speaker at 8 national science events. Looking for an internship in a surgical department to gain practical experience and knowledge.
RIGHT
Of course, it's also vital to tailor your summary to the job description.
By doing this, you present more relevant data that will help you stand out.
What to include in your internship resume If you don't have experience
Unfortunately, many internships require some previous experience or a degree.
However, this doesn't mean you should not present as much practical knowledge and activities as possible.
Volunteering, achievements and training programs are also clear signs of self motivation and dedication.
Also, the Education section plays a vital role in your internship resume.
You might say:
"Oh, but the only thing I do in college is studying!".
If you think so, you are completely delusional.
Your time at college and school includes practical tasks, teamwork and real-life experiences you should not underestimate.
You need to focus and think of all the opportunities you grabbed.
Do not miss your chance to land an internship and follow these rules when writing the Education section:
Mention practical experiences, extraordinary achievements, or valuable skills acquired
Include quantitative data and action verbs to demonstrate dedication
Add volunteering, training program, or project you've been engaged in and show results
Describe how the knowledge you got helped you in real life
These four advice points are your golden ticket to the interview call.
Ask yourself questions and write down the answers:
How did my knowledge from college/school prepare me for real work experience?
How did good communication, teamwork, and organization help me excel?
Did I acquire some crucial soft/hard skills that I never thought of?
Had good grades in accounting classes
Participated in competitions representing the university
Made valuable connections
WRONG
This candidate does not follow any of the advice points given above.
This Education section gives the impression that you've slept during the classes.
You cannot convince the recruiters that you have achieved anything valuable in the learning process.
Ranked in top %5 in accounting and global business strategies classes
Created a business plan for a blockchain healthcare app that was praised by my tutor
Represented the university at a National Competition for Management and Human Resources
Established close relationships with 2 of my tutors and 5 of my colleagues
RIGHT
So, this applicant has the opposite approach.
Specific. Measurable. Attention-catching.
There is no doubt that their resume will top the recruiter's list!
How to describe the duties of a copywriting intern on a resume
Pay attention to the following copywriting intern responsibilities:
Research, write and edit digital and print materials
Create engaging messaging for social media campaigns
Improve the brand awareness by producing admirable landing pages that make browsers buyers
Develop weekly emails, newsletters, ads and SEO copy design to convert leads into
Participate in drafting resumes for clients and offer exceptional customer service
Work independently and collaborate in a team environment
To fill up the gaps in the resume, you could:
Include Languages to indicate strong communication skills
Provide References employers are happy with your contribution to their business
Add training/projects/courses to prove your self motivation
Add a My Time graph to show excellent time management
Pro tip
Never underestimate the power of personalization. Your interests and how you spend your time are clear signs of your personality traits. Recruiters are human beings in the first place and might relate to you.
Internship resume skills you can put into practice
Obviously, as a young person with almost no work experience, you are not expected to have unique skills.
Focus on those abilities that will help you bring value to the company you are applying to.
Your job is to show self motivation and desire to work and learn responsibly during the whole process.
Top 5 soft skills list
Responsibility
Organization
Public speaking and presentation skills might be a perfect fit for a manager but not the best option for a software developer, right?
Therefore, it's crucial to tailor your skills to the job description.
Top 5 hard skills list
Writing
Presentation Skills
Troubleshooting
Key takeaways
Emphasize what practical knowledge and skills you acquired at school/college
Add Achievements/Volunteering/ training program to prove that you are a self-motivated individual
Use action verbs and quantitative data to show that you are a go-getter
Tailor the main sections of the resume to the job description
Add References, Passions and My Time graph to support your strengths