You spent plenty of time researching, countless hours in formatting and finally, your resume looks perfect!
Or does it?
Psychological research suggests that we are not very good at evaluating ourselves accurately.
In fact, we frequently overestimate our own skills and abilities.
And that's not something bad, it's just psychology.
It's known as the Dunning-Krueger effect, and it usually gives us illusory superiority. In this article, we will help you escape the Dunning-Krueger trap, as well as help you look at your resume with a critical eye, finding any gaps for improvement.
At the end of this guide, you will know how to:
Catch any mistakes in your resume from the first look
Decide if your resume is visually appealing
Analyze each section of your resume
You don't have to deal with your resume critique alone. Our experts are here to help you with every part of the process.
CHECK OUR RESUME CRITIQUE SERVICE
How to critique your own resume

To be able to critique your resume, you have to analyze it from a professional perspective.
Moreover, you should ask the right questions to improve your summary.
In the following section, we will guide you through some of the most common questions hiring managers have in mind while checking a candidate's application.
First Look
In most cases, the first impression is crucial. You have only a few seconds to grab the attention of the recruiters, so make those seconds count!
Your resume must be concise and packed with valuable information. Hiring managers don't want to be buried in 8 pages of dull information. Be succinct and straight to the point.
Is your resume easy to read and well structured?
Enough white space, well-separated sections, and appropriate fonts are only part of the details you should think of to make your resume easily scannable for both ATS systems and recruiters.
Adding clear font and visuals elements to make your resume visually appealing will significantly enhance your chances of landing the job.
Check how to use graphics, icons, and other visual elements to your advantage in our detailed guide here!
Format
Once you have perfected the structure of your resume, you have to format it properly and in line with the job you are applying for.
Do you use an appropriate font for the position and industry?
If you are aiming for a job as a graphic designer, more visual elements can make you stand out among other candidates. On the other hand, resumes for federal jobs are formal, with a single color scheme and a lack of creative elements.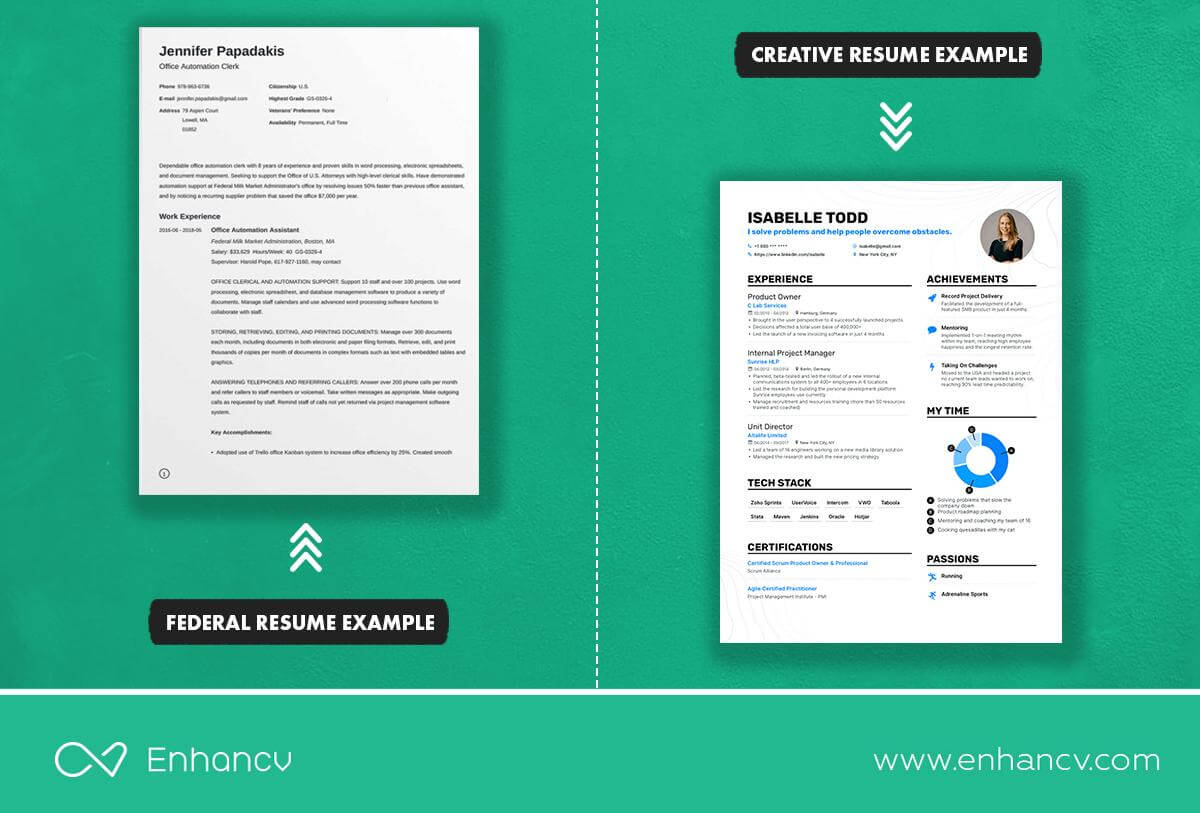 CHECK DIFFERENT RESUME EXAMPLES
Have you used bulleting, bolding and lines to separate sections?
Bulleting is appropriate for your work experience section, where you need to list all of your previous jobs relevant to the job you're applying to. Bolding will draw the attention of the hiring manager to a specific portion of your resume. Separating sections will make your document easily scannable.
Have you implemented enough white space?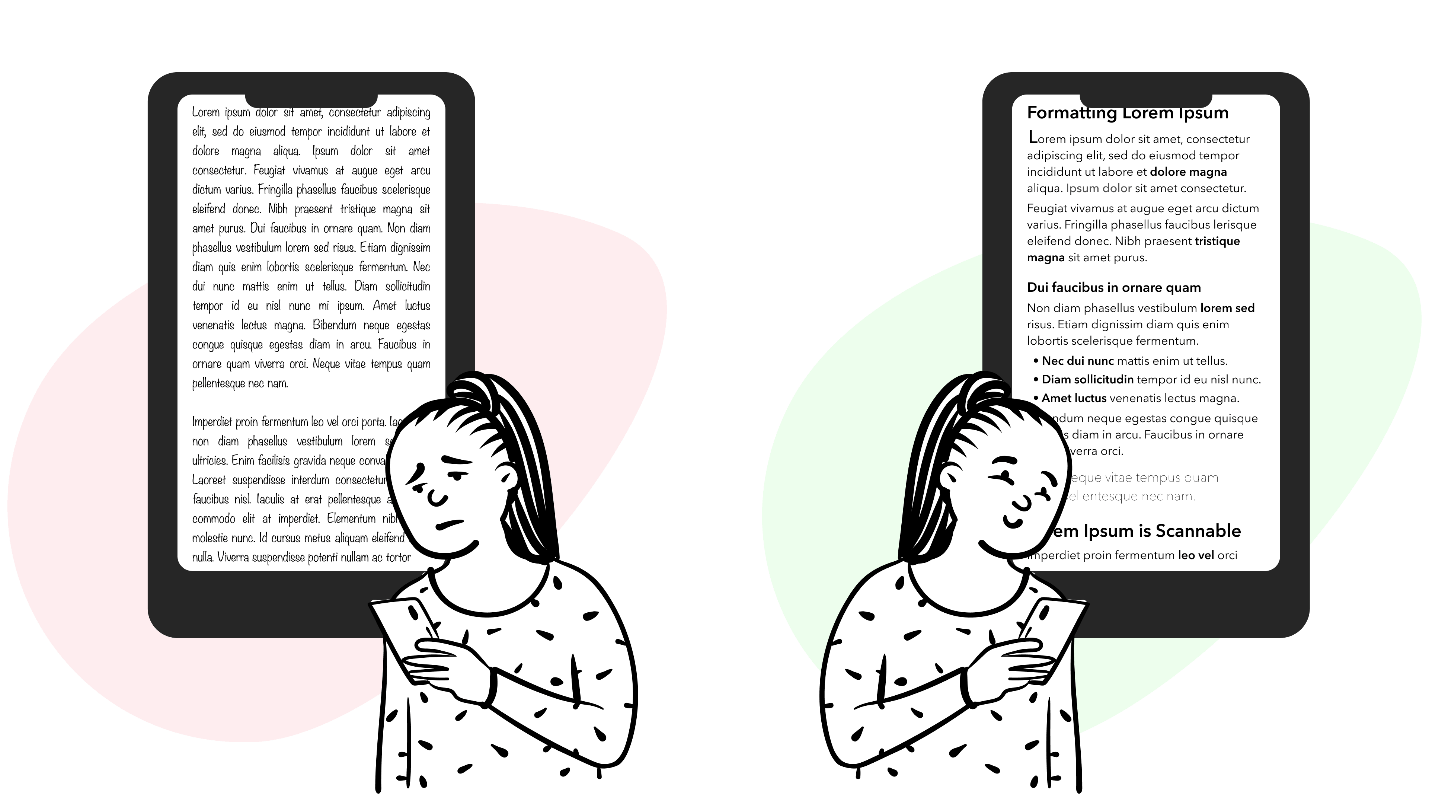 White space is one of the most important visual elements in your resume. Don't attempt to use every space available, instead deliberately leave white space to create a stronger first impression.
Sections
Is your resume targeted to the selected job ad?

Tailoring your resume is crucial. In the end, the recruiters will only concentrate on the information provided in your resume, which should be highly related to the position you're applying for.
Do you include enough supporting evidence for your accomplishments?
Simply mentioning you have some sort of accomplishment is easy, but proving your accomplishments might not be. Be sure to always add supporting evidence, be it certificates or other documents that can reassure recruiters you are telling the truth.
Have you quantified your achievements?
High-quality resume achievements are measurable and quantifiable. Add dollar amounts, timespans, volumes, and percentages to quantify your accomplishments on a resume.
Have you used strong action verbs, void of buzzwords?
Recruiters are paying more attention to your use of language than you think. Using great, well-targeted buzzwords can secure you an interview!
Have you skipped obvious responsibilities?
Everything you were responsible for at your previous job can present your strengths and skills in an appealing way to the recruiters. Even as a student, you probably had certain obligations that you can include in your resume.
Why a resume critique? Is using a service worth it?
Even after seemingly endless hours of editing your resume, using a professional service could still be a worthwhile option.
Why?
They provide an unbiased perspective on your resume
They provide specific details and examples from your resume
They focus on strategy
They give constructive criticism
Resume critique is based on the perspective of hiring managers
It's difficult to proofread and edit your own work
The Resume Review and Resume Writing services are only part of our Career Counseling package.
We can also help you with Cover Letter Writing, Job Search, Interview Prep and many other aspects to get you one step closer to securing your dream job.
CHECK OUT OUR RESUME CRITIQUE SERVICE
Resume Critique: Takeaways
Let's summarize:
You should be able to improve plenty of sections just by reading through your resume yourself.
Formatting is as important as adding well-targeted information to your summary.
Despite all the knowledge you gained from the article, in most cases, you won't be able to criticize your resume accurately.
Our Career Counseling package is extremely valuable and can help you stand out among the other candidates.
***
What did you think of this article? Do you feel ready to check and improve your resume? Share your thoughts in the comments!
Make your move!
Your resume is an extension of yourself.
Make one that's truly you.