Quick Answer:
"Buzzwords on your resume should be specific and backed up with evidence. Recruiters are looking for key competencies, and using vague language won't impress them. Avoid overused buzzwords like ""detail-oriented"", ""team player"", or ""hard worker"". Instead, be specific and use action words to describe your achievements. Buzzwords should be used sparingly, and tailored to the job description. Show, don't tell."
Resume buzzwords can secure an invitation for your next interview. There are loads of different factors to consider when it comes to building the perfect resume. But there's one particular thing we can guarantee a reader will notice in the time they take to review your resume…
No. Not your resume header, or the length of your resume. It's not even your name or personal website.
What recruiters notice no matter what is more simple than you'd think.
It's language. More specifically, your use of language.
Recruiters are looking to see key competencies on your resume. The way you package this will influence both the recruiter's perception of you as a worker and how you compare to others. Inevitably, this has an impact on whether you're going to get called in for an interview.
Now can you see why buzzwords are so important? Do you want to find out how you can properly use them to your advantage and get a new job? See below.
Buzzwords to avoid
Everyone optimizes the buzzwords they include on their resume. But unfortunately, this has led to many words being misused and overused. More than 2,000 hiring managers indicated that overused buzzwords disengage them from the applicant's resume.
From their point of view, the reason behind the negative impression is actually quite clear: they're fluff. They have no actionable meaning at all.
Examples from the worst-offenders guilty of this include:
'Best of breed'
'Go-getter'
"Think outside of the box"
"Go-to person"
"Results-driven"
"Detail-orientated"
"Team player"
"Bottom-line"
"Hard worker"
"Strategic thinker"
Using these descriptors without evidence to back them up is frivolous. And even if you did have proof, it's not necessary to say you're a "team player" as the evidence should speak for itself.
You might be a "go-getter", but what does that have to do for the business? What's the meaning behind it? What have you done that shows your character and who you are?
Merely describing oneself with a lack of evidence or verification is the fastest way to leave a poor impression on your reader.
Recruiters have said it time and time again – be specific!
Vague and nonspecific language
To be clear, I'm referring to words like:
"detail-orientated"
"best of breed"
"go-getter"
But we've all seen detail-orientated at some point in our career. Whether that's been in your career guidance textbook in school or on your resume in the past, it's up there with the most common phrases included on a resume.
The logic is technically sound, but aren't the recruiters already looking for people who pay attention to the details?
While you're not necessarily wrong, let's consider the old saying:
"The proof is in the pudding".
In this case, the proof of being detail-orientated should be apparent from your experiences (or your career pudding, so to speak). Rather than tell the hiring manager you're detail orientated, show them that's what you are.
When it comes down to comparing someone who made this characteristic evident versus someone who made a vague statement about it, the former will get called for the interview.
So, be detail-orientated and showcase the work that reflects that. There's a good phrase that helps whenever you're talking about yourself:
"Show, don't tell."
Instead of simply saying it, it's more compelling if you could show it.
(Tip: use fewer sentences with more impactful language! For example, rather than just saying "From my past role, I'm attentive to detail for business needs", it's better if you show that and not just tell it. Alternatively, you can do this by saying something like this instead: "I'm attentive to business needs and have reflected this by reducing costs by X%.)
In this program manager resume, Tobias describes pitching revolutionary health technology to the Clintons.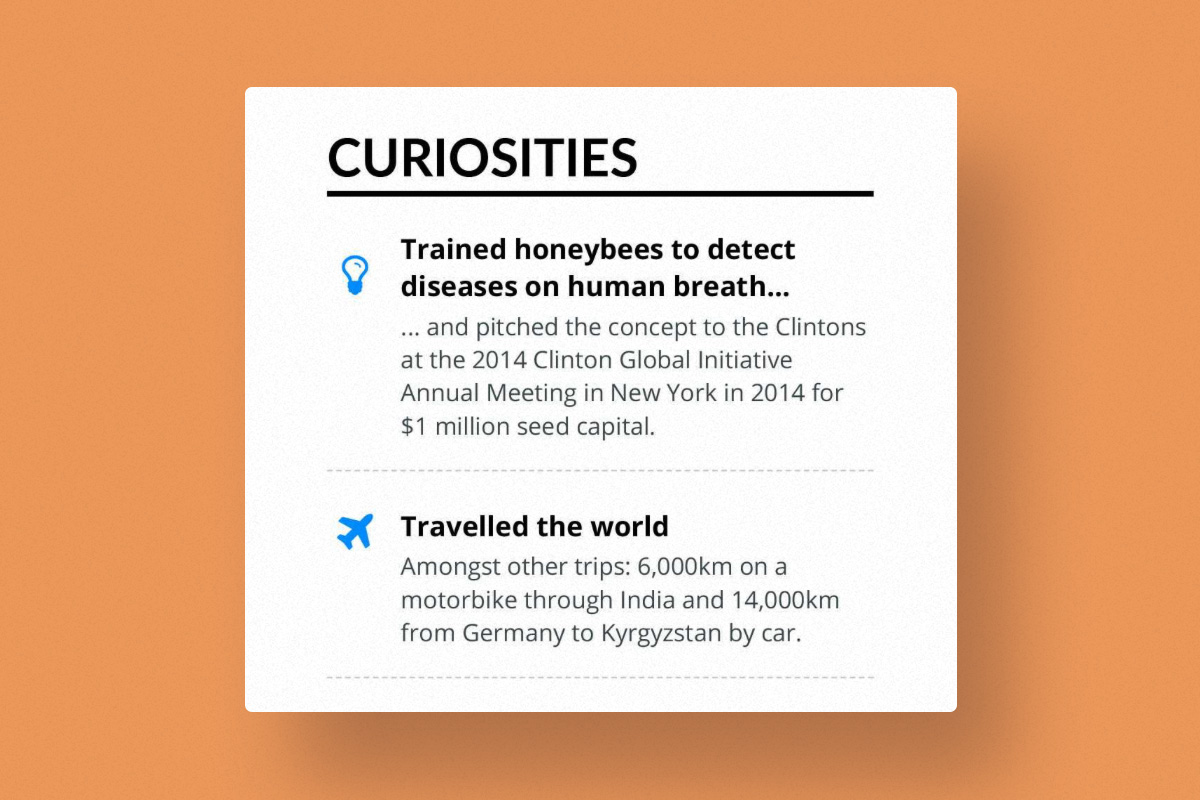 There's no need to state that he's detail-orientated in his resume in light of this. We clearly see and notice he's meticulous in his work!
Unnecessary language
This time, I'm talking about the notorious word for all job recruiters – "team player".
Well, without collaboration businesses are quickly going to fail and become ineffective. Naturally, after that, they fall short of their goals and objectives.
Recruiters look for people who will add to the dynamics of their employee environment and mesh well with the work style of others. While this is true, the hiring manager isn't necessarily looking for a "team player". Let's start off with the first impression that term leaves on the recruiter.
Team players generally avoid confrontation. They concede when facing an opposing opinion, they put others first, and they make sure everyone else is happy (on the surface). They rarely like to disrupt the status quo and shy away from being different…
Does that sound like an employee you'd like to hire?
The reality here is that: team players are followers, not growers.
Recruiters are more interested in those that will make positive changes in their organization. After all, if there weren't anything to change, there wouldn't be a need to hire someone new.
Again, the proof in the pudding argument is relevant here too.
Don't just describe yourself as a team player. Instead, include examples of where you have worked and performed well in a team. Perhaps you have experience working on a project team or something similar.
This is where you let the experience shine…
For example, in this real estate resume, they describe partnering with trustees to Gordon-Conwell Theological Seminary.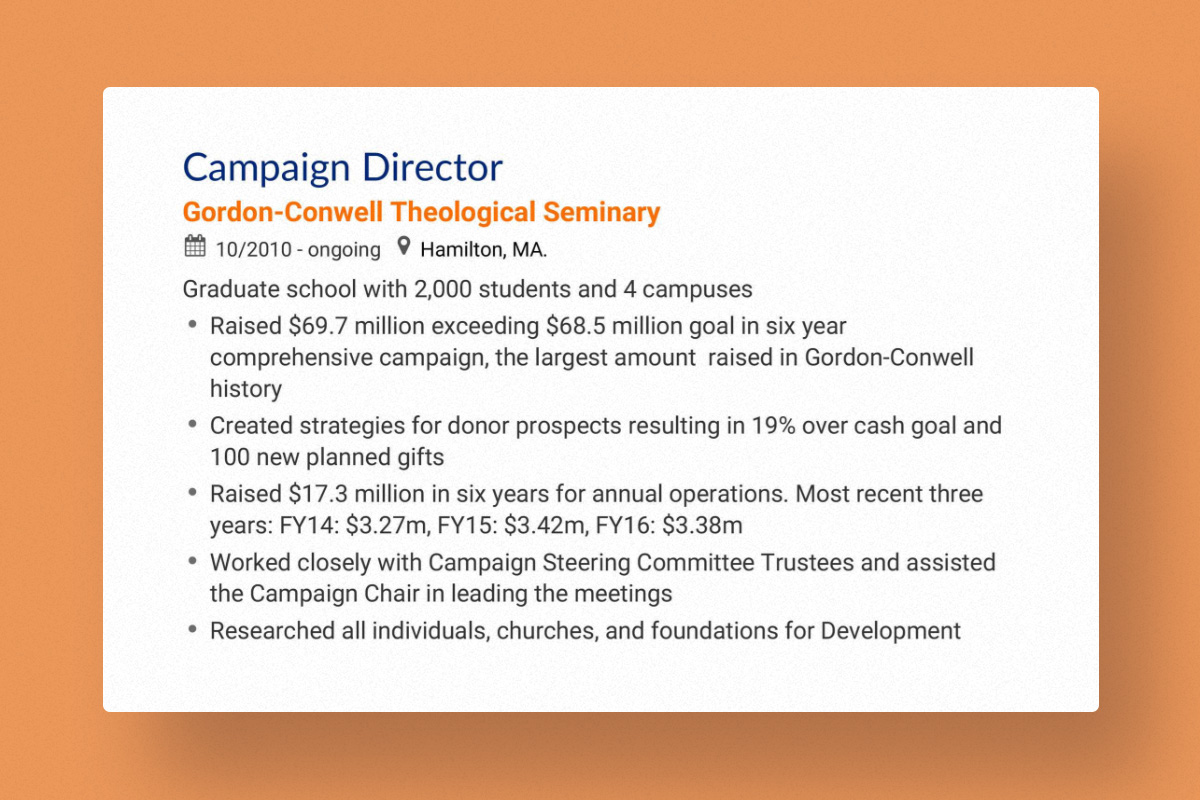 As shown above, with prior experience working on a team, that itself exceeded the criteria.
Not only is it transparent to the recruiter, but they see how his traits can benefit their organization. So, take the extra time to implement credibility in your statements. It goes a long way with actually landing the new job you're applying for.
Obvious and givens
Last of all, you've probably seen the words "hard worker". I don't think there's a single company in the world that's looking for lazy workers…
Describing yourself as a hard worker is up there with writing a "resume" on your resume header. Or it's just as bad as closing your resume with "references upon request".
You're literally just stating the obvious…
And not only does it take up valuable spaces, but it's adding white, polluted noise. The recruiter hopes you're a hard worker, that's a given. What they don't know, and what your resume should be showing them, is how you're a hard worker. What's the influence and impact you have on their company?
On Maximillian's account manager resume, he effectively describes his work with AIESEC. He talks about implementing a digital sales system that increased sales by 100% for the organization.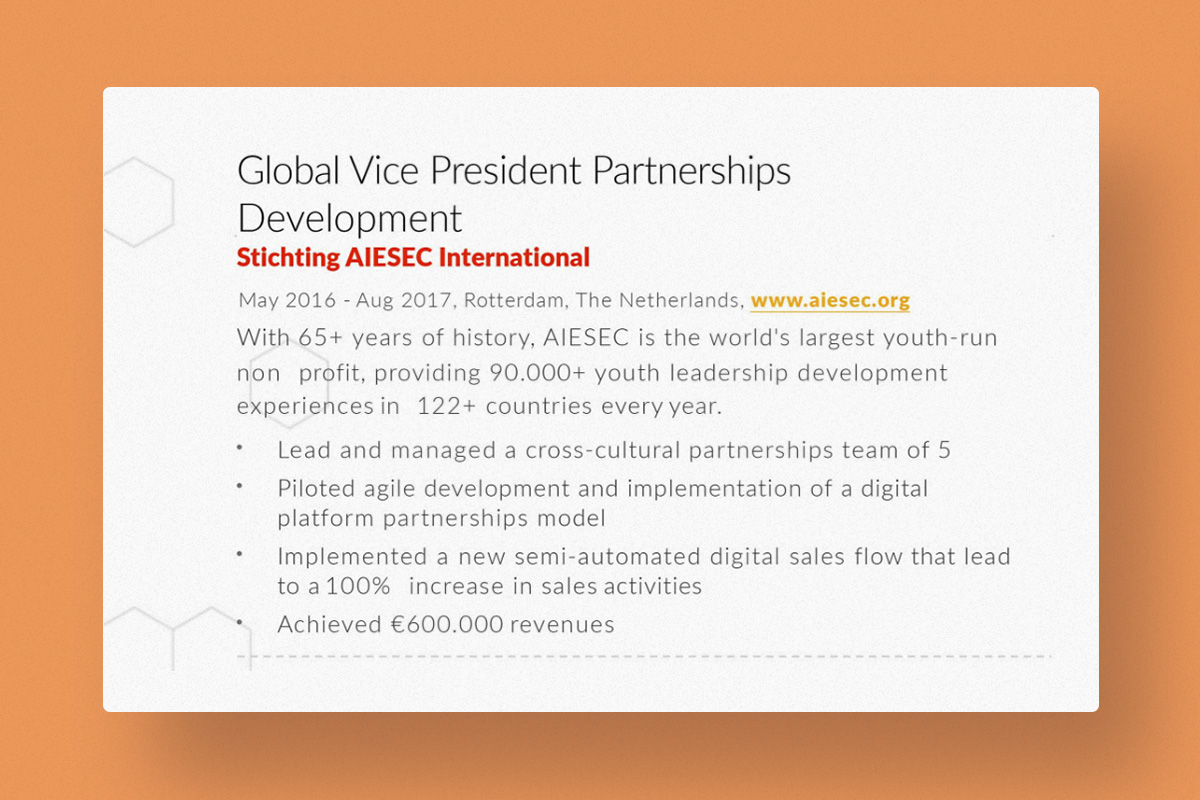 Because of this, recruiters at Amazon recognized his dedication to volunteering projects and committing towards success. This easily translates into the meaning of being a hard worker without actually having to use those words directly.
Buzzwords you should try to include
Sometimes, you'll find yourself in a circumstance where you need to include a (common) buzzword on your resume. This is most likely to occur when applying to organisations that use an ATS (applicant tracking system).
But now you've got a good idea of how you should use buzzwords properly, and you shouldn't. Let's have a look at a list of common buzzwords to consider.
Also, remember to show. Don't just tell.
(See further below for more alternative and effective power words.)
Value / Valuable
Commit / Devote
Launched
Spearheaded
Increased
Decreased
Acquisition
Inspire
Developed
Admissions
Foster
Evaluate
Delegate
Advocate
Enhance
Build
Perform
Compose
Collaborate
Illustrate
Modify
Showcase
Troubleshoot
Complete
Execute
Implement
Formulate
Handle
Attain
Reach
Devise
Better alternatives for common key phrases
When organizations compile a huge list of applicants, they use these systems to scan for buzzwords on their resumes. The best strategy is to implement them directly from the job description and turn them into subsections.
Here's a good example from Paula. She included the characteristic of being 'independent' as one of her core strengths because this was something potential employers were looking for on her eCommerce resume.

Using action words on your resume
Action words are used to describe the impact you've had in your previous roles. The typical action words people think of when putting their resume together are these two words: increased and decreased.
These are everyone's bread-and-butter. But that doesn't mean to say there are better alternatives you could choose from too.
Alternatives to increased
Augmented
Boosted
Improved
Strengthened
Doubled
Widened (profit margins)
Raised
Cultivated (new sales)
Maximize
Upgrade
Exceed
Surpass
Alternatives to decreased
Reduced
Slashed
Cut
Shrunk
Minimized
Curbed
Halved
Subside
Using buzz and action words effectively
First and foremost, your buzzwords and action words should be adding value. Prioritize that, instead of throwing down flashy words as an attempt to cover up shortcomings or a lack of experience.
Buzzwords are the most relevant in your personal summary.
However, action words come into play when describing your personal experiences. These words are used to enhance what you already have.
Personal summary
The personal summary is where you introduce who you are to an employer (especially when making a career change or entering your first job).
You can use the following formula to craft a personal summary that makes for a positive first impression:
[Description of current status] with an interest in [Industry / Role you're applying to] hoping to improve skills of [hard & soft skills]. A [personal attribute] worker motivated by [aspect of company culture].
Buzzwords come in when describing your personal attribute.
Check out the comparison of a well-used buzzword personal summary versus a poorly executed personal summary in the next section.
Effective uses
High-school student with an interest in computer applications hoping to improve my skill in Python, JavaScript, and A/B Testing. A dedicated worker motivated by independent work and personal freedom (with guidance) in tasks.
Ineffective uses
High-school student with an interest in computer applications hoping to improve my skill in Python, JavaScript, and A/B Testing. A worker motivated by independent work and personal freedom (with guidance) in tasks.
As seen in the above examples, buzzwords are best when used to enhance your description rather than pad it out.
Previous experience
Action words should be used to describe the manner you carried out your responsibilities and to enhance an achievement you've mentioned.
Make sure you're quantifying your past-achievements in conjunction with your action words too.
Previous experience without action words
Involved in a 5-person team responsible for quality assurance of sold products each day.
Previous experience using action words
Spearheaded a 5-person team involved in quality assurance of sold products each day.
Using resume buzzwords and actions words on your resume
Recruiters come across too many of the same buzzwords on applicants' resumes. Sticking to the norm will likely cause them to distance themselves and overlook your resume for someone else.
The best way to enhance your resume is to use the buzzwords sparingly, and match them to the job description. With action words, recruiters can get a better sense of your previous experiences while you can show your initiative at the same time.
Whenever you feel confused with implementing some of the power words, you could always right-click and look for synonyms. But if you're doing this, just ensure you choose an appropriate word that makes sense and fits with what you're trying to say.
Click here to see how the buzzword tactics discussed are successfully applied to resumes that got people hired at Spotify, Amazon, Verizon, and other large organizations.
conclusion
Buzzwords are an effective way to upgrade your resume. It improves readability, as well as your chances of getting your foot in the front door for an interview. You can rest assured that your resume is more likely to get recognized and noticed if you follow the tips discussed.
Are there any other buzzwords you like to use that we haven't mentioned? Let us know in the comments below!
Make your move!
Your resume is an extension of yourself.
Make one that's truly you.

Dean O'Reilly
Psychology student with keen interest in academic research. Currently exploring the world of marketing distribution and content creation with Enhancv to help people get closer to their dream job.