In today's hiring landscape, your resume is often not enough to get you hired. Resumes are designed to be the icebreaker with the hiring manager, not the entire conversation. One way to catch the recruiter's attention and provide more detail is building a resume website. In it, you can describe who you are, the experience you have, and the type of work you're drawn to.
Below, see the benefits of resume websites, how to use them effectively, and the sections you'll benefit from having.
What a resume website will do for you
Personal Brand
Top companies all have their own brand – but building a brand shouldn't be limited to organisations. Using your website, you can highlight your individualism and unique story to 'sell' yourself to employers. Developing a brand allows the recruiter to assess how you approach work and the energy you'll bring to the firm; it's essential for culture fit.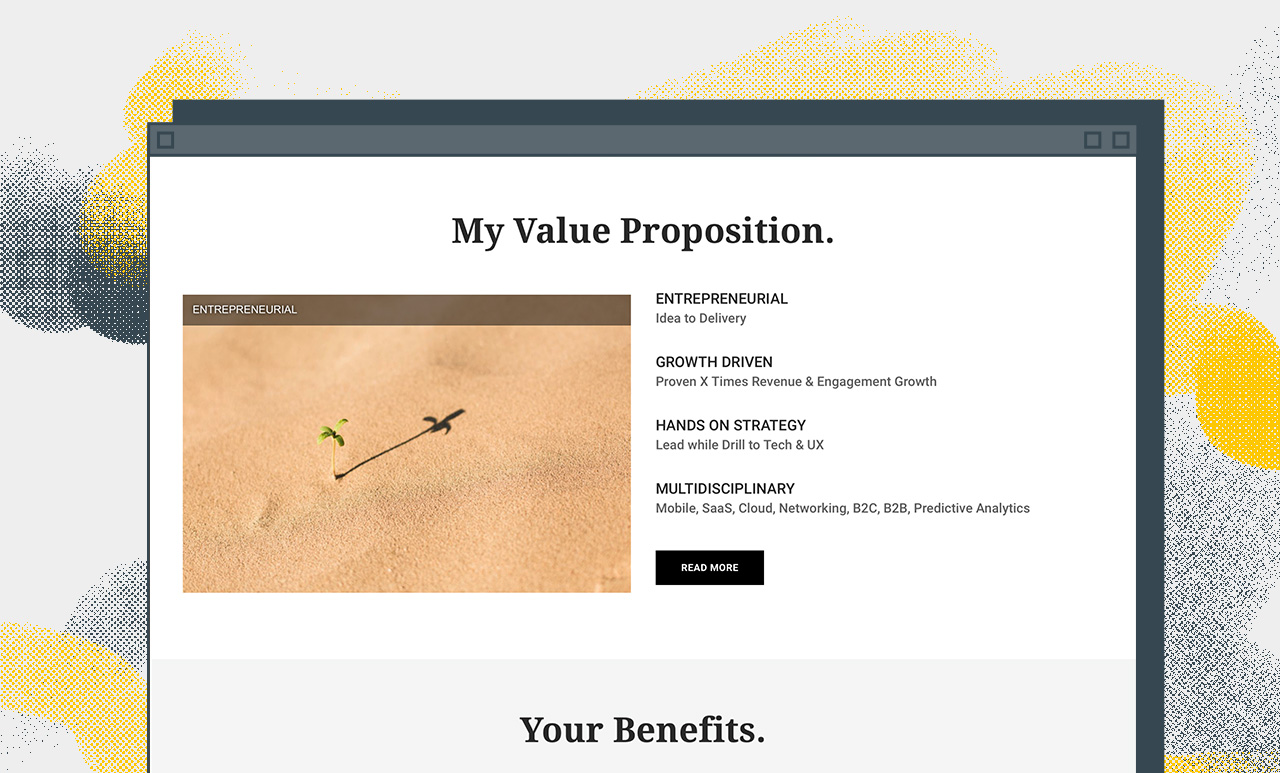 In Gal's business development resume, he includes the link to his resume website that describes him as a "growth driven product entrepreneur". He later goes on to explain his value proposition to potential employers.
Creative work examples
For applicants involved in creative fields such as photography, creative design, and film, a portfolio is often needed in a job application. Including a resume website in your application will show recruiters to tangible evidence of your creative ability. Let's face it – no one's going to hire a creative without seeing examples of their work. You'll also not have to worry about the length of your resume.
When Jamie was applying to Video Elephant after finishing his degree in Photography, he knew he'd have to show examples of his work. He attached a link in his resume to his online portfolio to do this.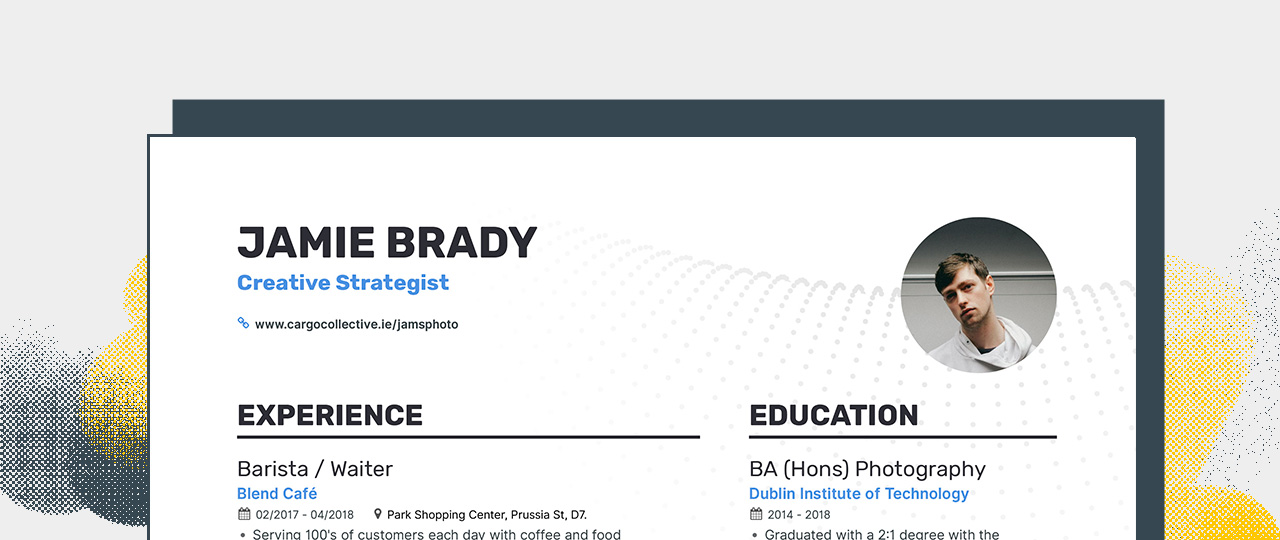 Control what the recruiter sees
The vast majority of recruiters search candidates online to review their social media and online presence. More than half of recruiters have decided not to hire an employee based on their social media presence. With these practices in mind, it's important to curate your online image. Optimizing a resume website can ensure it's the first thing that pops up when recruiters search your name. Moreover, directing employers to your website where you show snippets of your social media can decrease the likelihood of them digging further.
Tip: Unsure if you would pass an employer's google search? Take our quiz to find out!
Going further in-depth
One of the issues people struggle with when applying for a new job is resume length. This is especially true when it comes to those with decades of experience. They can feel there's never enough room to discuss all of their skills. Building a resume website provides another space to discuss projects in detail. This can allow you to be more concise and tailored in your resume and keep from writing pages and pages of text the recruiter may likely ignore.
Updating your experience
Sometimes, we apply for jobs and hear nothing for a few weeks, months, or even years. One issue with the traditional resume submission is it does not allow for real-time updates. While you can continue to update your resume in your own time, you can't continually submit new resumes to organisations. On the other hand, a resume website is easily updated at any point. This means if a recruiter comes across a resume submitted from four months ago, you can rest assured when they check your resume website that they get the most up-to-date information.
How to make your resume website effective
SEO Optimise
SEO (Search Engine Optimisation) refers to strategies used to influence the ranking of content on major search engines like Google based on targeted keywords. Essentially, using SEO allows you to increase the likelihood your resume website is found when people look for specific search terms in their search engine. For those new to this concept, think of it like ensuring your poster is given the most space on the poster board.
Recruiters won't know you by name if they've never met you – but they may know your skills. Optimising your resume website to rank for keywords related to your field that the manager will look for (e.g., marketing resume, coding, etc.,) can help you find a job in a way previously inaccessible. But at the very least, you want your website to show up when someone searches your name.
Sleek not extravagant
We can all get carried away when it comes to designing new websites. Much like with resume design, there's a certain lined to be walked between being original and being convoluted. It's best to air on the side of caution. Use simple graphics and minimise the amount of variation between pages, font types, font sizes, and photographs.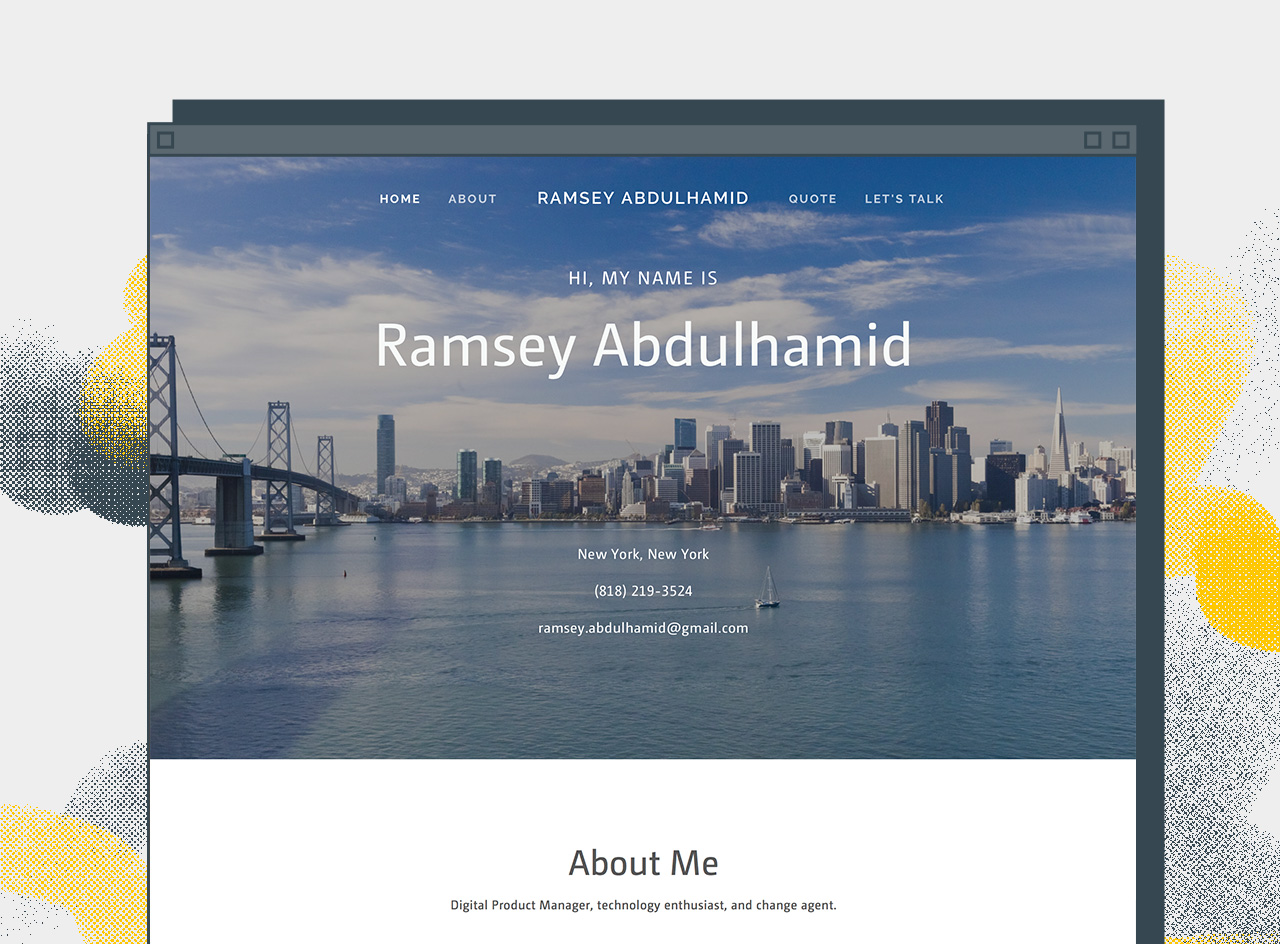 In Ramsey's product manager resume, he links to his resume website that has a clean design. There's enough creative design to attract attention, but not too much to cause distraction from the information.
Suitable Photographs
A benefit of hosting your own resume website is that you can curate the images recruiters come across. Pick photographs that show you in your typical working presentation. For example, in clothes that you would wear to work, at business events, and so on. Coupled with optimizing your website, this can help curate the images recruiters find when they google you.
Complement not regurgitate
One of the mistakes you can make when developing your resume website is to mimic everything included on your resume. Your resume website should add value, not mirror value. As mentioned before, use your website to go into further detail, to provide content that cannot be put on a resume (e.g., video content), and to be as up-to-date as possible.
What sections do I need to include?
Personal Bio
Remember: not everyone who comes across your resume website will have seen your resume. This is especially true when it comes to hiring managers that come across you using search engines, you'll benefit from including a personal bio on your website. This should be succinct. Introduce who you are, the type of work you are looking for, what motivates you, and the experience that relates to that work in 2-3 sentences.
Contact Details
A hiring manager has come across your resume website and they're impressed – but they can't find any details to get in contact with you. Right in that moment, you missed an opportunity. Fortunately, the solution is simple: in your resume website, include a "Contact Me" section.
You may want to limit the contact information you provide, however. Not everyone that will see your website will be a recruiter. To avoid spam, consider linking to your LinkedIn account or providing just your email. You can also set up a contact form.
Previous Experience
No one gets hired without showing what they're capable of. The recruiter will be looking to see your previous experience in the first few seconds after coming across your website. Dedicating a section to providing this information is a given.
In Gal's business development resume website, he includes a section that details the projects he has worked on in the past.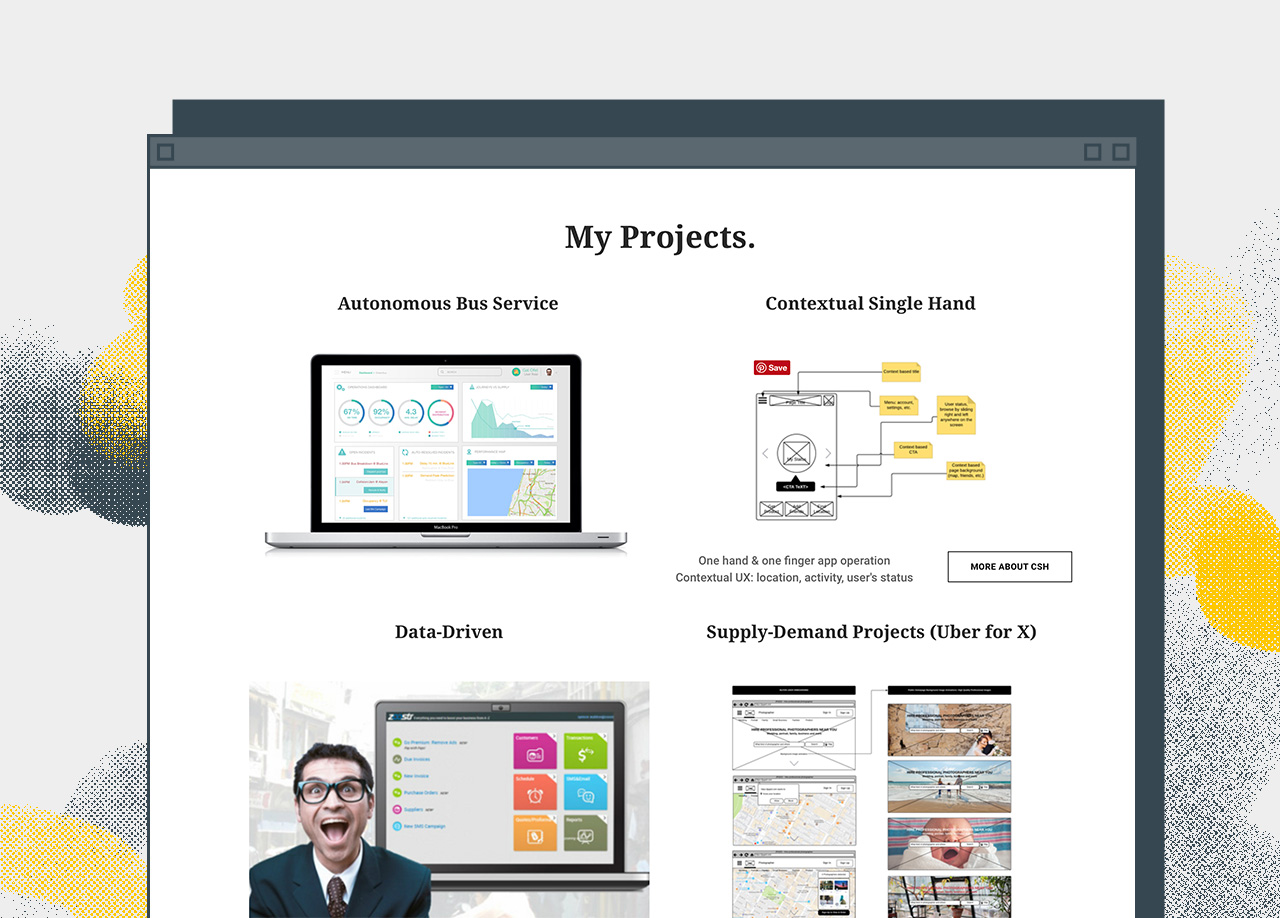 Your resume
For those that have come across your website through a search engine, including your resume is a great way to break the ice. When doing this, make sure the upload date of the resume is visible so the recruiter knows how up-to-date it is. Best practice would be to update your resume and resume website in tandem so there is no disconnect. Updating your website regularly can also help with SEO.
Additional sections to stand out
Testimonials
Including testimonials from people you've worked with can add powerful validation to your resume website. Everyone can makes claims about their abilities, but how do we know these are true claims? Short quotes from colleagues and people of note within your industry shows the recruiter you're able to build relationships with others and leave a lasting impact. It's a built in reference network.
Motivated By
Many of us have made career moves that we couldn't have imagined before they happened. People make career changes all of the time. More often than not, the industry may change and the focus of your career may change, but your motivators tend to stay constant. Including a "Motivated By" section can be used to tell the hiring manager what it is that drives you to work. This can help recruiters identify whether or not you'll be suitable for a job that lies just outside of your usual area of interest.
Building a resume website
A resume website is the perfect match to your resume if used correctly. With Enhancv's resume builder, you can easily add your resume website's link to your resume header. The best strategy to use when building your resume website is to think of the limitations of your resume (length, type of content, and so on) and to account for these in your website. Used effectively, a resume website can sway the recruiter to calling you for an interview.
Make your move!
Your resume is an extension of yourself.
Make one that's truly you.

Dean O'Reilly
Psychology student with keen interest in academic research. Currently exploring the world of marketing distribution and content creation with Enhancv to help people get closer to their dream job.