What should I include in my resume?
That's a common question asked by university graduates about to start their careers.
And it's quite the challenge.
Luckily, we have tons of articles explaining what to include and what not in your applications.
GPA is not an exception.
Although we have often mentioned it briefly in other articles, now it's time to fully address it.
We will analyze if GPA can bring enough value to your resume, to help you stand out among the rest of the candidates.
In the article we will cover:
What GPA to put on your resume
How long to keep GPA on your resume
Where to put it and how to format it
How to get a job with a low GPA
CHECK OUT OUR AWESOME RESUME EXAMPLES HERE!
Does GPA Matter on a Resume?
Upload & Check Your Resume
Drop your resume here or choose a file. PDF & DOCX only. Max 2MB file size.
The honest answer is:
It depends.
If you just finished your education, adding a good GPA might bring some additional value to the hiring managers.
It's appropriate to add it when:
It is specifically requested by the hiring company
Your degree is highly related to the position you are applying for
You have a good GPA
On the other hand, don't include it if:
The GPA is less than 3.5
You are more than three years out of college
You have earned a higher degree that is more relevant for the position (for example, many law firms care deeply about how well an applicant performed in law school, but they no longer focus on undergraduate performance).
What GPA to put on a resume
There's no clear-cut rule that dictates when to include your GPA, but as we said, you should only keep it in your resume if it's over 3.5.
In some cases, it's acceptable to put a rounded GPA on your resume.
For example, if your GPA is 3.9, you can round it to 4.0 without any worries.
One more question needs to be answered:
Should I put a weighted or unweighted GPA on a resume?
First of all, what's the difference?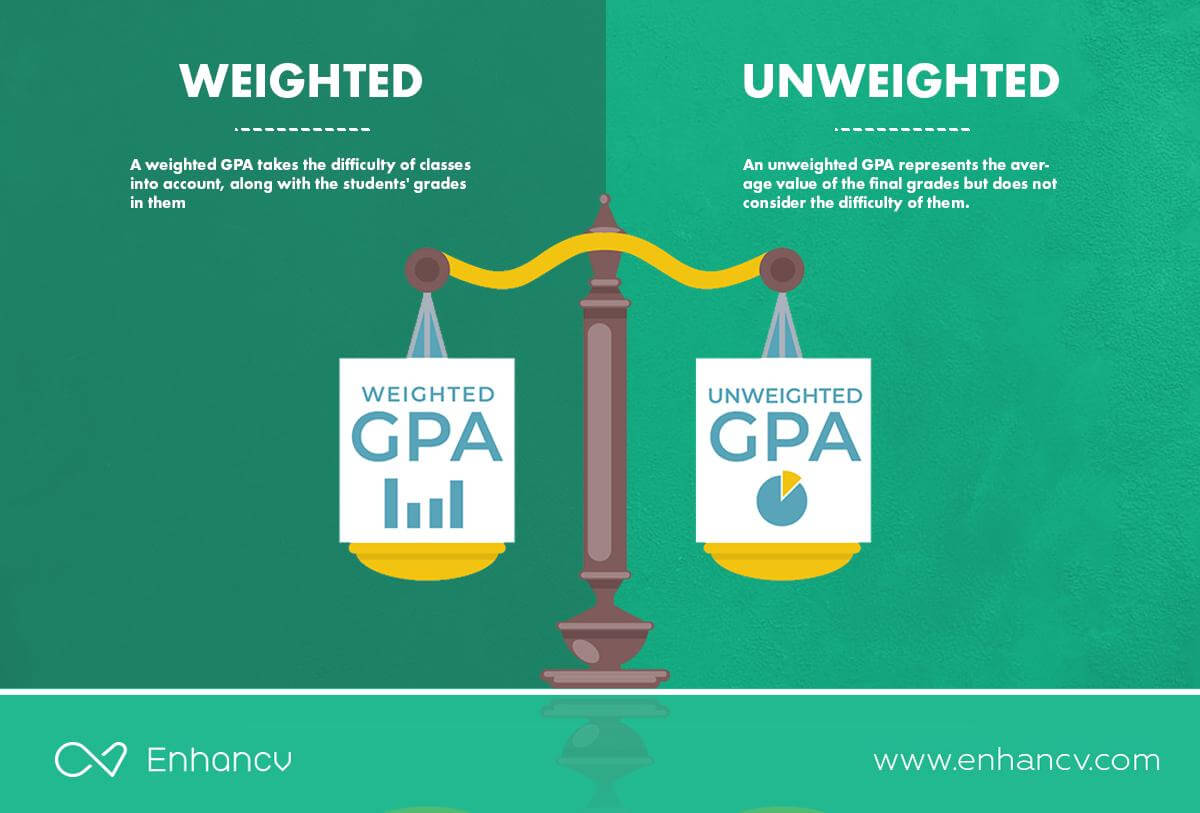 A weighted GPA takes the difficulty of classes into account, along with your grades in them.
On the other hand, an unweighted GPA represents the average value of your final grades but does not consider the difficulty of the classes.
So, displaying both can show that you've taken harder classes and excelled. This can have a lasting impression on recruiters.

If you have to pick one, we recommend the weighted GPA, as higher always looks better.
Where to put GPA on a resume
Since the GPA is highly related to your education, and the education itself is usually at the top of the resume, GPA goes there too.
The Education section also consists of where you went to school and what degrees you received. Moreover, you can mention any academic honors and awards.
GPA fits right in.
Don't forget:
The Header and Summary (Objective) make for an eye-catching start to your resume so the Education and Experience sections should follow.
How to show GPA on a resume

Since the purpose of the GPA in your resume is to complement the Education section and add more value to it, it's no doubt that the best place to include it is right next to that section.

Luckily, in Enhancv, you can do this with a simple click of a button.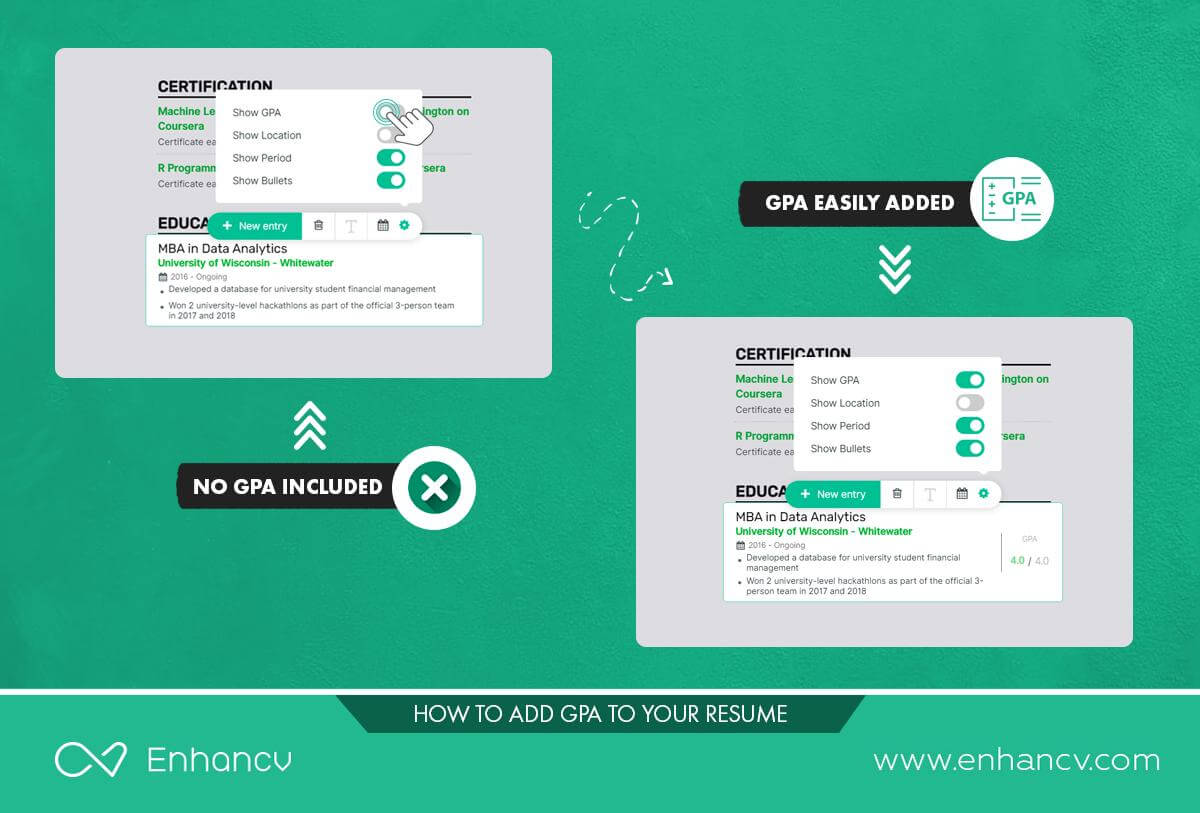 Go to the Enhancv Resume Section
Choose the resume you want to edit
Mark the Education section and click on the gear wheel icon (settings)
Click on the "Show GPA" button to enable this feature
It's that easy!

And since our widget is created to help you create eye-catching resumes, GPA is added right next to your education history. Recruiters won't lose any time and will be able to see all the necessary information immediately.
How to format GPA on a resume
The rule is simple – generally, add the value of your GPA with one number after the decimal point. In some cases, you can include the value to the second decimal place.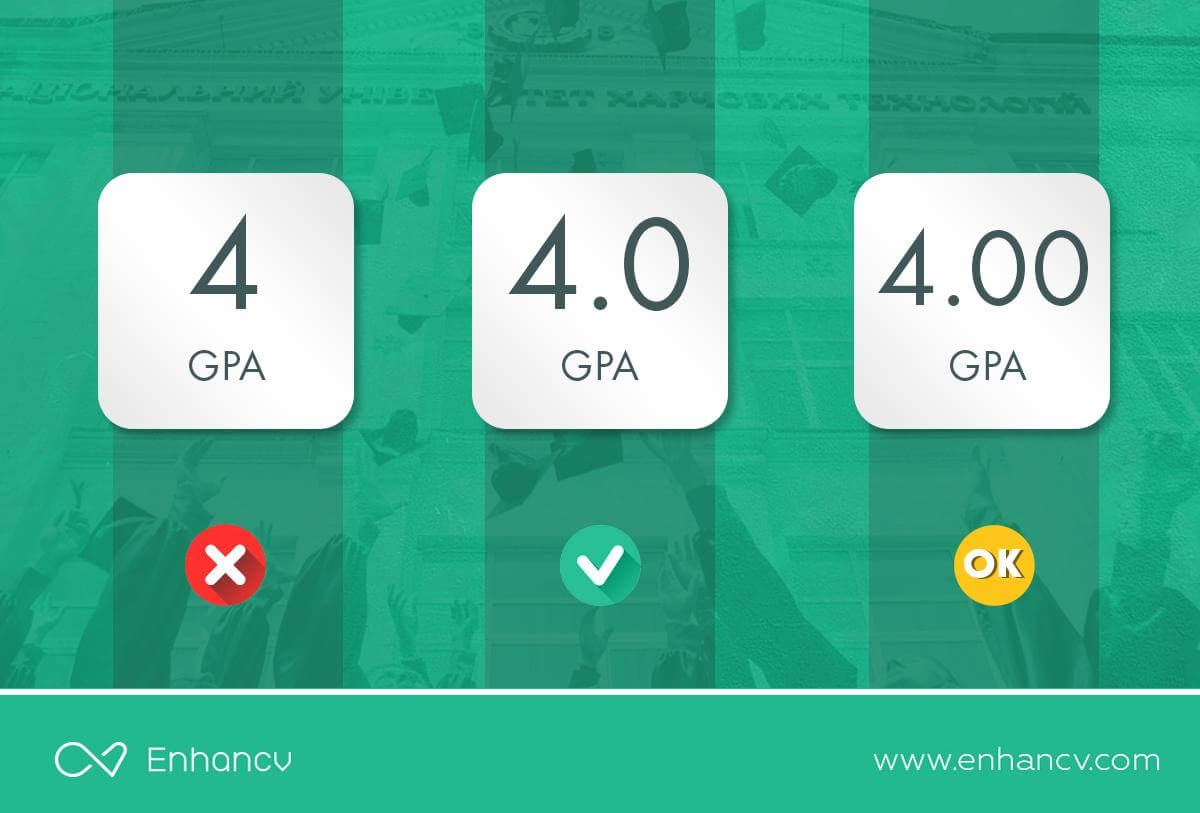 Is it acceptable to round your GPA on your resume?
Yes, it's acceptable but under one condition:
Always only round up to one decimal place. Otherwise, it can be considered a lie, so don't go beyond that range.
Examples of ways to include your GPA in your resume
There are a variety of different ways to present GPA on your Resume.
It really depends on what you want to highlight.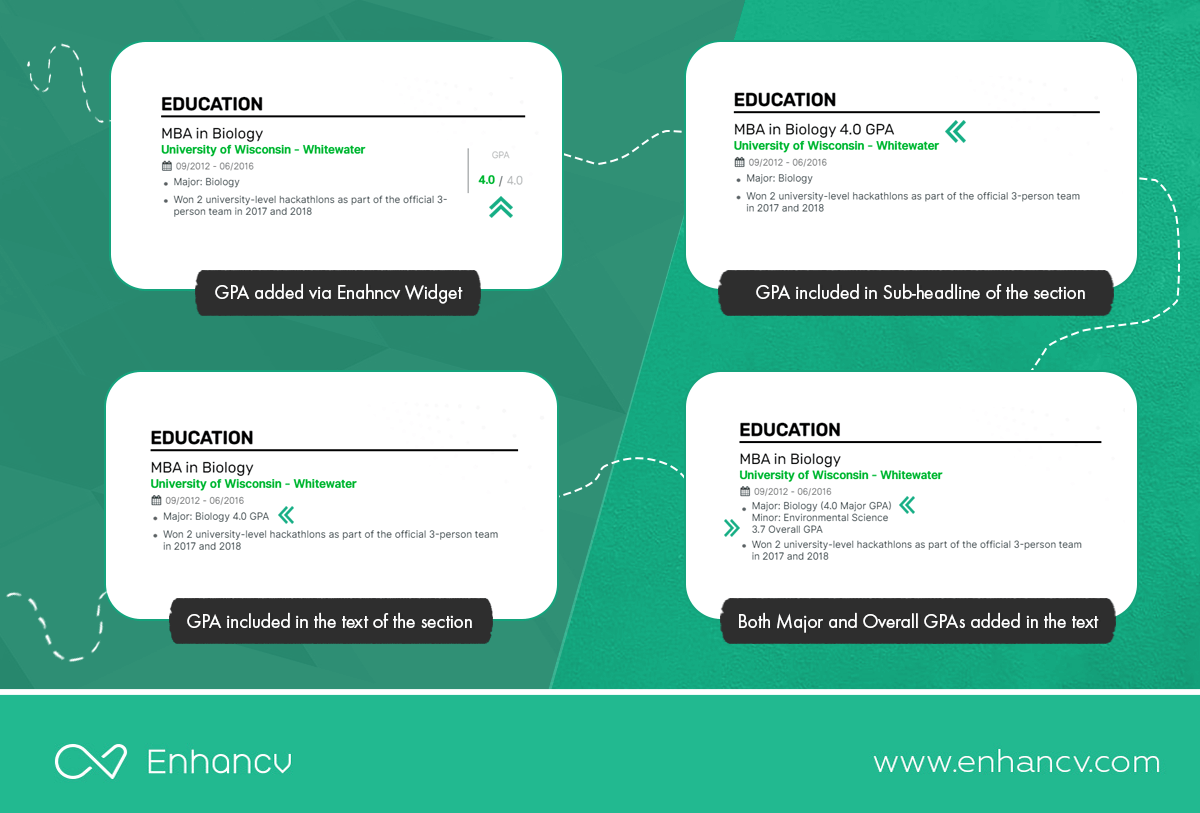 Sometimes you can include it in the sub-headline of the section, sometimes in the text, but without a doubt, GPA looks most enticing and visually appealing with the Enhancv widget.
Will a Low GPA Ruin Your Chances of Having a Career?
Not at all.
A low GPA doesn't mean that you won't have a successful career in your chosen field. There are plenty of other sections of a resume that you can work to enhance so that every hiring manager will give you a chance at a new job.
And one more question you are probably wondering about:
Should I include an abysmal GPA on a resume when applying for a job?
If your GPA is low, just don't add it. Make sure the rest of your resume is properly formatted and you won't have any problems!
What Happens If You Lie on Your Resume?
Lying can only lead to one thing – losing out on your dream job.
Nowadays, the hiring process consists of initial background checks, calls to past employers, and multiple interviews. With all that, lies are very likely to get detected.
How to be on the safe side?
Just don't lie!
However, if you somehow got yourself in a position where you lied about something in your resume, we have prepared a detailed guide to show you how to handle the situation.
Can you lie about GPA on your resume?
As we mentioned, lies are easy to detect and you should always rely on your skills and strengths, rather than create an imaginary image of yourself through lies.
The only acceptable "lie" about your GPA can be rounding its value.
Adding a 4.0 GPA instead of 3.9 won't hurt anyone.

If you want to learn more about the consequences of lying on your job resume, you can check out our detailed article!
How can I get a job with a low GPA?
A low GPA doesn't mean you can't handle the job or that you won't be successful in the field. Some of the greatest minds of our days didn't even finish university.
And yet, they change the world we live in every single day.
You should always concentrate on the bigger picture. Your GPA is only one of the many details that can make your resume a real masterpiece.
A masterpiece that can secure you any job.
We are here to help you on that journey.
GPA on Resumes: Takeaways
Let's summarize:
The purpose of listing your GPA purpose on a resume is only to complement your Education section and empower it.
There are a variety of ways to present and format your GPA.
The only acceptable lie regarding GPA is rounding it up to one decimal place.
A low GPA won't ruin your life. You can still get your dream job, and we are always here to help.
***
What did you think of this article? Do you feel you know everything about having your GPA in your resume? Share your thoughts in the comments!
Make your move!
Your resume is an extension of yourself.
Make one that's truly you.