Regardless of where you are in your career, it is paramount to have a current resume that succinctly communicates your abilities and growth in your profession.
A mid-career resume uses content and form to illustrate the focus and trajectory of your professional development.
In this article, you'll learn the following about how to develop a mid-career resume:
Important information to include
Information to leave out
Formatting
A mid-career resume should only include an employment history related to your desired position.
What to include in your mid-career resume
Upload & Check Your Resume
Drop your resume here or choose a file. PDF & DOCX only. Max 2MB file size.
A mid-career resume distills all of your professional experience into a single document that shows employers you are focused, experienced, and dedicated.
A mid-career resume demonstrates your professional investment in a particular field by discarding superfluous details from your employment history.
Focus on your accomplishments
Accomplishments are the most valuable part of your mid-career resume because they demonstrate an applicant's initiative and creative problem-solving abilities.
Accomplishments can be formal awards, personal milestones, or anything that communicates your ability to set and achieve goals.
Emphasize your accomplishments when you lay out your mid-career resume for a strong mid-career resume.
List skills that match the job position
Communicate all of the skills you have that relate to your desired position.
Your resume's skills section should be brief, include technical and soft skills, and only include abilities related to your desired position.
You can format the skills section of your resume in several ways; we recommend you use a column for your skills section to optimize the layout of your resume.
Browse our collection of resume examples for creative ideas on how to format your skills section.
Focus on relevant job positions
Employers recruiting candidates for mid to senior-level positions understand you took a long path to get where you are, but they do not need information about the first job you ever had.
Your resume should concisely communicate your most impressive experience, abilities, and achievements because employers have limited time to decide if an applicant suits a job or not.
Consider making a resume outline if you are unsure about what positions to include on your resume.
De-emphasize education
Potential employers care more about concrete results than pedigrees. A mid-level career resume should emphasize your professional experience more than your education.
Briefly list your education at the bottom of your resume.
Note that recent recipients of post-graduate degrees should communicate their advanced level of expertise in a field with a more robust education section.
Mid-career resume example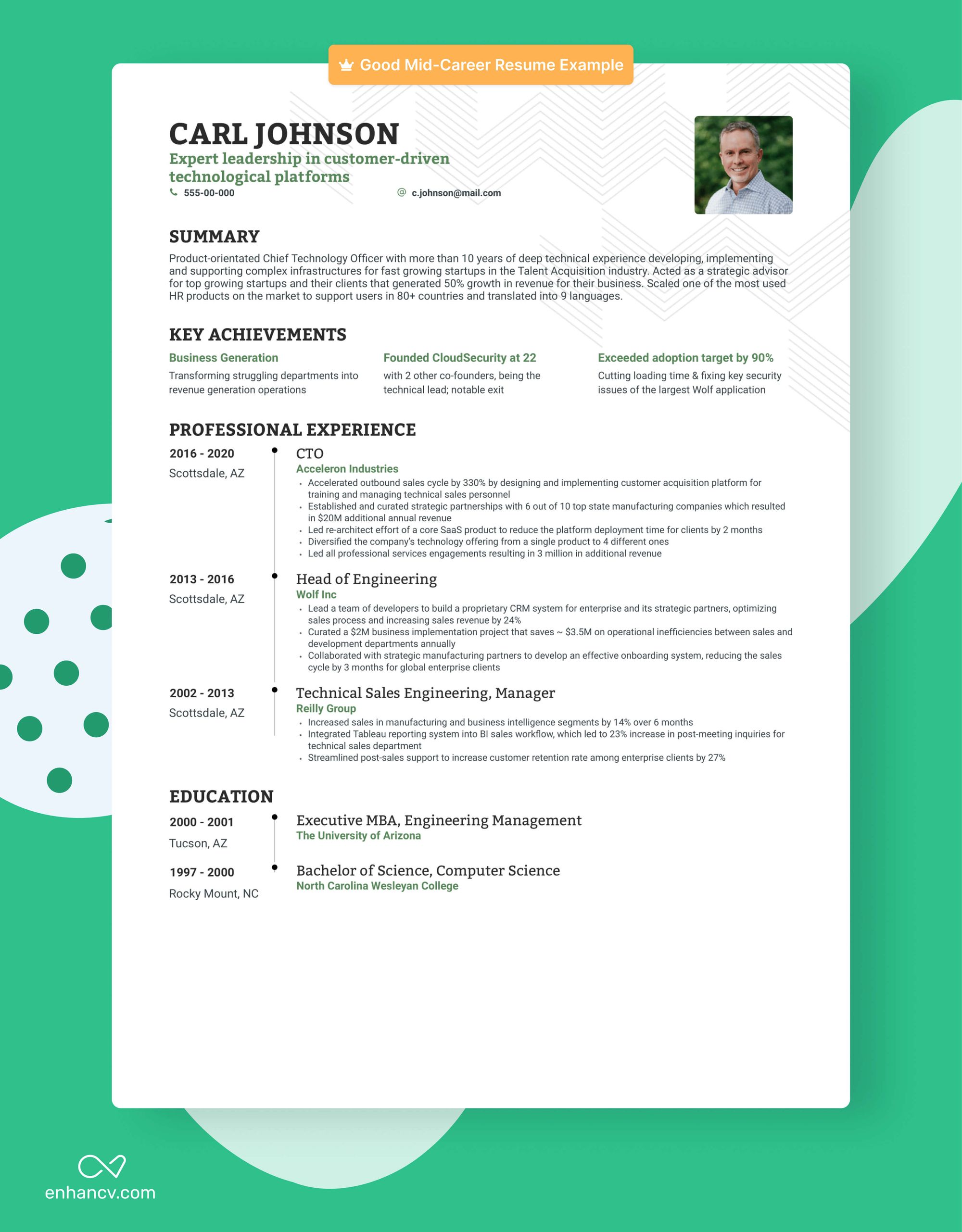 Takeaways
Here are some key details to keep in mind when writing a mid-career resume:
Emphasize career-related accomplishments
Include technical and soft skills
Only list career experience related to the position you are applying for
In most scenarios, education comes second to professional experience
For help building a mid-career resume, visit our resume builder, or read more about resumes.
Make your move!
Your resume is an extension of yourself.
Make one that's truly you.