You just found the perfect job posting, but when you went to apply, you were told that you need a cover letter.
Don't stress one bit!
Cover letters don't have to be complicated, but they are an important piece of the application process.
Sending a cover letter opens up the opportunity for an interview by sharing your story–your triumphs, accomplishments, and skills–to a hiring manager.
It's like getting one foot in the door.
In this article, we're going to look at all the major elements of a cover letter outline, and discuss:
How does a cover letter header function?
How can you grab the attention of the reader in your opening paragraph?
How can you breathe life and personality into your cover letter in the body paragraphs?
What is a call to action, and how to use that to get yourself an interview?
If you're interested in learning more about how to craft a killer cover letter, Enhancv has 500+ Cover letter examples which have been updated for 2022.

What is a Cover Letter Outline?
Upload & Check Your Resume
Drop your resume here or choose a file. PDF & DOCX only. Max 2MB file size.
Cover letters are a professional letter sent to a hiring manager which shows your skills and abilities in the job that you're applying for. The format for a cover letter outline helps you to know exactly what you need to include, and what you can keep out.

1. Cover Letter Header: Your First Impression
Often overlooked, cover letter headers are an important part of the cover letter structure because they provide all the information that a hiring manager needs to contact you.
But it's more than just your personal information.
A properly formatted cover letter header shows a hiring manager that you've done your research and learned more about the company, as well as addressing the letter to a specific hiring manager.
Let's check out the major elements of a cover letter header:
Your Personal Information: This first section of the cover letter header includes your name, your email address, and your phone number. You may also want to include your address and the current job title.
Date: Include the date on which you wrote the letter.
The addressee's information: This may take some time to find, but look for the hiring manager's name, their position within the company, as well as the name of the company and the mailing address.
Salutation: The last section of the header, the salutation, allows you to address the letter to a specific person - Dear Mr./Ms. [hiring manager's name]
It's critical to put in a bit of effort to find the hiring manager's name and their position in the company, as this shows that you have gone above and beyond and have researched the position more fully.
Try to avoid the generic sounding, "Dear hiring manager" in the salutation.
Before you write the body of the letter, look over your resume header and cover letter header to make sure that they match. Any mistakes in grammar or spelling, as well as addresses and contact information, can cause your resume and cover letter to be thrown out.
If you create a general cover letter template, a cover letter which you can use when applying for several jobs, you won't need to update your own personal information for each cover letter.
Let's dive deeper into how to start your cover letter by looking at ways to captivate the reader.
2. First Paragraph: Grab Their Attention And Never Let Go Of It
The first paragraph of your cover letter outline should open strong by explaining why you are the ideal candidate for the position, and why you think you'll fit well within the company.
Start by providing the name of the position that you are applying for and express interest in the position.
Show that you've learned a little about the company's culture, values, and mission. One of the best ways to find more content about the company is to look through the job application itself. There, you may find the values and vision of the company written for new applicants.
Here are some other places that you may ‌find information about the company that you can include in the first paragraph of your cover letter:
The company website
Executives' social media accounts
From family or friends who have worked at the company
Marketing and email materials.
The first paragraph is a brilliant spot to share about what interests you about becoming a part of the team, but avoid focusing the entirety of your cover letter on what you love about the company.
You can quickly mention your admiration for the company, and then head onto sharing about yourself and what makes you a great fit for the company as well.

3. Body Paragraph: Tell Your Story
We know, you don't like to talk about yourself.
We get it, but in a cover letter, you can leverage your experiences to show that you're the best person for the job.
Ultimately, your cover letter should weave a compelling narrative about why you are the most competent person for the job.
This is the place where you can explain why the skills and abilities that you've gained over years of experience in your field will make you the ideal candidate to fill the position.
Tone
One quick note about the tone of your cover letter: it should appropriately match the tone of the job application and the company that you're applying for.
If you're applying for a creative company, one that uses informal language in the job application, social media posts, and marketing materials, you may be free to use a little more informal language when you are explaining about your achievements.
However, if you're applying for a more conservative company, like a financial institution or a law firm, air on the side of caution and keep it as formal as possible.
Here are three things to remember about tone when writing a cover letter:
Use strong action words to describe your accomplishments.
Avoid sharing personal details, including negative feelings about your current workplace or your current manager.
Be humble, and include others who have helped you along the way, like your current manager and other team members.
Highlight Hard and Soft Skills
Hard skills are technical skills that you gain through schooling and work experience, while soft skills are people skills, which are developed as you collaborate in a team setting. Both are great to put on a cover letter because they show your level of competency to work in a team environment or independently.
Some soft skills that you can include on your cover letter include:
Verbal and written communication
Problem-solving skills
Leadership skills
Adaptability
Ability to work within a team
Use Concrete, Quantitative Examples
Try to stick to quantitative results based information when you are sharing about your professional skills and accomplishments.
For example, if you are part of the sales team at your current company and watched profits increase, mention, "In the first quarter of 2020, I was on a team that spearheaded an initiative that increased profits 5%, even during the economic downturn."
By including percentages and actual, tangible numbers, the hiring manager can see and evaluate how much your work has been beneficial to your current company.
Now that you've hooked the reader with your achievements, reel them in with a great call to action.
4. Call to Action
The last paragraph in the cover letter format is a call to action, the place where you can address to the hiring manager about your willingness to apply for the position.
Be persuasive here, and since you've already got your foot in the door, try to pry it open a bit more to get that interview.
If a hiring manager has read through your cover letter, there's a good chance that they would like to speak to you more about interviewing for the position.
Your call to action should be focused on getting the hiring manager to follow-up with you, either through an interview or for further discussion.
5. Sign-off
This last section of your cover letter can be a simple "Sincerely" followed by your name. You can also add a personal touch by signing the cover letter just above your name.
Takeaways
The cover letter header is your first introduction with the hiring manager, so format it correctly and make sure it matches your resume.
Grab the attention of the reader by tailoring the first paragraph of your cover letter to the company and position that you're applying to.
Set the tone of your body paragraph by using strong, action words, as well as data driven results.
Share your interest in the position and your desire to be interviewed for it with a call to action.
If you need a bit of help with crafting your own custom cover letter, check out Enhacv's Cover Letter Builder. The CL builder offers you the ability to create a cover letter from scratch using superior templates and advice from experts in their field.
I like to think that cover letters are first impressions, and with the help of the CL builder, you can create the perfect first impression.
Make your move!
Your resume is an extension of yourself.
Make one that's truly you.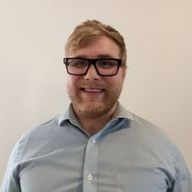 Dave Van Kooten
Is a human resource expert that helps passionate jobseekers to put their best foot forward to prepare for an interview. He believes that success can be achieved through going out of your comfort zone.