According to some experts, finding exciting job adverts is one of the most challenging problems job-seekers need to deal with.
But according to our own research, conveying your enthusiasm to a one-page cover letter might prove to be even more challenging.
After all, you don't want a bland and boring cover letter to represent you, we get it.
But how can you make a strong first impression in just a few lines?
Below, you'll find the best Technical Writer cover letter tips and examples that will help you find out.
Professional technical writer cover letter tips to help you stand out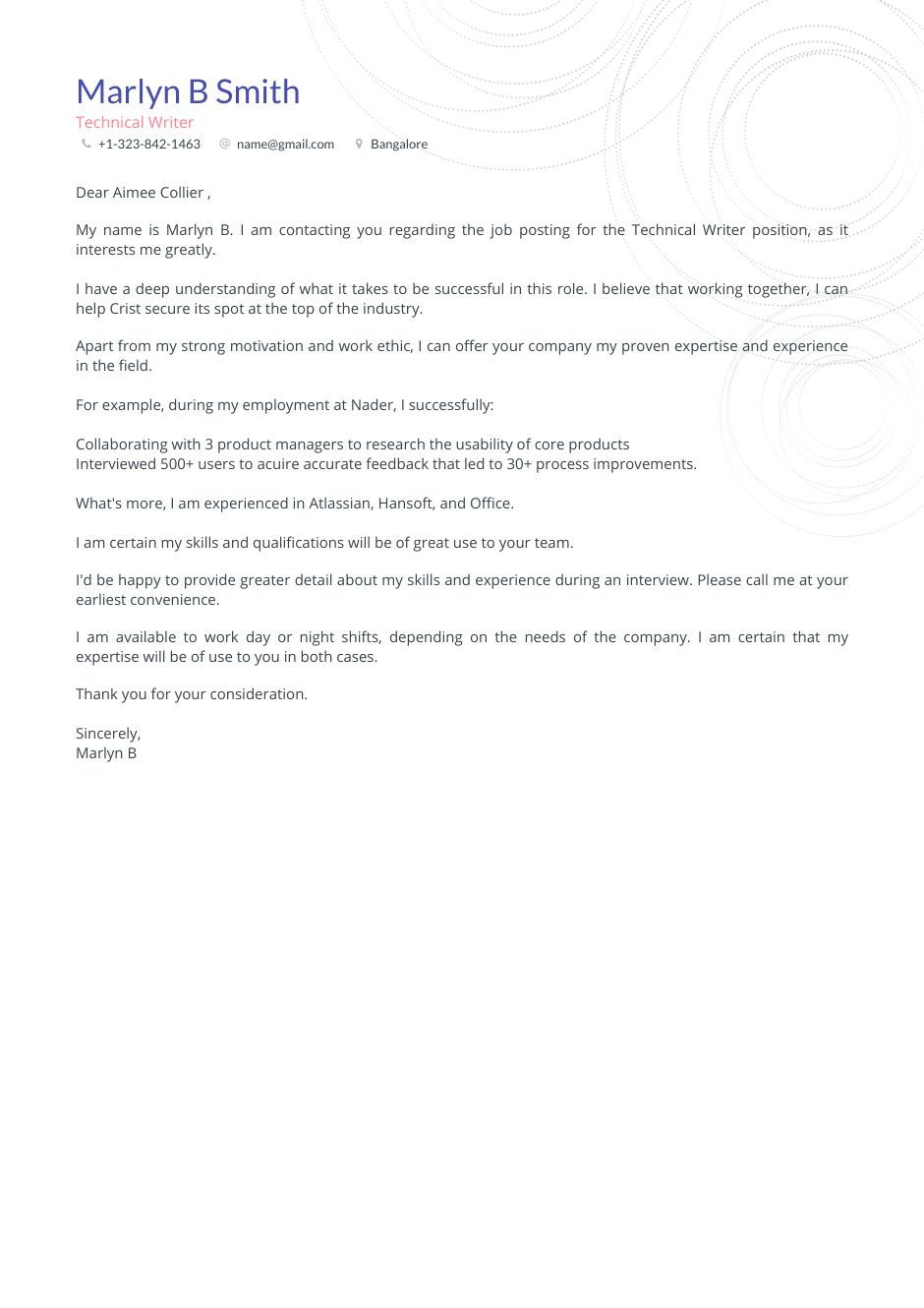 So what's the difference between a cover letter and a resume?
In short – the resume showcases your achievements and skills, while the cover letter focuses more on your personality and motivations.
Of course, you should mention some of your relevant skills in the cover letter as well. But make sure you're not repeating your resume word by word.
Now let's move on to the things that make every cover letter great!
Choose the right salutation and write a strong introduction
In general, the salutation you use depends on the tone of voice you've decided to go for but also on the company culture.
However, it's always a good idea to address your letter to the person responsible for the recruitment process. If you don't know their name, try to find it out. And only if that proves to be impossible, choose a generic salutation.
Here are some phrases you can use (note that some of them require you to know the hiring manager's name):
Dear Mr. John,
Dear Ms. Petersen,
Dear Hiring Manager,
Dear Dr. Todd,
Dear Head of [team you're applying for]
Coming up with a good introduction is your chance to make the right impression and give the hiring manager a solid reason to remember you.
So instead of going for popular opening lines such as "I found your job advert on website X", prove that you are actually passionate about the position. Share why you would like to grow in this field and what makes the company exciting.
Link your Technical Writer soft and hard skills to your achievements
The resume is the place to list all your hard skills. The technical writer cover letter, on the other hand, is the ideal place to emphasize your soft skills and link them to your achievements.
Think about times when your skills have helped you achieve certain goals that seemed too difficult. And don't worry about admitting some of your weak sides – this is a great way to show recruiters your potential and ability to grow, both professionally and personally.
Looking at the specific job posting requirements could also give you insight on what skills should be included in your resume by all means. This will help you pass applicant tracking systems (ATS) that screen cover letters for keywords before passing them on to recruiters.
Prove your passion about the company
Proving that you are familiar with the company, its problems, and its goals is without a doubt one of the best ways to stand out.
If you want to show your passion for the company, mention how your skills and previous achievements can help the team grow.
It's also worth mentioning how your experience can help resolve some of the most common industry issues.
Choose the right ending
While a strong introduction makes a great first impression, a confident, yet considerate conclusion is essentially what will get you a callback.
There are different ways to end your cover letter. But remember – the closing line you choose should match the company culture.
Your safest bet would be going for traditional phrases like "Looking forward to hearing from you" or "Looking forward to your reply". For bonus points, add a simple "Thank you for your time and consideration".