Everyone these days wants to work in a FAANG - or a MAANG - company. And, honestly, who doesn't want to work in Big Tech (Facebook or Meta, Amazon, Apple, Netflix, Google) to shape our world?
This Enhancv guide is made to help you prepare your resume for the highly standardized process.
But before we get into the details of it, let's look at a couple of pieces of advice from each company.
Facebook or Meta
The team at Meta wants to see:
professional strengths;
how do you deal with failure in the big picture of things;
a personal or professional project you've built.
Thus, showcasing both personal traits and a brand-new perspective.
Remember that your resume is being evaluated based on skills and experience in relation to the job you've applied for. Use it as a template for your structure.
You can also even prepare your resume based on one of the first questions you'd get asked during your Meta interview.
"What were you doing on your very best day at work?"
Amazon
Just like we obsess over customers, we obsess over our candidates.
That's why Amazon recruiters have prepared seven tips for candidates in preparing their applications.
Figure out what you really want to do
Pick five roles based on basic qualifications
Don't judge a job by its title
Frame your story with data
Identify your unique value
Simplify your resume
Don't cut your experiences short
Apple
Apple's values are at the core of the whole business. Apart from technical skills and capabilities, you could use your resume to showcase how your own and the company's values intersect.
Think about how you could use your strengths and achievements to focus on some of these Apple values:
Accessibility
Education
Environment
Netflix
Before you start your Netflix application, you need to do your homework. We recommend you dive into the company's culture, business, products, history, etc.
Use your resume to craft an enticing story about yourself. In a platform that's narrative focused, this would definitely catch recruiters' attention.
Google
Basic formatting is important: keep your resume simple and consistent.
Don't forget to include your contact details, relevant GitHub link to your work, and all programming languages.
A rule of thumb from Google when writing about your experience is to use the following X-Y-Z formula:
Google's bullet points formula
Accomplished [X] as measured by [Y], by doing [Z].
Before sending it across as a PDF, always make sure to double-check for typos.
Now for the part you've been waiting for, let's look at some resume examples to help you get some creative inspiration when applying for your future FAANG / MAANg role.
MAANG Resume examples and templates to copy and use
MAANG Software Engineer (Meta) resume example
Here are five reasons why this SWE resume example would catch recruiters' attention:
Within the headline and summary, you'd find keywords important for the MAANG industry.
The summary also highlights three main career points. Those include experience, interests, and achievements in leadership.
At the top, is another section, important for the Applicant Tracker Systems (ATS): skills. It hints at the candidate's technical capabilities, which are further expanded with experience and projects.
Relevant certificates (and education) always add a specific authority to your application.
What's more, this whole resume defines how this candidate perceives her position as a leader. Adding more soft skills to paint the full picture of her resume.
MAANG Product Manager (Amazon) resume example
This resume certainly tells a good career progression narrative. The candidate worked her way up within MAANG companies to a more senior role.
Three things that we'd like to highlight with this resume are:
All sections integrate keywords to shine a light on the candidate's hard and soft skills (technical and personal).
When a specific ability is listed, it's always supported with a relevant outcome.
The resume maps out what this candidate would further bring to the table. Not only in a technical sense but also in business acumen, localizing products, etc.

MAANG Data Scientist (Apple) resume example
Did you know that your resume's top one-third is the deal 'make it or break it' for both recruiters and the ATS?
Use this opportunity to highlight your:
biggest achievement or essence of your experience;
high technology understanding and capabilities;
personal skills or unique value as a professional.
Don't forget to list all your relevant degrees, like in the example below. This shows your dedication to the sphere or industry.
Where balancing a career with an academic background would sure score you plenty of brownie points.
Finally, the achievements resume section could serve to highlight your skills via outcomes. And also to show off a bit. There's nothing wrong with taking credit for your growth.
MAANG Machine Learning (Netflix) resume example
This example is dedicated to all junior professionals, trying to make it in the MAANG industry.
Within the very start of the resume - the headline - you'd notice that the focus is shifted from the current role to actual expertise.
Next, we move on to the summary, which does highlight the candidate's technical domain and interests. But then it goes on to detail the years of experience, expected Ph.D., and research topics.
The experience section also goes on to curate academic and business roles, showing that the candidate is able to thrive in both environments.
In the end, the 'My Time' section shows a bit more of their character and commitment to ML.
MAANG Software Engineer (Google) resume example
The following resume is a bit more skills focused, starting with two separate technologies sections. This would immediately help the ATS detect technical capabilities and programming languages.
The strengths section goes on to highlight the candidate's key character traits in leadership, strategy, and attention to detail.
Thus, the focus is shifted away from the experience. Did you notice that the candidate is currently unemployed?
The experience section selects roles to note the biggest achievement and what's most important to him.
On an N.B.: all relevant degrees are included.
Key takeaways
When applying for FAANG/ MAANG companies, research what's important for each individual company and tailor your resume.
Focus your resume on your technical and personal skills to show more depth to your experience.
Remember that formatting always helps when passing the first ATS/ recruiters' assessments.
Use your resume to tell a narrative that would best fit the brand voice.
Make your move!
Your resume is an extension of yourself.
Make one that's truly you.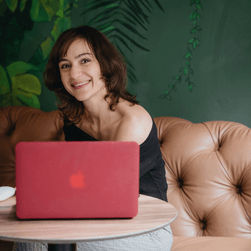 Reny Mihaylova
I'm a professional storyteller: where my 10+ year journey through various industries (media, PR, communications, and corporate) has brought me one step closer to my big WHY. That is, to use narratives and practical knowledge to help individuals achieve their purpose and feel happier by the work they do. In my free time, find me devouring the classics: from Austen to Tolkien to King, or being dragged uphill by my +50KG / +110 lb dog.