So are cover letters necessary for Php Developer jobs?
Well, the cover letter is your chance to tell a personal story to the hiring manager. It can help you prove you're a real professional who knows what they bring to the table.
It's also your opportunity to get into more detail about your personal qualities and success stories. But most importantly – it's the first place to show your motivation.
So yes, having a cover letter is essential.
But what should yours look like? Let's see…
Easy-to-follow cover letter writing tips for Php Developer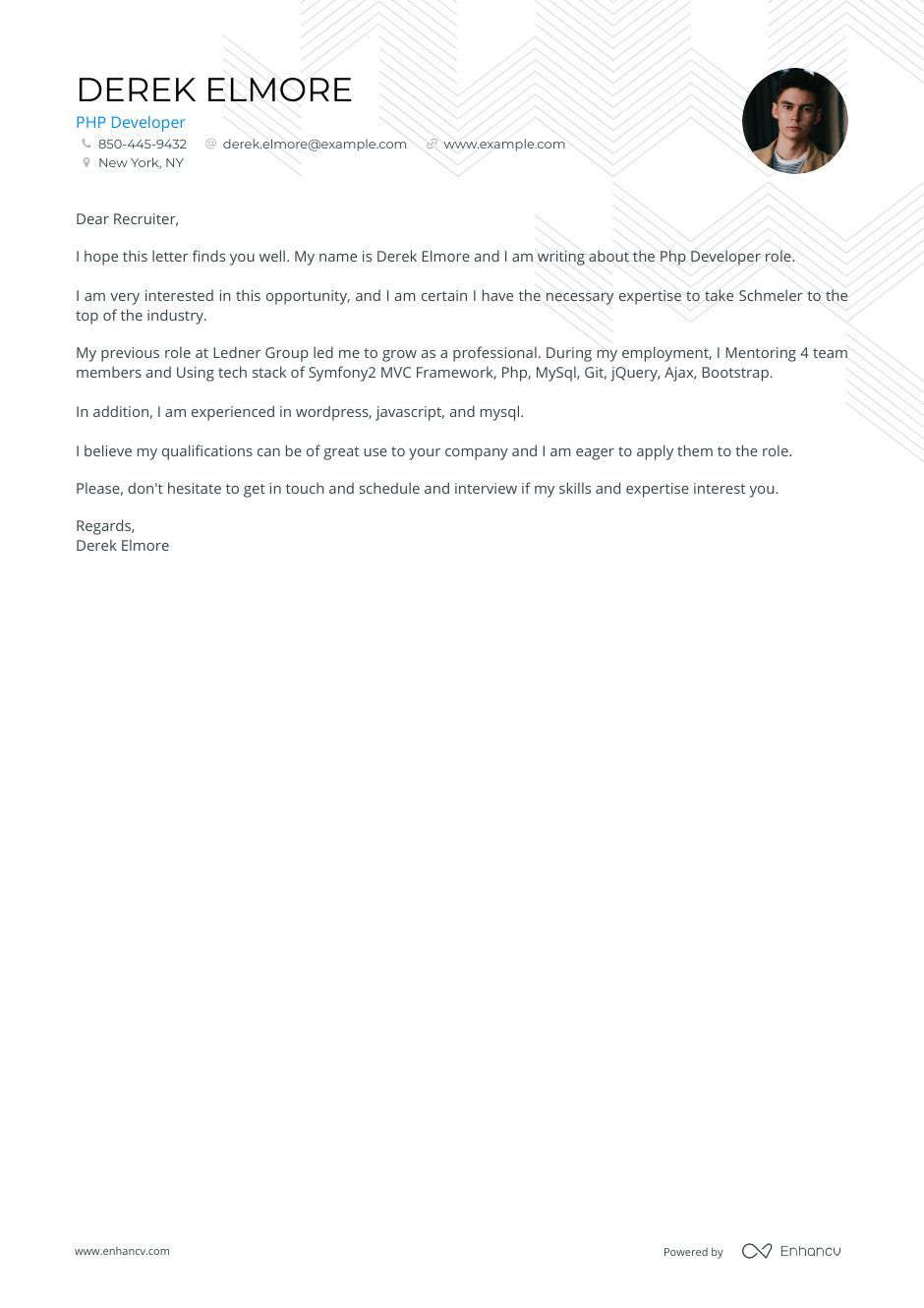 First off, you need to remember that a cover letter should build upon the information in your resume, rather than just repeat it.
Second, make sure that the tone of voice you use matches the company culture.
And last but not least, try to convey your enthusiasm for the position and the field. This will give your text a personal touch.
But how can you make your cover letter grab every hiring manager's attention? Let's see…
Choose the right salutation and write a strong introduction
Addressing your cover letter to a person is always something you should aim to do.
But finding who's responsible for the recruitment process might not be the easiest thing. We get it.
In such cases, we advise you to stick to the gender-neutral cover letter salutations.
Here are some examples of suitable classic salutations:
Dear Ms. Smith,
Dear Peter Roberts,
To the [company name] Recruitment Team,
Dear Hiring Manager
The introduction of your Php Developer cover letter is without a doubt crucial for the first impression you'll make as an applicant. But is there a way to make sure your opening line is good enough?
Yes, there is. You can start by sharing your enthusiasm for the job or the field (or why not both!). You could also share your reasons to find the company exciting.
Try to be original. Don't go for phrases like "I want to apply for the position that I saw advertised on platform X". They're outdated and sound like you've got nothing better to say
Focus on your soft skills but don't forget about the hard skills too
Listing hard skills on your resume is quite straightforward, isn't it? But when it comes to writing a memorable Php Developer cover letter, you need to be a bit more creative.
The thing is, cover letters are designed to tell a story. To show the thought process behind your achievements and motivations. To put the recruiter in your shoes and allow them to get to know you better.
Maybe you want to share how you deal with challenges? Or what helps you reach your goals? It doesn't really matter.
And while soft skills are important, hard skills shouldn't be skipped either. Mentioning some hard skills (especially the ones listed by the recruiter) is always a great idea. This will help you pass applicant tracking systems (ATS) that screen documents for certain keywords.
Prove how your skills can help the company grow
Adding a line or two about the company can help you prove your excitement and readiness to become a valuable team member.
You might also choose to link your previous work-related tasks and achievements to current industry or even company issues and how you think they can be resolved.
Go for a strong ending
By now you've managed to make a good impression on the hiring manager, and it's important not to ruin it. That's why you need your ending to be just as great as your cover letter's body.
But what are the things that make up a memorable closing line? Expressing gratitude for the reader's time and consideration, and saying that you look forward to their reply, to name a couple.
You can stick to traditional phrases (e.g. Looking forward to hearing from you soon) if you wish to be on the safe side. Just make sure that the language you use matches the company culture.