Competition in the tech industry is fierce. Your job application should be impeccable and with over 84% of recruiters saying that a cover letter does influence their decision making you can't apply without one.
Writing a cover letter for a computer scientist position is easy to say but hard to do. That's why in 2022 you get to see what other successful applicants have used to get a job in the computer science field, and you can use it as a stepping stone for yours.
In this short guide you'll learn:
About what a cover letter must include.
What a basic cover letter outline is.
How a computer scientist cover letter should look like.
A real-life example of a computer scientist cover letter and how to write one.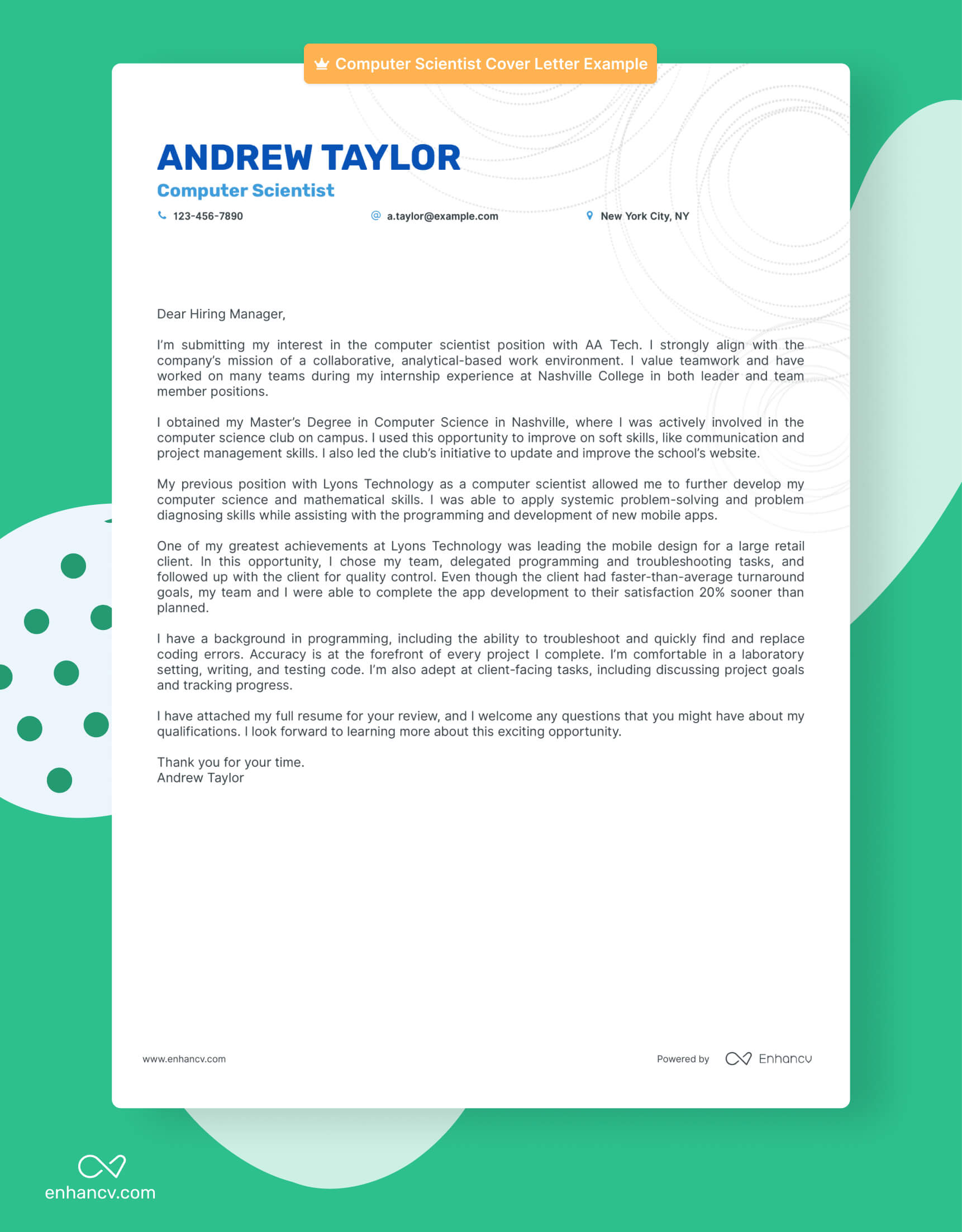 Before you start writing your cover letter, you have to understand that a cover letter is different from a resume. The resume is the place where you should list all your hard skills, achievements, and talents.
The cover letter is your chance to share more about yourself and show who you are.
So, now that you know what a cover letter is, it's time to learn how to write one that will get the hiring manager's attention and ultimately help you get that dream job.
The way you start your cover letter is what will have the biggest impact.
When you're applying for a computer scientist position it's important to take into consideration what company you're applying at. Are they a startup with a more relaxed atmosphere? Or are you applying for a position at a big, well established company with decades of history and a more corporate culture?
The company culture will define your tone of voice, the font you use, and most importantly – how you start your cover letter.
Addressing your cover letter to a specific person works in your favor for two reasons: it shows your attention to detail, and it proves that you've taken the time to research who the person might be. However, sometimes this might be much more difficult than expected. On such occasions, we advise you to focus on salutations that go beyond the impersonal "To Whom It May Concern".
Instead, use one of the following phrases:
Dear Ms. Smith,
Dear Peter Roberts,
To the [company name] Recruitment Team,
Dear Hiring Manager
Furthermore, coming up with a good introduction is your chance to make the right impression and give the hiring manager a solid reason to remember you.
So instead of going for popular opening lines such as "I found your job advert on [any] website", prove that you are actually passionate about the company and the position. Share why you would like to grow in this field and what makes the company exciting.
Skills in the technical field are everything
All good cover letters share one common trait – they showcase the applicant's skills in a good light. That's what you have to do as well – show how your skills have helped you achieve certain goals (ideally tied to a previous position in the same field).
Use your cover letter to emphasize your soft skills. You can use your resume to show off hard skills and capabilities. This is a great way to show recruiters your potential and ability to grow, both professionally and personally.
Looking at the specific job posting requirements could also give you insight on what skills should be included in your resume by all means. This will help you pass applicant tracking systems (ATS) that screen cover letters for keywords before passing them on to recruiters.
Prove that you've researched the company and are aware of industry problems
Every recruiter wants to know whether you've decided to apply because you're familiar with the company or because their job advert was the first thing you saw this morning.
So – show that you've researched the company and are aware of its strengths, weaknesses, and potential problems. To make your cover letter even better, tie in your skills with what the company needs.
Here are the top skills a computer scientist can posses in 2022:
In addition, you can also share how your Computer Science skills can add value to the team.
Choose the right closing line
Ending your cover letter in a suitable way can help you land an interview._ Why?_ Because strong endings portray applicants as considerate and, what's even more important – passionate about the job.
Just make sure that your ending (just like your cover letter's body) matches the company culture. If you prefer to be on the safe side, go for traditional closing lines such as "Looking forward to hearing from you".
Takeaways
Now that you know how to make your cover letter, you can use our cover letter builder to make your for free. Mind the things that we talked about above:
Tell your story. Use the cover letter as a way to share your personality.
Focus on soft skills mainly and tie them in with accomplishments from previous jobs you've had or projects you've worked on.
Use the cover letter to further support your resume. Don't just rephrase things.
And that's it! Now all you have to do is figure out how to fit everything into 400 words and you have an application that's ready to be send.