Writing a System Analyst cover letter might feel like skating on thin ice – choosing between buzzwords mentioned in the job description and original content, while worrying about making even the slightest mistake.
And what can make this experience a bit more fun and exciting? You guessed it. Relying on expert advice and examples.
Luckily, we have you covered. Check out our tips on writing a memorable cover letter below.
How to write a system analyst cover letter that makes you proud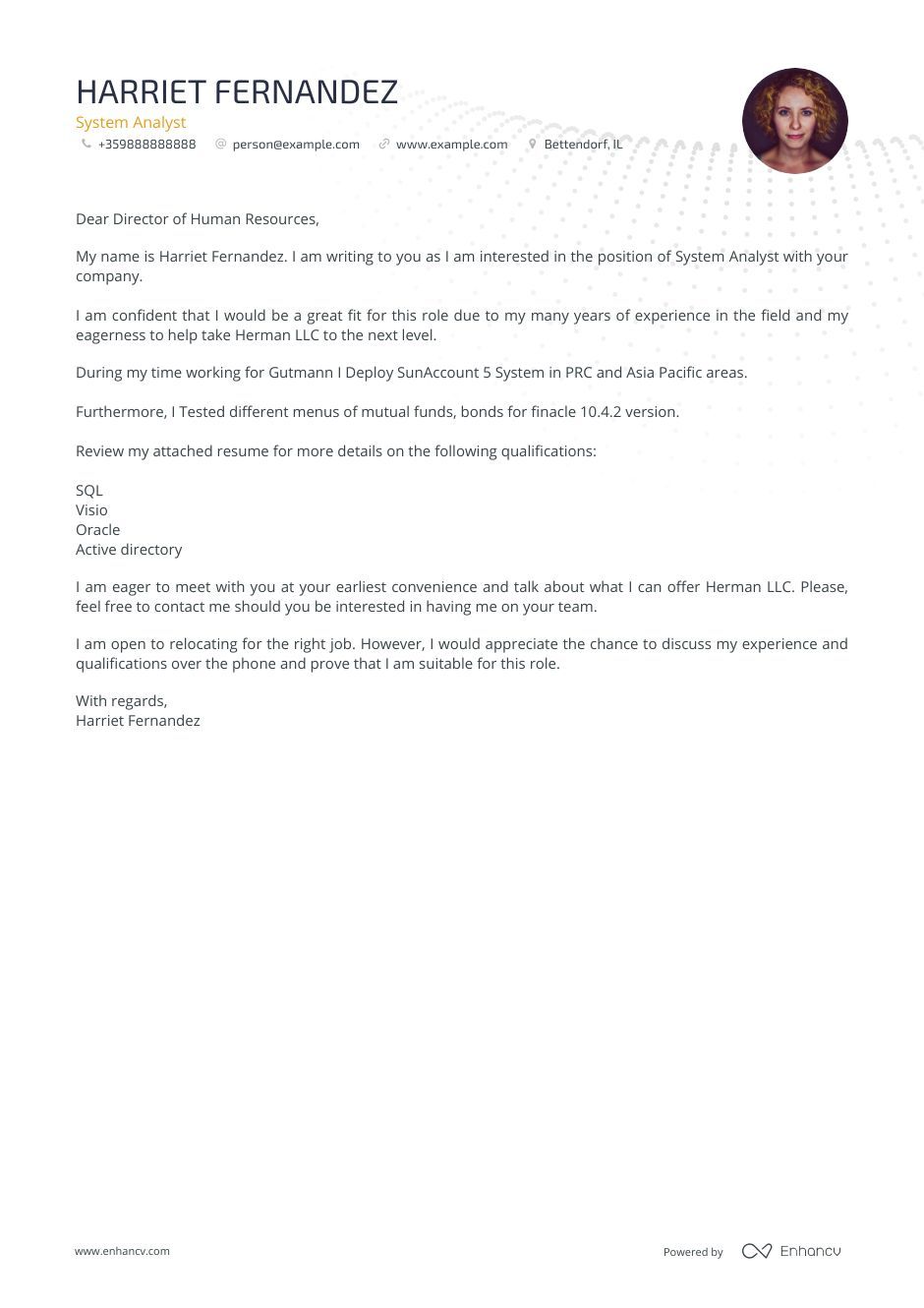 First off, you need to remember that a cover letter should build upon the information in your resume, rather than just repeat it.
Second, make sure that the tone of voice you use matches the company culture.
And last but not least, try to convey your enthusiasm for the position and the field. This will give your text a personal touch.
But how can you make your cover letter grab every hiring manager's attention? Let's see…
Stand out with a strong introduction and an appropriate salutation
Address your cover letter directly to the hiring manager, whenever possible. This has proven to be a good approach for two reasons.
First, it shows your attention to detail.
Second, it proves that you're willing to do some research and go the extra mile for the sake of success.
But if finding the recruiter's name is too difficult, you can go for a traditional gender-neutral phrase.
Here's our selection of strong salutations. Feel free to borrow any of them:
Dear [company name] Recruiter,
Dear Mr./Ms. Smith,
Dear Hiring Manager,
To the [team you're applying for] Team
We've all heard it – introductions are a big deal.
A good cover letter introduction can help you land an interview, while a bad introduction can ruin all your chances of getting your dream job as System Analyst.
So what are the things that can make your cover letter stand out? Honesty, excitement, and motivation.
Show your motivation and excitement to join the company in an honest way. And if you think that'd suit the company – share your vision with the recruiter. Tell them how you think being part of the team can help both parties grow.
Mention both your hard and soft skills
So you've listed all your hard skills on your resume, now what?
It's time to think about the soft ones. But remember, it's essential to not just list your soft skills but to link them to the actual ways they can help you do well in the future.
And what about hard skills, have we completely crossed them out? No, not at all. You still need to mention some of these if you want to pass applicant tracking systems that screen texts for certain keywords. Check the requirements section of the job advert for a complete list of phrases you need to include.
Prove that you're familiar with the company
Having a paragraph that shows you're aware of the company and the issues it faces is always a good idea. It proves your enthusiasm to join the team and makes a great impression.
For bonus points, you could also share how some of your strengths could help resolve company or even industry problems.
Choose the right ending
The last paragraph of your cover letter should briefly sum up the whole text. This is the time to express your motivation to get to the next step of the hiring process, but also your gratitude for the reader's time and consideration.
You can be creative or use traditional closing lines here – it all depends on your preference and the company culture.