So are cover letters necessary for Salesforce Business Analyst jobs?
Well, the cover letter is your chance to tell a personal story to the hiring manager. It can help you prove you're a real professional who knows what they bring to the table.
It's also your opportunity to get into more detail about your personal qualities and success stories. But most importantly – it's the first place to show your motivation.
So yes, having a cover letter is essential.
But what should yours look like? Let's see…
Make your salesforce business analyst cover letter stand out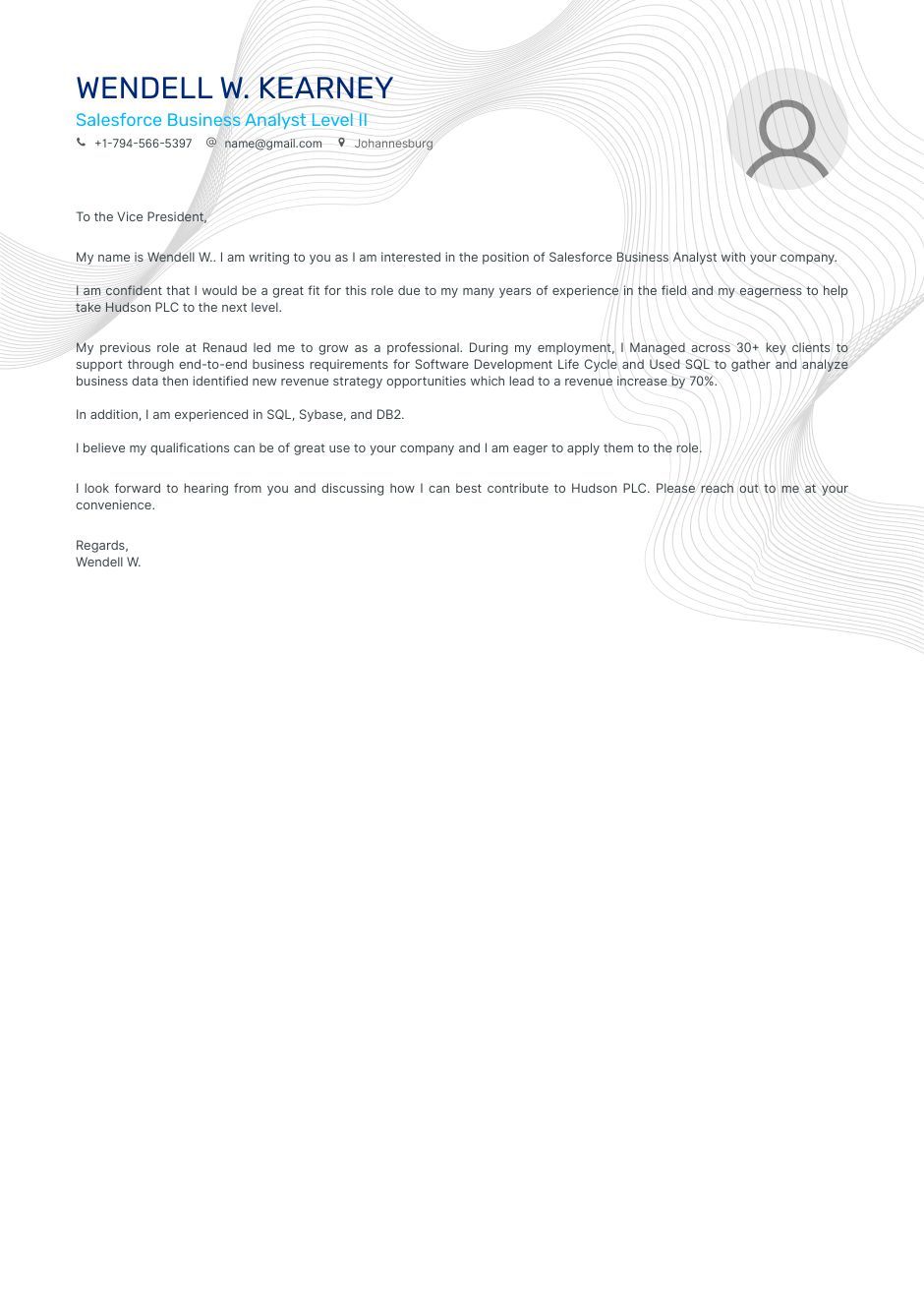 So what does a good cover letter look like?
Well, it's written in a tone of voice that matches the specific company's culture, and it's not just a long-form resume. It's also focused on making the right impression.
We advise you to talk about your achievements, goals, and motivations, rather than just plainly listing your skills and experience. Try to tell a personal story.
And if that's not enough, we have some additional pro tips for you.
Choose the right salutation and craft a strong introduction
Choosing the right salutation might be tough – we get it. After all, you don't want to sound way too formal or too friendly.
There are some things that should definitely be taken into consideration when it comes to addressing your cover letter. First and foremost comes the recruiter's name.
Even if you don't know who the person reading your cover letter might be, try to find out. Check company websites or social media profiles or even media articles.
If this doesn't help, you can go for traditional gender-neutral salutations that don't require knowing the hiring manager's name.
Here are some of our favorites:
Dear Human Resources Manager,
Dear Mr. Johnson,
Dear Head of [team you're applying for],
Dear Nathan Lovelace
We've all heard it – introductions are a big deal.
A good cover letter introduction can help you land an interview, while a bad introduction can ruin all your chances of getting your dream job as Salesforce Business Analyst.
So what are the things that can make your cover letter stand out? Honesty, excitement, and motivation.
Show your motivation and excitement to join the company in an honest way. And if you think that'd suit the company – share your vision with the recruiter. Tell them how you think being part of the team can help both parties grow.
Talk about your hard and soft skills
While the resume is considered the best place to showcase your hard skills and achievements, the cover letter should tell a story and prove your enthusiasm for the field.
This is why we advise you to focus on soft skills and results. Think about all your soft skills and how they have helped you grow as a professional and crush your goals. Then turn this into your own very short success story.
Make sure to include some hard skills too, especially the ones listed as part of the requirements section of the job advert. This will guarantee that you pass applicant tracking systems (ATS) that screen applicant documents for keywords.
And remember – the cover letter should include new information without repeating your whole resume. It needs to offer additional value to the recruiter.
Prove how your skills can help the company grow
Having a paragraph that shows you're aware of the company and the issues it faces is always a good idea. It proves your enthusiasm to join the team and makes a great impression.
For bonus points, you could also share how some of your strengths could help resolve company or even industry problems.
Choose the right ending
Ending your Salesforce Business Analyst cover letter in a suitable way can help you land an interview. Why? Because strong endings portray applicants as considerate and, what's even more important – passionate about the job.
Just make sure that your ending (just like your cover letter's body) matches the company culture. If you prefer to be on the safe side, go for traditional closing lines such as "Looking forward to hearing from you".