Over the past year-and-a-half, you've gone from a professional superstar to stay-at-home parent.
And, in spite of what anyone may think, your new role is quite demanding, requiring:
time management and commitment;
patience and resilience;
multitasking and delegation.
It's not a 9-to-5 that you can quit.
After a few years have gone by, there comes a time when you want to get back on track with your career.
Yet, stay-at-home parents have many obstacles to face.
Is your resume good enough?
Drop your resume here or choose a file. PDF & DOCX only. Max 2MB file size.
An Indeed survey found that "73% of women re-entering the workforce reported encountering hiring process biases due to their status as stay-at-home moms."
But this is nothing a well-curated stay-at-home parent resume can't handle, as your experience gap has taught you many valuable skills.
Our guide will help you to do so by translating your experience for hiring managers.
We know you have a great story to tell, and your resume is the perfect opportunity to do so!
What you'll learn:
Ensuring your stay-at-home parent experience is bold and enticing to recruiters
How to showcase your unique value through your stay-at-home parent resume
Best practices to put the spotlight on the skills you've learned while managing your household
Where on your resume could you mention that you're a stay-at-home parent
The employment gap - how could you explain it with various resume sections
How to write your stay-at-home parent resume?
Align your resume to the role
The resume is your quick summary, tailored to the organization or role.
When applying for a job, pay attention to advert keywords and analyze the requirements. Consider how your previous roles (and stay-at-home parent) responsibilities could be relevant.
Highlight your unique value
What skills have the past few years of managing your home taught you? They are one of the unique values you'd bring about as a candidate.
Select an appropriate resume format
Your resume format should be based on whether you'd want to highlight your experience, skills, or both.
Reverse chronological format - a timeline of your roles, starting with the latest. Select if your experience gap isn't for a very long time, and you want to highlight previous roles.
Functional /Skills-based format - shifts recruiters' focus towards your skills and achievements. It's a very good format for professionals with less experience.
Hybrid format - a combination of both formats. Highlights the skills you've gained, while showcasing traditional roles.
Use active language
Describe your skills and experience, achievements, and the overall lasting impact you made with action verbs. If possible, include numbers to quantify your results.
Stay-at-home-parent resume summary
Don't sell yourself short - your stay-at-home parent resume experience can be both bold and enticing.
And it all starts with your resume summary - one of the most important instruments to ensure recruiters are interested.
The resume summary is two-to-three sentences long and aligns your previous experience to the role with:
notable career achievements that are industry-specific;
relevant skills that'd contribute further to the organization;
additional specializations or courses that help you stand out.
You could also add a career objective to your summary. Think about what kind of job you hope to find and how it'd match your overall professional goals.
Pro tip
Don't be distracted by your employment gap. Structure your biggest and most relevant achievements of the past few years and take it from there.
Mentioning that you're a stay-at-home parent in your resume summary isn't obligatory.
Instead of kicking off with the whole, "I'm a stay-at-home dad looking for a role in operational management", leave this information for other resume sections.
Or, you could hint at it as part of your experience and achievements:
Experienced graphic designer with +10 years of expertise. Notably, in 2020, created the visuals for a viral F&B brand campaign, resulting in a 450% increase in user-generated content and a 150% boost in brand awareness in the digital space. Successfully rebranded and built social media communities, exceeding 500K, for 12+ businesses. During parenthood, completed freelance projects for 300+ global clients, designing +365 posters for movies, books, and vinyl. Seeking a lead graphic design role to leverage skills in print and digital spaces while mentoring and guiding a creative team.
RIGHT
Stay-at-home-parent resume experience
Is the experience section of your resume the place to talk about your stay-at-home "job"?
This completely depends on the role, company, and industry you're applying for.
Some recruiters and employers will appreciate your honesty. While employment gaps are never ideal, building a family is a perfectly valid reason.
Your resume will most likely be scanned by the Applicant Tracker System (ATS): the software that assigns points based on job criteria. If you have employment gaps, the ATS could give you a lower score.
On the other hand, there are recruiters out there, who'd see listing your stay-at-home experience as "unprofessional" and "childish".
Still, confused about what you should do?
It's your professional narrative - own up to your experience.
If including your stay-at-home work makes sense to you (and the job) - include it as part of your history.
Start off by selecting a catchy, like "House CEO/ COO", "Chief Home Officer", or "Career Sabbatical to Take Care of Children".
Within your experience bullets, don't just copy-paste your chores list. Instead, focus on relevant transferrable skills and results.
Emphasize just how productive you were with key skills and experience:
What software helped you to stay on track with at-home tasks?
If there were conflicts at home, how did you resolve them?
Did you get to practice your Excel formulas with your household budget?
A recruiter looking over your experience section should understand how this has helped you grow as a professional.
What else should be a part of your stay-at-home parent experience section?
While managing your household, did you complete any temp, contract, or freelance work?
Or, perhaps, you volunteered?
If it's relevant to the role and shows how you've put your skills into practice, definitely include these types of experiences in this resume section.
Don't forget to list the jobs you had, before you became a parent. Use them to highlight your achievements, advert keywords, and just how valuable you were to past employers.
How to write the experience bullets of your stay-at-home parent resume:
Describe your achievements, not responsibilities;
Quantify your impact and include numbers;
Use active language to show impact.
In the begging of 2022, the Stevens family grew with two new members, resulting in ever-evolving budgetary and financial needs. Role took on multiple challenges, like the cost-of-living-crisis, to ensure all family needs were met on a tight budget.
•

Developed and managed a comprehensive household budget with Excel, tracking expenses and ensuring adherence to financial goals, resulting in effective spending management and increased financial stability for the family

•

Designed and implemented a custom financial model that projected future expenses, leading to a 65% improvement in family liquidity

•

Provided expert financial guidance to 6 moms, offering strategic advice on family budgeting during the cost-of-living crisis

•

Assisted 10 families in implementing budgeting techniques and making smarter financial choices, resulting in improved financial well-being and increased savings for their households
RIGHT
Supplement your stay-at-home-parent experience with a cover letter
Your stay-at-home parent resume may need a couple more details and explanations. The cover letter is precisely that instrument to complete your experience and fill in the blanks.
By aiming to make a more personalized connection with the recruiter, the cover letter should ultimately answer why you're the perfect candidate and highlight:
your skillset;
the reason you're applying;
your career objectives.
Your cover letter should be clear and concise, tailored to the job and company you're applying for.
Stay-at-home-parent resume skills
It may come as a shock, but a lot of the skills you use in your day-to-day (to take care of your family) are incredibly transferrable to the workplace.
But how do you market that, over the past few years, 20:30 bedtime has become the sole creed at your house?
Skills can make your experience gap seem less glaring and, ultimately, show why you are a great candidate.
So, first, review the job description for three-to-seven must-have skills that align with your experience.
From there, you could build a skills section to include soft skills (or people skills) and hard skills (or technology and software proficiencies).
Demonstrate how you've mastered your skills in the past with the Accomplishments, Strengths, and/or Dedicated Technical Skills Sections.
15 Popular stay-at-home parent transferrable skills:
Budgeting
Negotiation
Communication
Organization
Adaptability
Collaboration
Attention to detail
Problem-solving
Multitasking
Decision-making
Self-motivation
Patience
Conflict resolution
Endurance
Creativity
Stay-at-home-parent resume education and courses
Use your academic background to show you have the relevant know-how for the role.
The education section should include all higher education degrees you have, the institutions that awarded them, and your start-graduation dates. If you're in the process of getting your diploma, list it with the expected graduation date.
Prioritize the education section, if you've pursued a degree during your work "sabbatical". This way, you'd explain that during your stay-at-home parenting experience, you've been busy.
The same goes for courses, workshops, and certifications. They show your commitment to staying up-to-date with the latest trends.
Stay-at-home-parent resume other sections
Fill in the gap of your stay-at-home parent experience with additional resume sections.
Always select the most relevant ones to the job and to your professional narrative.
Volunteer - showcase how you have supported the community (e.g. fundraisers, charity drives). When talking about your volunteer experience, always note the outcomes.
Projects - include self-projects you've done to learn a new skill (e.g. graphic design or debugging). Also, make sure to paste a link to them in the resume header.
Interests and hobbies - select ones that are impressive and tie back to the job you're applying for. You could curate those via the My Time section or, if you're an ardent book reader, include your top literary picks.
Key takeaways
Your stay-at-home parent experience has taught you plenty of valuable, transferable skills - pinpoint them with your accomplishments.
It's entirely up to you whether you should note that you're a stay-at-home parent. The best sections to do so are the experience or the summary.
You could ultimately address that you've managed your household in the cover letter.
Doing side projects, volunteer work, or being on a contract at this time should definitely make it a part of your stay-at-home parent experience.
Don't be ashamed of your employment gap - instead use every opportunity your resume presents you with to explain how you've grown during this time.
Make your move!
Your resume is an extension of yourself.
Make one that's truly you.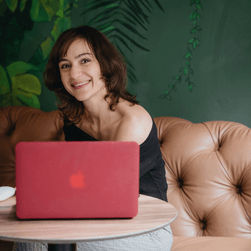 Reny Mihaylova
I'm a professional storyteller: where my 10+ year journey through various industries (media, PR, communications, and corporate) has brought me one step closer to my big WHY. That is, to use narratives and practical knowledge to help individuals achieve their purpose and feel happier by the work they do. In my free time, find me devouring the classics: from Austen to Tolkien to King, or being dragged uphill by my +50KG / +110 lb dog.