Building your resume highlights is like piecing together a jigsaw puzzle.
You take the most important information from your career and arrange it in a way that every bit comes to its place.
Coming to this moment, you may find yourself banging your head against the wall, trying to find the best words to create something unique.
So either tape a cushion to your wall so as not to get hurt or look through our tips and create one unforgettable resume highlight section.
Stay with us and find out:
Why is a resume highlight so important;
Is it really that helpful and can't we just keep away from the brain teasers;
Where to include this section;
Real examples that could blow the Hiring Manager away.
You have found your perfect position, but you still have no idea how to start your resume? Here are some real-life resume examples to get you inspired.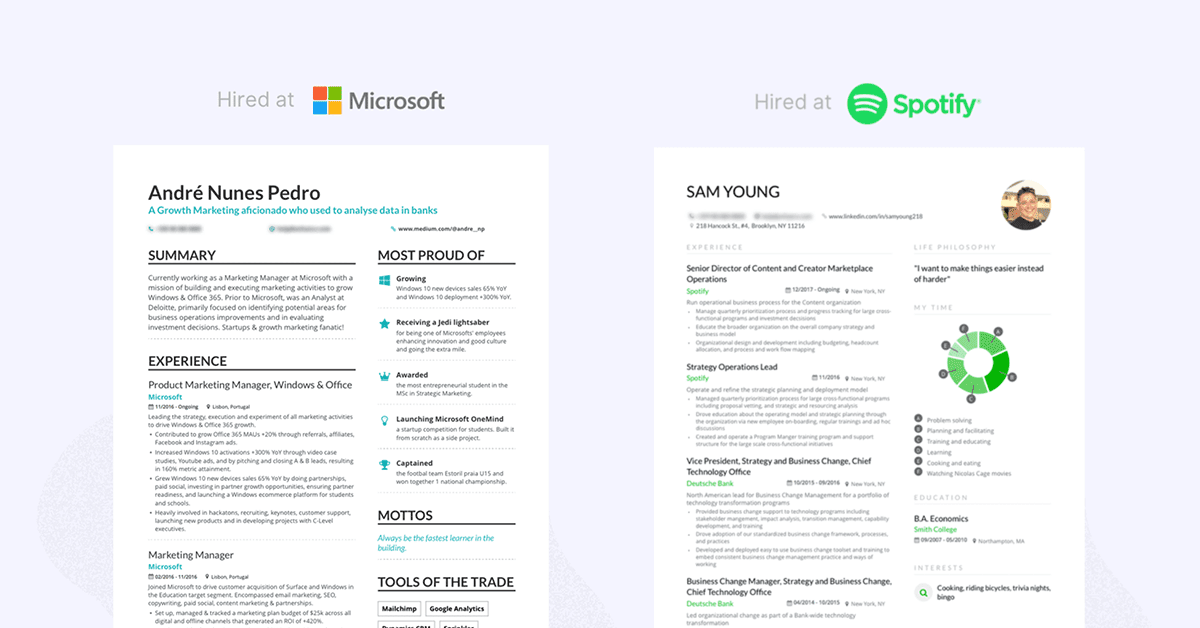 Shh… We won't tell anybody that we helped you.
What's the resume highlights section about?
You have probably seen numerous resumes.
Maybe some of them had a "Summary" or "Accomplishments" section.
They are all about highlighting why you're the perfect candidate for the position.
If you use a ready-for-service resume, you most probably have seen that highlights are almost always put as a bulleted list of your top career accomplishments.
They do stand out, but most likely repeat word-for-word experience achievements.
Not that repetition is bad – your summary should be semantically connected with the rest of the resume.
However, the contents of your highlights section should reinforce the whole resume message.
Is resume highlights sections actually helping my CV?
You can turn the resume summary in your favor… Or you can fail in seconds. Choose wisely what you would include there.
Do you think that repetition won't help you?
Most of the Recruiters in the top companies are using application tracking systems (ATS), which will review your resume first.
Don't know what an ATS is?
Before reaching a real person, your resume is going through a system. It's ranking how suitable you are for the position based on a match between your resume and the job description.
And, if you don't have the keywords from the job offer, or you have mentioned them in one single way – bye, bye desired job.
Project manager, project management, project managing.
All of those differ depending on what type of ATS system your resume will face.
If you mention your project management prowess using one type of keyword in the experience, and another, in the highlights section – guess what, you've covered two variations already.
So make repetitions relevant.
With Enhancv, you can take advantage of more untypical sections, such as "Most proud of", "Strengths", and "My time". Don't settle with the basics.
If you are not sure how you can make your resume highlights exclusive – take a look at our successful candidates' resumes.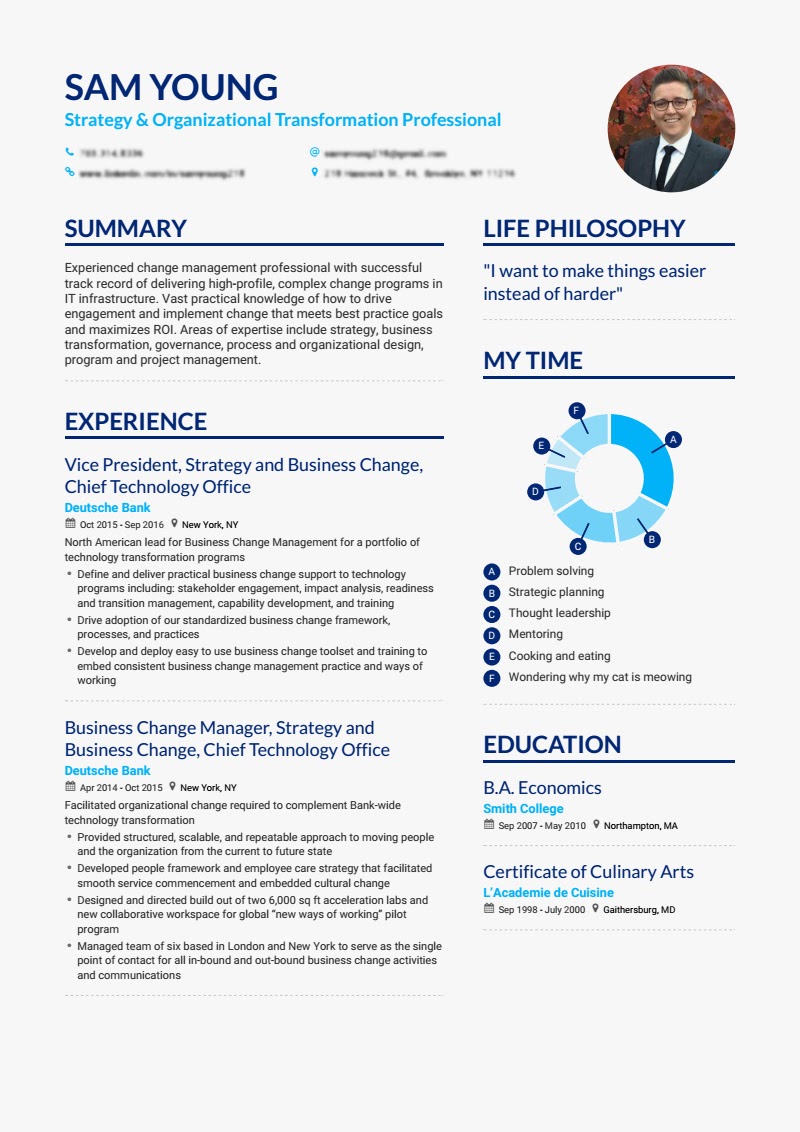 Where to include my resume highlights?
Okay, now you know what is important to include in your resume highlights. But where do they go?
You have two completely different possibilities, each requiring a different approach.
In the summary
This goes right after your name and contact information. This is the first thing that a Hiring Manager sees. So you better make it good.

This summary doesn't give the impression of an expert interior designer.
Are you a machine, not a person? No, of course, then do not write like one.
To have a Human-Voiced Resume, use the summary section as a place to tell what your real accomplishments are. Tell how many years experience you have. Explain briefly the challenges you overcome.
Write to impress.

Writing your summary like that will catch the Hiring Manager's attention at the moment.
Now, you have passed the first level of the game called shortlisting process. So, keep that energy for the rest of your summary and you will be invited to an interview for your dream job.
Don't have much of an experience to write in? Take a look at our Job-Winning Resume Example and draw some inspiration.
In the experience section
Here you can transform the highlights any way you want.
However, don't do the mistake below: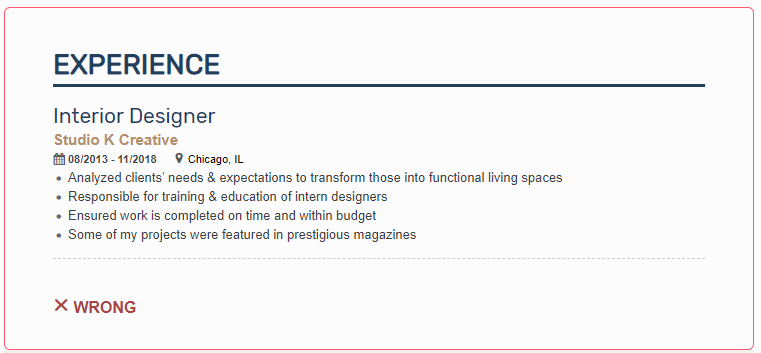 This example gives limited information about your career and leaves many questions unanswered.
They already know what are the position's job responsibilities. I mean… They are looking for a person for the same position, so don't be obvious.
Give the Hiring Managers numbers. Let them see what your actual achievements are and how you have helped the company.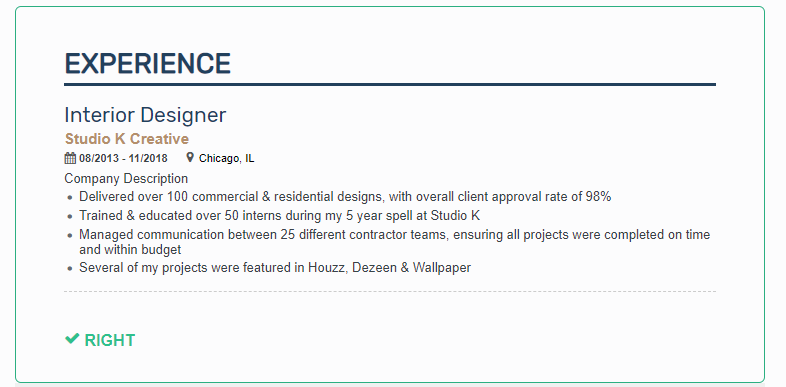 Want to show them your key accomplishments, or, instead, focus on your best skills? You got it.
Keep in mind what kind of person the company is looking for and make your highlights section accommodate that.
Now you have nailed it.
With the Enhancv resume builder, you can craft a resume that blows all other applicants out of the water. From design options to bullet and section suggestions and content writing tips, we're here to help you land your dream job!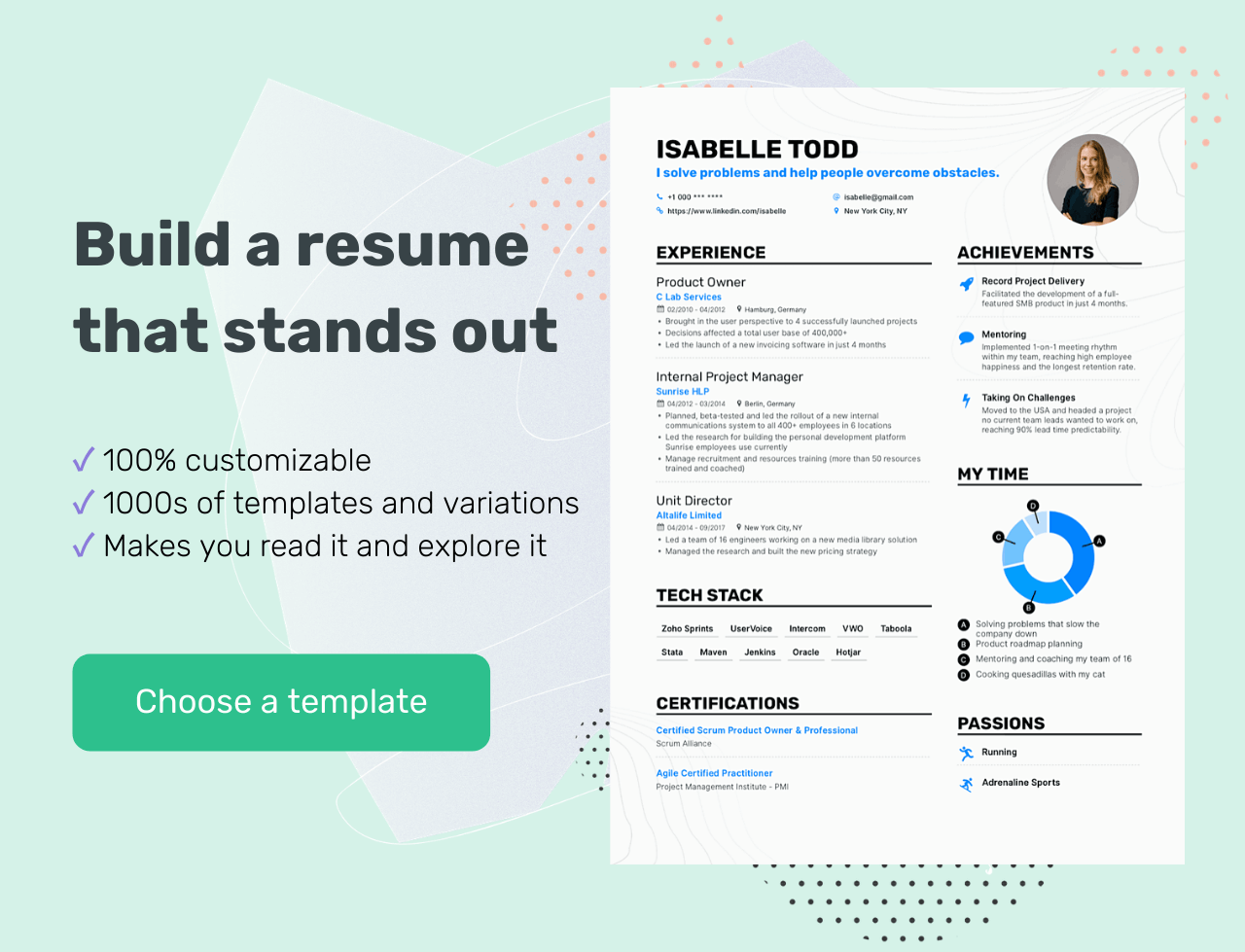 How to show your achievements with Enhancv's custom sections
With Enhancv you can customize your entire resume and you can choose which is your way of expression when it comes to highlights.
We will go through some of the sections and so building yours will be like a kid's game.
Most proud of
In the Most Proud Of section, you have the opportunity to give free rein to your imagination. What are you really proud of? What is the thing that is making your heart rate faster when you think about it? These are the accomplishments that you should include.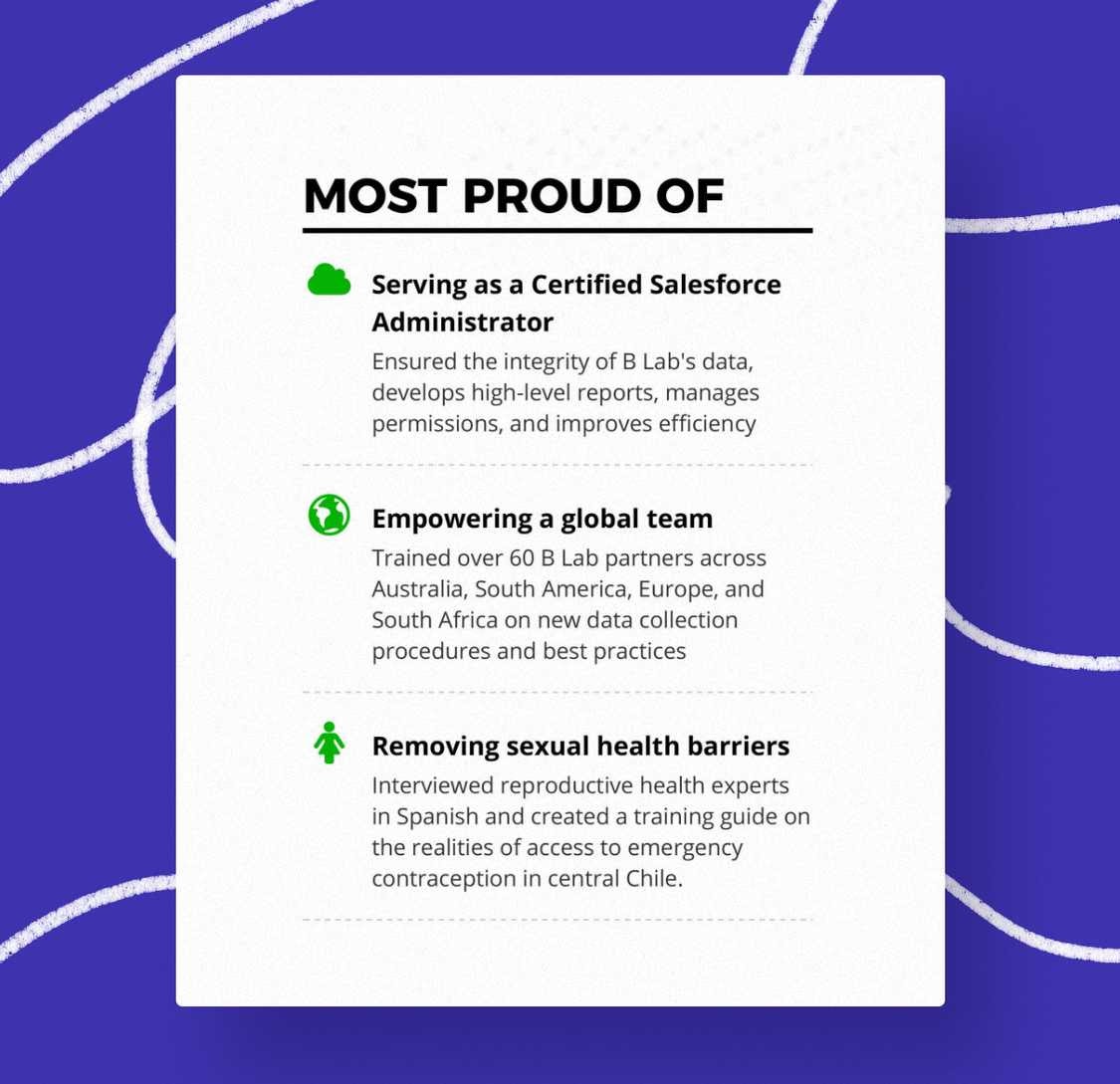 Here is an example of an auditor. Notice the author used strengths that are not always connected to their previous work experience.
However, they relate to the soft skills required for the job. The Hiring Manager would appreciate that.
Strengths
Sometimes it is tough to write about your strengths on your own.
But, they could be an essential part of your resume and you should highlight them.
Imagine this situation: You are on the finishing line of writing your resume and all you have to do is write down your strengths.
Suddenly, your brain goes blank.
You start wondering what you're really good at.
Now you are circling back and forth and you can't come up with anything.
It's a great time to ask your closest friends. They know your strengths sometimes even better than you. Believe us, they would not lie to you.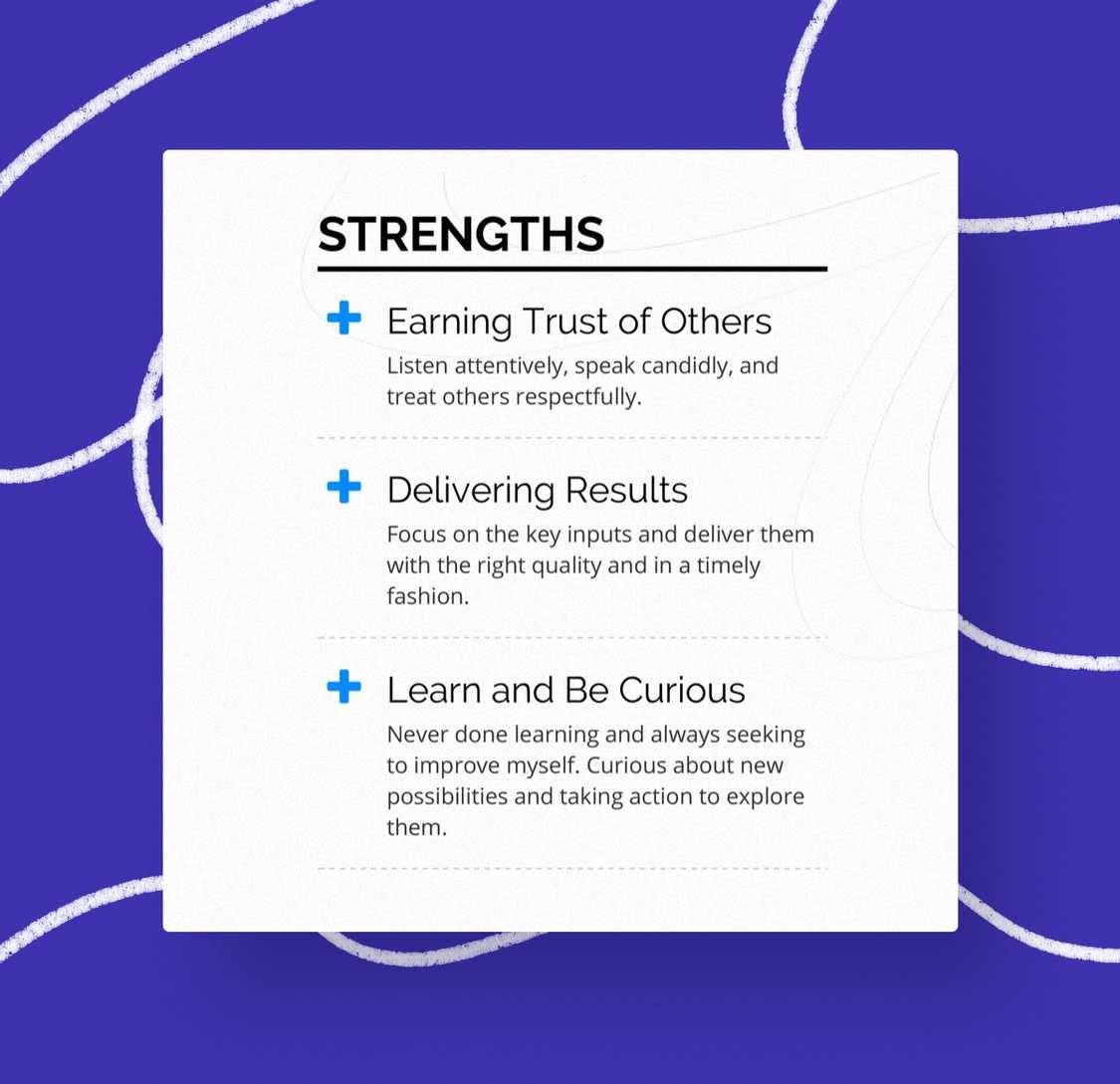 Target your strengths towards the specific job, and do not use buzzwords like "motivated", "friendly", etc. The Hiring Manager wants to know about the real you, not just some fake and polished avatar.
Experience
You can always put resume highlights in your experience. Leave responsibilities from your previous job, and instead, tell them what changes you made there. Talk in numbers and results.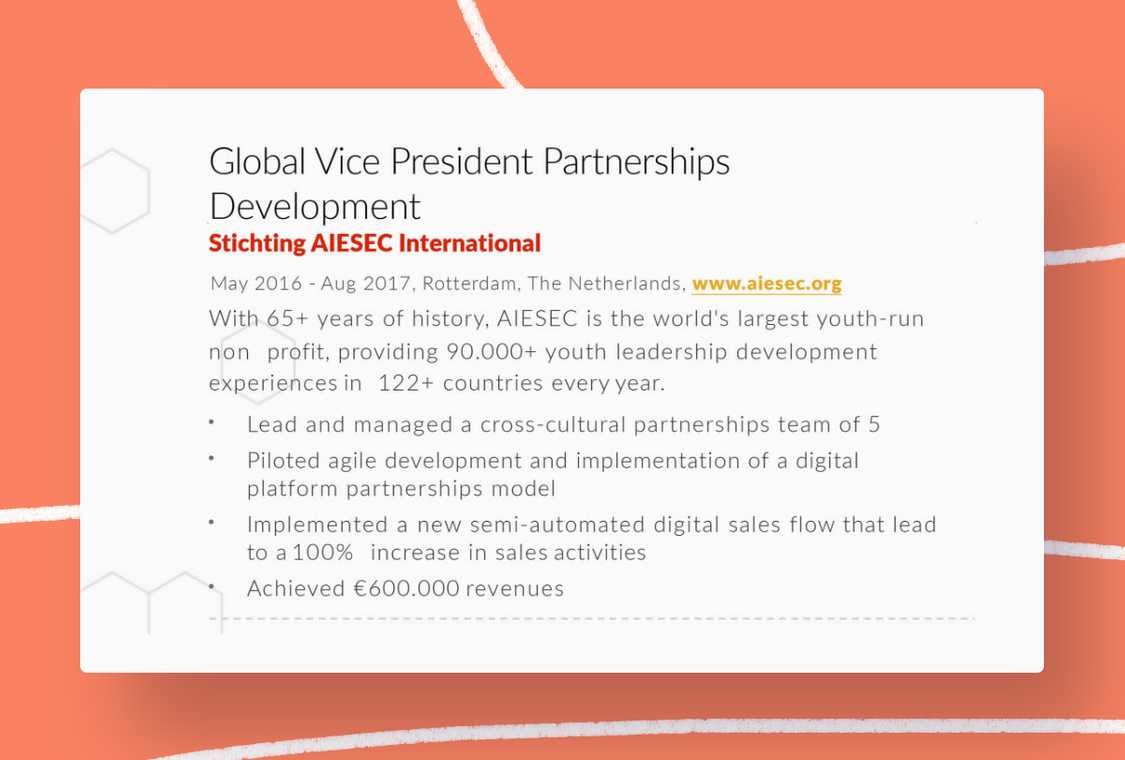 If you have led projects or have introduced a new work process, implement it in your resume.
Projects and/or Publications
Every side project or publication brings you bonus points, so make sure to mention them, too, if you have any.
Even if they are not immediately connected with your work experience, every Hiring Manager will be glad that their candidate is self-motivated. Not only at work, but also in their free time.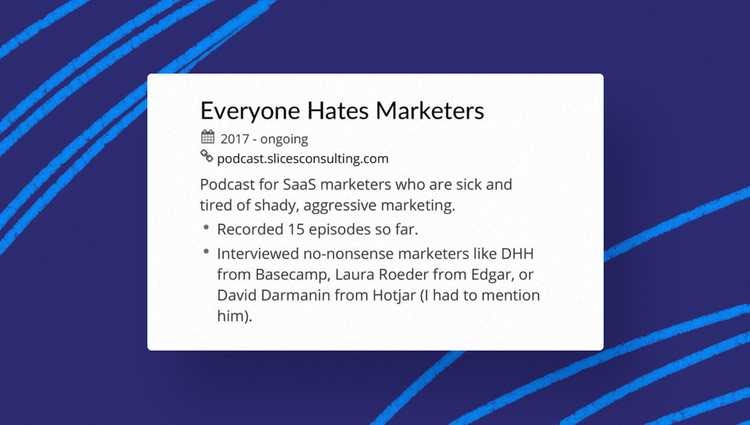 Tell them how this changed your way of thinking and what did you learn while doing it.
Day of my life
How do you spend your day? You love running or listening to music? You have started learning how to play the guitar or the piano? Tell the Hiring manager that.
Nobody wants to talk to a robot. So, by explaining more about yourself, you will make the person reading your resume know more about you as a person.
Also, who knows, you can have some common interests, which can give you an advantage.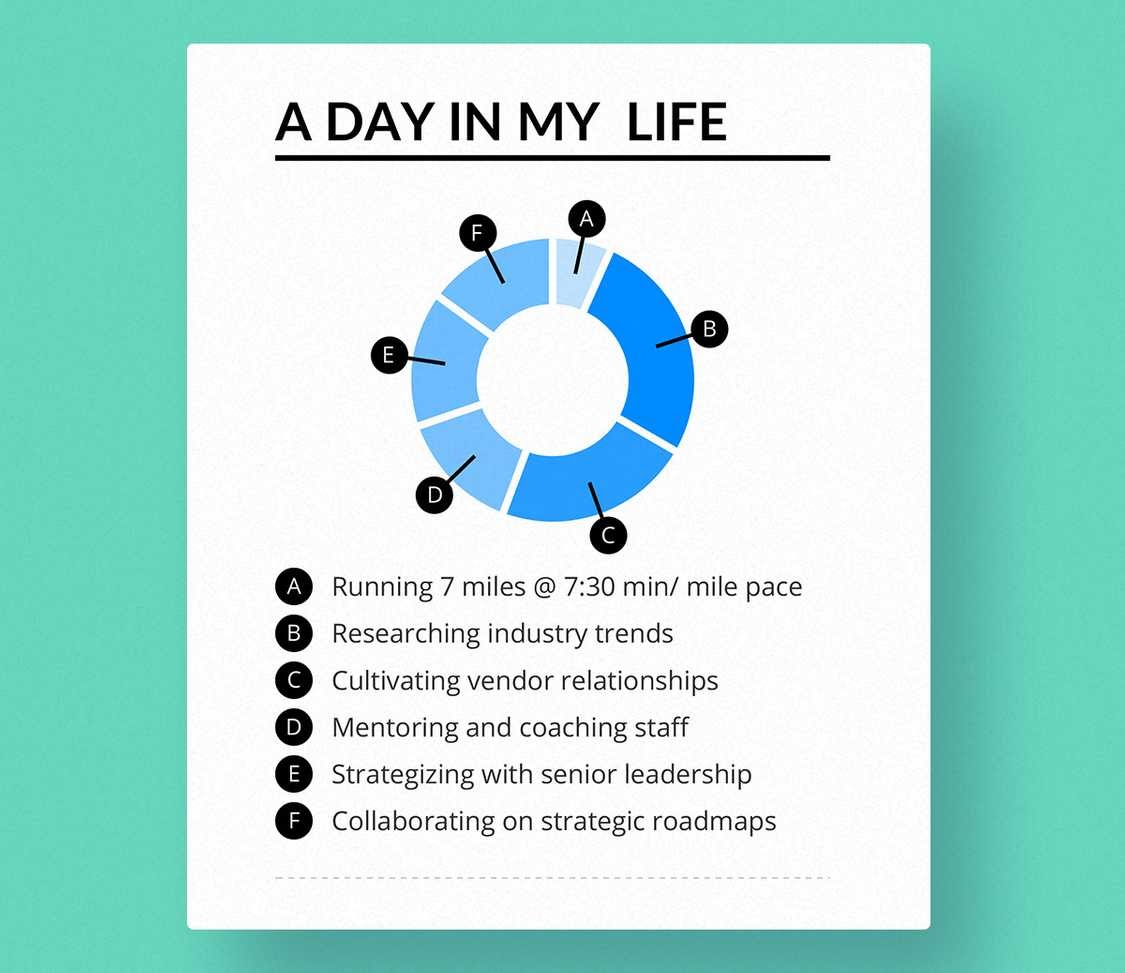 This will also provide more inside information about how you work and how you manage your time throughout the day.
If you want more tips and tricks on how to customize your sections, you can always read our complete guide.
Conclusion
No more banging your head against the wall, after what you learned today. Now you know how to impress with a perfect self-pitch and resume highlights section.
With Enhancv, you've got a wide range of custom sections to highlight your achievements. Use them well. Say what you are proud of or highlight your achievements, we are here to help.
Keep in mind our tips and you will increase your application callbacks.
Don't hesitate and start your perfect resume right now!
***
We hope that the article showed you a new angle for writing your resume. However, do you know more tips and tricks that we missed? Let us know in the comments below.
Make your move!
Your resume is an extension of yourself.
Make one that's truly you.