No matter what point of your career you're in, everyone talks about your resume when applying for a new job. Whether you're just starting out or transitioning into a new field, it's resume, resume, resume. While we hear resumes are important for getting a job – is that really their purpose? If you've landed here, chances are you're either writing your first resume or, like me, you stopped for a minute to think: wait, why am I doing this?
Below, discover the personal, business, and true purpose of a resume.
Personal Purpose: What Resumes Do for You
1. They tell your story
Your resume allows you to write your own personal narrative. Throughout, you can mention your major achievements, previous experience, and more. It's about telling the story of who you are and what you've done. Writing your resume allows you to decide what your spotlights are and what you feel the recruiter should see.
After her career in the music industry, it was important for Paula to tell her story when building her ecommerce resume. Throughout, she described the talents she had developed through running her music label and even opening for Lady Gaga in 2009. Her resume had a clear beginning with her Introduction and an end with her References section. From her first page to her last page, it was quintessentially Paula.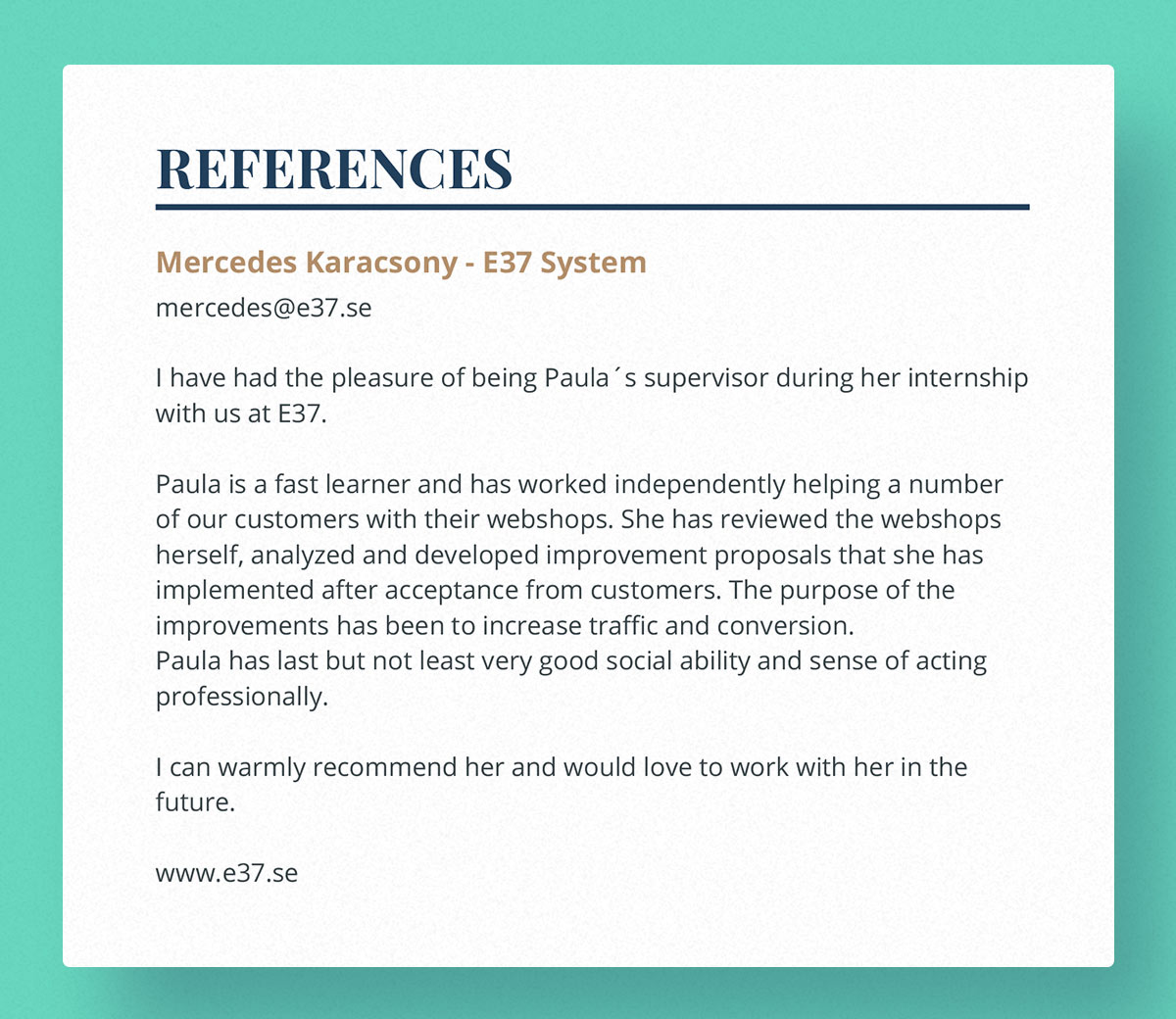 2. They facilitate self-discovery
Before writing your resume, it's common to think "I haven't done anything, I haven't made an impact". Sitting down and describing your previous work history, or even your experiences in general, gives you time to see how you have performed. This is especially true when writing your first resume.
When crafting his marketing resume, Dean got to see what he has done throughout his time in university and noticed he has built up many more skills than what he had known. Tailoring his volunteer work to his role in marketing revealed things about himself that he never thought of before.
3. They act as representation
You might not think about it, but your resume is a representation of you when you're not there. In most cases, you won't get an opportunity to speak with the recruiter in person during the screening process. This representation becomes especially important if applying for jobs far from where you live.
When Daniel was writing his customer support resume, it was important that there was an appropriate balance of professionality and personality. As a remote worker, you can struggle with showing your culture fit over a distance. To overcome this, Daniel personalised his resume by including a personal summary and some useful links for recruiters to learn more about him.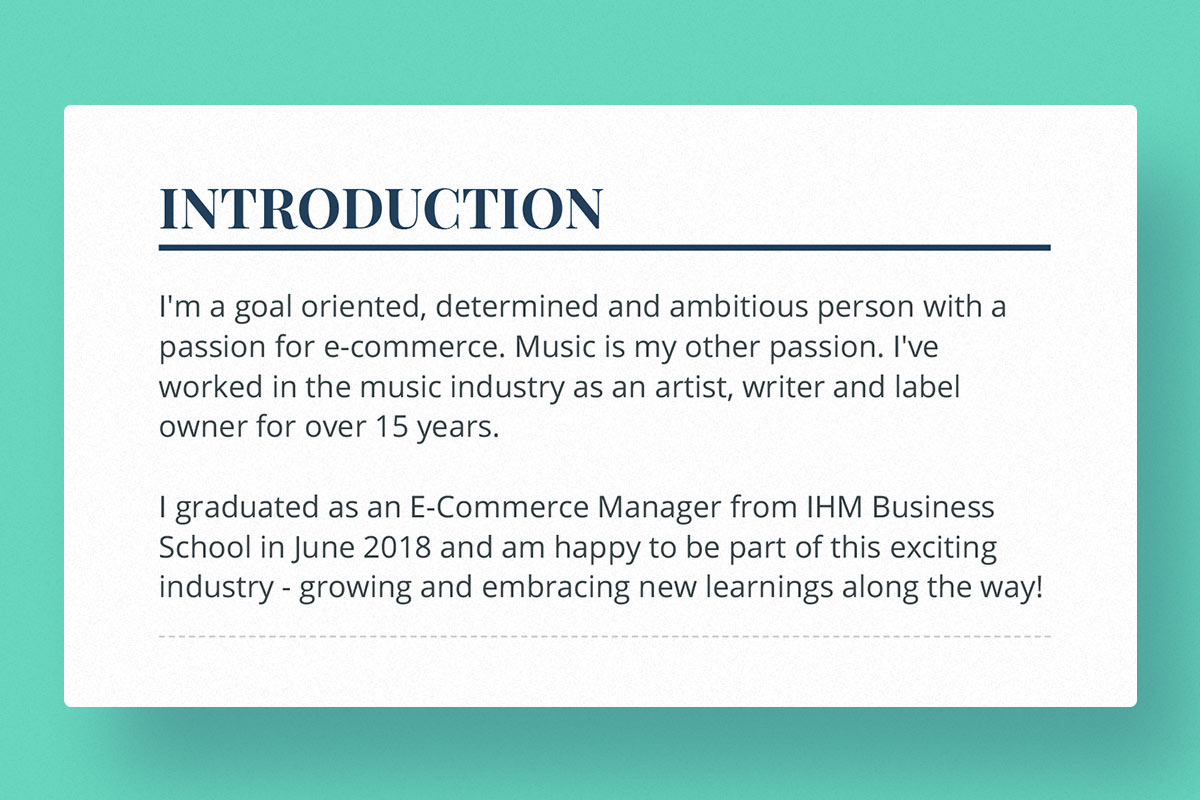 4. They give you a reference for future applications
Not all companies accept resumes. Some will require you to fill out a standardised application. For these situations, having your resume drafted is great for providing you a reference on what you should include. Instead of constantly rewriting new applications and spending time thinking about how to phrase things and so on, your resume acts as a guide. This also comes in handy for applications outside of the working world – volunteering, scholarships, and more.
For example, Mia crafted her academic resume for securing her postdoctoral research in York University. This can be later used for information when applying for research grants.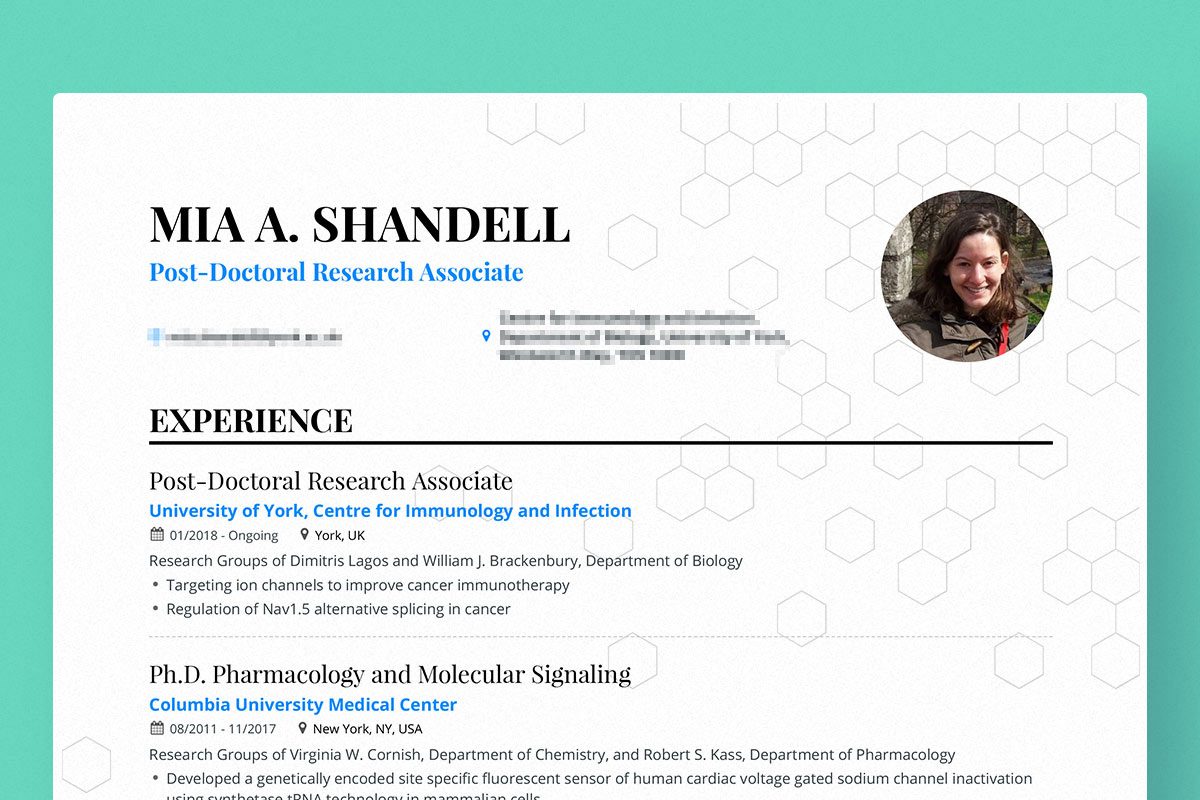 Business Purpose: What Resumes Do for the Recruiter
1. Serves as an introduction
Let's face it – the recruiter doesn't know who you are. It's too time consuming to expect them to research into what you've done without some form of introduction that gives insight into your value. Your resume introduces who you are, the work you've done, and what you hope to do for the company.
2. Provides a snapshot of your career
The recruiter doesn't want your autobiography – they want an overview of what you've done that's relevant to their needs. Having a one-page resume is great for this, but in general, your resume forces you to compact all of your experience into a readable piece instead of a dissertation. Your resume therefore improves efficiency for the recruiter.
3. Filters unsuitable candidates
A well tailored resume resume makes it easy for recruiters to quickly pinpoint those that won't be suited for the job and filter them out. This is especially important for those companies who receive thousands of applications.
4. Allows them to identify opportunities
The recruiter's job is to do one thing – find people that will improve the performance of the company. There's no way of doing this without a record of the skills, previous experience, and talents you have. Resumes are used by recruiters to spot potential opportunities that they're interested in exploring. This comes into play in hiring applicants, but also in keeping a backlog of people they may be interested in speaking to further down the line.
The True Purpose of a Resume
The purpose of a resume lies in the intersection of how it is used by recruiters and by applicants. Let's deal with the myth first: the purpose of a resume is to get you hired. This is not true. People aren't hired solely from their resume. So what is the purpose, what is the intersection? Getting an interview.
Take the personal purpose of telling your story and the business purpose of spotting opportunities as an example. There is only so much of your story you can fit into a resume, and the employer can only see so much of an opportunity from one-two pages. To truly fulfil these needs, a further discussion is required. That discussion is the interview. Getting a job is not linear; it's staged. The first stage starts with your resume, which eventually leads to an interview, which hopefully leads to you getting your job.
How to Make Your Resume More Purposeful: Getting the Interview
The four questions
Every resume should answer four questions for the recruiter. Who are you? What experience do you have? Why are you applying for this position? And, how will you make an impact? Keep asking yourself the same questions when putting your resume together. If you've answered these in a succinct and specific way, your resume should entice the recruiter enough to consider you for an interview.
Tip: Check out our post on how to conduct a resume review for strategies on optimising your content and presentation.
Solving problems
When hiring new employees, a business is faced with a problem they're hoping you can solve. You'll benefit from developing a resume that is tailored to addressing that problem. It's all about how you package your experience and present yourself. For example, you can include a "Global Impact" section instead of a "Volunteer" section. Steffany did this when making a career change from healthcare to business. This gave her an advantage when making her career change as it shifted the perspective of her volunteer work as simply being medicine related, and rather proved her ability to make waves beyond one specific context.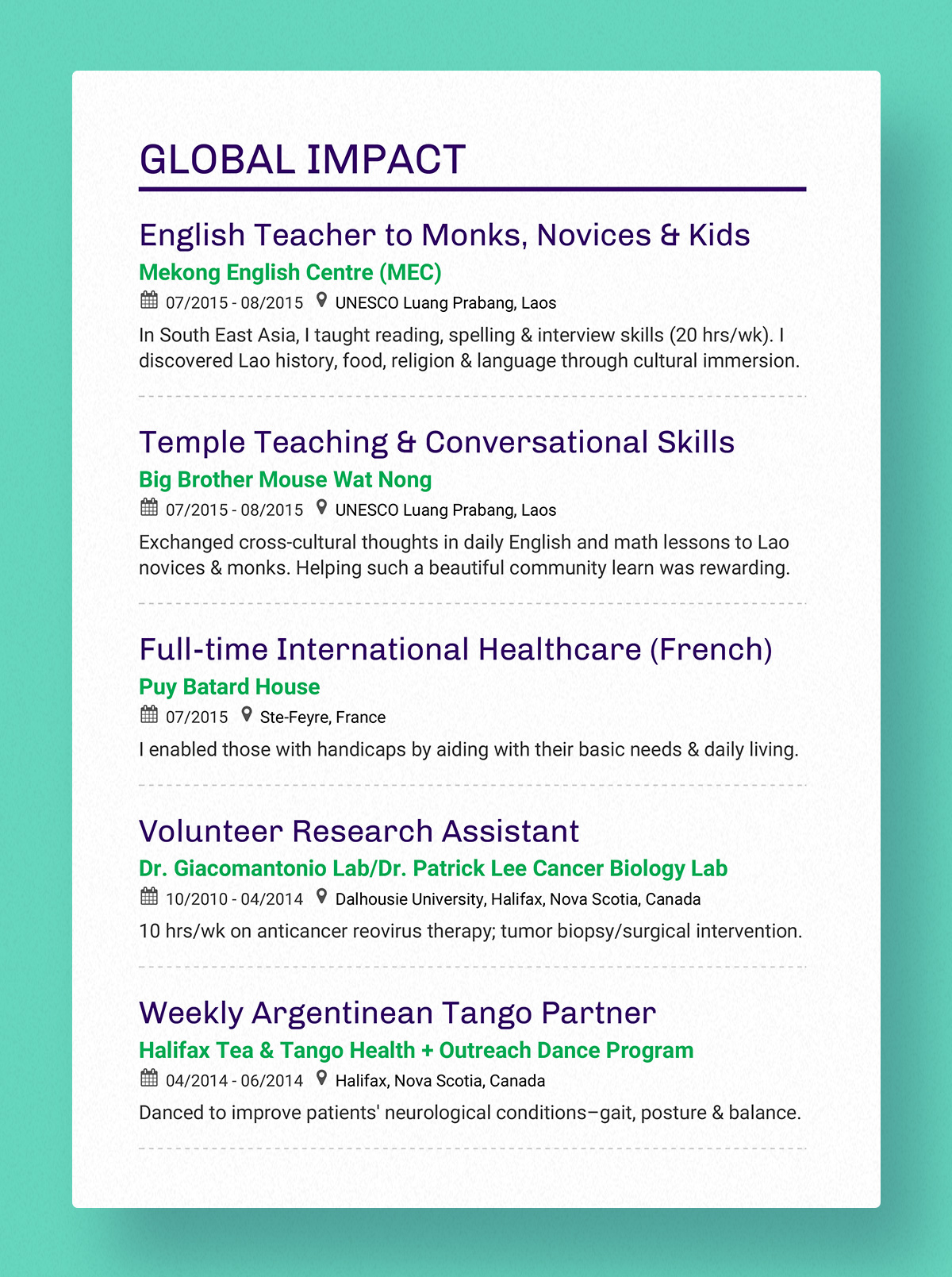 Generating interest
Having something unique on your resume will help set you apart from the crowd. An interesting section you can work into your resume includes an Enhancv exclusive – My Time. The My Time section is a visual pie chart that allows you to describe your typical day, week, or time dedication across your career. Before getting his job at Verizon Digital Media Services, Marcellus described his typical day of work on his resume to show his work-life balance and his greatest strengths.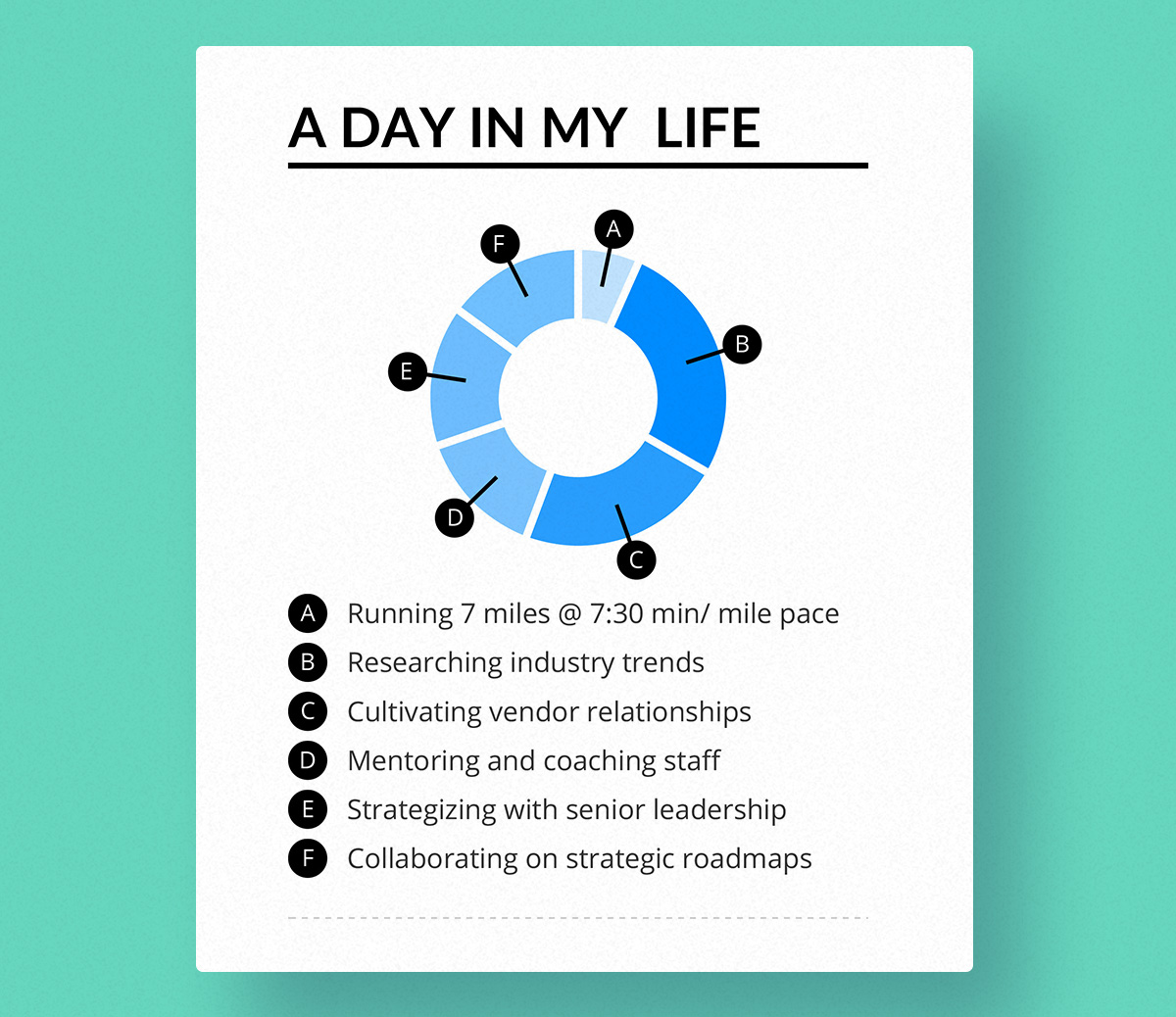 Answering the job description
Your resume should be the answer booklet to the recruiter's job description. Building in keywords that are mentioned in the job description into your resume can help pass through ATS (Applicant Tracking System) and catch the recruiter's attention. For example, if 'problem solving' is mention as a key competency, you could include problem solving as one of your strengths (just don't lie). In general, it will work in your favor to tailor your resume as close to the company's job description and values. There are other choices you can make that can bring you closer to the company, too. For example, Pavel chose a blue color-scheme for his data scientist resume when applying for Booking.com to match their company colors.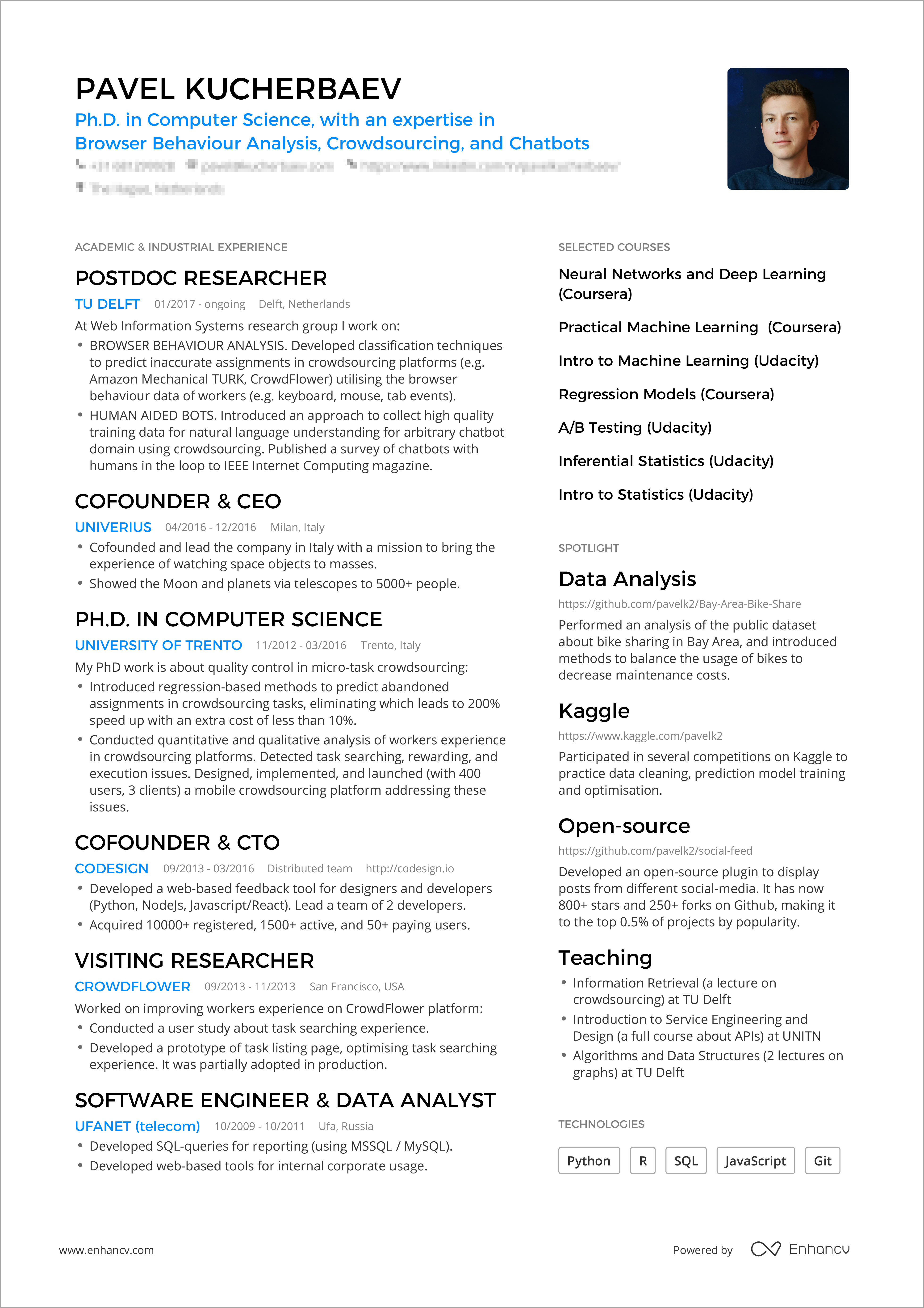 When It Comes to Resume Purpose
Resumes do more than one thing. As we've seen, the functionality of a resume differs from a personal perspective to the recruiters perspective. It's best to concentrate on the midpoint between what a resume does for you and what it does for your employer: getting an interview. Acknowledging the fact that the resume isn't about getting you a job helps you frame your resume in a more impactful way. Knowing that you need to give just enough, in a specific and measured way, will keep you from writing pages of irrelevant information (which recruiters hate!).
Make your move!
Your resume is an extension of yourself.
Make one that's truly you.

Dean O'Reilly
Psychology student with keen interest in academic research. Currently exploring the world of marketing distribution and content creation with Enhancv to help people get closer to their dream job.