Okay, you've built your resume and you've managed to avoid the top resume mistakes.
Now you've realized you need a cover letter.
If you've made your resume using Enhancv's resume builder, you know your cover letter needs to be just as good. But with jobs and the industry constantly changing, you're probably asking the golden question:
What should your cover letter say?
While there are several areas that need to be covered, don't fret.
We've compiled a list of the most common questions people have about cover letters and explained everything you need to know. After reading this guide, you'll know exactly what you need to put on a cover letter and how to write one that leaves a positive impact.
Are you ready? Let's get straight to it!
What should I say in a cover letter? It's all about the reader
Truth is, many companies tend to be impressed by different styles and approaches.
The art of getting one step ahead of competitors when writing a cover letter CANNOT, and SHOULD NOT be limited to simply following a set of rules.
Ultimately, the effectiveness of your job application depends on the "taste" of the hiring company.
That being said, it's important you understand the company you're writing for.
Every company has different values and missions. The goal is to not tell them you're a perfect fit but to show them why you're a perfect fit.
The most effective way to do this is by understanding your reader and relating everything back to what they're looking for. It's one reason why we stress doing the background research to understand the company so you can apply these ideas on your cover letter to keep them engaged.
The purpose of using a cover letter
Your cover letter is sent alongside your resume or CV. There are two main reasons why they're needed:
Recruiters have asked you to send a cover letter
To give recruiters a more detailed and tailored application for what you can do for their company
In essence, you're giving the employers a better idea and understanding of the value you bring to the industry. If you can convey enthusiasm, experience, and unique benefits that make you a valuable asset for their team, you'll have the recipe for a game-winning cover letter.
Like resumes, cover letters have their own sections that need to be covered too. At the same time, your cover letter shouldn't be completely identical to your resume.
In fact, it should be complimenting your resume.
You do this by adding further depths of description and personalization to what's already been mentioned.
To make sure you're not mixed up with what to say in a cover letter to what you should put on a resume, we'll take a look at the key differences.
Cover letter vs resume, what's the difference?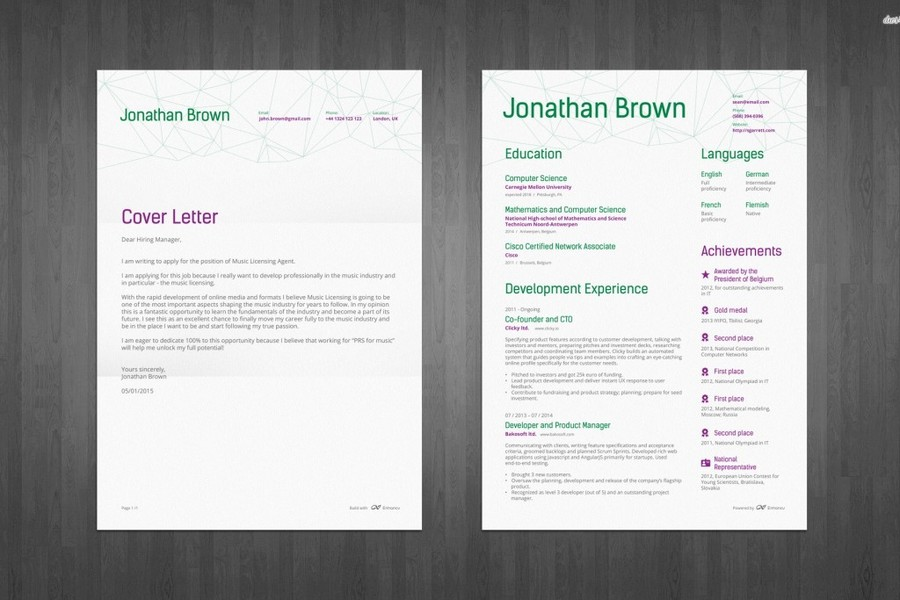 At first glance, the answer might seem obvious.
But it's actually more complex and important than you realize…
A cover letter that resembles your resume content-wise is bad by definition.
If you're blatantly stating facts about your education and previous job occupations throughout the whole thing, you're missing the whole point. Quoting from your resume verbatim on your cover letter will have the reverse effects.
It's misleading.
And it can lead to the wrong ideas or impressions than what you initially planned.
When printing out your resume, it's most likely going to be stapled to your cover letter. It's useless to make them twins and exactly the same as one another.
It's a mistake.
You're saying the same thing twice if you do – talk about being boring and redundant…
So, don't do it.
Here's what you can do instead, it's simple:
Be honest.
Think of these three things when thinking about what to include in your cover letter:
Write about who you are: what are your passions? Why are you curious about this job posting?
Tell the reader a story about yourself that emphasizes your compatibility with the position
Here's an example of what a cover letter SHOULD NOT say:
"My name is James. I graduated from Intellectual Property in 2009, then I had an internship in Scotland. I then had an internship in Scotland, I then got hired at this and that company where I worked for a period of 2 years. I don't work there anymore (obviously), and here I am – a perfect fit for your job opening. I deserve the position, are you interested?"
Yikes…
That's no good.
The candidate sounds robotic, and there's no taste for personalization or aspects that make them sound unique.
On the other hand, here's what a cover letter SHOULD include:
"I worked (or studied) Psychology (or whatever it is that you've studied). This experience taught me how to understand and approach difficult people in a way that nurtures effective communication and minimizes conflicts. It also fortified my ability to give the best I am capable of even under stressful and perplexing circumstances."
Now, that sounds a lot better.
Rather than the systematic approach, you're talking about how one of your experiences has helped you grow and develop skills that are going to be useful. Notice that the description will match the job demands for the job vacancy being applied for.
By matching the job requirements, employers will instantly see you as qualified for the role.
Bear in mind it's not just about listing valuable things out. But, by showing the hows and whys through a specific, detailed explanation.
What are the cover letter sections you need to include?
What are the main cover letter sections? Which ones do I need to include?
These are the main parts you need that make up your cover letter:
Cover letter header
Salutation
The opening paragraph
Main body
Disclosure
For the full cover letter checklist, check out our guide by clicking here.
Before seeing how it looks in action, let's first ensure you're familiar with the cover letter header.
Take a look at Alvin's retail cover letter example below:

Like the resume header, it contains your contact details so recruiters will know how to reach out to you. He's also included his LinkedIn profile so employers can learn more about him without having to ask for more information.
Now, here's what he put on his cover letter:
Dear Kylie,
I am applying for the position of Senior Retail Leasing Executive as advertised.
My professional background includes as a Director in a multi-outlet haircare and skincare business, as an operator where I leased, fitted out, and ran my own business, and as the General Manager of a gourmet grocer where I coordinated the operations and offer of five separate departments.
I am passionate about retail and have devoted interstate and international travel to identify the style, process, and offers of high-quality, high-turnover retailers. Recently I visited Sydney to look at the best practice in gourmet grocers and was impressed by the scale of Harris Farm Markets, the industrial chic of the Tramsheds food precinct, and the fine hand-crafted offering of the Victor Churchills butchery.
Whilst my background is in retail operations, the skills that I have gained in these positions are directly translatable into retail leasing operations – the ability to identify talented operators, understand contemporary trends, and negotiate to achieve a win:win outcome according to the terms of the landlord.
I am adept at picking up new skills quickly, becoming fluent in the language, and quickly understanding the parameters set, to ensure I hit the ground runnings.
I look forward to the opportunity to learn more about the role.
Regards,
Alvin Baker
Why did Alvin's cover letter work?
There are multiple things to notice – we'll look at each one step by step.
First, is the salutation. This is how he greets the hiring manager and he does this professionally in a formal manner – "Dear Kylie."
If you know the name of your employer, don't be afraid to namedrop. It's not a problem as long as you're doing it appropriately. If it's not professional and you're greeting your recruiter by saying "Hey Kylie" or "Yo Kylie", it's a big no.
Next, the opening paragraph.
Alvin gets straight into it by stating his experiences working in retail. He summarised his skills and expertise through that short paragraph and one reason why it was effective is because of how specific and relevant his responsibilities are.
Remember, your opening paragraph needs to grab the reader's interests. If it doesn't, your cover letter won't get the attention you want.
After the introduction, it leads to the main body of the cover letter. This is where he goes into more detail not just about his experiences but his personality.
You've shown what you're capable of.
Now you need to show employers the reasons why. Bear in mind that the purpose of your cover letter is to give employers insight to what makes you the best candidate to hire. If you want to get called in for that interview, this is what you need to dig deeper on in your cover letter.
Your resume has already stated the facts.
The reason why Alvin managed to do this successfully is that he made it into a short story where it's easy for him to highlight key information. Above all, he's made it easier for us to understand his perspective.
Lastly, the disclosure.
To finish, use a professional signoff and review. Here are some synonyms that you can include at the end of your cover letter:
Regards,
Sincerely,
Thank you for your consideration,
Best,
So you don't get a blank the next time you're thinking about what to include on a cover letter, consider the questions below that'll help you find the answers you need:
Why is it an ideal job? How is there mutual benefit for the company & yourself?
Throughout your cover letter, you need to be answering the employer's question:
What makes you the candidate our company needs? Why should we hire you?
Talk about exactly why you would be a benefit to their team and how it's going to benefit both of you.
Don't just answer what you can do for them, but also answer why you want to.
What are your passions, skills, and motivations?
How will all of this be helpful?
This all needs to relate back to the company's best interests.
Other than the necessary hard skills required, bring up any transferable skills or relevant background that puts you one step ahead of the curve.
There's more to consider for hiring a potential worker not just for what they can do. But to see if they're strongly compatible with the company's cultural values.
What keywords do you need to use?
Resume or cover letter, background research is a must.
However, when you're describing things it shouldn't be 100% identical to your resume.
To avoid this, you need to shift your perspective and change your approach when using the keywords for your cover letter. But just by including them, it demonstrates that you have a good understanding of what it takes to get the job done.
Try to remember this:
If recruiters feel that you understand what you need to do better than how they can explain it to you without coming off as arrogant, your chances of landing that job opportunity will be higher.
What this does is sets their mind at ease and positions you as an expert. In order to do this, you need to include the right keywords. When you're describing something, buzzwords work well in amplifying the meaning and perceived value.
Don't forget to use the terms they want to see in your cover letter. Explain in their line of thinking why you're a valuable asset.
Do generic statements spoil your otherwise potential great cover letter?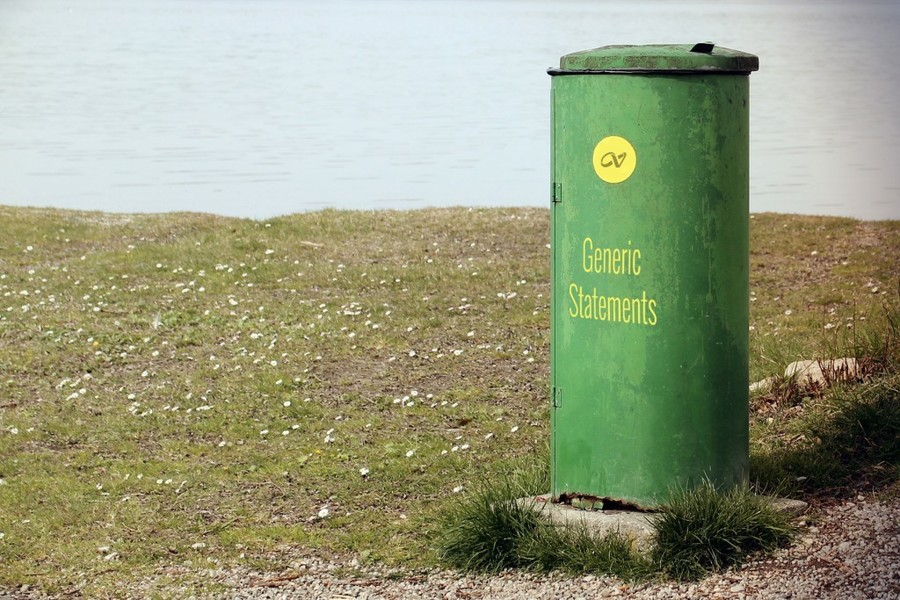 Generic statements can kill an otherwise promising cover letter.
A catchy declaration of what you excel at should be based on specifics and not general assumptions.
For instance, when you want to highlight your ability to overcome challenges, refrain from writing, "I usually overcome challenges bravely."
Instead, you want to illustrate your statement by using real examples or a story (preferably a one- or two-sentenced story).
Who doesn't love a good story?
Give numbers, name places, and companies, be concrete and clear.
Stories are memorable. On top of that, they're effective when it comes to helping someone understand an idea or concept.
Not only that, but it makes you stand out as a candidate.
By using stories, the recruiter will also consider your statements more legit. What you say won't seem like a stretched out truth since the storytelling will make you sound confident in yourself.
Those are the three of the most important things a cover letter can do.
This is what a cover letter SHOULD NOT include:
"My previous occupation involved working closely with the Legal Department. I participated in various processes and activities. I was also responsible for the proofreading and editing of their documentation."
Here's the alternative for what a cover letter should include:
"For 3 years I worked as a marketing specialist – I had to write, proofread, and edit legal, pharmaceutical, and marketing-related documentation. In addition, I participated in the development of 4 marketing campaigns that tripled our monthly revenue (quote any relevant number that you can). It was my responsibility to write and edit site contents for the official website of the company (give a link to the website)."
How unique should a cover letter be?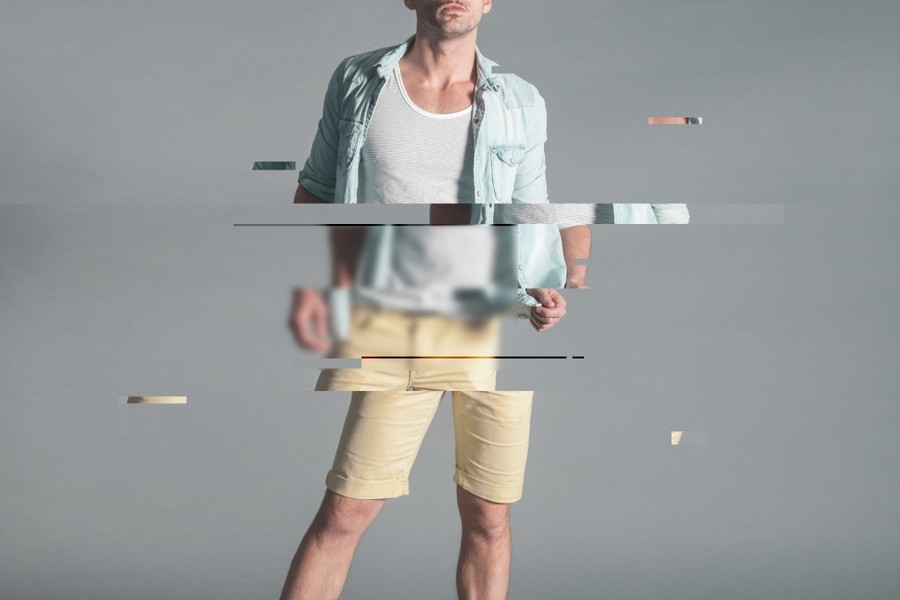 Did you know that hiring managers have to read through piles of cover letters all the time?
Because of this, standing out and showing your personality is necessary.
To be clear, your personality is not what or where you studied. Nor is it based on how much your previous employer fancied your punctuality and diligence.
It's deeper than that.
Your personality is engraved in your passions and what you love to do most.
In other words, what a hiring manager really wants to see in a never-ending pile of redundantly polite, monotonous, personality-free cover letters is YOU.
Tell them who you are and why you like them.
Be sincere, concise, and passionate. Leave a link to your portfolio, blog, website, or whatever there is that proves you're savvy, resourceful, and unique.
Remember, you're not a robot.
You're a human being with certain hobbies and interests that makes you who you are today. These are the things employers want to see from you, not just rigid work, work, work.
What a cover letter should NOT say:
"I am a huge fan of your company. I've always liked you because your commercials are entertaining, your services – flawless, and your CEO is a friend of my mother's third cousin."
What a cover letter should say:
"I really loved the marketing campaign you launched last April. I was impressed to see the subtle way you presented [their product] as a tool for people to give their best to the ones they love and treasure. I want to be part of the development of such ideas because they have liveliness, beauty, and that extraordinary ordinariness we can find everywhere, in everything – if we only looked with our heart and not with eyes only."
How can your cover letter sound confident without being cocky?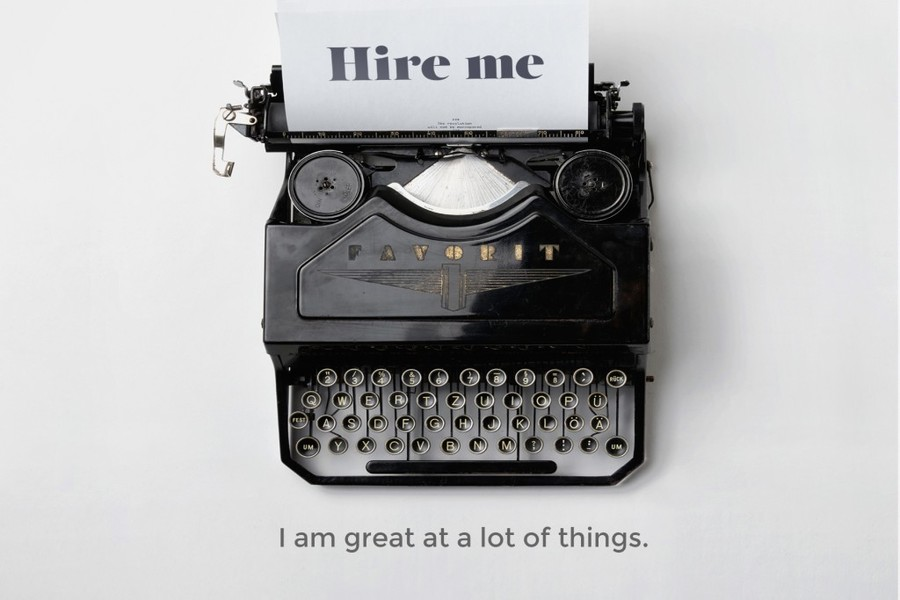 Confidence is classy, self-promotion is not.
Confidence is being sure without being arrogant, and cockiness is being defiant because you're afraid of being beaten. It points to having unstable self-esteem.
Here's another way to see the difference between the two.
Arrogance: "I'm the best at what I do. Everyone is simply not as good as I am – no one else out there is near my level."
Confidence: "I'm the best at what I do. I've worked harder than everyone else and no one's better than me at my craft."
There's a slight difference between the two.
The first example leans more towards arrogance because that mindset steps down on others.
Whereas, the second example leans more towards confidence because there's a sense of humility. More importantly, this perspective doesn't look down on others. Instead, it states that no one is better because of how hard they've worked. This exudes confidence in their ability over insecurity.
It might be useful to remember that suggestion when you feel tempted to boldly declare your awesomeness.
What a cover letter should NOT say:
"Ever since I first started school I've been a high achiever. In the fourth grade, I was voted "most likely to succeed". Today, not much has changed. I've been a star employee at my last two positions and want to advance my career even more."
What a cover letter should say:
"In the course of recent years, I had the chance to live and work in various cultural environments, an experience which has helped me to better understand how people communicate. Even working in environments where I did not speak the language, I was able to effectively build professional networks. I believe these skills will greatly contribute to your team."
How long should a cover letter be?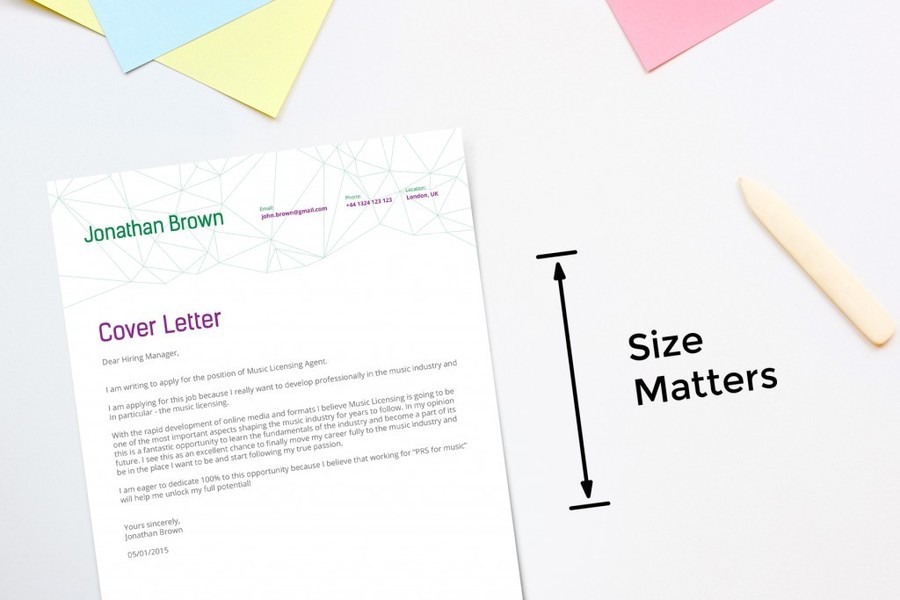 What's the best length for your cover letter?
You've heard it before – size matters.
The motion of the ocean is just as important, but in the end, the size itself has a role. And just to make sure we stay on the right topic, you should know that sometimes smaller can be better.
Hopefully, we're not getting any wrong ideas here…
At Enhancv, we encourage you to keep your cover letter one-page long. This way, it's more concise and specific, which leaves a bigger impact on the recruiter.
On our top 5 successful cover letter examples, you'll notice that each example is a one-page cover letter.
Anywhere more than that can be a sign of inefficiency since you're not capable of putting everything together on a single page. It could also put employers off because it's pretty much a college dissertation which they don't have time to fully analyze.
Great cover letters have one feature in common:
They briefly present relevant information.
What this means is you should tell the truth. And, tell it very briefly in an engaging way.
Save yourself the effort of filling your cover letter with ambiguous sweet talk and lengthy references to previous endeavors (remember, that should all be in your resume).
Skip the exposition and jump right into what's essential about you.
If you want to get started on the right foot, have a go with Enhancv's cover letter templates. They're designed to leave an impact on your reader and our content analyzer feature will give you ideas so you won't be stuck thinking about what you should write!
"Enhancv is an easy way for me and my coaching clients to transform their unique and seemingly unrelated work experiences into a compelling story." – Michele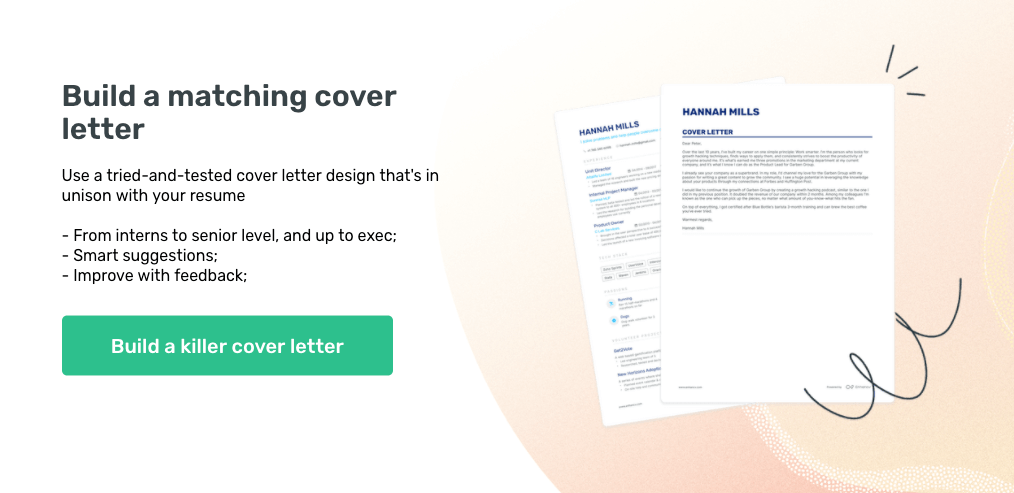 Conclusion
Now that we've answered the common questions floating in the air, it's time to make sure your cover letter is just as polished and prepared as your resume.
Here's a quick rundown of the elements of a successful cover letter:
Compelling hook right from the get-go of your opening paragraph – pique your reader's interests by getting them engaged in the beginning.
Tinder match – like Tinder, you want to match with the company you're applying for. So through the body of your cover letter, give the recruiter all the points that make it obvious you're a perfect match.
Don't be generic – it's vital you stand out, otherwise, your cover letter will be skipped. Reveal your personality through a story that demonstrates your passions and motivations.
It's all about the reader.
Simultaneously, the recruiter will want to know more about yourself too. So, don't be afraid to add personal elements that reveal your personality.
Make your move!
Your resume is an extension of yourself.
Make one that's truly you.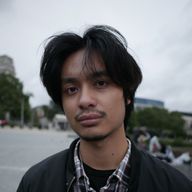 Astley Cervania
Astley is a UK-based copywriter & content strategist. Often curious and observant, he specializes in helping B2B and SaaS companies scale their content marketing through his writing and SEO skills.