Your cover letter is a perfect opportunity for an employer to get to know the real you. You can use the cover letter to present yourself on a personable but professional level that demonstrates you're a perfect match for their company culture.
I know what you're thinking, is a cover letter really necessary?

Consider this, finding your dream job is a competitive process. You might be competing against 200+ candidates who are all trying to get one role.

A well-crafted, unique cover letter can be your secret weapon to standing out above the crowd.

So how do you write a cover letter which will catch the recruiter's attention? Well, writing a cover letter is like telling a story about your work experience and skills.

But of course, how do you tell a story in a cover letter?

Upload & Check Your Resume
Drop your resume here or choose a file. PDF & DOCX only. Max 2MB file size.
Writing is a skill that we can all find difficult from time to time. Writing a cover letter can be especially hard because you're writing to get your dream job and that's a lot of pressure!

If you are struggling to the point where you need a break and a refresh, our Career Counsellors are here to help! With our cover letter writing service, we will not only write you the perfect cover letter but teach you the writing skills you can use for the rest of your career.

Before you start writing a cover letter there are some things you need to consider.

What do employers look for in a cover letter?

So what is the purpose of a cover letter? Most importantly, what do employers look for in a cover letter?

A cover letter is a second chance for the employer to get to know your skills, but most importantly it's a great way to get to know you!

Every company has its own quirks and personalities. Hiring managers have strategies to ensure their future employees will fit into their company culture. The last thing they want is to hire someone who will disrupt the workflow and interrupt their processes.
Why do you need a story for your cover letter?

A resume tends to be very factual and direct, but a cover has the possibility to get creative and personal. A chance to demonstrate that you understand the company's values, goals and culture. Combine it with a story-telling resume and that's your best shot.

There's so much to talk about in a cover letter, especially if your career is spanning over 20+ years and there's a lot of incredible moments you're proud of. Telling a story from beginning to end will be a good way of creating structure and will make it easier for the recruiter to read.

How do you tell a story in a cover letter?

We're all natural storytellers. We can connect to people by understanding their needs through empathy and compassion - this includes employers!

Employers don't want to hire a robot, they want someone who brings a bit of life and charisma.

But how do you tell a story in a cover letter?

The best place to start is by writing your narrative structure. A writing structure will help you to categorize your job experiences and decide what's most important.


Hook

Just like any story, an opening hook is a way to grab the recruiter's attention and keep them engaged.

A few tips for picking the perfect hook,

Consider the company and who they are
Think about what will relate to them
Make sure it's unique and memorable

One of my Executive Client's was applying for a job at a small business that had an office cat. So with that in mind, we decided to use this hook…

Experience in leading high impactful teams and herding cats - Jackson the cat and I will get along perfectly!


You can also look into quotes for a strong opener.

Think of the people who've inspired you in your career than search to see what quotes they have which are relevant.

"If you really look closely, most overnight successes took a long time." – Steve Jobs.

Remember the cover letter is a chance to show your personality, and your hook is the perfect opportunity.


The middle - your experience

Your experience is the most important part of writing your cover letter. This is how you're able to demonstrate that you match their requirements.

The best place to start is by looking through the job description and picking out 5 - 8 keywords, skills, and functions. Then, consider which achievements you can use to match them.

So for example, if the job description requires 'effective communication' then you need to consider a few of these things which match that.

For example,
'Negotiated across stakeholders to close deals exceeding $50k'
'Deligated tasks across large teams and cross functions'
'Presented at a conference with guests of 500+'

The next step is to piece together your experiences starting with the most relevant and recent first.


Conclusion - reflection
Finally the conclusion. This is a chance to turn it back around on the recruiter and show you understand their values, goals, and company culture.

Every company has a mission statement. What you need to do is visit their website, go to their 'about me' or 'values' page. On here you'll find all the mission statement and their values.

Use this information to your advantage. Show you're able to resonate with what they believe and you're able to help them achieve their mission!

That is why I was intrigued by company name emphasis on Value. I believe our values align in regards to job description value and I resonate with your another value.
Get messy!
A final takeaway from this is to get messy!

Don't be afraid to make a separate messy document with all your notes, structures and ideas. Writing is a creative process and if you're stuck, try to let out all the ideas into one big document then work backward from there.
Make your move!
Your resume is an extension of yourself.
Make one that's truly you.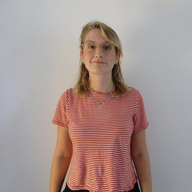 Kate Mabbett
Career Counselor Expert @ Enhancv. Previously worked as a campaigner for mental health awareness and supported young people into finding their first steps on the career ladder.