Offering the best career advice means equipping you with best tools, tips, and tricks that you can't easily find on the internet.
For example, even though some experts may assure you that for an IT startup initiating your cover letter with "Hi (First name)", we strongly advise against that.
"Dear (First name)" is a million times better alternative. Plus, you will have a chance to infuse your cover letter with your vibrant personality, demonstrating to HR that you are a pure organizational fit without having to address them like they are just one of your friends.
Similar to "Hi (First name)" is "Dear Sir or Madam" - even if you read somewhere that using it is still acceptable, don't bite that poisonous apple.
In this blog post, you will learn:
Why you should not use Dear Sir or Madam.
To avoid other equally bad salutations.
Ways to substitute "Dear Sir or Madam" on your cover letter.
Why you shouldn't use "Dear Sir or Madam" to start your cover letter.
In 2023, writing "Dear Sir or Madam" as the salutation of your application letter isn't just old fashioned – it's archaic. The salutation was a safe bet a couple of decades ago when you couldn't easily find the hiring manager on LinkedIn and there was no way you could find our who's desk your application will end up on.
Back then, of course, it was totally okay to use it.
On the contrary, today, almost any company, big or small, has a good social media presence. Corporate HRs can very well be more popular than their respective CEOs. Recruiters are the face of the organization, hence it's easier than ever to find out the name of any HR.
Hence, if the information is just a few clicks away, it is not acceptable to send an impersonalized cover letter, starting with "Dear Sir or Madam." Doing so, you risk leaving the impression that you are a bit lazy, careless, or not so interested in the position.
Read more
Moreover, we live in a dynamic, diverse, and disruptive world. Opening your cover letter with an old-school salutation like "Dear Sir or Madam," you may sound not progressive enough. Instead, consider several inclusive and imaginative alternatives, which we'll discuss later.
Avoid these other equally bad salutations.
While with the "Dear Sir or Madam" salutation, you would teleport the recruiter 30 years back in time, if you used "To whom it may concern", they are going back to the 70s.
Even worse, such an opening will immediately diminish the power of your cover letter. These are by far the worst and most dangerous openings.
Further down the rabbit hole are expressions like:
Hey there
Hello
Hey
Greetings
They break the standards of proper business communication.
Dozens of ways to substitute "Dear Sir or Madam" for success.
Let's look at how you can avoid the dreaded outdated cover letter salutations but still convey your value proposition respectfully and reasonably. As a general rule, if in doubt, always refer back to the precise business communication rules. Better to stay more official than inappropriately casual.
Read more
Here are a dozen backup options to completely eradicate from your Cover letter the "Dear Sir or Madam" in various scenarios:
When you know the name of the recruiter,
Dear [First name]
Dear [First and Last name]
Dear [Ms. Last name] - marital-status neutral salutation
Dear [Mr., Mrs. Ms. Last name] - if you know the gender of the HR
Dear [Mx Last name] - if you don't know the gender of the HR
Using the above alternatives, you show up from the start as a considerate, respectful individual with all the right know-how on proper business communication.
When you don't know and can't find the name of the recruiter.
No name? No problem. Check out how you can navigate that situation with class.
Dear Hiring manager
Dear HR manager
Dear Recruiter
Dear (Position name)
When you are addressing a whole HR team.
There are also these situations when you apply to a big multinational corporate organization or via a Recruitment agency. Typically, you would not be communicating with only one particular HR responsible for the position, but often with the whole Recruitment team. So then, the smart go-to approach is to be inclusive and address the entire group with one of the below options:
Dear Human Resources department
Dear Recruitment team
Dear HR Team
In conclusion
Now you have 12 savvy salutations for any Cover letter at your immediate disposal. Which one will you choose to open the door to the HR's heart? Head over to our cover letter builder and start enchanting from "hello".
Make your move!
Your resume is an extension of yourself.
Make one that's truly you.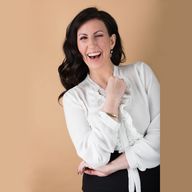 Liliya Foteva
Work Psychologist and Grant writer with 10 yrs experience in the Corporate & Social domain. Communication is my middle name! I love to travel, read (usually a la playa :) ) and chill with friends!