The reverse chronological resume is the most common resume format out there, but is it impactful?
Today's hiring landscape requires you to not only provide recruiters with information, but to package it in a way where they remember. Especially when there's a tsunami of applicants that arrive at their desks.
Everyone is reduced to a piece of paper when it comes to your resume, so how can you make your piece of paper as effective as possible?
See the benefits of the reverse-chronological resume and examples of how others have used it in their job application process below.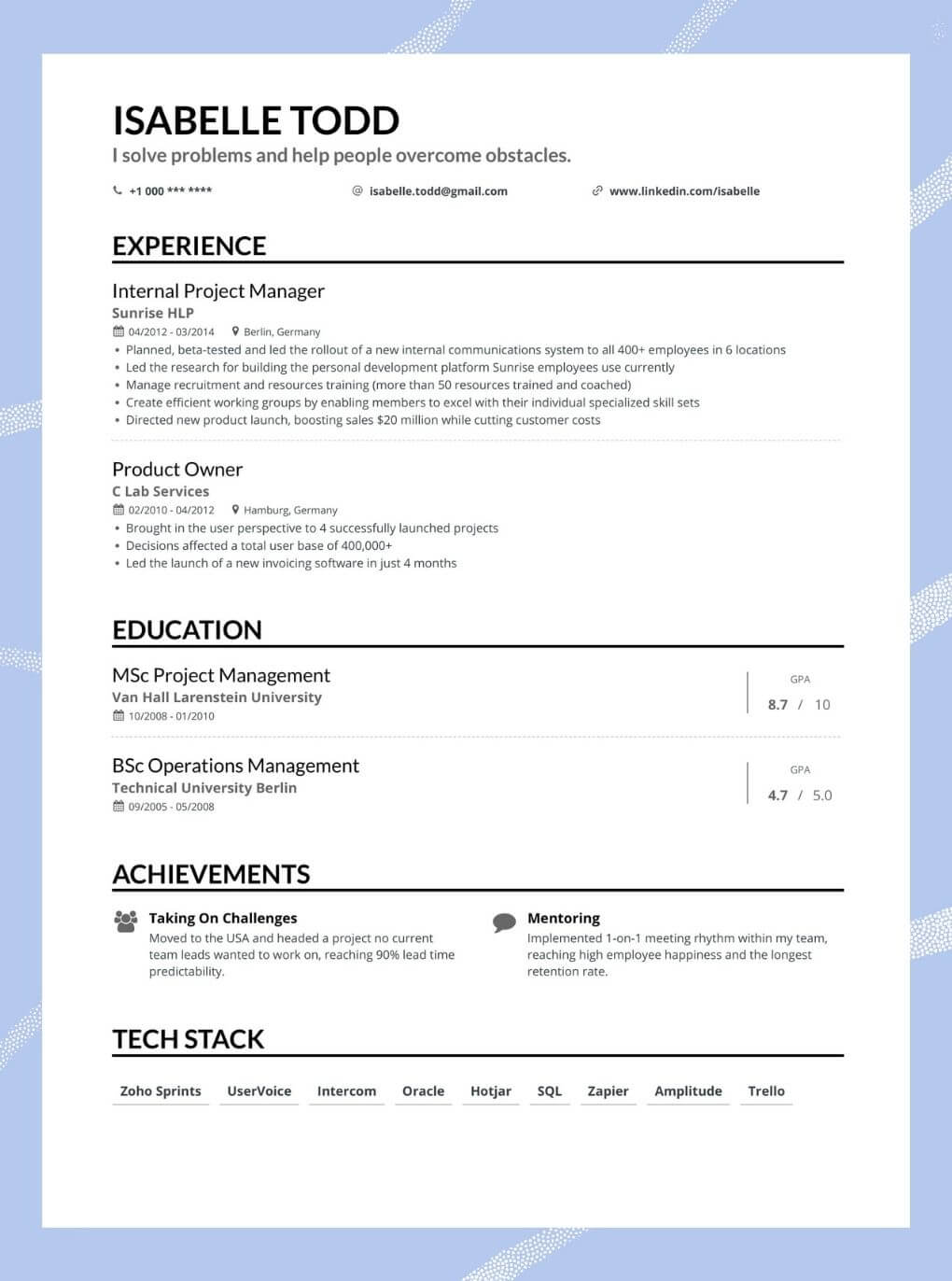 What is the reverse chronological resume format?
The name itself is self-explanatory. The reverse-chronological resume describes your work experience in reverse-chronological order. This means describing your most recent job first and moving backward in time for every subsequent position.
The format comes with a general expectation of flow. It starts with your resume header coming first. Then, it's accompanied by a personal summary, your experience, your skills, and then any other subsequent section. While this is the convention, it's certainly not the law. You can keep the spirit of a reverse-chronological resume without sticking to a restricting structure.
Mostly, the structure is used in the functional skills-based resume format when listing out the relevant skills and experience.
(Tip: Read our full guide about resume sections to confidently optimize a stronger resume that's more likely to attract job recruiters!)
what are the benefits of using a reverse chronological resume?
Provides a clear narrative of your career
Inconsistencies in someone's career history is one of the first red flags recruiters will notice. Especially when recruiters devote just 6 seconds for initial screenings which can cause your resume to be overlooked.
The recruiter is interested in the story of your career – including what brought you to this current position. This can play into your culture fit and your impact on the team dynamics within the organization.
Check out the example below: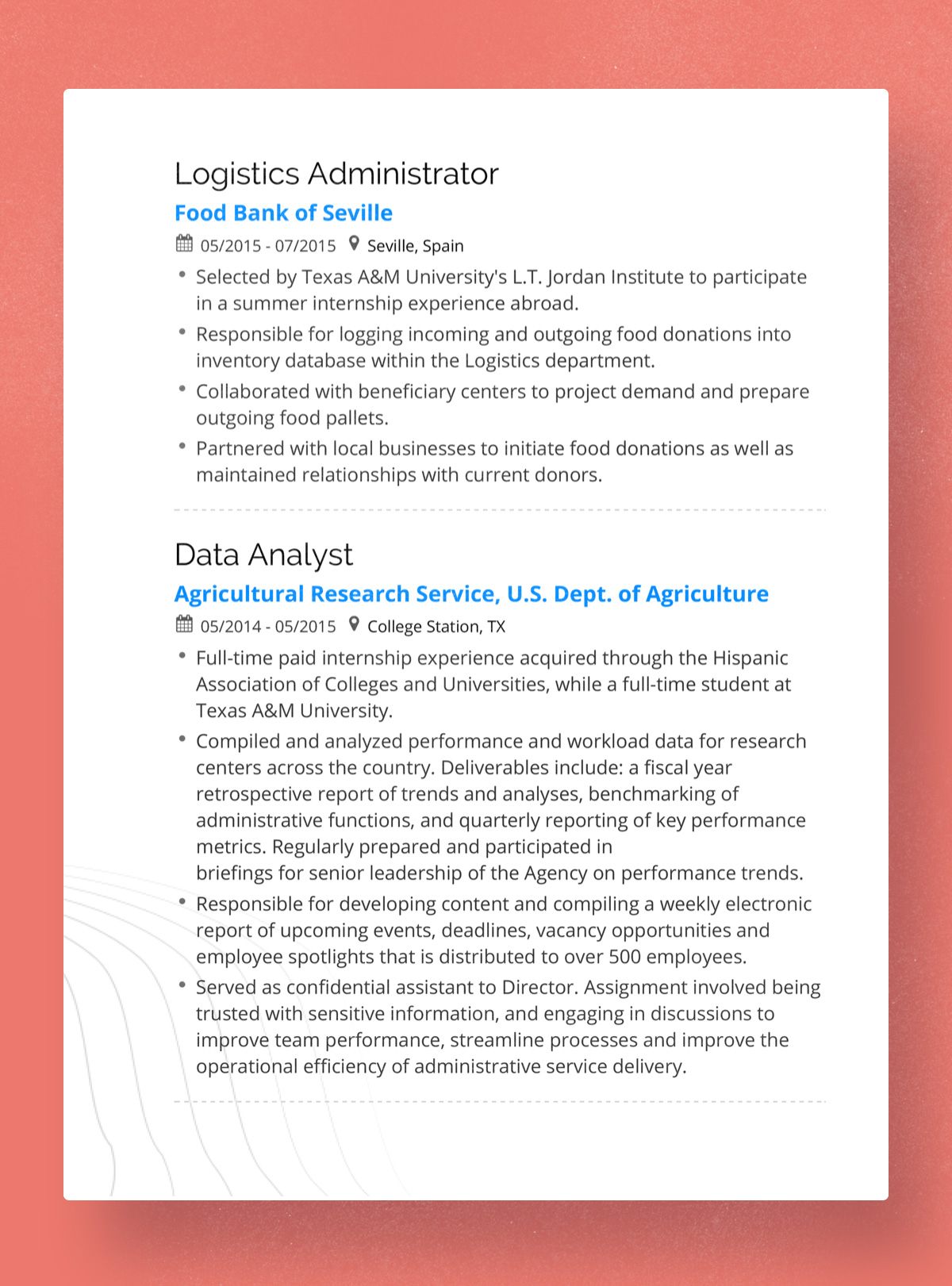 When Jonathan was getting his job at HEB (one of the largest grocery retailers in Texas), he used the reverse-chronological order with Enhancv's resume builder to highlight his journey into operations from data analytics. Because of this, job recruiters were able to estimate his skill level and recognize his commitment to the area.
Lines up with expectations
Sometimes the traditional route is best. This can come into play when applying to large organizations with standardized application forms or those who rely on Automated Tracking Systems (ATS).
With the reverse-chronological resume being most common, it's easily analyzed by the ATS and gives the recruiter exactly what they're looking for. The recruiter can straightforwardly identify what you've worked on most recently and quickly assess how that experience compares to what you'll be doing.
As the saying goes, "you're only as good as your last performance".
Big names play in your favor
One of the advantages of using this format is that it provides emphasis on the organizations you've worked at previously. If you've worked with some heavy-hitters in your industry, this can create a great impression on the recruiter which separates you from the crowd.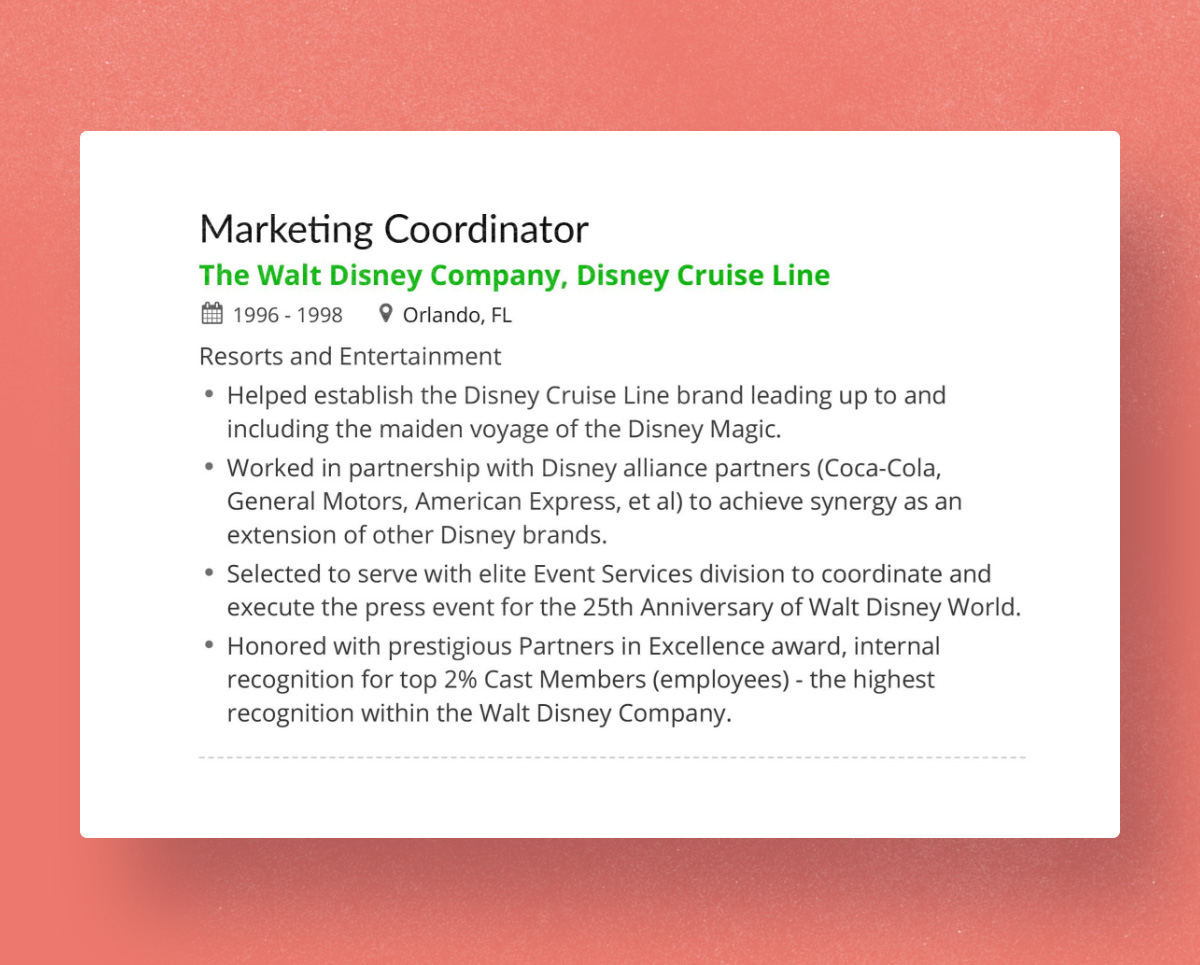 What have you got to lose when it comes to using a reverse chronological resume?
Gaps in your resume become more noticeable
"Do they still possess the same skills they had X years ago?" "Will they be able to adapt to the current market?"
This is just two of many possible questions the recruiter might not even spend the time getting an answer on.
Any resume that relies on your chronological timeline, the gaps in your career become more apparent. Usually when you're presenting your most recent job first, it can be a red flag for the recruiter that your most recent job was several years ago.
(Tip: One way to overcome this difficulty is to describe other projects or skills you've built up between the present and your most recent experience. Oriol highlighted courses in business management in his business analyst resume.)
Harder to navigate through different sectors
Let's say you have experience in both music and marketing. You've spent the last five years pursuing jobs in music, but now you're looking for a new job in marketing.
In this case, it might make sense to use a reverse-chronological resume format. However, sticking to this structure could make your experience seem irrelevant. This makes it even harder for you, especially when you're trying to move through the different areas that you're skilled in.
Not optimal for starting out
With prior experience being the crux of this resume format, it's going to be difficult to write your first resume with the reverse-chronological guide. For this reason, this format may not be suitable for those starting their first job or applying for volunteer positions for the first time.
Is the reverse chronological resume format right for you?"?
There are five ideal situations for when you should use the reverse chronological resume format. Keep in mind that these do not apply to every job seeker – everyone is at different stages in their career. So, one determining factor is that it depends on where you're currently at.
See below for who and when the reverse chronological resume format is most ideal:
You don't have much professional experience in the workforce or have gaps in your employment timeline
You're still a student or a fresh graduate that came out of education (see how you can make your first job resume here)
You've had several temporary jobs, or haven't been employed for over a year
You're looking to change into a new industry or completely new/different career
You don't fully meet and fit in all of the job recruiter's expectations or requirements
Chronological or reverse chronological resumes?
If you're someone who has inconsistencies in your career timeline and work history, it's best if you kept to using a reverse chronological format. Whereas, if there's not many gaps in your career history, then it would make more sense if you used the chronological resume format.
Generally, chronological resumes are preferred because it makes it clear there are no vulnerabilities behind your corporational profession. Your experiences are labelled and described in full transparency, which puts you at an advantage for the job application process when your resume is being scanned.
But, if you're going to use a reverse-chronological resume format, one good resume structure you should take advantage of are functional skill-based resumes and combination resumes. This way, you can showcase your skills that demonstrate why and how you're more than capable of getting the job done at a good standard.
The truth about reverse chronological resumes
While this format is great for organizing your experience (assuming you have any), it's arguably an outdated system.
Reverse-chronological resumes are far from one-size-fits-all. In reality, your resume should be tailored to the position you're applying to. This may mean describing a less recent job first on your resume as it's the most recent job relevant to the position you're applying to.
Using Enhancv's resume creator, you can describe your previous experience in modular segments that can be moved as pieces to any place on your resume. This makes positioning easily streamlined, so you don't have to worry too much.
Overall, you'll benefit from organizing your resume by relevance and impact, not by date.
Conclusion
Do you have a reverse chronological resume prepared yourself? It's always good to have different resumes ready at hand in case anything unexpected happens that can lead to gaps in your career.
If you're unsure about how to build or optimize your resume effectively, check out the 530+ resume examples here. Find your job title, and see proven resumes that got others hired for your exact role.
Do you use a chronological resume format or a reverse-chronological resume format? Which one do you find has a higher response rate? Let me know in the comments below!
Make your move!
Your resume is an extension of yourself.
Make one that's truly you.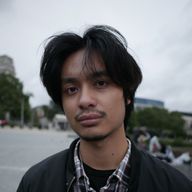 Astley Cervania
Astley is a UK-based copywriter & content strategist. Often curious and observant, he specializes in helping B2B and SaaS companies scale their content marketing through his writing and SEO skills.