Quick Answer:
"Crafting a career change resume can be daunting, but it doesn't have to be! Here are 15 tips to help make your resume stand out. Identify transferable skills
Career change happens to most of us at some point in our lives. In fact, the single-career trajectory is becoming less and less common. Some of the greatest anxieties surrounding career change centers around the process – how do I get an interview, what does my resume need to look like, what skills do I need?
Below, we've analyzed the career change of our real users (Sam, Marcellus, Eric, and Steffany) to provide top tips on how to craft your career change resume.
Battle-Tested Tips on Writing a Career Change Resume
Upload & Check Your Resume
Drop your resume here or choose a file. PDF & DOCX only. Max 2MB file size.
1. Identify and get creative with your transferable skills
If you're switching jobs, transferable skills are your new BFF.
Soft skills are obvious candidates here, but you can also find hard or job-specific skills that are useful for your current and would-be line of work.
Find five to 10 job ads in your chosen line of work then highlight the skills and qualifications required. Compile all the stuff you highlighted in a separate file.
Next, review your current resume and highlight all the skills, work experience, and achievements that are also relevant to your new target role.
Some of these may be obvious, while some are not. For instance, if you're in sales and moving to copywriting, skills in market research are obviously transferable.
Don't be afraid to get creative.
As a lawyer, for instance, you have transferable skills for roles in writing, teaching, and even sales.
Lawyers can be good proposal writers because of their research and impeccable writing skills.
They can also be good salespeople because of their ability to tell a compelling story and come up with good rebuttals.
Avoid overreach in your career change resume though.
Helping your cousin with his math homework doesn't make you a qualified or licensed teacher.
Although, it's reasonable to say that you have a good grasp of mathematics and knowledge in engaging young kids.
2. Use a hybrid format for your career change resume
Most resumes use the reverse-chronological format. Your contact information is at the top, followed by a summary and your employment history.
Starting with your current or most recent position and walking backward through time, this format plainly shows recruiters exactly where you've been.
Unfortunately, not everyone can afford or are lucky enough to stay in the same company for 10, 15, or even 20 years.
For these candidates, a linear trip down their professional memory lane isn't the best way to explain their career trajectory.
A combination or hybrid format is your ally in this situation because it shows your transferable skills first followed by relevant work experience.
Check out Enhancv's resume builder to see how you can create a hybrid resume that will highlight your skills.
We'll discuss how to write relevant work experience for a career change resume in a bit.
3. Show yourself
It can be difficult for recruiters to generalize your previous experience in unrelated fields to the position you're looking for.
While highlighting transferable skills and determination is important, recruiters need to see who you are to determine if you fit the company and industry culture.
Sam used her resume to highlight books that she loves, her hobbies, and even some information on her cat. This piqued recruiters' interest at Spotify and sparked conversations which ultimately demonstrated her culture fit and helped her stand out.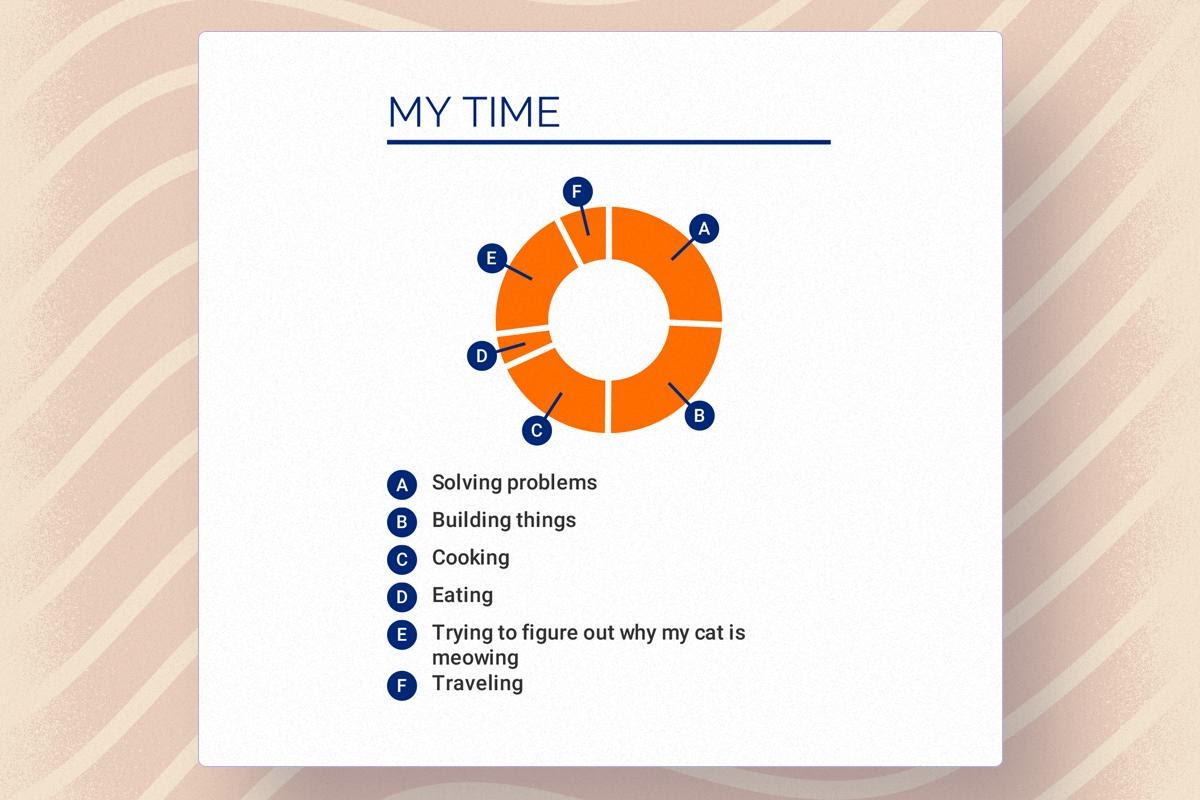 4. Be bold
Changing industries and making a career change takes courage (even for people in the military). This courage needs to be reflected in your resume to show recruiters that you have what it takes to navigate the difficulties of the new sector you wish to enter.
Marcellus switched industries back in the 90s from working in the military to network engineering (a famously difficult career change). Since then, he has kept boldness in the veins of his resume.
Recruiters at Verizon Digitial Media Services saw this as he mentioned obtaining a patent in his resume – something that takes a lot of dedication and motivation.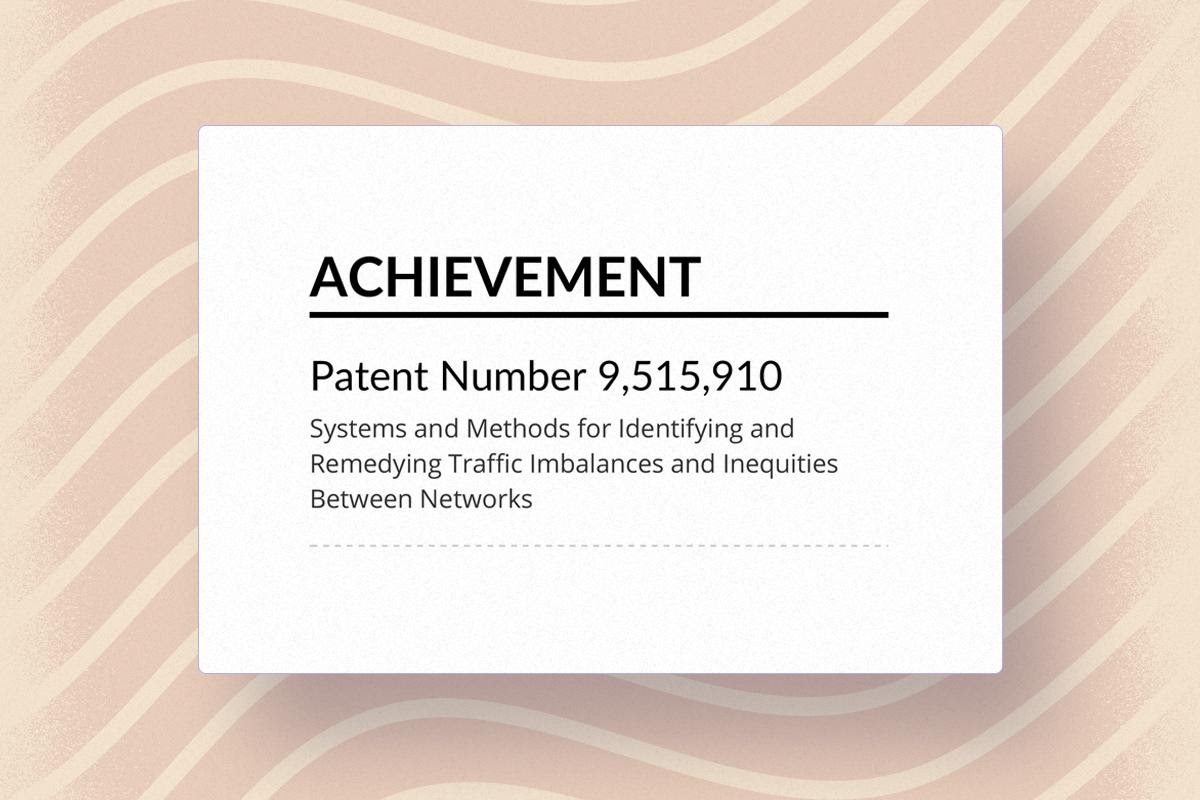 5. Face the change head-on
Often, we want to conceal the fact that this will be our first exposure to a certain field-of-work. This can lead to overcompensating at every turn and forcing experience to fit the vacancy where it really doesn't.
Facing the reality of your career change head-on and explaining why you're determined to make it a success is the way to go.
Steffany did this by acknowledging her career change in the objective of her resume. This isn't a weakness for her, it's something she thrives on.
It's evident that her mission is to make her career change a success that got her a spot at IE Business School.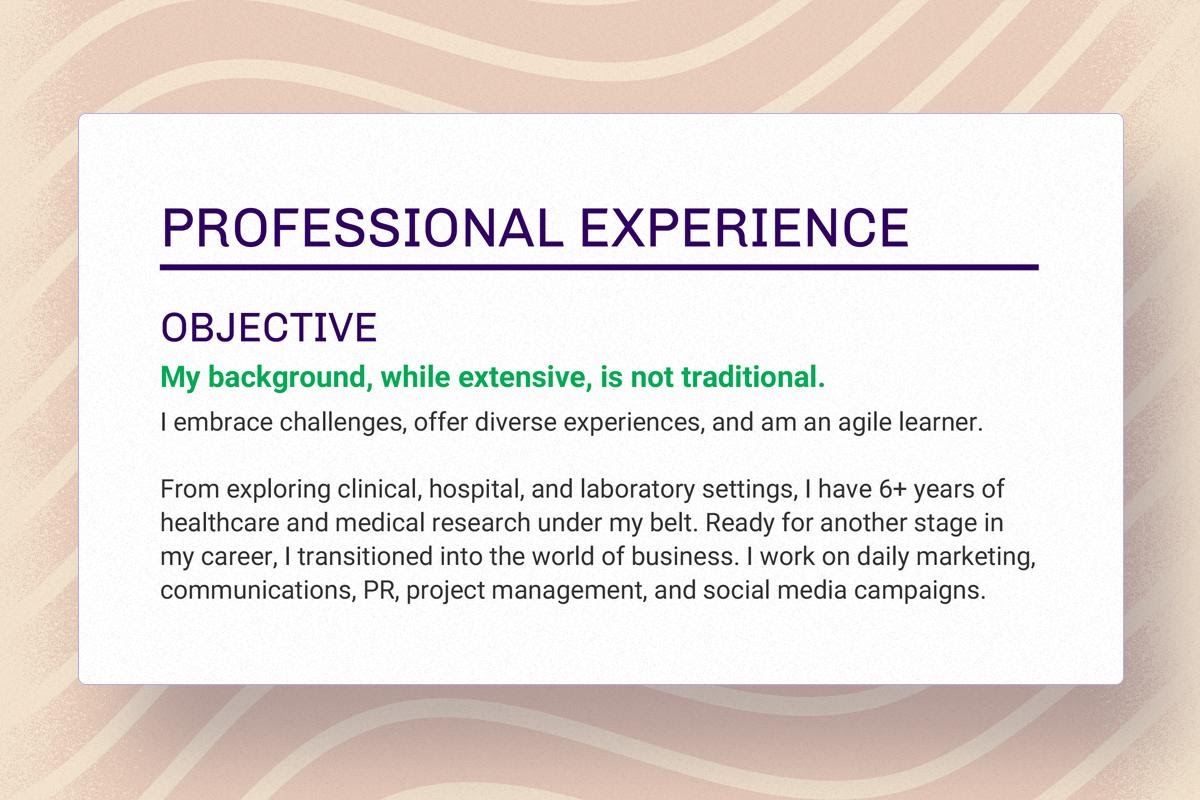 6. Your resume is your story
Your resume is your conversation starter with the recruiter. With this in mind, it's important that the recruiter gets an understanding of exactly what you have been doing and what you want to be doing in this career change.
Acknowledging the reasons you're making the move will answer questions you know the recruiter will have in their mind already.
Eric did this by including his Approach in his resume as he transitioned from musical performance to working at SideWagon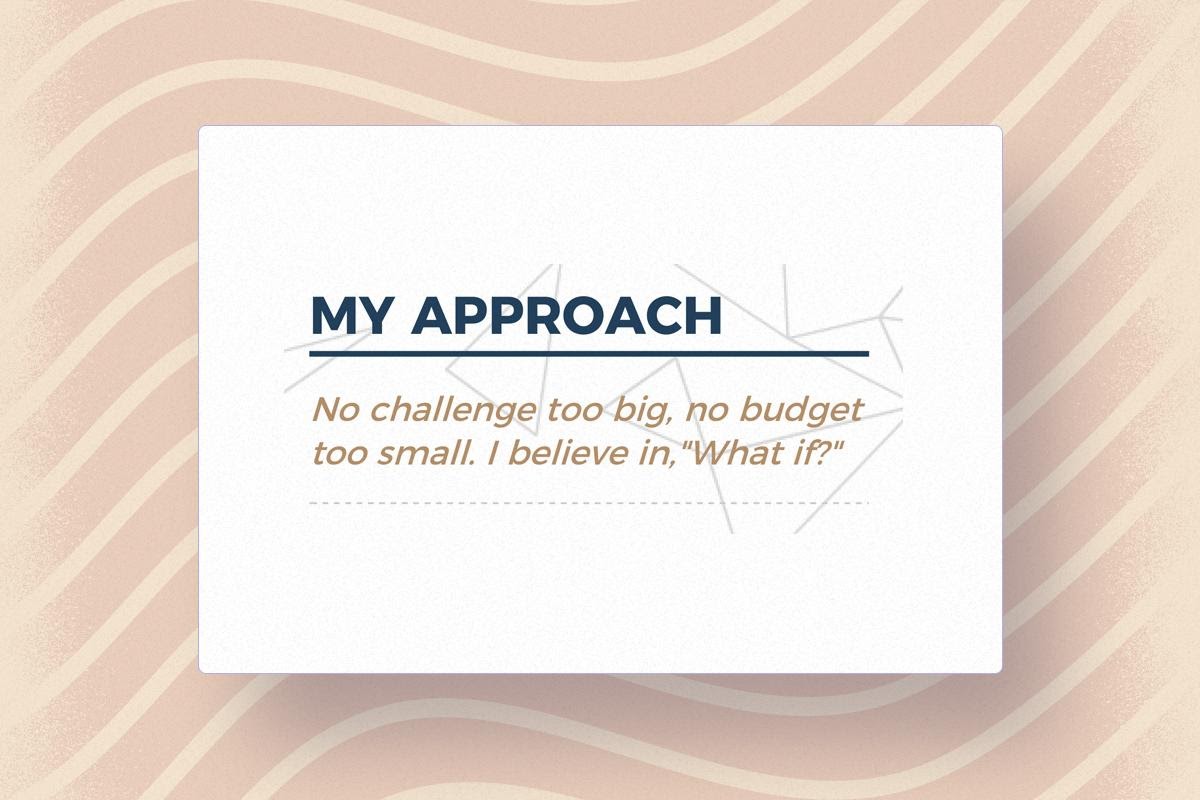 7. Research into your new career
There's a certain expertise that comes along with being in a field for some time. With moving into that field, that expertise is something you're lacking.
Researching into your new career is best for understanding the language used, expectations of employees, trends in the field and more.
Doing this also ensures you're updated and familiar with the jargon in your chosen field.
For accountants, AP means accounts payable. If you're switching to writing though, that now means AP style or Associated Press style writing. For those in IT, AP means access point.
Using the jargon in your chosen industry shows that you're not an outsider so don't be afraid to sprinkle in some on your career change resume.
Sam made new connections through Meetups (she used the tool Meetup to easily check the best events near her), communities like Lesbians Who Tech, and events at tech firms. This helped her tailor her resume to fit into the tech world after working in banking for so long.
8. Take advantage of your relevant education and certifications
Your education might be more in line with your original field, but that doesn't mean all your academic units are irrelevant.
General education units and elective classes you took might be relevant for your new role. Psychology classes, for instance, will be useful for those switching to HR, management, or training fields.
In this case, you should also include relevant course units to your education section. You can even mention clubs you joined and the work you did for that group.
Listing relevant certifications also adds to your credibility. It shows that you took the time to learn about the new field that you want to enter.
Here's a good example of an education section for someone who wants to switch into project management: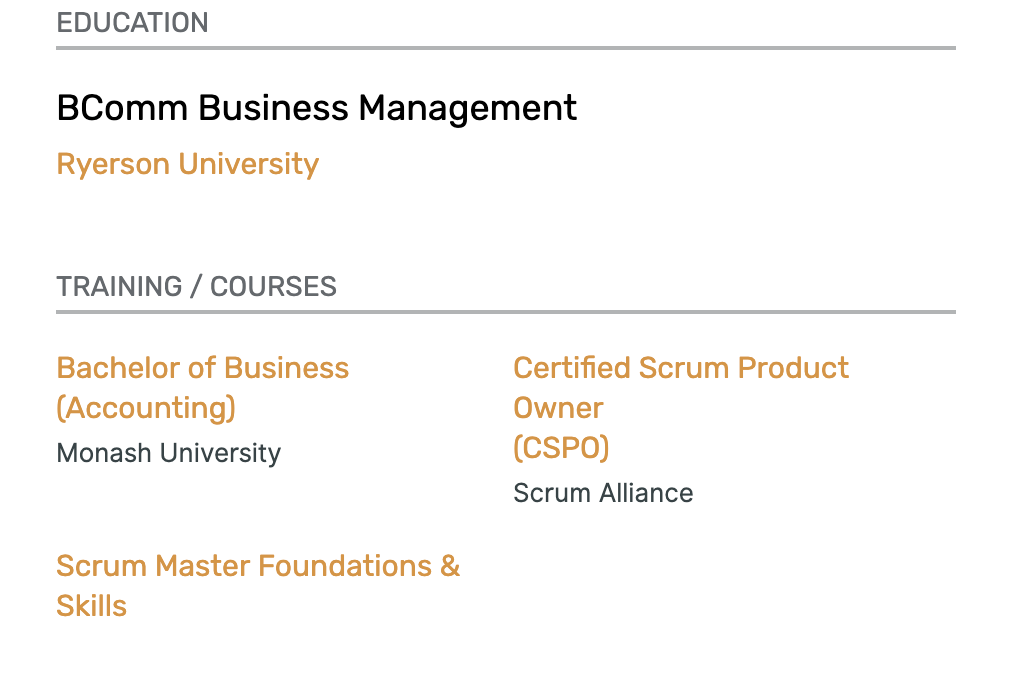 Check out our collection of resume examples for education and course sections on different industries.
9. Write a skills summary
A skills summary is a must-have for any career change resume because it's one way to prove that you're a capable candidate even if you're applying for a role totally different from your current job title.
Use this space to write about the transferable skills you listed in tip #1, including both soft skills and job-specific skills common to your current and would-be job.
Here's an example used for a network engineer's resume: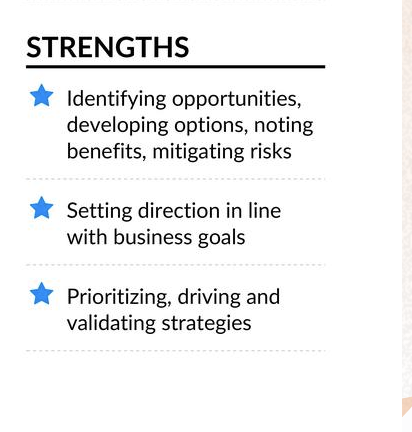 But don't you think it can be used for a career change resume in sales or business development, too?
PRO TIP: Prove your competence in these skills by adding quantifiable achievements.
Communication, organization, and time-management skills are just a few of the soft-skills you can quantify by asking the question "How many?" when thinking about your tasks.
Visit our library for more visually appealing resume templates with a skills section.
Examples of quantified skills for a career change resume:
Organization: Organize and follow-up with 15 leads that contacted us through our website for a quote
Time management: Completed sales presentation for major client 1 week ahead of schedule
10. Claim achievements you've helped with using the right keywords
You may not have direct job experience in your new field but there's a huge chance that you've helped colleagues with those jobs.
In this scenario, you can still claim credit for the achievements, as long as your words can't be construed as claiming sole responsibility for said achievements.
In the example below, using "Collaborate" instead of "Led" or "Supervised" makes it clear that you had help.
Example: Collaborated with the HR team in creating the brochure and company presentation for a roadshow that yielded 15 new hires from top universities.
Even if you just created the brochure or you proofread the slide's content, this would make for a good bullet point for someone who wants to transfer to HR-related work.
11. Focus your work experience on what you want to do
First off, trim your work experience to only include tasks and achievements related to your desired line of work.
Now you might think that doing so will make your resume look bare.
Well, keeping the old irrelevant achievements from your past job won't help your application anyway.
Keeping them will make you look experienced, alright….
Experienced in the wrong field!
Let's say you're switching from copywriting to real estate.
Ask yourself, what do these roles have in common?
Both copywriters and real estate agents need good research skills to suss out what their market wants.
Both also require good written skills. For real estate agents, good writing skills translate to good offer write-ups.
For copywriters, this means good headlines, slogans, etc.
Focus on the common threads and write how you used those skills in your work history.
The work experience below is for an HR manager but as you can see from the bullets written, it can also work for a school administrator, lead trainer, or account manager because of the focus on creating programs and training other coaches or trainers.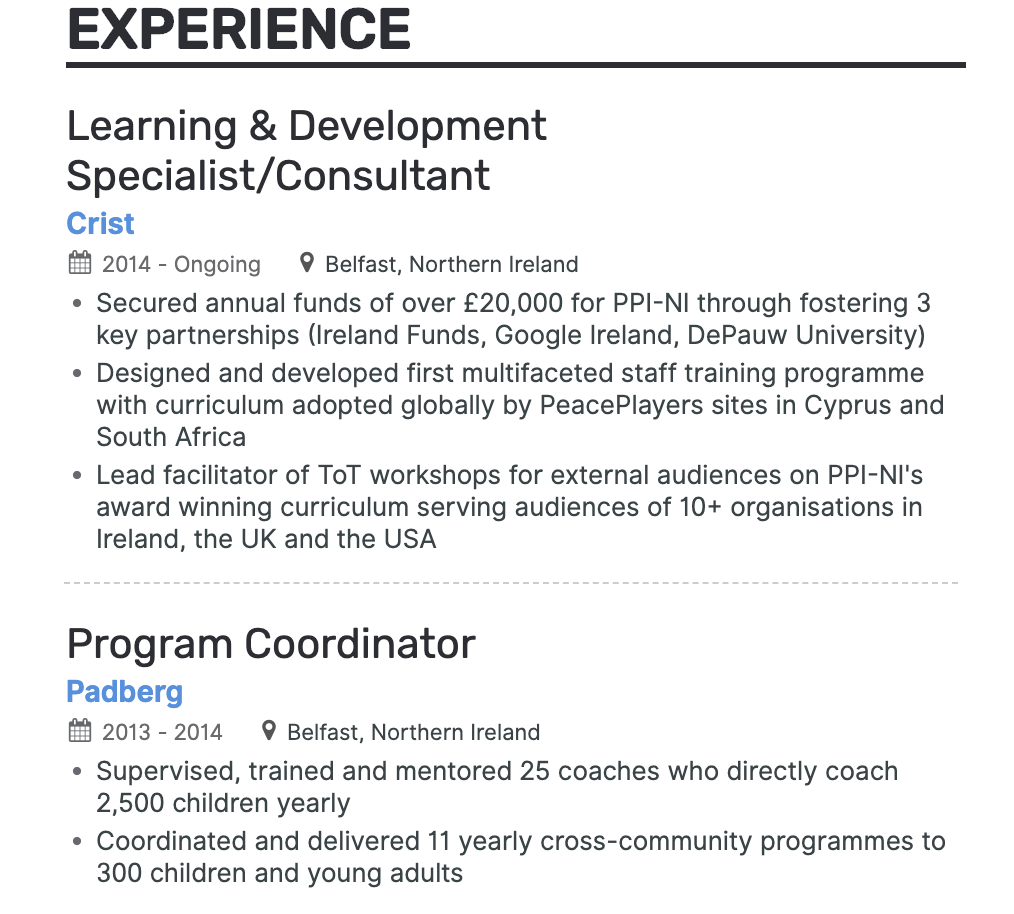 12. Develop an eye-catching career change resume
Recruiters go through hundreds of resumes in a day. Resumes that weave aesthetics in with high-quality content are more likely to catch their attention.
This was something Sam had to think about when moving into Tech as her banking experience may have come across as boring and drawn-out. Using carefully selected graphics on her resume helped her stand out and entice the recruiter at Spotify.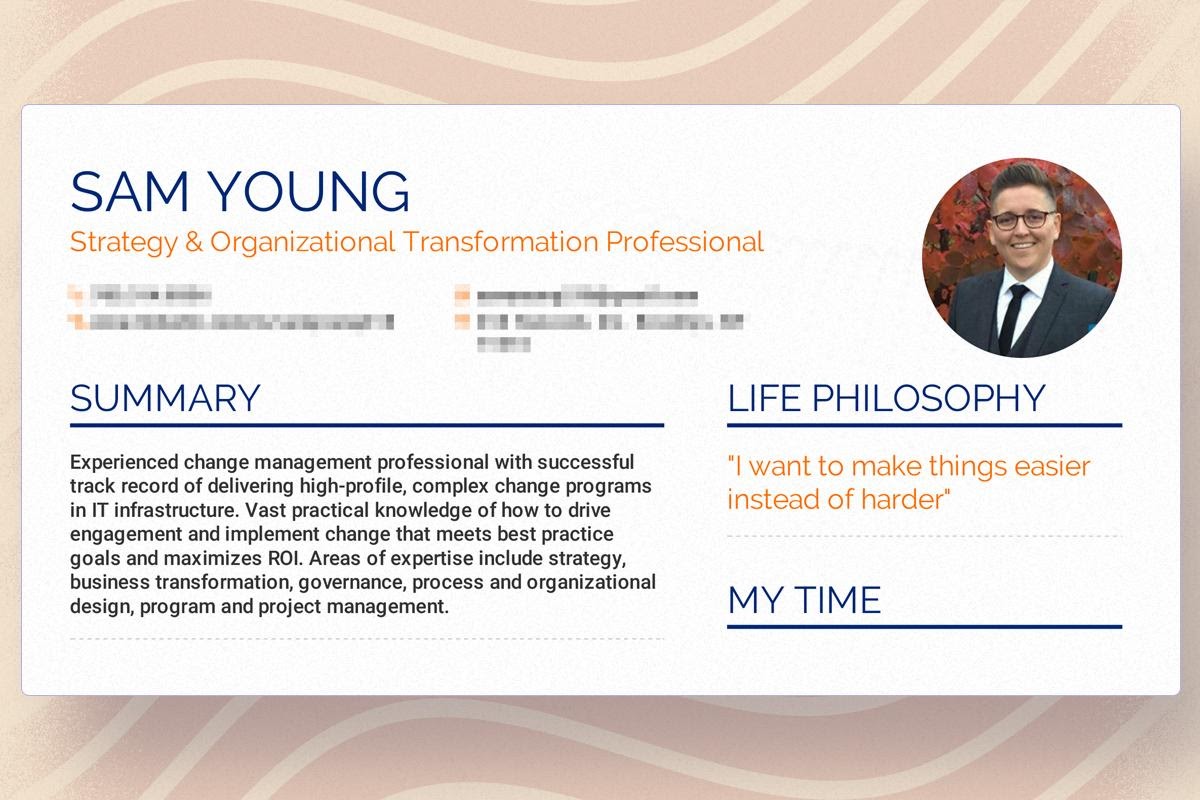 13. Utilize volunteering experience
Volunteering experience can be used to show the recruiter you're capable of working outside of your traditional field. It also demonstrates your dedication to the things you care about.
Including volunteering projects not only provides the recruiter a reference of the versatility but also proof that things you've chosen to pursue (i.e., a career change) are things you're successful at.
Steffany went one step further with this and included her volunteering as her "Global Impact".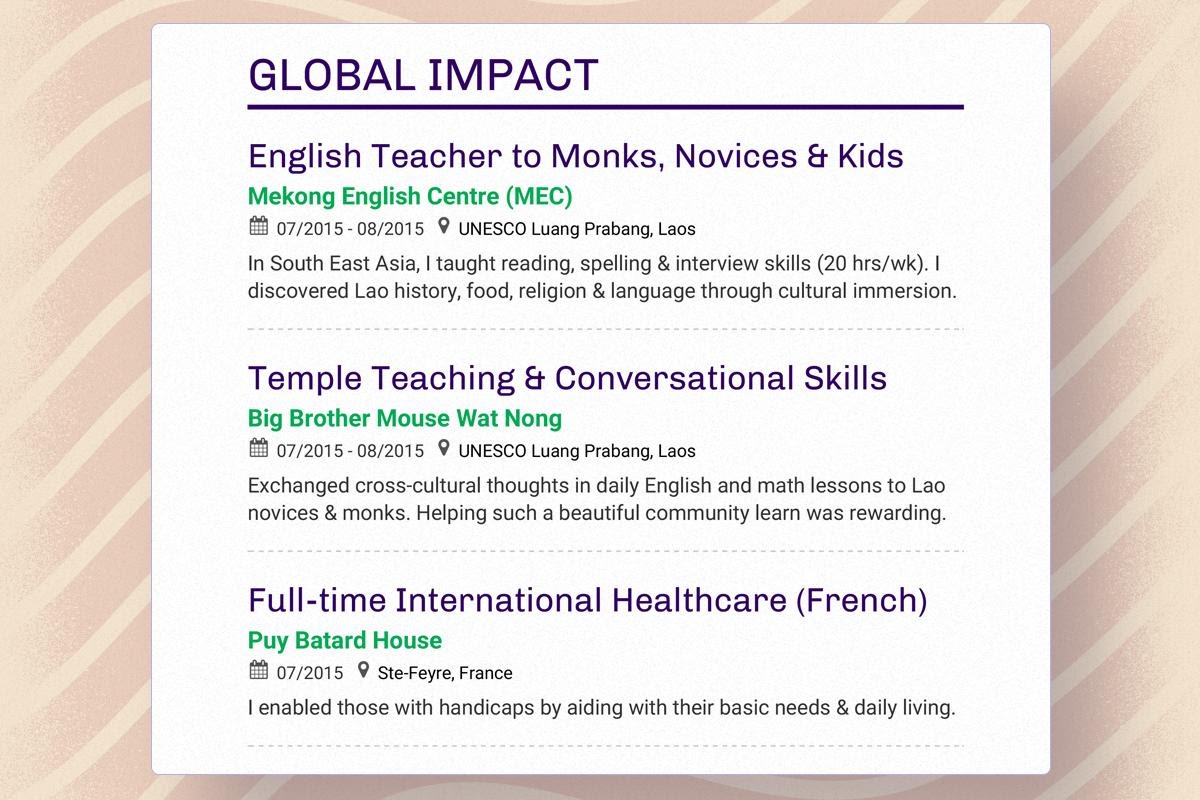 14. Diversify your achievements
Much like the variability you can show in your volunteering work, it's also important to show diversity in your achievements.
Include a variety of achievements that highlight different aspects of your work, experience, and life. This way, the recruiter will have more evidence to believe you're not stuck in the pigeonhole of your previous sector.
Eric included very different achievements in his Most Proud Of section. Here, he highlighted his professional accomplishments of being the Youngest Influencer employed by Mercedes-Benz, but also his personal achievement of backpacking.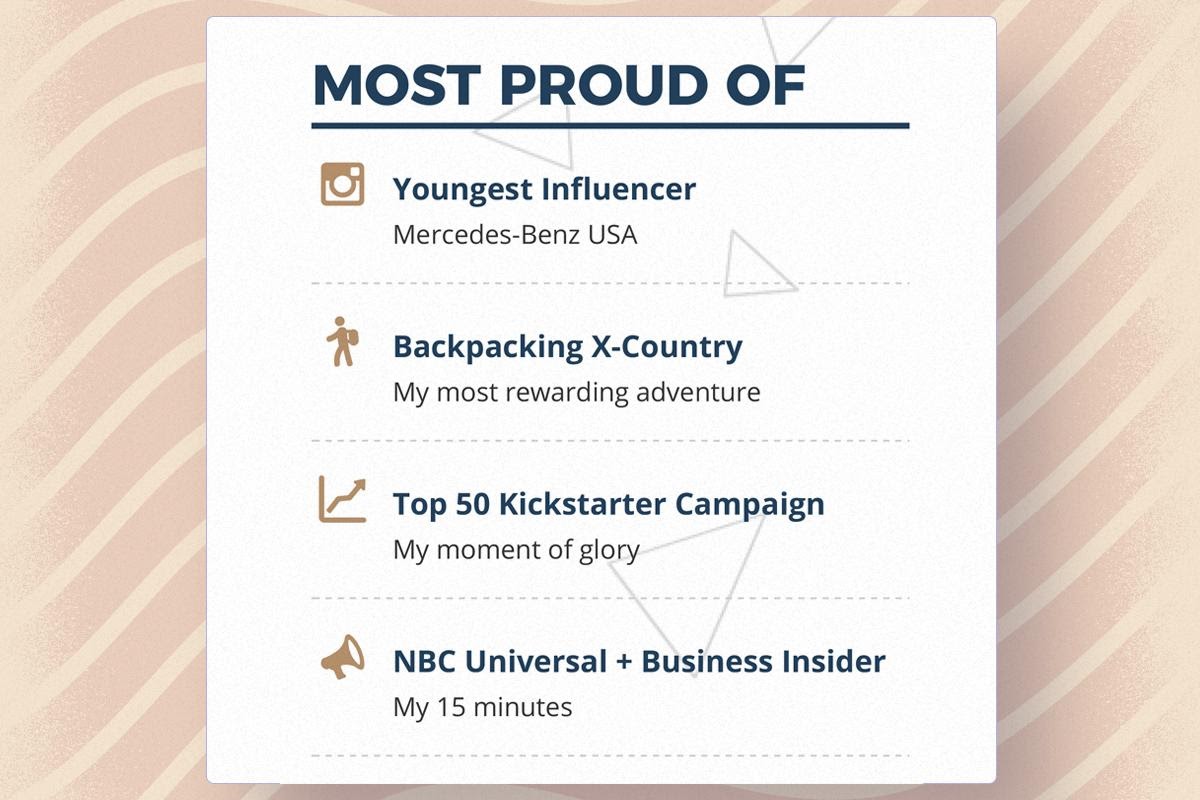 15. Have your resume reviewed
You may have lots of experience writing a resume for working Retail, but you don't have experience writing a resume for working in Tech.
Recognizing this venture as new territory and reaching out to those in the field to review your resume is one of the last few steps you should take.
This way, you can gain insight into how your resume is perceived by others and they can notice any mistakes you might have missed.
To do this, you can utilize the built-in referral link in Enhancv's platform.
Bonus Tip: Get your resume to the right people
There's no use in creating the perfect career change resume only for it to sit on your shelf.
Ensuring your resume gets to the right people is the final step you should take on your career change journey.
To get your resume to the right people you can:
Attend careers fairs
Apply directly to the company online
Ask to come into the firm to learn more about their business and introduce yourself
Attend Meetups
Writing your career change resume
There are a few things you want to accomplish with your career change resume.
Like any other job, you need to answer the job description and check as many boxes before you get the interview. Applying the above tips will have you on the right track to finding your next gig – no matter how different or alike it is to your current role.
Make your move!
Your resume is an extension of yourself.
Make one that's truly you.