Thinking about creating a combination resume that works?
Before you go in guns-blazing, you should understand this:
The combination resume format won't work well if you have very little work experience to show for.
Seeing what resume formats are available, you'll either be working with a chronological resume or a functional skills-based resume.
Or, there's the combination resume – this is also known as the hybrid resume.
These resumes aren't easy to make, but at the same time, it's not as hard as you would think.
In this ultimate guide we'll cover:
What is a combination resume?
Why should you use the combination resume format?
The key factors of a combination resume
Is a combination resume right for you?
Advantages of a combination resume
Disadvantages of a combination resume
How to create a combination resume step-by-step
6 Hybrid Resume Case Studies From Enhancv
Additional tips to perfect your hybrid resume
Wait, are you feeling a bit overwhelmed?
No worries! You can skip ahead and start by finding a proven resume for your profession in our megalist of 530+ examples here.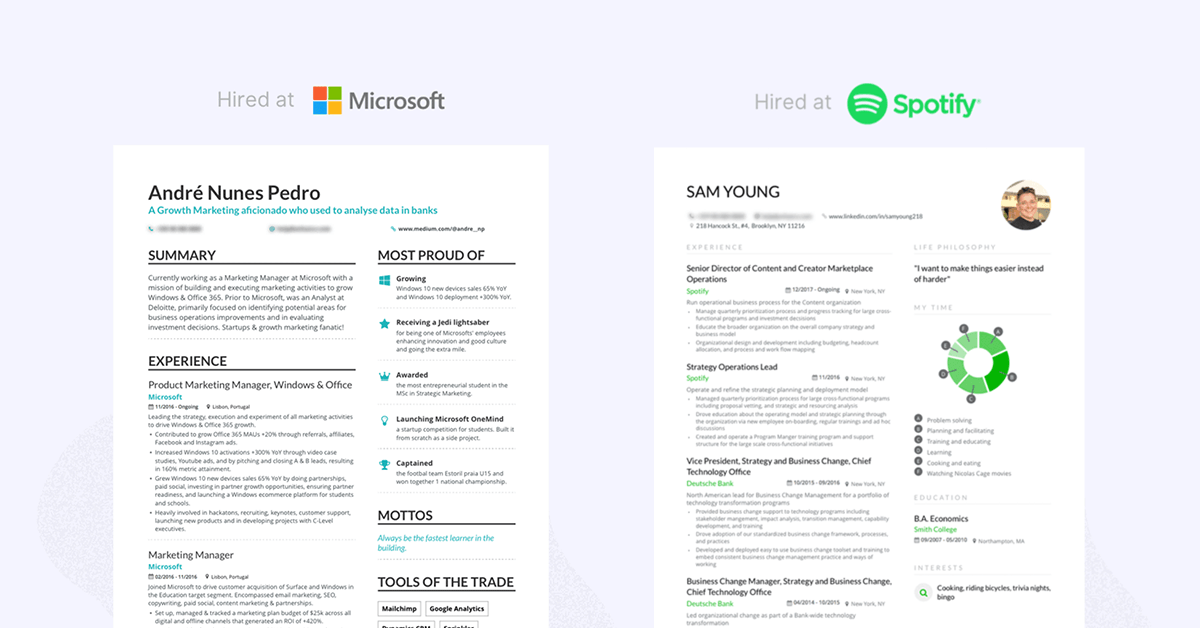 "I love it and would recommend it for anyone, it's so much better than a droll traditional resume." – Mark Cuban
Are you ready to start? Let's dive straight into it!
What is a Combination Resume?
As mentioned, combination resumes are also known and referred to as hybrid resumes.
This type of resume combines the key elements from a traditional functional resume and the chronological resume format to highlight both your skills and employment history.
Here's a quick recap:
The functional skills-based resume focuses on highlighting the candidate's strongest skills and recent experiences for the new career they're seeking. Whereas, the chronological resume format focuses on the chronological order of the applicant's most relevant work history in their career timeline. Employers mainly want to see the roles you take on develop as you handle more responsibilities over time.
When you put both of those core components together from both types of resumes, you get the combination resume. This means it merges the emphasis from both your resume skills and employment history that are most suited for your next job position.
The combination resume is the perfect in-between for hiring managers who are strict on the resume format rules. It also works well for those who need more flexibility on their resumes.
One easy way to think about it is Goldilocks testing the resumes between three bears. And out of all of them, the combination resume would be "just about right".
Why Should You Use the Combination Resume Format?
Every resume format comes with its own benefits and setbacks. They can either take you one step closer to landing your job or one step further if you do it wrong.
With the hybrid resume, one clear advantage is that you have a well-balanced, all-rounded resume to catch the job recruiter's eye. Unlike the applicants who use the functional resume, any small gaps you have in employment won't be as noticeable.
And, it indicates to recruiters that you have a steady, consistent work history – alongside a positive track record.
With this in mind, you can showcase both your employment experiences confidently while emphasizing your strengths. This way, employers can see the amount of value you'll bring over to their organization. Not just in one particular aspect, but through multiple features throughout your resume sections that are as good as one another.
The Key Factors of A Combination Resume
You may have already noticed, but the combination resume is composed from 2 particular formats merged. These are:
The functional resume format
The reverse-chronological resume format
In comparison, the combination resume maintains a balance between both of these resume format objectives and aspects. Therefore, it's not one-siding or overshadowing one factor over the other.
Check out the grid below to see a comparison of how each of these resume formats differentiates from each other with their criteria: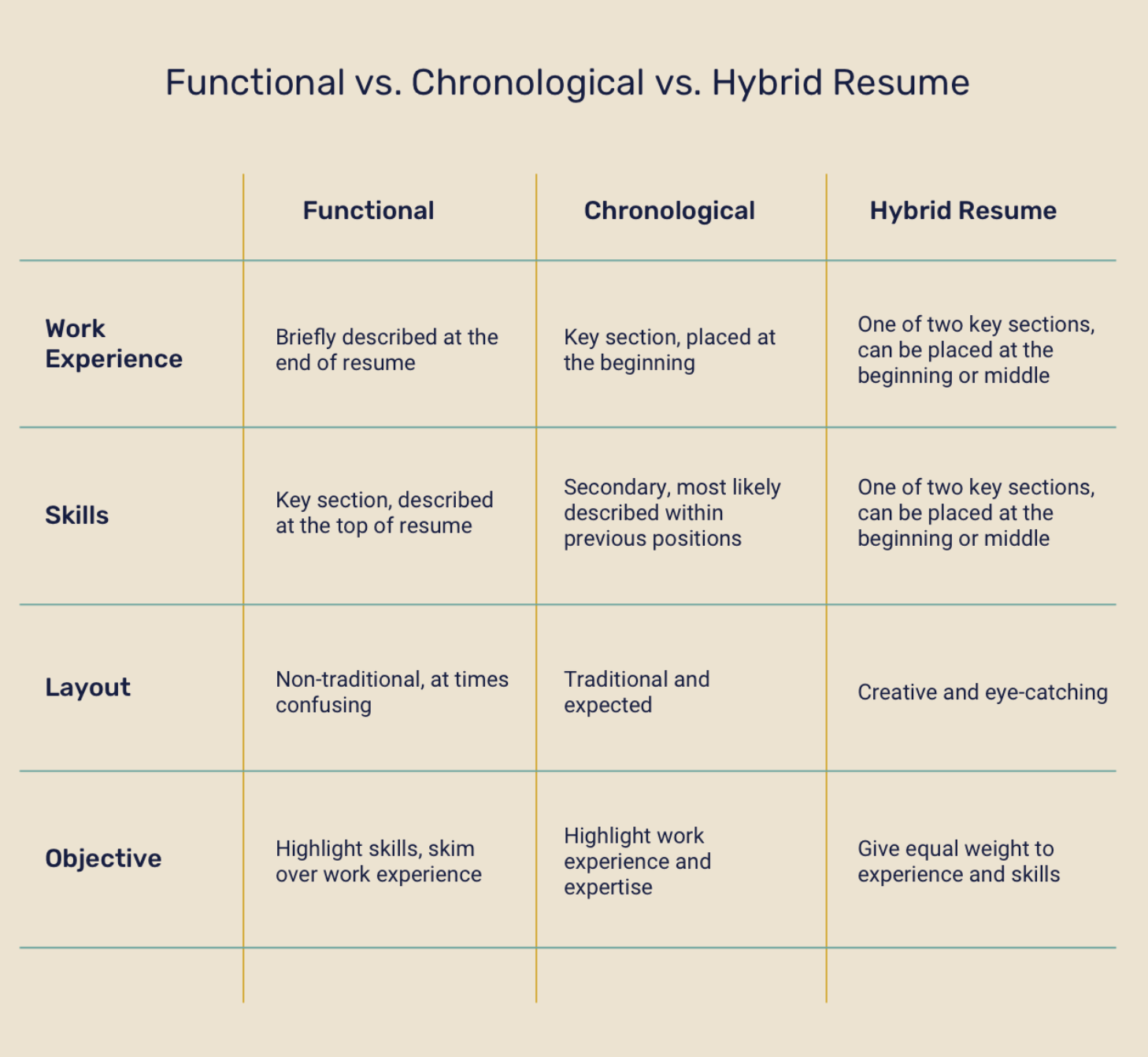 Is A Combination Resume Right For You?
Although the combination resume creates a solid overall impression, it's not for everyone. Ideally, it should be used for those who want to prioritize highlighting their skills, qualities and the level of value behind their capabilities they have to offer.
If you want the recruiters to have more recognition in your work experiences, it makes more sense to stick to a chronological resume format.
However, the reason why a combination resume works so effectively is that it gives employers valuable insights. By this, I'm referring to the fact that you have relevant work experience and skills they can quickly identify.
I've listed out the 3 reasons for when the hybrid resume is most ideal for you to use. If you don't fit into any of the categories, it's worth reconsidering.
You're considering switching careers significantly or applying to head into a different industry
In this situation, you could test between the skills-based resume and combination resume. Try to see which one has a higher response rate and if one performs better than the other.
If you're someone who has significant gaps in your career, go for the functional resume. It helps with showing you're more than capable for the job even if you don't meet all the desired requirements.
On the other hand, if you're the opposite then the functional skills-based resume isn't your only option. If you're confident that your record is positive and there aren't major openings within your professional background, a combination resume is more recommended.
Using the combination resume is generally better for getting the recruiters attention because they can see you have an impressive employment timeline overall. You're also able to present the information at hand, so that puts you one step closer for an interview.
You're a new college or university graduate or someone with some relevant work experience.
Have you just graduated from university or college? Or are you someone who has work experience, but still feel that it's not enough?
Well, I've got some news for you…
The combination resume would work for you in any of these scenarios. It just depends on one condition:
Do you have any professional corporate experiences in the workforce for at least one year? And are any of them relevant to the job title you desire?
This also includes internships and volunteering experiences…
And, if the answer is yes to any of the above, the combination resume would be applicable for you!
Ultimately, you've done work that's aligned with the responsibilities you're soon going to take anyway. Employers will see that as invaluable – it's not something easily replaced through something like a hobby or skills section.
Compared to the other applicants who may have no relevant experiences at all, you can provide those details that others can't. It sets you one step ahead of the competition so you can land that new job and get hired!
Job recruiters will know that you have the skills to take on the expected tasks, responsibilities and duties.
Why?
Because you're using a combination resume that implicates both your skills and experiences you have to support those statements.
No matter how minimal it may be, that information is enough to enable employers to conclude that you have a good understanding of what needs to be done. You're not a complete amateur, but you're someone who knows what to do.
My recommendation is that, if you have between 1-3 years of work experience, the combination resume should work for you. Anything less than that, you're probably better off using the functional resume. And in opposition, if you have tons of work experience, you may want to consider sticking to the chronological resume format.
I've mentioned it earlier but I'll say it again: one thing you can do is have more than one resume. See which resume performs better for the industry you're targeting, and stick to the results or trends you're seeing.
You have a positive employment record
Combination resumes are most ideal for job seekers who have a positive employment record. If you use a functional resume format when you have a solid career history, you're technically reducing the value behind those experiences because it's not built for you to emphasize those details.
By using a hybrid resume, it allows you to highlight the information behind your professional background and skills simultaneously.
Advantages of A Combination Resume
There are several benefits gained from using a combination resume. We'll take a look at what each of these main benefits is so you can maximize and make the most out of this resume format when creating your own.
Some hiring managers don't accept the functional skills-based resume format, but it's a different story when it comes to the combination resume.
These templates are sometimes preferred because they don't try to shift the recruiter's focus or conceal things the applicant is intentionally concealing.
With the hybrid resume, there's nothing for the reader to suspect or doubt. All the information to reinforce your statements that they're looking for will be shown through your experiences.
Changing careers or heading to a new industry
With an equal focus on your career history and skills, the hybrid resume is the perfect choice when changing careers. Using this format, you can showcase the transferable skills you've built-up that will be relevant for your new position.
This becomes particularly beneficial if your experience doesn't appear immediately relevant. For example, discussing all of your sales experience when applying for an operations role. In these circumstances, discussing your skills at the beginning of your resume will be most impactful.
Take a look at the tech resume template Sam used which enabled him to switch from investment banking to working for Spotify: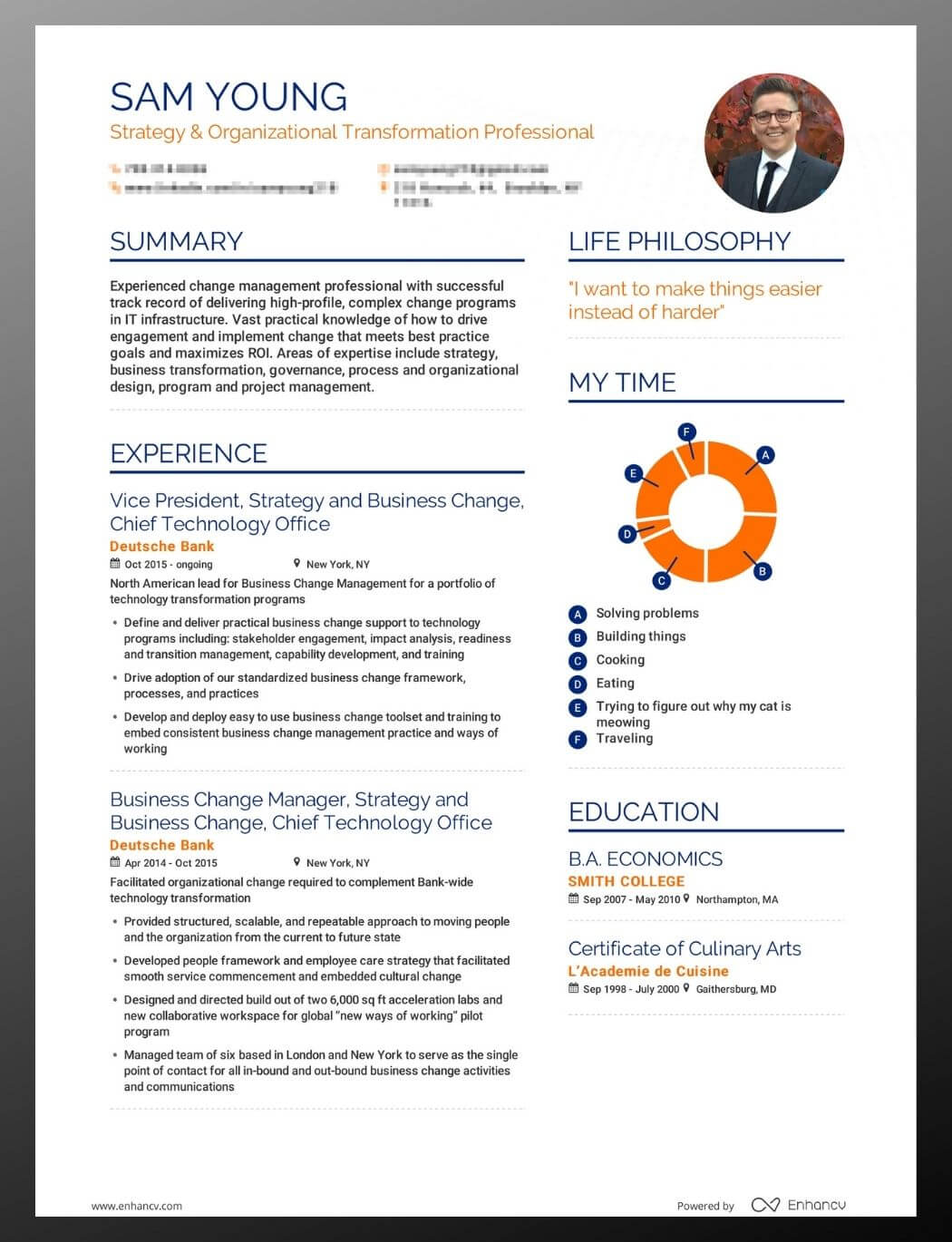 With the Enhancv resume builder, you can adjust the format to put specific sections in the spotlight. The minimal and clean design also makes it highly readable, and it's how it even caught the attention of a billionaire.
Since it's easy to rearrange, Mark used his most recent job titles and experiences and integrated his skills into the description. This puts emphasis on both his career history and corporate skills, which gives a lot of value for the recruiter who's making the decision of accepting him on board or not.
Conveying a consistent job history
Nothing can leave a worse impression than having three jobs in one or two years…
You don't want the recruiter to begin questioning all the smallest, and slightest of things.
"What happened in those years? Were you fired? If so, why?"
We only have a limited amount of time that's given to each individual resume. During this decisive moment, it determines if your resume will be sent to the "yes" or "no" pile.
You can give greater weight to your skills section in a combination resume.
Let the company know how you can apply yourself to the new role and later reinforce this by describing your previous positions. Doing this makes the recruiter less likely to care about the inconsistency in your history as you've shown how well you can perform.
versatile and works for multiple roles within one company
Let's face it, we all perform tasks that don't fall within our job description. Sometimes you work on long-term projects that may seem out-of-place to even talk about…
However, one advantage of the hybrid resumes is that they're not fixed and limited to only one specific role. But rather, multiple roles in that same company.
For example, you can discuss all of the skills you've managed to develop (IT and software proficiency, data analysis, etc) and discuss how it'll be useful in other areas for the tech company you've applied for.
No matter what your official role was in your previous company, you can describe all those skills. As long as they're transferable and relevant for the new company, there won't be a problem.
Re-entering the workforce
Re-entering the workforce can be challenging. It's more difficult when there's a considerable gap between your most recent position and now.
Taking the combination resume approach, you can change the recruiter's perception. Instead of being someone rusty who's been out of work, you're going to be seen as a worker with respectable skills.
Despite being out of the working culture, you can show employers you've got the ideal expertise that they're determined to see.
Ahead of the competition by playing a different game
The hybrid resume lets you play by a different set of rules a small percentage of candidates are following.
With resumes that focus on your previous work experience as your selling point, the people who have worked with big names are those that truly make the biggest impact…
When comparing someone that has worked in a major company to someone that has worked in a smaller company – no matter if the skills are the same – you're going to lose the bargaining power.
But, if you change the focus of your resume, you can avoid this issue. In fact, you don't have to worry about it at all.
Not many job seekers are capable of using this format because they have important parts of their careers that are missing. While their resumes have a lesser focus on the influence of their experiences, you'll stand out in that aspect significantly.
One way to think about the combination resume is as a jack of all trades – all aspects of the resume are balanced. Yet, each resume section is compelling enough for employers to realize your potential.
Disadvantages of A Combination Resume
Unlike chronological and functional resumes, the hybrid format tends to be longer in length
When you compare conventional combination resumes to the other resume formats, the readability isn't quite as good. And, it's mainly because they tend to have longer length in terms of details.
Employment gaps are still noticeable
As a whole, when we're not using the chronological resume format, it's implicitly indicating that we have gaps in our career.
Although we can minimize the noticeability behind it, it's still something job recruiters can see.
The information could be too similar and may get repetitive
Since the level of description tends to be more lengthy, if we're not careful our use of words or phrases could be too identical. It's avoidable, but making this mistake limits your personality because there's no variation – it's dull and boring.
Yes, they care about the value you're bringing over. But, it's also important to recognize the candidate's working culture. The workforce is becoming more interpersonal, so it's important to add flavors of creativity and be different!
(We've made an everything you need to know guide for what resume sections. If you haven't yet, I highly suggest you give it a read!)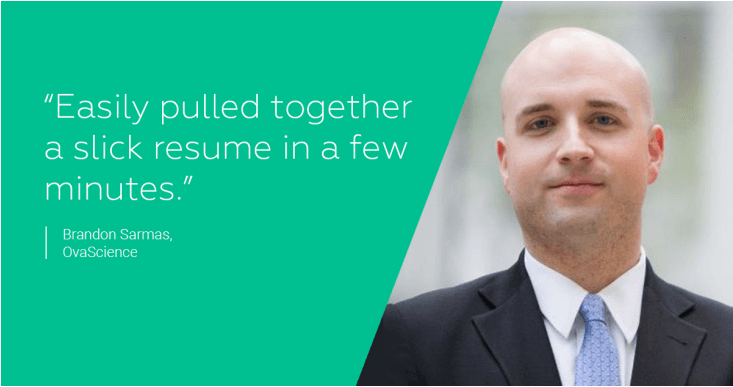 How to Create A Combination Resume Step-by-Step
Use an appropriate format and design
The combination resume is slightly different than the conventional formats you're used to. While this is true, it doesn't mean there are drastic changes when it comes to the layout.
For instance, resume font principles still apply. And, your contact details should be at the top of your resume within your resume header.
Start off by using an optimal resume builder that gives you flexibility with constructing your resume and rearranging its design to tailor for your new job.
If you're unsure, you can easily put together a resume using Enhancv resume templates. Our builder makes your resume sections drag-and-drop puzzle pieces that can be moved with ease without compromising on the format.
You can also take advantage of our unique resume sections including our exclusive My Time section which allows you to describe your typical work-day. All of our components are customizable too which helps with adding a unique flavor to your resume so that you stand out.
(Side note: luckily, you don't have to worry too much about the minor technical details because we'll take care of most of it for you!)
Start off with your resume header
Once you've got your resume format ready, it's time to start off by including your resume header.
For any resume you have, this is always the first thing the recruiters should see. It includes your contact information along with any important pieces of detail you want recruiters to see at the beginning of your resume.
Another optional factor to take into consideration is including useful links. These links could take the recruiters to places such as your LinkedIn profile, portfolio site, or freelance website.
Writing the summary section
The summary should be kept very brief. Here, you want to summarize your entire professional career, or you can make a summary of your skills. In some cases, you can incorporate both together.
More importantly, it needs to give employers insight that you're a qualified candidate capable of getting the job done.
If you're fairly new to the workforce and don't have years of experience, use this section to talk about your long term career goals and objectives.
Just ensure you keep to the fundamental principles. Keep it to no more than 5 sentences long, but preferably 3 sentences max unless you have more details you want to fit in.
Employment history
At this point, you want to start listing out the job titles you've held in the past. This should be accompanied by a description that describes your duties, role, responsibilities and the company success you contributed towards.
Don't start talking about your daily routine at your old job, but rather describe the value you provided. The key thing to remember is that the order of your job listings should start from the most recent experience, then work backward from there.
Top skills and relevant strengths
What skills do you have that directly correlate with what the job recruiters need? How capable are you, and do you understand in full transparency what you're getting yourself into?
(Side note: we have a full guide to create your resume skills section – you can read it by clicking here)
The answers are all found from doing the background research. But, one hack is to use Enhancv's resume scanner to see if your resume matches the job description, or if it's missing something.
In the skills section, pick out one of the skills that are in high demand. Whatever skill you pick, be honest and confident that it's something you're exceptional at. If necessary, you can add extra subsections to include more skills or depth of detail within this section.
Don't just blatantly stuff in as many skills as possible. Otherwise, recruiters can detect those intentions which can lead to getting your resume application rejected.
Additional sections
If there are other useful sections you feel that are worthy enough, and useful to talk about, don't be afraid to bring them up!
One section I suggest you don't disregard is your education section. It lets employers know you've got the academic knowledge that's required. But the additional sections you could include are:
Volunteering experiences
Awards and certifications
Hobbies and interests
Publications
Languages
6 Hybrid Example Case Studies from Enhancv
Making a significant career change and getting hired at Spotify
Sam had been working in investment banking for several years. Eventually, she decided it was time to make a significant career change and to steer towards a new path.
When designing her resume, she knew she'd have to show something impactful that would influence recruiters. So, bringing her personality into her resume (such as including her Life Philosophy and Favorite Books) was one of her ideas.
And, it led to real conversations with recruiters.
They related to her more easily and were able to determine her culture fit. Take a look for yourself here: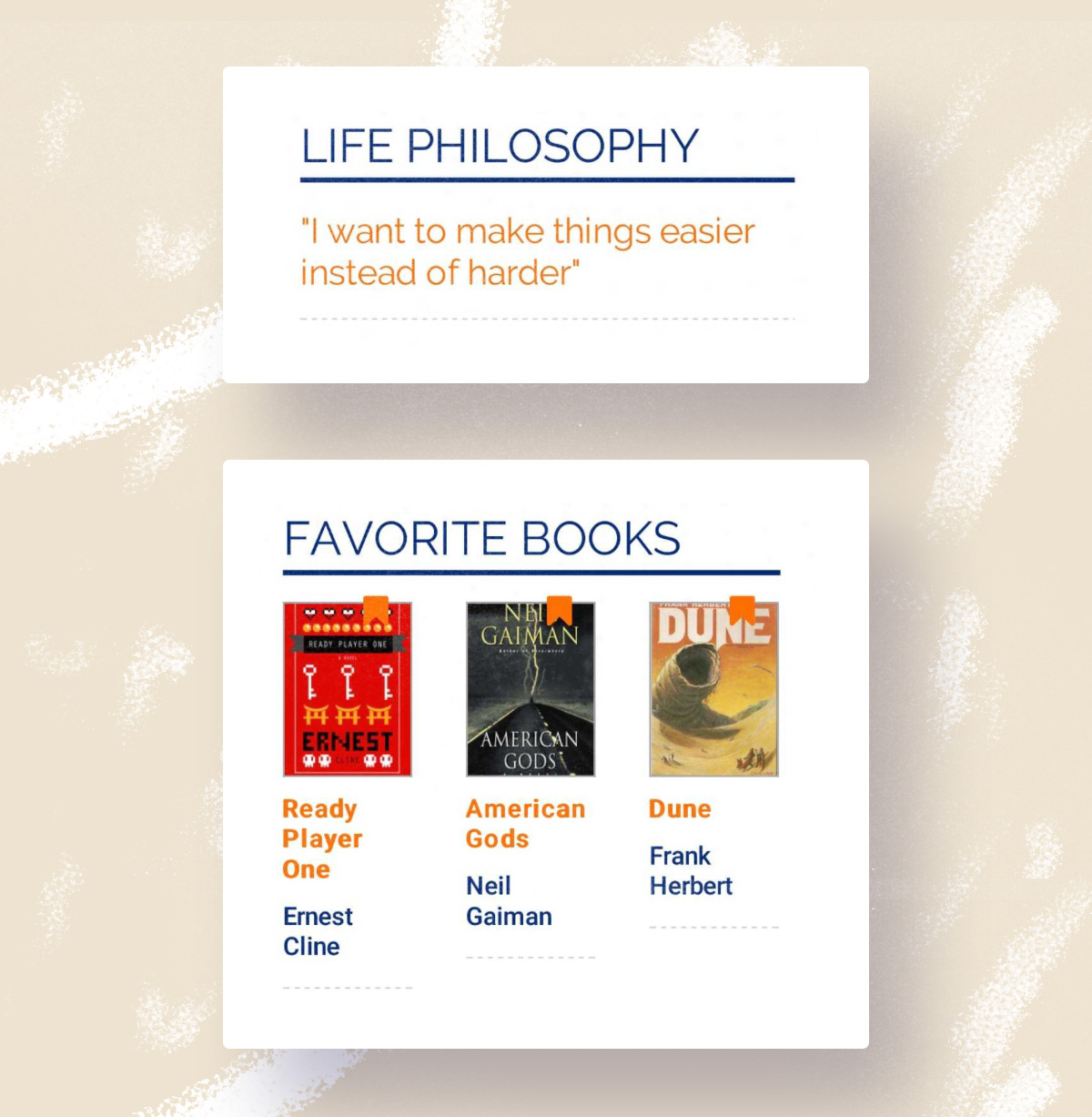 Soon after, the hiring managers made their decision, and she found herself hired to work for Spotify.
Using a volunteer resume to work on a project with AIESEC
Avery was looking to volunteer with AIESEC in Indonesia for two months. Despite Avery having little work experience, the company knew that it was a perfect fit.
In a volunteering resume, it's important for organizations to see who you are, and to understand your motivations for free work. To do this, Avery spoke on the achievement of being one of the eight students chosen to study Global Business in Ireland from France (props for being a chosen candidate!).
Then, on her resume, you can see the description of Avery's strength of adaptability and even included a personal photo. This made it easier for AIESEC to see Avery take on the role as well as building rapport.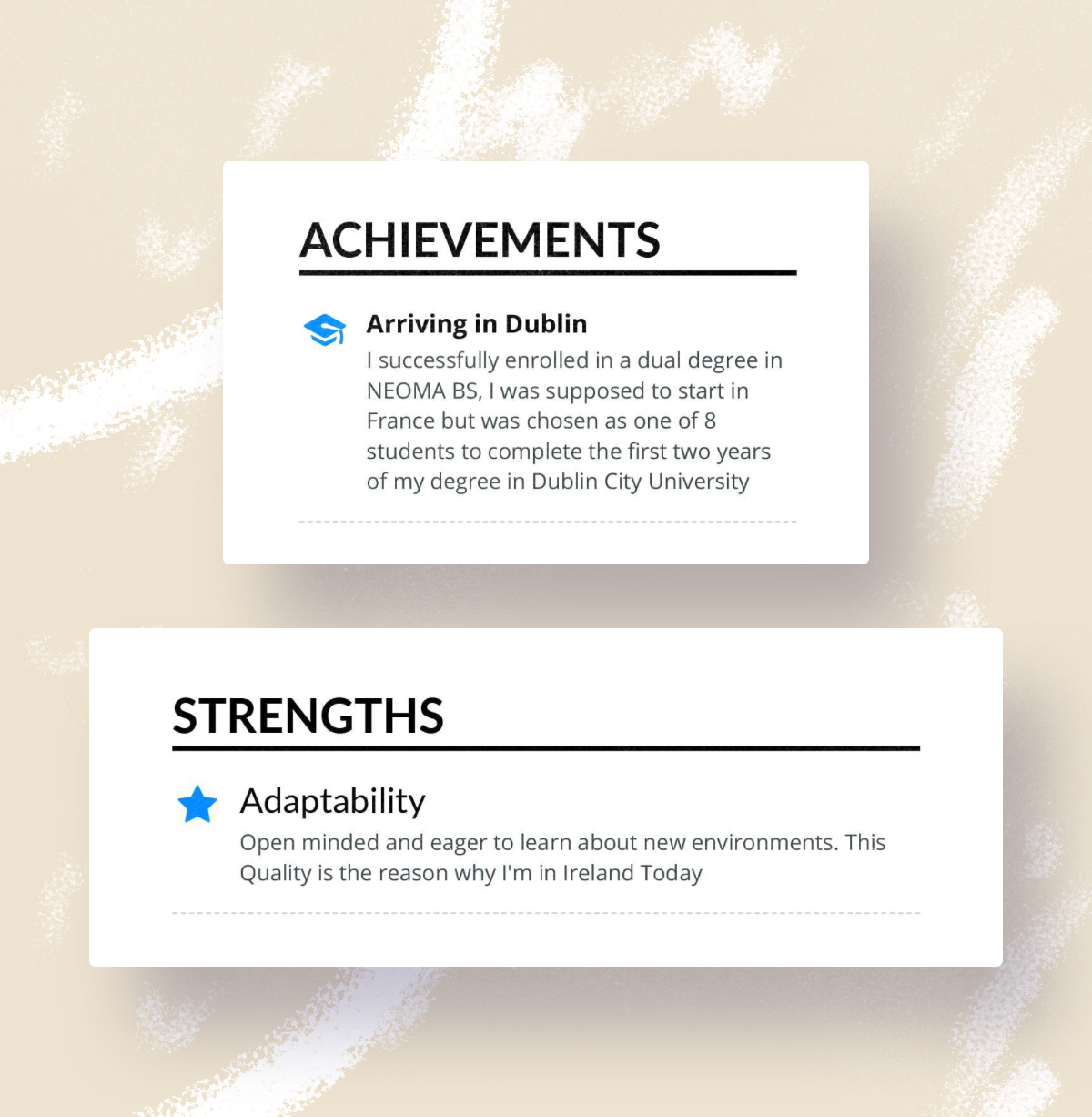 In this case study, Daniel had been involved in remote work for his entire career. He found an organization that would facilitate his preferred working style, so this opportunity was very important.
Recruiters at Intercom are interested in seeing how well a person is equipped to work together with a team despite the distance. Keeping this in mind, Daniel made it a priority mission to give insight to his personality to show how he would work well with everyone at Intercom.
In order to do this, he included "useful links" that gave more information about his background and who he was. After, he decided to start his resume with a summary section.
With the unique approach that gave recruiters what they wanted, he now works remotely the way he wants to. He does this at one of the biggest customer support organizations in the world!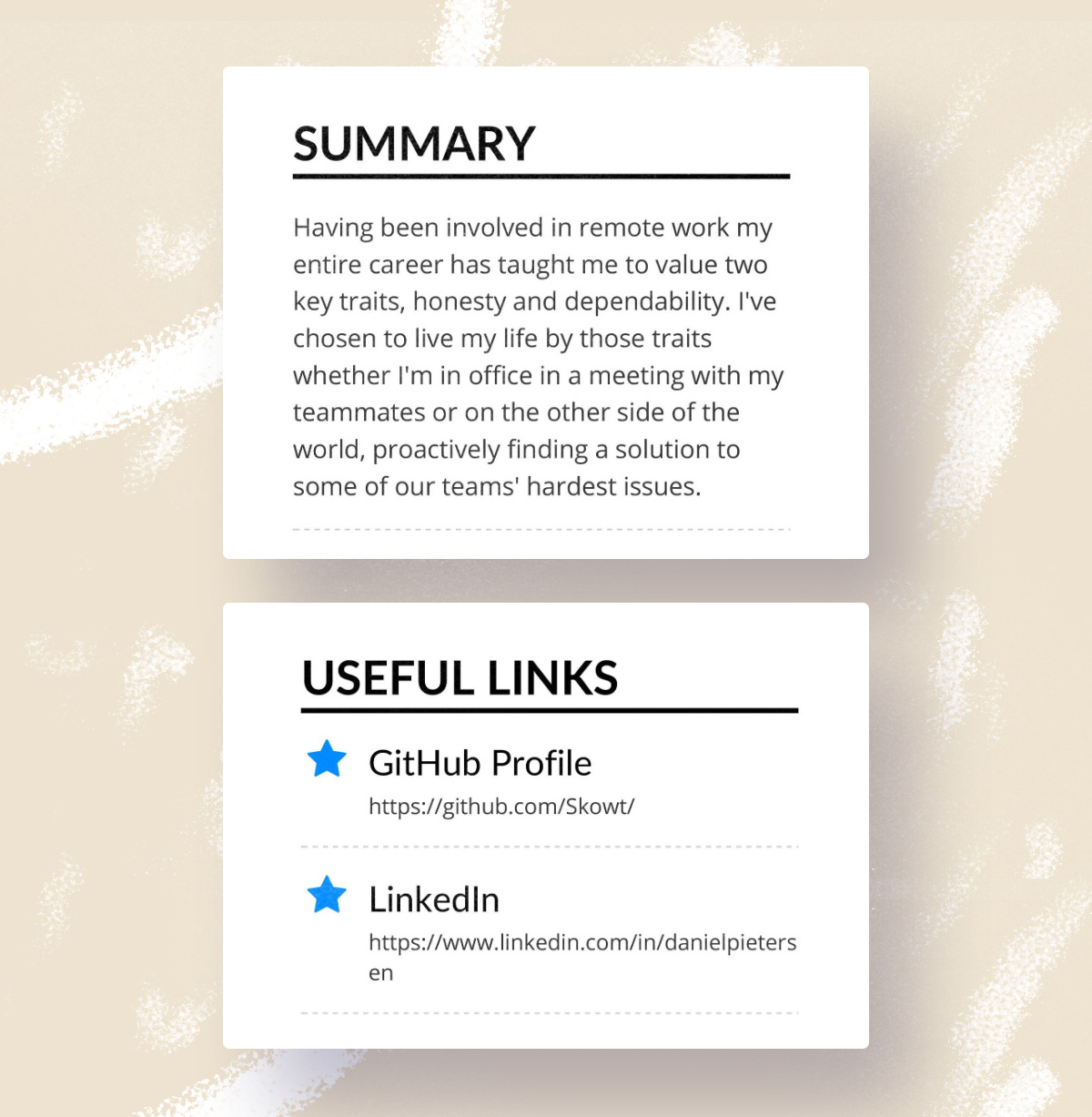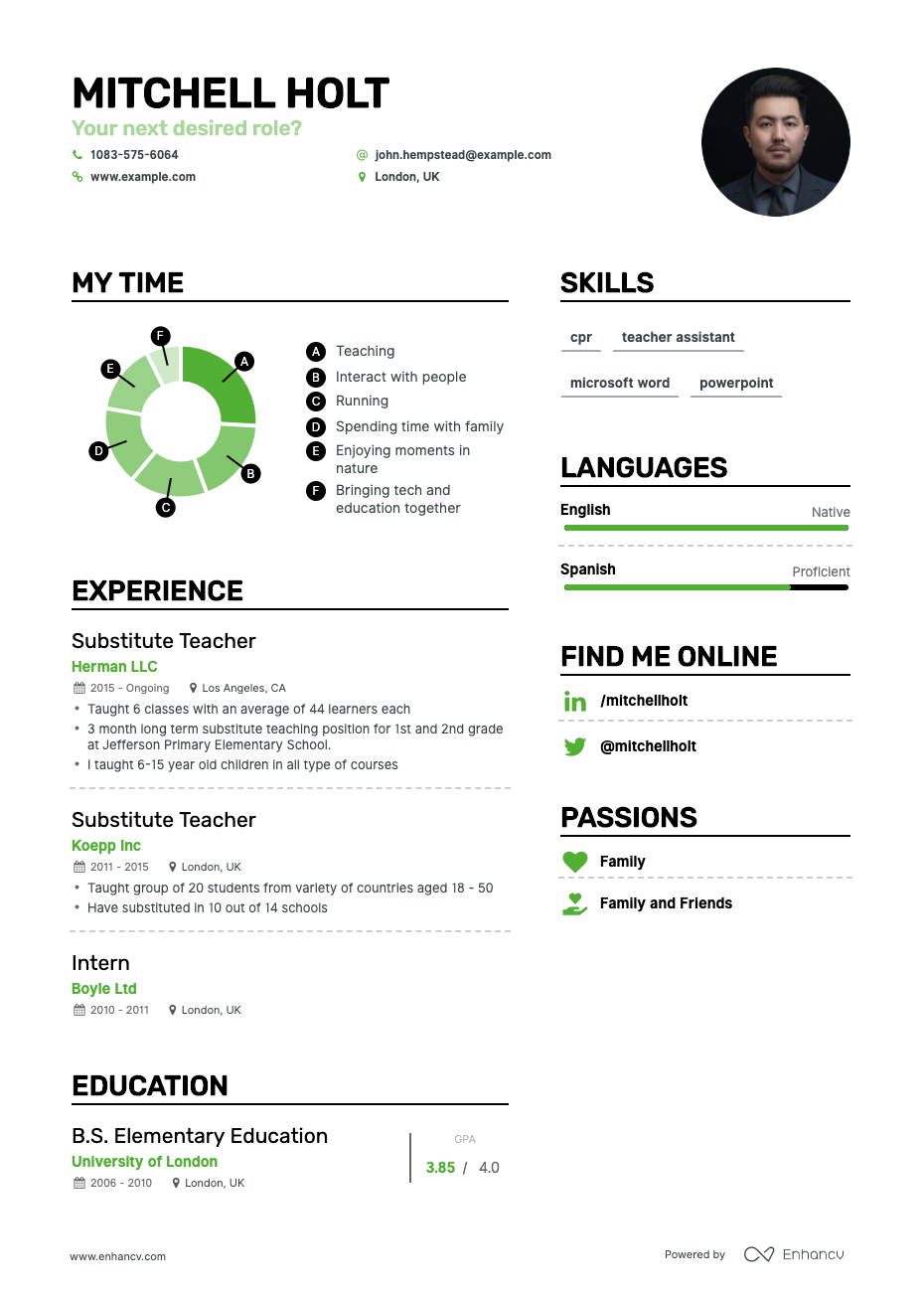 In the example above, Mitchel created his resume with Enhancv to highlight both his work experience and skills. We can see this almost immediately on his resume template.
What's also effective is the "My Time" section at the very beginning. Not only is it a different approach, but it tells recruiters a lot about how he uses his time. It's another way of combining his career history and skills to show how it's consistently being developed.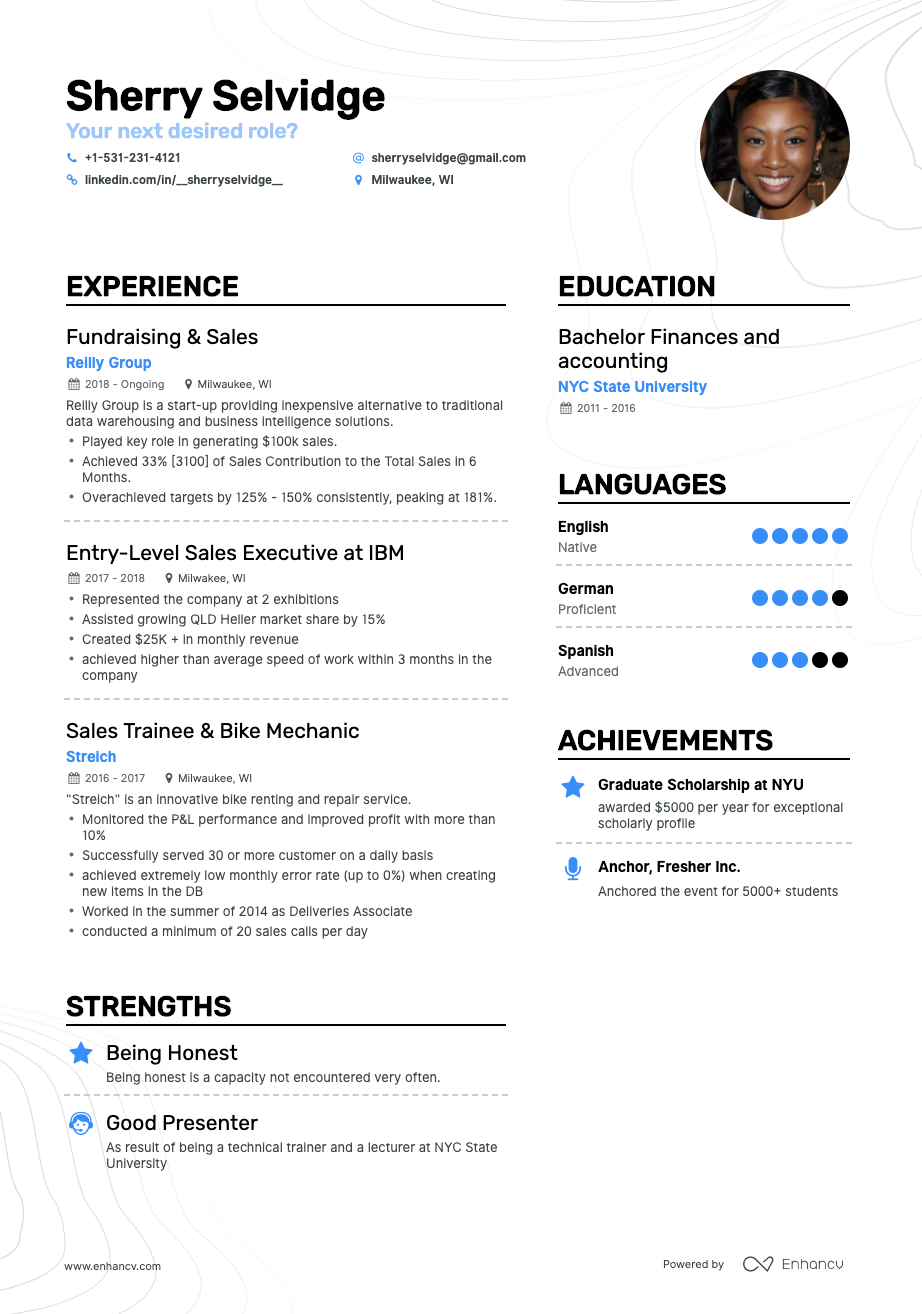 This time, Sherry emphasizes her work experiences first and included a section dedicated to her strengths at the bottom. From this, we can tell she's a hard-worker just by seeing all the results she's contributed to when describing her experiences.
On her resume, she knows how to sell herself. And this means for recruiters that she'll be skilled working in the sales profession. Sherry reinforces her expertise by listing her strongest skills at the bottom and giving us a brief description to follow up.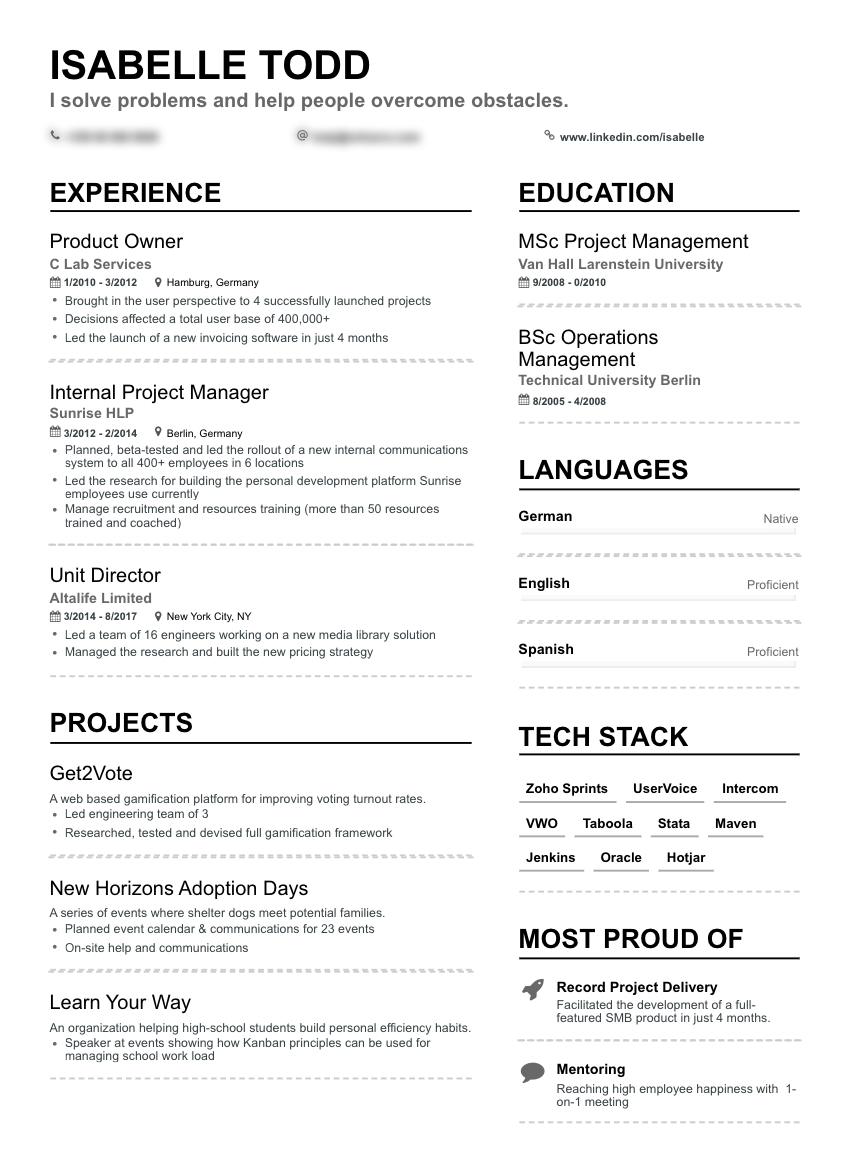 In our last handpicked example, we can see she's using elements from the combination resume by the way she's highlighting her skills and experiences.
The first thing we see on Isabelle's resume is a one-line quick and short summary of her skills. She then dives straight into her employment history and gives us a brief, listed description that's showing she's a capable candidate. This is clear because we can see the company's success that she's contributed towards.
Additional Tips to Perfect Your Hybrid Resume
Still with me? Hang in there, we've nearly got everything covered!
Now that you've created your combination resume from following the steps above, it's time to perfect it. Use the extra tips below to polish and add the final touches!
Combine different elements from different sections subtly with each other. There's no problem with integrating your skills into other sections to further illustrate how you're going to be a beneficial asset to have in their team and organization. Just don't be too repetitive!
Ensure you're implementing not just keywords, but buzzwords too. Your use of language plays a big part in getting hired. Optimize your resume using the right trigger words – avoid common, generic, and obvious words anyone can use.
Don't forget to include soft skills and any useful transferable skills. If you're making a drastic change in a job vacancy or industry, then you want to show employers what you can do that's going to help you do your job better.
Prioritize the main content that's needed. The conversation on hybrid resumes is focused on what sections you should make as your biggest priority. This concept just limits the idea of the main content required since it's strictly concentrating on your resume format. With hybrid resumes, their true future is centered around the content you include more than how that content is presented itself.
Want more expert insights, tips, and proven advice when it comes to creating your resume? Have a read on our guide: Top 21 Resume Tips And Advice for 2021 [With Expert Insights]
Conclusion
Work experience is a key section to include on your resume since it's section recruiters want to track. If you're a professional who has a good career timeline, using the combination resume makes it easy for job recruiters to recognize you're a skilled individual.
Fortunately, Enhancv makes the entire resume building process simple and straightforward.
Is there anything else we've missed on our combination resume guide? Do you have any questions you want to ask? Comment below and let us know!
Make your move!
Your resume is an extension of yourself.
Make one that's truly you.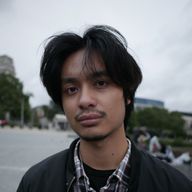 Astley Cervania
Astley is a UK-based copywriter & content strategist. Often curious and observant, he specializes in helping B2B and SaaS companies scale their content marketing through his writing and SEO skills.