Top companies receive millions of resumes each year. This means recruiters spend less and less time on each resume.
The Ladders analyzed the reading patterns of 30 recruiters over a 10-week period and found that recruiters spend roughly 7.4 reviewing each resume.
Of those 7.4 seconds, 80% are focused on the most important resume headings:
Name
Current job and duration
Past jobs, including start and end dates
Education
This is obvious enough but they've also found that resumes with
"Poor layout that did not draw the eye down the page (i.e. little use of section/job headers to catch the eye)" tend to do worse for recruiters that need to skim resumes and filter candidates fast.
To catch their eye, you need resume headings that are relevant but unique.
We've all heard about previous experience, passions, interests, and so on, but what have people who got hired done differently on their resume headings?
How can you package your traits and qualifications in the most appealing way?
We've compiled 12 resume headings used by people who got hired at Spotify, Amazon, Verizon Digital Media Services, and more to help you stand out in your resume and get hired.
Looking for a guide on the essential sections of your resume? Check out our guide!
Lackluster resume? Try these 12 resume headings
Most proud of
A Most Proud Of heading allows you to bridge your achievements and personal interests in one place. The most effective way of doing this is describing a milestone in your career that took skill and meant a lot to you.
When getting hired as a marketing executive, Eric mentions launching StartupCincy as one of his Most Proud Of moments and his journey to working at Disney.
Not only do these highlight his strong will and experience with business development, but they also give an insight into his personality. With culture fit becoming extremely important (especially for tech companies) checking off three things at once is a great way to reduce text on your resume while still having an impact.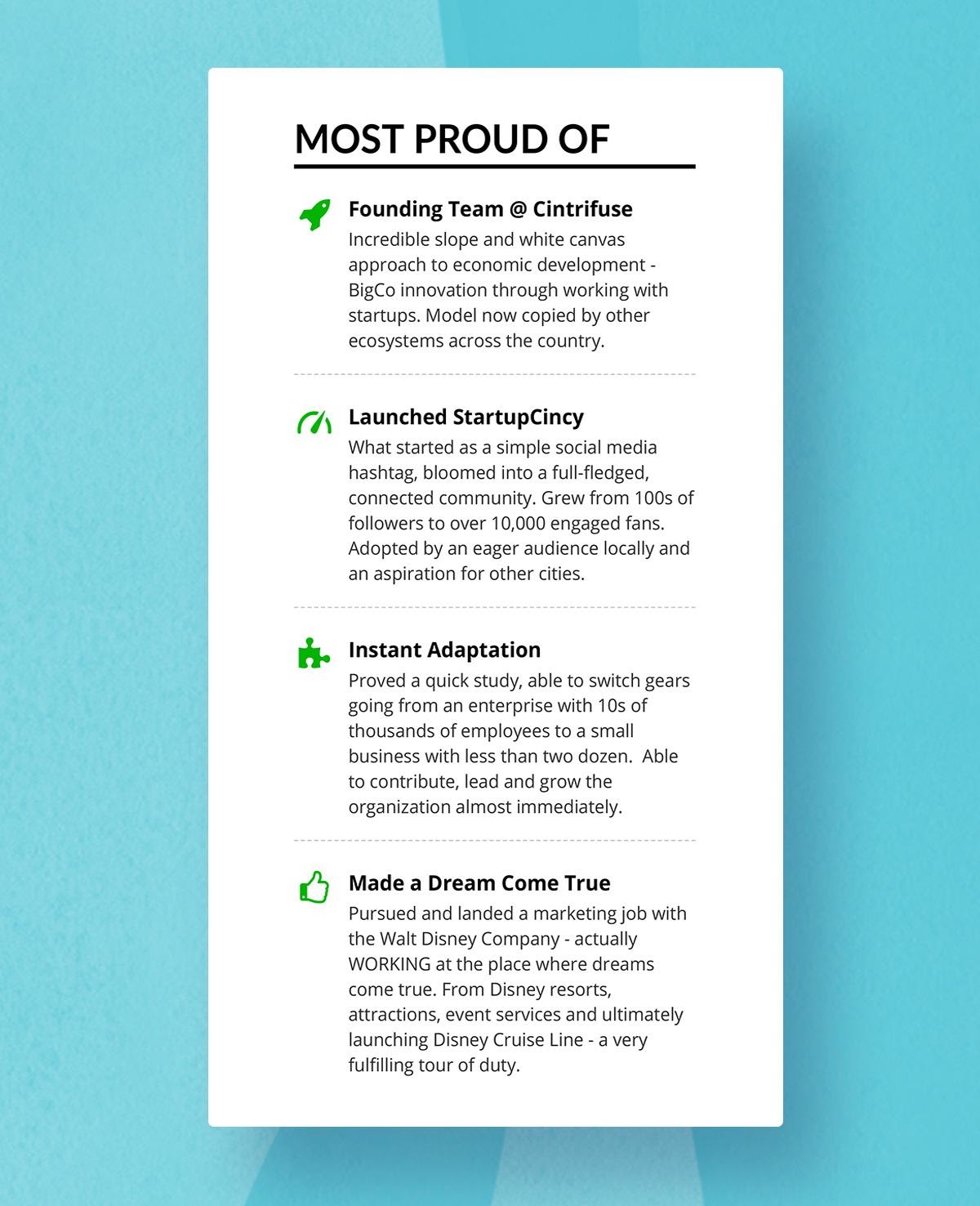 You can benefit from a Most Proud Of section by tailoring it to your position too. For example, if you're applying for a sustainable energy firm as a data analyst, you could mention sustainable initiatives you started at a previous job and so on. Merge your passions at every opportunity.
Tip: You can rename your Most Proud Of section as a Career Highlights section if you're applying to a company that places less emphasis on culture fit.
2. Volunteering
More than 80% of recruiters look at volunteering as a positive. Recruiters tend to look at those who volunteer as more likely to progress through leadership roles because they take the initiative for the causes they believe in.
Even with these known benefits, job applicants often leave volunteer work off their resume thinking it isn't relevant.
Trust me, volunteer experience is relevant to just about any position. The act of volunteering is not what brings value – it's the connection between volunteering and your line of work that brings value.
As an account manager, Maximilian used his volunteer experience with AIESEC when applying for his job with Amazon. His experience exhibited a clear commitment to innovative business and a knack for creative solutions.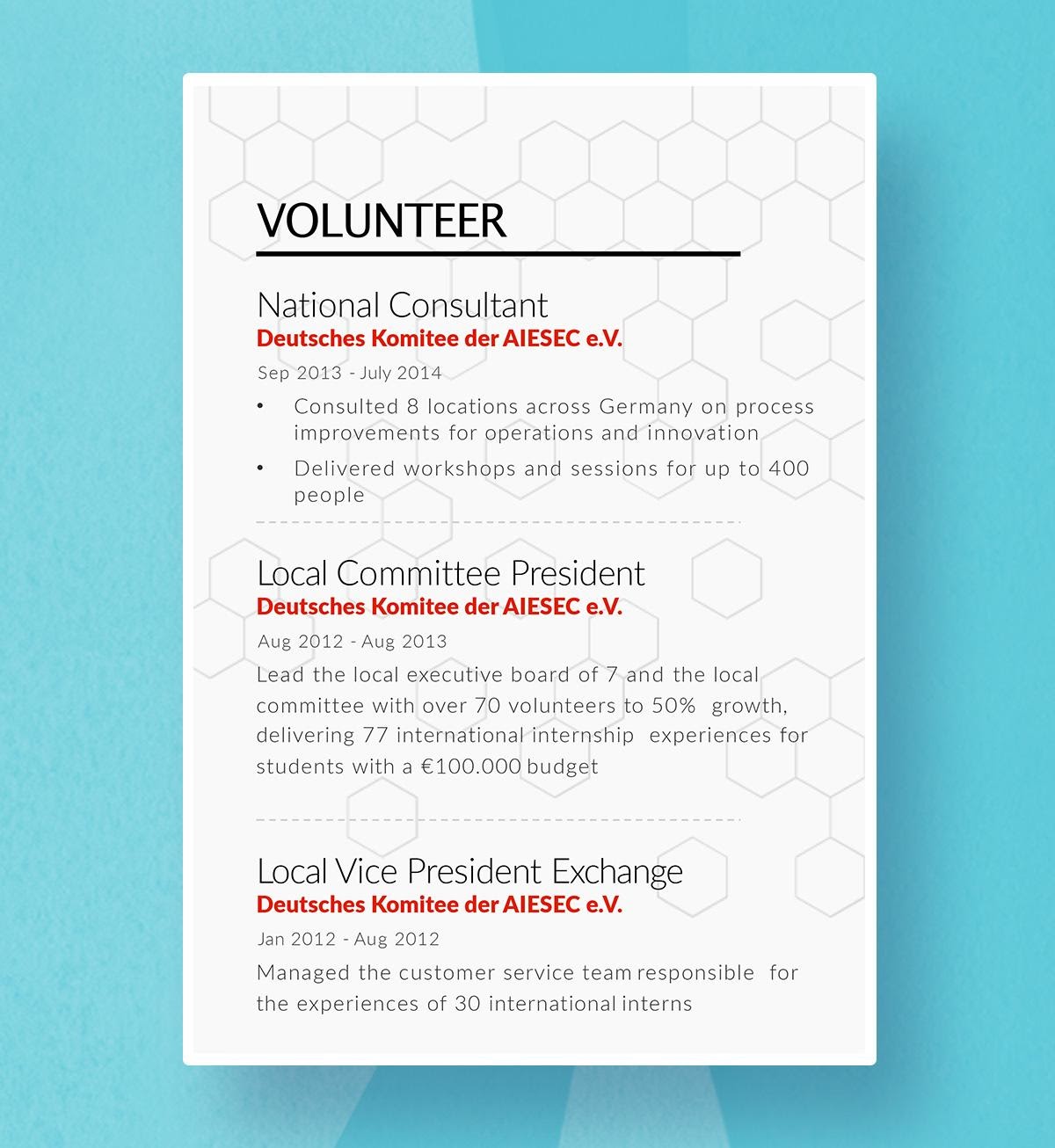 Volunteering experience can be disclosed in other ways, too. Steffany was transitioning from medicine to business and packaged her volunteer work as "Global Impact".
See? It's more catchy compared to other bland resume headings.
This quickly catches your attention as it's unique and gives you an idea of the breadth of her impact.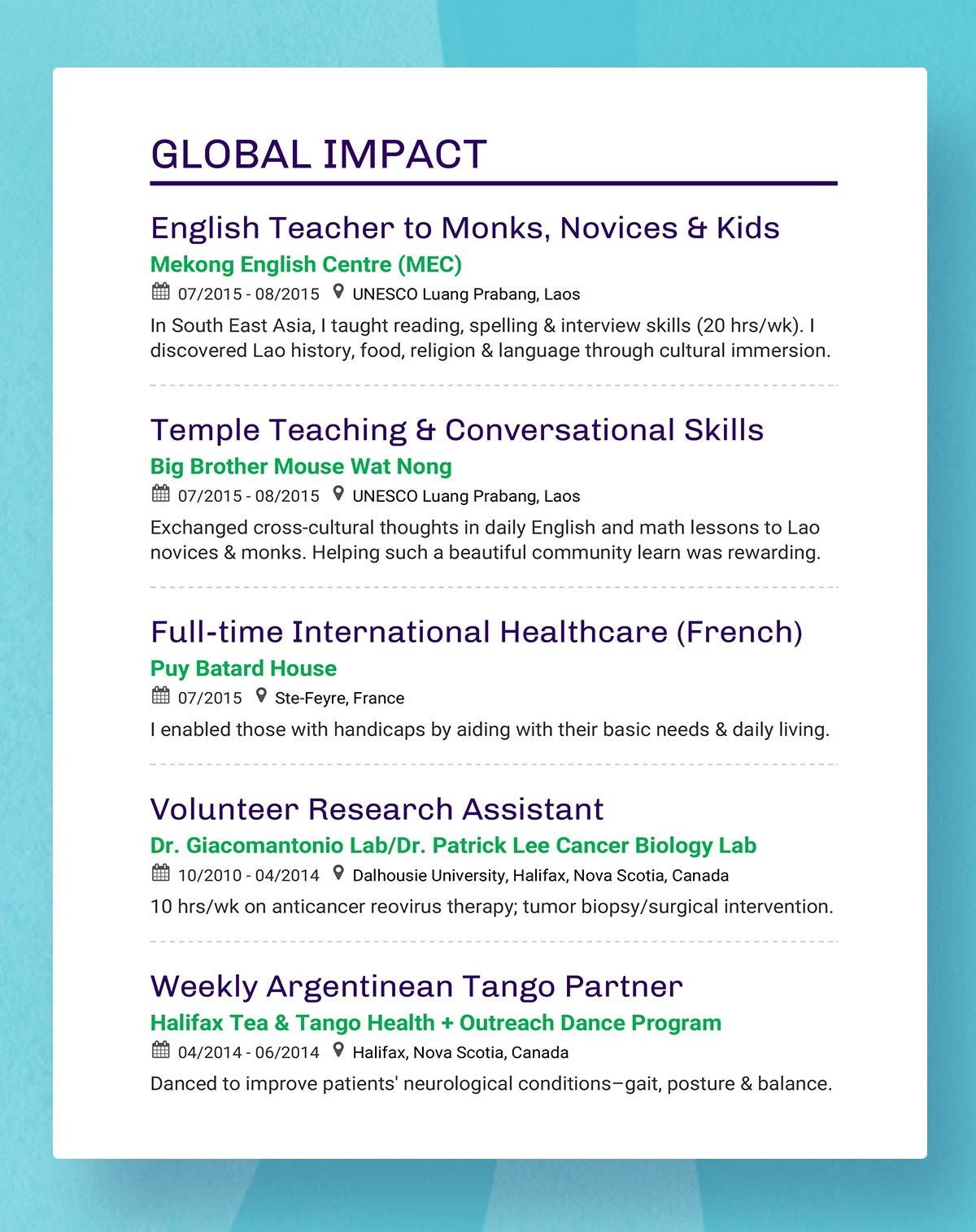 Volunteering for a good cause is great but steer clear of mentioning any political and controversial causes in your resume.
Anything about politics, abortion/life, immigration, or gun rights, for instance, is polarizing. It's not worth the risk of mentioning these activities.
3. life philosophy
Traditionally, applicants would include a personal summary at the beginning of their resume.
While this may be appropriate for certain positions (a career change for example), they can often be drawn out and take up a lot of space.
Using Life Philosophy as one of your resume headings can give the recruiter an idea of who you are and what you're motivated by without having to go into detail.
When getting her job at Spotify, Sam introduced herself with a simple quote that summed up her work ethic.

Your life philosophy section can come from a significant person in your field or even someone that has worked at the company you're applying to. In this fashion, the recruiter can see your link to their organization even before calling you for an interview.
4. projects
Personal projects show dedication to your craft on your own accord. Sure, employers are looking for people who deliver – but what makes you deliver?
What do you do when there's no one to motivate you other than yourself? This is why personal projects are so influential.
Before getting hired at Intercom, Daniel described his personal projects on his customer support resume to highlight his tech abilities and personal motivations.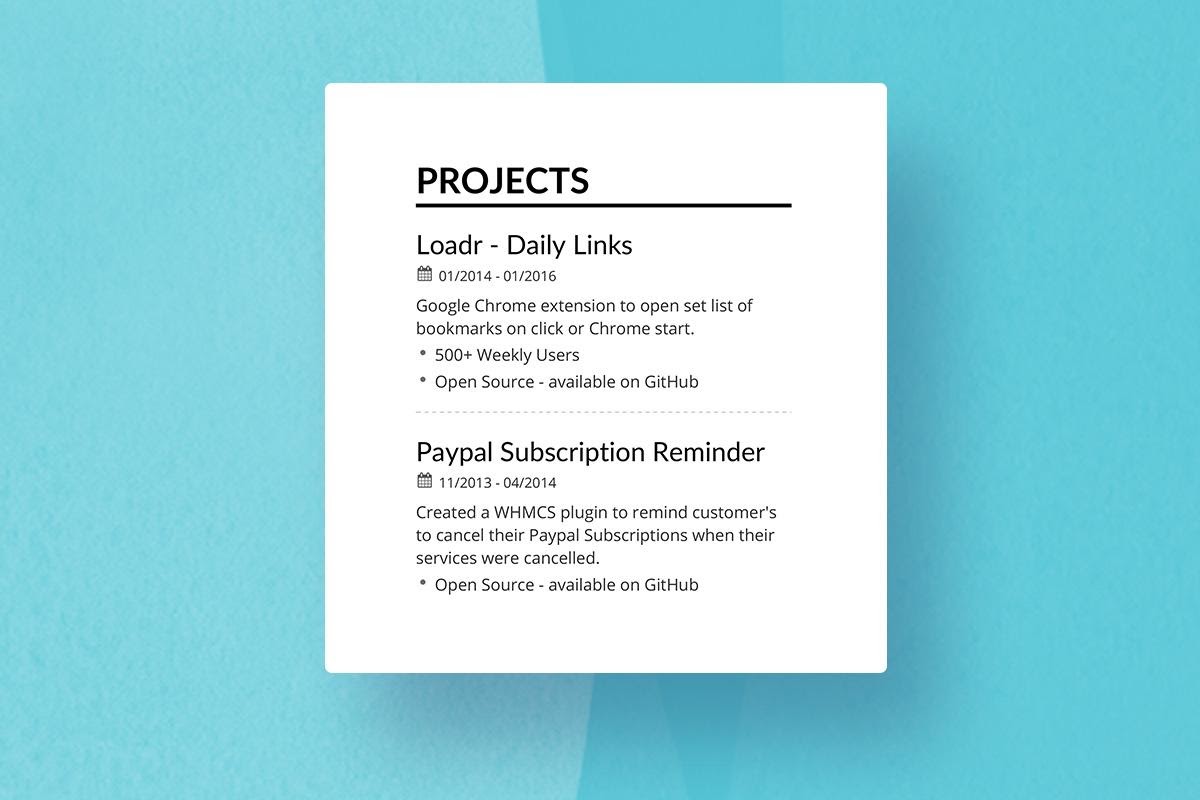 Projects tell the recruiter you are intrinsically motivated.
This comes as an advantage when deciding between employees with similar experience – if the recruiter is going to have to constantly motivate one employee while another will find motivation themselves, the intrinsically motivated employee is going to get the call.
Even if they don't read all of your projects, the mere mention that you have any will give you an advantage.
Personal projects can also be used to show your skill when you have little-to-no professional experience.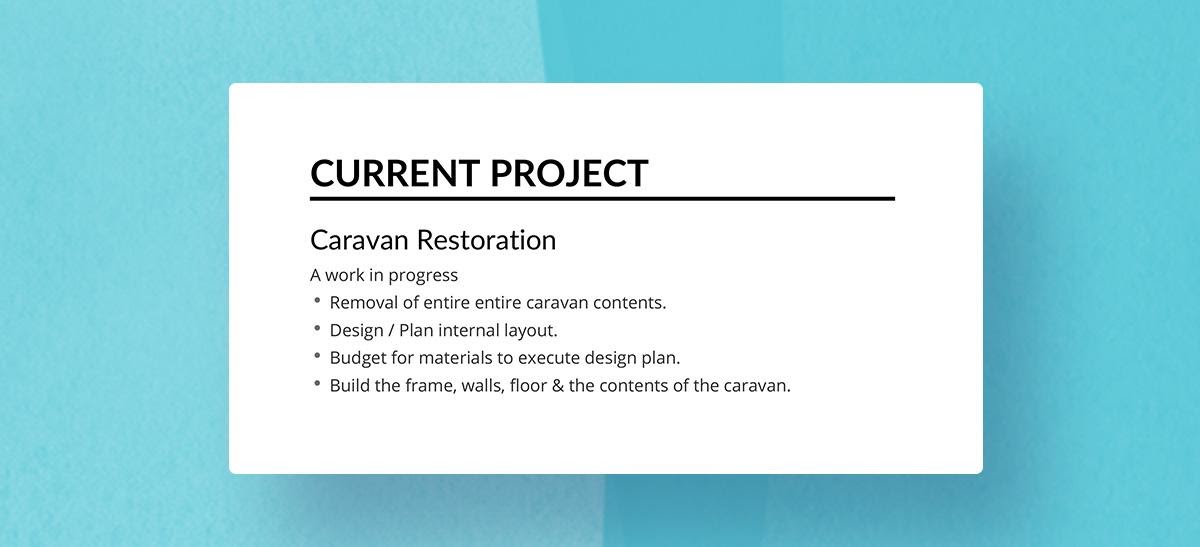 In Eden's high school teen resume, he spoke about his caravan renovation project to show his dedication to work he's passionate about.
Recruiters who read his resume will see the variety of his skills and see that he values hard work.
5. My Time
The My Time heading is an Enhancv staple. This allows you to detail what you dedicate your time to throughout the day, throughout the week, throughout your career, or even in life.
It's a simple visual that a recruiter can quickly look at to see how you prioritize different aspects of your career. It's especially influential when used to describe activities in a typical day in your previous role.
Before getting his job at Verizon Digital Media Services, Marcellus described a typical day of work on his resume to show his work-life balance and his greatest strengths.
6. Technologies
One part of your resume that is often overlooked is technical skills. Dedicating a heading to the technologies you're proficient with is becoming more relevant now that almost everything is digital.
In preparing for his role as program director, Tobias highlighted the technical skills that were most appropriate for his target job.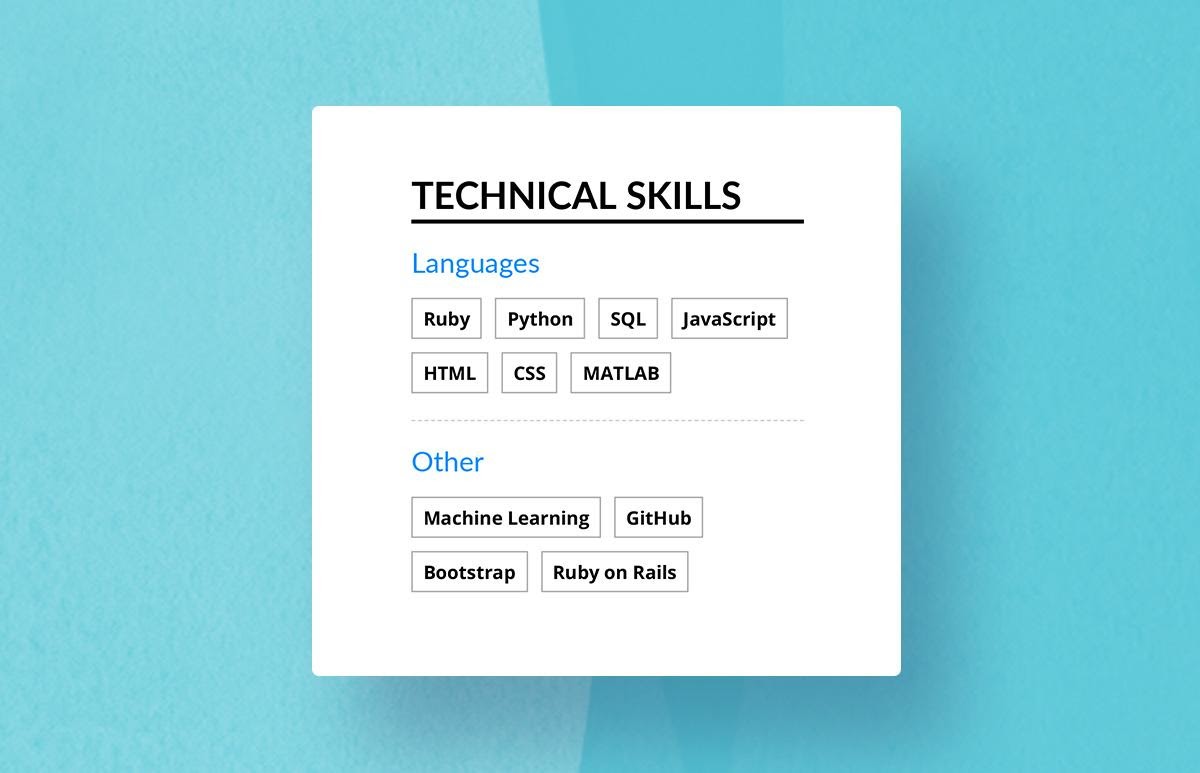 Technologies are important to show the recruiter you're capable of handling the systems necessary in your role.
While not everyone needs to know how to code, there will always be some form of database or program needed to complete your work.
Using Slack, Amplitude, and other everyday technologies are intrinsic to most careers.
For video editors, applicants with knowledge in Final Cut Pro, Blender, and Illustrator, are sought after.
Those in the legal profession, on the other hand, are prized for their skills in eDiscovery and litigation software.
If you work in the service industry, you benefit from knowing how to work a register, for example. This catches the recruiter's attention as it indicates your onboarding will take less time than someone without technical experience.
7. Core Competencies or Skills
Every job has its own set of requisite hard and soft skills.
Ideally, your resume should match the skills listed in your target job ad.
List the top 5 to 10 skills mentioned in the job, then sprinkle synonyms and other relevant but not mentioned on-the-job skills on your work experience and professional summary.
This way, you can satisfy the ATS' keyword requirements while also showing the recruiters the breadth of your job skills.
Management and executive candidates with lots of job-specific skills should also organize their competencies into different categories, such as:
Sales Skills
Training Skills
Management Abilities
8. Continuing education
Ever heard of the saying, "If you're not moving forward, you're actually moving back?"
This applies to candidates now, more than ever. The recent crisis left many candidates unemployed, so it's a survival of the fittest out there.
A course or certification can set you apart from candidates who haven't take the time to upskill themselves since leaving their formal education.
Check out our resume guides to get a clue of the relevant certifications for your job:
Go to our resume examples page for more information on relevant certifications for your job.
9. Languages
Speaking or writing more than one language is an asset, especially if your work entails dealing with different nationalities.
Candidates in sales, marketing, customer service, or even legal jobs may find their language skills helpful in building a relationship with people from other countries. That's why companies with international clients often pay a premium for multilingual candidates.
Spanish, for instance, is a good second language for US-based candidates. French is good for Canada and Switzerland. Candidates who sometimes work with Middle-Eastern countries, on the other hand, may benefit from learning Arabic.
If nothing else, speaking a different language is at least an eye-catching skill and a good conversation starter.
You'll be hard-pressed to find someone who won't find it impressive.
10. Publications
Publishing a book or article in a well-known industry magazine shows you're knowledgeable in your industry.
Knowledgeable enough that the publication editor thought your ideas worth publishing.
It also shows that you have excellent research, clear writing, and good analytical skills.
Just be consistent in listing your publications to avoid confusion.
Format for papers:
Title of the published article
Title of publication, publication date, pages
Format for books:
Book title
Authors
Publishing house, place of publication, year published
Our resume templates already have a specific format for entering publications, so you don't have to worry about how it will look like on your resume.
11. Organizations
List professional organizations and community groups you're part of. It shows your interests in and out of your professional field.
It can be a way to show your leadership and organizational skills as well, especially if you hold an official position within the group.
Example organizations:
Professional Association of Civil Engineers
Public Health Association of Australia
Club Managers Association of America
Communications Professional Association and Organizations
12. Testimonials
The popular advice is that references and testimonials have no place in your application, much less the resume headings. You shouldn't give this information until the latter part of your application.
However, a powerful testimonial, while a little early in the game, can put you way ahead of the competition.
Now you might ask, what can be considered as a powerful testimonial?
A note from a well-known industry figure
Praises about your skills, specifically the end results or what was achieved using said skills
A story about a crisis you solved
Testimonials can also boost your candidacy if you're jumping careers or coming back from the workforce after a long hiatus.
When it comes to resume headings
Choosing the right headings for a resume is context-specific.
Publications won't do much good for someone in the arts, but a list of projects will work wonders. Conversely, speaking different languages might not mean much for someone in the medical field but a list of certifications and licenses is required.
Bottom line is, you just need to find resume headings that are relevant to your goal and professional skills.
Try our resume builder to see how easy it is to incorporate any of these resume headings into your application.
In a job market that is constantly evolving and globalizing, it's becoming harder and harder to stand out.
While uniformity has its benefits, recruiters are looking for diamonds in the rough.
These resume headings will help you set yourself apart from the sea of cookie-cutter resumes out there. That puts you one step closer to getting called for an interview.
Make your move!
Your resume is an extension of yourself.
Make one that's truly you.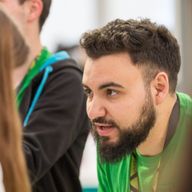 Kal Dimitrov
Kal is a resume expert @ Enhancv. He frequently publishes blog posts around resume writing, cover letters & job applications. Kal also runs a Career Accelerator Bootcamp for young graduates.