You've spent years learning programming languages and cloud computing. Now it's time to put those skills on a software engineer resume that gets interviews.
You're a pro at Python and Java. You know your way around SQL scripts and can spot a bug from a mile away. But how will you stand out in a stack of 250 resumes that say the same thing?
When recruiters look through software engineer resumes, they're looking for someone with industry knowledge who can read, write, and debug code to meet the needs of the business. Your resume needs to capture all that in the few seconds recruiters will spend looking at it.
The good news is that we've created an extensive guide that will help you write a software engineer resume that impresses tech companies and lands interviews.
In this guide, you'll learn:
How to make your software engineer resume convincing for technical and non-technical recruiters;
How to increase your chances of landing an interview with top tech companies;
How to properly format different sections of your resume to tell a coherent and engaging story that hiring managers will like;
How to prioritize your technical skills and give context for your soft skills;
How to make a targeted resume that gets interviews.
Here are a few great software engineer resume examples
Entry level software engineer resume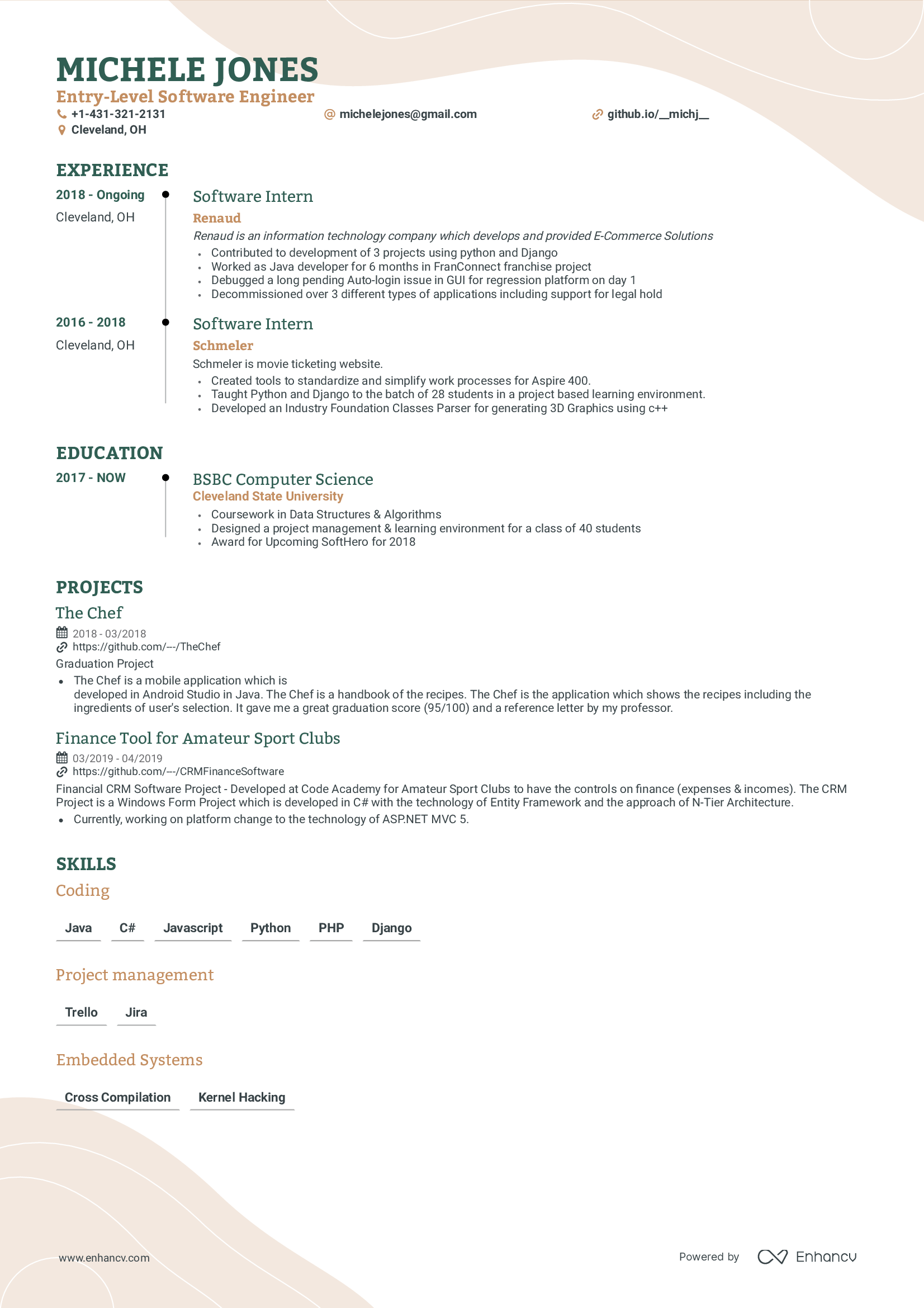 Why this resume works:
It showcases real project experience
It includes a GitHub link in the header
You'll learn more about software development during your first few months on the job than in 4 years as a computer science major.
Technical and non-technical recruiters alike praise real project experience because it shows you are comfortable in a production environment, can work with a team, and follow guidelines.
If your work history is limited, frame your experience around software projects. Side applications, open-source code contributions, and even relevant Fiverr gigs give you an edge over inexperienced candidates.
Pro tip
When highlighting a software course or an internship, focus on the projects you completed and their positive outcomes. Don't include small contributions to projects that were left unfinished.
Your GitHub is a dark horse — you never know how it might play out in your hiring process. Some recruiters will look at it and make up their minds, others will totally ignore it.
Prepare for the worst. Imagine someone _will _go through your GitHub page. What will they see? A bunch of unneeded comments? An empty profile? It doesn't matter if the code there was written 3 or 5 years ago — you will be judged today.
So put GitHub on your resume only if you deem it to your advantage. Otherwise, it might play against you.
Learn more practical advice with our entry-level software engineer resume guide.
Mid-level software engineer resume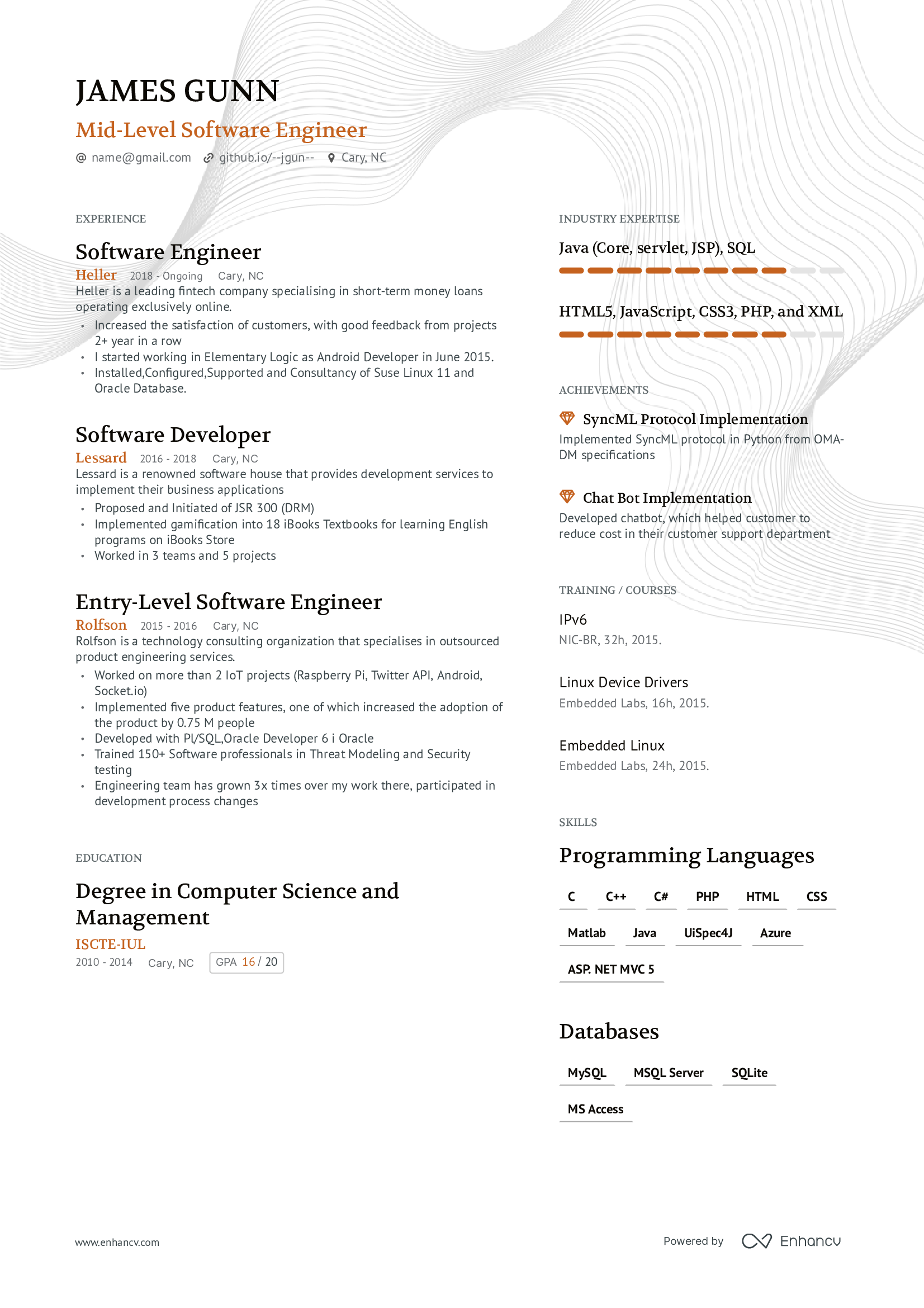 Why this resume works:
It highlights work experience
It's tailored for the company environment
It's true that middle software engineers are the "workhorses" of the programming world. They deliver the most impact with routine code, optimize their workflows down to the letter, and have excellent coding habits.
Highlight the following qualities in the context of your software projects to present yourself in the best light:
* ability to deliver huge amounts of work with less or zero supervision
* active collaboration with team members and team leads
* deep understanding of platforms and tools relevant to the target company tech stack

Tailoring your resume to the specific job description, is a highly effective technique for landing job interviews.
Research target company blogs, LinkedIn profiles of its developers, and social media to learn more about the company's tech environment and its current challenges. Use this information to create a targeted resume with maximum impact.
However, don't focus solely on the job description, as these are often written by non-technical HR managers.
Senior software engineer resume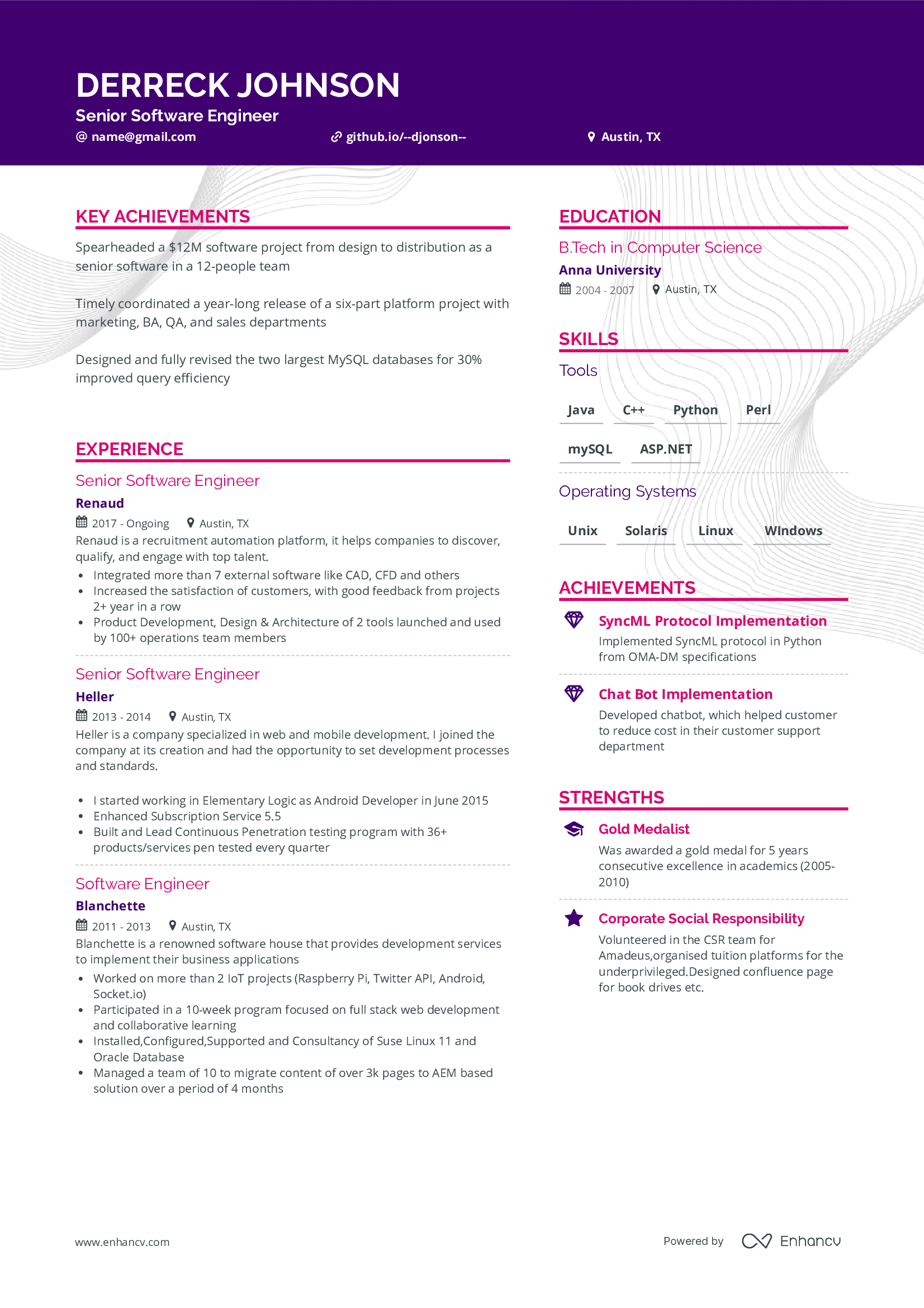 Why this resume works:
It showcases the ability to guide and grow teams
It shows your ability to solve company-level problems
Not only can senior software engineers operate independently at a highly-skilled level, they can also lead teams and serve as mentors.
When applying for senior positions, focus on your team's achievements and collaboration, rather than your individual highlights. Tech companies want a senior software engineer who can effectively coach less-senior staff.
Check out the size of your target company's software department and emphasize having experience with teams of similar sizes. Highlight your successes as a leader and show that you can solve company problems consistently.
Frame parts of your experience using a challenge - solution - business outcome framework to put a big dot on your dream company's radar.
Looking for related software engineer resumes?
How to write a software engineer resume that gets interviews
The interview is an important part of the process in landing a software engineer job. Candidates will often have to complete technical tasks and describe in detail the projects they have worked on.
If a recruiter is even going to consider selecting you for an interview, your resume has to impress them. Read below for guidance on how to make that happen.
What is the best way to format your software engineer resume?
Choosing the best resume format is important and often industry-specific.
The most common and efficient way for software engineers to present their skills and experience is to use a reverse chronological resume format. With this format, you present your working experience, starting with the most recent one.
Use bold text and action verbs to emphasize your achievements and results. Add custom sections and headers to your resume to improve scannability.
Recruiters use ATS (Applicant Tracking Systems) to filter resumes by relevant keywords. Tailoring your resume to your target job is crucial if you don't want to get passed over before your resume even makes it in front of a person.
Depending on the role you're applying for, you might want to make your resume stand out by tapping into your creative side.
Now let's talk about what sections you should include on your resume.
The top software engineer resume sections:
A properly titled header with a link to your GitHub and/or portfolio website
Summary
An experience section with a detailed story of your achievements
Skills
Education
Certifications
What do recruiters want to see in a software engineer resume?
If you have a relevant skill set for the job
If you are familiar with the key processes behind software development
If you have a passion for software development
If you contributed to big projects and know the impact of your work
If you can work effectively with minimum guidance
Pro tip
Want to skip the hard work and start from an example or template? Use our Resume Builder with all the necessary tools to make a perfect resume in under 15 minutes.
Now that we know the key sections of your software engineer resume, let's get to writing them!
Writing a resume header that won't confuse recruiters
There have been many debates online about the difference between software developer and software engineer jobs.
While there may be differences, like educational background, perspective, and other details, the truth is, most companies don't bother with a distinction.
Every company has its own definition of the software engineer job, and you'll often see the same responsibilities in listings for both titles.
What do you do, then?
It's simple: choose the title that the company uses in its job description.
If the company writes "Software Developer / Engineer" in their listing, pick the one that is more coherent with your job history.
2 software engineer resume sample headers
Software Engineer / Developer
WRONG
The example above shows a small mistake that can have big consequences. After contact information, it is crucial to include a link to your GitHub profile in your header.
Sometimes you may be recruited directly by technical leads. In this case, they'll want to take a look at your code and projects as soon as possible. They can do that only if you provide a link to your GitHub profile or a personal website.
Don't forget that recruiters will be googling your name anyway, and the links will:
Make their job easier
Control what recruiters find on the Internet
You don't want to risk them finding that old laggy student project of yours. First impressions matter a lot with resumes.
The person depicted in this example has committed to one title and included a clear link to their GitHub profile. It gives a confident and straightforward impression to recruiters.
Now that you've got your header set up, let's take a look at your summary.
Writing a software engineer summary section with purpose
A summary section can make or break a software engineer's resume. It sets the tone and gives you an opportunity to introduce yourself to potential employers.
However, not all recruiters will read it. Many of them will go straight to your skills or experience section to understand whether you know the tech stack necessary for the job.
In any case, if your summary is a boring, generic description of your job and past responsibilities, consider not using it at all.
Software engineering is a technical job, but it still requires a reasonable degree of communication skills. Your summary section is the place where your personality can shine through.
Let's look at a few examples below.
An experienced software engineer with a passion to develop complex applications and will to learn new things is looking to fulfill the position as a Software Engineer at ABQ company.
WRONG
There are a few things wrong with the example above:
It uses generic statements and no specific examples
The description is broad and not tailored for a specific job
If you have completed projects or accomplishments in the past that are similar to your target job, the summary is a good place to mention them.
Here's a software engineer resume summary that grabs the recruiter's attention with a very convincing achievement:
Led a team of 6 software developers on a WAD project that received the 2018 European IT Excellence award as the most optimized and responsive online framework library on the Internet.
RIGHT
What works in the above example:
It includes examples with real numbers
It shows an award for job-specific skills
Another thing this example gets right is it highlights team achievements under the leadership of the candidate.
A natural instinct of 99% of inexperienced resume writers is to start selling themselves. "I can…" I work with [insert buzzword]…", and "I did…" \ \ Yes, in a way you are a product. But you don't see "I drive people" on a BMW slogan. It's "Sheer Driving Pleasure." \ \ Bad example: Expert knowledge of Python libraries \ \ Good example: Reduced the loading time of a 10 million photo library by 68% by developing a preloading algorithm using Python's SciPy library
But what if you don't have eye-catching achievements like the one above? If you are a recent graduate or new to the field, you might not have as much experience to draw from.
Here's a software engineer resume summary example in case of a career switch:
A back end developer with 5 years of experience in building large-scale applications and pivotal contributions to the architecture of open-source projects XYZ & RDJ is eager to use his technical skills and vast experience in building Java-based applications at ABC company's Beta project.
RIGHT
What works in this example:
It mentions transferable skills
It tailors their experience to the target job
In this case, the summary is a way to rebrand your experience and make it more attractive to the recruiter.
One thing we didn't mention is a career objective. That's because, for software engineers, it's largely overused and now, obsolete. Unless you're just entering the field, you don't need a resume objective.
Now that your summary section is set up, let's make sure your experience section tells a good story to every hiring manager who reads it.
Telling a good story with your software engineer work experience section
There are three qualities that differentiate a Software Engineer's resume work experience section that a recruiter reads to the end and one that they toss out:
Results-oriented
Relevant
Cohesive
A results-oriented software engineer will focus on outcomes and show how past projects achieved success for companies. Recruiters will look for candidates who can provide solutions to company problems.
Imagine having this line in your resume: "Developed a prediction algorithm."
Really? What did this algorithm do? Did it help anything?
Write your experience section with those types of questions in mind.
Let's take a look at the example below.
Developed a prediction algorithm
Created a back-end migration solution
WRONG
The example above uses the words "developed," "used," and "created" to describe experiences, but none of these terms convey what was achieved.
Most software engineer experience sections that perform poorly do so because they are generic and boring. A recruiter knows what a software engineer does. What they don't know is what you accomplished while you were there.
In order to write an engaging, results-driven resume template, you should state not only what you did, but what you achieved by what you did and frame it in terms of numbers.
In other words, process - technology - accomplishment.
Simply stating that you "worked on a cloud-based application" gives a hiring manager neither indication of your abilities nor the level of your contribution. Saying that you worked on something doesn't mean you finished it. A finished project has outcomes.
Instead of "developed a prediction algorithm" try "reduced the loading time of a 10 million photo library by 68% by developing a preloading algorithm."
Pro tip
Want to make it even more convincing? Mention the tech that you used to do that. If those are mentioned in the description of a job that you're applying for, that's a double win.
An even better version is "reduced the loading time of a 10 million photo library by 68% by developing a preloading algorithm using Python's SciPy library."
Be mindful not to use too many abbreviations, otherwise, the resume will become hard to read.
Below is an example of a results-oriented software engineer resume experience section:
Reduced the loading time of a 10 million photo library by 68% by developing a preloading algorithm using Python's SciPy library.
Redesigned the rendering engine from scratch, speeding up the stock's loading time by 600%
Implemented an iOS search integration by developing a tool that extracts metadata from comments and captions
RIGHT
The example above is a big improvement. The bullets contain action verbs and show tangible results. Technical skills and specific technologies are mentioned to describe what the candidate accomplished.
When recruiters look at your experience section, they build a mental model in their head, trying to imagine your career path and how well it's aligned with this new position.
If you are making a career change, your work history may be inconsistent with the job you're applying for. You'll need to focus on transferable skills and use them to your advantage.
If you worked as a QA specialist, you probably developed unit tests and collaborated with software engineers on different projects. Increase the relevancy of your resume by pointing out how your efforts contributed to positive development outcomes.
Below is an example of an experience section from a QA tester that is switching to software engineering:
Collaborated with a team of software engineers to refactor the code and reduce the service loading time by 95%
Within 2 months created a series of unit tests to ensure the main service passes all the quality benchmarks
RIGHT
What works in the example above:
It mentions working closely with software engineers
It describes experience with code
Specific outcomes are mentioned
If you still need some guidance on how to make your work history stand out, read our blog post on how to describe your work experience.
Now that your experience section is cohesive, relevant, and results-oriented, let's take it one step further with an impeccable skills section.
Pro tip
There are some things recruiters expect candidates to have, but there are also things they expect candidates will NOT have. Take a look at the most common resume mistakes and make sure you're not getting rejected because of a resume red flag.
How to tackle a software engineer resume skills section
When writing the skills section, technical specialists in general tend to list all the platforms and programming languages they ever put their hands on.
This might be a mistake.
Recruiters deal with hundreds of candidates, and they know that 85% of applicants lie on their resumes.
Are you excellent with all the hard skills you listed?
Chances are, you're not. It's good to prioritize what technical skills to list on your resume and what to leave out.
First, don't list outdated, irrelevant technology that you worked with 10 years ago.
We all know that the industry changes too fast, and listing Pascal on your resume might look a bit odd.
Second, don't list obvious skills like Microsoft Office, or experience with Windows OS. Competency with these tools is expected in most industries today. It's a given in CS and IT.
Finally, carefully study the job description and the company you're applying for. Prioritize the skills in your resume that the company needs.
When you list a certain technology or platform on your resume, it's a good idea to list adjacent technologies as well. For example, with Java, it's J2EE, Spring, JS​​TL, etc.
That shows you don't just put the buzzword there and actually have working experience with a whole stack.
How to put technical skills on your resume for a software engineer position
Below are some of the most popular technical skills you'll find on a software engineer resume:
Top 30 technical software engineer skills for resumes:
Java
C++
Python
PHP
C#
.NET
ASP.NET
JavaScript
SQL, SQL Server
NoSQL, MySQL
Oracle
JSF, JSP, Spring
Hibernate
jQuery, Vue, Angular, React
CSS, HTML
Amazon Web Services, GCP, Azure
BigData technologies
Databases
XML
Linux
Visual Studio
Eclipse
SOA
Modules
Interfaces, User interface
Machine Learning
UNIX
Test Plans, Testing Frameworks
PERL
Software Design
How to put soft skills on your software engineer resume
Technical skills are the shining stars of software engineer resumes, but soft skills are starting to carry more weight in the industry.
A large portion of your job may be done independently, but you will still have to communicate with colleagues and know how to work on a team. The industry is full of "cowboy coders" who follow their own rules and are notoriously bad at accepting feedback.
You don't need to be a social butterfly, but companies will want to know that you can work in a collaborative environment.
7 soft skills to put on your software engineer resume:
Collaboration
Strategic Thinking
Communication skills
Creativity
Analytical Skills
Time Management
Empathy
Even if skills such as collaboration, time management, and creativity are crucial to SE success, it's hard to prove you actually have them by simply featuring them on your resume.
It's best to create a context for soft skills by using examples in your work experience section if possible. Use the skills section to list technical skills and any soft skills you didn't include elsewhere.
If you're still not confident in how to create your skills section, our blog post on creating a resume skills section to impress recruiters will offer more insight.
How to put projects on your resume the right way
Projects are usually a section that is highly recommended for graduates that lack vast working experience, yet have some personal projects that are relevant to the job they're applying for.
Add a projects section to your resume if you have major achievements outside your work that are related to the job.
Some examples are open-source contributions, a professorship at prestigious tech universities, or freelance work with major tech companies.
If you are going to add projects to your resume, make sure they stand out and add value without taking up too much precious space.
Now let's move on to how to include your education.
How to format your education section
In most job descriptions, companies will require a computer science degree or a related one, such as
Computer engineering
Computer programming
Information science
Project management
Systems engineering
Although you might, theoretically, substitute education with a vast working experience, software engineering usually requires a very solid technical background.
When writing about your education, it is advised to leave out your GPA if it's below 3.5.
Listing relevant coursework can be an important factor. For example, if you're applying as a software engineer for a financial analytics company, any financial-related courses would cast a good impression.
Our blog post on perfecting the education section on your resume can offer additional guidance.
Certificates on your software engineer resume
Although certificates aren't a substitute for real work experience, they can significantly strengthen your overall software engineer profile.
This is especially true if you're a fresh graduate or making a career change. Adding a few more skills to your tool belt by way of certificates increases your ATS favorability and looks good to recruiters.
Here are a few industry-specific certificates to consider:
Top certificates to put on software engineer resume:
Oracle Certified Associate (OCA): Java SE Programmer
CIW Web Foundations Associate
CIW Web Development Professional
Oracle Certified Professional (OCP): Java SE Programmer
Microsoft MTA
Microsoft Azure
AWS Certified Developer
Red Hat
Salesforce
Scrum
What are the best ways to visualize certificates on your resume? Our blog post on how to list certifications on a resume will show you how.
Other sections to include on your resume
Depending on the company, job seniority level, and your location, you may want to include more sections to your software engineer resume:
Writing a software engineer cover letter
Nowadays, job application forms include questions like "why do you want to work here", or "explain why you're the best fit for us", which makes you wonder are cover letters really necessary?
Job listings may include cover letters as a requirement, but if it's listed as optional, then you can always decide to leave it out.
Sometimes a captivating cover letter that tells your story is what gives you the edge over other candidates. Still, the process can feel intimidating.
Fortunately, we have written a complete guide on how to write a software engineer cover letter, including real industry examples.
Key takeaways:
Include a live link to your GitHub profile in your header;
Create a cohesive story with your job experience that shows you are results-driven;
Prioritize the technical skills that you're proficient in;
Tailor keywords and descriptions to fit your target job.