Pack your suitcases for an emotional rollercoaster. It's time to relocate! Moving to a new city (or even country) can be especially daunting for the next stages of your career.
How do you convince employers that in spite of your Virginia "base", you're quite serious about moving for that New York role?
Here's how - with a clear and concise resume that addresses any potential location concerns, while aligning your experience to the job.
Ultimately, your resume should play to your advantage, amongst the top picks of local candidates, with the unique value you'd bring to the company.
As professionals, who are willing to relocate, bring about a variety of soft skills, like:
flexibility and adaptability;
organization and planning;
forward-thinking and systematic approach.
Improve your chances to land your next job away from home (even from abroad) with our guide on writing your relocation resume (and cover letter).
Is your resume good enough?
Drop your resume here or choose a file. PDF & DOCX only. Max 2MB file size.
What you'll learn:
Honesty is the best card you can play when addressing your relocation plans;
Resume sections that could best describe your intentions to move;
What address should you include in your relocation resume?
How to let recruiters know about your relocation plans?
Adding further value to your application with a relocation cover letter.
How-to advice on writing your relocation resume and cover letter
Relocation is a serious factor that recruiters consider when conducting any search. While their top choices (especially for non-senior roles) are local candidates - it's up to you to convince them otherwise.
Your resume and cover letter should thus address:
any potential concerns about your relocation;
highlight your commitment to the role;
and emphasize that you're actively seeking opportunities in the area.
Here are four tips on how to include relocation on your resume.
Optimize your resume for the job
This one goes without saying but study the job advert in detail. Your resume should align role requirements with your expertise and achievements.
Map out how you'd meet the company's and team's needs with your resume summary, achievements, and experience.
Be honest
The recruitment process is all about first impressions. Don't kick it off on the wrong foot with a fake address, claims that you're local, or other deceptions.
You need to mention your location and intentions to relocate. This needs to be done clearly and specifically for the role you're applying to.
Relocation in the top one-third of your resume
It's common for your application to be assessed by the Applicant Tracker System (ATS) or the software that assigns points based on job advert criteria.
Most ATS may actually disqualify your application if you're not at the role location (if it's specified in the advert).
How do you go about mentioning your location in your resume header?
We'll get into the specifics in the next part, but, for now, let's say that it depends entirely on your moving plans.
Note your interview availability
Use your cover letter to let interviewers know when you'll be in town. Plan at least a week to attend any potential interviews.
Otherwise, you could suggest your availability for an initial, over-the-phone interview.
Noting your relocation plans in the resume header
There are two sections of your header that are ideal for mentioning your relocation plans: the address and headline.
Pro tip
Your resume shouldn't include your full address (with street numbers, postcodes, etc.).
Instead, if you're located in the United States, you'd need to detail the city and state.
If you're applying abroad, you need to include the city and country (e.g. Munich, DE).
Within the next part of this guide, we'll show you how to mention your moving plans in the top one-third of your resume.
Take these three situations into account.
1. If you've already made concrete plans to move
Include your current address, followed by the specifics.
"Manchester, NH, Relocating to New Jersey in December 2023"
"Austin, TX, Moving to Queens, Australia in January 2024"
"Alexandria, VA (relocating to New York, NY, September 2023)"
Social Media Executive with +20 years of experience in building memorable brands on META
RIGHT
2. If your relocation depends on landing the job
It's important to include the location keyword from the job advert in your resume top one-third.
"Wilmington, DE, Willing to relocate to Concord, NH"
"Omaha, NB, Searching for a position in Albuquerque, NM"
"Washington, DC, Willing to relocate nationwide"
3. If you leave off the relocation specifics from your resume address
Include your relocation details in the resume headline - a single sentence, filled with job-specific keywords.
The headline could also state your unique value as a professional, alongside your relocation plans, like so:
"Data scientist: mining big data in the past +15 years; willing to relocate to San Diego, CA"
Relocation details in the resume summary
Do you want to avoid mentioning your plans within your resume header?
The next best section to include your willingness to relocate is your summary - those three to five sentences that showcase your unique value via achievements and skills.
You could include your relocation plans either at the beginning of your summary:
Experienced video game developer with +3 years of expertise, preparing to relocate to Austin, TX in October 2023. Within the current role, focuses on character development using Autodesk Maya to enhance diversity and variety in the immersive Sailboat world. Contributed to the award-winning title as the most popular game in 2022. Oversees a team of 2 junior developers in creating an impressive collection of +150 backgrounds and +550 character skins utilizing Unity. Passionate about continuous growth, currently pursuing Agile frameworks for team management to further enhance skills and interests.
RIGHT
or, towards the end of it:
Highly experienced graphic designer and artist with +16 years of industry expertise. A key contributor to the success of the Barbie movie's promotional materials, resulting in an impressive growth of +25 million social media followers globally. Recognized with over 30 awards in the past year for my innovative artwork within the anime and manga community. Currently based in Manchester, NH, but eager to relocate to Tallahassee, TN for new creative opportunities.
RIGHT
The relocation cover letter: building your application further
Cover letters are the perfect space to explain the nits and bits of your relocation plans.
Especially if you've noted on your resume that you'll be moving, recruiters want an explanation why.
Be genuine and honest about your relocation reason(s). Perhaps, you're moving to:
be closer to your elderly parents;
return to your hometown;
look for more growth opportunities;
due to your spouse's work;
enjoy living in a new, specific location.
If you're detailing your situation, carefully phrase your explanation.
Recruiters won't care about your "passion to live the cowboy way in the Mid-West".
They would rather read about what appeals to you to that specific role and location.
Relevant relocation information includes the time frames of your plans and their permanence. Also, if you have any emotional or more solid ties to the area (e.g. you did your masters there, or you've brought a new home).
Here's a basic outline of a relocation cover letter.
Introduction - briefly convey your professional interest.
Relocation - explain why you're moving and your estimated timeframes.
Ties - mention if you've previously worked or studied in the area, or have family there.
Relevant experience - showcasing you can adapt to new environments.
Key skills and qualifications - revealing why you're the best candidate for the role.
Summary - why your expertise aligns with the role and your commitment to relocating.
Call to Action (CTA) - "Looking forward to meeting with you" and "Kind regards"
Resume experience: from relocation to your unique professional value
When describing your experience section, highlight your relocation skills, as they are valued by organizations.
Select experience items that hint at your excellence in working abroad.
You could have managed international teams, located in different locations, or traveled internationally for work assignments.
This experience demonstrates your ability to quickly adapt to new environments.
Within the one-line description of the company you worked for, highlight common factors between your past and potential employers.
Like, if you've worked for companies:
of the same size;
in the same industry;
offering similar types of services;
with identical customer databases.
Pro tip
Transferable relocation resume skills
Another resume section to shift the focus from your location is the skills one.
Create a resume skills section that highlights both relevant and transferrable skills, like your:
Include on your resume the most relevant relocation soft skills, like:
working in diverse environments
flexibility
planning
adaptive to change
Other sections for a relocation resume
Education - perhaps you completed your higher education within the area you're planning to relocate to. Include all relevant higher education degrees, alongside ones that are "local" - showing you are familiar with the area.

Projects - select the ones that are most relevant to the job and highlight your alignment with the job requirements. Also, consider curating projects that have been completed in the location you're planning to move to or are local to the job you're applying for.

Volunteer - if you've supported communities that are similar to the one you're planning to relocate to, dedicate a separate resume section to detail your volunteer work.
Key takeaways
Be honest with recruiters about your relocation plans: remember that the hiring process is all about first impressions.
Include your current address, followed by the job location (which you'd be moving to).
The resume summary is an excellent place to dive a little deeper into your relocation plans, but make sure the focus stays on your experience and achievements.
Get into the details of your relocation plans within the cover letter - use it to provide information that is relevant to your application.
Curate other resume sections to share with recruiters if you've lived, studied, or have had professional experience in the same location. This would hint that you won't be starting from square zero when you move for the job.
Make your move!
Your resume is an extension of yourself.
Make one that's truly you.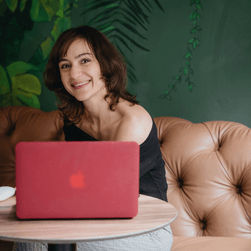 Reny Mihaylova
I'm a professional storyteller: where my 10+ year journey through various industries (media, PR, communications, and corporate) has brought me one step closer to my big WHY. That is, to use narratives and practical knowledge to help individuals achieve their purpose and feel happier by the work they do. In my free time, find me devouring the classics: from Austen to Tolkien to King, or being dragged uphill by my +50KG / +110 lb dog.