A Complete Guide to Marketing Resumes for 2021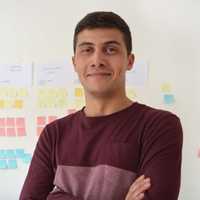 Volen Vulkov
8 minute read
Updated on 2021-01-24
Marketing resumes face the dual challenge of showing passion and creativity alongside hard numbers to demonstrate impact. Simultaneously demonstrating that you're comfortable in both worlds of marketing requires a carefully crafted resume.
The potential upside, however, is enormous. Getting this combination right can mean getting the interview, nailing it, and ending up with the marketing role you've been dreaming of.
That's why this guide is designed to answer every question you might have about how to get your marketing resume just right.
"
The number of marketing jobs has increased 25% from 200,000 to 250,000 in just four years (from 2012 to 2016)
"
What does a winning marketing resume look like?
ERIC WEISSMAN
Pioneer Leader - Regional Growth thru Innovation, Technology & Entrepreneurship
www.linkedin.com/in/weissmanneric
An executive who specializes in unifying concepts and people into seamless teams that innovate and operate in new economy models. I gravitate to big idea projects that promise lasting impact, and I lead organizations to those aspirations through strategic alignment, relentless focus and inspired teams.
Vice President - Communications, Community & Economic Inclusion
Keeling Group
Innovation catalyst chartered by the global corporations (BigCos) of Greater Cincinnati to be the engine of new growth for the region: startups working with corporations and a beacon for bringing new investment dollars in to the area.
Part of the founding team - established the strategy, messaging, branding and positioning for this regional effort to catalyze growth through attracting and retaining startups.
Pioneered a blueprint for innovation ecosystem builders across the country, through an equal blend of strategy and execution.
Frequently asked to present the complex, complicated story of Keeling Group and StartupCincy to executives, stakeholders and community leaders inspiring engagement and deepening their understanding of our mission.
Led the content strategy and construction of six websites; created 100s of PowerPoint presentations; authored scores of newsletters and grew social media communities - CRM database grew from 0 to over 15,000.
Led the team credited with igniting the StartupCincy effort, evolving it from a simple social media hashtag to a movement and now a reputable community recognized from coast-to-coast.
Created a coherent portfolio of innovation brands that guide entrepreneurs from idea to exit - Keeling Group, StartupCincy, Spry Labs, Customer Connections, Syndicate Fund, Union Hall, etc.
Led diversity and inclusion programs resulting in broad outreach, inviting voices, faces and colors who aren't normally 'at the table' when talking startups and innovation.
Responsible for monetizing Union Hall, a 38,000 sq. ft. co-working space home to 100s of startups, dozens of meetups and just as many puzzles as you'd imagine for a $17 million rehab of a 150 year old set of three historic buildings.
Director, Marketing & Creative Services
Koepp Inc
IT Services and Custom Application Development
Brought discipline and focus to sales and marketing efforts.
Increased brand awareness/lead generation, while creating and maintaining marketing events, and internal communications.
Subject matter expert bridging technology conversations with clients towards more business/marketing terms.
Founding Team @ Cintrifuse
Incredible slope and white canvas approach to economic development - BigCo innovation through working with startups. Model now copied by other ecosystems across the country.
What started as a simple social media hashtag, bloomed into a full-fledged, connected community. Grew from 100s of followers to over 10,000 engaged fans. Adopted by an eager audience locally and serves as a model for other cities around the country.