You've worked hard, put your time in, but now you're looking for something more.
Your dedication and patience have paid off because now you found a new position that you know that you're qualified for.
And best of all: It's inside the company that you're working at.
After seeing how hard you work, your manager may have tapped you on the shoulder for a promotion. Your leadership skills make you the ideal candidate for a management position, and now you need your cover letter to reflect that.
Or maybe you have the drive and ambition to go further than the current position that you're in. You've seen a job opening in another department at your company, and you want to throw your hat in for the position.
Whether you're being promoted or looking for a job that better suits you, your cover letter needs to show that you will excel in the new position that you're applying for.
You have a major leg up on the rest of the competition because you already know the people, vision, and values of the company that you're applying for.
You have your foot in the door, and now all you need to do is pry it open a little more and step in.
We can help you with that.
In this article, you'll learn:
How to set the tone for a cover letter for an internal position.
How to connect your experiences and skills to the position that you're applying to.
How to quantify your achievements at your current job.
How to show gratitude to your current manager, team members, and the organization for which you work.
While I've got you here, if you're looking to create a cover letter which will wow any hiring manager, Enhancv has over 500 examples of professional cover letters to gain information from.
Cover Letter for Internal Position Template
Upload & Check Your Resume
Drop your resume here or choose a file. PDF & DOCX only. Max 2MB file size.
---
Dwayne J. Nicole
Marketing Analyst
312-456-5555
Dwayne.nicole@gmail.com
Linkedin.com/in/dwayne-nicole
Chicago, April 18, 2022
Bryanna Bartlett
Senior Marketing Director
Northern Electric, Inc.
450 Pullman Road
Chicago, Illinois
60651
Dear Mrs. Bartlett,
As a loyal employee of Northern Electric, I am excited to be interviewing for the position of Marketing Manager in the North-east region. I have worked under Shawn Tuttle for the last few years as a marketing analyst. Shawn has mentored me in the role of customer relationship management for the last three years, and I have grown leaps and bounds in my understanding of how to properly market and sell the products of Northern Electric. I am truly grateful that Shawn has recommended me for this promotion, and I also feel confident that I can excel in this role and help to provide future growth to the company.
I have been with the company for over 10 years, starting out on the sales team. I pride myself on my ability to learn quickly, and I have developed excellent communication skills, with both customers and team members. As well, I create a great rapport with the customers with whom I spoke, making sure that their needs were covered, which can be easily seen in my customer satisfaction which is 97%.
In the last three years working under Shawn, I've gained experience overseeing sales teams, and as a result of my work I have seen my sales team produce a 5% increase in profits this quarter. In fact, under my leadership, we saw sales of our new line of PLC computers grow by almost 10%. Throughout this time, one of the things that differentiated me from other marketing analyst team leaders was that I promoted a holistic view of customer relationships, utilizing Customer Relationship Management software. I gained a special understanding of how to turn inbound leads into clients, all the while prioritizing the needs of the clients.
I've read the job description for the marketing manager of the North-eastern region, and I believe I will excel in the position because I have already performed many of the requirements found within. I have filled leadership positions, and I excelled because I chose a servant leadership model, one in which I chose to lead from the front and take into consideration the needs of other team members.
Thank you for your time and consideration in reviewing my application. My supervisor will be happy to meet with you to shed light on any of the items that I mentioned in this cover letter. Please reach out to me if you need more information about my work experience and technical skills. I would be happy to help with anything that you need.
Sincerely,
Dwayne Nicole

---
Setting The Tone
Writing a cover letter for an internal position is like reuniting with an old friend.
You are a known entity within your organization.
Good for you! That first step of networking is already out of the way!
It may be even better if you are applying for a new position within your organization which is overseen by your current manager.
And even if you don't have a relationship with your hiring manager, you will have made a name for yourself within the organization. They will know of you, even before you apply for the job.
But before you jump into writing your cover letter, the tone that you use for your letter is incredibly important. Check out the tips below to help craft a cover letter which hits the mark:
Keep The Tone Professional
One of the most important things to keep in mind when writing a cover letter is that it is a formal letter.
An article in the Atlantic states that a cover letter's main purpose, from when it was first introduced in the US in the 1930's, was "to paint a picture that might not easily emerge from the denser material that was, well, under cover."
What a cover letter does is show the hiring manager that you are the most capable, dependable person for the position.
If you want to show that you are the most capable person for the position, keep the tone fairly professional by using these methods:
Properly Format Your Cover Letter Header
By including a properly formatted cover letter header, you show you view this document as a formal, professional letter. Even if you are simply dropping the letter off in your manager's office, be sure to include information like:
Personal information: your name, your email address, phone number,
The date you are writing
The hiring managers information: their name, position in the company, and the address of your company.
If you'd like to see more examples of how to format your cover letter header, check out this article on Enhancv which provides examples and solutions to create a properly formatted cover letter header.
Keep The Body of The Letter Professional
Remember, a cover letter is a document that is addressed to a specific person, usually the hiring manager. Even if you know the hiring manager from your current position, try to keep informalities out of the writing.
Also, try to avoid negative comments about your current manager.
Use Your Cover Letter To Tell a Story
The dominant tone of your cover letter should be geared towards an exploration of your story, with an emphasis on what makes you exceptional, and the ideal candidate to fill this position.

Connect Your Experiences and Skills
It's hard to sell ourselves. Even those whose current role is in the sales and marketing field may have a difficult time with sharing about what makes us unique.
Many of us have been told from when we were little we shouldn't brag about ourselves.
But I'll tell you that when writing a cover letter, the most important thing you can do is share about your accomplishments, how you've grown as a leader and gained technical skills and abilities.
It's not bragging to explain where you excelled in your position.
Soft Skills Vs. Hard Skills
Soft Skills
Soft skills involve people skills, like communication, leadership, and any habits which make you work better in a team. When you are applying for a promotion, highlight the soft skills that you've gained through your current position, especially those that involve leadership.
Soft skills to promote in your cover letter include:
Your ability to collaborate within teams
Your public speaking ability
Your ability to problem solve
How you manage your time
Leadership skills
Your ability to adapt
Check out this article if you'd like find descriptive words to describe yourself:
The Best Words to Describe Yourself on a Resume
Hard Skills
Alternatively, hard skills are technical skills which you gain through years of experience working in your field, as well as skills that you've gained through school or other courses. If you're considering transferring to another department, highlight relevant technical skills which would make you the perfect fit for that department.
Although hard skills completely depend on the field within which you work, let's look at one example which can help you understand which hard skills to promote. If you are an IT security manager, some hard skills that you could promote include:
Your knowledge of cloud computing
How you visualize and create virtual images or maps
Your experience with IT Security management software
Your understanding of enterprise architecture management
Highlight Soft Skills For A Promotion
When you write a cover letter for a promotion, you should highlight your experience in a leadership role. Provide examples from your current job of when you've managed teams of colleagues.
Point to quantitative results that you've shown as a leader of a team. If you've seen a major sales profits increase while you were the team leader, mention that you were the one leading, encouraging, and facilitating the growth of your team members throughout the process.
Here are some examples which you can use for your cover letter:
If you were the team lead for a sales team and you saw sales increase in one quarter 6%, highlight those results in your cover letter.
If you introduced new software which allowed your team to better collaborate on projects, as well as introducing everyone to that software, mention the percentage of people that adopted the software into their regular, everyday work.
Promote Hard Skills for a Transfer
When you're moving laterally within a company, moving from one department to another, you should consider highlighting hard skills that you've learned in your current position, which are transferable to another department.
Transferring is typical within the IT industry, and many of the skills you gain in one position can be transferred to another department.
For example, if you were working in the IT field and you wanted to get to the cyber security field, there are a lot of skills that you may have gained along the way which could be promoted in a cover letter:
Mention any courses that you've taken throughout your time working in the IT field. Specifically, if you've learned specialized cyber security software, mention the software by name.
Highlight the role that you may have played in addressing the company's need for greater security of cloud computing programs.

Show Gratitude (It's Not About Me, Me, Me)
In your cover letter, try to give credit to where credit is due. If you're mentioning your current supervisor, highlight the ways in which they have played a major role in making you into the person you are today.
Every single person on this earth can owe their success to a select number of people in their life.
Show gratitude to those that have helped you.
Also, a cover letter is written to a specific person, and therefore, shows some gratitude to the person who is reading the cover letter. Thank the hiring manager for taking the time to read through your cover letter. Ask them if they need any more information from you.
If you're interested in learning more about how to end your cover letter, check out this article on how to end your cover letter.
Takeaways
Keep the tone of your cover letter professional by including a properly formatted cover letter header.
When transferring to a new position in your company, use hard technical skills that you've learned to prove your competency.
When writing a cover letter for promotion, highlight the soft skills that you've learned, like communication, collaboration, and problem-solving skills.
Show gratitude to your current manager as well as the hiring manager whose reading the document.
Creating a cover letter from scratch isn't easy. We totally get it! So why not let us help you? At Enhancv, we have a custom Cover Letter Builder which you can use to create the perfect cover letter for an internal position.
Make your move!
Your resume is an extension of yourself.
Make one that's truly you.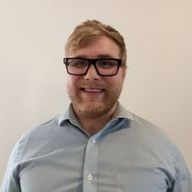 Dave Van Kooten
Is a human resource expert that helps passionate jobseekers to put their best foot forward to prepare for an interview. He believes that success can be achieved through going out of your comfort zone.